REPORT ON HURRICANE TEDDY
No sooner had Cat 2 Hurricane Paulette passed directly over Bermuda and moved away from our shores, than we now have a second hurricane "Teddy" threatening the Island. For the past few days Teddy has been classed as a major Cat 4 hurricane with winds in excess of 130 mph and was said to be heading straight for Bermuda, but by latest reports Teddy will likely be a Cat 2 storm by the time it reaches are area, and it should pass just over 100 miles to our east, giving us winds slightly below hurricane force. At this point we are all breathing a slight sigh of relief but hurricanes can be fickle!
Welcome to the official website of the Bermuda Ex-Police Officer's Association, now known as "Bermie Ex-Po". Our intention is to provide former and retired members of the Bermuda Police Service with a means of keeping in touch with each other, to record our collective history, and to encourage you to sit down and write about your own personal experiences so they can be recorded for posterity.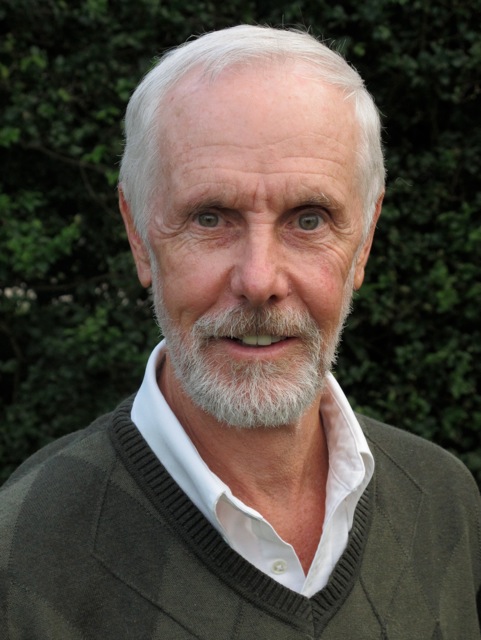 Our Committee (CLICK HERE for details) is determined to ensure that "Bermie Ex-Po" is inclusive for all those who have served in the BPS, and through our website we try to bring us all closer together, whether you are still living here in Bermuda or you are many thousands of miles away.
I feel sure that as you leaf through its pages, our website will hold many fond memories for you, and will hopefully encourage you to let us hear from you. Please feel free to let us have your comments ansd suggestions via our website email address at This email address is being protected from spambots. You need JavaScript enabled to view it.
CLICK HERE for an Important Message from our ExPo President, Calvin Smith.
FEATURE ARTICLES
Then and Now -

This is designed specifically for former and retired members of the Bermuda Police to tell their own stories about life in the BPS. It is open to anyone who has served for any length of time, no matter how short, and provides you with an opportunity to relate your personal history. We are keen to illustrate your story with photos if you can provide them. Our latest "Then and Now" article features our ExPo website editor, retired
Chief Inspector Roger Sherratt who has tried to encapsulate some of the history of the Bermuda Police during the 1960's and 1970's in his reminiscences. CLICK HERE TO view the article.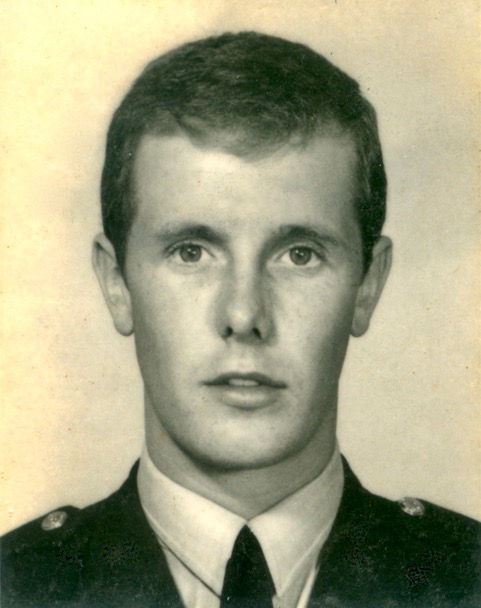 Young P.C. Roger Sherratt
Hall of Fame - This section is intended to honour the memories of former colleagues who are no longer with us. They are usually kindly submitted by family and friends, and we urge the families of our former colleagues to assist us in including their loved ones in our Hall of Fame. CLICK HERE

or our latest article on a truly

exceptional police officer, P.C. Thomas James Powell, one of our first police officers who

had a short but remarkable career in the 11th Hussars prior to joining the Bermuda Police having been present at the Charge of the Light Brigade.

CLICK HERE

for the article on Brian Malpas.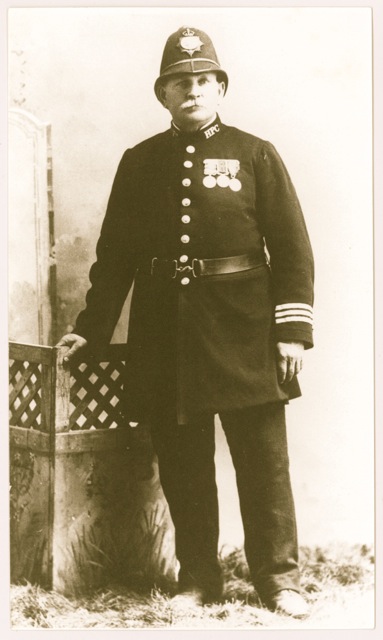 Constable Thomas James Powell
I
nteresting Articles
-
This column features interesting articles written on a wide range of subjects related to the Bermuda Police Service or personal stories. We are delighted to receive articles from anyone who wishes to put pen to paper, and will assist with editing where necessary. You can submit articles and photos by email at
This email address is being protected from spambots. You need JavaScript enabled to view it.
While researching his comprehensive list of persons who served in the Bermuda Police in the 100 years since its inception in 1879 to 1979 (CLICK HERE to review the list) John Skinner became aware of a great many stories about 50 or more Bermuda Police Officers who served in the military in World War 1. Putting his excellent research skills to great use, John has written an in-depth article, "The Brave Blue Line" honouring those members of the Bermuda Police who risked their lives to defend Great Britain and the Empire during the Great War. We are delighted to publish John's article and would encourage anyone who may have had a relative or loved one who served in the Police and in the military to read the article and let us know if memb
ers of your family are mentioned. We would be particularly interested in any photos of those mentioned. CLICK HERE for "The Brave Blue Line".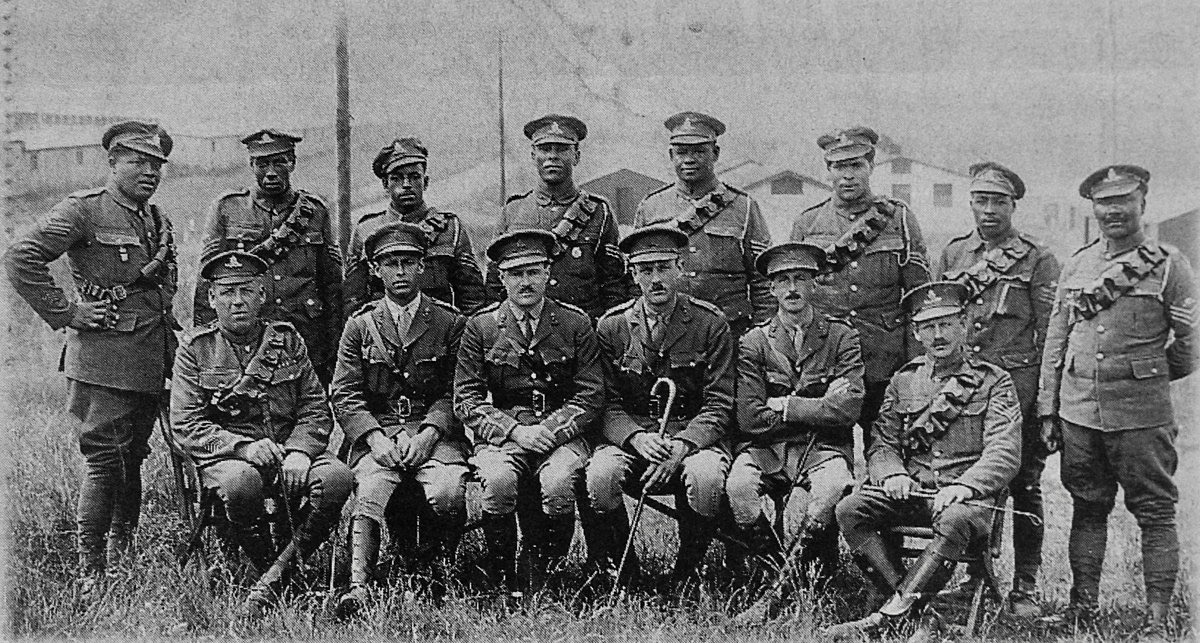 Who, Where and When - This column features photographs submitted to us by former colleagues in which we challenge you to tell us who is in the photograph, when was it taken, and where was it taken? We usually give you a couple of weeks to figure out the answers and we then publish the correct results - if known - based on our collective memories. Please either email your answers to us or type in your comments in the "Comments" section below the enlarged photo. Our latest photo appears to be a group of sporty bobbies on tour, and we are asking if you can name them, and also provide details of where they were, and when the photo was taken. Our most recent Maritime photo (CLICK HERE to view it) resulted in a huge amount of information about how the BPS came into possession of a yacht involved with a major smuggling case, and how a crew of Bermuda police officers said her safely to New York.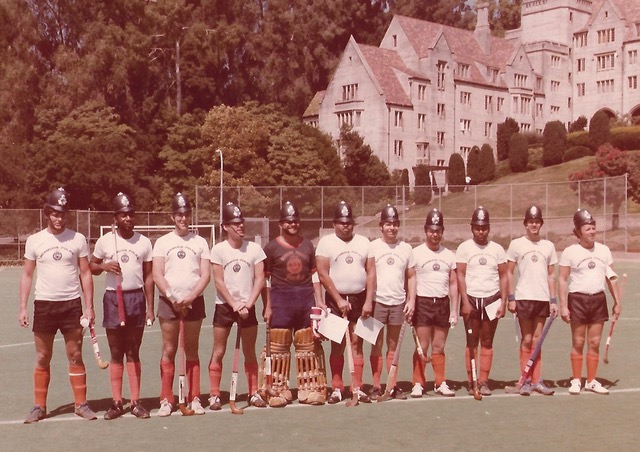 "Sporty Bobbies on Tour"
Latest News and Press Releases - You will see both of the headings for both of these columns here on our home page, Latest News usually contains local news, often related to the BPS, that we believe will be of interest. Press Releases have usually been mainly about Police-related matters but as of now I will try to keep you up-to-date on the cornonavirus crisis locally by referring you to articles in our local media wherever possible.
On behalf of the Bermie Ex-Po Committee we wish all the very best to you and your families, and we trust that our website will provide you with an opportunity to think of good times as you stroll down memory lane.