Latest Interesting Article
Interesting Articles
This section features interesting articles written by former colleagues on a wide range of subjects related to the Bermuda Police Service or recounting personal experiences. We are delighted to receive articles from anyone who wishes to put pen to paper, and will assist with editing where necessary.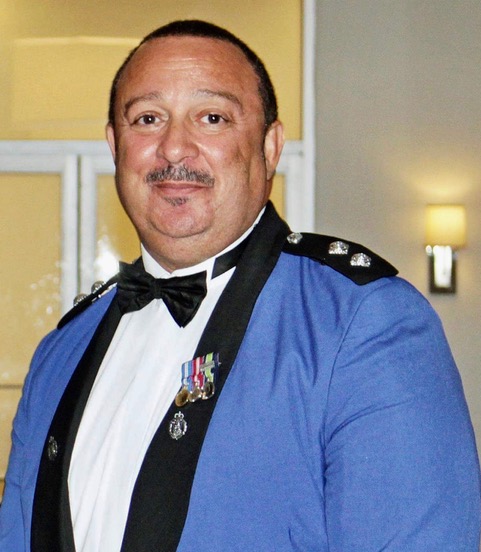 Inspector Mark Clarke
The Police Recreation Club's main hall was a hive of activity on Friday evening 23rd November 2018 as invited guests, fellow colleagues, community partners, and friends and family members gathered to wish a fond farewell to Inspector Mark Clarke who officially retires as of 3rd December 2018 after completing 37 years of service in the BPS.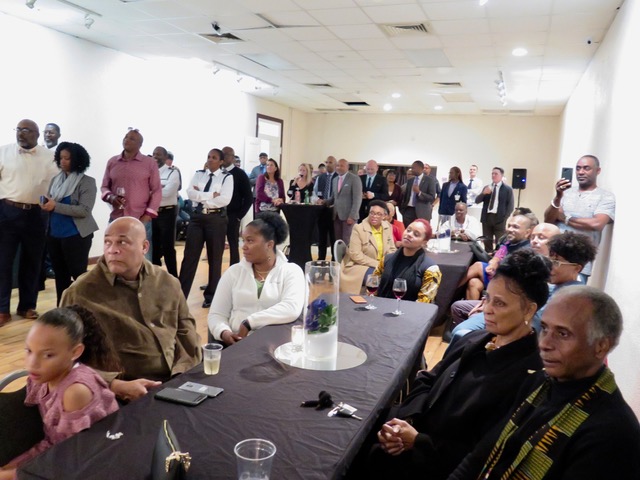 Attendees at PRC main hall for Mark's retirement party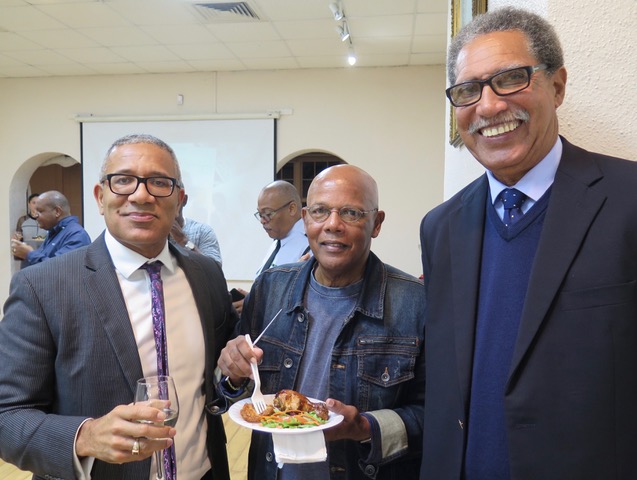 Director of Public Prosecutions Larry Mussenden (a former P.C.), Retired Supt. Larry Smith,
and Retired ACOP Carlton Adams who is still working for the BPS as a consultant
Newly promoted Chief Inspector Arthur Glasford, Inspector
Mark Clarke and retired P.C. Sylvester Augustine
Mark has always been a very popular officer who has given exceptional service to the Bermuda Police especially in the areas of Domestic Violence and Child Abuse which became his area of expertise as a result of which he became the officer in charge of the newly created Vulnerable Persons Unit when it was formed in 2012.
Commissioner Stephen Corbishley spoke about Mark's dedication to the BPS, pointing out that Mark is the longest serving officer and that his presence will be much missed. The Commissioner presented a beautiful cedar shield to Mark in appreciation for his 37 years of dedicated service.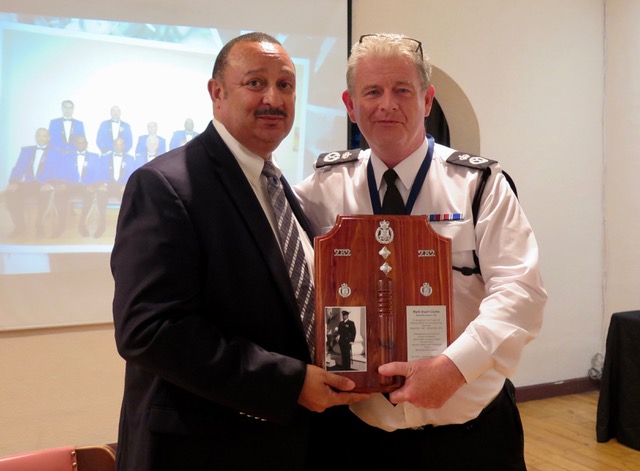 Commissioner Corbishley presents Inspector Mark Clarke with a beautiful cedar plaque
There were two people present at the party who were on the same Basic Training Course as Mark. These were now retired Insp. Kevin "Jimmy Moon" Christopher, and former P.C. Larry Mussenden, who went on to a legal career and is the current Director of Public Prosecutions.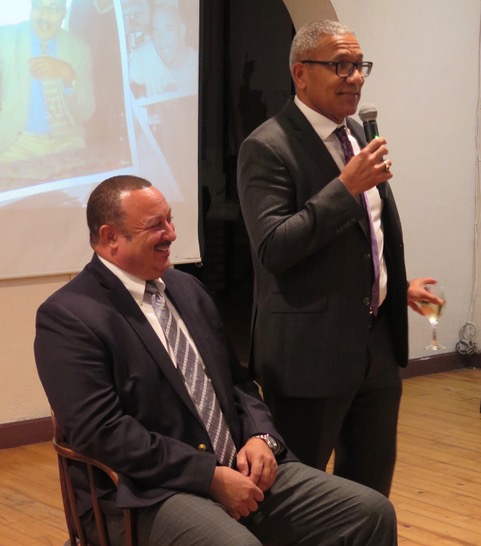 Mark sits back while DPP Larry Mussenden shares early memories
of being a new recruit on the same Basic Training Course back in 1982
Larry recalled that he and Mark had been close friends since their early childhood having attended Prospect Primary, Warwick Academy, the Police Cadets and Basic Training Course together. He praised Mark for his outstanding investigations in cases involving child abuse when he (Larry) was working in the AG's Chambers as as prosecutor, and also for his invaluable leadership of the Vulnerable Persons Unit in recent years.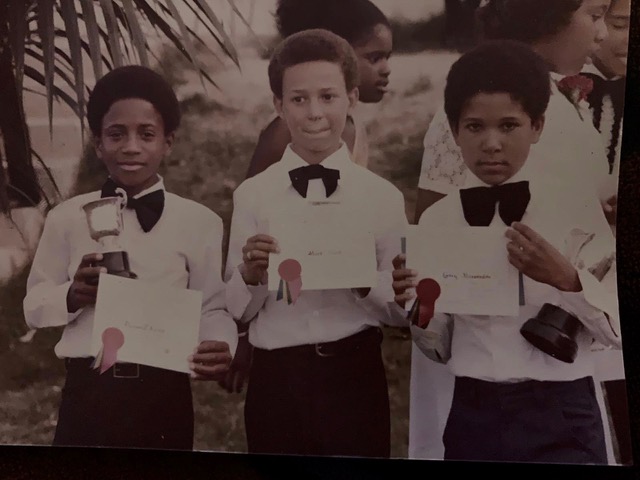 Graduates from Prospect Primary School
(l-r) Donavin Nisbett, Mark Clarke and Larry Mussenden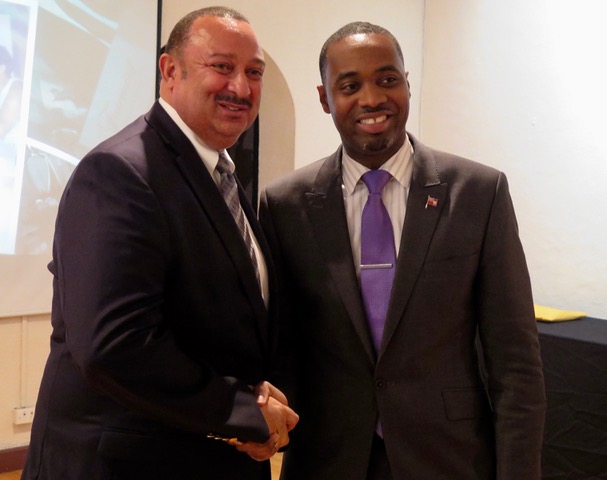 Inspector Clarke shaking hands with Premier, The Hon, David Burt, MP, JP
The Premier, the Hon. David Burt, MP, JP, took time out of a busy day in the House Assembly to come up to the Police Club and personally thank Mark for his 37 years of dedicated service to the community and to wish him well in his retirement.
Also attending from the House of Assembly was the Minister of National Security The Hon. Wayne Caines JP, MP, who also spoke glowingly of the outstanding contribution Mark has made to the Bermuda Police Service and the general public during his 37 years as a police officer.
Retired Assistant Commissioner Carlton Adams, who is presently working as a consultant for the BPS investigating "cold cases" gave an excellent presentation on Mark's 37 year career, as follows:-
"Mark Lyndon Stuart Clarke joined the Bermuda Police Force as a Cadet on the 7th December 1981 following in the footsteps of his mother Barbara, then a serving officer. After a year at the Bermuda College he commenced training on the 20th September 1982, as a member of Basic Training Course #32 along with 14 other Bermudians, among them Kevin "Jimmy Moon" Christopher, Lenora Maloney, Lloyd Duncan (now Bishop Duncan), and Larry Mussenden, the current Director of Public Prosecutions.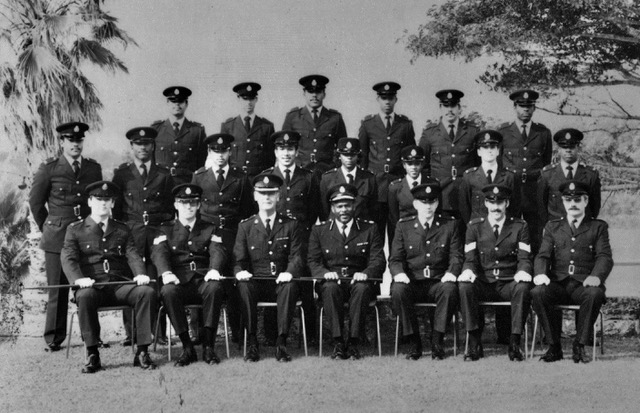 Basic Training Course #32 September - December 1982
Back row (l-r) P.C's George Pitcher, Mark Clarke, Kevin Christopher, Gerald Bean,
Anthony "Merks" Richardson and Lloyd Duncan
Middle row - P.C's Michael Smith, LaGregg Smith, Ricky Raynor, Larry Mussenden,
W.P.C's Lenora Maloney and Belinda Wilson, P.C's William "Billy" Phillips and Sal Williams
Front Row - P.C. Stewart Kirkpatrick, Sgt. Tony Smith, Supt. Harvey, COP Frederick "Penny" Bean,
Insp Alan Bissell, Sgt Jeff Payne, and A/Sgt Charlie Mooney
At age 18 Mark was the youngest on the course and will be the last of the group to leave the Service on the 3rd December. Mark applied himself enthusiastically to all aspects of the training and was described by the training officer as the best swimmer in the group.
Early on, a lifelong trait manifested itself prompting the training officer to record in the space opposite 'Oral Expression' in the first stage report. "Good - sometimes starts talking before thinking about what it is he is going to say." The officer's comment in the second stage report suggested improvement had taken place when he wrote "Good - thinking more before speaking". However those of us who know Mark are aware that he likes to talk and says whatever comes to mind without hesitation or restraint; sometimes to the amusement if not the embarrassment of all within earshot. Not much has changed!
On the 3rd December 1982, his 19th birthday, Mark was appointed Police Constable 282 and shortly after he was posted to Central Uniform Division becoming immersed in general policing duties including static duties at Government House.

One evening when patrolling the grounds of Government House he encountered the Governor having a drink, he was looking into a mirror raising his glass, mumbling, apparently toasting himself. Not wishing to intrude Mark attempted a hasty withdrawal. The Governor called out. "I see you constable" insisting that he not leave, and inviting Mark to have a drink. Mark, apprehensive, declined pointing out that he was on duty, in response to which the Governor then said. "I am Commander in Chief, you answer to me."
Mark complied and partook of a libation, the two entering into discussion for some minutes in relation to various artefacts (in the room) in which they held mutual interest. The Governor suddenly changing the subject imparted what he likely believed to be sage advice when he said to Mark. "Never marry the Help!" Puzzled, Mark ventured a query. The Governor explained that his current wife was not the first and that she had prior to the marriage been in his employ in some capacity and, that now she was… miserable! Mark eventually made it back to the station in one piece at the end of the shift.
As his career progressed he was appointed Detective Constable in Central C.I.D., becoming a competent and reliable investigator. He was also deployed to Eastern C.I.D. and the Major Incident Room investigating serious crimes. His passion however became the protection of children inspired following his involvement in separate investigations into the deaths of two very young children, murdered by their parents.
He was transferred to the fledgling Juvenile and Domestic Crimes Unit following promotion to Sgt in 2001 having been told to make it into an effective entity to respond to criminal behaviour involving children, and arising from domestic incidents involving women. In the ensuing years Mark was involved with multiple investigations securing convictions against offenders whilst forging relationships with local stakeholders Child and Family Services, the DPP's Chambers and overseas partners by whom he is now highly regarded in consequence of his efforts.
In other investigative initiatives he consistently displayed exceptional but not surprising strength of character when called upon to investigate some of our number for quite serious offences (unrelated to Child safeguarding) when others lacking testicular fortitude declined to do so.
He has made presentations in Australia and Trinidad in relation to Child Safeguarding at meetings of the Interpol Specialist Group on Crimes against Children, and in 2014 was instrumental in arranging for the 32nd meeting of that body to be held in Bermuda. The event was attended by over 200 persons from fifty countries. Mark has also made joint presentations at NCA meetings on Child Safeguarding in Miami, Florida and appeared before Parliamentary Committees contemplating the introduction of legislation here in Bermuda in support of Child Safeguarding in 2016, and in February of this year.
Among many accomplishments Mark is proudest of a paper submitted by him in 2003 at the request of the then Minister of Health entitled Domestic Violence Child Abuse and Sex Offenders in Bermuda, a consultative document that subsequently was of huge assistance to the Government in introducing Child Pornography and Sex Offender management legislation, and amendments to then existing law relating to Registration and Public notification of Sex offenders.
Recommendations contained within the document at the time are reflected in current, and new and updated legislation, as is the ethos of investigation and Public perception surrounding Child Abuse, Domestic Violence and Sexual Assault. Fifteen years after its writing this document remains invaluable for purposes of reference.
Mark was promoted Inspector in 2008 and with the exception of the period between 2008 and 2012 he has been the officer in Charge of what is now known as the Vulnerable Persons Unit.
During his years of service Mark has been the recipient of Commendations from the Chief Justice, the Director of Public Prosecutions, and was awarded 4 Commissioners Commendations, numerous Letters of Good Work and Merit Awards. He has also received letters of appreciation from grateful members of the Public.
Displayed on a wall in Marks office is a thin slip of paper upon which is printed the following quotation by Nelson Mandela:-
"There can be no Keener revelation of a Society's Soul than the way it treats its' Children."
Perhaps more than anything this explains Marks exceptional drive and commitment to ensure that our children are protected as best as can be. December 3rd 2018 will mark completion of 37 years' service to the people of Bermuda as a member of the Bermuda Police Service."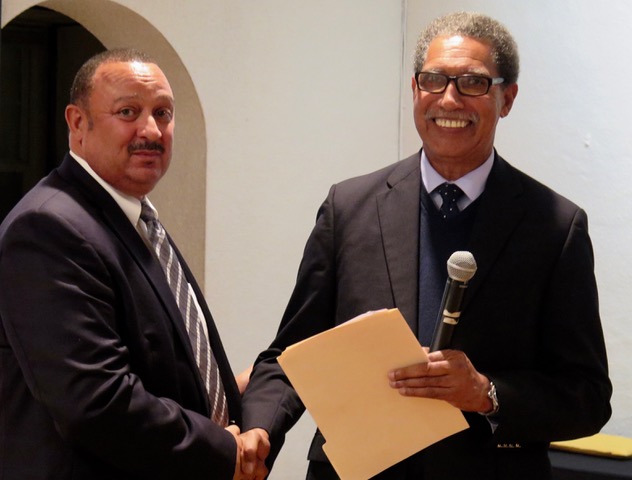 Mark is congratulated by Former ACOP Carlton Adams

The speeches concluded with Mark thanking everyone in attendance for their presence. He was particularly delighted to see Kevin Christopher and Larry Mussenden, both of who had been on his Basic Training Course back in 1982.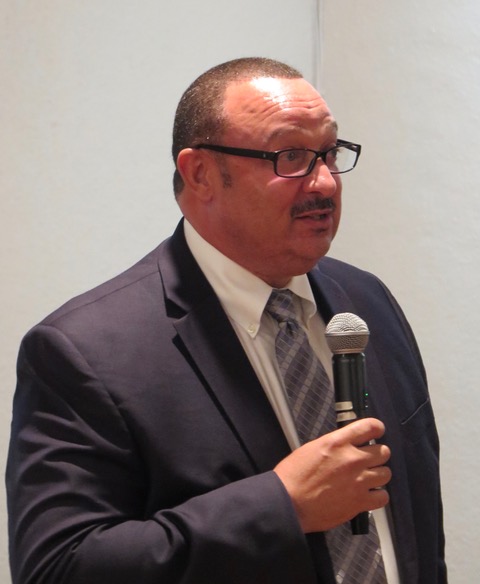 Inspector Mark Clarke was not shy about taking the microphone!
Mark noted that during his 37 year career he had worked for 9 Commissioners, 10 Premiers and 8 Governors. As he said, "37 years … to think I've done all that, and may I say not in a shy way! Regrets, I've had a few but I did what I had to do".
Mark paid tribute to his many friends and colleagues, and to his family without whom he said he would not have been able to do what he had to do. He commented that he may not have been able to change the world but he went to great lengths "to embarrass the guilty!" After quoting Winston Churchill who once said, "Difficulties mastered are opportunities won" Mark concluded by saying, "I'd like to think that I did that."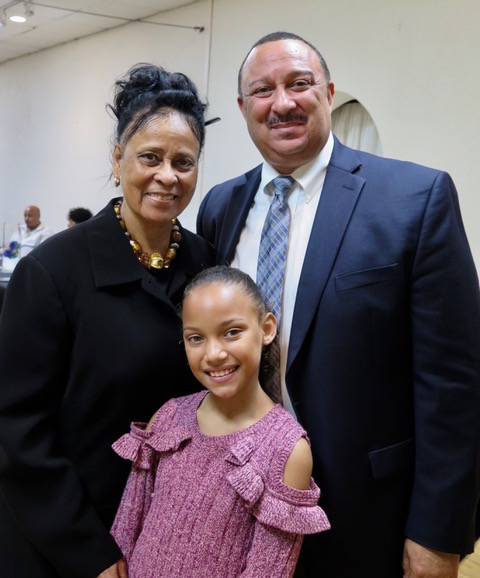 Inspector Mark Clarke with his mother Barbara who served in the BPS
from 1973 - 1994, and Mark's lovely granddaughter Kalasia
Everyone present gave three hearty cheers for Mark who thanked everyone for attending this very nice event.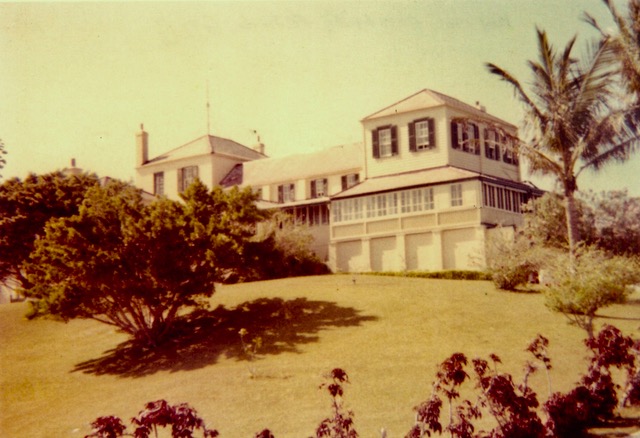 Admiralty House in the early 1960's
I recently received a follow-up email from former P.C. Mike Johnson who served here from 1961-1964, after I wrote an article about Mike and his travels in our Then and Now column which you can read at http://expobermuda.com/index.php/tan/705-michael-johnson He now lives near an very active volcanic area in Hawaii.
Mike had mentioned living in Cypher Block at Admiralty House. By coincidence, Dave Garland had recently provided me with a photo of Admiralty House while it was still is use as our Police singlemen's quarters, together with a photo of the ship's wooden figurehead of Neptune which stood proudly on the dock and was still there when I arrived in Bermuda in May 1964. Neptune could no doubt tell a tale or two of the happenings at Admiralty House!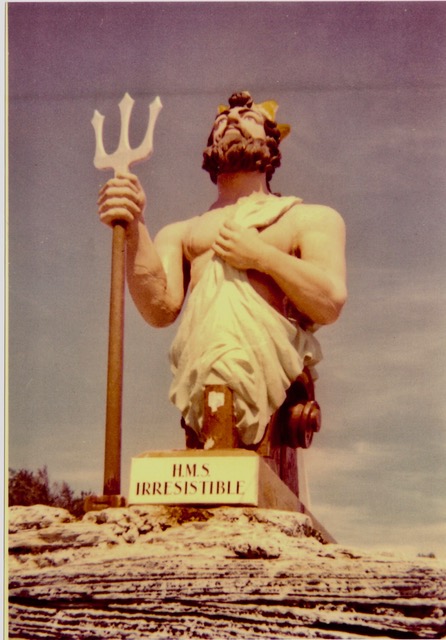 Neptune watches over Admiralty House dock
Mike was enquiring if anyone knew what happened to Adrian Brindle (served from 1961-1966), Ray Hackett (served from May 1961-August 1964) and Maurice Winston Thorne (served from May 1961- May 1964) , after they left Bermuda, but I have no information about any of them after then.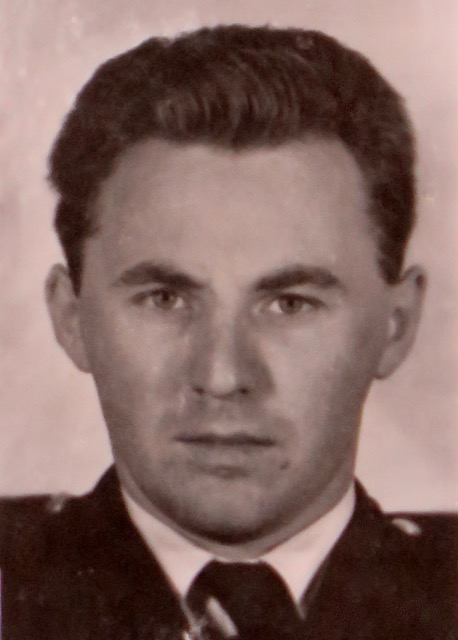 P.C. Adrian Brindle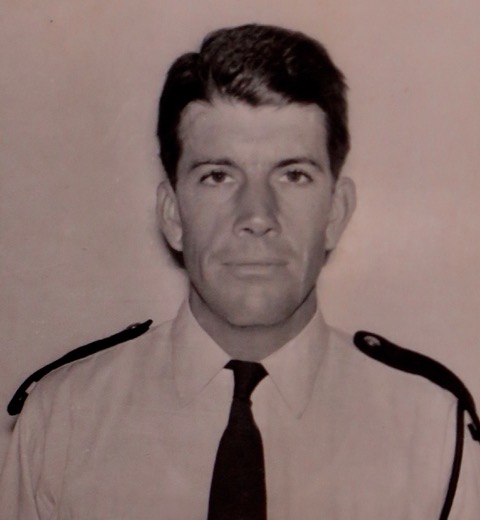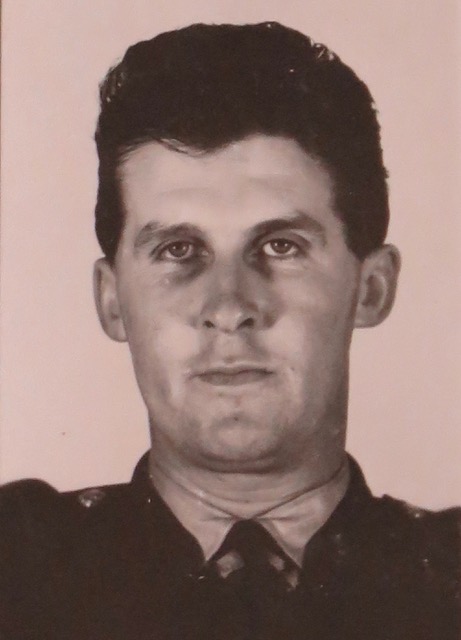 P.C. Ray Hackett P.C. Maurice Winston Thorne
Editors note - According to brief records in the Police Register at Prospect Adrian Brindle returned to Wiltshire, and Ray Hackett returned to London.
Mike was also interested in a guy believed to be named Lew Dunkley who Mike says wore regular Bermuda Police uniform, ate at the Mess, stayed at Cypher Block at Admiralty House, and to all appearances was one of the lads who would drink at the Police Club, but as Mike remembers it, Lew said he was "seconded" to Bermuda from the Met. Mike saw him once after he left Bermuda when he appeared on a TV broadcast with Princess Margaret at a refugee camp and was clearly identifiable as the same Lew Dunkley who spent a short time here although his name was not mentioned in the video.
Strangely, there is absolutely no record at all of a Lew Dunkley ever having served in the Bermuda Police, and I wondered if anyone might recall him and perhaps know what he did while here. I gather that Mike has also made an enquiry at the Met but has not received a reply.
I decided to make some enquiries of some of the guys who were in the Police Force around that time and also asked them for their recollections of singlemen's quarters at Admiralty House. I received the following responses:-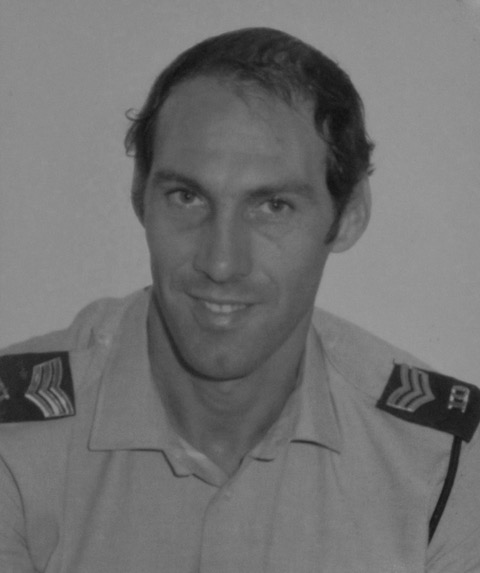 Jeff Payne (taken when he was a Sergeant)
JEFF PAYNE - I think Maurice Thorne went back to the Gloucester Police. and Adrian Brindle also went back to the UK. He was good mates with P.C. Robert ("Bob") Bates (Served from Jan 1961-March 1963) and Carol Royer who worked in Traffic at that time. He came back a few times on visits.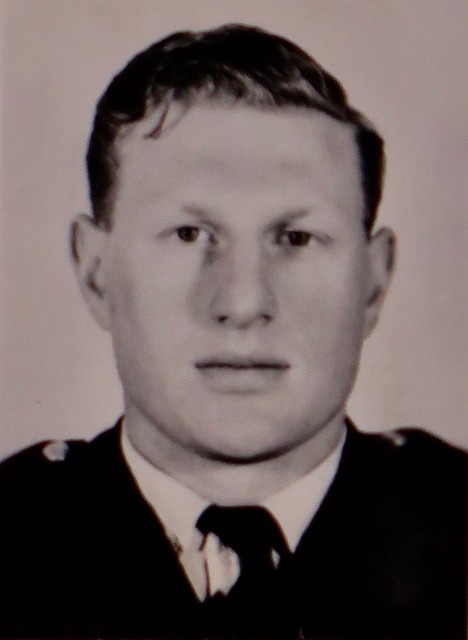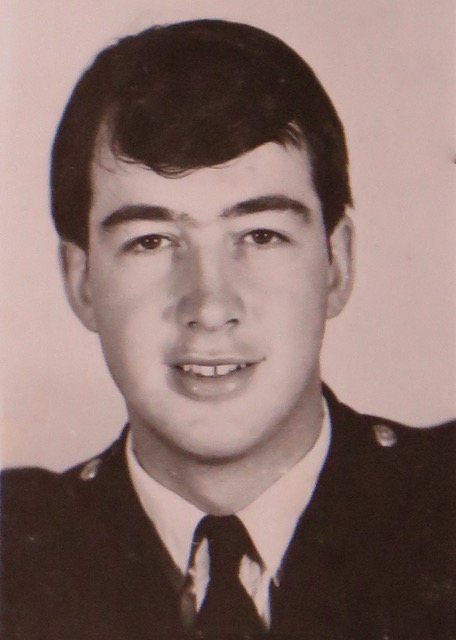 P.C. Robert "Bob" Bates P.C. Roger Colin Vincent
NICK HALL - I remember them but have no information on them. Always ask after Somerset's Colin Vincent* who used to attend my US C machine gun shoots at what is now Dockyard's prime beach.
PS I once met Ian Davies at Farnborough Air Show in 1970s,
• Editors note - According to the Police Register P.C. Roger Colin Vincent served here from February 1962 - December 1963 and was stationed in Western Division.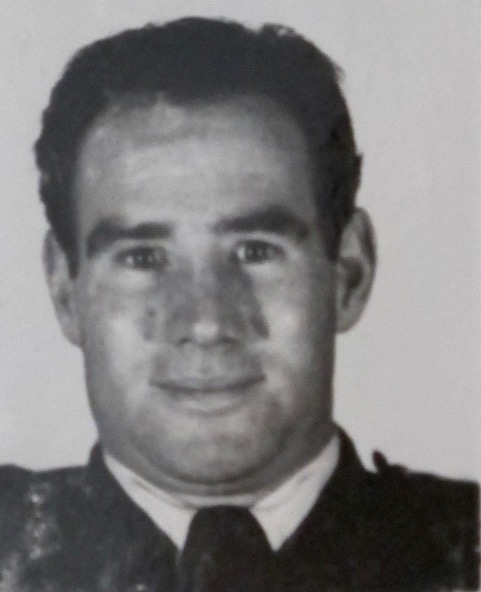 P.C. George Hammond
GEORGE HAMMOND - I remember the person you are mentioning although I believe the surname is spelled "Dunkerley" or "Dunkerly"and his first name was spelled "Lewerley". He came out here from the Met with Gerry Stiles in the early sixties. I'm not sure if the spelling is correct but I remember him well.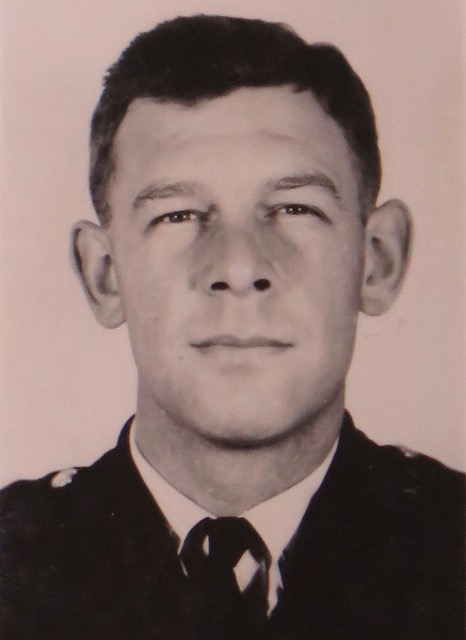 P.C. Gerald "Gerry" Stiles
• Editors note - Although there is no record of a "Lew Dunkley" in the official police registers, I checked in the Winter 1961 edition of the Police Magazine, and discovered his name recorded under "Attestations" as Constable L.S. Dunkerley who joined on 3rd January 1961.
MIKE CHERRY - Although I joined the BPS in 1959 I do not recall any of the names mentioned. I did not have the fortune of being billeted at Admiralty House, as I was one of the first to take up residence at Prospect in July 1959 in one of the recently renovated rooms in the two-story block opposite HQ.
We did spend a lot of time at Admiralty House though due to the beach and boating and it was a regular venue for parties.

I moved out of Prospect in late 1961 after getting married, and also was transferred to Traffic, so did not get to know the guys on the beat too well.
Some of the guys that I recall staying at Admiralty House were Ian Kane, Bob Irons, Jack Shaughnessy, 'Pip' Carter, Dave Gillery, and I will think of others.
Best regards
Mike
Editors note - Mike wrote a lovely article for out Then and Now column which you can view at http://expobermuda.com/index.php/tan/641-mike-cherry. We also have an excellent article about Peter "Pip" Carter in our Hall of Fame column which was kindly written by his wife Diane "Dee" Carter. It can be viewed at http://expobermuda.com/index.php/latesthof/245-pipcarter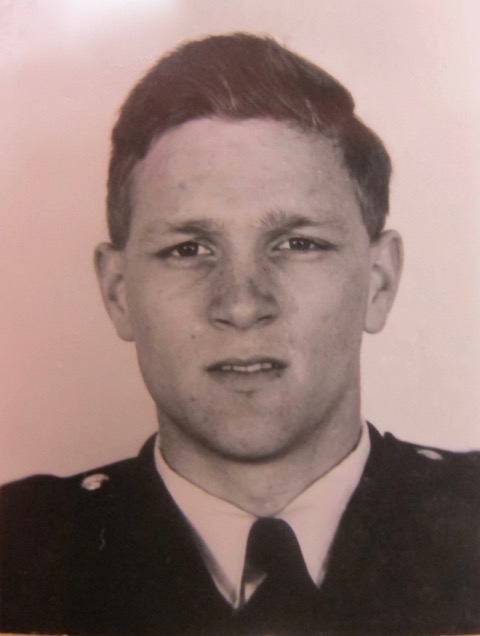 P.C. Terry Bawden
TERRY BAWDEN - I landed at Bermuda sometime in February 1962 and it was night-time when I landed. I was met by a Sergeant and taken directly to Admiralty House. I was only there for couple of weeks before being posted to St George's barracks, so I don't have too much knowledge of the place.
At that time the police inmates seem to have been on the first floor and the Bermuda Rifles were using the ground floor although I don't really know what their function was there. On the first morning there I awoke, and it was of course the first view I had of Bermuda in daylight, and having left England in winter where all was drab and grey, I think it was the most beautiful place I had ever seen, with all the houses in pastel shades and white roofs.
To me the houses looked a bit like child's dolls houses, but I soon got used to seeing them everywhere. Within a few days I became very homesick, it being the first time I had ever left my family or even England, but once I was moved to St Georges' and had a close circle of colleagues around me, I soon grew out of that and settled down to happy days. That's all I can really say about Admiralty House.
GEOFF HUNT - Adrian Brindle was an usher at John Swift's wedding but I think John lost contact a long time ago. Ray Hackett took an external law degree and became a barrister. Maurice Thorne came from Gloucester - managed to save £3000 in his 3 year contract and left abruptly!

DAVE GARLAND - Adrian Brindle was a nice quiet fellow - he was not a police type. I remember him taking part in an athletics meet in 1962 when D.J. Williams challenged the Police to compete in a competition against the pick of Bermuda's athletes. The meet was held at BAA Field.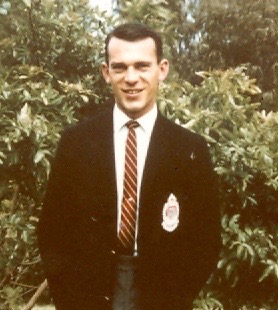 P.C. Dave Garland


The Police team was Adrian Brindle - 100yds, Jack Rouse - shot and javelin Dave Garland - long jump. Tony Harper – 220 yards and 400 yards, Jeff Payne – one mile and 2 mile races.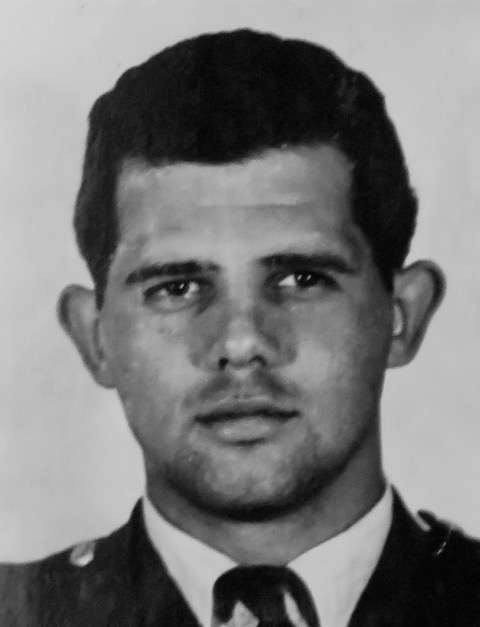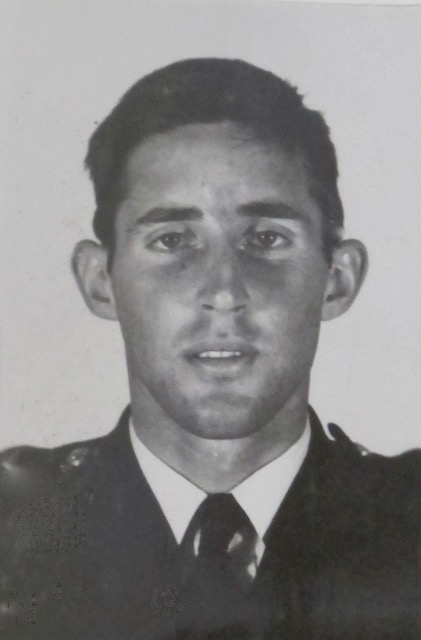 P.C. Jack Rouse P.C. Anthony "Tony" Harper
Results –
Adrian Brindle - 2nd to John Morbey
Dave Garland - 2nd to John Morbey
• Please note that John Morbey was a brilliant athlete who won a silver medal at the Commonwealth Games and ran the 100 yards in 10 seconds.
Jack Rouse won both shot put and javelin
Tony Harper won both 220 yards and 400 yds
Jeff Payne won both 1 mile and 2 miles against David Saul in both his events
Police finished up easy winners of this athletic meet, and I believe it was another clear indication of the depth of talent we had then in the Police Force.
We never received another challenge but D.J. Williams then coached Tony Harper and Jeff Payne who qualified for the Olympic Games. To reach the required times to qualify for the Olympics l used to run with Tony Harper half laps when training. Because they set their times on grass they were allowed time off times set on laid tracks. Both Tony and Jeff were superb athletes.
• Editors note - I have to fully agree with Dave Garland about the depth of talent we have had in the Bermuda Police in such a wide variety of sports and other activities. In fact I recently published an article on the History of the Police Drama Group which you can view at http://expobermuda.com/index.php/lia/694-history-of-police-drama-group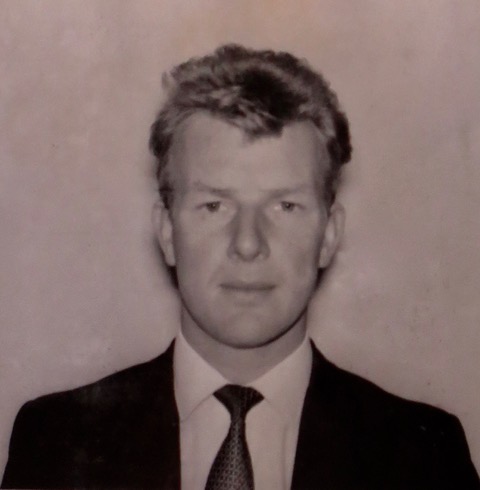 P.C. Robert "Bob" Stewart
ROBERT 'BOB' STEWART - First the people I recall at Admiralty House were: Mike Kelly, George Hammond, Jack Shaughnessy, Bill Pratt, and Dave Gillery. I don't recall Bob Irons or Ian (Crash) Kane being there. I worked with "Crash" at CRO for about 18 months. There was also someone from Traffic who for years manned the radio at traffic. I can't remember his name right now but would be known by George or anyone in traffic in the early 1960s.
The things I remember clearly are:
1. Lots of space and great views of the North Shore. I had a room that looked right along the shore, and the other side was a view across Spanish Point and a little bit of the harbor;
2. The ballroom which always impressed first-time girl friends from the States who were convinced that those who lived there were millionaires;
3. The tennis court which was used a lot by the police and others - including the Colonial Secretary John Sykes who often called me up for a game;
4. The gigantic washing machine which I used when I could not get anyone to do my laundry;
5. The gardener who woke us up when we were on days. I don't recall his name but he was a delightful person who kept the grounds in great shape;
6. The 2 beaches which were like private swimming pools;
7. The endless parties - usually after midnight;
8. "Shakey" Johnson and George Hammond fighting on the ballroom floor after we came off evening shift;
9. A reduced mess bill because we missed many meals because of the distance we had to travel to the mess at Prospect.
10. The anger when John Patton as Minister of Public Works who, somewhere around 1975, had the whole house demolished.
It was a great place to live for young and single policemen and I always have happy memories when I pass it on the way to Spanish Point.
On Lew Dunkerley I recall him vaguely but he was never a friend or on my watch. Ray Hackett became a lawyer and returned to the UK around 1964.
EDITORS NOTES - When I arrived in Bermuda on 29th May 1964, Admiralty House was no longer being used to house our single men but we still had access to the entire grounds, the beach and the dock. Having arrived at the airport after dark I had seen nothing of the Island until the next morning which happened to be overcast and cloudy with no sign of sun. Our small group of Frank Thompson, John Charlewood and myself were dropped off at Admiralty House to relax and swim, and it was as though we had died and gone to heaven! There must have been at least a dozen bikini clad young ladies, all nurses, stretching out along the dock, and the water was so warm.
It all seemed like a perfect introduction to Bermuda as we sat on the dock for hours chatting to the nurses. What a shock I had though after returning to Henderson Block and taking a shower, only to make the agonizing discovery that I was suffering from the worst sunburn across my shoulders that I will ever have!
Neverthless, Admiralty Dock was a popular spot for all of us young single men, and we must have inherited from the former Admiralty House residents the idea of holding "bring your own bottle" parties in the cavern on the Admiralty property overlooking North Shore. Those were the days!
If you have memories of time spent at Admiralty House or if you have any photos we would be delighted to hear from you.
Roger Sherratt
Editor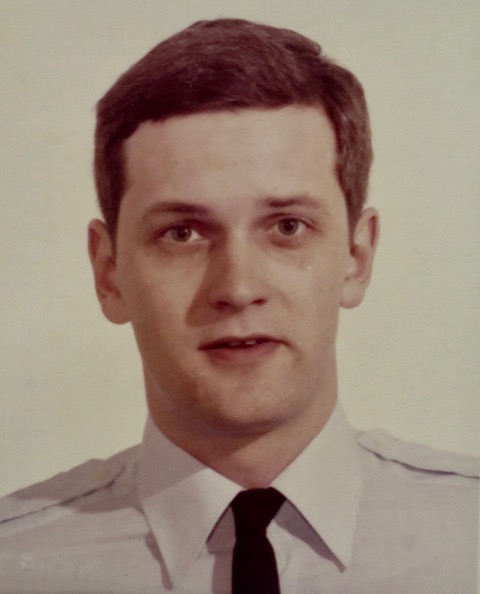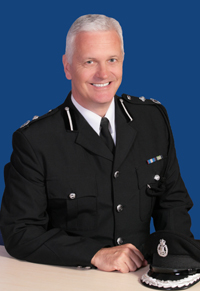 Young Constable Paul Wright DCOP Paul Wright
The main hall at the Police Recreation Club was packed to capacity on Friday evening 2nd November 2018, as distinguished guests, including H.E. The Governor John Rankin, Minister of National Security The Hon. Wayne Caines, The Shadow Minister of National Security Michael Dunkley, senior members of the Judiciary, H.M. Customs, along with other professional colleagues and members of all ranks of the BPS gathered to bid a fond farewell to Deputy Commissioner Paul Wright on his retirement from the Bermuda Police Service.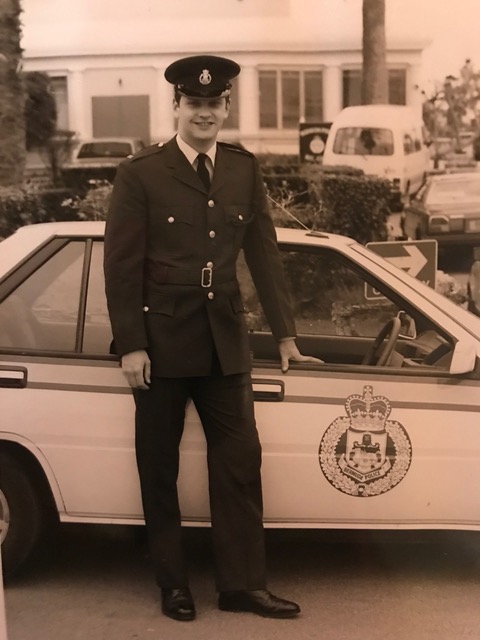 P.C. Paul Wright
Paul has almost 40 years of policing experience having joined the Humberside Police in England in 1979 and serving there for six years before joining the Bermuda Police Service in 1985. Paul arrived here on 7th March 1985 along with another 13 experienced police officers from the U.K. Also included in the group that day were two other young men, Gary Staines and Paul Towlson, who were in attendance at the reception.
Localization Course- September 1985
Paul has served in a wide variety of postings including Community Policing, Criminal Investigations, Special Branch, Intelligence and Serious Crime. In 2001 he assumed responsibility for Special Branch and the Government Security Office upon promotion to Inspector.
Paul was promoted to Chief Inspector in 2004 and served as the Crime Manager for the Service. Upon promotion to Superintendent in 2007 he commanded the Intelligence Division where he implemented a modernization strategy to direct and underpin Intelligence-led Policing. In 2009 he assumed command of the Serious & Organised Crime Division where he initiated a program to professionalize investigation processes. He was promoted to Assistant Commissioner later that same year and in 2010 took charge of Community Policing. Paul was appointed to the post of Deputy Commissioner by His Excellency the Governor on 12th May 2014. In June 2014, he was awarded the Overseas Territories Police Medal for Meritorious Service.
As Deputy Commissioner Paul has been responsible for the Departments of Human Resources, Technology Services, Occupational Health and Professional Conduct. He also served as the Service Discipline Officer, working closely with the Police Complaints Authority to maintain the standards of professional behavior and respond to any complaints made against police officers.
The 2015 Throne Speech announced the intention to replace the forty-year old Police (Discipline) Orders of 1975 with a modern performance and attendance management framework that would also provide a fair and effective process to deal with officer misconduct. Paul led that change, culminating in the passage of the Police Amendment Act 2016 and the introduction of the Police Conduct and Performance Orders that came into effect on 2nd December 2016.
Paul has been both a popular and outstanding police officer throughout his service. In addition to completing the International Strategic Leadership Program at the Bramshill Police Staff College in England, he is a certified member of the Bermuda Insurance Institute and also the recipient of a Master's Degree (MSc) from the Scarman Centre at the University of Leicester, England. In 2008 he was admitted as a Fellow of the Chartered Management Institute and in 2012 he was designated by the Institute as a Chartered Manager.
There is no question that throughout his police career, Paul has always displayed the qualities expected and demanded of a leader. He has also been exceptionally fortunate to have enjoyed the full support and love of his wife, Angela. The happy couple were married back in June 1992 after meeting and falling in love here in Bermuda (see Commissioner Corbishley's remarks regarding the early days of their relationship!). Paul and Angela's son, Christopher, was in attendance at the reception but his sister, Stephanie, is currently working as a newly-qualified Staff Nurse in Sheffield, England.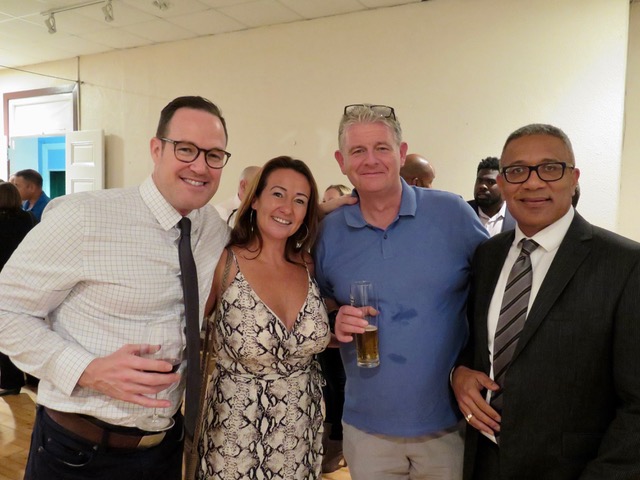 Phillip Pedro, Deborah Corbishley, COP Stephen Corbishley, and DPP Larry Mussenden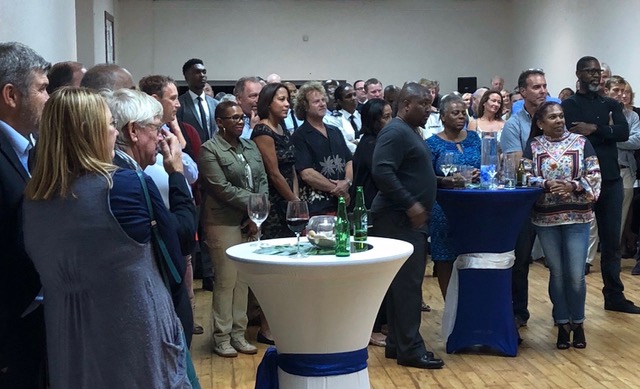 A packed audience gathers for speeches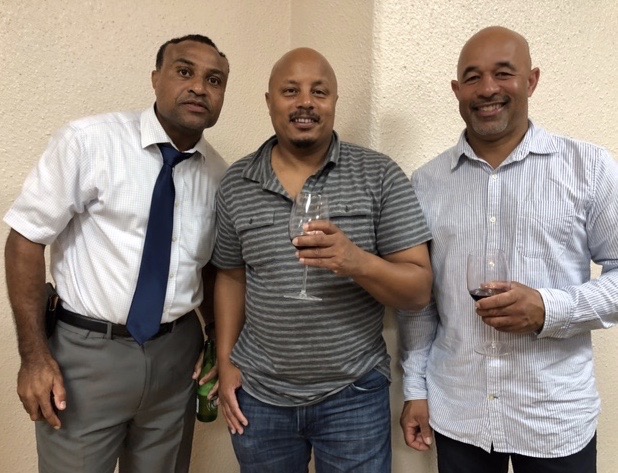 ACOP Antoine Daniels, Jerome Laws and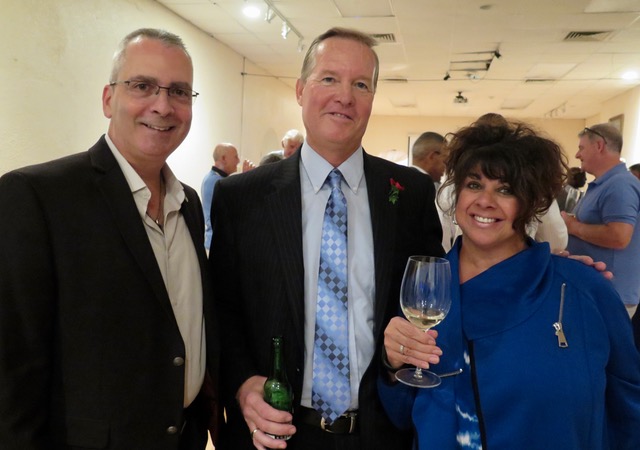 Michael DeSilva with Gary and Jane Staines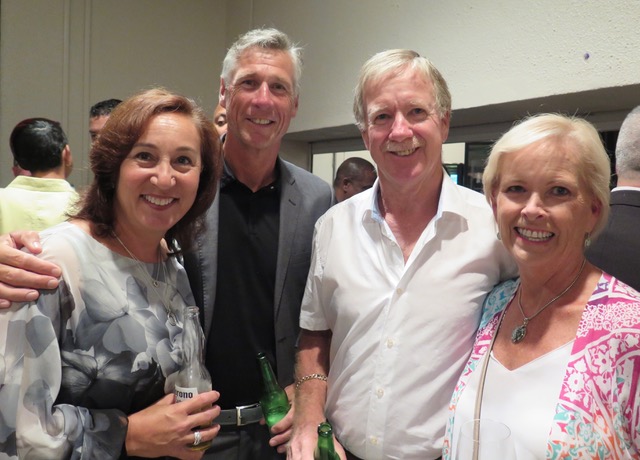 Paul and Allison Towlson with Jeff and Beth Piggott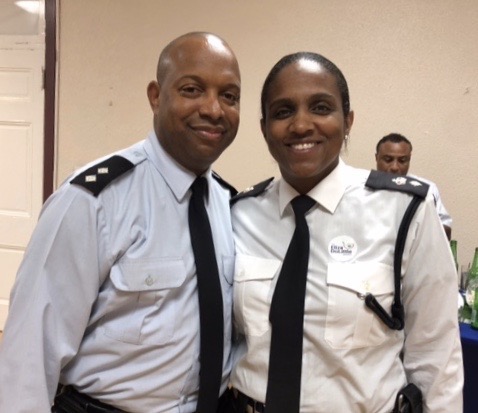 Dennis and Na'imah Astwood
Editors note - We have also published an extensive album of photos from the reception which you can view at http://expobermuda.com/index.php/photo-gallery/paul-wright-retirement-party#!IMG_37731
Following messages of congratulations and thanks for his valuable contribution to the BPS from His Excellency the Governor, the Minister of National Security, the Shadow Minister of National Security, and the Acting head of H.M. Customs, Paul was "subjected" to a "Roast" from Commissioner Stephen Corbishley who, despite only recently having arrived on Island had clearly done his research by interviewing Paul's fellow senior officers to obtain a dossier of "incriminating" information about him!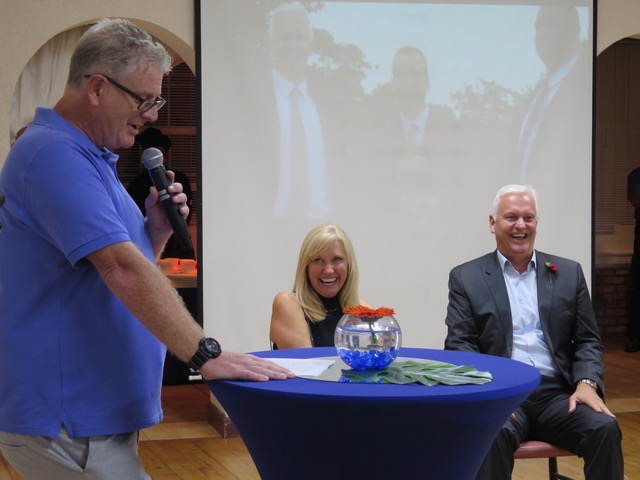 Commissioner Corbishley delivers his "Roast"
much to the amusement of Paul and Angela
Just in case there is anyone reading this article who is not familiar with 'Retirement Roasting', these can at times be somewhat uncomfortable both for the audience and the subject in question, but I believe everyone present would heartily agree that Commissioner Corbishley did a superb job which was thoroughly enjoyed by all, especially Paul and Angela.
Here are a few extracts from his "Roast", along with comments passed on through the Commissioner from fellow senior officers:-
"What follows is ten minutes of embellished stories and anecdotes wrapped around a thin vein of truth as I celebrate and commend to you the man that is our Deputy Commissioner, Mr. Paul Wright.
Before I start I note that Mr. Wright leaves not only big shoes to fill but also expensive ones as I note from one of his last emails today ……
"Please see attached a letter from my podiatrist Dr. Matthew Francis prescribing medical orthotic shoe inserts at a cost of $650. In line with policy I ask for this to be authorized for payment."
To assist my words this evening I have had the pleasure of speaking with retired Inspector Terry Maxwell, who informed me of a couple of Paul's nicknames, one being "Lightning" as he was said to be quite slow on his motorbike (when serving in MCPS).
(Editors note - We have been assured by Paul that he was given the nickname "Lightning" not because of being a slow rider on his MCPS bike, but because he was slow and careful when writing out traffic tickets!)
Terry also described when Paul met his wife Angela. Indeed it is said that Paul sought to hide Angela away in the early stages of their relationship, giving the prying and nosey nature of his police officer colleagues.
However, this did not prevent the disclosure that Angela was apparently in the early stages of starting a massage business. Clearly a red rag to a bull to the nature of police officers, resulting in an abundance of posters appearing around the Station with the image of a blonde lady and the headline "Massages Available - call 1-8000 and ask for Ange"
I am also informed that Paul was at boarding school in his formative years. I guess you have in your head the image of a well-groomed, polite young man, abiding by the discipline of academic life and parental direction. Oh no, the truth is far different.
I am led to believe that Paul and a fellow pupil duped their respective parents into believing they were staying at each other's houses, thereby creating the opportunity to attend a Black Sabbath concert! However, post-concert it was discovered that their secret night out was hindered by the fact that public transportation had ended too early for them to get away with their night of deception. Clearly, Paul was a young man who even then could think on his feet and the dastardly pair went to a local nightclub which was open until 4am on the basis that if they stayed there, then public transportation would return upon their departure. However, the two were soon identified as far too young to be in such an establishment and following their capture by security staff, the local constabulary were called and then alarmingly, the unsuspecting respective parents. I understand it was a very long journey home for the two boys and clearly left an impression which has assisted Paul in being the head of discipline for the BPS!
His colleagues have come up with some further anecdotes I would like to share with you:-
Many of these involved Mr. Wright's temper for some unknown reason, which is particularly prevalent in the early morning hours, or when facing technology.
I am led to believe that the BPS will make a substantial saving next year in relation to not having to repair photo copiers that suddenly don't work or do what they are told, or indeed computer keyboards which have damaged keys or have bounced off walls. I also note that Ms. Flood wants you to know Paul, that you are not in fact the only person who can be bothered to change the 'bloody water bottle'!
I received this comment from DCI Pedro - "Having worked in the Senior Command office for many months at a time, I observed that Mr. Wright often times ate his breakfast and read the paper in the communal kitchen early in the morning. Notoriously grumpy in the morning, woe betide anyone that spoke to Mr. Wright while he was eating or reading the paper. I can recall making this mistake on more than one occasion, and being severely reprimanded for interrupting him!"
Paul as you will see is a very fit man who takes his health seriously. Indeed he is a man of yoga and also proudly refers to himself as MAMIL – which for those of you who don't know is a "Middle Aged Man in Lycra"
However, Paul's youthful looks have often been the comment of some quite frankly unfair submissions I received, not least the connected observance that Angela has her own beauty business. Some questions I have dismissed include:- (1) Are the DCOP's shiny white teeth really of true natural origin; (2) Is the lack of any spectacles the result of laser treatment; and (3) Is the absence of wrinkles for a man of his age an indication of the work of a certain Botox application.
Joking apart, I would like to read out some extracts of comments I have received from his colleagues:
Chief Inspector Hashim Estwick - I have always found the DCOP used reason and numbers and mathematics to logically communicate strategic and operations matters. For me, no greater honour can come to any man than the respect of his colleagues. A comment the DCOP made during a time of intense gang violence and internal discord was - "Good teams work well together, but great teams are friends."
Superintendent N'iamah Astood - Below is the quote I believe sums up Mr. Wright. He has always been a true gentleman and very compassionate towards me. I remember when my mother died seven years ago, Mr Wright was one of the first persons to attend the hospital and console me. I will always be grateful for that because when leaders show that kind of compassion you will always remain true to them.
Quote – "A true leader has the confidence to stand alone, the courage to make tough decisions and the compassion to listen to the needs of others. He does not need to set out to become a leader, but becomes one by the equality of his actions and the integrity of his intent "(Douglas MacArthur)
Chief Inspector Tracy Adams - Whilst I did not always agree with Mr. Wright I have always respected the manner in which he carried himself and set the example for all members of the Bermuda Police Service to follow. He has always provided rationale around any of the decisions he made. He has always been honest and fair. I wish him and his wife a happy retirement. He now has more time to spray the boats around him!
Superintendent James Howard - I want DCOP Wright to know that, "Retirement means no pressure, no stress, no heartache …. unless he plays golf"! On a serious note, it's hard to believe that Mr. Wright is retiring. Most people turn grey which is a sign that it is time, however, Mr Wright has been grey like almost forever!
Having worked directly with Mr. Wright since the age of 22, I can say that he has always provided invaluable words of wisdom in relation to my career and even more recently in relation to my personal life, and for that I am truly thankful. His guidance, mentorship and friendship has always inspired me to do better.
You will be missed. Happy retirement
Assistant Commissioner of Police Martin Weeks - His steering of the Service through the new Conduct system has been game changing. His work as the lone ACOP Gold Commander through the first couple of years of the "gang shootings" in 2009-2010 where he was on call 24/7 for about two years was worthy of a medal.
Assistant Commissioner of Police Antoine Daniels - Mr. Wright has been a steady and supportive influence on my career and although we disagree on some elements of policing which is natural, his overall and consistent approach, sound judgement and advice on matters such as conduct, strategy, and day to day life is unquestioned.
As an Assistant Commissioner over the past six years he guided/mentored me through some difficult periods and especially provided close support during the 2009-2011 period of multiple firearms murders and injuries. Some of his achievements include CCTV, new and improved Conduct and Performance Orders that focus on learning and development rather than blame and punishment, and the creation of working groups to design and implement a new BPS computer system. (Memex)
I wish Paul and Angela a healthy and happy retirement.
At the conclusion of his "Roast", Commissioner Corbishley wished all the very best to Paul and Angela for the future and proposed a toast to the two of them.
Paul was then presented with a cedar plaque, and Angela with a bouquet of flowers as retirement gifts from the Commissioner, Officers and Police Staff of the BPS.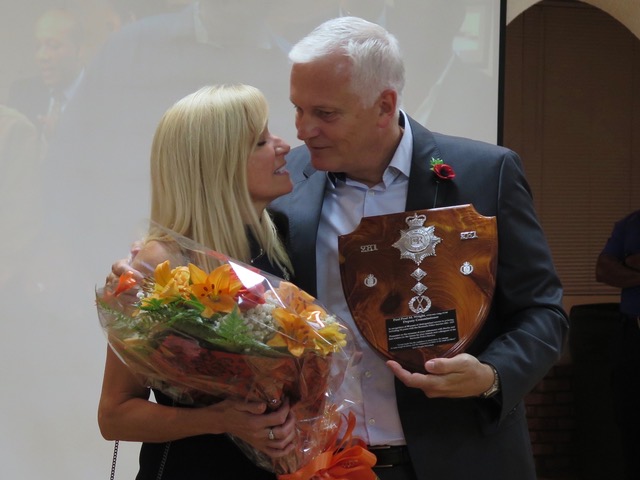 Paul received a beautiful cedar plaque and Angela a bouquet of flowers
Following the "Roast" it was the turn of Detective Sergeant Gary Staines to say a few words of introduction to Paul, and there was no-one better qualified to do so as Gary came out to Bermuda on the same day as Paul, and they have remained close friends throughout their time in the BPS.

Paul was up to the task of giving his retirement speech as follows:-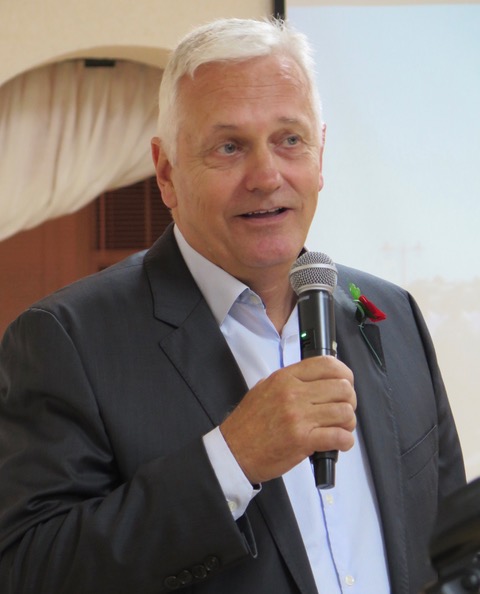 Paul finally looking relaxed after his "Roasting"!
"I promised to make my own retirement function a low-key and inclusive affair that hopefully would fit in with most people's schedules – being after work but before dinner and with a minimum of speech making. From the looks of it, that strategy worked a charm and I am delighted and honoured to see such a great turn out. It is is actually very humbling for me and I am deeply grateful to you all.

"I knew that I would be expected to say a few words and so having no previous experience of retirement speeches upon which to draw, I decided to 'google' it:
"Scott Elledge said: "It is time I stepped aside for a less experienced and less able person" – That sounded too conceited so I rejected that quote.
Groucho Marx said "There is one thing I always wanted to do before I just quit…retire!" That hit the mark for me. I believe that the best time to think about your retirement is before your boss does!
"I joined the Humberside Police in England as a Cadet in January 1979 – almost 40 years ago - the same year that Margaret Thatcher became Prime Minister. Policing was quite similar to the environment portrayed in the TV series Life on Mars.
"When I started work all the now common computer words had different meanings: Before we were overtaken by the digital age, to be in possession of a "Mouse", 'some RAM' or even "a floppy" meant something entirely different. Now I have unprecedented computing capacity with my smart phone but autocorrect has become my worst enema! Back then there were no computers, or photocopiers. Instead there were telex machines and leather-bound ledgers.
"But despite those differences and our modern ways today, some things have remained constant over the years. The 'job' was always there for me and it has at times been joyful, terrifying, heart-breaking, fun and exciting and sometimes utterly depressing but it has also always been varied, stimulating, satisfying and demanding. I admit that I have put the demands of the job first – even before my own family at times.
"Retirement will give me the opportunity to step back from daily public service and reassign my priorities on my spiritual and family life.

"The other thing that has remained essential for policing throughout the years; building effective relationships and working collaboratively and in support of like-minded good people to serve our community. That is really why this retirement reception is so important to me because at this gathering I see you all. I remember what we have done together and I can honestly say that we did our best and left the situation in better condition than it was when we found it.
"I am so very grateful to you all not only for what you have done to help me during my career, but to give the thanks and the honour to you for the good people that you are and by extension the service that you provide to our community.
"Finally, I left this last bit until the end because I knew that if I led with it I might become too emotional to get through the speech to the bit where I just told you that you were all such great people!

"I want to take a moment to publicly thank God for my wife Angela. You all know that I have been boxing above my weight for years in the wife department! We have been together for 32 years and as well as being the love of my life she has always been an unwavering source of strength and support for me throughout. I also want to acknowledge and thank my son Christopher who is with us tonight, and my daughter Stephanie who is working this evening as a staff nurse at a hospital in England. I am immensely proud of the adults that they have become. My family made sacrifices and adjustments to accommodate my policing career and they never complained."
Paul's speech was extremely well received and he was given three hearty cheers by all present.

Having attended more than a few retirement receptions I can say without doubt it was abundantly clear from all those present that Paul has been an extremely popular, well liked and much admired police officer throughout his career. During my time as President of the Bermuda Ex-Police Officers Association, Paul has been a strong supporter of ExPo in every way possible, with he and Angela attending many of our social functions.
I'm sure I speak on behalf of all of our ExPo members in saying that we wish Paul and Angela all the very best in the years ahead.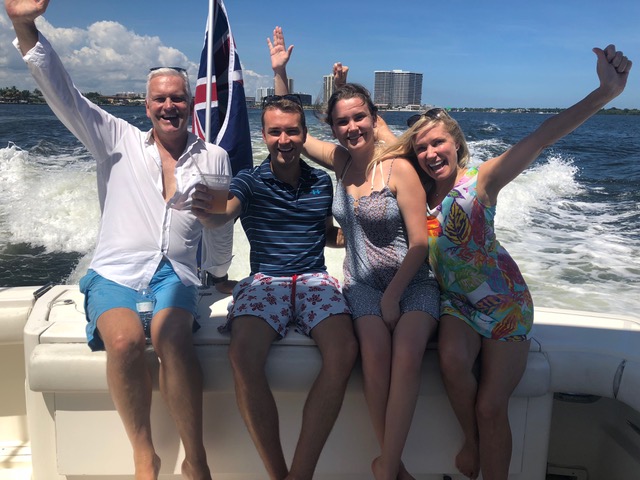 Not exactly sailing off into the sunset!
Paul, Christopher, Stephanie and Angela enjoying time together
We have received this brief update from Paul - "Angela and I will continue to live in Bermuda but will also rent an apartment in Portugal. We intend to split our time between Portugal and Bermuda. While in Europe we will be motorcycle touring on a new Honda Goldwing - something we planned to do many years ago when I saved my extra duty money from sitting in Premier John Swan's garage and put the money into our Goldwing fund. Kids and work intervened so now we finally get to follow up on our plans!"