This section of our website is intended for you to keep in touch with all of your fellow colleagues who have served in the Bermuda Police. We started this column by putting all entries on one post but soon realized that it would stretch for far too long so we are doing it by each year- and this one is for 2018.
We welcome news, however brief, and would also encourage you to send us recent photos. Sadly we sometimes have to report "bad" news such as illnesses - or worse - but we are always delighted to receive positive news! We can be contacted through our email address or through the comments column at the bottom of each article, including this one.
22nd February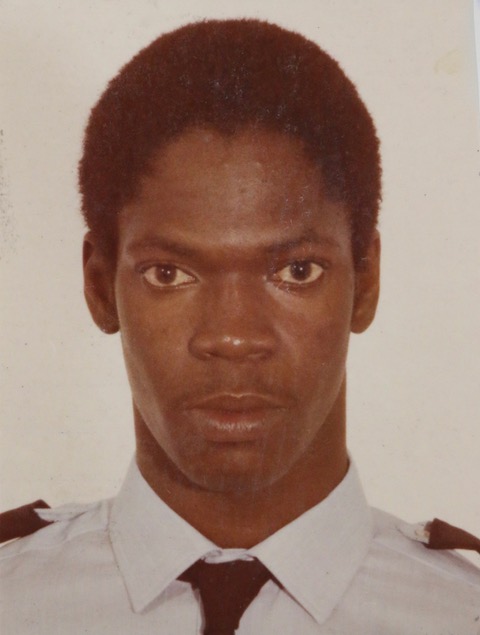 Young P.C. Zerphyl "Zip" Worrell
Where is "Zip"? - We have had a request from Nicole Young at Police HQ who is trying to contact former P.C. Zerphyl "Zip" Worrell with regard to a fairly urgent personal matter. "Zip" served here in the Bermuda Police for 10 years from 1979 - 1989.
If you know how we can get into contact with "Zip" please either contact us through This email address is being protected from spambots. You need JavaScript enabled to view it. or call Nicole directly at Police Headquarters tel (441) 247-1535.
Mike Johnson contacted us with details of a Zerphyl Worrell of Riverside, Georgia, but despite the identical name Nicole has not been able to make contact with him as yet.
21st February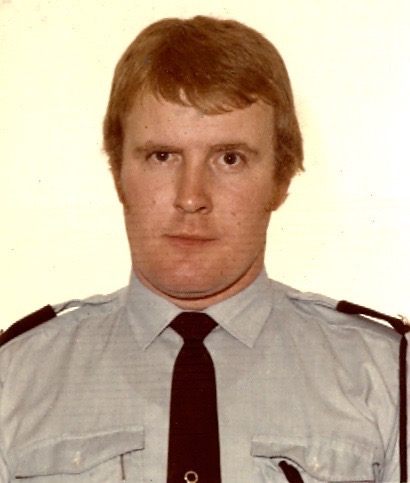 Angus Brown
Reunion in U.K. scheduled for September - We are delighted to report that Angus Brown has now provided us with details of the reunion being planned for this September at Cheltenham in England. Brief details of the planned reunion are as follows:-
DATES: September 6 & 7, 2018
LOCATION: CHELTENHAM, Gloucestershire, England
HOTEL: Holiday Inn Express, 33 Dunally Street, CHELTENHAM, GL50 4AP
PHONE: 01242 - 548200
CHECK IN: Any time after 3.00p.m.
CHECK OUT: Any time before 11.00a.m.
COST: £80.00 per room per night which includes breakfast and VAT.
For more information, including how to register for the reunion, please go to our Latest News column at http://expobermuda.com/index.php/latest-news/644-reunion-planned-for-uk
18th February
Dale Thurston - We recently had an email from Keith Cowie (see below) who enquired about getting in touch with several of his old buddies - Dale Thurston, John Greatrex, Clive Dewhurst, and Steve Sim.
We managed to contact Dale Thurston who has written to us with his updated contact details.
Dale served in the Bermuda Police from 1976-1978 before moving on to the U.S.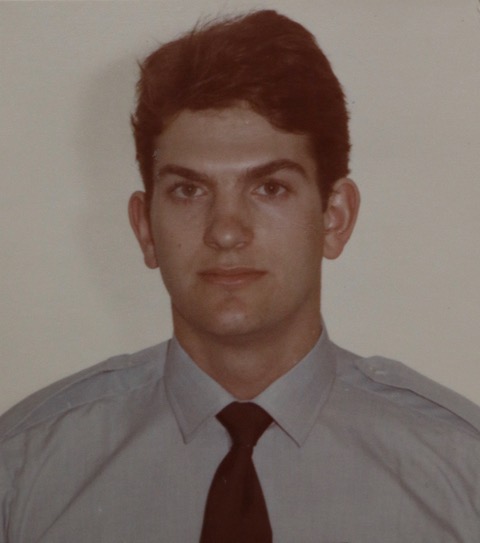 Young P.C. Dale Thurston
He writes, "After a number of years in retail I went back to law enforcement and joined the State of Connecticut Probation Department. I'm a divorced father of two - my daughter Aya who is now 18, and son Rex who is 17. I retired from the Probation Department in 2008 and now buy and sell antiquarian books, mostly first editions. I also do some P.I. work.
I have had some contact with Paul Bradshaw [Class of 76] and I visited Coggie Gibbons some years ago. He is a Bermudian, retired Inspector. I will send a line to Keith, I did visit with him years ago when he lived in Baltimore, Maryland.
It is really nice to talk to old colleagues and catch up. It is so nice to hear from you, please disseminate my information to anyone from the old days,
5th February
Annual ExPo Reception - We held our annual ExPo Reception at the Officers Mess, Prospect, on the evening of Saturday 3rd February 2018, and with over 80 attendees it was one of our most succcessful events for many years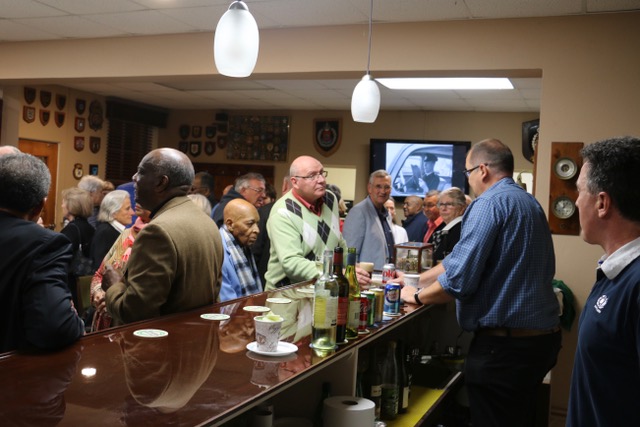 The Officers Mess - a Hive of Activity for our Annual ExPo Reception
Among the guests were retired Commissioner Fred Bean and his wife Romaine; one of our oldest retirees former Sergeant Dudley Proctor who recently spent some time in King Edward Hospital; Michael Phillips who has also had some major health issues; and one of the first Treasurers of the Bermuda Ex-Police Officers Association, Tony Saunders and his wife Janice.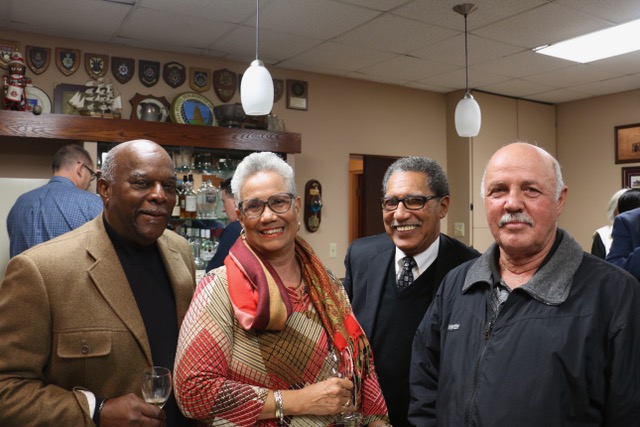 (l-r) Retired Commissioner Fred Bean and Mrs Bean, Carlton Adams and Ralph Lindo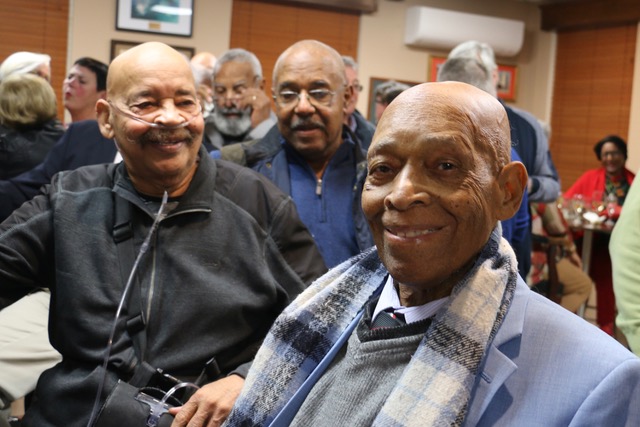 (l-r) Michael Phillips, Reese Bartley and Dudley Proctor
We also had two surprise visitors from abroad, Richard "Rocky" Ironmonger and his wife Maureen, who are presently enjoying an extended stay on Island, no doubt to avoid the the cold and miserable weather in the UK.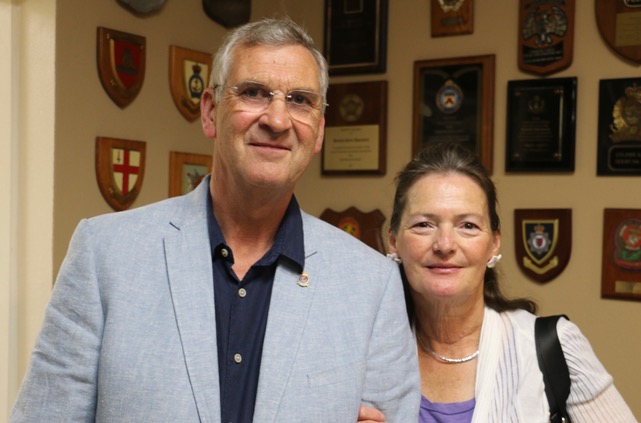 Richard "Rocky" and Maureen Ironmonger
You can also view an album of photos taken during the reception at http://expobermuda.com/index.php/photo-gallery/exporeception2018#!IMG_8756 Sincere apologies to those who I missed with my camera.
This reception provides a very special occasion to meet up with old friends and colleagues, and to reminisce about "the good old days" and share in the unique cameraderie we all enjoy as former members of the Bermuda Police Service.
2nd February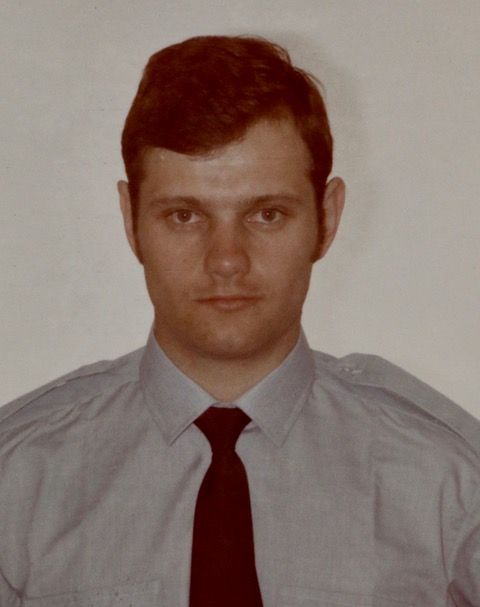 Young P.C. Keith Cowie
Keith Cowie - We just received an email from Keith Cowie who served here in the Bermuda Police from 1976-1978 as P.C. 195, and who attended Training Class #20. See photo in our Training School photo album at http://expobermuda.com/index.php/training-school/453-training-course-20-1976
After leaving Bermuda Keith settled in the USA where he worked in retail management. He was married but has since divorced – no kids.
Keith has written to say, "About 3 years ago I was involved in a fairly serious motorcycle accident which led to my retiring a few years before my due date. Found the cold winters of Maryland were not good for my aching joints so I now live in Costa Rica and have been enjoying the " Pura Vida " lifestyle for a little over 2 years now.
Keith Cowie enjoying the "

Pura Vida " lifestyle in Costa Rica
Managed to touch base with Godfrey Davis last week and he told me about this website. I would be happy to catch up with anyone who remembers me and who would like to touch base."
Editors note - Keith provided us with his email address and telephone number. We have a policy of not publishing contact details online, but anyone wishing to contact Keith can email us at This email address is being protected from spambots. You need JavaScript enabled to view it. and we will forward his details to you.

29th January
Roy Livesey - We just heard from Roy Livesey who served here in the Bermuda Police from 1960 – 1968 who wrote as follows:-
What a superb job you do in keeping the "fold" together through the means of the Retirees on your website......I do keep checking in to keep up with the current news and am rather saddened to hear about all of the "departures"of the guys I was with from 1960 to 1968 .....hardly anyone left.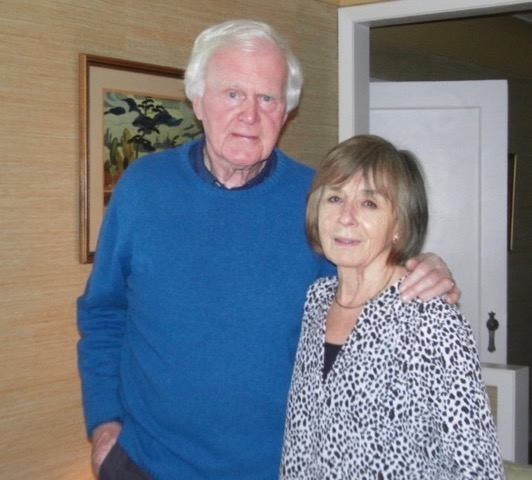 Roy and Dorothy Livesey

Dorothy and I are still happy and lively in Victoria BC after being married 54 years and being in Victoria from 1968 and now going on 81 years old, in 2 weeks for me....now retired 21 years after an interesting life with Trust Companies and Provincial Government in the Administrative and Property Development needs of the Ministry of Health.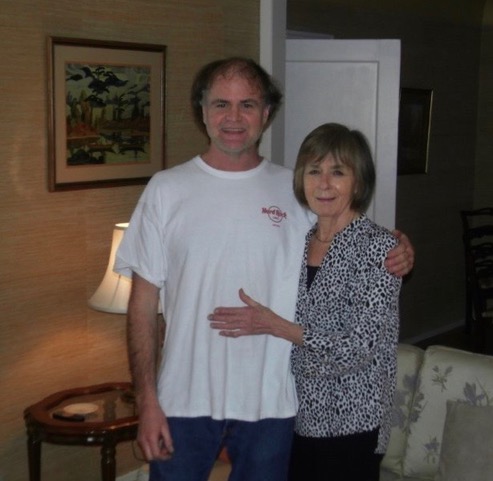 Dorothy with son Christopher
Chris was born in Bermuda in September 1964
With regard to Alan Waddicor the person to ask would be Geoff Hunt as I do know that he was a member of the same Lodge and they knew each other quite well.

In the meantime regards to the oldies resident in Bermuda i.e.Clive Donald, George Hammond, Dave Garland etc etc.

Cheers Roy Livesey..PC 180
ex-Traffic and Paget Parish Constable......
PS I still have my Police Commendation for chasing and catching a TR3 driven by a Maitre'de at 90 mph on Camden straight with Jim Lyons alongside me.
Editors note - At Roy's suggestion I wrote to Geoff Hunt who promptly responded and kindly gave me his insights into Alan and Agnes Waddicor which you can read at http://expobermuda.com/index.php/articles/624-alan-and-agness-waddicor
26th January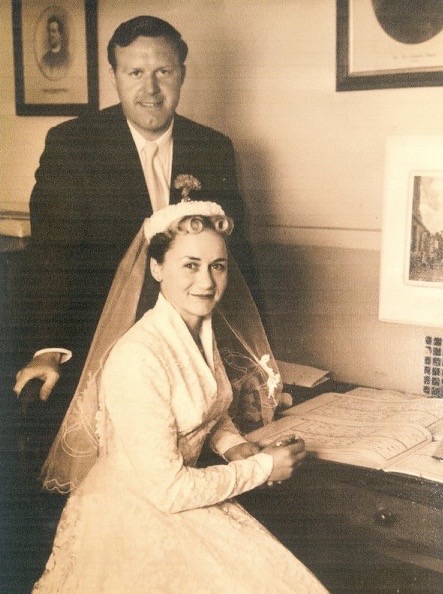 Alan and Agness Waddicor on their wedding day - 1957
On 20th November 2017 the Royal Gazette published a beautiful Letter to the Editor written by one of our former police officers, John Swift, about the great generosity of a wonderful couple who settled here in Bermuda and made a tremendous contribution to their adopted country The couple were Alan Waddicor and his wife Agnes. You can view the letter in the Royal Gazette at http://www.royalgazette.com/letters-to-the-editor/article/20171122/waddicors-embody-spirit-of-christmas
Alan had served in the Royal Navy during the War, and in 1953 he applied for and was accepted as a constable in the Bermuda Police. He arrived here after first attending the Police Training College at Mill Meese in Staffordshire. Unfortunately, records of most of the officers recruited in the early 1950's have been lost, including Alan's but an old friend of his, George Hammond, recalls that just before Alan left the Force in the early 1960's he had been promoted to Sergeant and was working at Operations. Alan had returned to the UK in 1957 to marry the love of his life, Agnes, and the two settled here in Bermuda for the rest of their lives.
Agnes had been very involved with the Girl Guides in England and she continued to serve the Bermuda Girl Guide movement with tremendous dedication. Although an outwardly quiet couple both Alan and Agnes developed a great love of and commitment to the Island as so clearly described by John Swift in his letter to the editor which we have published in our Ineresting Articles column at http://expobermuda.com/index.php/articles/624-alan-and-agness-waddicor
We would be delighted to hear from you if you could provide us with more personal details about Alan and Agnes during their many years here in Bermuda.
17th January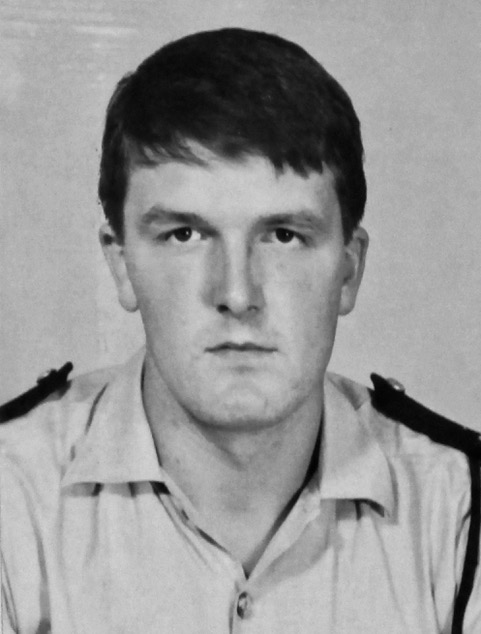 Young P.C. Dave "Big Joe" Needham
Dave "Big Joe" Needham - We just heard from our old friend and former colleague Dave "Big Joe" Needham who served in the Bermuda Police from September 1966 – June 1970, before moving on to Canada. Dave was an avid rugby player who served in Central Division and in Cycle Squad.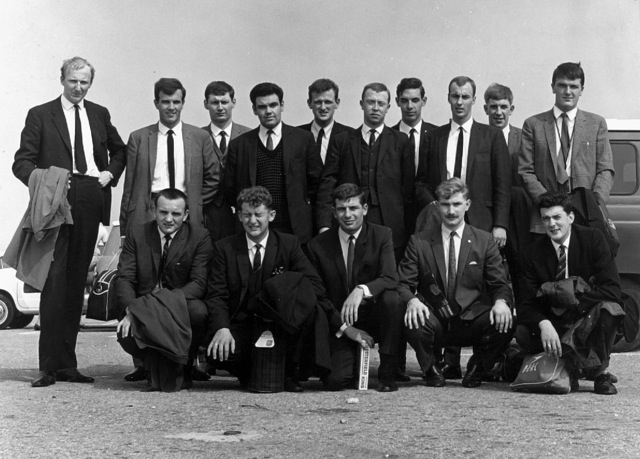 Fresh off the Plane!
Dave came out with quite a group of new recruits with previous police experience (his was in the West Riding Constabulary) as you can see in this photo of them arriving at the airport fresh of the plane. The photo was featured in our "Who, When and Where" column which you can view at http://expobermuda.com/index.php/who-when-where/163-whowherewhen4#comment-76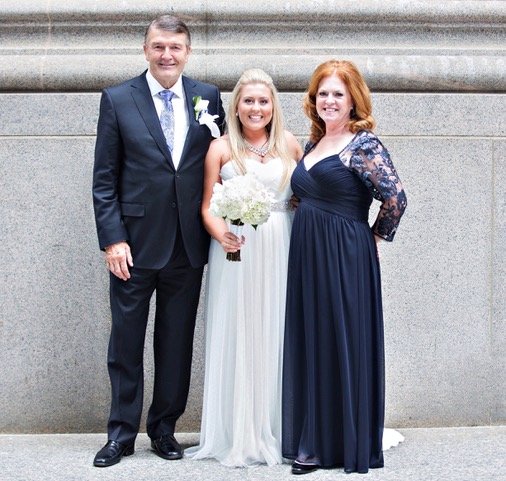 Dave with his daughter, Ashleigh and wife Elizabeth
He set up his own very successful Productions Company in 1993 which he recently handed over to his lovely daughter, Ashleigh, although Dave and his wife are still involved in the business. They live just north of Toronto and are no doubt feeling the cold at the moment, and maybe dreaming about warmer climes!
Dave still has fond memories of living and working in Bermuda, and he was one of a number of our former colleagues who attended a grand reunion of ex-Bermuda police officers back in 1997. You can view the reunion group on our website at http://expobermuda.com/index.php/who-when-where/97-canadianreunion
Dave just sent us this "plaque" which makes it clear he still has still has the very highest regard for the Police, and is proud of the fact that he served as a police officer.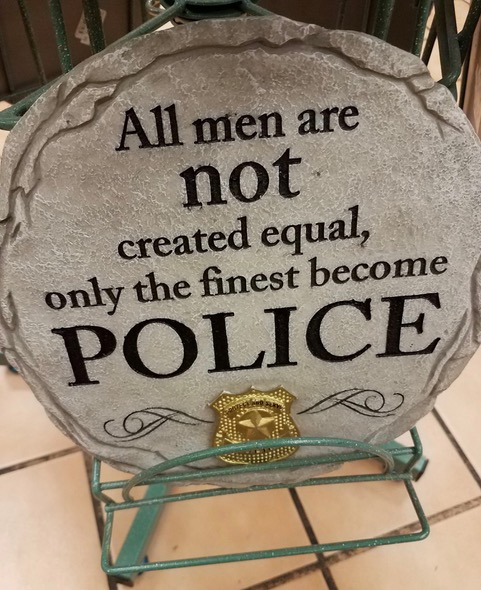 Message from Cathy Scotland - We have just received the following from Cathy Scotland who was extremely grateful for all the kind comments made about Ian by so many of his friends and former colleagues, both here on our website and in the article on our ExPo Facebook page which reached some 1200 people (see https://www.facebook.com/BDAExPolice/.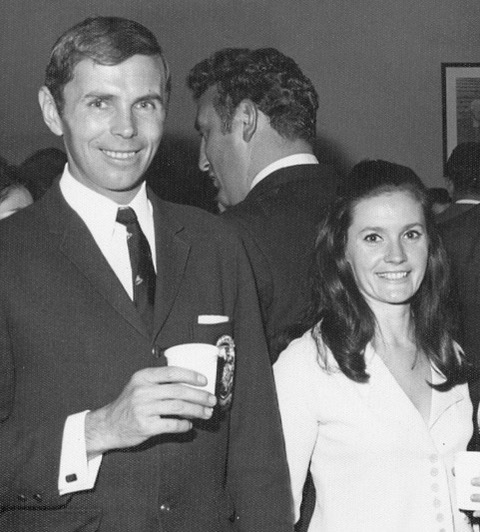 Ian and Cathy Scotland at the Police Club - 1970
Message from Cathy Scotland:
I would like to thank all the ex-police colleagues & friends who expressed their condolences on the passing of Ian, also the kind comments to myself. As per Ian's wishes, he was cremated here in Bermuda in full Sunderland supporters outfit. His ashes will be scattered at Roker Park sometime in the future.
Regards Cathy Scotland
Editors note - You can read more about the sad death of Ian under Lates News" at http://expobermuda.com/index.php/latest-news/618-sad-death-of-ian-scotland
1st January
I would like to start the New Year wishing all of our friends and colleagues a very Happy and Healthy New Year.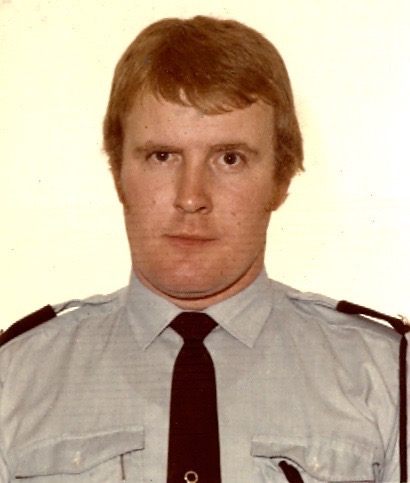 Young Sgt. Angus Brown
Cheltenham Reunion being planned by Angus Brown – We hear that former Sgt Angus Brown who served here from June 1971 – October 1989, and who is now living in the UK, is proposing a 2 day reunion in Cheltenham in September of this year (2018). It is intended for this to coincide with the September race meeting at Cheltenham but the precise dates for this have not yet been set. As soon as they are available Angus will circulate both the dates and suggested arrangements for the reunion. The hotel will be Holiday Inn in Cheltenham town centre.
Angus is trying to gauge the interest in this so anyone who would wish to attend can drop him a note at This email address is being protected from spambots. You need JavaScript enabled to view it. .
Obviously the hotel will book up for the race meeting so Angus would like numbers as soon as possible so rooms can be booked.
Commissioner's annual New Year Party - The first official Police function of the year is traditionally the Commissioner's Annual New Year Party, which used to be called the "Sherry Party" held in the main hall at the Police Recreation Club. Our present Commissioner, Michael DeSilva is a great believer in maintaining this tradition and this year was no exception.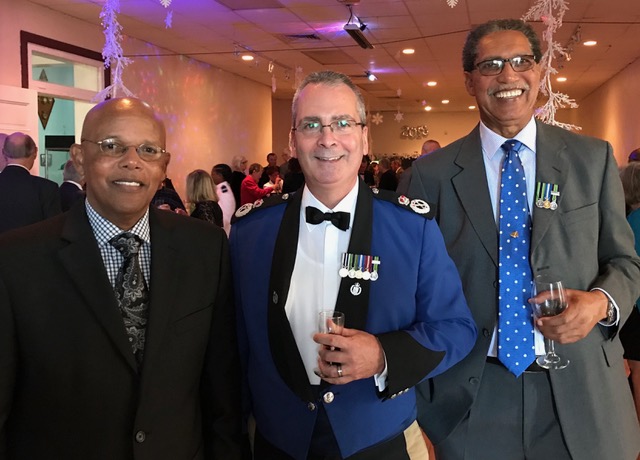 Commissioner Michael DeSilva with retired Supt Larry Smith (left)
and Retired ACOP Carlton Adams (right)
You can read more about this year's New Year Party and see more photos in our "Interesting Articles" column at http://expobermuda.com/index.php/articles/633-commissioner-s-new-year-day-party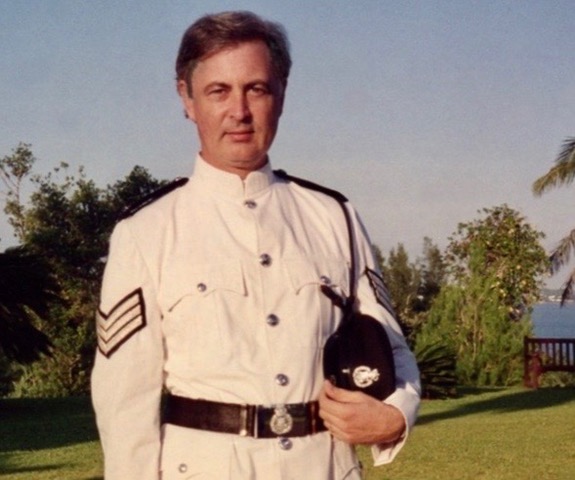 Sergeant Chris Wilcox
"Bermuda: Parish by Parish" - While attending the annual New Year Party I chatted with Chris Wilcox and his wife Marianne at which time Chris informed me that he is about to launch the sale of his excellent new book, "Bermuda: Parish by Parish" which is a beautifully illustrated collection of photographs all of which were taken by Chris covering all nine parishes.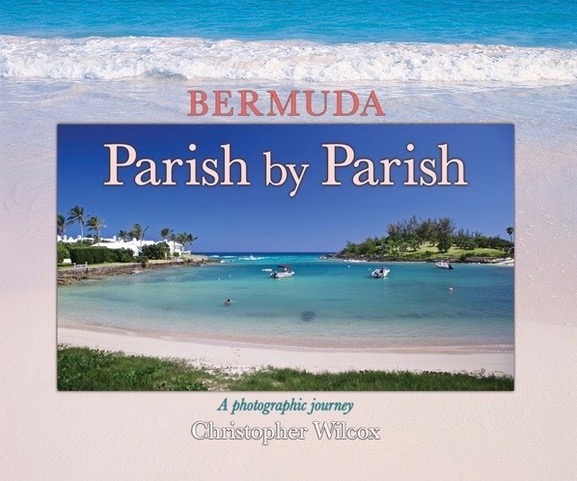 For more information about this outstanding new publication which is now available for sale go to our "Interesting Articles" column at http://expobermuda.com/index.php/articles/634-parish-by-parish-by-chris-wilcox