Neal Richardson
Served 1984 (PC 263) to 1993 (DC 263)
Before Bermuda
I was born in Sutton Coldfield in 1959, in what was then the English county of Warwickshire. It was later swallowed-up into the less attractively-named West Midlands. Like most British kids, I was educated in a comprehensive school, leaving at 16. The UK economy was bleak and I had little to no choice on work prospects. I joined the Royal Navy as it seemed a safe option. I managed a little sea time on board HMS Fearless in the Mediterranean, but left at 18. My sailor days were permanently memorialized in the James Bond film, "The Spy Who Loved Me". The final scene of the film has our ship pick up 007's mini-submarine near the island of Malta!
I had an older friend who was a policeman, and generally, I liked the sound of police life, so I applied. I got accepted into the West Mercia Police (Herefordshire, Worcestershire, and Shropshire), and after my basic training, was posted to Hereford. I spent almost 7 years there and thoroughly enjoyed it. My last 2-3 years were spent on the Force's Drug Squad. One day, my partner showed me a Police Review magazine advertisement that was asking for applicants from existing UK police officers to make the career switch to Bermuda.
Now I actually knew a thing or two about Bermuda. Remember that UK police officer I mentioned earlier who I followed from the Navy into the police, well, that same police officer had since made the move from the UK police to the Bermuda Police. I knew Paul Birch from my youth days as a Sea Cadet. So, without any further ado, I sent off my application for the Bermuda position. I received a response for me to come for a medical and interview in London. I had heard that the selection process was tight, as applications were multiple times the number of actual vacancies. I arrived at the London office amid tight security. I was told by the physician that London was in a state of high alert as it had just gone through the Libyan Embassy incident where Met Police Officer Yvonne Fletcher had been shot dead. I actually met the Fletcher family on a later visit to London where I participated in a fund-raising event in honor of Yvonne.
The interview went fairly easily. The panel consisted of Deputy Commissioner Clive Donald and the late Superintendent George Garrod. I think my Sea Cadets, Duke of Edinburgh gold award, Royal Navy, and Drug Squad background gave me the profile of what they were looking for. Clive was very honest and made sure I knew that Bermuda may be paradise, but professionally, it would be quite a step back. I knew I had the job as I walked out.
Bermuda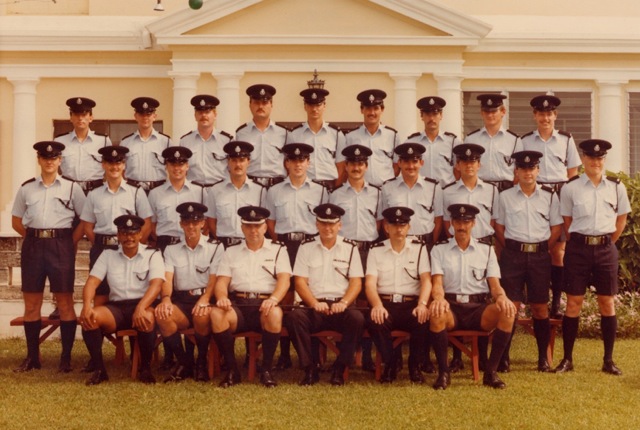 Localization Course, September 1984
T
op Row (l-r) Kev Hardisty, Stuart Pybus, Bill McKay, George Pearson, Nigel Brock, Alex Watson,
Mick Rhodes, Pete Morgan, Craig Morfitt.
Centre - Steve Parkinson, Nigel Gyte, Dave Pascoe, Des Peters, Russ Matthews, Neal Richardson,
Dave Arrowsmith, Chris Johnson,
Mike Grainger, Danny Matthews.
Bottom - Sinclair White (Instructor), Sgt Tony Smith (Instructor), Supt. George Garrod,
Deputy COP Clive Donald, Insp. Alan Bissell, Sgt Jeff Payne (Instructor).
My time in Bermuda started in September 1984. Twenty pale limeys made the trip from the UK, stepping into Bermuda's blazing bright sunshine off that Lockheed Tristar. We were all existing policemen, and we did our 4-week localization course, being the last intake to occupy McBeath Block. Training was overseen by Inspector Alan Bissell, and delivered by Sergeant Tony Smith, Sinclair White, Stuart Kirkpatrick, and Jeff Payne. Regular running at the hottest time of the day took some getting used to. Somewhere in our four weeks there we were greeted by then Commissioner Penny Bean.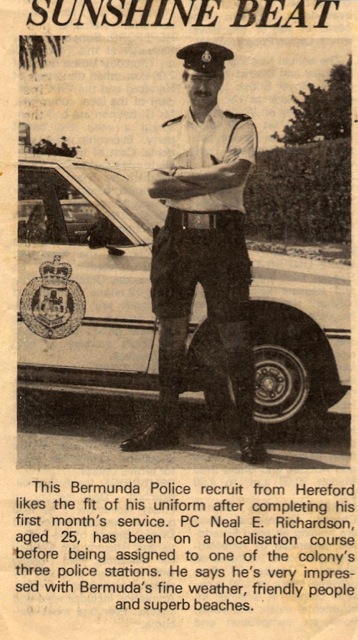 Each of us had a photo sent back to our respective home town newspaper
How many of you experienced $10 night at the Forty Thieves Club? All you can drink $10. Now I hadn't even drawn my first Bermuda paycheck yet, but even for a fresh off the plane limey, $10 for an open bar is a remarkable bargain, even in 1984. This was also my first experience with the likes of a dark and stormy, a planters punch, a swizzle, or a yellowtail. Of course, you just had to try them all as a mate would give you a taste of his and it always seemed to be better that what you'd just had. Within an hour or two, the room took on a distinct spin. Those Smatt's mopeds we all hired had a knack of knowing their way back to Prospect.
Following training, we each went in the three directions of St. George, Somerset, and Hamilton. Of course, the Hamilton guys stayed briefly in McBeath until they either moved into the much nicer new single rooms at Prospect or to private dwellings. I went to Dave Barber's Somerset Police Station with accommodation on the other side of Watford Bridge at Somerset Mess. What a gorgeous location. It could get a little too quiet during the winter, but on the whole, it was a lot of boats, fishing, swimming, barbequing, and the best PRC on the island.
I very quickly got into the house-sit game, and spent very little time living at the Mess while moving from fabulous house to fabulous house. Oh, work? I still have this vivid memory of my first workday at Somerset. It was the night shift, and it was there that I first met most of my new shift-mates, some of who are still great friends that I still see and keep in touch with. My shift mates were John Jones (lives in Hong Kong), Ian Matthews (lives in Leeds), Sam Lashley, and Lawrence "Mincy" Rawlins. In time, we were joined by Valence Holder, Glyn Jones, Trent Lightbourne, Eric Woods, as well as a few others whose names escape me. Our shift sergeant was Stan Francis.
We all stood in line in that decrepit room, the typewriters looked like they had been found in a museum, tree frogs were chirping outside, the heat was overwhelming, a cockroach ran across the floor, and this grumpy-looking sergeant was now my boss. By the way, I very quickly came to like Stan very much, but this was my first impression. I thought to myself that I had made the biggest mistake of my life, leaving what was a very good police career and friends in the UK. Maybe I should have heeded Clive Donald's warning? This place seemed like I had somehow travelled through a time-warp, and I was in some old British colonial outpost. I fully expected a ceremonial bugler to mark the start of duty, or me getting disciplined for some minor infraction where the punishment would be painting the ornamental stones outside in the baking heat.
Now although I say that jokingly, I was actually shocked at the stories I heard of real discipline infractions for what seemed petty issues, usually in the Central Division and particularly at Government House. Fortunately, my perception of the place changed quickly. Very soon these shift-mates, as well as other guys at Somerset, became great friends, both on and off the job.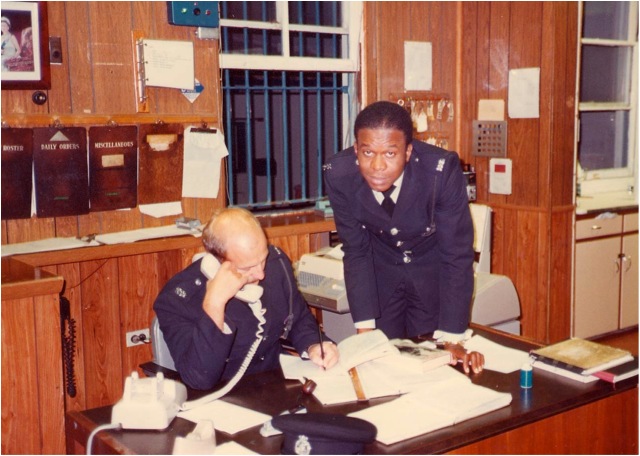 John Jones and Sam Lashley at Somerset Police Station, 1984
Working at Somerset was something that could easily veer off from actual policing. Anyone who possessed a trade skill would be seconded by "DB" (Inspector Dave Barber) to make structural improvements to the Station, but mostly the Mess. Word was that "DB" did a lot of research whenever a new intake arrived at Prospect and he made sure that any masons, plumbers, or carpenters were delivered to the Western Division. Probably the best example of this was Alan Gorbutt, who did beautiful carpentry work both at the Station and the Mess. For those of us with no real skill, there was always plenty of painting or yard work to be done if a hot afternoon if Zulu 2 wasn't your thing.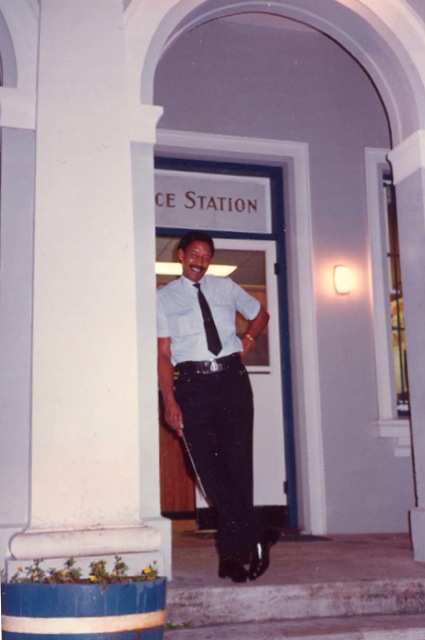 Lawrence "Mincy" Rawlins at Somerset Police Station 1984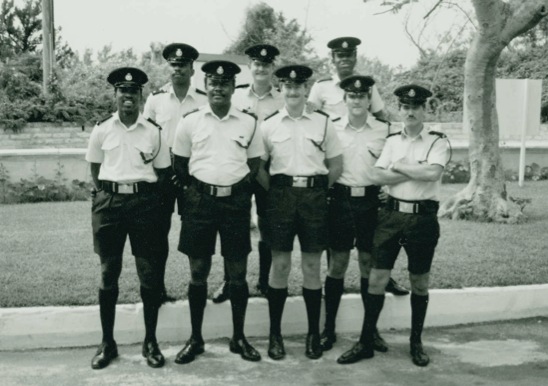 L-R: Eric Woods, Valence Holder, Stan Francis, John Jones, Ian Matthews,
Sam Lashley,
Glyn Jones, and Neal Richardson, outside Somerset Police Station 1985
Early morning following a night shift, Long Bay 1985
L-R: Neal Richardson, Glyn Jones, Sam Lashley, and John Jones.
After 18-months, I was totally surprised when I was told I was to be one of the two guys that make up the Beach Squad. Each summer, two guys were picked, and this year, it was Wayne Edwards and me. What a lark that was. We worked out of Central C.I.D., but spent most of our time on the south shore beaches, rounding up thieves, weed-smokers, and sexual deviants. I developed a great friendship with Wayne. His local knowledge proved invaluable as he knew many of our clients who lurked in the bushes. He also knew all the trails and tracks that only a local kid would be aware of. Much emphasis was paid to overseeing the visiting kids during college weeks. I can't tell you how many hours I've spent listening to The Sharks. It wasn't really the kids you had to keep an eye on, but the guys who spent their time trying to take advantage of them.
L-R: Sam Lashley, Neal Richardson, John Jones, Valence Holder, Glyn Jones,
Brian Russell, and Ian Matthews. I don't remember where this was.
The Beach Squad was followed by a posting to Prospect and working on Barrie Mancell's watch at Traffic. Another great boss, who was permanently assisted in the Ops (Operations) Room by the lovely Andrea Browne (I was so sorry to hear of her tragic news). Shift mates included Donald Grant, John Wild, Kevin Kennedy, Mike Jackman, Tim Stukes, Dick Parker, Ralph Lindo, and Bob Railton.
Traffic was soon followed by the Cycle Squad, where we rode a collection of Motor Cycle Squad hand-me-downs. I really liked this job as we basically had free range to go wherever we wanted, never bothered by radio calls, with a primary mission of tackling cycle theft. It was totally fruitless, really. Still, I loved the freedom and I still put my time to good police use. My sergeant there was the late Norman Ingemann, who I got along well with. Cycle Squad colleagues included Ken Lewis, Sam Lashley, Hatton Phillips, Devonish Small, and Greg Wales.
Due to personal circumstances, it became clear to me that my future would be a life in the USA. With a fair amount of time before that move was likely, I went about preparing for it. My first move was to get a US college degree, so I took advantage of the University of Maryland program at the U.S. Base. It turned into 4 hard years of evening classes and weekends studying, but I knew I couldn't move to the States without it. It wasn't easy doing course assignments on the weekends while friends were at the beach.
My other step was to get a police job that would give me the best opportunity for private-sector employment. The Fraud Squad. I asked for it and got it. Dave Cart ran the department and it was actually quite a shock to the system. I'm not in any way suggesting that other departments within the Bermuda Police were easy, but this fraud stuff was taken very seriously from an academic perspective. Like my previous bosses, Dave was a wonderful guy, who very patiently mentored each of his new underlings as they joined and progressed in his team. The work required a lot of mental focus, careful time-management, learning a whole new world of computers, and ultimately building complex cases that invariably resulted in Supreme Court trials.
I must say that looking back now, Dave is up there in the small collection of people who shaped me. Thanks Dave. Throughout my Fraud Squad years, my colleagues were Chris Graham-Ward, Alan Cleave, Pete Morgan, Pete Brentano, Eddie Davies, Gary Wilson, Dave Cooper, Arthur Virgil (he was with Customs working on Asset Forfeiture) and a few others who seemed to come and go quickly.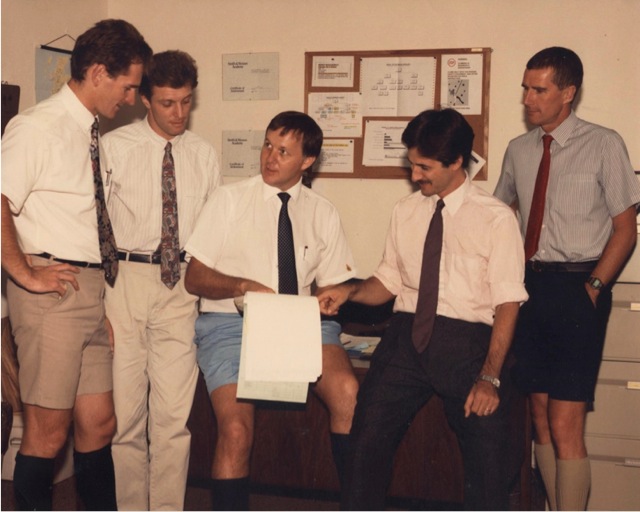 L-R: Pete Morgan, Pete Brentano, Dave Cart, Neal Richardson, and Eddie Davies.
In 1990, Bermuda was in the spotlight as it hosted a mini summit between the US and UK. Many Bermuda officers were put into security positions during the event, and the Fraud Squad guys were assigned to inside Government House. I think SB (Special Branch) thought we were a group of well-mannered fellas who wouldn't break wind in the close company of the VIPs. It was slightly surreal, standing there as the likes of President Bush, Margaret Thatcher, Brent Scowcroft, and Don Regan walked by. I gather that Dennis Thatcher heavily depleted the Governor's scotch reserves while in residence. I have this vivid memory of the Government House chef preparing food for the dignitaries while a Secret Service agent carefully watched every ingredient being added. It seemed like something out of Henry VIII's time where food tasters were used to guard against poisoning.
After Bermuda
May 1993 marked the end of my Bermuda years. I travelled the short distance to New York, which has been my home ever since. I have been back to Bermuda several times, mostly for fraud trials, but also for pleasure. My morning coffee at work each day is combined with a read of the online Gazette. Man, oh, man, what happened? Guns, guns, guns!
My relationship with the UK has basically ended following the loss of my parents and brother, so with no-one to really visit, and a stronger desire to keep exploring other parts of the world, I probably made my last stop there in 2008. I know I'm still a Brit (I keep the passport current, but really only use my US one), and get into the UK football when it's on TV, but culturally, I am very much an American these days, although I think as long as I live here, I will never be able to connect with American sports. Thankfully, I have three daughters, so there's not a lot of pressure to "pass on" American sports culture.
I currently work in the field of Anti-Money Laundering Compliance for a financial institution. It was a small industry when I first got in, but following 9/11 and the resulting passage of AML legislation, it has become big business indeed.
Talking of 9/11, I was working in Building 7 when the attack happened and witnessed scenes that will remain with me forever. Although our building went down later in the day, my colleagues and I made it out and home safely. That day is a permanent reminder of the underlying reason why I work in my chosen career.
When I'm not working, I am happiest with my wife and kids (see the last picture), and travel at every opportunity. Thanks Bermuda for giving me the travel bug. Thanks also, Bermuda, for opening my eyes to the wider world and opportunities that I would never have thought of. Oh, and a huge thank you to Al Gore or whoever it was who invented the Internet, as it gives me the ability to keep in contact with the many friends I now have throughout the world, including this great web site.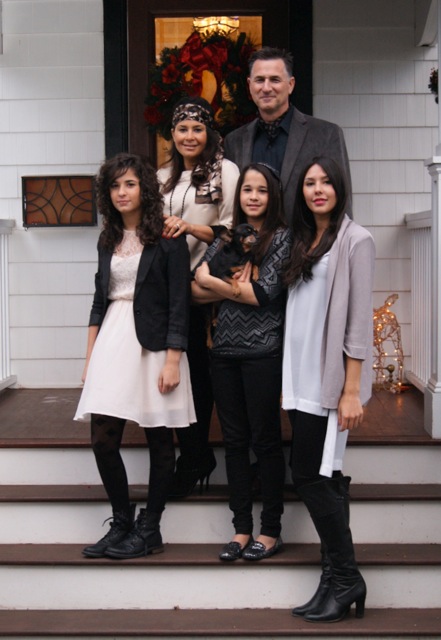 Neal and Family in New York