For many years the first official function of the year in Bermuda has been the Commissioner's Annual New Year Party, formerly called the "Sherry Party", held in the main hall at the Police Recreation Club on 1st January. Our present Commissioner, Michael DeSilva is a great believer in maintaining tradition and this year was no exception.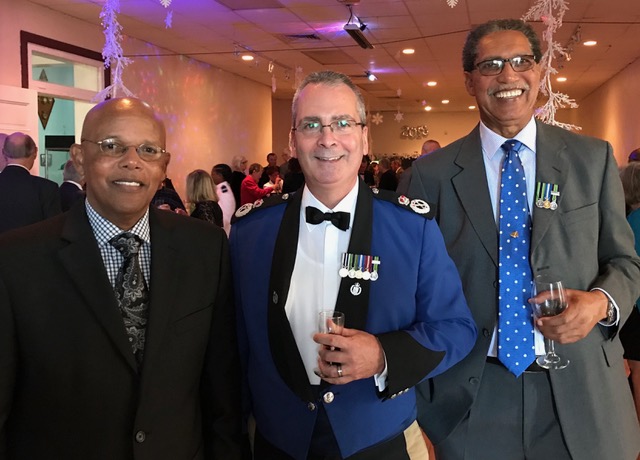 Retired Supt. Larry Smith, Commissioner Michael DeSilva and Retired ACOP Carlton Adams
The main hall at the Police Recreation Club was packed to capacity for this year's New Year Day party attended by His Excellency the Governor, Mr. John Rankin CMG, and Deputy Governor Mrs. Ginny Ferson, members of both Government and the Opposition, members of the Judiciary, the Bermuda Regiment members of the public who provide service and support to the BPS, and of course, serving police officers many of whom were in Mess Dress, and former and retired police officers through the Ex-Police Officers Association.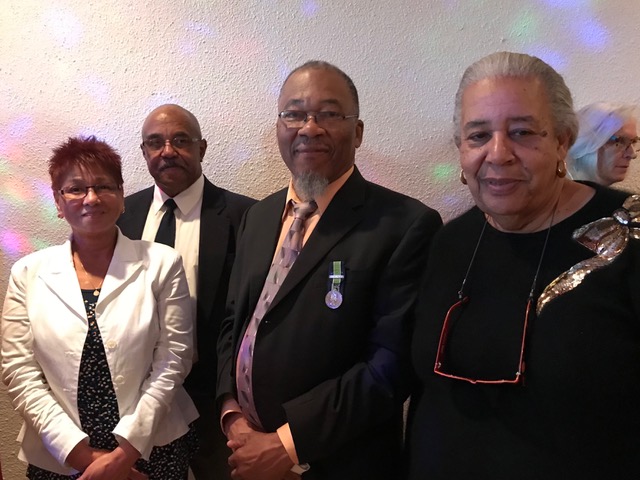 (l-r) Gilda and Reese Bartley with Hiram and Joanne Edwards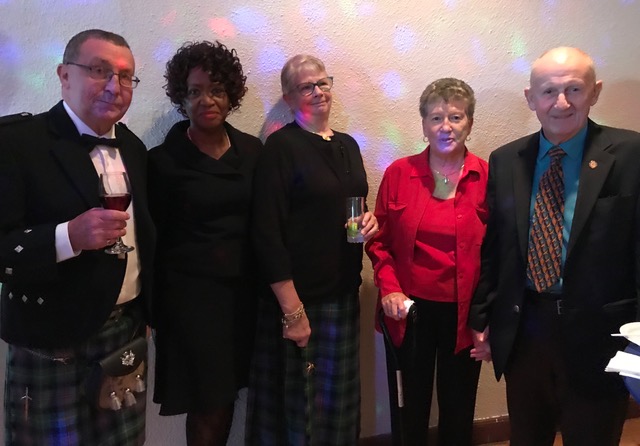 Gerry and Shina Lyons with Patsy and Dave Cook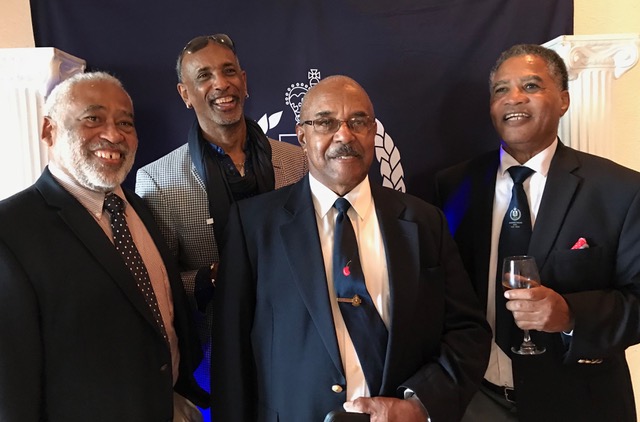 Ken McDowell, Adrian King, Reese Bartley and Patrick Hamlett
We can't be certain of the first year this popular function was held, but retired Superintendent Andrew "Andy" Bermingham has kindly provided the following information about the possible origin of the annual party:-
"I spoke with former PC Derek Brashier who attended his first sherry party on January 1st. 1956 at the Victoria Street Police Barracks situated on what is now the north-west corner of the City Hall car park.
"The sherry party was hosted by Commissioner Henderson and Deputy Commissioner Parker and was for serving police and reserve officers. No wives were invited and there were then no women police officers. The barracks housed about 35 police officers. The party was thrown by the Commissioner of Police in appreciation of those serving under him.
"When the Police moved to Prospect in 1959 the annual Sherry Party moved to the Police Club building (formerly the Officers Mess of the Bermuda Garrison). It was hosted by Commissioner George Robins who turned it into a highly visible social event for the high and mighty and the rank and file.
"On a couple of New Year's Eve days in the early 1970's trouble broke out in and around Hamilton around midnight but despite that the party went ahead 11 hours later !
"It may well be that Commissioner Henderson was operating from a tradition of a sherry party hosted by Commissioners back into the early 1900's and it may therefore then have had a military connotation."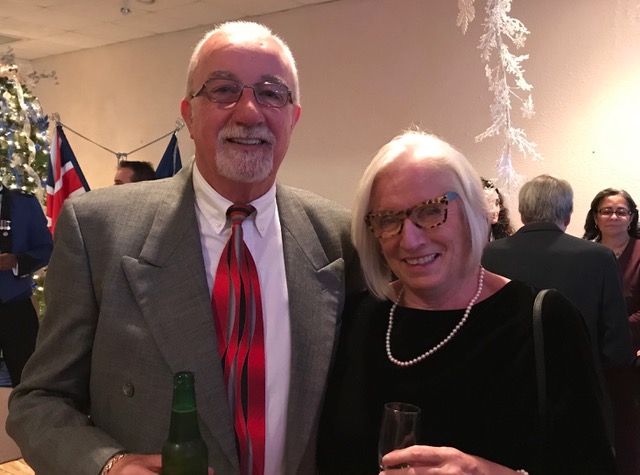 Charlie and Anne-Marie Mooney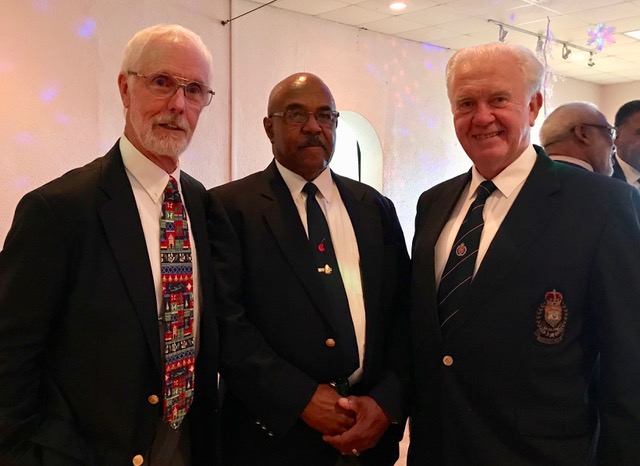 Roger Sherratt, Reese Bartley and John Dale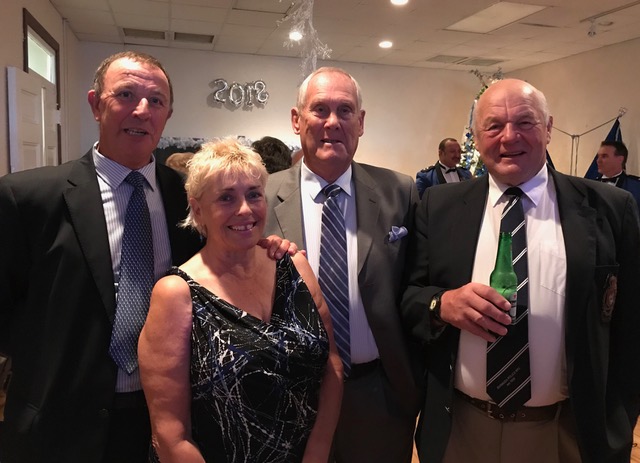 Keith and Joan Cassidy, "Moby" Pett and Bill Butterworth
Our members attending the annual New Year's Party invariably start reminiscing about "the good old days" and the above trio of rugby players - Keith, "Moby" and Bill - are no exception! They were casting their minds back 40 years to the memorable occasion when they were members of the first ever Bermuda Rugby National Squad to compete in the Caribbean Rugby Championship held in Martinque in October 1977.
Not only was this the first Caribbean Championship for the Bermuda Team, it was also one where they returned triumphant after clinching victory in the final to become Caribbean Rugby Champions. On their return the team was hosted at City Hall by the Mayor of Hamilton, The Rt. Wor. E. Graham Gibbons, and Counsellor William "Willy" Frith. We have uncovered this rather faded photograph of the team at City Hall, and we are wondering if anyone would be willing to test their faded memories and identify those players who were members of the Bermuda Police Rugby Football Club.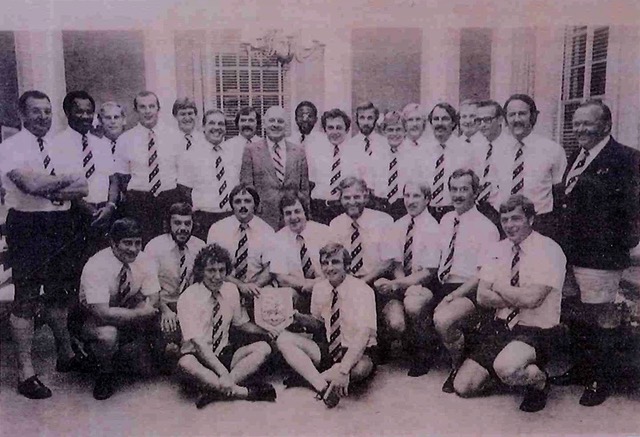 Caribbean Rugby Champions 1977 being hosted by Mayor Gibbons
at City Hall, Hamilton, on their return to Bermuda
Editors note - I believe I speak for all of our ExPo members who attended this years' party in saying a sincere thank you to Commissioner DeSilva and his staff for organizing a first-class event.