According to our records we had a total of 34 police officers recruited in 1972, some of whom are featured in the two Course Photos below. If you are one of these 1972 recruits we would be delighted to hear from you.
Basic Training Course No. 15
March - July 1972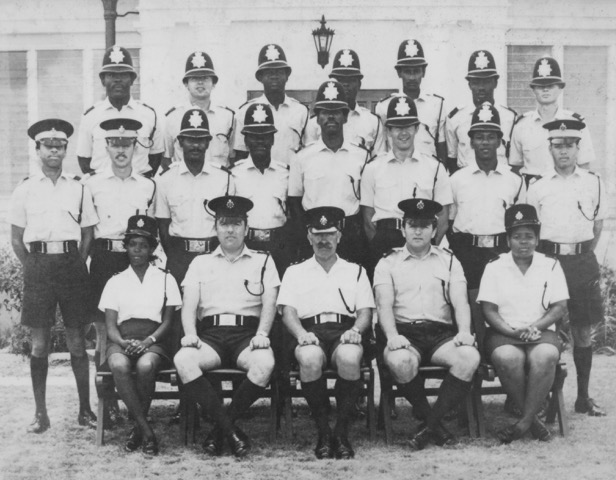 Top Row (l-r) Orville Ramsay, Wayne Robinson, Eustace "Legay" Farley, Dennis Gordon,
Franklyn DeCouteau, Michael Telemaque, Jann "Willow Moon" Pearce
Middle Row - Jerome Simons (Cadet), Ralph Lindo, Franklyn "Frank" DeAllie, Barry Walkes,
McDonald Fingall, James Sugrue, Desmond Waithe, Leon Fubler (Cadet)
Seated - Clara Saunders, Sgt Dick Murphy, Insp. Dave Parsons, A/Sgt McBr
ide

,

Lynette Baker
Localisation Course
July - August 1972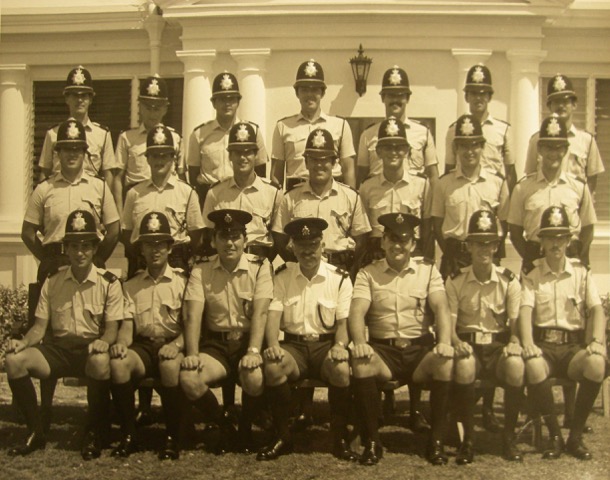 Front Row (l-r) - 344 John Challis, 355 David St. John, Sgt 12 Richard "Dick" Murphy,
Inspector David Parsons, Sgt 30 Patrick McBride, 279 Robert Durman, 270 David Cooper
Middle Row - 349 Michael Richardson, 281 Michael Dewar, 284 Peter White,
272 Brian Callaghan, 351 Michael Ball, 319 John Skinner, 296 Colin Cocker
Back Row - 317 Dale Thornton, 329 John "Stuart" Craig, 396 Douglas Proctor,
309 Philip Bermingham, 299 Terence Allebone, 313 James Brodie, 297 Peter McNulty
For those maybe not familiar with the workings of our website, we encourage are former colleagues to consider writing personal articles about their reminiscences and their time in Bermuda for our "Then and Now" column. These articles often make for fascinating reading as was the case with two of the above members of the Localisation Course held in 1972.
John Skinner - Young constable John Skinner had served in the East Sussex Constabulary before joining the Bermuda Police and attending the above Localisation Course in July 1972. John had a varied and challenging career in the BPS rising to the rank of Inspector before his retirement in 2003. Never one to rest on this laurels John is now an active member of our ExPo Committee, who has written a series of fascinating history-related articles for our website and has produced a brilliant set of lists that are proving invaluable for anyone researching either their own history or our Police History. CLICK HERE to view John's article in our "Then and Now" column.
Phil Bermingham - Also on the same Localisation Course was Phil Bermingham who had served in the Liverpool City Police before coming out to Bermuda. During his service he worked in Scenes of Crime and took to photography to such a degree that after leaving Bermuda for the U.S. he established a stellar international career as an outstanding photographer. His portfolio includes such luminaries as Her Royal Highness, Queen Elizabeth 11 and members of the Royal Family, Prime Minister John Major, U.S. Presidents George H.W. Bush and Richard Nixon, and General Colin Powell.
In his "Then and Now" article Phil states, "Moving to Bermuda was the best move I ever made and I have such fond memories of my colleagues there. I am forever grateful for the grounding it gave me in my photography career in the United States." CLICK HERE to read Phil's article.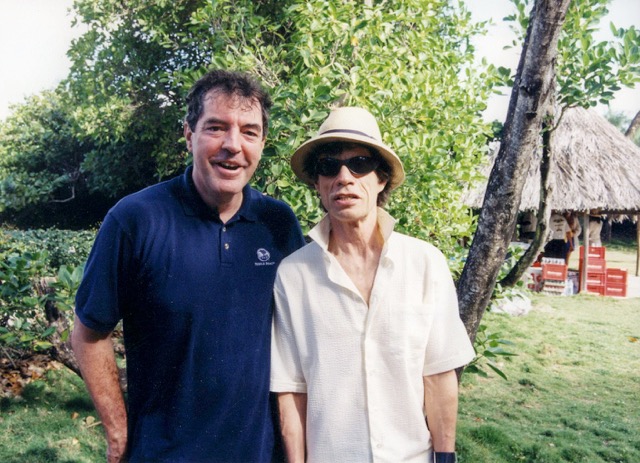 Neighbours!
Here is a rare photo of Phil on the other side of the camera with a well known personality living next door during a visit to Mustique.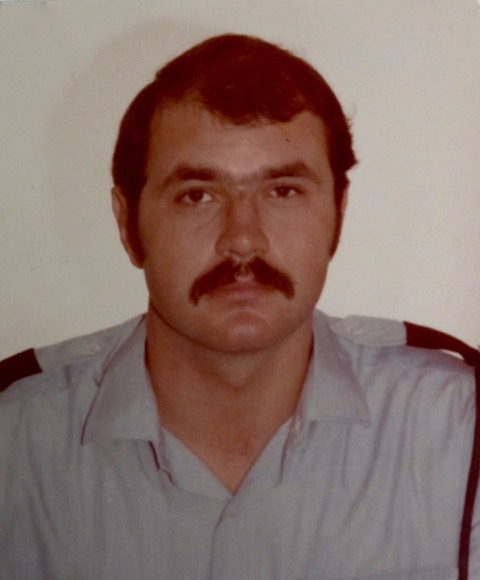 Young P.C. Doug Proctor
Douglas "Doug" Proctor - A third member of this Continuation Course intake who has written an excellent article for our 'Then and Now' column is Doug Proctor who had served in the Thames Valley Police prior to arriving in Bermuda, and served here for almost 7 years during which time he met his wife, Finola who was a nurse at King Edward Hospital. Doug and Finola returned to the UK with Doug rejoining the Thames Valley Police where he rose to the rank of Inspector and enjoyed another fascinating police career during which he spent some years literally "rubbing shoulders" with Royalty, as the officer in charge of security to Princes Wiliam and Prince Harry. CLICK HERE to read Doug's article.
Several years ago Doug spotted a photo of retired Chief Insector Dave Parsons who had settled in Canada after his retirement, and was visiting the Police Club with a group of old colleagues, and Doug wrote to say that judging from the photo "he hasn't changed a bit since he met us (our contingent) at the airport in 1972 and escorted us into a transit van and took us (wilting in the heat and humidity in our blazers and long trousers) to Prospect, where we walked into a 'fridge' of a bar (never having experienced air conditioning) and were fed ice cold beer!! " For those of us arriving from abroad I'm sure we all have vivid memories of our first day on Island. How about yours?
At last report Doug had some health issues but is now happily retired with Finola and living in Southern Spain.
The only former officer in the Continuation Course photo still residing here in Bermuda apart from John Skinner is Dave Cooper, while we have a few from Training Course #15 such as Jerome Simons, Dennis Gordon, Ralph Lindo and Legay Farley.
Sadly, we have since lost Frank DeAlllie, Brian Callaghan, Pat McBride and Dave Parsons.
If you are one of the 34 young men or women who joined the Bermuda Police during 1972 we would be delighted to hear from you and to know where you are and what you are doing these days.