These men in our latest "Who, Where and When" photo really take us back in time, and if you weren't in the Bermuda Police during the early/mid-1960's you will no doubt have problems recognizing some of the police officers in it. Sadly, we just one more of these "old timers" in December 2018 with the passing for retired Commissioner Fred "Penny" Bean who is front and centre in the front row of this photo. We wanted to know if you can name them all and would you have any idea where and when this photo was taken?
Thanks to several of our readers we have named everyone as shown in the caption below the photo. We believe it was taken at a retirement reception for Commissioner Bean. We are not absolutely sure of the date which was probably in 1992, around the time of Mr. Bean's retirement, and we are not sure exactly where it was taken but we believe it was on the same day, and at the same location as several photos we included in the "Hall of Fame" article on Commissioner Bean which you can view at http://expobermuda.com/administrator/index.php?option=com_content&view=article&layout=edit&id=712
The photo includes great stalwarts of the Bermuda Police - Eddie "Boxhead" Foggo who served from 1961-1989, Dudley Swan 1951-1981, Hubert Simmons 1950-1980, Harry Lister 1956-1981, Leon Bean 1953-1977, Hilton "Jellybean" Wingood 1955-1986, Howard Mitchell 1942- 1971, Westmore Bean 1945-1971, "Mike" Cann 1948-1971, and of course Fred "Penny" Bean 1956-1991.
Between them they served in the Bermuda Police for over 280 years, starting with young P.C. Howard Mitchell who joined at the height of World War II in 1942, through to the retirement of "Penny" Bean in 1991.
Sadly we have lost all of these former colleagues with two exceptions, Hilton "Jellybean" Wingood and Dudley Swan, both of whom attend some of our ExPo functions and we hope to see them for a good few more years.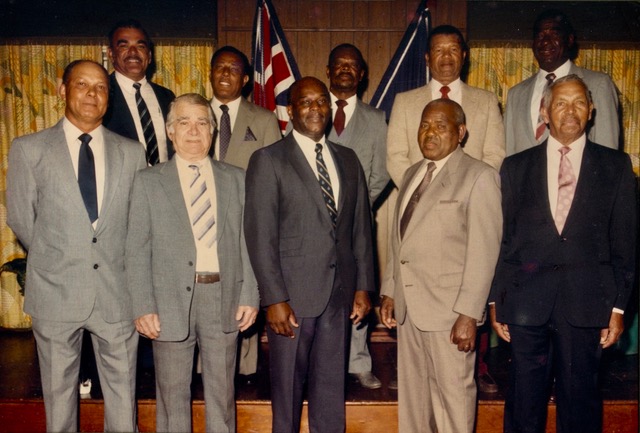 Stalwarts of the Bermuda Police
(l-r) Insp Eddie "Boxhead" Foggo, D/Insp Dudley Swan,
Insp Hubert Simmons, Insp Harry Lister, Insp Leon Bean
Chief Insp Hilton "Jellybean" Wingood, P.C. Howard Mitchell, COP Fred "Penny" Bean,
D.C. Westmore Bean, and D.C. "Mike" Cann