Eastern Division Football Stars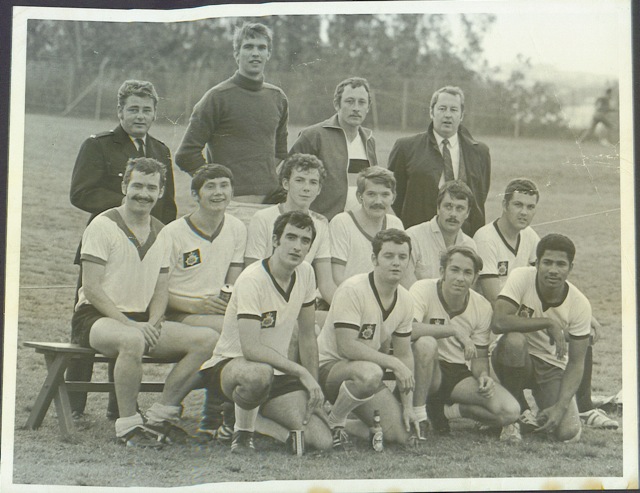 We pointed out that this photo has a distinctly "Eastern" flavour, but what team is it, what tournament were they playing in, what year was it, who are the players, and how did they make out?
WE RECEIVED THE ANSWER FROM PAUL HENDRICK -
"This was the Eastern Division Team taking part in a one day Inter-Divisional football competition held a Prospect in 1973. I believe we played Training School and Western Division, winning both to get to the final against Traffic Division, which was run by Tom Cassin. Now you will remember Tom Cassin was the manager of the Bermuda Police Team and he stacked his Traffic Division with their players. He then started to brag how his team would win this competition and when he knew he was playing this 'beer drinking' Eastern Team in the final he made some large bets as to how many goals they would win by. As we lost narrowly by a score of 2-1, I gather Peter Stubbs (Eastern Inspector) was seen smiling happily with a large wad of money in his pocket after the game. The team:-
Back Row (L to R) Howard 'Stumpy' Kirkham, Pete Shaw, Bob Porter, Dave Chew
Brian Parkin, Bob Foster, Paul Hendrick, Sandy Duncan, Paul Yates,

Malcolm Marlow
John Headey, Brian Anderson, Perry Fox, Pat Hamlet
Moby Pett provided us with the name of Malcolm Marlow (on 1/1/12).
We asked Peter Stubbs about the size of the bet he won. He could vaguely recall being very happy after the match
but couldn't remember placing a bet, or if he did, how much he won. His memory lapse may be the result of years past, or it could have resulted from the fact that this was, as Paul pointed out, a "beer drinking" Eastern Team!