We had recently come into possession of the photos below, but there were no prizes for guessing that they were taken at one of the Police Boxing tournaments.
We wanted to know which tournament, who are the boxers, and the second, when and where were they taken, and what was the significance of that particular evening. Who else was on the boxing card that evening? Who were the referees and seconds? Fortunately, there were lots of people who could vividly recall that historic evening .
This was, of course, the first ever evening of Police Boxing held on 22nd March 1969 at the PRC. There were eleven bouts in all, and the whole evening was a brilliant success thanks to the excellent organizing skills of Patrick McBride and an outstanding committee. The first photo shows the first boxers to step into the ring that night, and they were Dave Cann and George Rose.
The comments section below contains more first-hand information about that inaugural night, which became one of the most popular events on the Bermuda sporting calendar for several decades, and progressed from inside the PRC to the outside patio, and then to the Southampton Princess Hotel where tickets were much sought after.
You can find more information about the creation of the Police Boxing Section in an excellent article written by Pat McBride which can be found at http://expobermuda.com/index.php/articles/89-first-boxing-tournament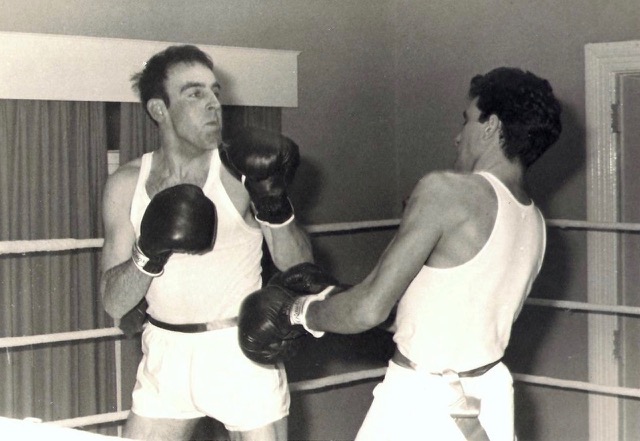 Dave Cann keeps George Rose at bay in the first fight of the night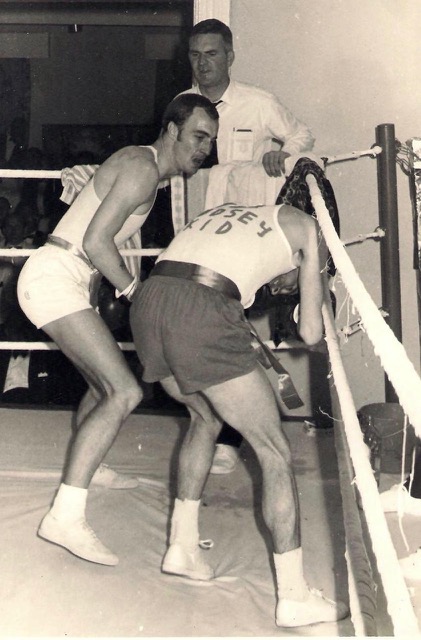 Alan Keagle (above and below) pounds the "Pudsey Wonder" with Second, Mike Palmer keeping watch on his man