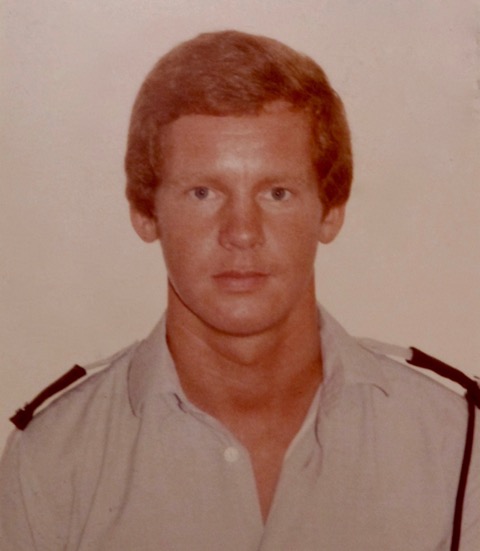 Young P.C. John Latoszek in 1973
I was born in Birmingham, England on June 10th 1952, and attended school and Technical College in Birmingham. I worked 4 years for the City of Birmingham Housing Management Department as a Works Inspector in the construction industry from 1969 to 1973.
In 1973 I read an advertisement in the local newspaper that the island of Bermuda was recruiting for Bermuda Police Officers and with the encouragement of my father, who had been a Police Sergent in Poland before the war started, responded to the ad. I was interviewed by a very personal Superintendent Syke Smith and after what appeared to be a lengthy waiting period was accepted and so began my time with the Bermuda Police Force and my journey west on October 23rd 1973.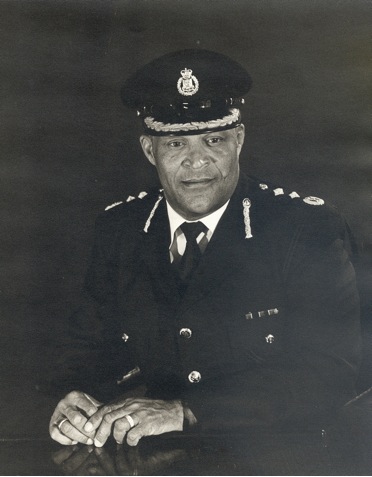 Superintendent Maurice "Syke" Smith interviewed
literally hundreds of new recruits and
was always a very popular officer
Prior to taking the plane that day I had to get a haircut and cut off my 1973 shoulder length hair so I went to a local barber in Birmingham and asked for an extremely short, back and sides. I thought I looked close to Yul Brynner. However, on stepping off the plane in Bermuda and being met by Inspector Dave Parsons and Sergent Barrie Meade I was told I needed a haircut!
The Training School class #17 of October 1973 consisted of the following overseas and local recruits: John McKay, Keith Melville, Harry Meesham, Raymond Needham, Lincoln Pratt, Michael Scully, John Stewart, Phillip Bailey, Joanna Clark, Reginald Emery, Joanna Easton, June Pitt/Rhoda, Ralph Trott, Vaughan Stovell and Sinclair White.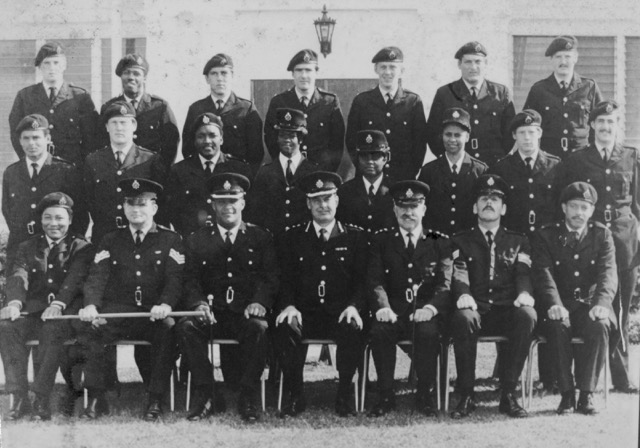 Basic Training Course #17
October 1973 - January 1974
Top Row (l-r) Keith Melville, Phillip Bailey, Lincoln Pratt,
John McKay, Allen Pugh, Michael Skully, John Stewart
Middle Row - Sinclair White, Raymond Needham, Reginald Emery, June Pitt/Rhoda,
Joanna Easton, Barbara Clark, John Latoszek, Harry Messham
Seated - Vaughan Stovell, Sgt Patrick McBride, Supt Syke Smith,
DCOP Alf Morris, Chief/Insp Dave Parsons, Sgt Dick Murphy, Ralph Trott
All the overseas recruits were housed in the Prospect barracks while the local recruits were housed at their own place of residence. I remember after my second day in training having learned about saluting officers in white shirts I was walking back to barracks when a big man in uniform wearing a white shirt with lots of 'scrambled egg' on his cap came towards me and I saluted him first with my left hand and then thought, no it's the other hand so I saluted him with my right hand at the same time giving him a double salute. He must have thought what the heck is the training school doing with their recruits these days? The officer of course had to be the Commissioner of Police.
After completion of basic training I was assigned to 'B' Watch at Hamilton Police Station. During my time there I had the privilege to work with the following sergeants: Bob Hay, Orson Daisley, Derek Fletcher, Dudley Proctor, 'Spider' McKenzie and Vic Richmond. I worked most of my time in downtown Hamilton except for a short stint in Operations. I represented the Bermuda Police Football and Rugby teams however, gave up the Rugby career with them after my second game and getting a kick in the mouth from someone which broke four of my front teeth. Thank heavens for the Police dental program.
John vividly remembers being encouraged to take up boxing while he was in Training School. He recalls, "I trained with Gerry Lyons and Frank Thom and if I remember correctly we were trained by a visiting pro boxer from England who was here at the time. The evening event for me was something that I will remember for ever. I had never been to a boxing event let alone participated in one. I had never boxed before and thank heavens for the pre event training it helped alleviate some of the anxiety and fear. Preparation is everything in being successful. My opponent was a fellow recruit, Philip Bailey, who was a strong lad and kept showing me his "Ali Shuffle". Fortunately, I won the fight on points. The formality of the evening was fantastic and then to meet the Governor (Sir Ted) Edwin Leather and receive your medal was also an event highlight.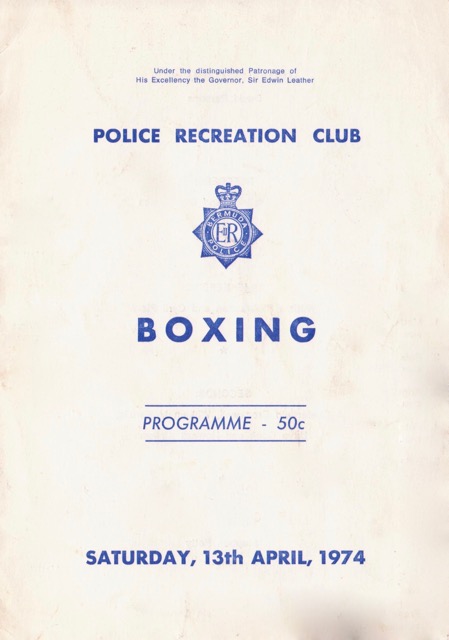 Boxing Programme for Saturday 13th April 1974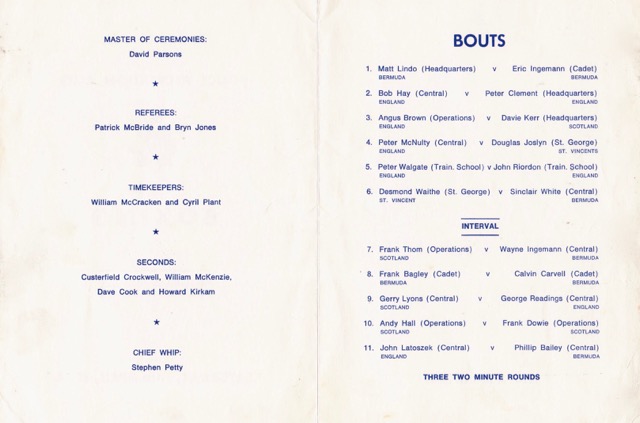 The programme indicates a total of 11 fights. Can anyone advise
who won their respective bouts and who won Fight of the Night?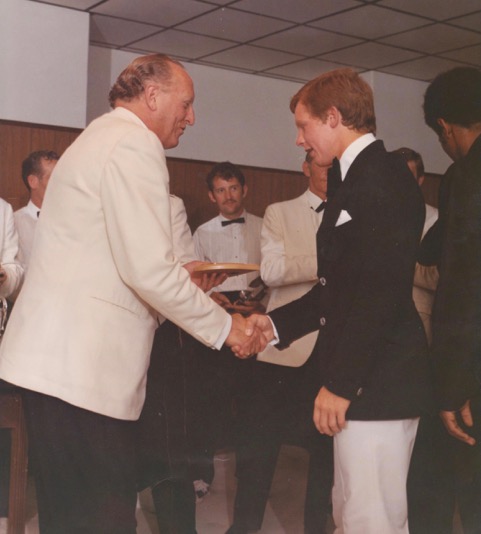 John Latoszek proudly receives his winners medal
from H.E. The Governor, Sir Edwin Leather
Memorable characters are riddled throughout this island paradise. I had the pleasure to work with many interesting characters some of whom have now passed away however, they included 'Mincy' Rawlins, Peter Blogg, and Andy Hall. Austin Carty the unofficial Tailor to the Police was another one of them. Other notables were Brian Malpas, and the Morris family.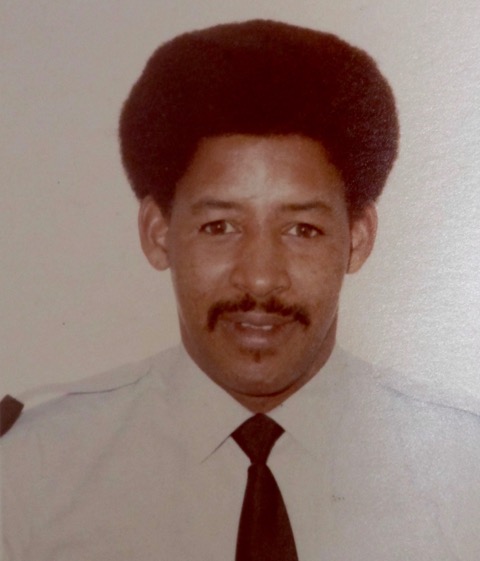 P.C. Lawrence "Mincy" Rawlins
After about 9 months or so I left barracks and took up residence with Colin Hopkins at Riddles Bay Golf and Country Club. No, not the club unfortunately but a large one bedroom unit on the second floor of a converted stables building that now become a machine shop and garage on the main floor right on the number one hole. Colin left shortly afterwards and returned to Policing back in England, subsequently I inherited Lyndon Lewis as a flatmate.
It was during this time that I sold my Lambretta Scooter and purchased a very old and compact fibreglass made "Reliant" car. Problem was I had nowhere to register it because my flat mate had already taken the rental property as his place of domicile for his vehicle registration.
Thank heavens for an October 1975 night shift in U2 with partner Constable Byron Lewis and finding a passed out 'Poker' Darrell otherwise I would not have met my future wife of 40 years and also had a place to register my car.
I met my wife Karen, a Canadian from Calgary, who was Karen McLean at that time, on an evening shift while she was working at the Emergency Department at the King Edward Memorial Hospital. We started a friendship and relationship that day that has lasted over 42 years.
We both left Bermuda together on March 30th 1977 for sunny Alberta, Canada. I do remember the last shift I worked at the station because the lads gave me a fond farewell and put a bike lock around my neck and I had to convince the boys at the Bermuda Fire Station to cut it off as we were leaving on the plane for Toronto within the next few days.
Since leaving the Force and moving to Canada I returned to my construction roots and worked 24 years for the City of Edmonton Planning and Development Department then left in 2001 and did 8 years of private industry managing the building and development of condominiums and commercial building projects. In 2009 I then returned for another 6 and final years with the City of Edmonton Capital Projects Department in their recreation facilities section project managing the building of 2 large Recreation Centre facilities before retiring at the end of 2015.
My wife Karen worked as an Emergency Nurse and during the last 17 years of her career went on to become the Patient Care Manager at the University of Alberta Hospital Emergency Departments for both adults and pediatrics here in the City of Edmonton with over 350 staff under her wing. She has also just officially retired at the end of 2016 after 40 years of service at this hospital.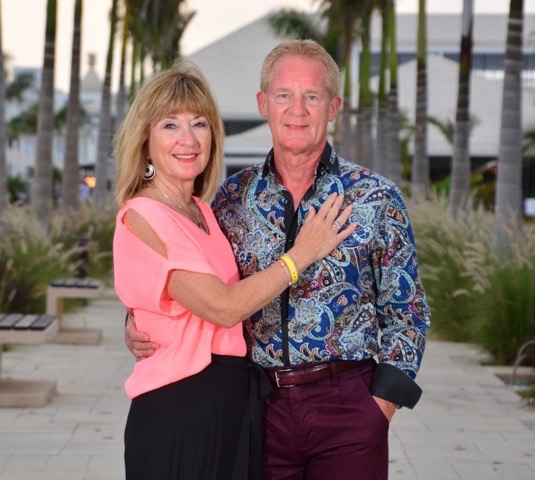 John and Karen relaxing at their favourite vacation spot
at Mayan Riviera in Mexico
To all the ex-Police Footballers out there I am still chasing that football around the field and we have a master's league for both indoor and outdoor soccer here in Edmonton. One of the playing career highlights for me was representing the City of Edmonton all stars in a game against Hibernian in 1979 at Clarke Stadium in Edmonton in front of 12,000 spectators. We were slightly outmatched and lost 6- 0 to the then Scottish Cup runners up to Rangers that year.
We have 2 children, Jason who is now 33 and Amy is 30, neither are married yet and so no grandchildren that we are aware of to talk about. They are both in relationships and also pursuing their careers at this time.
We were back in Bermuda in 1986 to visit friends and celebrate our sons second birthday and hope to return sometime soon now that we are both retired. Possibly a friendly celebrity master's ex police soccer tournament or the like could be arranged? From reading the information on the Bermie Ex-P. site there seems to be a lot of ex-Bermuda Police living across Canada. Maybe there will be an opportunity to organise a reunion here in Canada, an east or west coast location such as Vancouver or Toronto sometime in the future.
John and Karen (centre) with their daughter Amy and boyfriend (left)
and three friends (right) at the Eldorado Polo Club in Palm Springs 2017
Editors note -
Many thanks for submitting this article John. I'm sure lots of your former colleagues here in Bermuda will be delighted to hear about your life since departing our shores in 1977.
For your information there is a group of former Bermuda police officers in Canada, who mostly reside in and around the Toronto area, and they do occasionally hold get togethers. I know they would be happy to have you join them so I will pass on your details to Paul Hendrick who is one of the reunion organizers.