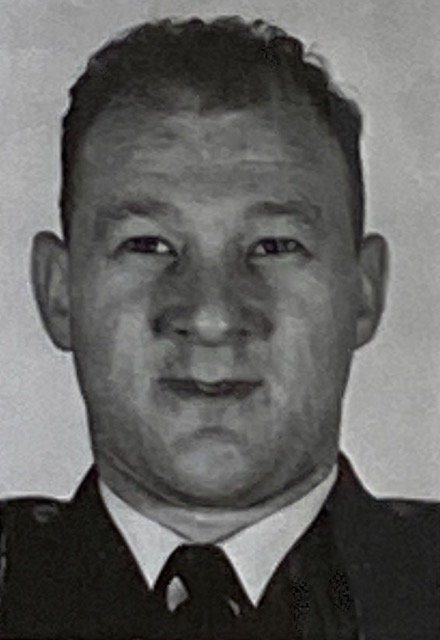 P.C. Tom Oliver
In Bermuda I was PC #70 from August 1959 to August 1963.
I was born in Teesdale, North Yorkshire. After my 2 year national service in the Royal Navy I joined the North Riding of Yorkshire County Constabulary, spent 2 years on the beat in Richmond, then went on to the Motor Patrol division in Northallerton.
Jimmy Woodward and Mike Kelly, both of the NRYCC had joined the Bermuda Police and in 1959 I decided to join them. (The fact that I totaled a patrol car and been returned to the beat might have influenced my decision!). Jim Lyons and Ken Norman, also in NRYCC came to Bermuda later.
My first few months were on the City beat in Hamilton under Inspector Burge. I was on duty during the 1959 Front Street near riot regarding non-whites and cinema and restaurant seating restrictions. The Magistrate, from Trimingham's balcony, read the actual Riot Act, a marine band off a navy destroyer played a few marches and everybody went home happy.
The legislature changed the law pretty quick and peace returned to paradise.
I was moved to motor patrol, driving the Sunbeams and Triumph 500 twin bikes. One of my partners was Bill Bryan and I found a picture of us with the car.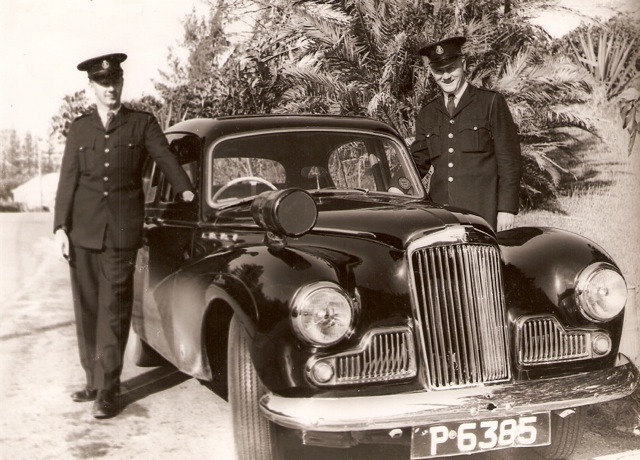 Bill Bryan and Tom Oliver with Sunbeam Talbot
After about a year of that I joined the Western CID under Inspector Murray Marsh. I worked with Mike Leng, Dave Lunn and Freddie Bean.
Those were the days when vacation time was 6 weeks a year, and after 2 years Clive Donald and I took a trip around the USA. $99 for 99 days on Trailways. We flew to New York then travelled up to Kitchener, Canada, and spent a week on a farm owned by Ken Norman's then fiancé's parents.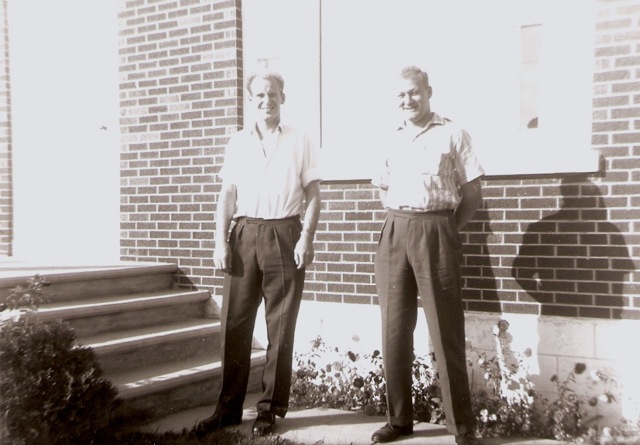 Clive Donald and Tom Oliver photographed on the farm
in Canada during their trip to North America - 1961
We then drove a car for a dealer from Detroit to Seattle Washington. What a drive, after 15 mph in Bermuda to over 100 across South Dakota. We followed the Lewis and Clarke exploration route through Montana. Then we travelled on the bus back over the Rockies to Salt Lake City, then San Francisco, Los Angeles, the Grand Canyon, down to Mexico City and Acapulco, back through El Paso, across the southern states through Houston, New Orleans to Miami, then New York and back to Bermuda. What a trip!
In August 1963 I resigned, and with Denis Byrne, flew to New York then took the bus across the central States to San Francisco where Alec Smith and Barry King and Neal Jones (ex Bermuda Police) were already settled.
After a few minor jobs I entered the field of hydrography. The first job was in the Fiji Islands looking for gold deposits in the offshore old river channel systems. Land target positioning was done with theodolites and offshore positioning with sextants. There was no such thing as GPS or cheap calculators and all geodetic conversions to grids were done using logarithm tables. 20' core samples were taken in the channels and assayed by a geologist. We found gold but at that time it was worth only $35 an ounce and what we found was not commercially viable.
After Fiji I was back in San Francisco and conducted some surveys of marinas before the company ran out of survey work. I then joined Allstate and in 1969 got married.
In 1972 Decca Survey Systems, the largest offshore survey company in the US, invited me to join them in the Houston office and I worked in the Gulf of Mexico conducting hazard and archaeological surveys prior to oil companies drilling for oil and gas. Our reports indicated if it was safe for rigs to be positioned on the gulf floor and to choose underwater pipeline routes from the platforms to shore.
We also provided positioning services for the tugs and pipelay barges.
In 1976 I joined a smaller company in Baton Rouge, Louisana, as Chief Hydrographer also working primarily in the Gulf of Mexico. During the next 25 years the company was bought and sold several times and is now a world wide company, Tesla Offshore.
Over the years I saw the development of early satellite positioning leading to GPS, sophisticated navigation computers and underwater data collection instruments and went from surveying in water depths of 200' to over 10,000'. I retired finally in 2009 at 75 and enjoy playing golf in senior tournaments twice a week.
I am enclosing a picture of my family, my wife Jane, daughter Sandra, son-in-law Chris and grandsons Daniel and Benjamin.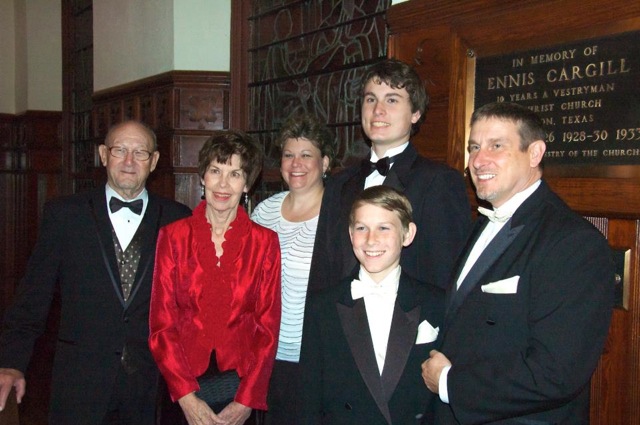 Tom Oliver with his family (l-r) Tom, wife Jane, daughter Sandra,
grandsons Daniel & Benjamin, and son-in-law Chris
It is interesting to read all about my old friends and acquaintances featured in your site but sadly so many have passed on.
24th February 2023
EDITORS NOTE - We recently received the sad news from Shirley Leng that her husband, Mike, passed away in November 2022. Mike and Shirley were good friends of Tom and Jane Oliver while the two men were serving here in the Bermuda Police, and Shirley has been trying to contact Tom and Jane to let them know of the passing of her husband. She is aware they they moved from Baton Rouge to Waco, Texas a few years ago, and has asked if there might be someone who is still in contact with Tom who might be able to provide us with his contact details. If so we would ask that you contact us at info@expobermuda.com