Our first ever civilian clerk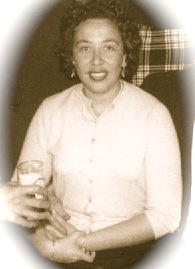 Carole Royer
There's no doubt that every member of the Bermuda Police who served in the Traffic Department (Operations) from the time it first began to operate from Prospect in 1959, until 1984, will know one person for sure – and that is Carole Royer. During a recent interview Carole fondly recalled her years working as a civilian clerk for the Police Force, now the Police Service. In fact Carole was the first ever civilian and the first ever female clerk hired by the Police.
Carole's parents, Tyril and Zillah (nee Durrand) Royer, were both born in Dominica but moved to Bermuda in the 1920's where they met and married. Tyril "Daddy Royer" as he was popularly called, was best known in latter years as the owner of the Court Street Grocery Store, formerly one of the O.R. Loblin stores, located on Court Street at the junction with Elliott Street. Prior to working in the grocery store Tyril had tried his hand at a variety of jobs, including working with officers from the Prospect Garrison quarrying out the stone to create Blackwatch Pass, leading from North Shore to Marsh Folly Road.
Carole was born in 1934 and attended Central School before her mother, two sisters and herself returned to Dominica for 2 years. When they returned to Bermuda Carole attended the Berkeley Institute, and after leaving school she became the second member of her family to work for the Prospect Garrison when she took employment as a clerk in the very same building that was soon to be taken over by the Police Traffic Department (Operations) when the Garrison closed in 1959. Shortly after its closure Carole took off on a trip to the U.S. but within months she was hired by Inspector John Marshall as the first female and the first civilian to work for the Police Force.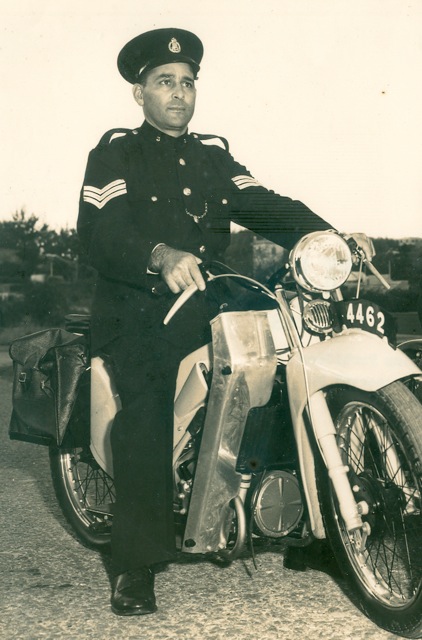 Sergeant John Marshall was in charge of Traffic and hired Carol in 1959
Carole must have felt quite at home in that building because she remained there for the next 25 years, until 1984, by which time the Police Force was computerized and she was transferred to the Prosecutions Department to carry out essentially the same duties she had performed at Operations. Carole recalls that when she first started in Traffic she was using a clunky old manual typewriter to record information about all traffic offences (except for parking tickets), and as she says, "I got to know the names of thousands of people who were booked for traffic offences, and would sometimes meet them socially without them realizing that I knew all about their driving record."
When asked who was working in Traffic when she first started, Carole remembered teams such as Walt Sneddon and Roy Thomas, Dave Parsons and Pip Carter, Bob Railton (Senior) and Jim McMaster, along with Cannoth Roberts, Tommy Doyle, Bob Curnow – who she remembers because of his beautiful blue eyes - and his partner P.C. Ferguson who's first name she has forgotten. Also stationed in Traffic at that time were Pete Edney who was the Police mechanic, and Jerry Ham, the radio mechanic. Derek Selby was in the office, along with Malcolm Fletcher who later moved to ZBM, Peter Stubbs, and George Goddard.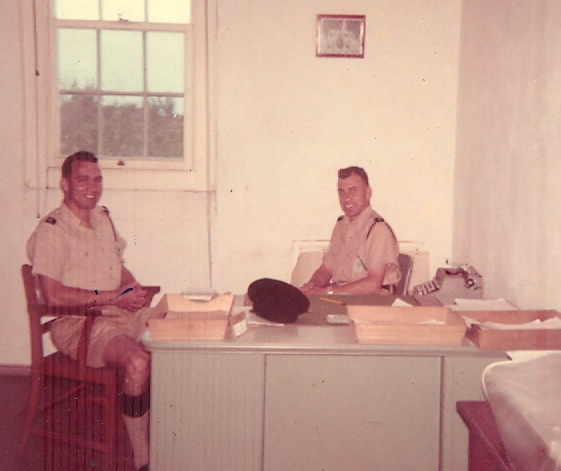 Bob Railton and Jim McMaster were two of the first postings to Traffic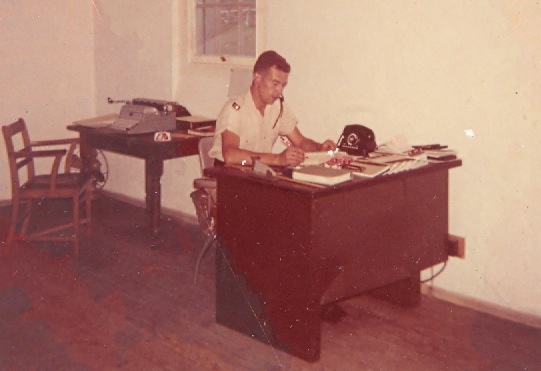 Peter Stubbs in the "high technology" Traffic Office at Prospect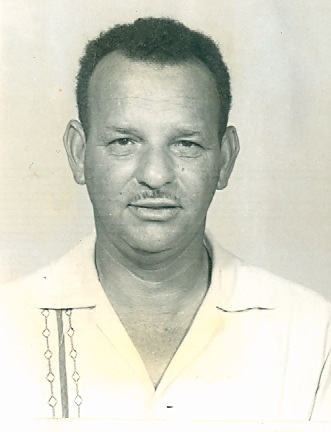 Sergeant Cannoth Roberts
It would be impossible to list every police officer who Carole remembers, but she made mention of "latecomers" such as Hubert Swan, Lyn Hall, Hilton Wingood, Chief Inspector Bob Ball, Jim McNiven, George Garrod, Arthur Rose and Derek Jenkinson.
Carol had good reason to vividly recall one particular occasion after the 1965 BELCO riots when the Police used to practice riot squad drills on the square just above Traffic. She happened to glance out of the office window and saw Ben Swan, our civilian mechanic, looking most upset. It turned out that Inspector "Red" Hebbard was in charge of the riot training practice session and had released a tear gas grenade on the square without first checking on the direction of the wind! Ben was the first to start choking, quickly followed by the rest of Operations staff. Everyone who inhaled the gas agreed that it was most effective!
Carole also made mention of the impact that Chief Inspector Moniz made while in charge of Operations. He always wanted the garage to be absolutely 'spick and span', along with all of the fleet, so the mechanics had to keep everything in meticulous order.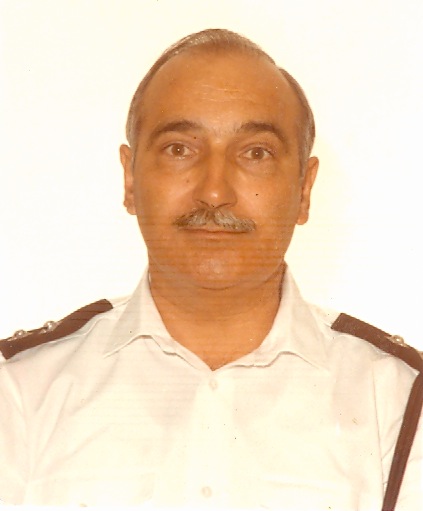 Chief Inspector Ernie Moniz
Keith Pratt was then in charge of the Garage with the assistance of Owen Marsh and Ben Swan. Operations staff had to keep their cars and motor cycles spotless, and that included all the Parish Constables on their scooters. We are not sure if the same applied to Hiram Edwards in the radio room!
One other character she mentioned was John "Rigor" Morris who worked for a while as a radio operator at Operations. She tells the story of how he apparently got the nickname "Rigor" as in rigor mortis, due to the fact that his workmates had to go and drag him out of bed before his shift because he was always "half dead"!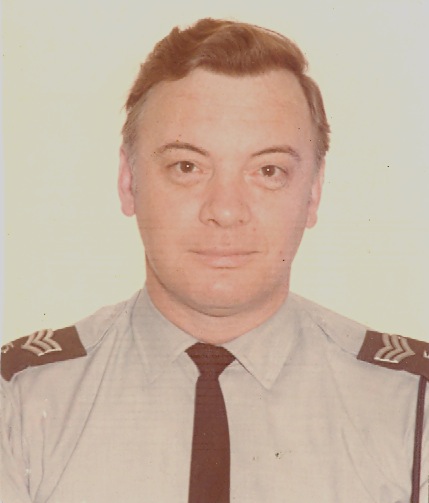 Sgt. John "Rigor" Morris
When shown a photograph of a very young Carole with a group of C.I.D. officers she could vaguely recall that it must have been taken at one of the CID Christmas parties. (the photo was kindly supplied by former D/Insp Milton Murray Marsh, and includes officers who later graduated to the top ranks, such as Oliver Trott, Freddie Bean, Lenny Edwards and "Nobby" Clark, together with the man with the most infectious laugh in the history of the Bermuda Police - "Happy" Duerden!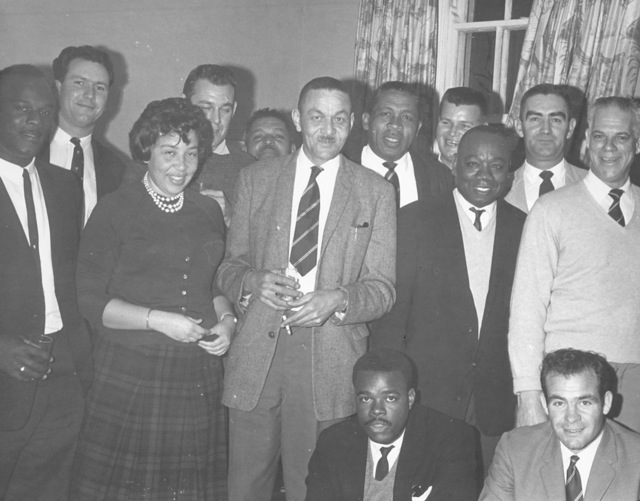 CID Christmas Party (l-r) Fred Bean, Dave Lunn, Carol Royer, Michael Leng, ?, Oliver Trott,
Sinclair Bean, Joe Colton, Milton Murray Marsh, Leroy "Nobby" Clark,
"Happy" Duerden, (seated) Lenny Edwards, Bryn Jones.
Carole also provided us with this photograph of another party in CID. It would appear that parties were quite popular during the 1950's and 60's!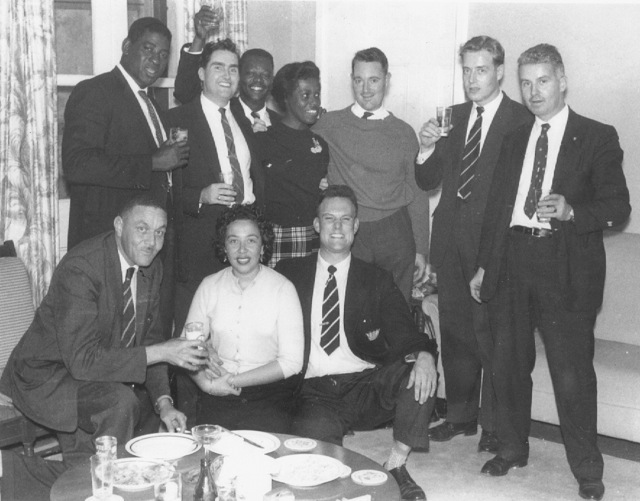 Carole and Edith Morton are the centre of attention at this social gathering
(l-r) Standing - Leon Bean, John Kane, Hubert Simmons, Edith Morton, John Curnow? John Logan,
John Mullan. Seated - Oliver Trott, Carole, Mike Woods.
Commissioner Henderson was in charge of the Police Force when Carole first walked into the Traffic Department in 1959 and by the time she retired 40 years later, in 1999, she had served under the administration of seven Commissioners from George Robins, George Duckett, "Nobby" Clark, Fred Bean, and Clive Donald, to Colin Coxall. On her retirement Carole was honoured with the Queen's Certificate and Badge of Honour for Long Service to the Police, and a gold award and plaque from Commissioner Colin Coxall for her outstanding service to the Bermuda Police.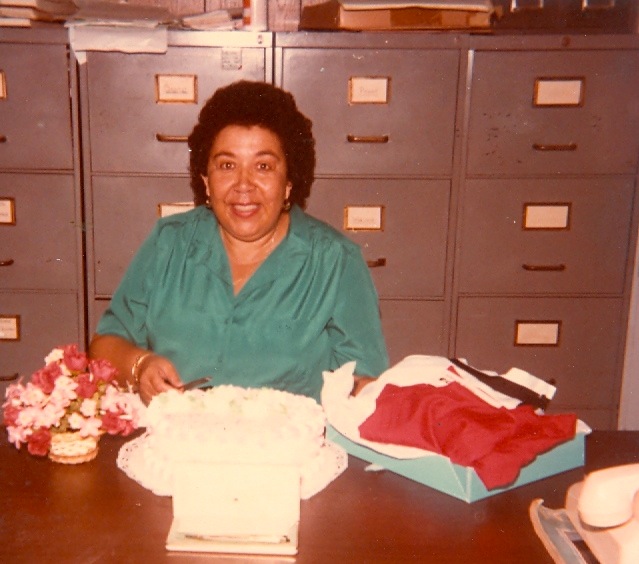 Carole is feted on her last day in Traffic before transferring to Prosecutions
Carole says she is relaxing these days, and she loves to travel on cruises; her favourite is the Holland–America line. She remains in good health apart from a little arthritis, and keeps in touch with friends by email. She also enjoys spending time with her numerous great nieces and nephews who keep her on her toes! For those who havn't seen her for a few years. Carole still has that lovely smile and mischievous chuckle and still retains her wonderful sense of humour.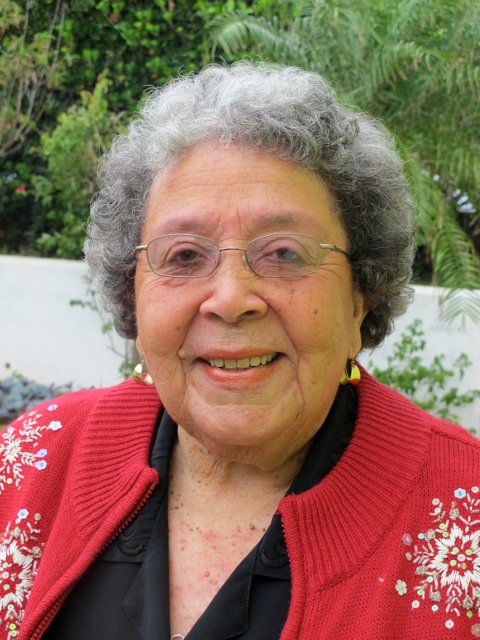 Carole at home in December 2011