The Royal Gazette reported this morning (25th May 2020) that a 39 year old man has been arrested on suspicion of murdering Chavell-Dillion-Burgess who had been reported missing by her mother on 30th April after friends of Chavelle had not hear from her since 11th April. The Royal Gazette report is as follows:-
A 39-year-old man was arrested on suspicion of murdering Chavelle Dillon-Burgess over the weekend.
Police announced the news as they revealed Ms Dillon- Burgess, who had been missing for several weeks, had probably "come to the gravest of harm".
Detective Sergeant Jason Smith told a press conference on Saturday morning: "It is with a heavy heart that the Bermuda Police Service declare that the disappearance of Ms Chavelle Dillon-Burgess is being treated as a suspected case of murder.
"Overnight, detectives took a 39-year-old man into custody on suspicion of murdering Chavelle."
Mr Smith added: "We know that news of an arrest in this case will cause anxiety and stress, especially to Chavelle's family and friends."
Friends of Ms Dillon-Burgess have not heard from her since April 11.
She had been reported missing by her mother on April 30, about two weeks before her 27th birthday.
Members of the public have joined police officers and Royal Bermuda Regiment troops in searches for Ms Dillon-Burgess, the mother of an 18-month-old son.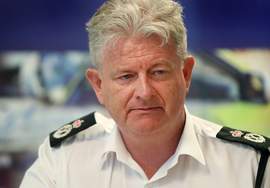 COP Stephen Corbishley
Photo courtesy of the Royal Gazette
Stephen Corbishley, the Commissioner of Police, told the media that police had made "significant progress" in connection with the case.
He added: "It is not the news that I would want to announce to the media because our focus throughout this investigation has been to find Chavelle safe and well, and bring her back to her family.
"Sadly, though, the investigation has indicated that the high likelihood that Chavelle has come to the gravest of harm."
CLICK HERE for the rest of the Royal Gazette article