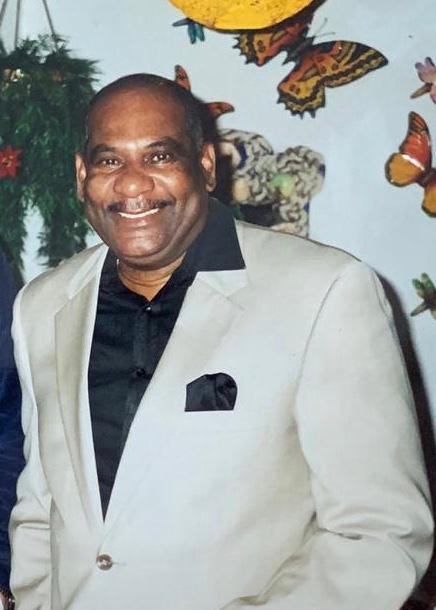 Frank DeAllie
We have had some truly great characters serve in the Bermuda Police Service, and we have to include Franklyn "Frank" DeLano DeAllie, in that illustrious group.
Born in Granada just after the Second World War in January 1944, Frank and his family emigrated to London, England, when he was 13 years old. A few years later Frank became a founding member of the highly popular British soul band, "Hot Chocolate". He also met the love of his life, Winifred Ann Wainwright in London where she was training to be a nurse.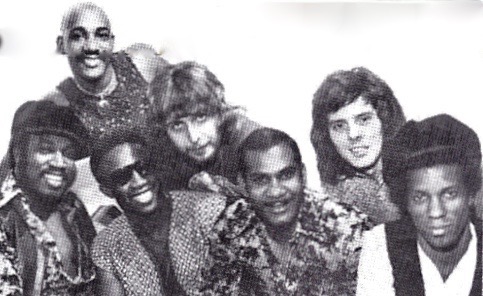 Frank DeAllie (3rd from right) as a member of Hot Chocolate circa 1968
Leaving behind his musical career, Frank applied for and was accepted into the Bermuda Police, arriving here in 1972.
He was one of 16 young recruits who attended Police Basic Training Course #15 March – July 1972 along with recruits from the Caribbean, the UK, and Bermuda.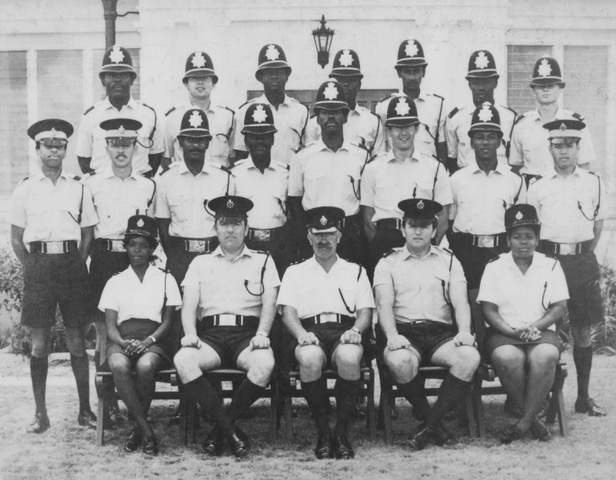 Shortly after arriving in Bermuda he and Winifred were married and remained a devoted couple throughout their marriage.
Frank began his police career in uniform branch stationed in Central Division (Hamilton). Rumour had got around that Frank had been one of the original members of Hot Chocolate but few of us ever got to see him perform!
Editors note - I happen to be one of the exceptions because I recall as a young Sergeant on night duty having reason to visit Hamilton Police Station where I discovered Frank, along with another young P.C., Dale Thornton, entertaining the "troops" with a little jam session playing their guitars. This was during the very early hours of the morning at a time when Police Stations were nowhere near as hectic as they are today, and their performance was thoroughly enjoyable for all those present.
That evening provided a pleasant interlude, but Frank later had to confront a most terrible ordeal when, in March 1973 he was on guard duty at Government House, sitting at his post, when he heard the sounds of gun shots outside. He rushed outside to investigate the source of the gunshots and he came across an horrendous scene in the garden when he discovered that H.E. the Governor and his ADC had been shot and were both fatally injured. Frank did what he could to provide first aid but the two men died.
There is no question in the minds of all those close to Frank that this experience had a major effect on him for many years afterwards and he spoke very rarely of his dreadful experience that night.
Ironically, anyone who worked alongside Frank will always remember him as being constantly cheerful and positive, and a great mentor to the less experienced young men and women who served with him.
Frank was eventually transferred from Central to Western Division first in Uniform then in Western CID. He was then transferred to the Major Incident Room where he gained a reputation for being both an extremely patient and persistent investigator.
Frank and Winifred had a son, Ian, and there is no doubt that one of Frank's proudest moments came in November 1984, when Ian was accepted as a young police recruit and followed his dad into the Bermuda Police Service. Ian attended Basic Training Course #35. We have had several fathers and their sons serve in the BPS but how many have served at the same time as each other?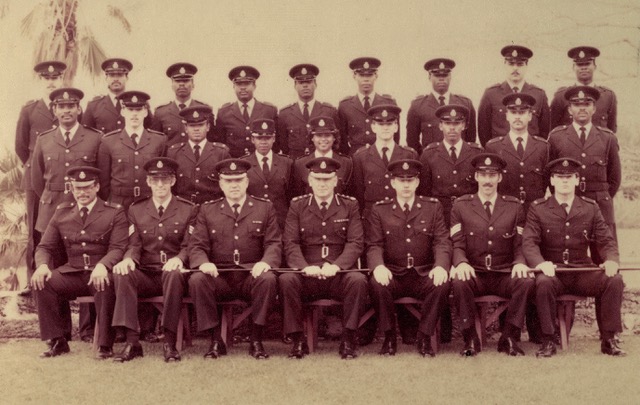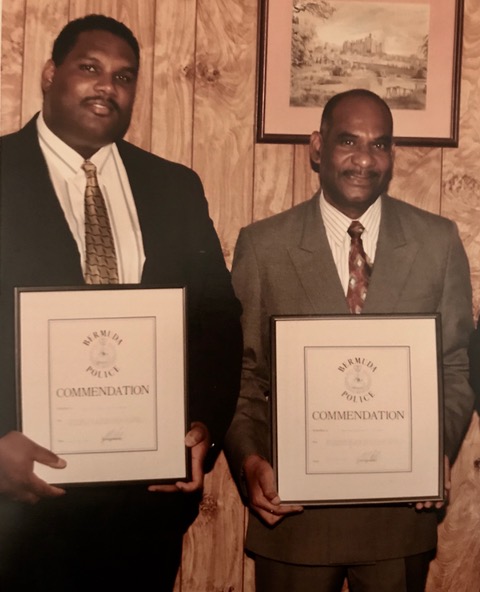 Detectives Ian and Frank DeAllie receive Commissioners Commendations
for their successful investigation together of an armed robbery
Not only did Frank and Ian serve in the BPS at the same time, they also have another distinction that must be unique in our Bermuda police history. In April 1996 the two were each awarded Commissioners Commendations for detective ability and investigative skills in working together on an armed robbery investigation resulting in two men being found guilty in Supreme Court with each being sentenced to 11 years imprisonment.
Throughout his career Frank was always a highly popular and respected police officer who remained calm even in the face of adversity. He was also a most thoughtful and caring person when dealing with the victims of crime, and he had a quality that almost cannot be taught in that he could put suspects at ease even when he was interviewing them with the intention of persuading them to confess - a skill which he possessed in abundance.
Frank retired in 1999 after 27 years service, and after retirement he and Winifred enjoyed travelling together and spending valuable time with their grandchildren and godchildren, all of whom were an important part of their lives.
Sadly, Frank took ill in 2016 at which time both he and Winnie required full-time care and lived with their son Ian and daughter-in-law Faby until Frank passed away on 30th December 2018,
Frank will always be fondly remembered by all of his fellow colleagues who worked alongside him in the Bermuda Police Service.
A Celebration of Life Service was held for Frank at the Midland Heights Seventh-Day Adventist Church in Hamilton Parish at 11.30am on Friday January 18th 2019.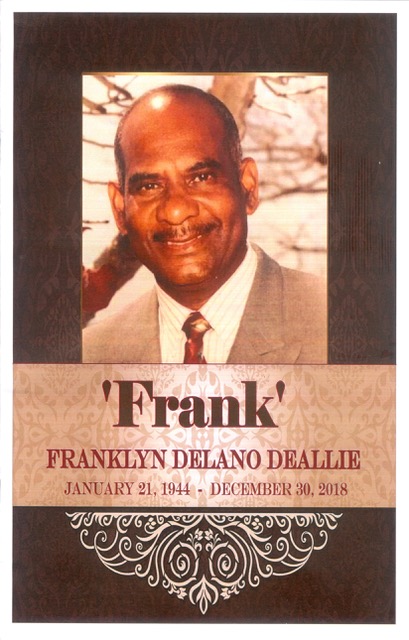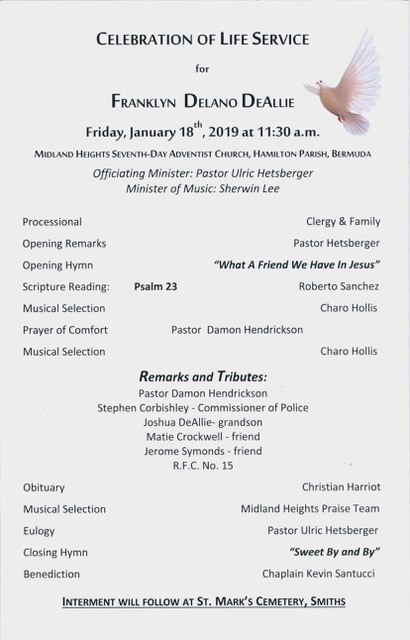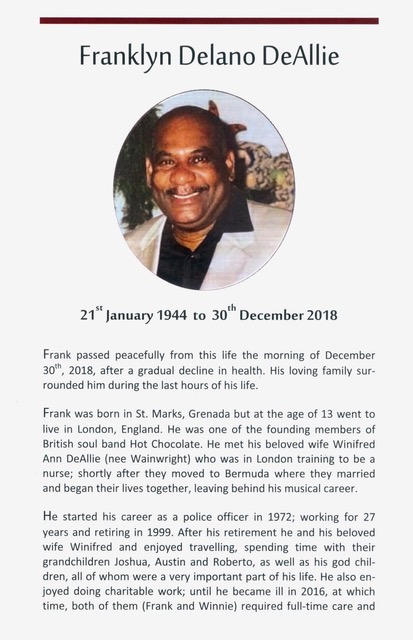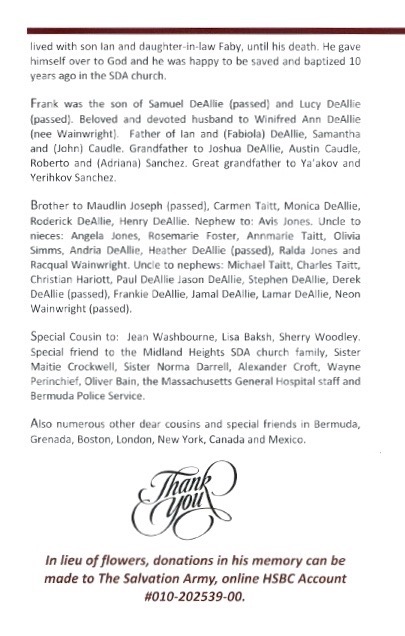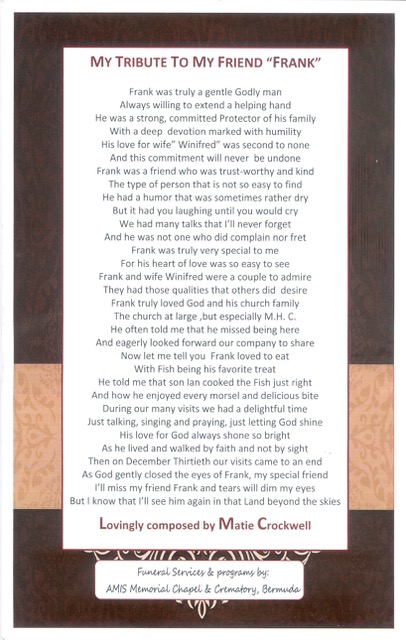 During the service Remarks and Tributes were paid to Frank by several persons including Commissioner of Police, Stephen Corbishley, retired P.C. Jerome Simons.
Commissioner of Police, Stephen Corbishley
Frank DeAllie was a member of Police Basic Course #15, commencing in March 1972 along with 15 others from the Caribbean, United Kingdom and Bermuda.
Following his completion in Police Training School in July 1972, Frank worked in uniform from the Central and Western Divisions. He later worked in Western CID, and the Major Incident Room where he became a very proficient officer.
Frank was an Old School Policeman who worked at his own pace and who could be relied upon to complete the task given him even if things took a little longer than was expected. His patience when dealing with difficult situations and some individuals seemed inexhaustible. He would persist (when others had given up) until he achieved the given objective, or concluded that it was simply not attainable.
His strong point as an investigator was his un-paralleled if not rare ability to reach out and communicate effectively with both the Criminal Fraternity and those segments of Bermudian Society not far removed from it. People who were often unwilling to assist the police but who never the less respected Frank as an officer. He was thus able to secure their cooperation and provide helpful insights into criminal acts which lead to several key arrests and the resolution of outstanding crimes.
During some of the special events and only with his "special" people Frank recounted the details of events at Government House in March of 1973 as experienced by him, and it was not difficult to imagine the degree of courage he possessed that enabled him to get up from his desk after hearing the sounds of shots and go outside alone to assist the fallen Governor and his ADC.
The memory of those events remained with him and affected him for a long time afterwards.
While serving in uniform in Western Division during the late 1980s Frank's presence on the watch was fortuitous as it provided both confidence and stability to the much younger colleagues, most of whom were a year or so out of Basic Training. The watch was highly successful thanks in part to his willingness to guide and support less experienced watch members.
In November 1984, Frank was the proudest father you could be as his son Ian became a police officer joining him as a member of the BPS. This union later proved fruitful for the Service and the community as in April 1996 the two were awarded Commissioners Commendations for their Detective ability and investigative skills that resulted in the conviction of two men who were sentenced in the Supreme Court to eleven years in prison for armed robbery.
As a person and police officer Frank had a kind of quiet and gentle presence, his soft spoken voice, and that ever present smile that put everyone with whom he came into contact with at ease, providing the reassurance that the vulnerable and victims of crime have come to expect and rely on from the men and women in uniform. There are many memories that his colleagues have shared. I can only share a couple with you now; quiet, smiling and happy, professional with un paralleled investigative ability are but a few of the words used to describe Frank.
There are several letters of good work from the public are also on his file, some of those highlights include;
On 18th January, 1982: Commissioners Commendation for initiative, courage and resolute action during the rescue of several persons in difficulty when swimming off Horseshoe Beach, an incident in which two persons drowned.
For this effort, the Bermuda Life-Saving Certificate was awarded by The Bermuda Bravery Award Association with the following wording:-
"On 29th September, 1981, Frank DeAllie assisted in rescuing three tourists stranded on rocks off Horseshoe Bay, Southampton then assisted in a search for others, despite dangerous waves and currents."
On 4th January, 1979: A letter from The Secretary General of the Bermuda Industrial Union was sent to the Commissioner of Police commending Frank for the impartial and objective manner in which he conducted himself during the picketing at Grotto Bay Hotel. The Picketers had asked that this be brought to the attention of The Commissioner of Police.
12th January, 1979: Congratulations were offered to Frank in the form of a letter for such a sterling performance under what must have been at times very difficult and sensitive conditions which could have had serious repercussions on the economy.
His former colleagues had this to say;
Former Commissioner Jonathan Smith
I worked with Frank several times over the years. He had a diligence, perseverance and patience about him that stood out. In the pre-PACE days, he'd spend hours with arrestees wearing them down and obtaining confessions! What great detective ability and a great man. My condolences to his friends and family.
Family Friend and Former Assistant Commissioner of Police Mr Wayne Perinchief
"Frank's passing has impacted me immensely. We shared many happy experiences; not only in Policing in the CID, but in personal involvement with our families. Frank was godfather to my son Ryan and a friend to his mom Tammy.
Frank was an excellent detective whose investigative ability was without peer. As a friend and compatriot his generosity knew no bounds. The West End community loved and respected Detective Frank DeAllie. His memory will live on in all of our hearts. Winnie, Ian and Rebecca you have lost your husband and your father, you will never lose the legacy and respect that Franklyn DeAllie has earned. You have my heartfelt condolences. May he Rest in Peace."
Former Supt. George Rose
"I'm saddened to hear of this news. Frank spent a period of his service working with me in Central CID during which time he was a steady and reliable officer who often-times got the best out of difficult situations. Mild mannered, reliable and resourceful I always felt he did his best no matter what the investigation.
My condolences to Frank's family."
I had not seen Frank in a while, and I am saddened by the news of his passing. My condolences to the family. Family be encouraged that "earth has no sorrow that heaven cannot heal".
I would have met Frank during our early years as young Detectives in Central CID, around the 70's. Frankie was always the quiet and thoughtful one and at times I thought he should have been a lawyer or councilor instead of a cop.
During interrogations, Frankie would always take the role of the nice guy, promising the world to the suspect, and as the interrogation labored on, I would say, "now enough of this, now look" etc etc.
Frankie would call me aside and calmly say, "look man you can catch more flies with honey than with vinegar" I would say "honey my …." And Frankie would say, again, very calmly, "go for a little walk".
Upon return, Frankie has gotten a confession and would say with a smirk; "that's honey".
Frankie taught me valuable lessons about "honey vs vinegar". He was ALWAYS a calm man, kind and caring, and a damn great Detective.
Rest in peace my friend.
Former Sergeant George Babb
"Frank was a member of the West Indian Folk Singers. He was very knowledgeable musically. He claimed that he was the Manager of the English Pop group of the 70s and 80s... Hot Chocolate. He was a very generous and sociable member of the group. The 'go to' guy when we needed some practical assistance. As a man of some musical knowledge, he was so tone deaf.... that he was the only folk singer not allowed sing in the group. I shall miss him. He had a fine sense of humour and generous without a fault. May he rest in Peace and rise in Eternal Glory."
It is clear to me that Frank was a valued member of the Bermuda Police and on behalf of the entire Bermuda Police Service I extend my sincere condolences to the family and friends of Mr. Franklyn "Frank" DeAllie.
_________________________________________________________________
Tribute given by former P.C. Jerome Simons
"Frank DeAllie became a member of the Seventh Day Adventist Church because of the Godly life that his wife Winifred lived before him. She constantly prayed for him and had also asked others to do the same.
When Frank had his first "major" heart attack, Winifred asked the entire church family for prayers and we interceded mightily on Frank's behalf and God came through with a miraculous healing.
Frank began coming to church to give thanks to God and church members, but he did not surrender for a while. Sister Winifred continued to pray and encourage him to turn his life over to God, and then one night while sitting at the supper table and much to Winifred's surprise, Frank calmly announced that he was ready to give his heart to God and be baptized.
Winifred was speechless for a few moments and was not sure that she had heard correctly, but of course she did.
Brother Frank was baptized at the Southampton Church and later transferred his membership to Midland Heights Church where he remained until his untimely death. He served as a Deacon and enjoyed the sweet fellowship and won the hearts of all of the members."
_______________________________________________________________
Tribute given by retired Sgt Dennis Gordon
Approximately 47 years ago, sixteen individuals (some were young, others were not so young), paraded at Police Headquarters in Prospect under the watchful eye of then Inspector Dave Parsons. Thirteen weeks later, fifteen of those individuals were sworn in as police officers.
Our dear departed Franklyn Delano DeAllie was among this group - identified as Basic Course #15. Frank as he was affectionately known, was predeased by Orville Ramsey (Barbados) and Michael Telemarque (St. Vincent and the Grenadines).
Frank was always immaculately dressed, soft spoken, gentle, and possessed a "Winnie" smile. It was quite possible that this winning smile gave him the key to the Wainwright's family. Frank was the first member of Basic Course #15 to be transferred to a specialized department in the Central Criminal Investigation Department. He further worked in the Incident Room and Western Criminal Investigation Department, where he perfected his skills.
He used his smile to good effect to disarm many individuals and to investigate every element of society he encountered. Many stories have been told about the fatherly, if not brotherly effect he had on younger members of the Service when he was a uniformed officer.
Some individuals who did not know or take time to know him were prone to be critical of him, He was decisive - knew what he wanted to succeed as a Police Officer, and made every effort to be successful.
On a lighter note, all the eligible ladies in Bermuda knew that our dear departed had a proprietary interest in the majority of properties that stretch from South Shore Warwick to Tucker's Town. He invested so much time at premises such as Mermaid and Flamingo Beach Club (with the likes of the late "Rip" Simmons and the then Sgt. Wayne Perinchief), that the patrons and visitors who encountered him at these premises left with the impression that he was the proprietor or had a vested interest.
Frank was able to transfer his musical skills which he developed with the "Hot Chocolate"(a British Band '70s) to these shores where he played guitar alongside the likes of Ernest "Tie Joe" Philpott and Vernon Douglas (piano) to enhance and promote the sounds of the West Indian Folk Singers (they were an integral part of the West Indian Association under the then President, Kensley McDowell). He performed at all levels in Bermuda and abroad. The West Indian Association remains eternally grateful.
Frank also loved the party scene and loved to entertain. He was a regular in a number of discos. In fact, he was connected in many ways with the now defunct Gunpowder Tavern in St. George's.
This man of many talents possessed culinary skills as good as any. He entertained regularly at his residence at Mariposa, Southampton. His "Oil Down" - Grenadian cuisine, was second to none and his curried rabbit was a specialty! The remaining members of Basic Course #15 who reside in Bermuda, express their condolences to his immediate family - Mrs. DeAllie, his children - Ian (with whom some of us were also fortunate to serve), and his daughter Samantha, of whom he spoke fondly, as well as his extended family here and abroad.
May he rest in Heavenly Peace!
____________________________________________________________________________
Tribute from Ian DeAllie given by Joshua DeAllie
A TRIBUTE TO DAD
A son, a man, a husband, a father, a brother, a friend, a teacher, an example of a life well lived.
You showed, love, strength, perseverance, faith, charity, honor, humility, dignity, pride, humor and grace.
You've all heard how dad impacted the lives of so many people in a positive way, and I was blessed to witness this. Although small in stature his presence loomed large with family and friends and strangers alike hanging on to every word through the history and stories told in his way, oh, what a storyteller! A love of family and family history from which we all learned so much. A cornerstone from which a family foundation was placed and built upon, and I hope we continue to develop and grow and make you proud.
His family came here today from London, Washington DC, New York, Boston, and Mexico and I am so thankful for their presence. His family and the many, many friends from Bermuda, Grenada and around the world who passed on condolences all experienced a man who made lasting positive and perhaps spiritual impressions on their lives. I thank you all on behalf of dad for being a part of his well-lived life. You were his memories and his stories and his experience.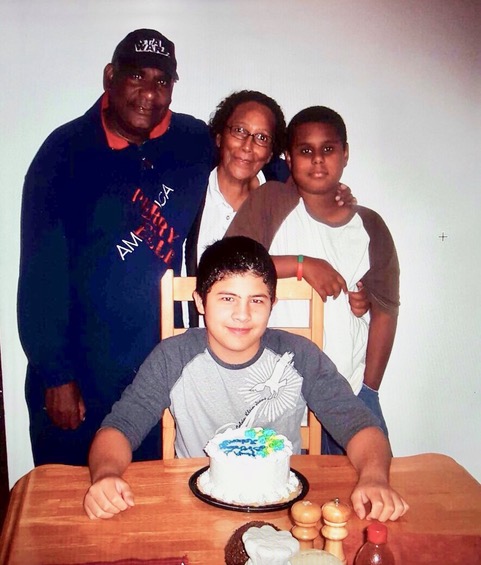 I stood to witness a man who loved his wife, my mum Winifred with deep affection, a daughter Samantha who he called ' Pumpkin' who meant everything to him. For us, he was not just an impression but an imprint, he was, still is and will always be a part of his grandchildren and us. Something God made, a shining bright star, a man who in his search through life held steadfast to the love and friendship of a woman for more than 55 years. He held firm and constant to his faith, a love of God and the teachings and love of Jesus established and confirmed right here in this very church some ten years ago with my mum and his grandson Austin.
You have heard so much about my dad here but let me take you briefly through the last two years of his full life. In December of 2016 mum and dad were on one of their scheduled medical trips to Boston's Massachusetts General Hospital. After an excellent exam by heart specialists dad suffered a major stroke in their hotel room. My mum who was suffering from the onset of Alzheimer's was devastated and found help for dad, she stayed by his side like she did time and time again. They were both so brave and strong and relied on each other and their faith to get them through. After a month at Spalding Rehabilitation Hospital it was clear though that dad's stroke was a severe shock to mum from which she could not recover. Mum was confused, in shock and did not sleep for many nights wanting to be by dad's side. Everything they lived in their lives came down to the next few weeks as mum's debilitating disease worsened right before our eyes. As anyone who has experienced caring for an Alzheimer's patient would know it was not an easy time, but dad paralyzed and mum immobile taught me so much. How can parents in a room together under the worst of circumstances still teach a son, a daughter-in-law, a grandson, a niece and those close more lessons on life? Dad showed us that through his adversity, through his paralysis and mental degradation.
You smiled and made us laugh with your witty jokes every day.
You noticed our tired and sometimes despondent faces and did what you could to cheer us up and prayed with us.
You showed so much love and offered hugs and kisses to those around you.
You never once complained about anything.
You lay there in quiet concern and prayed when you heard the woman you loved so much cry out around you.
You would tell your son who prepared your pureed meals daily that it was the best meal you ever ate, even if it wasn't.
You would say 'save some of my food for you mum' even though she was not eating.
You used your weak but good arm and hand to turn yourself around in bed to make sure mum was ok while she was getting her bed bath and being cared for.
You intently looked into the mirror that divides your room at all times to see mum through the day making sure she was ok and well cared for.
You kept calling out to her to ask if she was ok even though you knew there's a good chance she would not answer.
You held mums hand and prayed every chance you got.
You would only leave the room in your wheelchair for just minutes as you needed to be by mums side.
You would have a confused conversation with mum on occasion through the night and be happy even though she might just say "ok."
You looked up and thanked your carers for taking care of you and mum daily.
You watched the sun rise and set every day through the window from your bed and never questioned WHY because she was right by your side and that was all you wanted.
You looked up at us with those eyes and that smile and reassured us that everything was going be ok.
I had never known such strength, perseverance, love, faith, charity, honor, humility, dignity, pride, humor, and grace.
Although the circumstances we found ourselves in as a family was hard, I thank you for teaching me, still, even now for giving me the best two years of my life getting to know you again, allowing us to care for you and experiencing a pure love and lesson in faith. My hero you don't have to worry any more; mum is looking beautiful and she will be just fine. I love you and rest in eternal peace until that day when all will be well again.
I would like to thank all those who supported dad but especially:-
My wife Faby, Cukis, Sister Maite Crockwell, cousin Jean, Rose, Doctor Burton Butterfield, cousin Ralda, The Prayer Warriors', Pastor Hetsberger, Sister Norma Darrell, Cecilia, Gloann, the EMT's, nurses and doctors at KEMH who cared for dad. Staff, doctors, and nurses at Massachusetts General Hospital and Spalding Rehabilitation Hospital who cared for dad.
Lastly, all those who supported Faby and I, making it possible for us to support dad and continuing to support mum.
Following the service the funeral cortege stopped at St. Phillip A.M.E. Church, Harrington Sound Road, Smith's Parish in remembrance of the spiritual union between Frank and Winifred DeAllie. Interment took place at St. Mark's Cemetery, Smith's Parish.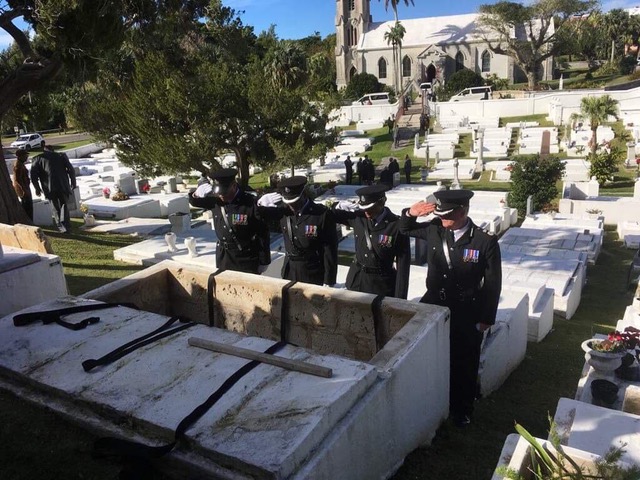 Senior Police Officers pay their last respects at the graveside
Pallbearers were:- Stephen DeAllie, Paul DeAllie, Jason DeAllie, Zachary Harriot, Nicholas Harriot, and Trent Lightbourne.