Inspector Alfred James "Jim" Amos
Served from 1931 - 1958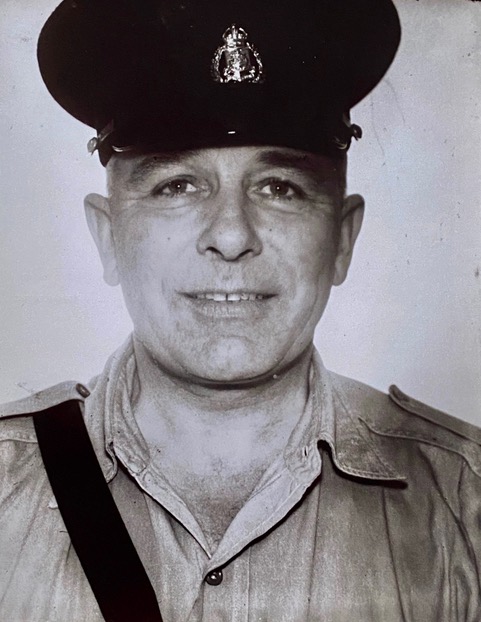 Inspector Jim Amos
Introduction - This is a brief life story of the Late Inspector Alfred James "Jim" Amos who was a popular member of the Bermuda Police and was held in very high regard by all ranks and particularly by those who had the privilege of serving under him. Sadly, Inspector Amos died suddenly in November 1958 while still serving in the Force. Much of the information in this article was obtained from an excellent eulogy published in the Police Magazine (Winter edition 1958) as a tribute to him, together with some personal insights from his son, James "Jimmie" Amos, who kindly agreed to be interviewed about his father in March 2022.
________________________________________________
Alfred James "Jim" Amos was born in Northampton, England on 7th April 1907. As a young man he worked in a Yorkshire coal mine driving blind ponies at the time when they were still used to pull carts full of coal which accounted for his belief that there should be more to life, and he joined the British Army, the West Yorkshire Regiment, in 1925 at the age 18. He was able to pursue his instinct for learning, listening and communicating. Following over 6 years of postings in the UK, Germany and Northern Ireland he had the good fortune to be posted to the Prospect Garrison in Bermuda with the 2nd Battalion during which time he played rugby for his regiment and was also a keen hockey player. He took to the Island and decided to apply to join the Bermuda Police Force.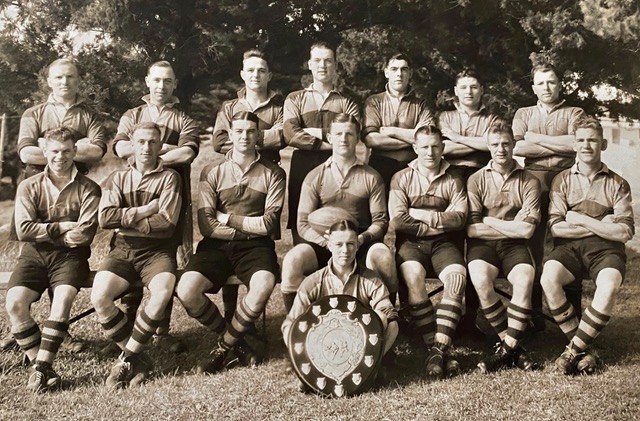 Regiment Rugby Team - 1930
Winners of Bermuda Shield
Young Jim Amos at top right on back row.
After his Regiment returned to the UK, he returned to Bermuda in 1931 as a Police officer together with his young Irish bride, Lena and their 3-year-old daughter Dorothy.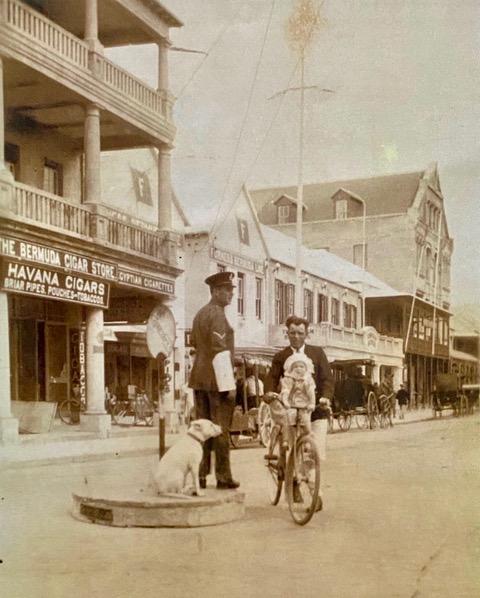 Heyl's Corner - 1932
Jim Amos with daughter Dorothy on bicycle
stops to chat with Constable on point duty directing
"traffic". The dog may have been a stray
who tagged on to the policeman!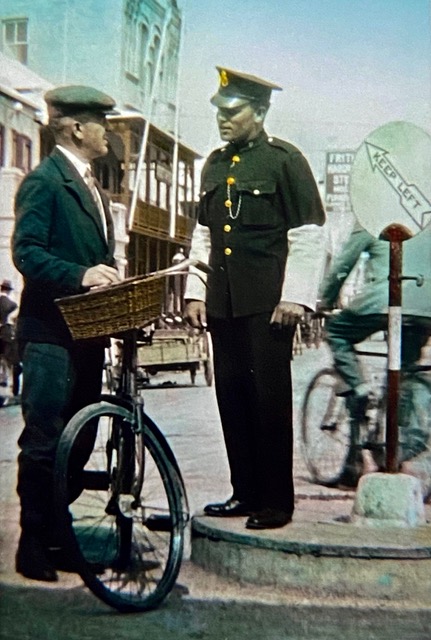 P.C. Jim Amos takes a turn on point duty
and gives directions to a pedal cyclist
P.C. Amos's early years in the Force were spent in Smith's Parish, Eastern District. His son, Jimmie, who was born in Bermuda in 1936, recalls from his recollections of boyhood living on Harrington Sound Road, South Side, mid-way between Flatts Village and Devil's Hole, that he had an early introduction to what it meant to be the son of a Policeman. "The clear advantage was that I never feared Policemen but rather grew up with a healthy respect for my elders in or out of uniform."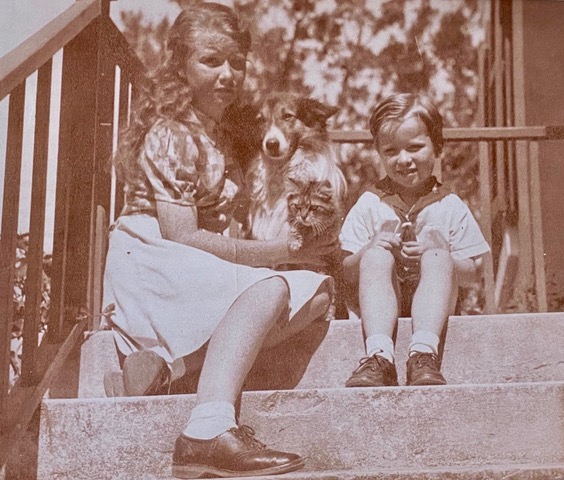 Dorothy and Jimmie with their dog "Dan" on the steps
of their home on Harrington Sound Road
As a young lad Jimmie heard a vivid account from his father about the day the Spanish luxury liner Cristóbal Colón was wrecked on the Northeast shoals on 25th October 1936 (see Bermuda Shipwrecks online) sparking what was probably the last occasion on which Bermudians pillaged and plundered a wrecked vessel that was common practice in the Island's long history.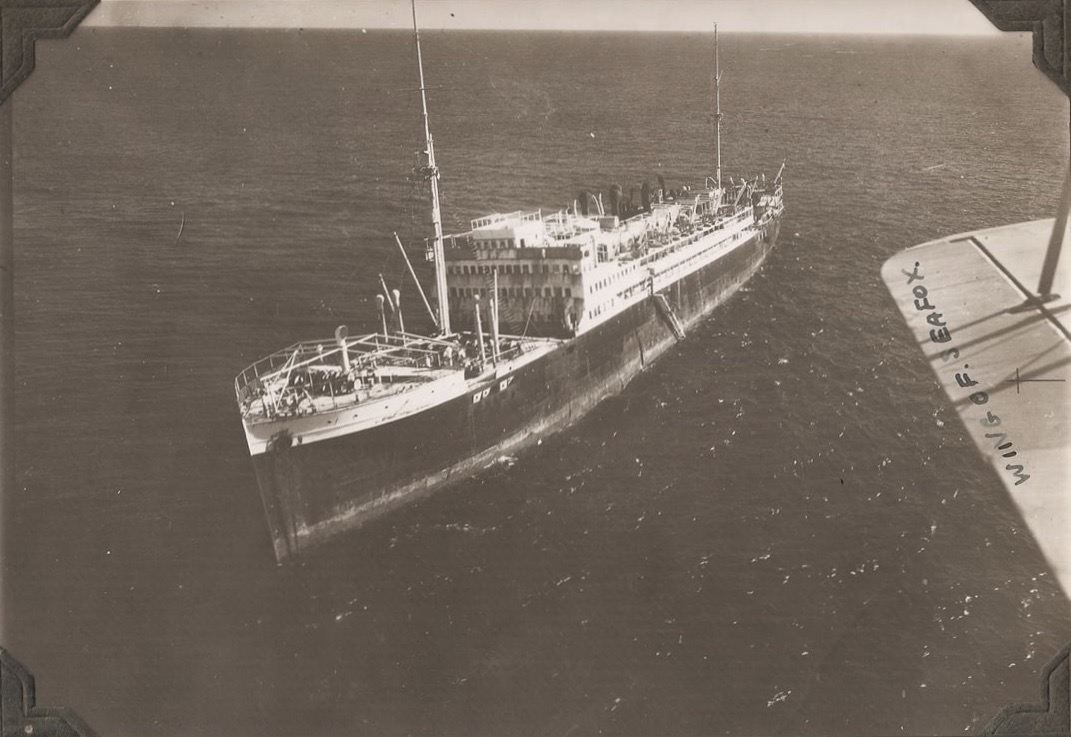 "Cristóbal Colón" breaking up off Bermuda - 193
6
The 499ft cruise ship was enroute from Cardiff to Mexico with 160 crew on board
the crew having mistaken the North Rock Beacon for Gibbs Hill
Lighthouse. She was the largest ship ever to be wrecked on Bermuda's reefs.
Photo taken from HMS Orion's Seafox spotter floatplane
(Photo courtesy of

Seán Pòl Ó Creachmhaoil)
"The resulting raids to seize stolen property and bring the culprits to justice produced some interesting results; and I am not inclined to mention names gleaned by overhearing conversations at a virtual sub-station (our house), where plans for operations to apprehend suspects were sometimes hatched. The reality was that huge caches were buried only to reappear long after the searches were carried out, and few if any scavengers were ever charged."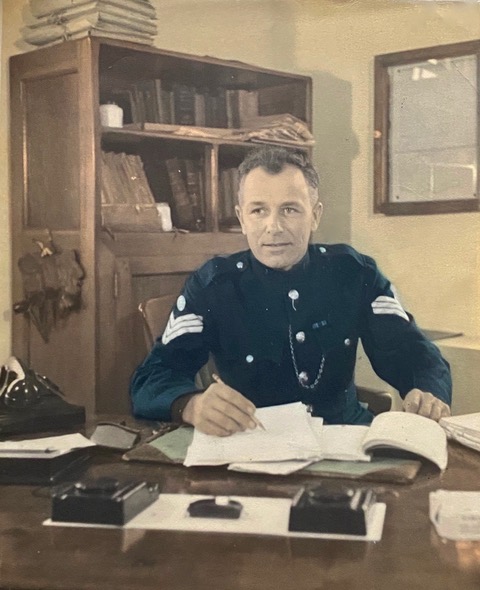 Sgt. Jim Amos on duty at
St. George's Police Station - 1948
Jim was promoted to the rank of Sergeant in August 1942, at the height of World War II, and toward the end of the War, the Police Force, as it was known then, acquired three surplus Canadian Army Jeeps, thus providing, what were some of the first motorized police patrol vehicles. Young Jimmie remembers that one was assigned to Somerset, one to Central, and one for the Eastern parishes for which his father had sole responsibility. Previously, the Commissioner, J. S. McBeath, had the only other vehicle, which was for his personal use. All three of these Army jeeps were painted Public Works Department green with a large chrome plated siren mounted on the front fender giving them an authoritative identification.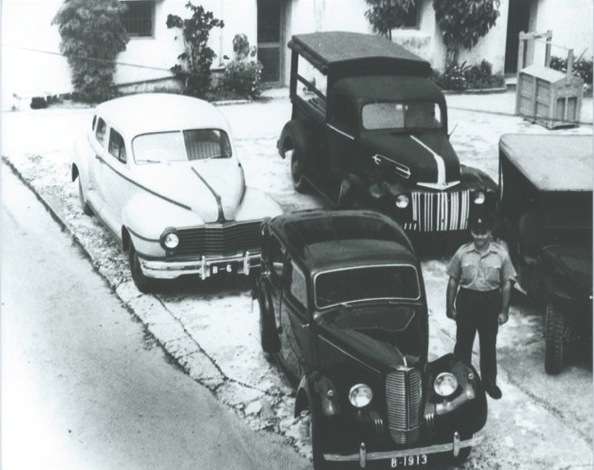 Early Police "Fleet" at rear of Hamilton Police Station
The Jeep is at top right. At left is the Dodge Sedan purchased
from the US Base for Commissioner McBeath. At front
next to a Hillman Minx is P.C. John Marshall who became
the first Inspector in charge of the Traffic Department
Young Jimmie had good reason to remember the Jeep when his father took him on an exciting jaunt in the completely overgrown Castle Harbour Golf Course, as the hotel was taken over by the United States military during the war. Head high fennel and sage provided an interesting ride across the undulating landscape requiring the four-wheel drive occasionally - great fun for a 10-year-old. "Dad had his friend Kenny Simmons Sr. at the Govt. Quarry carpenter's shop make two wooden doors with plexiglass sliding windows, improving otherwise very draughty winter driving.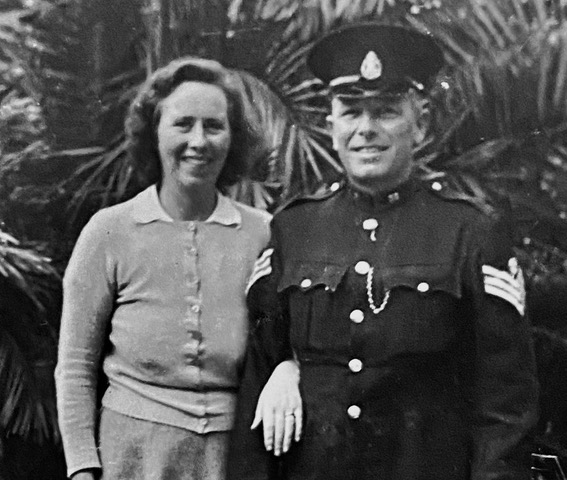 Lena and Jim at their home "Water Mark"
opposite Patton's Point on Harrington Sound Road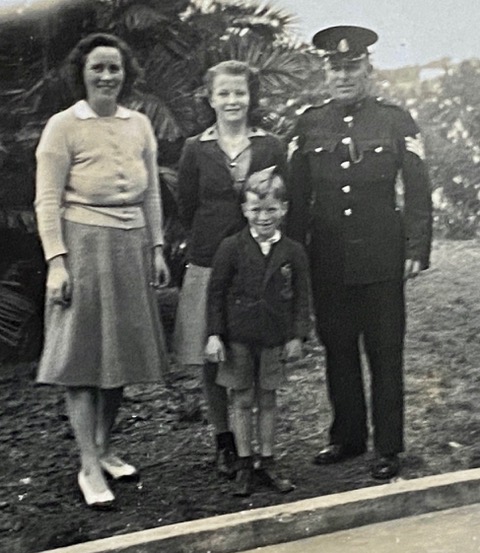 Sgt. Jim Amos with his wife Lena and
their children Dorothy and Jimmie
Jimmie added, "Dad built a wooden garage complete with concrete floor and double doors at our house on Harrington Sound Road to house the by now famous Jeep. Needless to say, this was prior to the existence of Planning Regulations, I remember at one point he suspected that someone was tampering with the Jeep at night, so he set up a camera and flash and trip wire. Whatever set it off escaped undetected, as I recall."
"Following the introduction of cars in 1946/47, catching speeders became an added requirement for the newly acquired Police Jeeps, occasionally producing scenes one might see on television today. The Jeeps were tough little vehicles and any refusal to stop could result in the culprit being rammed from behind with no damage to the Jeep!"
"Up until a few years ago I would be regaled by some older gentleman who would proudly announce that Sgt. Amos caught him speeding and as often as not had giving him a break with a warning you had better heed. This often occurred when crossing the causeway on the newly laid asphalt surface laid by the U.S. military contractors. At the time, the large stone crusher provided an ideal cover for the Jeep at the head of the long stretch along Ferry Reach.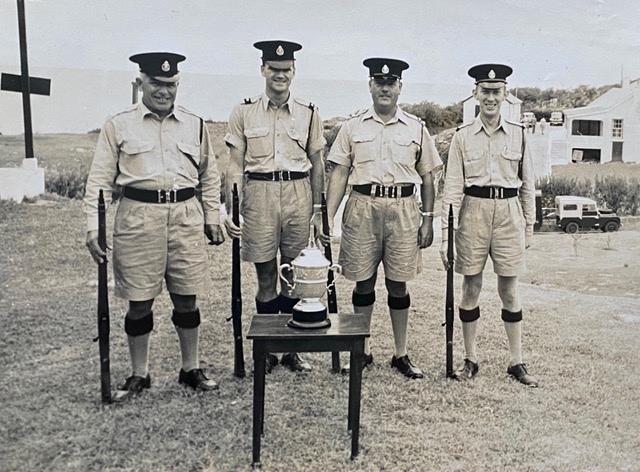 WINNING TEAM
Bermuda "Bisley" Inter Services Full Bore Shooting
Championship held at Warwick Camp circa 1952
(l-r) Insp. Jim Amos, P.C. Ed Jones, Insp. Joe Fearis and Sgt Les Waddell
In those days Dad introduced me to the Lee-Enfield .303 SMLE rifle. We spent a number of winter Sunday afternoons shooting at tin cans at about 200 yards in the Public Works Quarry in Bailey's Bay - with the authority of Mr. Idwal Hughes, the Director of Works who lived on the property in those days. Of course, my ears were stuffed with cotton wool and instruction on the proper handling of the weapon was taught. The bruised jaw from the kick of the rifle was all part of the training. It followed that I often accompanied my dad to Warwick Camp Long Range when the Police team practiced and competed - in those days up to 600 yds. He was an excellent marksman and a regular member of the Police shooting team. Boiled egg sandwiches and hot sweet tea still remind me of those happy days.
Along the way, by now Sgt. Amos, had acquired a license as an amateur/HAM radio operator with the call sign VP9Y. Using morse code and short wave exclusively he enjoyed the communications with hundreds of likeminded operators around the world on a regular sometimes scheduled basis. He was keen on teaching young Jimmie a flashlight version of morse code that they used when camping on Trunk Island in the summer, and at their home on the edge of Harrington Sound.
In 1945 Sergeant Amos was awarded the Kings Police Medal for Meritorious Service in the New Year's Honour's List. He was cited as having shown outstanding ability in the prevention and detection of crime and for being directly and indirectly responsible for the solution of many difficult cases.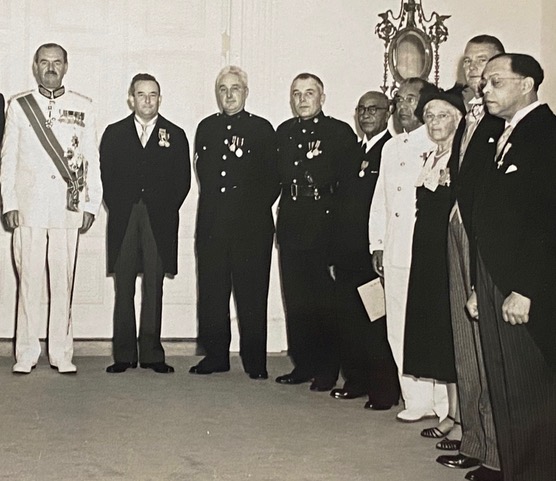 Inspector Amos (4th from left) at
Awards Ceremony at Government House in 1949
H.E. The Governor, Lt. Gen. Sir Alexander Hood at far left
In June 1949, Jim was promoted to the rank of Inspector and in July of that year he was awarded the Colonial Police Long Service and Good Conduct Medal - he received a clasp to this medal upon completion of twenty five years service in 1956.
On his promotion to Inspector he was placed in charge of Eastern Division, St. George's and remained there until 1953.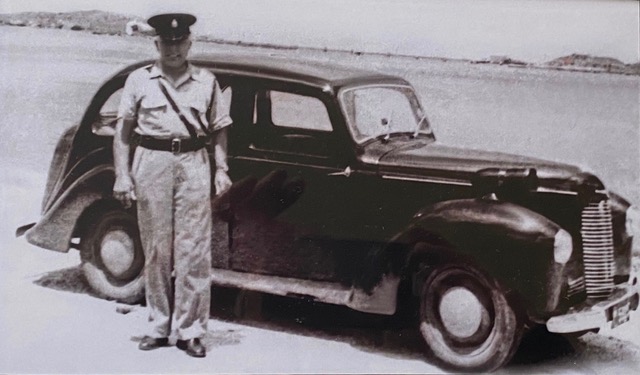 Inspector Amos with Hillman Minx police car on Kindley Field Road
Perhaps the most disturbing and tragic experience of his career in the Police Force occurred when Inspector Amos was in charge of Eastern Division and attended the crash site of a Cubana Air Lines DC-4 on 6th December 1952 when 37 of 41 passengers lost their lives. It was in his jurisdiction and required his immediate presence on a recovery boat and subsequent days on the US military barge which included use of the large barge crane called the "Cyclops" which hauled the wreckage to the surface along with human remains and personal effects for discharge at Convict Bay. Young Jimmie recalls his Dad going through considerable anguish for some time after dealing with the incident.
"In 1953 my father was transferred to Central Division, there commenced a broadening of his career experience, which included prosecutions, when he sparred frequently with a newly qualified lawyer by the name of Lois Brown."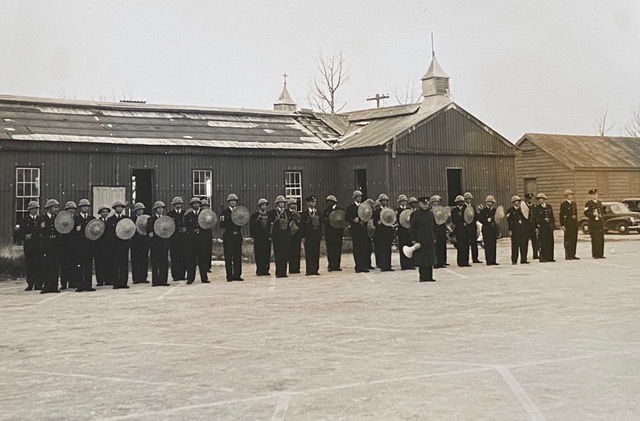 Insp. Jim Amos with loudhailer putting riot
squad through training at Prospect in early 1958
"CID followed, and in early 1958 responsibility for establishing and training a Riot Squad. My father must have had a sense of déjà vu – he was back on the Parade Square at Prospect, recently vacated by the departed last British Garrison (DCLI), trying to train ill equipped policemen in quelling civil disorder. Prior to his police service he was stationed at Prospect for three years with the West Yorks Regiment 2nd Battalion. I believe intelligence and observations of civil conditions of the day suggested that preparations for possible civil unrest was an essential measure. This was borne out by the fact that after my father's death in November 1958, the following year 1959 saw the use of the Riot Squad during a dispute at the Hamilton Docks."
Inevitably, a Police Officer with the reputation he established, could not exist without being given a nickname. Accordingly, several families in St. David's referred to my dad as "HAWKSHAW" who I believe was an American comic strip detective in the image of Conan Doyle's Sherlock Holmes. In my father's case, I think it was a term of respect and endearment.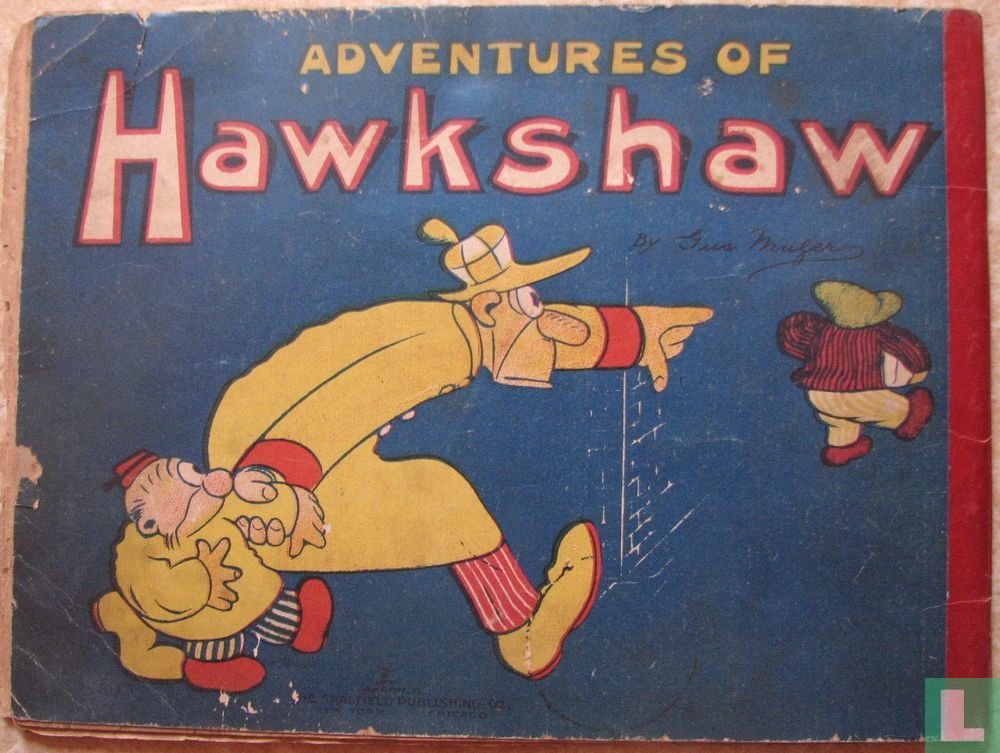 American comic strip detective "Hawkshaw"
Dad enjoyed human interests maintaining fellowship in Free Masonry and in 1953 he was elevated to Master of Lodge 580 of the Grand Lodge of Ireland that met regularly at the Masonic Lodge on Reid Street in Hamilton,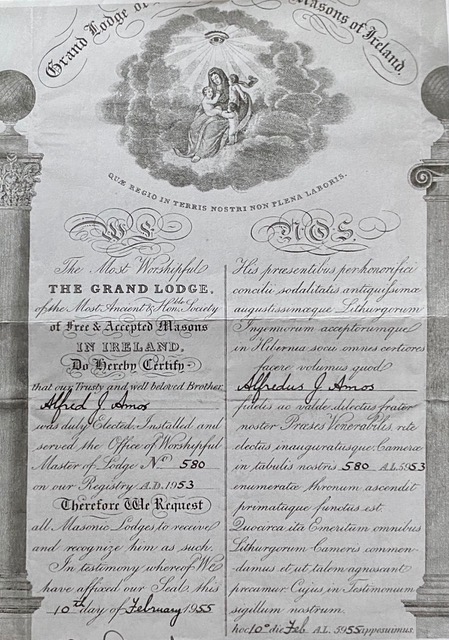 Alfred J. Amos elected Master of Lodge No. 580
on 10th day of February 1955
Dad's outdoor interests extended to gardening at our cottage on Pitt's Bay Road. His Sweet Pea flowers were regularly recognized in the Agricultural Exhibition, along with bananas.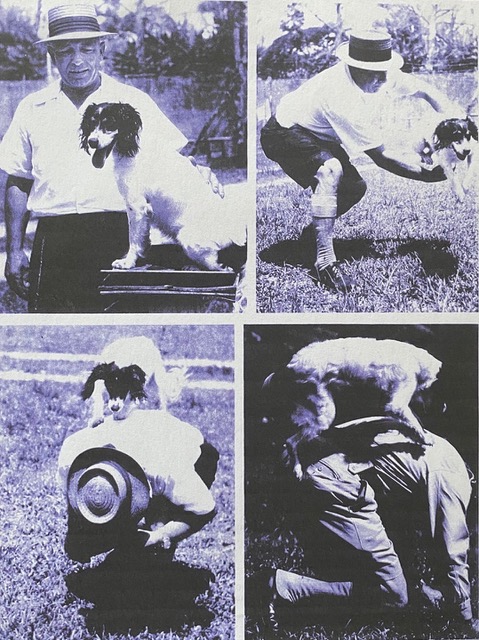 Jim Amos with his amazing performing dog "Sparsa"
was a familiar sight at shows around the Island and
a great favourite with children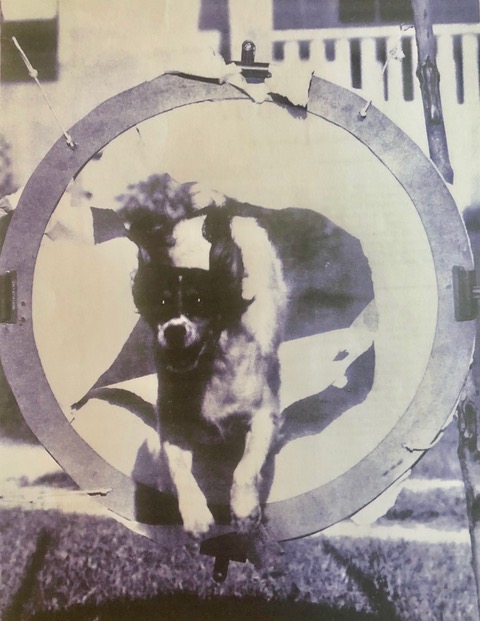 Sparsa in action jumping through a paper covered hoop
Growing up on Harrington Sound Road we always enjoyed having a family dog. Dad loved animals. At one point in the 50's living on Pitt's Bay Road we were without, so it was no surprise when my sister Dorothy, one stormy day, brought home a soggy shivering lost puppy. Dad responded immediately. The puppy was named "Sparsa" the first word in the motto of The Corporation of Hamilton where Dorothy was employed. Dad subsequently trained" Sparsa" to a high-level involving obedience and tricks which included walking two parallel tight ropes 5' off the ground and performances at the Agricultural Show. "Sparsa" provided huge comfort for me when Dad died prematurely. He managed to enjoy and contribute so much to others in his life of 51 years.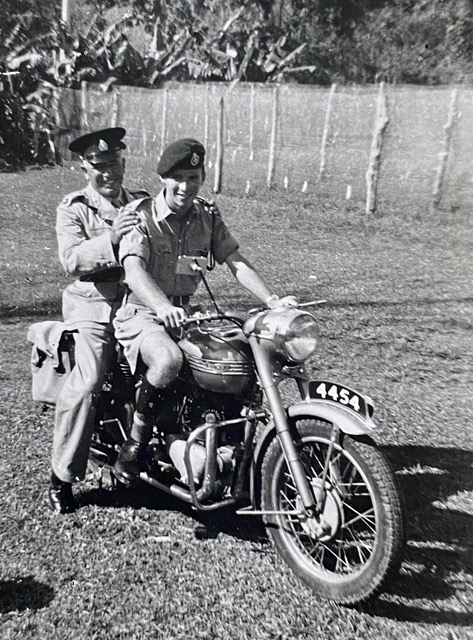 Inspector Jim Amos with his son Jimmie
on Police Triumph motor cycle 4454 in 1954.
Jimmie had recently joined the Bermuda Rifles.
I knew my father as a fair and loving disciplinarian. I was always told that he was a strong, fair and dedicated Police Officer; known for giving offenders a break; but if you crossed the line he defined, you had better be ready to face the consequences.
We can be certain my father loved his family, was proud of his Bermudian citizenship and was dedicated to service to Bermuda.
In his eulogy published in the Police Magazine it was noted that Inspector Amos was extremely interested in the welfare of his men and was always available to assist and advise them on problems of a police or personal nature when called upon to do so. It was also stated that he displayed a high degree of resourcefulness and tenacity and was an experienced investigator who worked unceasingly to perform his duties in an efficient manner.
Editors note - Sincere thanks to Jimmie Amos who has been able to provide us with much of the above information along with many of the photos of his father and family.
March 2022