Following our recent Get Together at the Officers Mess with Kate (Byrne) Shaw and former members of our Police Drama Group it was agreed by those present that we should write a history of the Police Drama group which flourished during the mid-1960's. The drama group was the creation of two young police officers, Colin "Dusty" Hind and Ron Shelley, and we planned to make contact with Ron who had joined the Bermuda Police in September 1960, and left for New York and the bright lights of Broadway in April 1964.
Sadly, we have just learned that Ron died in New Jersey on September 26th 2016, after a long illness.
We first reported on Ron in our Keeping in Touch column in 2012 when he made a surprise visit to Bermuda after finding our ExPo website. While serving in the Police Force Ron made friends with Dave Garland, Brian Malpas, and Neville Darrell who he remembers as an outstanding partner when they worked together on Cycle Squad. It was Brian who informed us of the sad news about Ron's passing last year. One of Ron's enduring memories was seeing Brian's wife walking along Front Street in her Pan Am uniform with Mike Cherry's wife Anne - two stunningly beautiful women! Ron always had an eye for the ladies!
During his visit in 2012 Ron said it immediately brought back a flood of memories and he enjoyed seeing for himself how much Bermuda has changed. He had been saddened to hear of the death of Jim Lyons who was one of the young officers who occupied Band Block – a group about whom there are many stories as yet untold!
Ron spent a great few hours in Somerset with Brian Malpas reminiscing about the good old times - most of which cannot be published on our website! Ron was disappointed not to be able to see Dave Garland who happened to be off Island attending his son's wedding, and he tried in vain to contact Neville Darrell. However, Ron met up with Dusty Hind and myself at the Crisson & Hind Gallery on Front Street (for anyone who hasn't seen it this is a superb gallery featuring the finest African art) and we spent the afternoon sharing experiences of Bermuda during the early 1960's and particularly the success of the Police Drama Group thanks to Ron and "Dusty".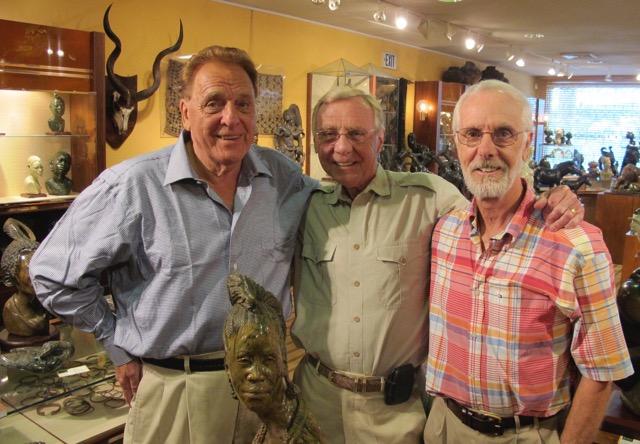 Ron Shelley, "Dusty" Hind and Roger Sherratt meet up at
the Crisson and Hind Gallery, on Front Street, Hamilton in 2012
We will make sure to give Ron all due credit when we write the history of the Police Drama Group. Ironically, Ron arrived in Bermuda on the same day as another young recruit, Denis Byrne, who also played a major role as Stage Manager of all of the drama group productions.
It was Brian Malpas who informed us of the passing of Ron which he had heard about through mutual friends.