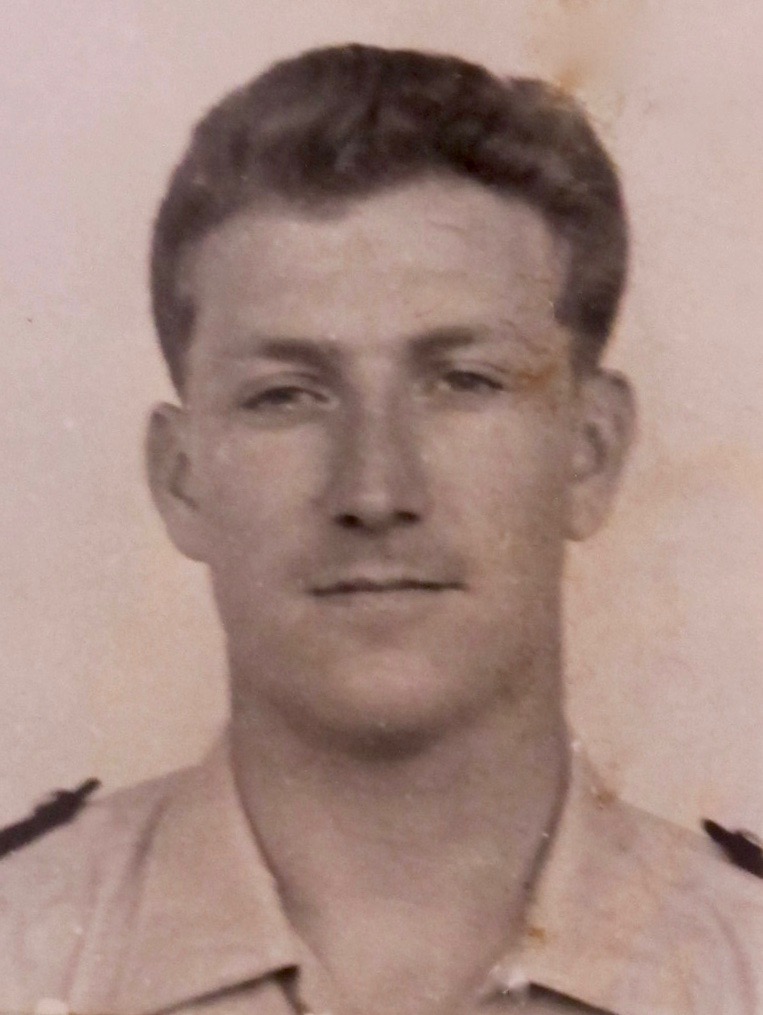 Young P.C. Dennis Byrne (circa 1963)
We've just received sad news about the condition of former P.C. Dennis Byrne who served here in the Bermuda Police from September 1963 - September 1969, before returning to England with his wife Iva, and their daughter Kate who was born here.
Dennis was recently transferred from his local hospital where he had been over Christmas, to St. Thomas Hospital in London for treatment. He has been diagnosed with advanced cancer of the stomach which has now spread.
We received the news from David and Penny Long who were friends of Dennis and his then wife Iva, and have managed to stay in touch with Iva over the years although Denis and Iva have been divorced for many years.
We understand that Dennis first met Iva when David Long and Dennis were working in Traffic and were called to an accident on the South Shore which was also attended by Iva who was the ambulance nurse. It was clearly love at first sight because the two were soon married.
Penny recalls that she cut up Iva's wedding dress to make a christening gown for Kate which was subsequently worn by her two younger sisters, Lucy – now living in Africa - and Rachel.
Dennis arrived here in Bermuda along with an intake including Dennis Meehan, John McQuaid, Tony Watson, Mike Rickards, and Neil Cox, and he served first in Central Division (Uniform) for 2 years, then in Traffic Department (Operations). He was an active member of the Police Drama Group as one of the backstage crew. Penny Long remembers she and Iva and John McQuaid's wife being ushers at City Hall Theatre for those Police Drama Group productions.
We understand that Dennis worked in security at Liberty of London for some years, and apparently wrote a book on security. In later years he drove a taxi.
Our thoughts and prayers are with Dennis's children and his family at this very difficult time.
Editors note - We wrote to John McQuaid who had served in the same Division as Dennis and came out to Bermuda in the same intake in 1963. We just received the following reply from John:-
"Dennis and I both worked in the Metropolitan Police prior to us coming out to Bermuda.
Dennis was a serving officer in 'L' Division, (Brixton and Clapham), prior to departing for Bermuda. He worked out of Brixton HQ I believe, whilst I worked out of Clapham sub-Division.
Interestingly, Denis lived at the same police section-house as me at Nightinggale Lane, just off the edge of Clapham Common where a reception office kept an open rack of all incoming mail and messages for the residents.
One day, I was nosing about the mailbox - as a good copper does! - when I noticed four large envelopes, all the same size and colour, of which one was addressed to me. Finding that it was my acceptance after such a long time, of my job application to join the Bermuda Police Force, of course I enquired of the three other recipients, the contents of their envelopes. I was stunned to discover that the four of us had all successfully applied for this amazing position in the sun in some sort of secrecy.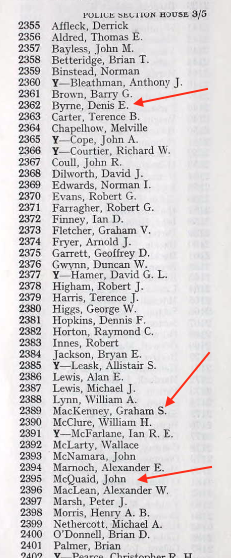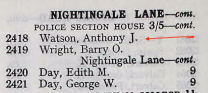 I attach copies of the 1963 Voters' Register for our address and you will perhaps be surprised to see, not only me, but Denis Byrne and Tony Watson. The fourth name might test your readers though, as he was subject to a severely truncated contract; ask your readers this question: "Who knew Graham MacKenny, 1963 who served in Bermuda only very briefly The story goes something like this. Graham, who had also arrived from Brixton only days before, was officer i/c the dock office on Front street one warm and sunny morning when his peace was disturbed by the presence of two rummies arguing in the benches outside.
Wielding all his powers as a police officer, he rudely told three black guys, in best Metropolitan/Brixton fashion, to push off. An altercation is said to have ensued with one of the men who just happened to be (of course, unknown to Graham) Mr. Arnold A Francis, MCP/ local Solicitor*. Graham returned to Brixton that same week having hardly unpacked!
Denis Byrne played rugby and often used to complain of a soreness to his right knee which he said he had damaged in some sort of playing incident. I never really got on with the guy and know nothing of his social life. It is for sure that he came from Newcastle-Under-Lyme and he certainly had a Stoke accent! I would look him up if I lived in London, but all I can do from my rural perch is to send my regards and wish him the best of luck if its not too late.
John McQuaid"
Editors note - Mr Arnold Francis went on to have a very successful career in law and became a Queen's Counsel.
UPDATE - 17th February 2017 - We received the sad news that Dennis died on the afternoon of 16th February 2017 in St. Thomas Hospital in London. His daughter, Kate, was present and advised that he died peacefully and had been very well looked after by hospital staff. We will publish funeral details as they are received.