Written by Roger Sherratt
How many of us can recall a magical nightclub designed to replicate Aladdin's Cave, with a huge circular bar, and a name that quickly became synonymous with the then leaders of Bermuda? It was, of course, the fabulous Forty Thieves Nightclub located on Front Street East in Hamilton, near to the Supermart.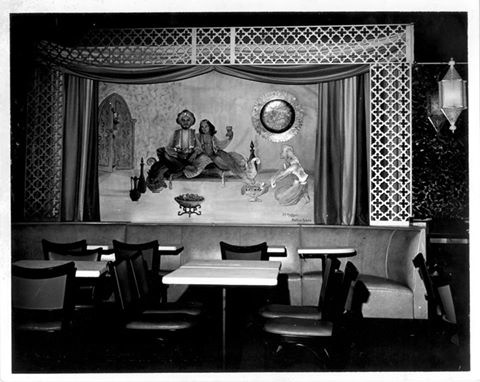 The interior was decorated with murals depicting Ali Barber in Aladdins Cave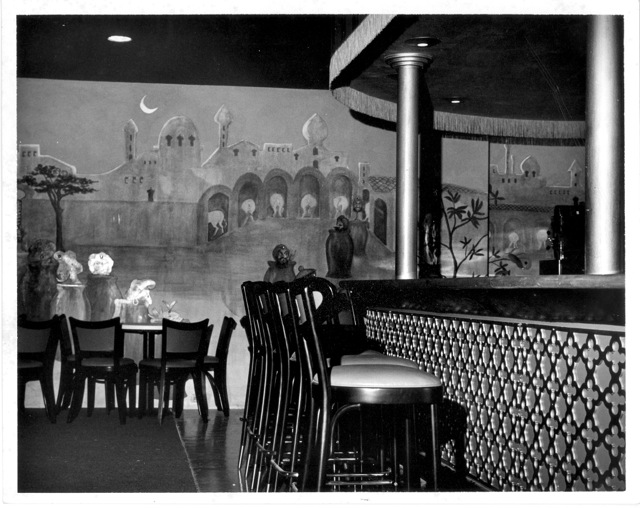 The round bar was the biggest in Bermuda and it was never empty when the nightclub was open!
The Forty Thieves had a truly 'hypnotic' effect on countless young Bermuda police officers who served here during the 1960's and 1970's. Once you managed to gain admittance past their larger-than-life bouncer, former policeman Winston "Super" Lottimore, you couldn't fail to be impressed by its décor and its setting for shows by many of the greatest entertainers, both local and international, the Island has ever seen. The interior was superbly designed by Arthur Cooper and Mac Musson.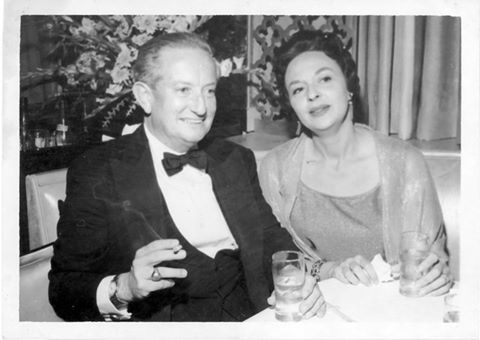 Interior designers Arthur Cooper and Mac Musson
created magic at the Forty Thieves Club
And who was responsible for almost singlehandedly creating the Forty Thieves Club? It was Terry Brannon who had arrived in Bermuda in the late 1940's on a 6 month contract playing piano in an orchestra at the Hamilton Princess Hotel. Terry renewed his contract with the Princess for another 6 months and then moved on, as did other members of the band, most of whom stayed here.
Terry worked for a while running the music department at a local shop before opening his own music store, The Bandstand, selling records and musical instruments. Terry became a household name in Bermuda when he would play his piano at ZBM and invite listeners to call in and challenge him to play any piece of music. If he didn't know the song - and that almost never happened - he would have them hum a few bars and off he would go! Terry had a great ear for music and he went on to demonstrate that he also had a great eye for spotting talent
The Forty Thieves Club opened its doors for the first time in March 1962, and was an instant hit with both Bermudians and tourists. At a time when Bermuda was still suffering from the effects of racial discrimination, the Forty Thieves Club was open to all.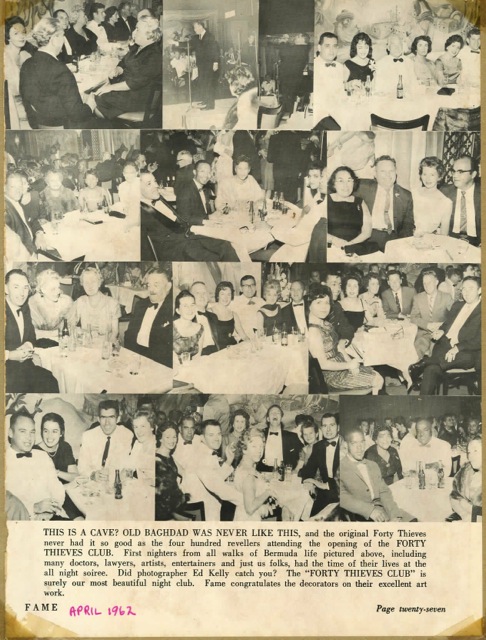 Photographs and article published in Fame magazine following the official
opening of the Forty Thieves Club in March 1962 (the article was published in April)
Photo on left shows Dr. Gordon Black and his wife Patricia with Mrs Broderson (Danish)
who came to Bermuda to work as a censor during World War II, and Mr. Teddy Gosling Snr.
Can anyone recognize the three couples in the photo on the right?

Photo on left shows Dr. Bert McPhee and his Late wife Gloria in the centre
of the photo, along with Winnifred Darrell and Mr. D.A. Brown who was an owner of
the Clayhouse Inn (another great nightclub in the 1960's) and was married to
Gloria McPhee's sister Helene.
Their son, The Hon. Dr Ewart Brown later became our Premier .
Photo on the right includes lawyer Larry Madeiros wearing glasses.
If you can assist us in identifying anyone else in these photos please contact us either
at This email address is being protected from spambots. You need JavaScript enabled to view it.
or by writing in the "Comments" section at the bottom of the page
Terry was a truly great impresario, bringing some of the biggest names in show business to perform at the Forty Thieves, and also hiring a host of the Island's best musicians and performers to open and to feature in his shows.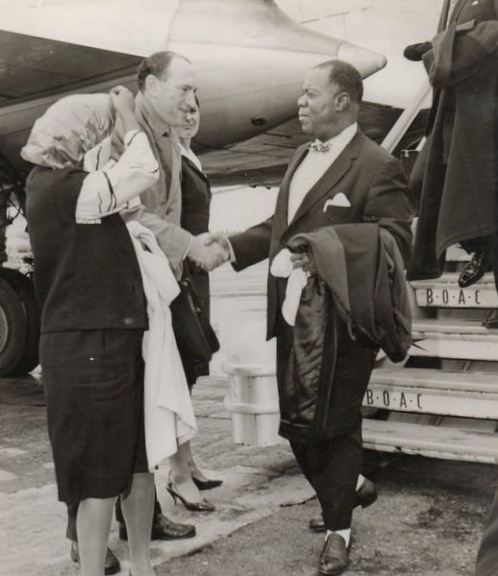 Terry Brannon and his wife greet the legendary
Louis Armstrong as he arrives at the Civil Air Terminal
International stars included the great Louis Armstrong, Matt Munro, Aretha Franklin, Duke Ellington, Mel Torme, Dionne Warwick, The Shirelles, and Arthur Prysock who became a regular visitor, and died here after residing in Bermuda for several years, and many more superb performers from the U.S.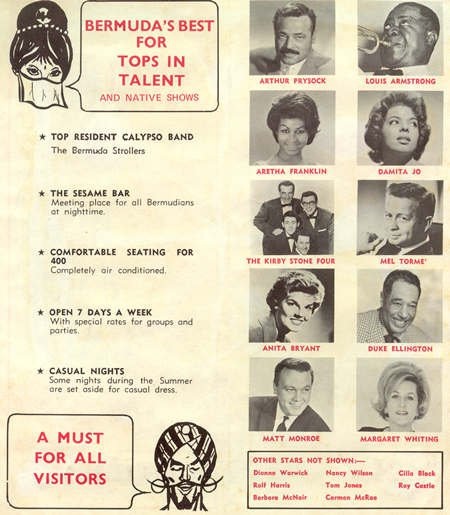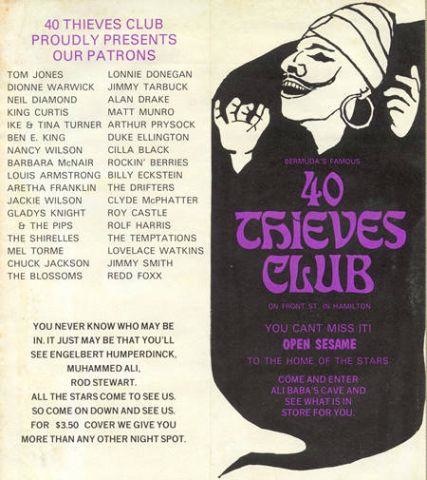 One of the greatest performers I ever saw at the Forty Thieves was Dionne Warwick who wowed her audiences, including me. Her father was present for what I believe was her last performance at Forty Thieves – and she brought the house down with her huge hit, "Anyone who had Heart" which sounded as though it had been written especially for her but had also been recorded by a rising British female vocalist Cilla Black who also performed at Forty Thieves.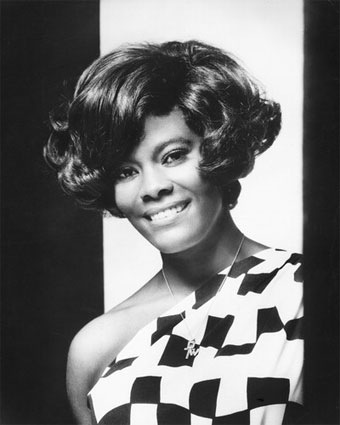 "Anyone who had a Heart" was written by Burt Baccarach who was working on an unfinished version with lyricist, Hal David, in his Manhattan apartment when Dionne Warwick came over to rehearse for a show they were producing. Dionne was smitten by the song; the three completed it that evening – and history was made. Ironically, it was picked up in England by legendary UK record producer George Martin who chose to record his version with Cilla Black at Abbey Road Studios and it quickly became a huge hit catapulting Cilla's fast rising career. Last time I was in England I saw Cilla on television and she is now a much loved household name.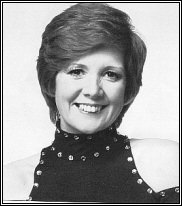 I feel greatly privileged to have heard both of these young women, Dionne Warwick and Cilla Black, performing live on stage at Forty Thieves when they were at the height of their careers.
Another rapidly rising star who had been spotted by Terry Brannon was Tom Jones who was simply sensational when he performed at the Forty Thieves. Fortunately, police officers were invariably allowed in (I think we were treated as honorary members) because the house was packed to capacity every night for his shows. I have never seen so many St. David's Island girls in one place at one time!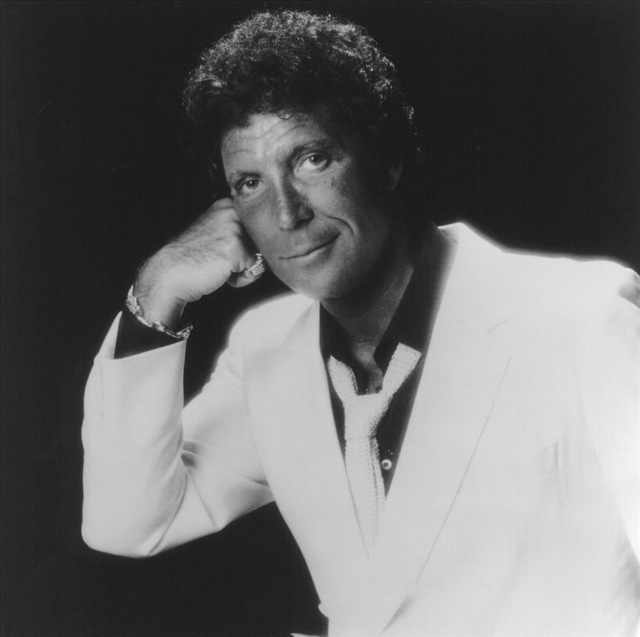 I can't remember exactly when Tom Jones first came to Bermuda, but Dave Garland thinks it was around 1965. Dave recalls that he was living at 'Faraway Cottages' in Warwick with Derek Jenkinson, Jack Rouse and Derek Dowling. Dave was recovering from a cartilage operation and was spending time cooling out on a beach across South Shore Road. Terry Brannon had rented one of the cottages for Tom Jones who would also come and spend time at the beach relaxing with the lads.
Towards the end of his gig Tom told Dave that a song he'd recorded just before coming to Bermuda had "hit the charts big time" and that he'd been booked to do a show at the London Palladium.
Terry Brannon clearly had the ability to attract great performers to Bermuda, some just as they were becoming major stars.
We were also fortunate to have an array of the UK's finest performers such as Tom Jones, Cilla Black, Roy Castle, Rolf Harris (Australian), Lonnie Donegan, and others.
I had been a fan of Lonnie Donegan, the King of Skiffle, ever since I first heard him singing Rock Island Line, one of my first two records, and couldn't quite believe it when he came to Bermuda for a gig at the Forty Thieves. He proved to be a great entertainer in every sense, with a lightning quick sense of humour. I probably saw every one of his shows.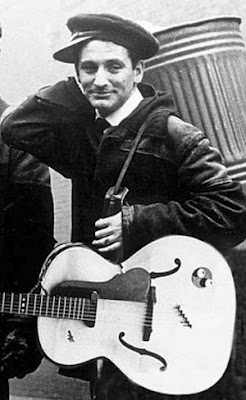 Lonnie Donegan with a "dustbin"!
The only disappointing performance I ever saw at Forty Thieves was an English comedian/musician by the name of Jimmy Edwards who had been a household name on radio and television during my formative years. He starred in "Whacko" as Professor Edwards on British TV, and appeared on numerous panel games where his quick wit was always evident. He was also a talented musician playing the tuba. I went along to his first show with a lovely young lady only to quickly realize that Jimmy had had more than a few 'pops"! His show was a disaster and his language was even worse. He wasn't on stage for long and I later heard that Terry had laid down the law. No obscenities and turn up sober for your next show, but next night his show was cancelled and he left the Island.
It was just the opposite for another well known multi-talented English entertainer, Roy Castle, who was both a terrific showman and a man who was always prepared to perform for charity, especially on the cricket pitch! Roy was a dancer, singer, comedian and musician. He was renowned for playing any and every instrument he could get his hands on, including a giant sized alpine horn he played on stage at the Forty Thieves. Just to demonstrate his versatility he later went on to present a show on British television called Record Breakers in which he personally set the world's fastest ever tap dance record of 1,440 taps per minute (24 taps per second), and another world record when he played the same tune on 43 different instruments in 4 minutes.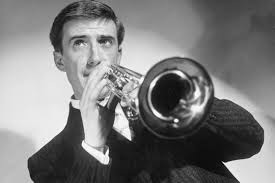 The first night I saw Roy performing at Forty Thieves I was there with my new bride, accompanied by my two closest friends, Tom and Monica Coyle, from the Bronx in New York, and we were sitting close to the stage. Roy came around quizzing members of the audience about where they came from and he would immediately tell a joke about their home town or city. He came to our table and I was hoping he would speak to my good friends from the Bronx, but he asked me instead and I told him, "Stoke-on-Trent". Without the slightest hesitation he said, "Cos kick a bo agen a wo anyed it till it boss's?" And followed up with, "There are only two people in this room who have any idea what I just said. And that's you and me!" He was absolutely right.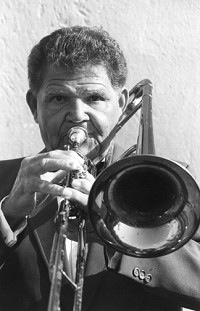 It was a magic time to see all those fabulous international stars live on stage here in Bermuda. But Terry always had many of our best local musicians and entertainers opening his shows. "Ghandi" Burgess was the resident bandmaster and a great trumpeter who was much loved by the stars who performed at Forty Thieves. Joe "Conchshell" Benjamin was a great favourite with tourists who loved to hear him singing "The Big Bamboo"! Other great vocalists include Rudy Ford, Bishop Caines, Gene and Pinky Steede, and many others. Another very popular show with tourists was the Fiery Limbo Dancers, featuring Brian Butterfield and Kenny and Kathy Bean.
Perhaps the wildest times of the year to enter Aladdin's Cave was during College Weeks in the 1960's when the Island would be invaded by thousands of college kids from the U.S. Eastern seaboard. Surely this had to be every young policeman's dream come true, with "odds" some weeks of maybe 8-1 (8 female students to 1 male student)! It was often said that the only group who hated College Weeks were Bermuda's girls, who more often than not, found themselves abandoned during Spring madness for "Longtails" – the nickname for U.S. college girls!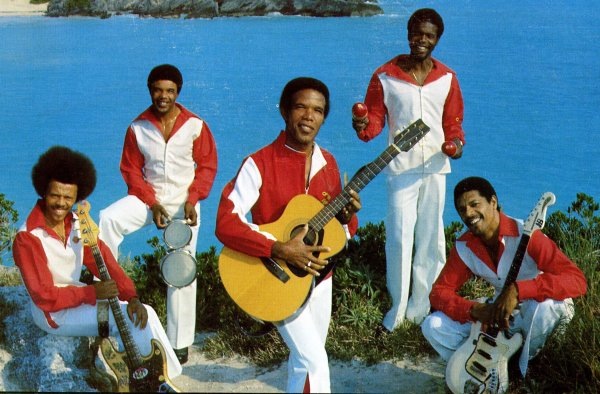 One of the Island's greatest attractions during College Weeks had to be the Bermuda Strollers who drew huge crowds to see their shows at Elbow Beach. They also performed for a while as the resident calypso band at Forty Thieves, as did the Esso Steel band.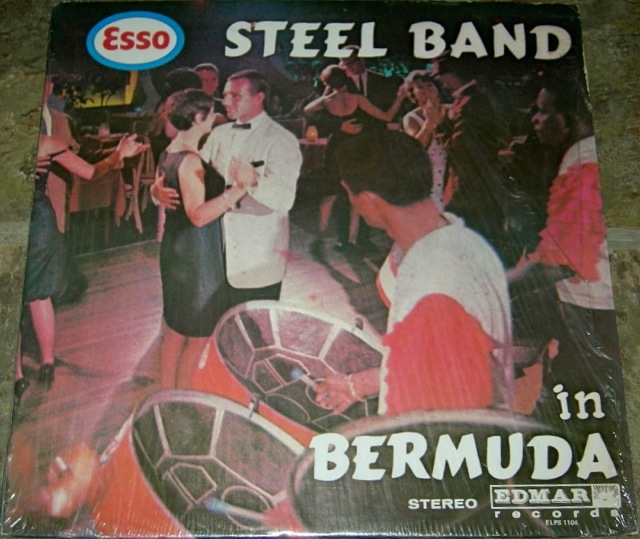 This photograph may have been taken at Clayhouse Inn, another great night club,
where the the Esso Steel Band
was
brought
together by Choy Aming.
Can anyone confirm if the young man in a white tuxedo is Jack Crane
who was one of our outstanding Police football and cricket players in the 1960's?
The Savages, a group of exceptionally talented musicians played at Forty Thieves. Their vocalist, Paul Muggleton, is still in show business in the UK, and drummer Howard Rego made a name for himself internationally and still performs occasionally here in Bermuda.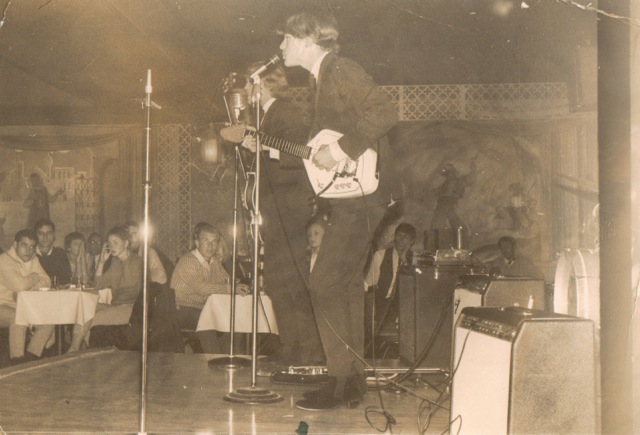 The Savages on stage at Forty Thieves
(This is a rare photograph of performers live on stage at Forty Thieves.
If you
have photos of other live performances at Forty Thieves we
would be delighted
to publish them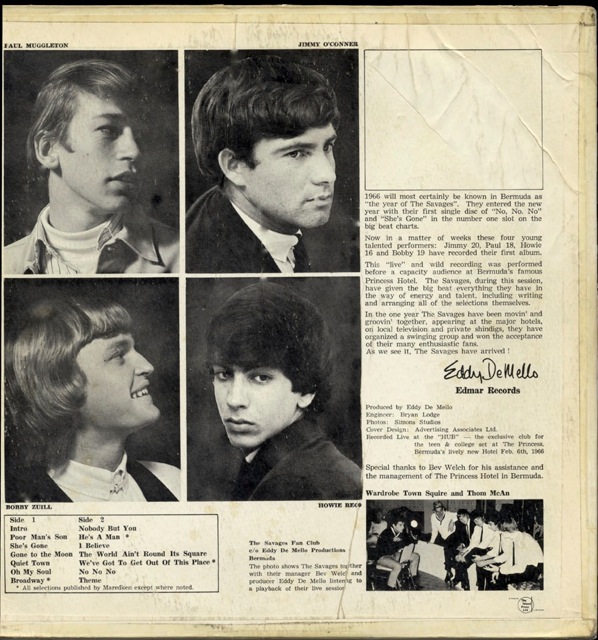 Other bands that were phenomenally popular whenever they performed at Forty Thieves were the Merrymen from Barbados, and groups who I seem to recall were known as The Rockin' Berries. They packed the house during College Weeks and had a tremendous redheaded vocalist who could sing like Roy Orbison.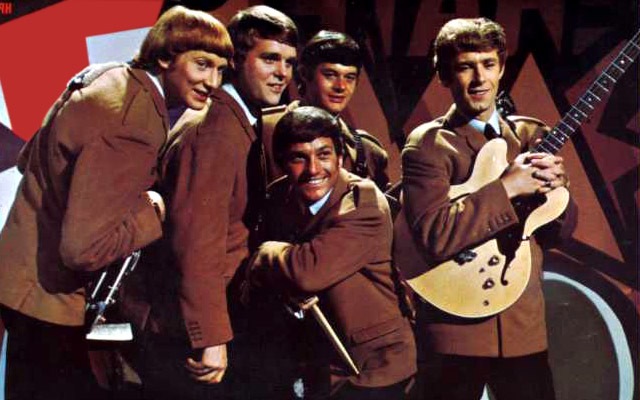 But of all the shows seen at the Forty Thieves I believe that one more than any other stands out as the most unforgettable for many of our police colleagues, and that was, of course, the one and only Martin St James, Australia's internationally acclaimed hypnotist who visited Bermuda several times between 1965 and 1967.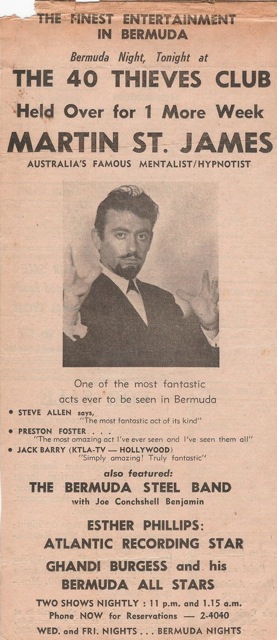 Poster for Martin St. James' show at Forty Thieves
I vividly remember the night when a bunch of policeman first went up on stage, some convinced that there was no way they were going to be hypnotized, and some who went up there with a completely open mind. As Martin would say, "I can't hypnotize you if you come up here determined not to let me hypnotize you, and I can't hypnotize you if you are drunk or mentally incapable"! He started by giving all the volunteers a simple test (was it looking directly into a bright light?) and promptly sent some straight back to their seats. But some stayed on stage and after a brief conversation with each individual he would have them perform a series of random actions such as barking like a dog, shouting "The British are coming" or standing on a chair and sounding like a rooster, and one would follow the other, much to the hilarity of the rest of the audience.
One young policeman had to be the best subject Martin ever put under, and that was our good friend Malcolm "Malcy" Smith, who became a regular on stage and was so easy to hypnotize that Martin could put him under with a flick of his fingers, even on nights when Malcy had no intention of going up on stage!
Martin often stayed in Bermuda for several months at a time and he established such a good rapport with the police that he even put on a special show up at the Police Recreation Club on our outdoor stage. Needless to say the patio was packed to capacity and a great night was had by all, including Jimmy "The Wop" Costello who was given a glass of water and told he was drinking rum. Needless to say, Jimmy soon recovered from that hypnotic trance!. Martin also befriended many police officers and got together with Malcy Smith and others on social occasions. I understand that Malcy was in touch with Martin a couple of years ago, and he wrote to Malcy to say he was having health issues. (We have been trying to contact Martin but with no success.)
Getting back to the Forty Thieves, I wonder how many can recall the class of liquor licence they held and what they were required to do to conform to the terms of their licence. I believe it was a Restaurant Licence which allowed them to stay open until 3am but also required that they had sufficient flatware, utensils, and a kitchen and could produce enough meals on demand to feed at least 20 people.
Can anyone recall the aroma of cooking emanating from their kitchen?! To the best of my knowledge the only police officer to ever demand evidence that they were complying with their restaurant licence was "Nobby" Clark when he was in charge of Central Division. Word has it that Nobby arrived one evening for a "liquor licence check" and demanded proof that the club could provide meals to customers. The staff promptly obliged by setting up several tables with all the necessary utensils, and almost as quickly produced hot meals - from a nearby restaurant.
Apart from that one "stretching of the law", the Forty Thieves Club was always very well run and anyone misbehaving or improperly dressed had to first get past "Super" at the front door, or contend with Head Security officer, Phillip Trott, once inside the premises. And there were invariably lots of off duty police officers in attendance so problems were kept to a minimum – without the use of CCTV cameras!
And what were the dress requirements? From memory it was certainly collar and tie, definitely no jeans, and during the 60's it was perfectly normal to see men dressed in tuxedos and woman wearing long formal dresses.
But the times they were a changing. Terry's son Tony had been raised in an environment where it was not at all unusual to meet some of the greatest entertainers of the time, and he went on to become an entertainer in his own right. Tony realized that John Travolta and Saturday Night Fever and Disco were becoming all the rage, and in 1978 he and his father opened Disco Forty, and they soon had the impresario, Robert Stigwood, who had a residence in Bermuda, on board as a business partner.
For the next 10 years they continued to bring many live shows to Bermuda including the Ramsey Lewis Trio, Billy Preston, Nils Lofgren, Jeff Golub, John Sebastion, Roger McGuinn and many others to Disco Forty. But towards the end of the 1980's Bermuda tourism was plunging downwards with many hotels and entertainment venues closing and the viability of nightclubs made it impossible to continue to bring in high quality entertainment to Bermuda.
Sadly, the Forty Thieves Club closed its doors for the final time in July 1988. And so ended the glory days of nightlife in Bermuda. It was the end of an era that will forever live on for all those who ever visited Aladdin's Cave to enjoy the atmosphere of the fabulous Forty Thieves Club.
I hope that this article helps to stir some nostalgic memories of a magic time in Bermuda when you could step away from hum drum activities and step into Forty Thieves to be transfixed by some of the greatest entertainers in Bermuda and the wider world.
If you have memories of The Forty Thieves Club that you would like to share please feel free to add your comments below, or send them to us at This email address is being protected from spambots. You need JavaScript enabled to view it.
Many thanks to Tony Brannon for providing much of the information and photos in this article. You can read much more about The Forty Thieves and Disco 40 on Tony's Facebook page at https://www.facebook.com/groups/40Thieves/
I will leave you with a few random memories of Forty Thieves Club"
Queues around the "block" during College Weeks;

Ernst Rizzi, the Maitre 'd and his stunningly beautiful girlfriend, Pat Ferguson;

Everest DaCosta (EDC) walking on stage as MC to the refrain, "Who's the most, popular personality? We can't help thinking it's only EDC".

Wearing a white tuxedo jacket and NOT being asked if you were a waiter!

Vivien Hollis walking into the club for the first time wearing an unbelievably see-through mini-dress (she went on to become Miss Bermuda);

Staff politely telling English girls they were not allowed to dance with each other at the Forty Thieves Club. Anyone who ever visited a British nightclub would realize that girls danced with each other all evening and learned all the latest dance steps while their boyfriends spent all night at the bar until 5 minutes before closing time when they finally plucked up the courage to hit the dance floor!
The Fabulous 40 Thieves Club continued .....
EDITORS NOTE - We are starting to receive comments about our Forty Thieves article sent to us via email which we are keen to publish. The article itself is one of the biggest we have ever published, and along with all of the photos it takes up a lot of space and will slow down the downloading function on your computers if we keep adding to it. For this reason we have added "The Fabulous 40 Thieves Club continued ....." (CLICK HERE to view) so that we can continue to add your comments and any photos you would like to share on the topic of this fabulous nightclub. Please feel free to either make your own observations in the Comments column below the article, or send your recollections via email to This email address is being protected from spambots. You need JavaScript enabled to view it.
It is worthwhile viewing this follow-up article if only to read about Mike Caulkett taking on the role of fakir and lying on a bed of nails!
24th July 2020
EDITORS NOTE -
I just received a great letter from Patrick George of the Entertainment Agency in Spencer, Massachusetts, about this ExPo article on The Fabulous Forty Thieves Club.
Pat says The Entertainment Agency was responsible for booking most of the Stateside rock bands that performed at the Forty Thieves Club including Fate, which was an exceptionally popular band to play at Forty Thieves during College Weeks, performing for the first time in 1973 as a seven piece band with a horn section in 1973, and subsequently performing for nearly two months from 1974-1976 as a four piece band with regional hits to their credit.
Patrick has very provided a poster for Fate at the Forty Thieves Club along with The Bermuda Strollers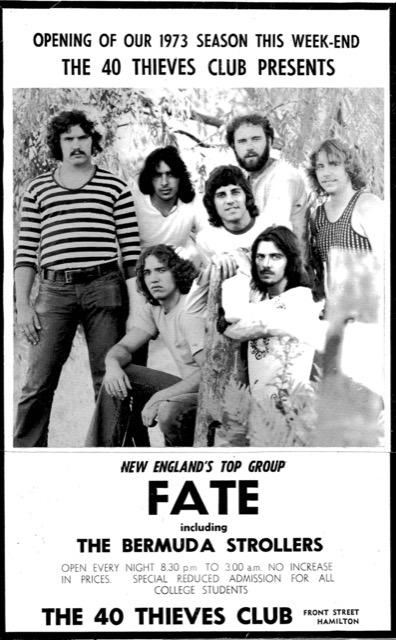 Poster for FATE and The Bermuda Strollers
He sent me a copy of a letter of thanks from Ernest "Ernst" Rizzi who was writing on behalf of The Forty Thieves Club Limited to say that, "Fate has done a superb job for us during 'college weeks'. For the third consecutive year the amount of enthusiasm they created was tremendous. More than 22,000 college students from the United States returned night after night to see their exciting shows."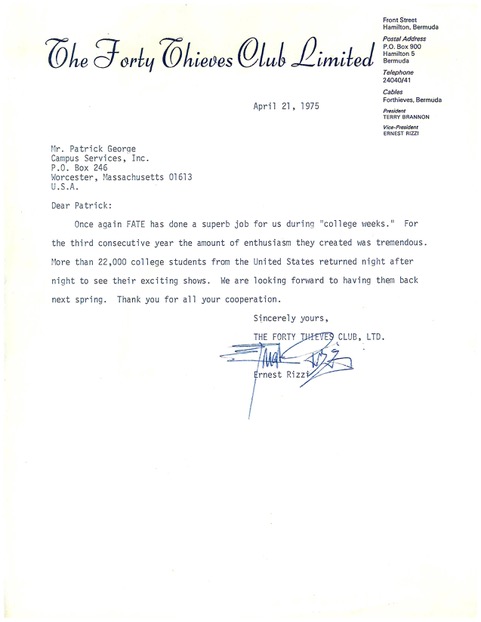 Patrick also provided a Letter of Reference from John Feldman on behalf of the Forty Thieves about Campus Services having had a long (ten year) association with the nightclub, handling all the bookings and organization of top line U.S. Rock Bands from the East Coast for some 35 weeks each year.
I recall that Fate was a very popular band at the Forty Thieves Club but by this time I was married and settled down and not attending too many College Weeks shows!
Terry Brannon always seemed to have an incredible knack for signing up outstanding performers and bringing them to Bermuda, often just as they were about to hit stardom. It's clear that Terry's business relationship with Patrick George was an example of how he managed to maintain such a high quality nightclub with first class entertainment.
I wonder how many of our ExPo members and others will remember seeing Fate and The Bermuda Strollers along with the magic of College Weeks.