This magnificent photograph was taken at a very special event held in Bermuda involving members of the Royal Candian Mounted Police Musical Ride team and our own Police Motor Cycle Display team. We wanted to know the members of the police motor cycle team and the officer standing to the left, the venue, and the year when this this took place. As a bonus, we asked if you can name the members of the RCMP and the names of their horses?! We have included two blow-ups to assist you in identifying those present.
We have been able to identify all the police officers, including Chief Superintendent Frank Williams who was instrumental in the creation of the Police Motor Cycle Display Team. This photo was used as the cover for the Spring 1969 edition of Police Magazine which also included a comprehesive article about this once-in-a-lifetime visit to Bermuda by the RCMP Musical Ride Team at the invitation of the Bermuda Horse and Pony Association to perform for their Annual Show at BAA Field in November 1968.
CLICK HERE to read the excellent article describing this unique event as written by then Inspector JCP Hanlon in our "Interesting Articles" column.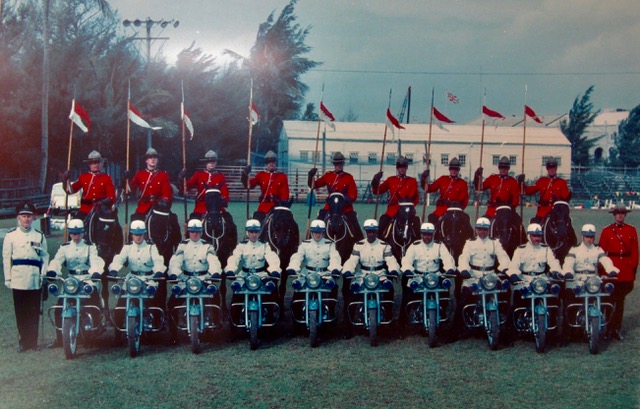 Royal Canadian Mounted Police Musical Ride and
Bermuda Police Motor Cycle Display Team
at BAA Field in November 1968
Police officers are (l-r) DCOP Frank Williams (standing) Denis Brookes,
Richard "Dick" Johnson, Tim Willis, Tom Cassin, Alec Forbes
Gerald "Gerry" James, Campbell Simons, Custerfield "Custy"
Crockwell, Eddie "Boxhead" Foggo and Harold Moniz
BLOW-UP 1