At first glance this appears to be a photograph of 11 soldiers, but if that was the case it would not be displayed on our ExPo website. So, we asked who are these 11 men, where and when was the photograph taken, and what were they doing? To assist you we produced two blow-ups of the photo.
As of 11th September 2017 we had readers correctly identify 10 of the 11 actors, all serving police officers, who performed the play, Journey's End, at City Hall Theatre, in 1966, with sincere thanks to our good friend Nick Hall for organizing the wearing of superb First World War uniforms and equipment. This production was produced and directed by "Tony" Block, with Anna Mulholland as Assistant Producer.
We had just one actor still to be identified and in order to assist you we published individual photos of the cast, taken from the programme, so all you hadto do is find the llth man and figure out where he is on the photo.
We received the final ID of Fred Church from George Rose and Mike and Cam Burke, and also had assistance in identifying cast members from Mike Cherry, Dave O'Meara, Terry Bawden and Terry Cabral, and also George Rose who was a member of the cast.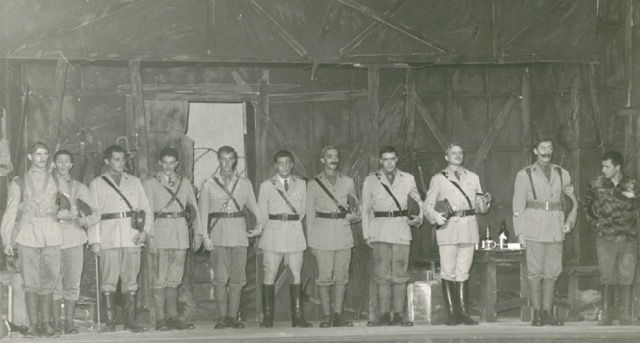 Members of the cast of Journey's End performed by Police Drama Group at City Hall Theatre in 1966
(l-r) Fred Church, John McQuaid, Jack Rouse, George Rose, Roger Sherratt,
John Instone,
Dave Long, Mike Jent, John Mulholland, Alf Haga, and Ian Douris.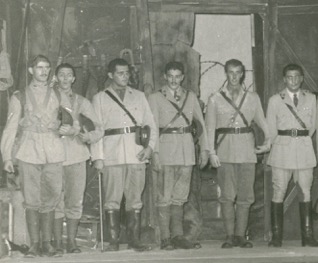 Blow-up 1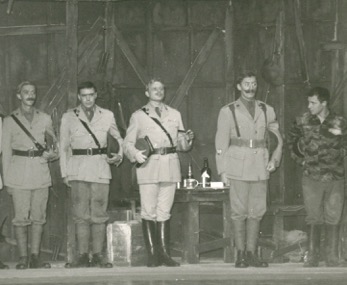 Blow-up 2