Bermuda recorded its first case of Covid on 18th March 2020, almost 2 ½ years ago, and since then we've been through lockdowns, airport closures and severe travel restrictions, compulsory wearing of masks and washing of hands in public places, vaccination campaigns and endless streams of misinformation from "anti-vaxxers" about Covid being nothing more than the flu, and that the wearing of masks and getting vaccinated were a complete waste of time.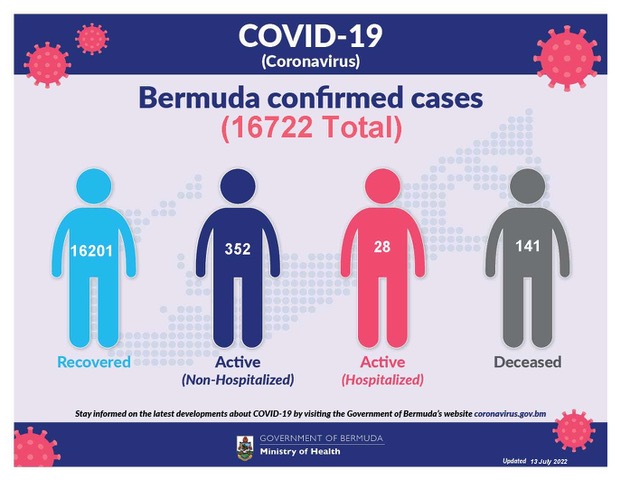 Bermuda Government statistics on Covid as of 13th July 2022
During the last 2 1/2 years Bermuda has recorded over 16,000 infections, and had 132,000 doses of vaccine administered. At latest count we've had a total of 141 covid-related deaths.
This year has seen a surge in Covid cases due to the Omicron variants, and here on Island we've recently seen a rapid increase in reported infections, with 321 positive cases this past week - the highest since last October. This compares with 258 reported cases last week and 229 the week before, and there is no question that we have far more positive cases out there because many are now going unreported.
Fortunately, the Omicron strain is proving to be far less likely to result in hospitalization and deaths, especially for those who've been vaccinated and boosted, but as of this writing we have 28 people hospitalized at KEMH (compared with 5 last week) but none in ICU. (For further update see note below).
There's no question that the Omicron variants are far more infectious than the original strains, and that even those who are fully vaccinated are at risk of being infected, or re-infected, although there is overwhelming evidence that the chances of being hospitalized, or worse, are greatly reduced for those who have received their vaccinations and boosters.
On a personal note, my family here in Bermuda, all of whom have been fully vaccinated and boosted, have generally fared well during the past 2 years. I traveled abroad for back surgery with my wife in 2021; we visited the U.S. last Christmas and managed to return with no sign of Covid but I had nasty case of polymyalgia, and a couple of months ago we took our granddaughter to England and even went to see 'Hamilton' (a tremendous show) in the West End and toured the Tower of London during our travels, with almost no masks in sight in the theatre or in crowded locations - and still no sign of Covid in our family.
That all changed a few weeks ago! Our grandchildren all tested positive, as did my son and his wife, and my son-law-law. At this point the only family member, not infected is our daughter, a doctor, who must surely be at the highest risk, seeing sick patients on a daily basis!
Last week I was finally clobbered with Covid, and after testing positive I came down with the apparently usual symptoms, - runny nose, headaches, general aches and pains, "brain fog", feeling exhausted and out of sorts. I was joined a few days later by my wife when she also tested positive. We don't appear on Government statistics because we've stayed completely isolated, followed all the rules and have been testing ourselves with the rapid flow test kits.
We were highly recommended to take a course of the anti-viral medication, Paxlovid, which is available here in Bermuda to those who are over 65, and anyone who has pre-existing health conditions – my polymyalgia and the need to take a course of steroids put me in the latter category. Ideally, Paxlovid needs to be taken within 48 hours of knowing you are infected, and in our case, it certainly seems to have had a positive effect.
So, what to do while in isolation? Watching sports was our relief! This last weekend has been a stellar time for watching sports especially if you're a "Brit"!
After watching the England Men's cricket team in action a few weeks ago, going against the odds and beating the current World Champion Kiwis in three straight test matches, and even beating India in a deciding test match with a record score of 378 in the final innings we seemed to be in fine form. On the negative side we were then crushed in the 20/20 series against India and in the ODI series.
This last week has seen a plethora of major sporting events, with the Women's England Ladies cricket team showing the way with victories against South Africa. Our England Ladies football team is doing exceptionally well so far in the European Championships. The Ireland rugby team beat the Maoris in their incredibly tough test match series in New Zealand, and England surprisingly beat the Wallabies in their rugby series in Australia. The World Athletics Championships are in action in the US, and as of this writing we had high hopes for Rory McIlroy winning the 150th British Open at St. Andrews but he was pipped at the post by Aussie, Cam Smith, who finished with an incredible and well deserved flourish!
Meanwhile, according to reports out of the UK, the latest strains of Omicron are even more infectious than previous strains, and new cases in the UK are setting new records with the highest ever number of reported infections, As stated earlier, it does appear that the new variants are not resulting in the same sort of increases in hospitalizations and deaths reported earlier in the pandemic, but there appears to be no sign that Covid is going to magically disappear any time soon..
It must be a nightmare for health authorities around the world to decide what advice to give us to help to control Covid, and I wonder if our ExPo members would like to write and let us know how you are coping, how has the pandemic affected you during the past 2 years, what are the latest rules where you're residing, and if you can offer any advice to our colleagues around the world about staying as safe as possible during this darned pandemic?
You can enter your comments in the Comments section below, or email them to me at This email address is being protected from spambots. You need JavaScript enabled to view it. or my home email if you have it.
17th July 2022
18th July 2022
"Covid-19 Hospital cases jump to 56 says Premier"
Within hours of writing the above article I checked the Royal Gazette and saw an article reporting that the House of Assembly had been advised:-
"The number of patients in (KEMH) hospital suffering from Covid-19 has doubled to 56 in the last three days and there have been two Covid-19 deaths in the past week, MPs have been told.
"The spike in hospital admissions — believed to be caused by new variants of the virus being detected on the island — is putting increasing strain on King Edward VII Memorial Hospital's resources.
"MPs were also told that new variants of the Omicron virus are almost certainly dominant in Bermuda, and one of them is considered to be highly contagious and able to infect vaccinated people and people who have already had Covid-19.
"David Burt, the Premier, revealed the figure during a debate on an order to extend the deadline for Covid-19 public safety measures in the House of Assembly last night.
"The regulations, which make the wearing of masks mandatory in certain places such as rest homes and on public transport, were set to expire at the end of this month. Government sought to extend them until the end of September.
"Presenting the order last night, Kim Wilson, the Health Minister, said that the spread of the virus remained "uncertain and unpredictable".
"She said there had been two Covid-19 deaths in Bermuda in the last week, although it was not clear if that included the death reported on Wednesday."
Ms Wilson told MPs that, according to the World Health Organisation, the number of Covid-19 cases globally had risen by 30 per cent in the last two weeks.
She said that new, highly transmissible variants of the virus were responsible for the global increase, and that they were now almost certainly present in Bermuda.
Ms Wilson said: "There are greater numbers of people visiting the hospital's emergency department with symptoms, and admissions to KEMH are increasing."
She added that the case count was largely driven by newly identified BA.4 and BA.5 variants, coupled with a general relaxation of public safety restrictions.
Ms Wilson said: "We are still waiting for analysis from overseas, but there's a very strong likelihood and we're fairly convinced subject to confirmation that we should receive any day now that BA.4 and BA.5 are the dominant variants here in Bermuda as well as other jurisdictions."
CLICK HERE for the full report in the Royal Gazette.
18th July 2022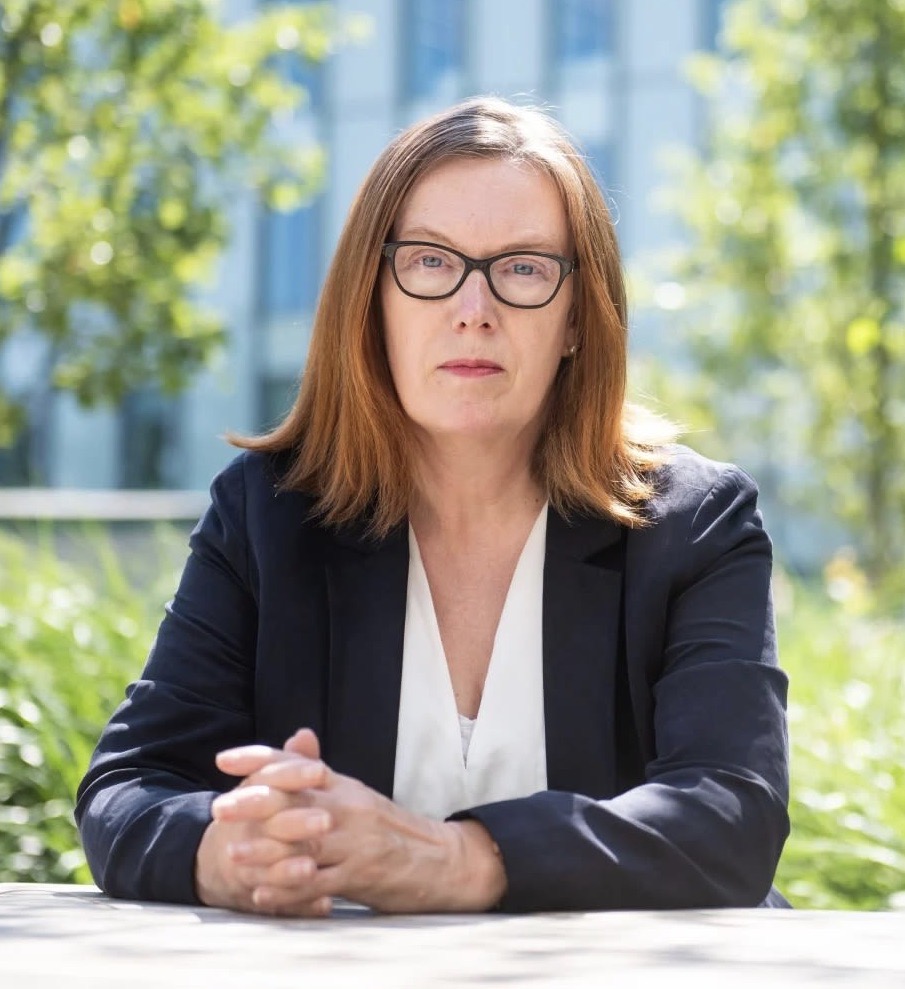 Dame Sarah Gilbert
A LECTURE BY PROFESSOR SARAH GILBERT ON THE
DEVELOPMENT OF VACCINES FOR COVID AND OTHER DISEASES
I wonder how many of us still have serious concerns about Covid and its variants along with questions about the development of vaccines and whether they are effective and safe to use. I've spent more than a few hours over the past 2 years trying to make sense of the reports, pro and con, for Covid vaccines, and I recently read a presentation to the 44th Richard Dimbleby Lecture given by Dame Sarah Gilbert which made far more sense to me than anything else I've heard or read since the first outbreak of Covid-19.
I would encourage our colleagues, no matter whether you are for or against vaccines, to read for yourselves what this lady has to say. CLICK HERE for the link to her lecture. I believe the lecture can also be found on You Tube.
19th July 2022
UPDATE FROM RAY SOUSA IN AUSTRALIA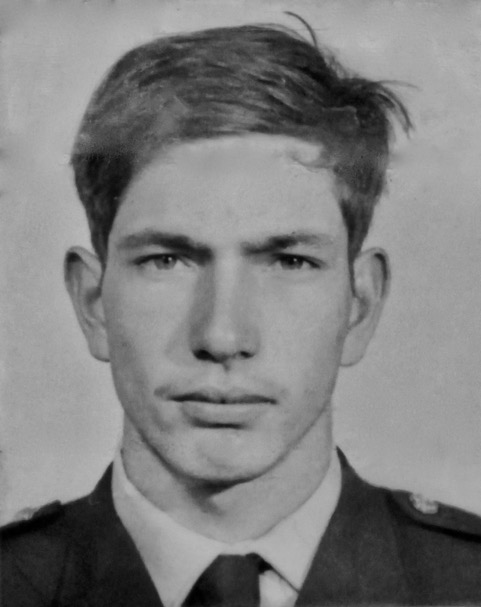 Ray Sousa
We just heard from our old friend Ray Sousa in Australia who sent his best regards to all and wrote the following report on the present Covid situation in Australia:-
"We have the same situation here in West Australia. Since opening our borders to the rest of Australia, and the World we have had a large increase in COVID cases. In our family we dodged a bullet until recently. First two of my grandsons got COVID. A few weeks later 2 of my granddaughters than their father, my son Chris got it. Due to Chris's medical condition he went to hospital, immediately given special drugs, and sent home. That turned out to be a good thing, because the small country hospital immediately shut down because of COVID infections among staff. Most of our hospitals and our Ambulance Services are operating short staff; despite extra heavy demands for their services.
"Ok to the immediate home front, I am still dodging bullets by having unintentional contact with people with COVID. That is likely to change at any time because Pat tested positive today. Even if I do not get the bug, I will be restricted on what I can do for the next 7 - 10 days. Fortunately most of the community including us are fully vaccinated for COVID and the flu which should lessen the effects . As you can appreciate we are in the middle of winter with its flu season. Again this is having a big impact on our medical services.
"Governments are in a catch 22 position. Closing everything down again is possibly the best way to protect the community; however that would be extremely costly. Countries need a working, tax paying population to support the community, including our Emergency/ Medical Services. Among the fallouts that COVID have helped cause are inflation, and skills shortages. The chaos in the airline industry is a good example of this. Of course the war in Ukraine, and to a lesser degree China's policies have helped add salt to our wounds. Fortunately, our new Labour Australian Government has helped to ease the tension with China;and improve relations with immediate Island nations. This is a big story in itself. Climate change is another issue which is causing world wide concern. Here in the west we are asking if temperatures reach 40 degrees C in the UK; how hot will our summers be, and how will we manage even worse than present bushfires ?
In short us " oldies" have lived during some very challenging years and it seems there is more to come. !!
Look after yourself, best wishes to all."
1st August 2022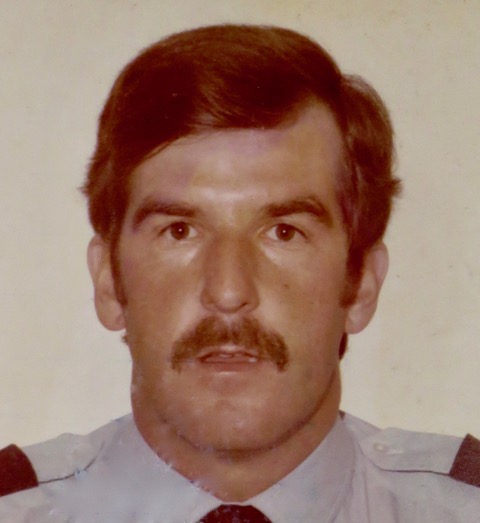 Dave O'Meara
UPDATE FROM DAVE O'MEARA IN SPAIN
We have just heard from Dave O'Meara in Northern Costa Blanca in Spain who has kindly sent us the following account of the impact that Covid has had and is still having on them and their community in Spain.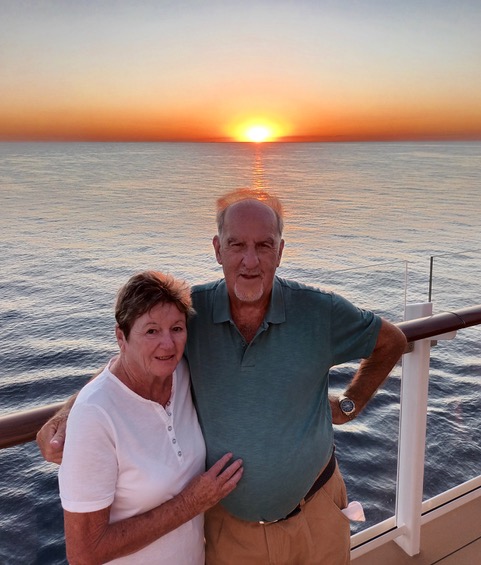 Dave and Jan O'Meara
enjoying sunset on a cruise
Hola Roger and nice to hear from you. Re your request for news on how Covid impacted on both of us and from a national point of view here in Spain, I will be happy to relate our views on the subject.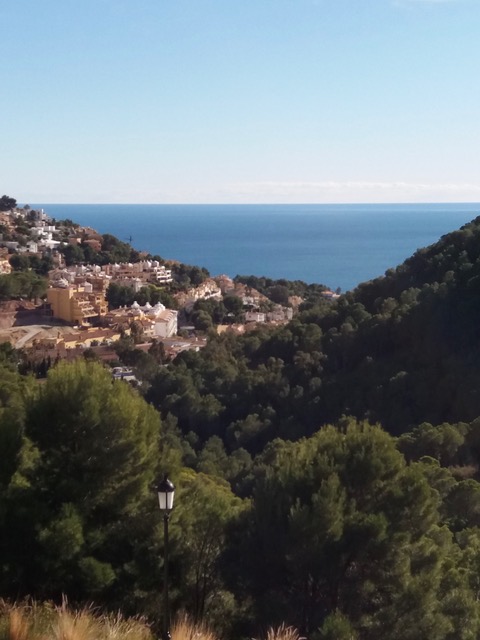 The view from Dave and Jan's balcony
Both Jan and I have lived in Northern Costa Blanca for some years now and love the lifestyle, the climate, the ability to travel without boarding a plane and the overall attitude of the people living here some of whom have become good friends of ours. Their nationalities are wide spread and include, Spanish from the North, central and Southern parts of the country, Norwegian, Belgium, Netherlands, Brits from all parts of the UK, Swiss and several more European countries. We even managed to bump into an Ex Bermuda Police Officer David Clark who lives not far away from us. English and/or Spanish is normally used to communicate and of course hand(s) signals is universally known to help.
How Covid affected us, we first became aware something was happening was when we went to a local Super mercado to do some shopping, this would have been about the 14th March 2020. People were rushing about with full trollies and talking loudly as only the Spanish can do, the air had a feel that something was about to happen. Covid had been in the news for some weeks and we believed that talk of a lockdown was a lot scaremongering but now it seemed it may be happening. Not knowing what to expect, we joined in and began buying items we thought we would need, mostly essential items, bottled water, cans of food, soap etc.
On the news later that evening it stated that due to the increasing number of cases of Covid, the Spanish government declared a state of alarm and announced the imposition of a national lockdown the next day as part of emergency measures to combat the outbreak in the country. People where possible would have to work from home and would only be allowed out for medication and essential food items. Face masks were to be worn at all times out of your residence and only one member of the family would be allowed out at any one time and the Police would be actively enforcing these rules. Flights into the country were being put on hold while out bound flights would continue to allow tourist to leave and all hotels were to close once empty. Lockdown had started.
We are lucky in that where we live is up high on a hill side and this affords us a spectacular view of the countryside below and a number of roads that pass through it. The next day it was like watching a scene from a movie where we were the only people left alive, there was no movement, no noise, no people nor vehicles just the birds flying by and the odd ship passing out in the Med.
Life settled down to doing odd jobs, watching TV, reading and other such pastimes such as still working at learning the Spanish language. We have a large garden area so walking around outside took the edge of staying indoors and if a vehicle was heard we quickly went back inside in case it was the Police. After about a week of this supplies were getting low so I got ready to do the shopping armed with a list from Jan. We had been told that we could only go to the nearest shop or super mercado and ours was less than 5 minutes down the road. Once there, I noticed that the store was in fact relatively busy and all present were wearing masks as required. I quickly purchased the items required and left not wanting to stay longer than necessary after all those reports of how Covid or has it was then called the " Corona Virus " could be passed by just being close to someone.
On the way home and only a short distance from the store, a police road block had been put in place, 3 cars and 6 officers were checking all the cars. I had to show my I/D and Driving Licence and state why I was out and then show them my shopping bags before I was allowed to go. The following week the same procedure for shopping only this time due to stocks of cerveza ( beer ), vino and spirits being low, a few of each had been added to the shopping list after seeing that other customers had been buying them on my first shopping visit. Leaving the store I headed a slightly different route home and guess what, another road block. Same procedure, I/D, D/Lic and then I was asked for the receipt for my shopping. Knowing my added purchases would get me in trouble I started looking for the receipt which was in one of the bags, starting with the 2 bags I know it was not in, I was now having to look in the third bag when to my relief I was told to " OK move go " as a number of cars had been stopped behind me and the Police wanted to deal with them.
I later found out that the Police had got smart after stopping a number of cars carrying a small number of shopping items so if stopped, they could prove they had been shopping and not just out and about. A receipt was now required to match the shopping and the date of buying. I also heard from friends who had gone shopping in the early days and stopped by the Police and had been fined or escorted home when they tried to go to a shop further away than one which was nearer to where they lived. The Police roadblocks remained in place for several more weeks and I was stopped three more times before they eased up. Some of the roadblocks on the major roads had 4-5 cars, a few bikes and the ever ready officer with the stinger ready to throw under the wheels of a car who failed to stop. Officers with machineguns was also very evident.
Life continued as such until the early summer of 2020 and tourist season should have started. Much had been read in the newspapers about opening up to allow tourists back into the country. Locally, things like visits to cafes, bars, restaurants had become a bit easer as you were now allowed to have more than one person in a car if from the same household. You still had to wear a mask and no service at the bar but once at your table your mask could be removed unless you moved about or left. We went out a few times but always to the less crowded places we knew and not in the evenings when they were busy and the roadblocks were up so you had to be careful of your drinking due to the road blocks.
Some Sports also started to reappear and on the 24 August we had our first game of golf since mid March. The joy of being able to not wear a mask while hitting the ball in the open air/space was like a breath of life again. Our club was not very busy and a mask had to worn inside the building. As a married/couple, Jan & I were able to share a buggy while a lot of single players could be seen during our game. Also all the flag sticks, ball washers, rakes etc had been removed, the fairways had been mowed but the bunkers were wilfully left unattended and unplayable should you be unlucky to go into one of them. This was due to lack of workers as most of the staff had been let go back in March and now had other employment if they were lucky.
With a bit more freedom to move about, passing through the town it was alarming to see how many bars, stores, restaurants and other businesses were no longer operating. They had closed up and were gone with every sign that there would not be re-opening. This is a tourist area and without the tourists, there was no or little money being spent. Lots of people were now out of a job and in Spain there is no unemployment benefits to depend on so many who were not Spanish returned to their home countries. Later this would prove to be a big problem from a labour point of view as many businesses were unable to re-open as there were no takers for the low paying jobs being offered.
The towns were still nowhere as busy as before and the country was still in a lockdown but there was a small number of tourists around as evident by their car/vehicle number plates showing which other country they came from. These would mainly be from other European countries and it seemed strange that the flights into the country had stopped yet cars were being allowed to drive here so people who had a holiday home here could visit to ensure all was OK with their property.
In September we made the decision that the two vacations we had made plans for earlier in the year should be delayed or cancelled as we did not feel safe enough to be moving around, our Caribbean Xmas cruise would now have to wait as would our drive to visit Cadiz and Cordoba in late September. Luckily this was not a problem but we were disappointed as in retirement travel is something we enjoyed doing.
Xmas 2020 was a very quiet time, there was not much going on, the weekly golf game, shopping and the odd drink with 1-2 friends comes to mind. No parties or large social group get-together like other Xmas's. A few restaurants began to re-open to catch the Xmas trade but all low key and there were not many customers about. Masks still had to be worn inside and now the talk was all about what will happen once the UK leaves the EU on 1st January 2021.
On the Covid news front, there was a lot of reports that vaccinations against Covid would be starting soon, however no date was ever mentioned and who would receive them. The number of new cases was regularly reported but reports also mentioned that the medical services were able to handle the increasing workloads. Likewise, the Police and other community services also reported that they although suffering from a slight staff shortage due to illness, were able to still support the community.
In May 2021, the Spanish government reported that shortly Spain would open up to tourists from " green listed countries " being able to visit Spain. Locally this was reported that this would help the local economy recover but not everyone was in agreement. Covid new cases was still high and an increase in tourism would surely send these numbers even higher.
In early June flights into the country resumed and slowly the number of tourists increased as some hotels were now open. We remained nearer home and left the larger towns and cities alone. Although not perfect life was OK, shopping allowed anytime you wanted, no restrictions on what you could buy, out for a drink or meal was slowly becoming the norm again.
Through out the summer of 2021, the number of people staying locally picked up pace, businesses seemed a little busier and the number of new Covid cases seemed to have steadied as had the number of fatalities from the disease. So in early September and although still worried about problems with travelling, we decided to drive to Cadiz via Costa Del Sol for a few day's vacation in each location.
Everything went well, masks still being worn and we noticed that in Cadiz we were being told off by staff members if we forgot to have a mask on when going into a hotel or other building/shop etc. Outside in the open no mask was deemed OK. This telling us off about wearing a mask used to happen locally in the early days of Covid but by now had dropped away.
Back at home and playing golf with the society we are members of, a great number of members were no longer playing. The number of society members was down by about 55% from the mid 60's mark. This not because of Covid but because of Brexit and the new rule of only being allowed to stay in Spain 90 days out of every 180 if you were not a resident. Most of the missing members had been coming here and staying as long as they liked and now this was not possible and had sold up and gone back to the UK.
Xmas 2021 saw us board a flight from Madrid to Miami with onward travel to Fort Lauderdale for our delayed Xmas Caribbean cruise. Enroute we flew past Bermuda on the North side of the island, we were able to see and recognize many of the island features which brought back many memories. Fears fuelled by stories heard on the news of hundreds of cruise ship passenger coming down with Covid was concerning but by now we had our full Covid vaccinations and booster jabs and were feeling much more at ease with travelling, except having to wear a mask all the time on a 10 hour flight.
Mid-January 2022 and back home in Spain we decided that due to the long time you had to wear a mask on these long flights, we would cancelled what would have been a special journey for us, flying to New York and then cruise to Bermuda in mid May. We hope to do this in due course but have not put a date on when this will happen.
As stated earlier, being able to travel is one of the things we enjoyed doing. So off we went again in June on another cruise. This one out of Rome and our ports of call were, Corsica, ( what a beautiful island and we must go back for a longer visit ), Florence to see the leaning tower of Pisa, Portofino, Cannes to visit Monte Carlo and Nice, Palma de Mallorca before we disembarked in Barcelona for a short flight home.
Once home both of us tested positive for Covid, we think we picked it up on a bus excursion on the last day while on the cruise, no masks being worn and following the rest of the passengers in an enclosed space we did likewise. Luckily, it was a mild case and felt like a heavy cold. I tested negative three days later while Jan had it for a day or so more. Both of us had a nagging cough for 5-7 days after the test.
Covid has not gone away, in one form or another we will have to deal with it for some time to come. The new normal way of living is at best just that but we are living it as best we can and will go with the flow as changes are made. To stay at home is just not us, we will be careful but we will be enjoying ourselves.
The current numbers supplied by the Spanish Government recently, show that World wide 577 million people caught the disease resulting in 6.4 millions deaths. In Spain the total number of cases was 13,2 million with 111,000 deaths while the region with the highest number of cases was Catalonia in the North. In the Valencian community which covers were we live the total number of cases was 1,53 million and 9,739 deaths. Frightening numbers which ever way you look at them.
Today with the temperature in the high 30's C mark, ( on our balcony it's reading 39C ) and no rain to speak of since April, the concern is fire. Although we have had a few small ones nearby, they were quickly brought under control as each area has a number of fire watcher's. Life goes on with the new challenges that each day brings.
I'll close by saying best wishes to all my old work mates and to thank you Roger and the rest of the Ex Bda Police staff for the work you do, I visit the web page 2-3 times a week and also read on line the Royal Gazette so we are able to keep up to date with local island issues and news.
EDITORS NOTE - If you woud like to share your experiences of coping with the Covid pandemic please feel free to write to us either through my email address or directly to our ExPo wesbite at This email address is being protected from spambots. You need JavaScript enabled to view it.