Chief Inspector Leonard Fearis
November 1, 1906 - August 18, 1977
Chief Inspector Leonard Fearis
Leonard Fearis was born in Suffolk, England on November 1st, 1906, and it was while serving in the Royal Artillery that he came to Bermuda in 1927.
After completing his military service in 1930 he decided to stay here - for a very good reason - and he joined the Bermuda Police Force as a Constable. For the first 3 years Leonard was stationed in Hamilton before being transferred to Smith's Parish as parish constable. In 1938 he was transferred back to Hamilton and served as an Acting Sergeant for some years before being promoted to Sergeant in 1949.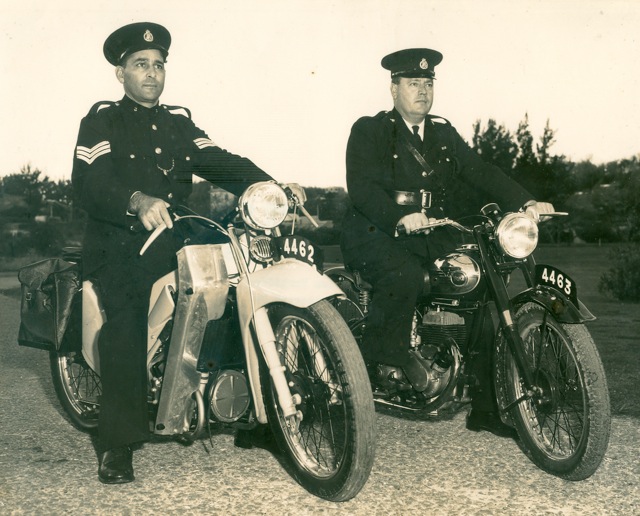 Sgt John Marshall (Bermuda's first Traffic Office) and Leonard on motor cycle patrol
Three years later he was promoted to Inspector, and then to the rank of Chief Inspector in April 1954. He retired from the Force in October 1961 after completing 31 years service.
Leonard was clearly an excellent shot as a result of his time in the Royal Artillery, as indicated by the fact that he was a member of the Police Shooting Team when they won the Bermuda Bisley Inter-Services Full Bore Shooting Championship held at Warwick Camp in 1952. His family can recall him having several rifles securely locked away in a cupboard when they were young, and which they were never allowed to go near. This was in the days when firearms were still legal in Bermuda if you held a permit.
Leonard was a member of the Grand Lodge of Free and Accepted Masons of Ireland, and in 1948 he was elected, installed and served in the Office of Worshipful Master of the Lodge.
There is no doubt why young Leonard decided to remain in Bermuda after completing his military service. He had met the love of his life, Nellie Beatrice Taggett of St. George's and the two were married on December 23rd, 1929 in St. Peter's Church, St. George's. They had two children, Betty Constance, born May 14th, 1930, and Stanley Walter, born November 23rd 1931.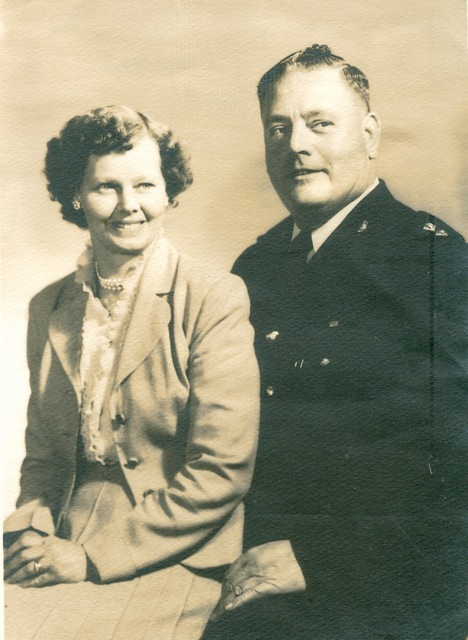 Leonard and Nellie
Betty married Scottish-born Richard Martin and they had three children; Sandra (born March 26, 1956), Pamela (born April 17, 1959) and Paul (born October 12, 1961). Stanley married Canadian-born Theresa DeVost and they had three children: Diana (born July 3rd, 1954), Denise (born September 19th, 1956), and Nancy (born December 16th, 1958). Soon Leonard and Nellie had six grandchildren (see photo), and as of February 2011 there are now 11 great-grandchildren and 6 great-great-grandchildren.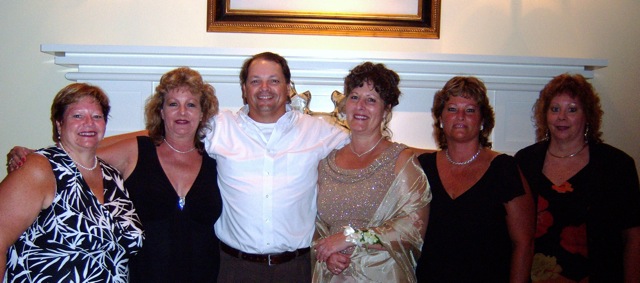 Leonard Fearis' grandchildren
(l-r) Sandra Andrade (nee Martin), Denise Cairney (nee Fearis), Paul Martin,
Diana Kromer (nee Fearis),Nancy Oughton (nee Fearis), and Pamela Pacheco (nee Martin)
Leonard's granddaughter, Diana Fearis, has very fond memories of her grandfather who she describes as a big man, both in stature and in his love for his children and grandchildren. "He loved to sit in his rocking chair on the front porch rocking us on his knee and would sometimes bring out his police helmet to put on our heads so we could pretend we were policemen."
"Special board games of Tiddlywinks, Chinese Checkers and Snakes and Ladders were always a favourite with the grandkids and Grandad would often sit and play them with us when we were visiting. He always enjoyed having us over, but he was also a stickler about good manners at dinner time - perhaps a result of his military training as a young man."
Diana fondly recalls that Leonard and Nellie had a lovely garden and grew all kinds of vegetables, as well as having a large fruit orchard with Bermuda oranges, lemons and grapefruit (which are sadly no longer there), and a large avocado tree, which is still standing today. Her grandfather's favourite snack was to have his fresh tomatoes and onions soaked in vinegar at the kitchen table with bread and cheese. Their family get-togethers would always include great meals with lots of fresh vegetables – whatever was in the garden and then some!
Leonard Fearis was much loved by all his family and will always be fondly remembered through the generations.
This tribute to Chief Inspector Fearis was kindly submitted by his granddaughter, Diana Fearis, with input from members of his family.
Hi Rita Cridland - Great to hear from you. Unfortunately I can't access your email address from the comments section on which you posted your message. If you send us your email address through expobermuda.com we will be sure to pass it on to Diane.