Rescue in Hamilton Harbour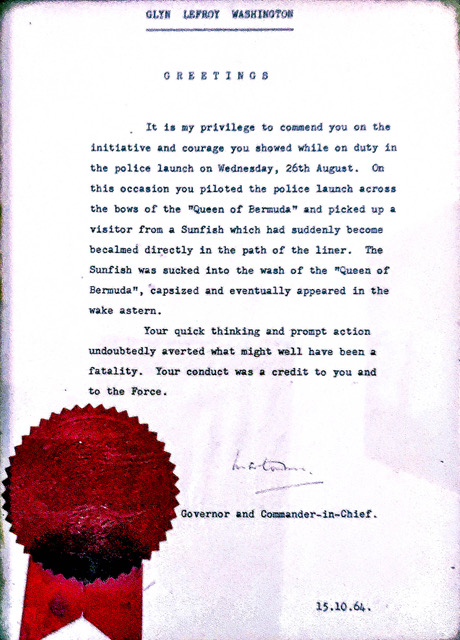 Commendation presented to P.C. Glyn Lefroy Washington
by H.E. The Governor, Lord Martonmere on 15th October 1964
We recently came into possession of the above copy of a Governor's Commendation in 1964 to a young Police Constable, Glyn Lefroy Washington, and were asked if we could check into the circumstances surrounding the award, and what happened to P.C. Washington since then.
As you can see from the wording of the Governor's Commendation, P.C. Washington had shown initiative and courage while on duty in the Police launch on Wednesday 26th Augiust 1964 when he piloted the police boat across the bow of the "Queen of Bermuda" and picked up a visitor who was sailing a sunfish which had become becalmed directly in the path of the liner. The sunfish was sucked into the wash of the ship, capsized and eventually appeared in the ship's wake astern, but not before P.C. Washington came to the rescue at the last possible minute and plucked the sailor from his sailboat before it was sucked under the water. As the Commendation states, P.C. Washington's "quick thinking and prompt action undoubtedly averted what might well have been a fatality and his conduct was a credit to him and to the Police Force.
Fortunately, I had recently been in touch with Glynn via email, and was aware that he was living in St. George's so it was no problem getting in touch with him about this incident involving the tourist and the "Queen of Bermuda". I also remembered Glyn quite well because he had been stationed in Hamilton when I first arrived on Island in May 1964.
Perhaps the first thing to do is to correct the record about the spelling of Glynn's first name which was recorded in the Commendation and in our police records as Glynn. He has assured me that the correct spelling is Glynn.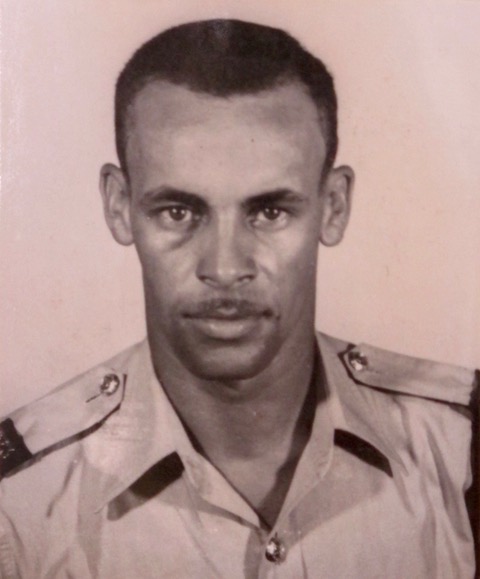 Young P.C. Glynn Lefroy Washinton
Glynn was born in St. George's in August 1937. After leaving school Glynn went to work for Meyer Industries where he was a boatsman servicing visiting ships, delivering water towed in water barges, and picking up sick crew from passing ships, and he still remembers coal barges being used in Bermuda. He has always loved boats and spent the next 7 years at Meyer's during which time he developed an excellent knowledge of Bermuda's waters.
In 1961, the Police Force was advertising locally for recruits and Glynn decided to apply, along with a group of other young Bermudians. He was successful in being accepted and joined the Police Force on 2nd Septpember 1961, along with six fellow Bermudians, several of whom went on to have long and distinguished careers in the Force. Joining on that day were Lennett "Lenny" Edwards, who went on to become Commissioner of Police, Custerfield "Custy" Crockwell, and Eddie "Boxhead" Foggo who both went on to become Inspectors, Gilmore Simons, Phillip Smith, and Reginald Tuckett. Four more local recruits joined the Force around the same time - Marcus Packwood, Phil Pearson, Tommy Barton, and Mel Gibbons who became one of Glynn's closest friends, and still is.
Commissioner George Robins had taken over as head of the Police Force in 1960, and realized that local recruits were at a disadvantage in their basic training compared with overseas recruits from the U.K who would attend a 3 month course at the Police Training Centre in Millmeece, Staffordshire, before coming to Bermuda. When Glynn's intake of recruits were hired, COP Robins organized a six week training course for them at Police Headquarters, with Sgt Tommy Doyle as their main instructor. This was a forerunner of the Training School set up in 1962.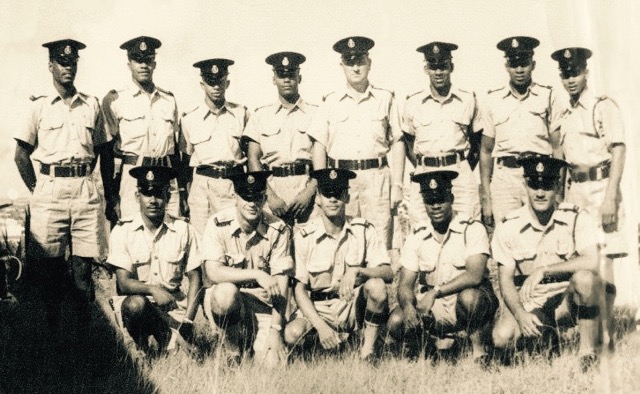 Group of fairly new recruits who attended a 6 week basic training course
in late 1961 before the Training School was officially established.
Top row (l-r) Marcus Packwood, Phil Pearson, Phillip Smith, Custerfield "Custy" Crockwell,
Sgt Thomas Doyle, Lawrence "Mincy" Rawlins, Reginald Tuckett, and Gilmore Simons.
Kneeling - Melvin Gibbons, Thomas Barton, Glyn Washington,
Lennett "Lenny" Edwards & Eddie "Boxhead" Foggo
Following the training course Glynn was initially posted to St. Georges, but just 3 months later he was transferred to the beat in Hamilton. Shortly after he moved to Hamilton, the Police Force acquired its first ever Police Boat "Blue Heron" which was built by two young constables, Derek Jenkinson and Dave Garland on a shoestring budget, and was launched in early 1962. CLICK HERE for an article on our First Police Boat. Glynn was in the right place at the right time because, with his extensive marine experience and knowledge of local waters, he was one of the first officers to be assigned to the Marine Section along with John "Flaps" Barnett , "Dolly"Jack Nash and several others. This was at a time when Marine Section officers would split their time on the beat, manning the dock gates along Hamilton Docks , and going out on patrol in the Police boat.
Glynn was certainly in thre right place at the right time on Wednesday 26th August 1964 when he was patrolling Hamilton Harbour in the police boat while the "Queen of Bermuda" was arriving in port. Glynn spotted a man in a sunfish becalmed in the middle of the harbour directly in the path of the ship which by this time was sounded her horns in an attempt to get the sunfish to move out of the way. Glynn realised the sailor, a tourist, had no way of moving anywhere, so he headed straight for the sailboat, and told the sailor to jump on board - just in the nick of time. No sooner had Glynn moved out of the way than the ship bore down on the sun fish which was sucked under the keel, and popped up on the other side of the ship with not a scratch!. Glynn returned the shaken sailor and his sailboat back to Salt Kettle and then continued on patrol.
Glynn received his Commendation from H.E. The Governor, Lord Martonmere at a Police Parade for both the regular police and the Reserves held at Prospect in October in 1964, as reported in the newspaper.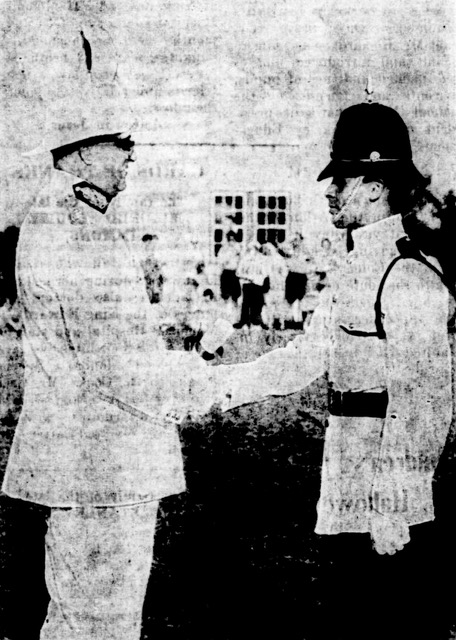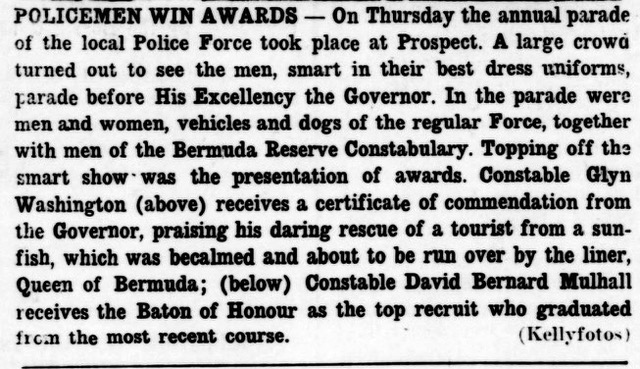 Glynn continued to serve in the Police Force until making the difficult decision to resign in May 1965. When asked about why he decided to leave the Force, Glynn explained that with a new family he was finding it difficult to meet his financial obligations on Police pay (when he joined the Police Force his annual salary would have been £850 which was less than he had been earning at Meyer's) and he made the decision to return to Meyer's where he could earn lots of overtime. He remained at Meyer's for 34 years before finally retiring.
Glynn and Sandra have a son, Gregson, and a grandson, Aiden who is now 18. Throughout his life Glynn has always enjoyed being on the water and has always had a boat until recently. For many years Glynn and his brothers had a wooden Bermuda dinghy that they kept in Coot Pond.
Glynn's nephew, the renowned painter, Otto Trott has fond memories of his Uncle Glynn who used to take Otto and his brothers swimming between Fort St. Catherine and Tobacco Bay. Glynn had grown up in that area; he knew every rock and cranny and would take his nephews diving and exploring the underwater caves around Tobacco Bay.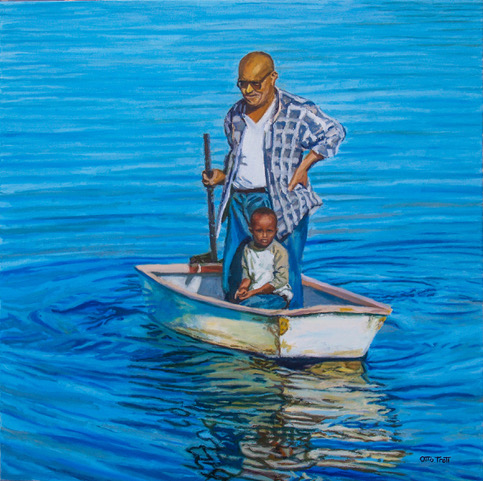 Painting of Glynn Washington and his grandson Aiden
published by kind permission of Otto Trott
A few years ago Otto happened to see his Uncle Glynn with his grandson in a punt in the area where Glynn used to take Otto and his brothers on their adventures. Otto took several photos of Gynn with young Aiden from which he then captured the scene in a series of beautiful paintings, one of which is now in the Masterworks Collection.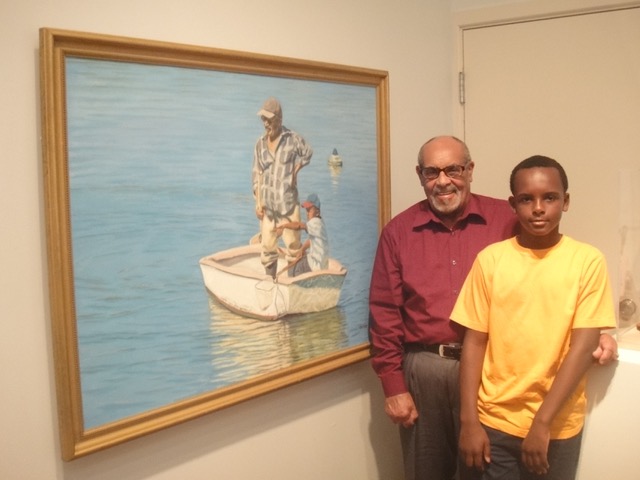 Glynn and his grandson Aiden standing next to the painting
by Otto Trott now in the Masterworks Collection of Fine Arts
So, in answer to the question about what happened to young P.C. Glynn Washington since his dramatic rescue of the "becalmed" tourist in Hamilton Harbour back in 1964, Glynn is now retired and lives happily with his wife of 55 years, Sandra, at the home where he was born. He may not have moved very far but Glynn has led a full life, and can hopefully look back with some nostalgia on the time he spent in the Bermuda Police Force.