A 'Knickers Nicker'!
submitted by John McQuaid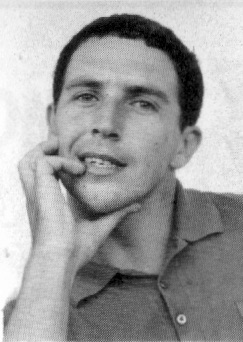 Young P.C. John McQuaid
It's not often anyone sends us information about articles in the Royal Gazette going back all the way to the 1940's, but we recently received this article, exactly as it appeared in the Royal Gazette and Colonist on 9th July 1943, from our good friend and former colleague, and avid historian, John McQuaid. Heaven only knows how he came across it but it immediately brought a chuckle when I read John's title - "A Knickers Nicker"!
The young P.C. who made this arrest of a U.S. Sailor in Flatts Village was P.C. Alfred James "Jimmy" Amos who served in the Bermuda Police from July 1943 until November 1958. who was said to be able to handle himself when confronted with trouble. By coincidence, I've been liaising with the Late Inspector Amos's son, also name Jimmy, to publish an article in our "Hall of Fame" about his father who was a very well known and highly respected Inspector who tragically died of a heart attack in 1958 while still serving in the Bermuda Police Force.
U.S. SAILOR HURT IN FIGHT WITH CONSTABLE
——————
Taken to Hospital After an Arrest at The Flatts
—————
An American sailor was taken to the King Edward Hospital last night following a scuffle with a policeman who had arrested him after he is said to have been seen taking clothes off a clothes line in the Flatts area. The sailor was injured about the head by the policeman, P.C. Amos, in his resisting arrest, it is understood, and several stitches had to be put in a cut. The incident gave rise to a flood of rumours but the Royal Gazette and Colonist was informed by the Commissioner of Police, Mr J.S. McBeath late last night that the Police did not link the sailor with any other investigation now proceeding.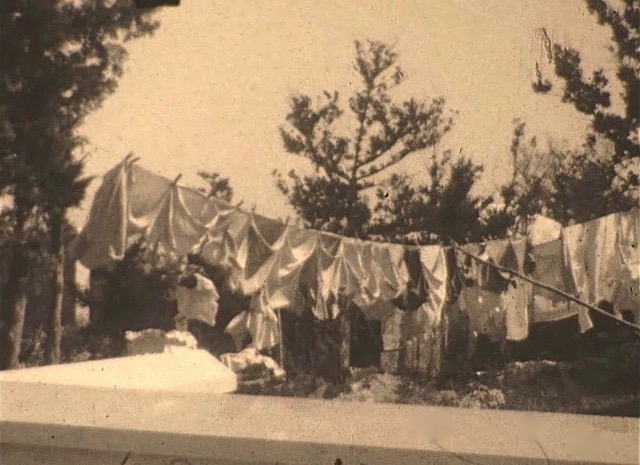 A typical Bermuda washline before the
days of washing machines and dryers
(Photo courtesy of Gerri Crockwell)
Mr. McBeath told a Royal Gazette and Colonist reporter, who asked if he had anything to release through the press: "No luck! I would be only too glad to tell you if there was anything to tell."
Some details of the incident at The Flatts were told to the Royal Gazette and Colonist by Miss Caro Spencer, District Nurse. Miss Spencer said that at about 6.30 p.m. a little girl called Eunice Hayward, who lives near her, informed her that a sailor was taking clothes from the clothesline in her yard. Miss Spencer saw the man going away and immediately notified the Police.
She added that Police Constable Amos arrived in a very short time and that the sailor was found on the hill near the house at the back of the Whitney Institute and west of "Hillcrest". According to Miss Spencer the policeman 'had to hammer him,' so much so, apparently, that she said the sailor was unconscious when the ambulance arrived to take him to the hospital.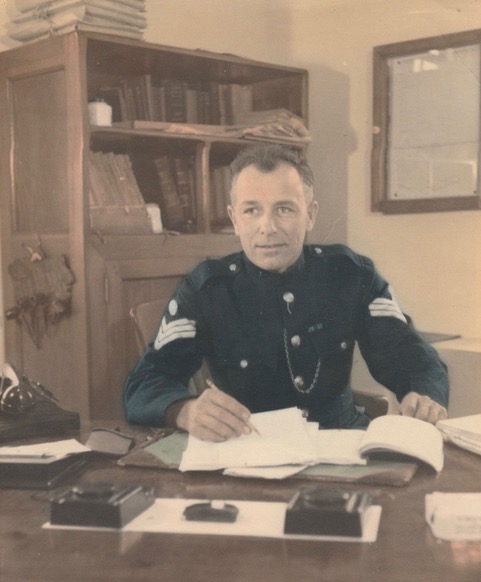 Jimmy Amos had a distinguished career in
the Bermuda Police
and rose to the rank of Inspector
(Photo courtesy of Inspector Amos' Jimmy Amos)
Miss Spencer said that the man had taken her nurse's uniform off the line, and her underclothing, and that he was wearing a woman's slip when P.C. Amos arrested him.
Reprint of original article from 'The Royal Gazette and Colonist' newspaper, dated 9th July, 1943.
John McQUAID - July 2021