The Eastern Crew
We recently posted an article about one of the young constable's in this photo in our "Then and Now" column, and while checking our albums for photos of Eastern Divisional personnel we discovered this one in another "Then and Now" article on Neil Cox, and realized that we have never had a caption for it. So, we knew it's Eastern Division but we needed to identify everyone in it and confirm when it was taken.
We included two enlargements below to help those amongst us who are suffering from failing eyesight!
We had some great replies regarding this photo on our ExPo Facebook page, especially from Bill Cree who was one of the young P.C's there on the day, and he remembers that it was taken outside St. George's Police Station in the Fall of 1970 just after we changed to Winter uniforms.
I hadn't realized it before but Bill had provided us with a copy of this photo which appears in the "Then and Now" article Bill wrote for our website (CLICK HERE to view it). Bill was quite sure of everyones identity except that he temporarily forgot Dave Inwood's last name until given a gentle reminder by Dave! The only person he could not identify is the young man on the right end of the top row, behind Dave Purcell.
Brian Foster, who is also in the photo, has written to say that he believes this young man was an Inspector's Aide from Yorkshire, however, Assistant Commissioner Martin Weekes, who is not in the photo, has advised us that there is a copy of the photo still on display at St. George's Police Station (now located at Southside) and he believes there are some if not all of the names written on the back of the photo. Will check the Station and report on our findings.
There sure was a huge cast of characters who worked down East!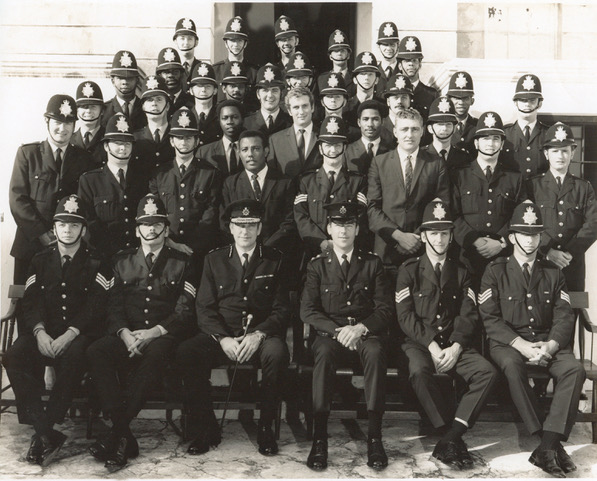 Eastern Divisional Photo - taken in the Fall of 1970 outside St. George's Police Station
(l-r) Front row - Sgt. John "Rigor" Morris, Sgt Barrie Meade, COP George Duckett,
St. George's OIC Insp Peter Stubbs, Sgt Mike Burke, and Sgt Brian Flook,
2nd Row - Alan Kennedy, Brian Anderson, Frank Smith, D/Sgt Dudley Swan, Sgt Eric "Wee Eckie" Laing,
D/Sgt Laurie Jackson, Mike Cresswell (deceased) and Neil Cox
3rd Row - Bill Cree, Angus Brown, David Furbert, Malcolm Tarte, Patrick Hamlett, Perry Fox, Dave Inwood
4th row - Arden Cato, Laurie Phillips, Paul Hendrick, Mel Gibbons, Robert "Bob" Payne, John Wilkinson,
Paul Yates, Dave Purcell, Winston Esdaille, Roger Hind
Top Row - M. Sample, Stephen Bond, Ken Bent, Ronnie Boggan, ?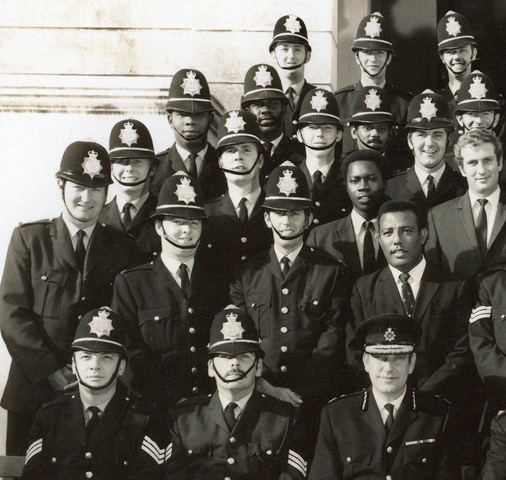 Photo 2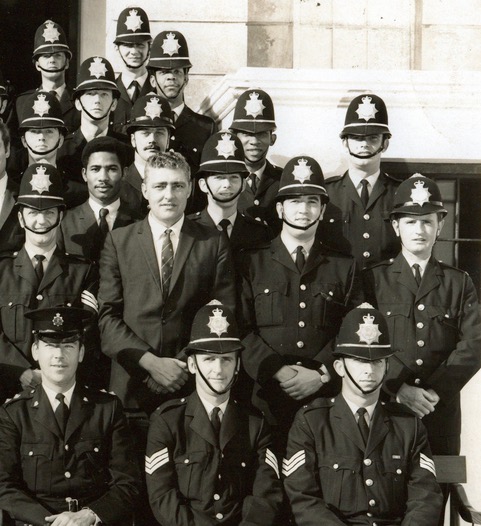 Photo 3
22nd November 2020
FRANK SMITH -One of the young men feautured in this photo is P.C. Frank Smith who joined the Bermuda Police in 1970 after serving in the West Midlands Police prior to his arrival here, and after serving here for about 4 years Frank returned to the UK and re-joined the West Midland Police. Frank has fond memories of his time here and would be delighted to here from his old mates. If you would like to get in touch with Frank just let me know and I'll forward you email address to him. The same applied to anyone else you see in this photo or on our website. We don't publish contact details on our website but we're always more than happy to put you in touch with each other.