Tuxedos and suits!
Remember the days when men used to wear bow ties and white tuxedos, and suits with collar and tie? Here's a group of smart young men who we figured were surely involved in a wedding, but we wanted to know who they are, plus where and when and why was this photo taken.
Talking about "remembering" I had forgotten that we had previously published this same photo in our "Then and Now" article about Mike Burke. CLICK HERE to view the article.
The year was 1959, and these gentlemen were indeed attending a wedding. We believe they were all working in St. George's at the time. We also published the photo on our Facebook page, and with the help of Phil Taylor and Terry Cabral we were able to nail down their names, as confirmed by the caption in Mike Burke's article.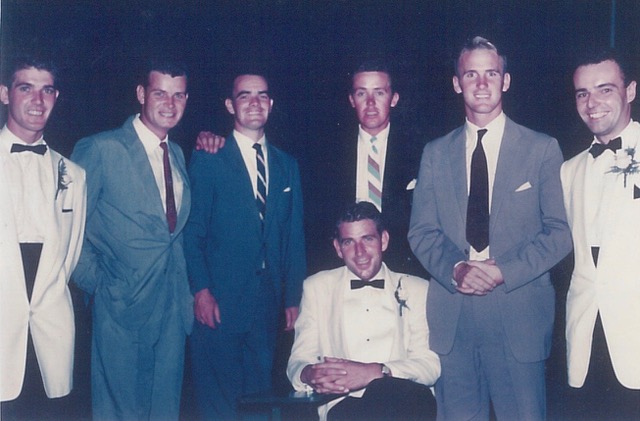 1959 - Some of the St. George's Boys at a wedding reception
Standing (l-r) John D. Pyfinch, Joe Colton, Bill "Spider" MacKenzie,
Crawford "Crow" Rae, Mike Burke, and Brian Reese.
Seated - Jim McNiven