I doubt if we have ever previously published a "recent" photo in our "Who, Where and When" column but we decided to make an exception in this case. We wanted to know the identity of these 5 gentlemen, also where and when the photo was taken, and what exactly do these guys all have in common in addition to wearing the same shirts.
To assist you we provided a second photo, together with a third photo showing the group celebrating, with one other person, at a well known and very popular restaurant after a job well done.
The answer to our first question is that these five gentlemen were the officials for Cup Match in 2018, and they included two serving police officers, Inspector Emmerson Carrington and Sgt. Melvin Best, together with a former policeman, James "Jimmy" McKirdy.
The second photo captures a unique occasion when the two serving police officers, Emmerson Carrington and Melvin Best took to the field to umpire Cup Match 2019 at which time they became the first two police officers to umpire Cup Match together. You can see the Cup Match colours behind Emmerson and Melvin, but we can assure you that they are and were completely neutral!
The third photo shows the officiating team relaxing and enjoying a celebratory post-match drink, together with another former police officer, Richard Austin who has also officiated as an umpire at Cup Match.
Emmerson, Melvin and James all attended a very special reception held at the Officers Mess on 2nd October 2019 (see article on our website at http://expobermuda.com/index.php/lia/777-opening-of-bps-museum ) for the official opening of a new Police History museum. One of the main exhibits in the new museum is the cricket gear of the legendary cricketer Edward "Bosun" Swainson who was the first man to score a century in Cup Match as a young policeman, and he also became the first black Bermudian to be promoted to the rank of Inspector. Also in attendance at the reception were a number of former police officers who played in Cup Match, and in this regard, we are compiling a list of all those police fficers who have ever played or officiated in Cup Match.
Below the photos you will find a list of those police officers we know who have played or officiated in Cup Match, but we may have missed some names so please check through the list and let us know if we may have missed anyone.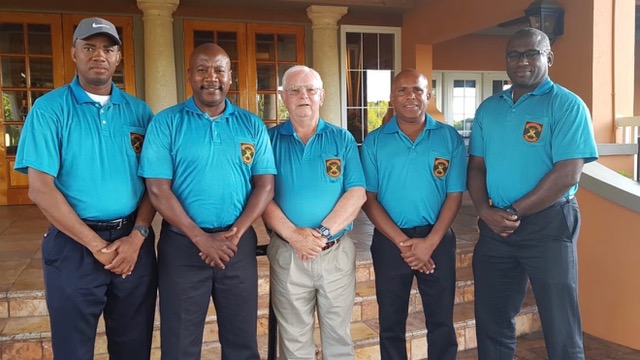 Team of officials for Cup Match 2018
(l-r) Alex Knight, Emmerson Carrington, James McKirdy, Steven Caines and Melvin Best.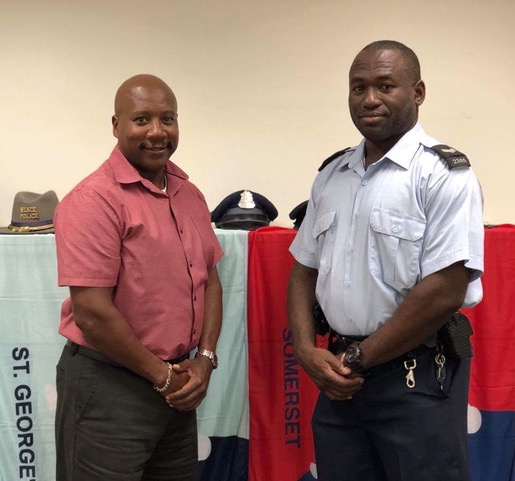 Inspector Emmerson Carrington and Sgt Melvin Best made history in 2018
when they became the first two police officers to stand as Cup Match umpires together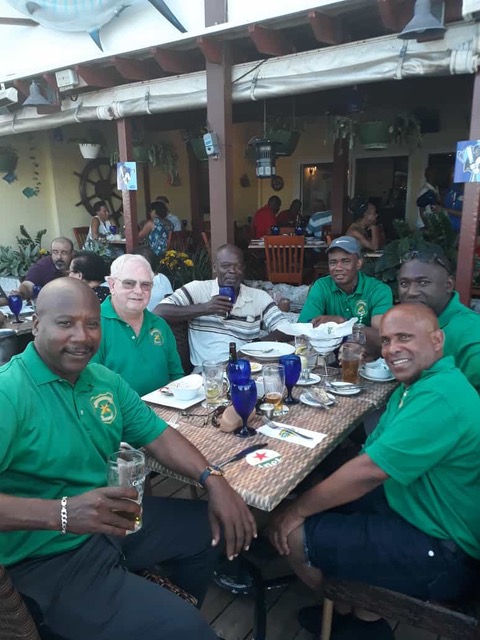 Post Cup Match celebration at Wahoo Restaurant
(l-r) Melvin Best, James McKirdy, Richard Austin,
Alex Knight, Emmerson Carrington and Steven Caines
Please contact us if you know of any police officers other than those listed below who have ever played or officiated in Cup Match:-
PLAYERS

Edward "Bosun" Swainson
Arthur Simons*
Ambrose Simons*
Austin Simons*
Elliott Simons*
O'brien Simons*
Anthony "Sony" Roberts
Eugene "Buck' Woods
Marcus Packwood
Neville Darrell,
Campbell Simons,
St. Clair "Brinky" Tucker
Clyde "Tango" Burgess
Erskine "Cho" Smith
Adrian King
Roderick "Ken" Pitcher
Robert Hinds
Tyrone Smith
Stevie Lightbourne
Richard Basden
Peter Philpott
Dwayne Leverock
CUP MATCH OFFICIALS

Anthony "Sony" Roberts
George Garrod
Norrell Hull
Richard Austin
Emmerson Carrington
Melvin Best
James McKirdy