Shortly before this year's Cup Match this young man attended the function held by the Officers Mess to celebrate the 80th birthday of retired Commissioner Fred "Penny" Bean where this photo was taken. No prizes then for guessing when and where it was taken, but we wanted to know who he is and why would he be visiting the Island during Cup Match? When did he serve in the Bermuda Police? Who did he join with (can you provide the number of the Training School Course he attended)? What is his country of origin? What was his "claim to fame" from the moment he arrived in Bermuda? And finally, what is very special about his wife and two daughters?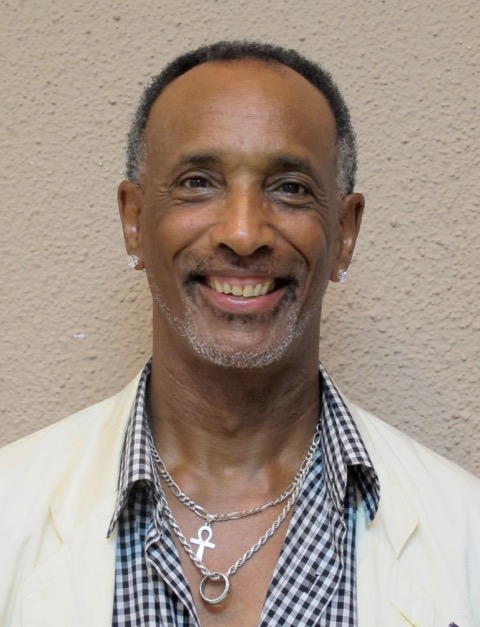 Former P.C. and Cup Match star Adrian King
The surprise guest at retired Commissioner Fred "Penny" Bean's 80th birthday celebration hosted by the Officers Mess was, of course, legendary cricketer Adrian King who was visiting the Island for 3 weeks, including the Cup Match holiday weekend, no doubt to support his team - St. George's Cricket Club.
Adrian joined the Bermuda Police in 1978, and literally on his arrival at the airport on 7th May he was signed up for St. George's Cricket Club by Customs Officer, Mansfield "Bojangles" Smith, and played in the next Cup Match. Born and raised in St. Vincent, Adrian had an outstanding career as a cricketer prior to coming to Bermuda. He played for St. Vincent and the Windward Islands and one of his most brilliant performances was bowling against the Australians when he took 10 for 107.
Adrian was a member of the Bermuda Police from 1978 - 1987 before heading off to live in the U.S, with his Bermudian wife Branwen (Smith) King who was also an outstanding athlete. Whilst in Bermuda he played in Cup Match every year for St. George's and bowled 228 overs, taking 35 wickets for 721 runs. "Bojangles" son, another cricket legend, Wendell Smith, wrote an article in the Royal Gazette last year in which he says, '

Truth be told, if I were selecting a pace bowler for a "Bermuda Dream Team", Adrian King's name would be the first on the list. Not only was he supremely fit, but he was the quickest of the lot. He could be frighteningly fast.'

To read the article go to

http://www.royalgazette.com/article/20150729/SPORT02/150729624
Adrian and his wife Branwen are now living in Boston where he is teaching and also continuing to play Masters cricket, especially
Twenty 20. He and Branwen have two daughters, Akilah who works in Public Health and is an outstanding athlete, and Arantxia who at the age of 16 was the World Junior long jump champion in Morocco, and she has also competed for Bermuda in the Olympic Games in Beijing and London. Arantxia is currently studying law in London.
Adrian loves returning to Bermuda whenever he can, and he would be delighted if St. George's could return to their winning ways in the Cup Match Classic.
Editors note

- Adrian was on the same Basic Training Course as the following - Mervyn Greenidge, Roseanda Jones, Ryvan Campbell, Eddie Spencer (who sadly just died earlier this in July), Juliette Powell, Roosevelt Marony, Steven Perinchief, Stephen DeSilva, Rosebelle Lambert, Gary Cruickshank, Norman Wilson, Kenneth Archer, Stephen Rollison, and Alsworth Holdipp. Several of these officers were likely know by another surname so please let us know if that was the case. For example, Adrian's first name is Anslem but he was always called by his middle name.