Yes, we knew these officers were all in Western Division when this photo was taken, but we wanted to know who they are, when the photo was taken, what were their duties at the time, and where are they now.
We had no problem deciding who is who. The photo is of Western Parish Sergeant Andrew "Andy" Maule, with (l-r) Brian Malpas, Howard Dill and Louis Griffith, next to Somerset Police Station. We understand that Howard and Louis were the Parish Constables for Warwick Parish, Brian covered Sandys Parish, and it was at about the time when Dai James was the Southampton Parish Constable although he is missing from the photo.
Sadly, Andy Maule is no longer with us as he died a few years ago. He served from June 1956 - January 1976 and the photo was kindly supplied to us recently by his son, Andrew. The three Parish Constables are still around and still residing here in Bermuda. Louis Griffith and his wife Sandra reside in Southampton Parish. They have two sons, Andrew and Ricardo. Louis served from March 1968 - August 2001 and he retired as a Sergeant. He drives taxi part-time when he's not painting and fixing things around their home. He just spent some time in Barbados after his mother had passed away on Christmas Eve. We see Louis at some of our Expo functions and he has hardly changed over the years.
We hadn't heard too much about Howard who served from May 1955 - May 1980 but I spoke with him this evening and he had just celebrated his 84th birthday yesterday (25th February). He and is wife, Ruth, still reside on Camp Hill. They had three boys, one of whom has since passed away, and they now have a total of 7 grandchildren, 4 of whom live abroad, and two great-grandchildren, one of whom is here and one living abroad.
Howard is not able to get out and about these days because of prostate problems but we chatted about the good old days when he worked in Warwick Parish, and as he says, in those days the Parish Constables knew just about everybody - and where to find them.
And finally to Brian who served from May 1957 - March 1982, mainly in Western Division. Brian has to be the most active retired policeman on the Island, or should I say under it - or in the sea surrounding it. As anyone who knows Brian would tell you, he has spent at least half of his life diving and he probably knows Bermuda's ocean floor better than almost anyone. Brian also travels quite extensively and comes to many of our ExPo functions. Most people slow down when they reach their eighties - but not Brian. Must be that Birmingham air he took in as a child!
The one thing we're not sure of at the moment is the date when this photo was taken but may be able to narrow down to the year by checking with the Police Register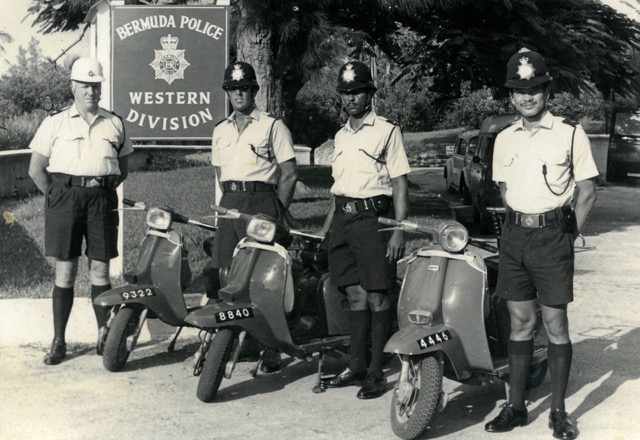 (l-r) Sergeant Andy Maule, Parish Constables Brian Malpas, Howard Dill and Louis Griffith