This photo has to be one of the most historic we have ever published, which we did for the first time in May 2013. It contained the largest group of people that we have ever featured in our "Who, Where and When" column and was a nightmare to identity everyone because they are not in neat rows, and some folks are partially, or almost completely hidden from view.
With your help we managed to identify most of the people in the group with just a few exceptions. You can view the original article on our website at http://expobermuda.com/index.php/who-when-where/204-largegroupatprc
The photo includes some of the great characters who have served in the Bermuda Police over the years and it will hopefully bring back some fond memories of your time in the Police.
I'm due to go into hospital for an operation in the next couple of days (for hip replacement surgery) and may be out of action for a few weeks so in the meantime I would like to invite you to check out the personalities you worked with or knew, and feel free to write and let us have your personal recollections of your experiences with them.
A few who come to mind for me personally are Vernon Jackson, who had left well before I came to Bermuda but who was an absolute gentleman with a sharp mind and excellent memory who had great stories to tell of his time as a police officer when it was literally impossible for men of colour to progress in the Service. Another was Jack "Tug" Wilson a Geordie who retired early in 1964, the same year I arrived in Bermuda, who had worked in Administration and Stores for many years, and who happened to give my bride away on our wedding day for which I am eternally grateful!
I recall interviewing John Mashall about his time as the first Inspector in charge of Traffic Department who drove the very first police car, and who caught the prisoner Harry Sousa after Sousa had escaped from the condemned man's cell at Hamilton Police Station on the night before he was due to be hanged. Sousa was spotted in the water off Spanish Point and was re-captured, returned to the Station and gave a last minute confession to then Sgt Marshall just before his execution. And who could ever forget Insp Ernie Moniz as the Inspector in charge of Operations who was always immaculate and so very old fashioned in the nicest possible way.
Please feel free to provide us with your recollections of any of the men and women in this photo. Once again we have blown up the photo into two to help you pick out who is who.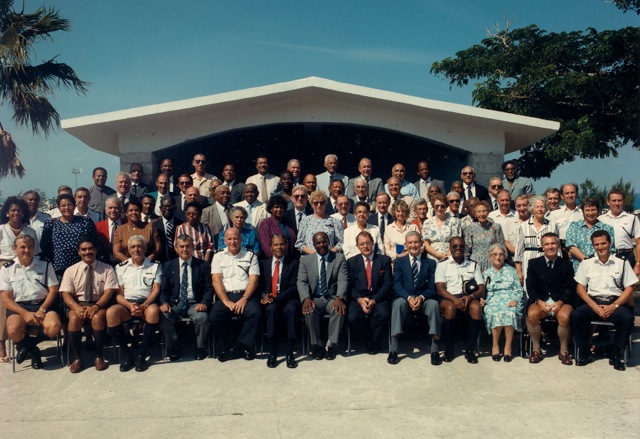 Back Row (l-r) - Stuart Lambert, Bill "Spider" McKenzie, Dennis Ramsay, Peter Stubbs, Dudley Swan, Harry Lister, Sony Roberts, Gladwin "Doc" Hall, Jim McMaster, Ernie Moniz, Hubert Swan, John Marshall, Lynn Hall.
Next row down - Campbell Simons, Alan Bissell (rather hidden) Dennis Brookes, Andy Maule, Jeff Payne, Tim Willis, Unknown (partly hidden), Westmore Bean, Leon Bean, Hilton Wingood, "Bongo" Williams, Jack "Tug" Wilson, Derek Taylor, Unknown partly hidden man, Howard Dill, Derek Fletcher.
Next row down (two blended rows) - Gertie Barker, June Dickinson, Howard Mitchell, Lady in brown dress, Mel Gibbons, Man wearing glasses, Brian Malpass, Lady in red, grey and white striped dress, Man in grey suit, Mrs Kenny (first name?) Roberts, Lady in purple dress, Leslie Waddell, Marion McNiven, Dave Chew, Mrs Tom Doyle or Mrs Oliver Trott, Neil Cox, Lady with white top and blue belt, Short man with red jacket, Reg Brown's wife - first name, Vernon Jackson, Partly hidden man, Winifred Saunders, Bill Bryan, Douglas "Red" Hebberd, Gwyneth Nixon, John Dale?, Derek Jenkinson, Carola Farrell, Jeff Sanders.
Front Row - Alex Forbes, Wayne Perinchief, Laurie Jackson, Harold Moniz, Minister of Home Affairs John Irving Pearman, COP Fred Bean, Deputy Governor John Kelly, L.M. "Nobby" Clark, Lenny Edwards, Florence Down, Andy Bermingham, and George Rose.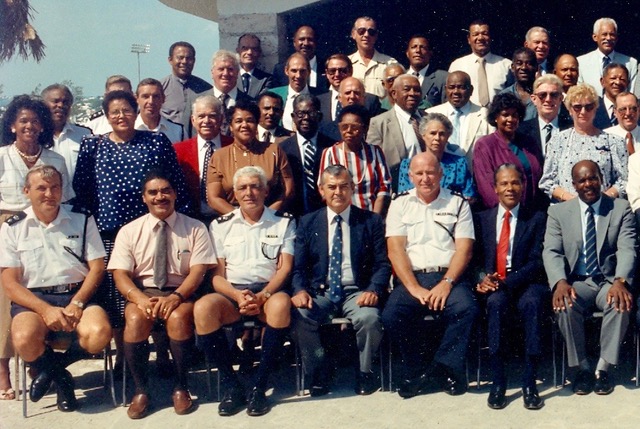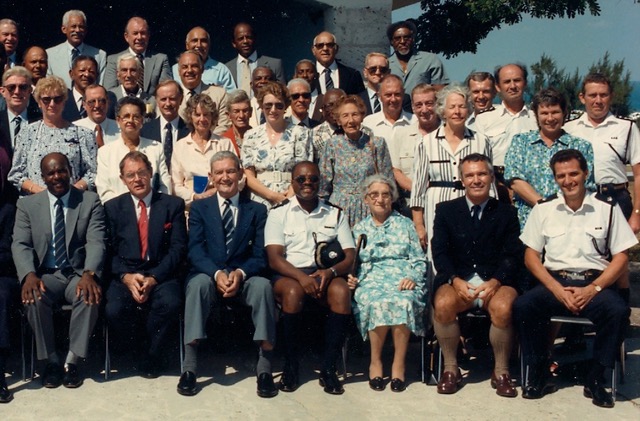 Group 2