An Unforgettable Day
This is without doubt the most difficult photograph we have in our archives when it comes to trying to identify everyone in it.   We thought that many people would quickly be able to figure out exactly where and when it was taken,  and that was the case. It was taken on the morning of 2nd February 1965 shortly before the BELCO riot started.  These officers are standing on Serpentine Road directly opposite the main entrance to BELCO where the picketing was taking place.  
We said that all those present at the time would surely never forget the experience and that is no doubt true. Unfortunately we can't see most of their faces, but we have been able to definitely identify some of these officers, and have received some suggestions as to some of the others, but chances are we will never know for sure, particularly many of those on the back row who we can hardly see at all.  Here is our best shot so far:-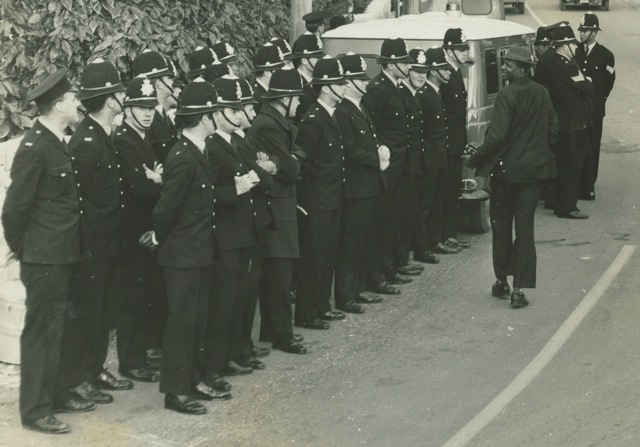 Officers on duty opposite BELCO on 2nd February 1965
Back row (l-r)  Ian Davis, Nick Hall, Malcom "Chalky" White, possibly Barrie Meade, Dennis Meehan, rest not clear
Front row -  Unknown, Possibly Walter Somers, Neil Cox, Crawford "Crow" Rae, possibly Roger Sherratt, Unknown,
Believed to be Laurie Jackson,  Mick Hills, Wayne Perinchief, possibly Mike Caulkett, unknown photographer,
unknown officer looking into vehicle, Sgt John Cafferkey, Sgt Hilton Wingood.
Blow-up 1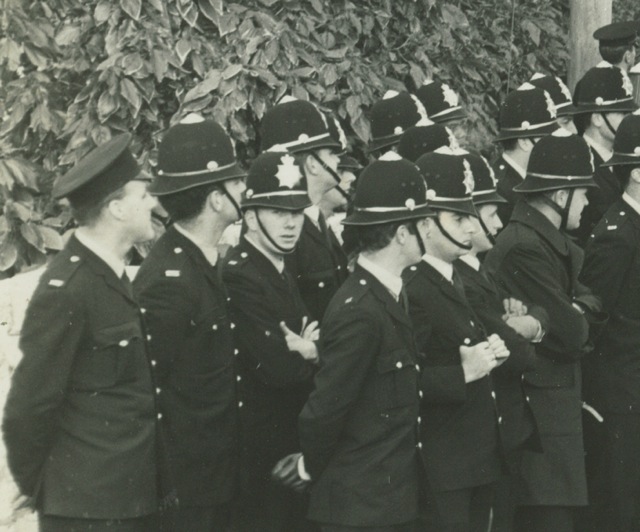 Blow-up 2