We received the following two photographs which were taken at a Christmas Gathering and we were asking if you could tell us exactly where it was taken, what year was it, and who are in both of these photos? The answers came thick and fast, and we are indebted to Orson Daisley for sending the photos to us. It was, of course, a Christmas Dinner in the St. George's Police Mess (the building no longer exists) in either 1966 or 1967. Their names are listed below the photos. Sadly, no less than 4 of those gathered are no longer with us - Alan Proctor, Walter Somers, John Instone, and John "Rigor" Morris. Gone but not forgotten.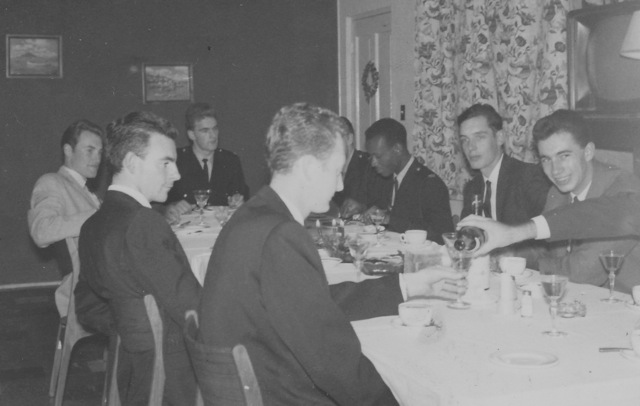 St. George's Police Mess Christmas Dinner 1966 or 67
(l-r) Jim McIlwain, Walter Somers, Peter Jones, Alan Proctor, Orson Daisley, Denisd Brookes, and Mike Tate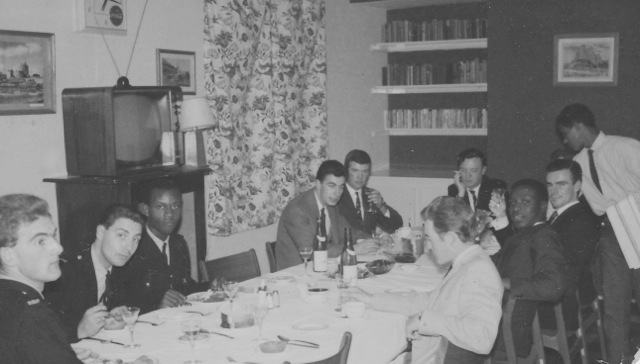 Relaxing at St. George's Police Mess
Around the table from left to right - Peter Jones, John Instone, Orson Daisley, Mike Tate, Dave Ashurst,
John "Rigor" Morris (with cigarette), Walter Somers, Vendal Bridgeman and Jim McIlwain.
The young man serving would have been from the Senior Training School.