WHAT A CRICKET TEAM!
We believe this photo shows the finest cricket team ever assembled by the Bermuda Police Force at a time when most, if not all other teams on the Island were segregated. We would like to think that the Police Force set an example with regard to selecting an integrated team based on merit rather than ethnic background. We can now name each player except the guy kneeling front left.* If you know who he is please let us know. We also still want you to tell us how many of these players competed in the annual Cup Match and who is no longer with us. Sadly, we lost Jim Lyons in 2012 when he passed away at his home in the U.K. while another, who served only briefly in the Force, is in poor health after a suffering a stroke and has been in King Edward Hospital for several months. If you have the answers please either contact us by email at This email address is being protected from spambots. You need JavaScript enabled to view it. or add your comments at the foot of the column.
* 6th April 2013 - We are delighted to report that right out of the blue we have discovered the name of the one person left to be identified (the guy kneeeling front left). He is Colin Chiswell who was recognized by Carolyn Burke, wife of Mike Burke, who explained that Colin married her very good friend, a fellow Canadian nurse at KEMH, Norma MacIsaac, in June 1963. Colin and Norma left Bermuda to live in Canada, and we understand that he and Norma had two sons, but we later divorced. We are doing our best to contact Colin to ascertain where he is and what he's doing these days.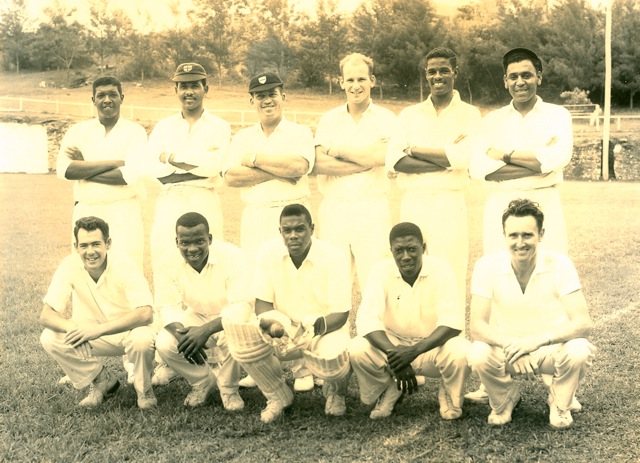 Police Cricket Team 1962
This team played and were victorious over Devonshire Recreation Club by 10 wickets. DRC batted first and scored
59 all out.The Police opening batsmen knocked off the runs without losing a wicket. We are not sure who opened
the batting for the Police team, probably Neville Darrell and either Jim Lyons or Campbell Simons, all of whom were
great opening batsmen. Any other information you can provide would be much appreciated.
(l-r) "Buck" Woods, Neville Darrell, "Sony" Roberts, Clive Donald, Marcus Packwood, Lynn Hall,
Colin Chiswell, "Socks" Dill, Campbell Simons (WK), Aaron Scott and Jim Lyons