Murder Squad Team - September 1971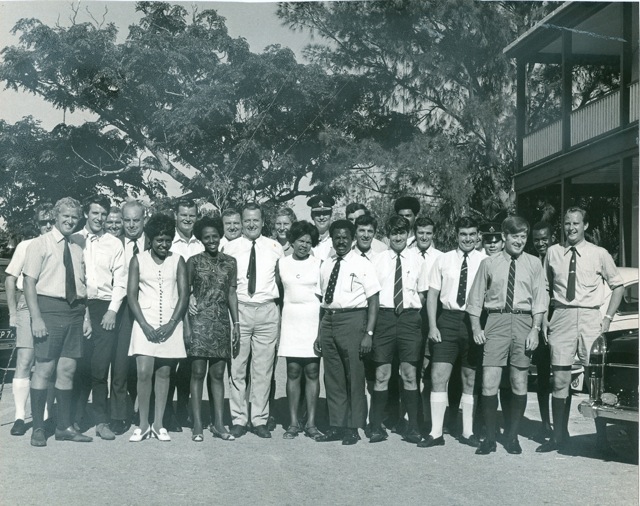 Here is our best effort to name everyone in this photograph as of 24th August 2010
(l-r) Dai Thomas, Keith Dunmore, Steve Dunleavy, Stuart Holmes, Frank "Gruff" Hammond, Carol Holdipp,
Joe Colton, Aideen Forde/Fletcher, John Mulholland, Bill Wright from Scotland Yard) Gwylan Willams,
Verbina Daniels COP George Duckett, Lenny Edwards, (hidden face ?), Tom Cassin, Ian Ganson, Carlton Adams,
George Rose, Andy Lavery, Ralph Saints?, Norrie Galbraith, Orson Daisley, and Basil Haddrell from Scotland Yard.
If you can assist in identifying the men and women in this photo, and also where, when and why it was taken please send your answers to This email address is being protected from spambots. You need JavaScript enabled to view it.
We are grateful to George Rose for providing us with this photograph and for providing the following information about it:-
This group photo relates to the CID team who investigated the sexual assault and murder of Royal Gazette reporter Jean Burrows during the early hours of Saturday 3rd July 1971. Her naked body was found in the water adjacent to Pomander Road, Paget.
Scotland Yard officers Detective Chief Superintendent Bill Wright and Detective Sergeant Basil Haddrell arrived in Bermuda on Wednesday 28 July 1971 to help local Police in the inquiries. Local officers travelled to Nassau County, New York to pursue one line of inquiry in this case and were able to eliminate a foreign born crewmember of a yacht which made a hasty departure from its berth at the nearby RHADC on the morning of the discovery.
Paul Augustus Belvin (27) was later arrested and charged with the rape and murder. He was subsequently found guilty in Supreme Court.
This photo consisting of most of the murder team members was taken at Police Headquarters on or about Monday 6th September 1971 shortly after Belvin had been formally charged and remanded in custody. The team was still together at this point before being dismantled as is customary leaving a skeleton crew to mop up and prepare the court files.
Most of the officers and civilian staff are easily recognizable. The officer positioned as fourth from the left in the rear between Steve Dunleavy and D.Supt Frank Hammond is believed to be then Bermuda policeman Stuart? Holmes. Ds Haddrell is located at the extreme right and D.Supt Wright is seen at center between the ladies.
The entire investigation was run from the tin shed directly behind SOCO.
Police witnesses scheduled to give evidence at trial were:
Pc Colin MacDonald, Ps Thomas Cassin, Dc Paul Farrell, Dc Ronald Wallace, Pc Gwylan Williams, DCI John Sheehy, Ds Basil Haddrell, Pc Robert Allan, Ps Cannoth Roberts, Supt. Francis Hammond,
Ps John Mulholland, Pc Ian Ganson, Dc Albert Dowling, Dc Raymond Sousa, Chief Superintendent William Wright, Pc Andrew Lavery, Ds Calvin Christopher, Ds George Rose, Pc Alistair Reid,
Pc Michael Jent and Ps George Garrod.
Submitted by George Rose
Most of the officers and staff have been named below by Davie Kerr. Can we have any more before we change this photo?