Contributed by George Rose
February 1965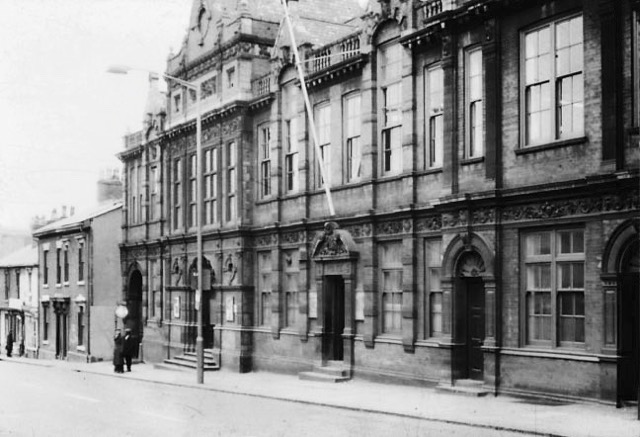 Victoria Road Police Station, Aston
For a beat constable in the 1960's keeping a point with his patrol sergeant was an important aspect of beat duties. These were the days when an officer walked his beat mostly alone and without a personal radio by which to summon help or learn of breaking information. If he didn't make his point at the allotted time then his safety became a concern and a search for him might commence without delay. This was especially so during the hours of darkness. All he possessed with which to summon help was his police issued pocket whistle.
Thus it was that shortly before 3.00 a.m. on a frosty morning in February 1965 I was making my way to a point at a public telephone box near the Aston Villa football ground. I expected the beat sergeant, Gerry Hodge would be riding his Velocette (the noddy bike) and that we would not chat for long. He'd initial my pocket book and we'd part ways until the next appointed time when he would probably telephone me at the kiosk and expect me to assure him over the line that 'all was correct'.
As I walked across a junction I glanced down a side road and some 50 yards away saw a Morris Minor van parked without lights at a careless angle to the sidewalk. The van was not known to me and had not been there some hours earlier when I had walked by on patrol. There was a dim light from a street gas lamp on the opposite side of the road. Something wasn't right with this picture and I was curious to know what.
Believing I could check out the van and still make the 3.00 a.m. point – if nothing was amiss, I made a wide approach to the van on the offside but couldn't see inside. I opened the driver's door and shone my torch inside the van. Three males were crammed along the two front seats. No rear seats were present. The driver was bent over to his left with his hands beneath the dashboard.
I heard a passenger say "Copper" – as he opened his door. The driver was rising into an erect seated position and began easing himself across the seats away from me. One passenger was already out of the van and running as the middle passenger followed him out. From my side I grabbed the back of the driver's collar and pulled him out onto the ground. As he fell he grabbed both my legs and we were both on the ground.
He looked to be twice my age and he strongly resisted arrest. After lengthy struggles and a running chase we were both wrestling again on the ground. Fortunately, he quickly became exhausted and I was able to straddle him as he lay face-down on the roadway. After a long session of whistle blowing, I was pleased to see upstairs bedroom lights coming on in nearby houses. A number of householders warily approached the scene in their dressing gowns and slippers. No household had a telephone in that street by which to call the emergency police number 999. After dispatching his wife to the house to put on the teakettle, a 60-year-old in his slippers and pyjamas and with my overcoat across his shoulders hurried off to make my point with the sergeant. As it turned out, both the sergeant and the watch inspector Gerry Finch were at the kiosk awaiting my arrival. Driving their Austin A 40 they attended the scene and took over from there.
I was later fixed up at the Birmingham Accident & General Hospital for scrapes and bruises. My helmet and torch had gone missing but the helmet was turned in the following day having been found on a nearby bombsite. The torch was never found. Tunic, trousers and boots needed replacement but I still have the trusted whistle to the present day.
The van was full of stolen television sets and wireless equipment from the B/E of a television shop earlier that night in nearby Walsall. I later learned that Regional Crime Squad officers had identified the other two thieves and had targeted this gang for ongoing enquiries.
In his covering report to the Chief Constable, Inspector Finch wrote:
'This young policeman displayed considerable initiative in tackling these three men together with zeal of a high order in maintaining the chase and securing one of them, despite having injured his knee'.
The Watch Committee awarded the following commendation on 3rd March 1965:
Highly Commended
"Discreet approach and persistent pursuit of men for taking and driving away motor vehicle"
George Rose
Editors note - I served in the Staffordshire County Police from 1961 to 1964, and worked in Bilston Division, not too far away from Aston. We had a series of blue posts or pillars on street corners for communicating with our Police Station. These were about 6 feet high with a light on the top. We were all issued with a key which opened the door of a small compartment in which was an old fashioned black telephone connected directly to our Police Station. We often used these to make our points at the appointed time. The other side could be used by members of the public in an emergency. All they had to do was open a small door and speak into a grille and the Station Constable on duty would respond.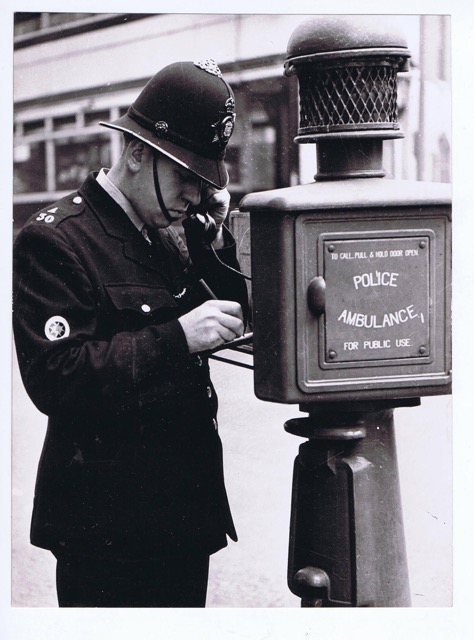 Typical police pillar used in the Midlands (Photo kindly supplied by Debbie Menzel)
Out of interest, after reading George's article about making points at a public telephone kiosk, I started checking the internet but couldn't find any photos of this particular police post (see above), but some Forces used what was called a TARDIS box which was much larger and which you could enter to make calls, fill out reports, and presumably stay warm! We would be interested in hearing about other rypes of police pillars or boxes used by any of our former colleagues who served in other Police Forces prior to or after serving in Bermuda.
Fortunately I have an excellent contact in the Midlands, Debbie Menzel, who served in the West Midlands Police and is now involved with the West Midlands Police Museum. Debbie also happens to run her own website which is devoted to the Ryton-on-Dunsmore No 4 District Police Training Centre in which she has many hundreds of photographs of those men and women who have passed through Ryton. The Ryton website is private in that it is only open by invitation, but anyone who attended Ryton for training is more than welcome to join Debbie's group. Anyone interested can email This email address is being protected from spambots. You need JavaScript enabled to view it.