Old Crock's Brigade!
After what must now be ten years as editor of our Bermuda Ex-Police Officers website I realize I'm constantly hearing about our colleagues who are struggling with health issues, and in particular with old bones in need of replacement, whether it's knees, hips, shoulders, backs or whatever. Fortunately we live in an age where such surgical procedures are almost becoming second nature, and success rates seem to be high in most cases.
In my case I thought I'd fared well overall despite being an active squash player since shortly after arriving in Bermuda in 1964. I know squash was hard on the body and I had my share of minor injuries over the years including minor surgery on one of my knees in my early 30's, and was out of squash for about a year after falling and injuring my back, but I was fortunate to play squash for the Bermuda team for no less that five decades before finally coming to my 'senses' and started playing golf at the age of 59.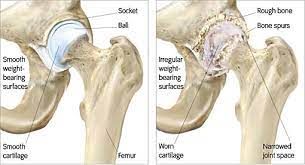 Birmingham Hip - Before and After
I thought I'd escaped those nasty bone injuries, but at the age of 77 developed a nagging hip problem that eventually led to surgery here in Bermuda. The operating surgeon was Dr. Tracy who is internationally acclaimed for his work in pioneering the "Birmingham hip" procedure and who has regularly visited the Island to carry out hip operations until the pandemic slowed down the specialists who usually come to Bermuda.
Almost 12 months to the day after successful hip surgery I developed a back problem and finished up having to fly up to Boston for back surgery 5 weeks ago. Fortunately, all went well, and with the insertion of few nuts and bolts and a plate to hold everything in place I look forward to playing golf again in a few months time.
But by far the most likely sports injuries amongst us had to be sustained by those who played football and rugby, with their inevitable knee and hip problems. I believe there are literally dozens of our colleagues who have undergone repair and replacement surgery, and if this applies to you then I would encourage you to put pen to paper, or fingers to keyboard, and let us know what you've had done, and how successful it has been.
In chatting with our good friend Moby he told me he's had knee replacement surgery as have Bill Butterworth and Charlie Mooney. Moby also mentioned that he's had cataract surgery in both eyes and his vision is so good he can now watch exactly where his golf balls fly into the bushes!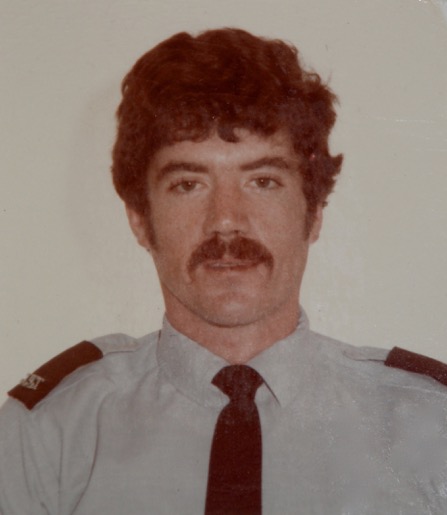 Mick Brown
MICK BROWN
We have received the following report from our old friend Mick Brown who served here from 1971-1977 and who very kindly sent me the following report on his health issues.
"Here's a brief run down on my skeletal problems over the years :-
It's turned out that my family are genetically disposed to osteoarthritis. My Mother had both hips replaced in her 60's and 70's. My brother who is 3 years older than me has had both knees replaced the latest being a couple of years ago. My sister has had a new hip 2 years ago and is now probably looking at a new shoulder joint.
As for me – well when still working as a Sergeant in Dorset Police I had my right knee replaced having torn the cartilage twice – once when working as a PSU Instructor. I was initially offered what is known as an "Oxford replacement" which is a partial replacement where they cut away the damaged part of the joint, cap it and then give you a floating artificial cartilage!
Trouble was the joint kept coming apart and I had 5 ops in 2 years before the surgeon decided enough was enough and gave me a full replacement. I was only 53 at the time and the expected life span of the full joint is only 15 years. I am now 72 and the joint is still behaving itself thankfully. I learnt how to use crutches extremely well. Thankfully after the first time it dislocated as a partial replacement when it was extremely painful but it has been pretty well pain free although a few days in hospital and another op each time!!
Since then my right shoulder became very arthritic about 3 years ago and necessitated a replacement joint. I thought this was very ironic as I ripped my left shoulder apart in about 1975 when playing rugby for BAA against Bermuda Police. I tackled Alex Arnfield, stopped him but then both packs piled in on top of us and I heard a ripping sound. I thought my shirt had ripped but no it was my left shoulder joint coming apart. It was repaired at KEMH and has given me no problems at all since then.
Recently my neck has been causing problems with pain and nerve sensations which resulted in a spinal/neuro specialist going into the back of the neck and drilling off lumps from between my neck vertebrae. After each operation the best thing I have always done is to do what the physios tell me. I also try to keep fit with walking and an exercise routine. Thankfully our youngest daughter is a qualified Sports Massage Therapist and Personal Trainer so I have my own advisor! Sue and I eat very healthily (most of the time!!) and I try to keep the weight down and to not drink too much.
I think that's pretty much it for me – hope it helps with your article.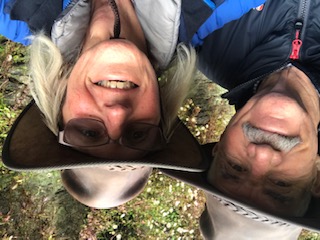 Mick and Sue Brown
Since sending the above information Mick has sent this photo of him and his darling wife of 47 years. It was taken in Dartmouth while they were on one of their walks. Mick says, "Sue loves walking and happily will do 12 miles and more. 4 or 5 will do for me. Sue has a walking holiday every year with the late Phil Every's widow Nicky and they will happily do 15 – 18 miles a day! I am happy to leave them to it and go off fly fishing!!"
Editors Note - We would be delighted to hear from you about your health issues.
4th July 2021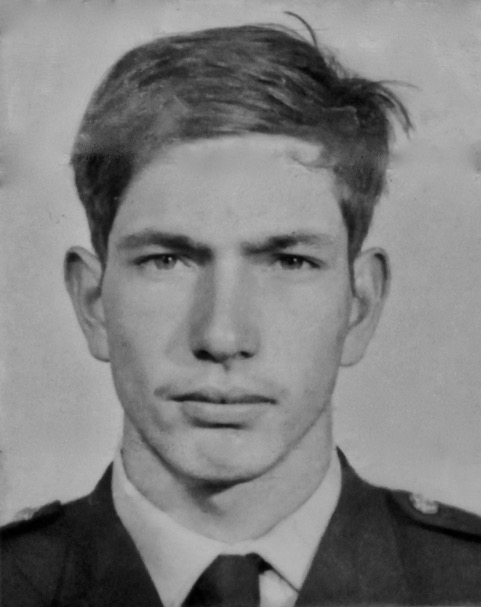 Young P.C. Ray Sousa
RAY SOUSA
We just heard from our old friend Ray Sousa who, with his wife, Pat, and family settled in Australia after serving here in the Bermuda Police from 1966-1974. CLICK HERE to read Ray extensive lifestory in our "Then and Now" column.
Ray has written asking if he is qualified to join our "Old Crock's Brigade" and he sent us the following report on his health! We'll leave you to decide!
"When I hear about health / injuries issues of former Officers, even my own kids and grandkids I almost feel guilty for being as healthy as I am. According to some experts I should be dead or at least in a wheelchair. As a teenager working on the American Military bases I spent a lot of time working with asbestos with no mask, often no shirt. Each year a lot of people die from coming in contact with the material. At no time did I wear a helmet or gloves. I often got hit in the head by falling objects. On one occasion I fell off a roof, split my head open, got a few stitches and carried on working. I regularly carried heavy items such as two bags of cement at a time [ 200 lbs] and was warned this would destroy my still growing bones, plus cause back injuries. I helped lay hot asphalt on the runways, often unable to see the Barbara Green [ a machine] 10 feet in front of me due to the stream on hot summer days. Such work makes you weak at the knees. Some people took time to recover, and it could be argued some workers never completely recovered.
In 1965 whilst moving a 5 ton box at the submarine tracking station the chain snapped with the box landing on my big right toe [ no safety boots in those days]. I was immediately given First Aid by my boss George Garrison who lived next door to John Williams and was a regular visitor to the Police Club; Johnny Walker Scotch ' pain killer'. At the hospital my toe looked like a mashed banana, which the doctors put back in shape. I was warned I would never be able to walk safely again keeping my balance. This was almost proven right, 2 weeks later back at work I fell off a two storey ramp with a wheelbarrow of concrete. I was then given " a safe job " working on a furnace. It exploded when tested throwing me 30 feet across the room. At this time I felt that someone 'upstairs' was trying to tell me to get a safer job !!
In 1966 I joined the Police Force, and as documented received a number of injuries. In 1974, I came to Australia and became a Ranger dealing with dangerous animals; and a Volunteer FireFighter. I dealt with chemicals, got trapped in bushfires a number of times, got caught up in blast from exploding transformers, got minor burns, painful but minor back injuries etc. About 15 years ago during a physical assessment it was recommended I see a spine specialist because my shoulders were not straight. I never told anyone about this. I regularly saw foot specialists about my aching feet and knee problems but they never found the cause or cure. I simply learned to live with the pain. Last year I had a check up and passed with flying colours although the doctor requested I see a new podiatrist in town about my feet and knee problems. The specialist used to serve in the British Army. As soon as I layed on his bench the first thing he said to me was, do you realize you have one leg over 1/2 an inch longer than the other. In all the medicals I have had over the years this was never picked up !! On some IDs I am shown as being 5'11", others 6' even 6'01/2". To ease the pain the specialist has made 2 shoe inserts with one higher than the other which will also help with my flat feet.
I keep reasonably fit and do at least a half hour walk a day. I try to avoid taking pain killers, but daily take Lipitor, Turmeric and Fish Oil tablets. Yes, at times I push myself beyond the pain barriers which old age brings; but it is better than being stuck in a wheelchair. As I quickly approach my 75th birthday, I often wonder why people who are a lot fitter than me have so many ailments; and why people who are healthier and younger than me die. The answer might well be in the animal burial right and conversation we had as kids:-
" Ashes to Ashes, dust to dust; if the Good Lord doesn't want you, the devil must "; and the reason we are still here ? They have not decided yet who will get us !!