Researched and compiled by
Detective Superintendent George Rose CPM (retired)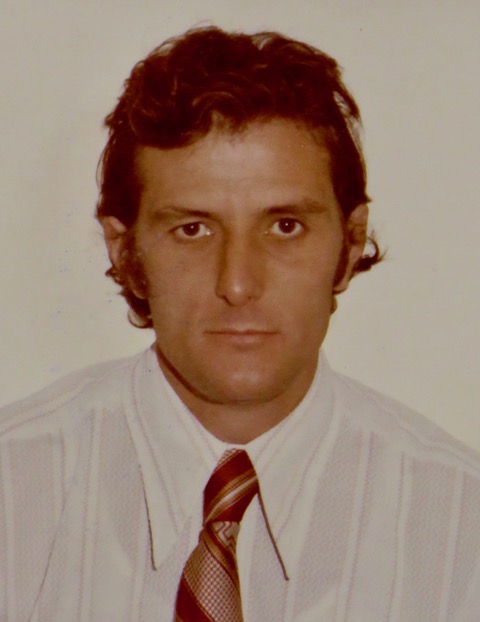 George F. Rose
EDITORIAL - We are indebted to retired Superintendent George Rose for writing this excellent and detailed article about initiatives by the Bermuda Police and H.M. Customs (The "Joint Importation Squad") to tackle the huge problems associated with illegal importation of drugs in the late 1970's and early 1980's, and specifically having to deal with the "Ganja Flights" which were a main conduit for the importation of cannabis into Bermuda. "A Date with the Ganja Flight" provides a detailed account of the actions taken to curb the importation of illegal drugs during the time George Rose was in charge of the Police Narcotics Department from May 1978 through March 1982.
-------------------------------------------------------
This article is generally arranged in chronological order as it details the many seizures at the airport – together with any ensuing trial – by what became known from its inception in late October, 1979 as the Joint Importation Squad (J.I.S.). As you will read, the Squad's achievements inevitably led to fundamental changes in the Island's drug scene of the day.
You will read about the conjecture and community disquiet which prevailed some forty years' ago as the police narcotics unit sought to capture ALL trafficked drugs in their BULK form at all ports of entry rather than chasing around grams and ounces on the streets of Bermuda.
Historically, marijuana aka cannabis sativa – or any of over 200 other variant names – has been the preferred drug of choice among Bermudians. It is a plant material in its simplest form and is quickly subject to rot and loss of potency if it is not attentively cared for or consumed well before its 'sell-by-date'. For this reason, small amounts on a reliably regular basis are the preferred method of importation of this high potency controlled drug.
I assumed command as Officer-in-Charge of Narcotics on 1st May 1978 and later that year I began a comprehensive assessment of all aspects of the Section with a priority emphasis on strengthening the enforcement efforts at the island's ports of entry. With assistance from then PC Alex Arnfield who reviewed and reported on existing air and postal mail systems, and DC Kevin Hamilton who reviewed the cargo docks, cruise and freighter ships and private vessels, a comprehensive picture emerged of the enforcement weaknesses ingrained at these gateway means of entry.
One of these weaknesses came to be known as the "Ganja Flight" which was a British Airways direct flight into Bermuda from interchangeable points in the Caribbean, bound for England. Later in the article you will read about an interview I gave to a Royal Gazette reporter at the Civil Air Terminal at midnight in March 1981, during the arrival of the infamous "Ganja Special"!
Notwithstanding that Her Majesty's Bermuda Customs is, legislatively, the lead enforcement agency in terms of the inspection of all goods and products entering the island's borders, police intelligence information revealed that the direct night flight from Jamaica through Bermuda and on to London was the major conduit of supply for the trafficking of assorted illicit imports including marijuana into both Bermuda and London. This flight was colloquially known as the 'Ganja Special'.
Building on this intelligence – and despite troubling and prolonged resistance for over 12 months to the formation of the police-led initiative of a combined select Police/Customs unit dedicated to the task of contraband detection and importation offences – formalities with Government were finalized in early July 1979 and the go-ahead was given for the creation of what became known as the Joint Importation Squad (J.I.S.)
Nonetheless, I was obliged to pen the following message to the Commissioner's office on 7 August, 1979:
Sir,
It is imperative that negotiations to date with representatives of H.M. Customs in relation to the formation of a Police / Customs importation squad are not compromised in any way due to the manpower problem and related issues currently experienced by Customs at the Civil Air Terminal.
It has already been indicated to me by the Deputy Collector that the tentative starting date for this squad – 3rdSeptember, 1979 – may not now become a reality.
I ask that representation be made to Mr. John HUNT of Management Services to exercise a positive influence on the Collector to work towards the agreed date irrespective of problems elsewhere.
Even as late as April 1981, considerable resistance prevailed to the full-time presence of the (J.I.S.) at the airport, with an outright refusal at the top level to accept the existence of the Squad at the Civil Air Terminal. This attitude led to the Squad having not being granted any basic facilities or accommodation on site. I formally addressed the issue on 10 April 1981 and matters were quickly corrected.
Upon their establishment in late October 1979 duties of the J.I.S. were to maintain a dedicated presence at the airport during all scheduled arriving flights together with the monitoring of wide-bodied jets during their cargo discharge into the Queen's Warehouse. A police K9 unit worked with the J.I.S.
Close scrutiny of the immigration processing of all incoming ships and yachts, together with rummages and cargo inspections at the docks were daily events in addition to oversight of the arriving international postal mail. Travel monitoring and intelligence gathering of suspect contraband couriers was also part of their purview.
As you will read, the following stories particularly illustrate the tight enforcement actions employed by the J.I.S. as they worked towards their objectives at the restricted airside at the Civil Air Terminal, monitoring the midnight unloading of the British Airways (BA) 747 Jumbo Jet flight from points south on its way through Bermuda to London.
Enforcement action quickly caused the traffickers to change their modus operandi away from the occasional bulky amounts from within the cargo holds to be replaced by more frequent, smaller and fresher amounts of herb.
Traffickers' became challenged to create more creative importation methods and, as their novel smuggling trends became reality, the J.I.S. successes in recovering the contraband led to persistent reports of a general shortage of illegal drugs on the Island. Reliable intelligence assets reported that there was a continuing drastic reduction in the availability of 'fresh' herb on the streets. Pleas from the streets to 'let some go' became the weekly chant.
It may be useful here to describe the types of people in the drug hierarchy operations.
During an interview in early 1981 with 'Bermuda Now' I gave a brief overview of these categories – as it relates to the heroin trade, in particular:
THE FINANCIER: He supplies the money – no questions asked – for a high cash return. He doesn't use or handle the drug himself. It's purely an investment. But he well knows what it is for. Many are outwardly respectable businessmen and women.
Who are the Bermudian financiers? "We are aware of some of them and we are working to secure sufficient evidence to prosecute them," said Insp. Rose. "Often it's a family affair."
THE TRAFFICKER: He's the man who crosses international borders to arrange to get the drug from the source country in to Bermuda. Beyond making the connection, he samples the drug himself to test its quality, and therefore has to be a user.
THE IMPORTER: He may or may not be the same person as the trafficker. He actually brings it into Bermuda or causes it to be brought into Bermuda.
THE PUSHERS: Having been brought into Bermuda, the drug is split and distributed among pushers who are usually users or addicts. It could vary from a few ounces to a few pounds of the drug. "Drug merchandising in Bermuda is not sophisticated," said Insp. Rose.
"For instance, heroin coming into New York City will be cut down to as little as three to five percent heroin. Here they don't know how to do it correctly and so the drug is just split up into tiny little "decks".
"It might look like a pound of sugar to begin with; by the time it reaches the street via the pusher it is wrapped in little tin foil rectangles about the size of a fingernail."
THE USER and the ADDICT: These are the people who sniff, snort or shoot the drug directly into their veins. A user is not necessarily an addict, but it is likely that in time he will become one. Users tend to sniff heroin through a straw, or smoke it. A real junkie, after the best "high", will "mainline" – inject the heroin directly into his bloodstream. Insp. Rose said that so far in Bermuda school children do not use hard drugs. Most users and addicts are in their twenties.
As historical background it should be noted that in 1971 the British Overseas Airways Corporation (BOAC) commenced using Boeing 747's on the London to New York route – and on the Bermuda operation.
In March 1974, BOAC became British Airways (BA) with the 747 Jumbo Jet continuing as the equipment of choice until the end of May, 1980 when the equipment was changed to that of the L-1011 TriStar.
As closely as possible this J.I.S. article is arranged in chronological order of seizure, but from the historical perspective of recording significant drug trafficking investigations of importance I make brief mention of much earlier case histories such as the Vernon 'Apples' Martin investigations and trial consequent to the arrival on a Jamaican fishing trawler of a half-a-ton of cannabis into the island following a transfer at sea off St. David's Head in December, 1977. This case involved a kidnapping in Bermuda and is subject of a planned EXPO article in the future.
Additionally, during 1978 followed by the months leading up to the operational formation of the J.I.S. in late October, 1979, there were a number of significant trafficking investigations some of which led to interesting court cases and which are briefly documented below. The intricacies associated with each of these cases also lend themselves to an interesting EXPO article going forward.
1978
THE DUTCH HEROIN CONNECTION
Investigations into this matter began in early July 1978 when Bermudian Leon O'Brien sent a parcel containing just under an ounce of heroin from a Dutch hotel to Bailey's Bay sub-post office, for collection. The parcel was eventually opened by Postmaster General Mr. Sydney Corbett who discovered a substance later found to be 53 percent pure heroin.
Enquiries revealed that a registered Bermudian heroin addict by the name of Paul Hunt living in Northampton, England, had been approached by O'Brien and another Bermudian with a proposal to set up a heroin trafficking scheme evolving out of Amsterdam through England and into Bermuda – 'and other places'.
In furtherance of agreements reached and in company with Leon O'Brien, Hunt travelled in late August by ferry to the Hook of Holland where they set off for Amsterdam.
"They wanted me to test the quality of drugs they wanted to purchase," said Hunt who told them he did not want to get involved with importing or carrying drugs but did agree to sell drugs in England.
Hunt subsequently accepted the offer of immunity from prosecution in Bermuda by then Attorney General Mr. Gerald Collett in return for his testimony against O'Brien.
A Bermuda police narcotics officer travelled to England and Amsterdam in pursuit of investigations which led to a Bermuda Supreme Court trial in May 1979, Drug agents from England and Holland gave testimony at the trial.
At the heated conclusion of the ten day trial, O'Brien (25) was convicted and sentenced to 7 years imprisonment for conspiracy with named others to import heroin between dates in July and August 1978. He was acquitted of importation between dates in 1978.
Appeal Court judges later upheld O'Brien's conviction and sentencing when the President opined that "the trial judge's summing up was full and fair and he clearly directed the jury to consider each count separately. Those who set out to traffic systematically in this drug can only expect condign punishment," he said.
1979
March 11 – BA 747 flight; from Jamaica, cannabis seizure of 277lbs.
Stemming from this seizure arrests were made and the details surrounding a heavy jail sentence were reported in the Royal Gazette (RG) on October 27, 1979 as follows:-
TEN YEARS JAIL FOR DRUG SMUGGLING
"A 34 year-old Paget man was yesterday jailed for 10 years for his part in a massive drug smuggling plan.
Reuben Wellington Pearman had admitted taking part in a plan to bring more than 280 pounds of Cannabis into Bermuda in March. [Actually, the haul weighed-in at 277lbs.]
Pearman, who admitted a previous drugs importation charge which brought him a four year sentence in 1972, was told by Acting Puisne Judge, the Hon. Hector Barcilon:
"You were given what I consider a serious punishment then, which I thought would have deterred you. Now you have done exactly the same thing again, only this time more serious.
"This leads me to the conclusion that your first punishment was not enough."
Pearman, a painter of Ord Road, had pleaded guilty to being involved with others in importing the cannabis on March 11, [1979] via a British Airways flight from Jamaica. The cannabis was found in packages and a B.A. baggage container, the court heard, and Pearman's arrest followed fingerprints found on packaging.
Pearman had been living with two other Bermudians in a Jamaican friend's house for a period of time, during which a series of packages and an aircraft cargo container shelf had been trucked away.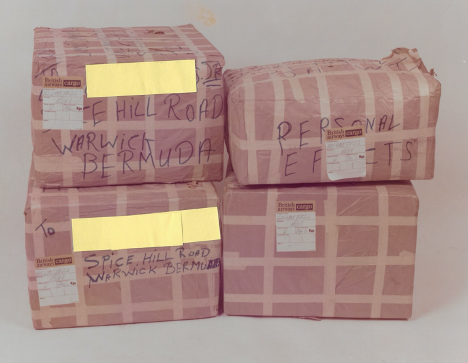 Four cardboard packages marked as personal effects
addressed to [a name] at Spice Hill Road, Warwick
Customs and Police officers carried out the massive drugs haul from on board the British Airways flight which had arrived in Bermuda from Nassau and Jamaica.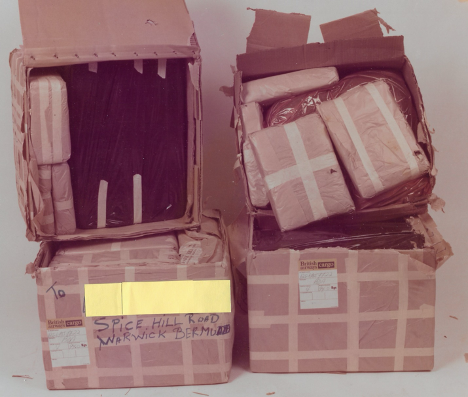 The boxes opened showing the contents
184lbs. of cannabis was found in four large packages among the baggage. The packages were addressed to [a name] in Spice Hill, Warwick but Police found that no such person existed.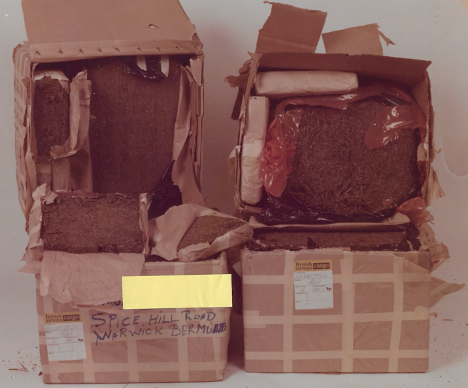 The contents of the boxes opened revealing packed plant material
A further 93½ lbs. was discovered in a shelf inside a B.A. luggage container.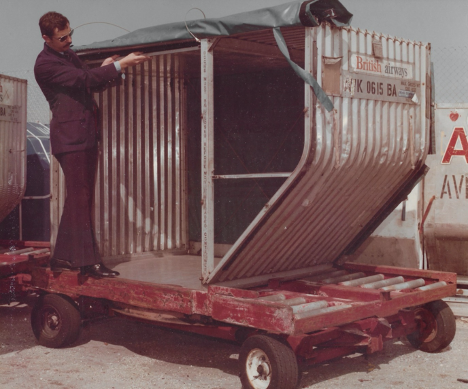 Detective Sergeant Denis Brookes examines a shelf within a unit load
device (ULD) otherwise known as an 'igloo' similar to the ULD intercepted
outside the Queen's Warehouse at the Bermuda Civil Air Terminal in March, 1979
The haul [277lbs] had been packed in Jamaica, at a house where Pearman was staying, the court was told.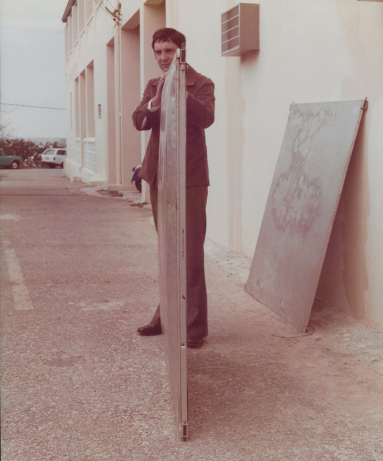 Dr. Petrie, the government drug analyst, shows the igloo shelf
which displays an unusual thickness
Mr. Julian Hall, defending, said that Pearman had gone to Jamaica with no intention of importing drugs back into Bermuda. He had made a "full and frank" statement to Police about the episode, and that clearly showed he was not [the] ringleader in the enterprise, said Mr. Hall.
Pearman admitted he was a casual user of Cannabis, and while he was staying in Jamaica, he was asked to help with the packaging.
"He did not become aware of the purpose until sometime subsequently," added Mr. Hall.
He described Pearman's actions as a "momentary lapse."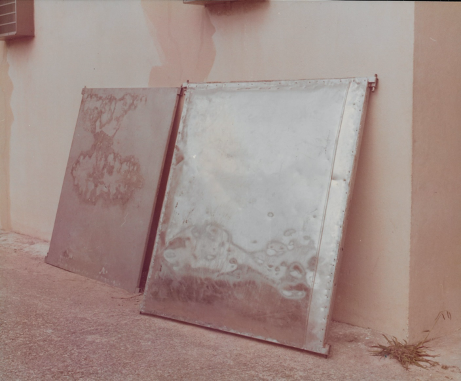 Two igloo container shelves at Police Headquarters; the bulging shelf on the
right contains plant material later analyzed as cannabis sativa
Within a few months of his conviction, Pearman appealed his sentence in 1980 on grounds of severity:
SENTENCE APPEAL TURNED DOWN
"A cannabis smuggler's application to appeal the severity of his sentence has been turned down.
Reuben Wellington Pearman had admitted being involved with importing 277 pounds of the drug last March, and in October was jailed for 10 years.
He had three previous convictions, in 1972, for smuggling cannabis, possessing cannabis, and assaulting a Customs Officer.
The appeal judges said the important point of the application for leave to appeal was that it was Pearman's second conviction for drug smuggling.
The maximum sentence for the offence was 20 years."
1979
May 26 – New York flight; 11½lbs of cannabis
This seizure led to the following connected trials and convictions in Bermuda's magistrate's court as reported by the (RG) on June 13, 1979
JAIL FOR AMERICAN IN 14lbs. BERMUDA DRUGS CONNECTION
"An arrangement between an American and a Bermudian to import 14 pounds of cannabis into Bermuda yesterday proved to be a partnership that failed.
Twenty-nine-year-old Leon McNeil, of Brooklyn, New York, pleaded guilty, when concerned with another, to importing cannabis into Bermuda, and possession of cannabis.
The court heard that $4,000 in small bills was found in McNeil's shoulder bag during a U.S. customs search at the airport.
McNeil had been scheduled to leave Bermuda that day, June 10, to catch a flight to New York. However, his failure to provide a satisfactory explanation for possessing such a large amount of money resulted in his being detained for a Police search. During the search, a quantity of cannabis was found in the base of his shoulder bag. He later admitted receiving the money from a Bermudian as payment for drugs.
According to McNeil, he had arranged the supply of cannabis from New York, and had accompanied his connection to Bermuda to secure his payment in full. Police analysis of the plant material found in McNeil's shoulder bag, showed it to be .86 grams of cannabis.
McNeil, a freelance photographer, worked discos in the Manhattan area, and was married with a five-year-old daughter the court heard.
Senior Magistrate, the Wor. Richard Hector, ordered the $4,000 confiscated as it was the proceeds of illicit trade, and sentenced McNeil to a three-month prison term.
Inspector Calvin Christopher prosecuted.
In continuation of this matter, on August 9, the (RG) reported on a magistrate's court trial relating to the same 11½lbs. marijuana seizure on May 26, 1979
COURT HEARS EVIDENCE OF A COMPLICATED DRUGS DEAL
"A Pembroke man yesterday admitted to conspiring to import [a total of] 30 pounds of marijuana with a street value of $60,000, but denied charges that he imported 12 of those pounds on May 26.
Vaughan Fubler of Friswell's Hill, faced charges of conspiracy to import, and importation in magistrate's court before the Wor. Gerald Price. He initially pleaded not guilty to both charges, but when the court convened, he admitted the conspiracy charge.
The case of the Crown was presented by Crown Counsel, Mr. Toomas Ounapuu.
In a statement made to Police, and presented as evidence in court, Fubler admitted conspiring with Cecil Lewis of Collector's Hill, Smith's Parish, to bring marijuana to Bermuda from New York in March.
Fubler wrote in his statement, "He (Lewis) asked me if I could arrange for him to pick up three pounds of marijuana".
Subsequently, a deal was made through Brooklyn resident, Leon McNeil, who "brought out the three pounds of marijuana which Lewis had asked for", Fubler wrote, adding, "Lewis gave me $150 for setting up the deal.
McNeil, who has just completed serving two months for his part in the operation, gave evidence for the Crown in court. He indicated that following the first deal of three pounds, further arrangements were made for two more purchases of five and eight pounds.
The cost to Fubler for the marijuana, McNeil said, amounted to between $465 and $490 per pound. Marijuana sells for $2,000 per pound on the streets in Bermuda.
In late May of 1979, McNeil testified, Fubler approached him again, this time for 10 pounds, which was later increased to 14 pounds. Again, McNeil testified, the deal went through, but this time he accompanied Fubler to Bermuda on May 26 to receive $8,000 for the drug.
McNeil testified that he saw Fubler place the drug in a shoulder bag, which he carried with him onto the plane, and which he took with him when he went to the washroom once airborne.
"On the plane Fubler went to the washroom in the back to stash dope in trash cans," McNeil said, indicating that arrangements were supposed to have been made in Bermuda for someone else to pick up the marijuana from the aircraft.
The two alighted from the aircraft, and when the drug failed to surface, McNeil said, they, with Lewis and another man, went around to various people working with A.S.B. (Aircraft Services Bermuda) at the Civil Aviation Terminal.
Edward Waldron, who cleans aircraft for A.S.B., testified that he was approached by Fubler, and other men, about the drug. When he denied any knowledge of the drug, Waldron told the court that Fubler "told me that if the message wasn't going to get through by 12, someone was going to get hurt".
The drug was never found, McNeil testified, and he received $6,600 before leaving for New York.
In the statement made by Fubler, he acknowledged the purchase of 14 pounds of marijuana, but denied that he brought it to Bermuda with him. Instead, Fubler wrote, he gave it to man in New York.
The trial continues next Friday, when defence counsel, Ms. Keren Lomas, will tell the [magistrates'] court whether she requires evidence to show the continuing change of custody of the marijuana.
If she does, upwards of eight or nine witnesses will have to be called from the U.S.A. where the drug was found."
GUILTY OF IMPORTING MARIJUANA
"Saying this was a case more properly for the Supreme Court, the Wor. Gerald Price yesterday found a 28-year-old guilty of importing 11½ pounds of marijuana and sentenced him to two and a half years in prison.
In the Supreme Court, Mr. Price said, Vaughan Fubler could have received 20 years for importing the marijuana valued in excess of $20,000.
"My powers are substantially less," the magistrate added.
At the outset of the case, Fubler had pleaded guilty to a separate charge of conspiracy to import. Testimony depicted the crime as a bungled one.
The marijuana, stashed in the washroom of a jet, was flown from New York here last May 26. But instead of being picked up as planned in Bermuda, the marijuana remained concealed and was flown out a few hours later to Baltimore. There the illicit drug was found by an unsuspecting clean-up man who informed the authorities.
"It was quite a coincidence that the same plane you came on was the same plane the 11½ pounds of marijuana was on," Mr. Toomas Ounapuu, Crown Counsel, said, when cross-examining the defendant.
The defendant never disputed the substance of the Crown case that Fubler made arrangements in New York to have marijuana brought here.
"It has not for one moment been challenged by the defendant [that] he was engaged earlier this year in narcotics dealing in New York," Mr. Price said
Fubler, in his own testimony and through his lawyer, Ms. Keren Lomas, said, however, he was only a middleman in the transaction, not the "prime mover". Fubler testified he washed his hands of the drug outside the Taft Hotel in Manhattan, New York.
The Crown case, Mr. Price said, rested on the evidence of a Leon McNeill, who had earlier pleaded guilty to importation and received three months in prison.
"It is dangerous to convict on the uncorroborated testimony of an accomplice," Mr. Price acknowledged. "But if I am satisfied his account is correct ……… then I can convict."
Mr. Price said he was impressed by McNeil's forthrightness as a witness in the Fubler case. "I thought Leon McNeil was one of the most convincing witnesses I have ever heard," Mr. Price said.
A third accomplice who was implicated by Fubler and by the Crown, a man named Lewis, has avoided prosecution, Mr. Price said, by fleeing Bermuda.
It was never learned why the marijuana was left on the plane in Bermuda, although Mr. Price speculated it may have been because security was too tight.
Mr. Price warned Fubler after the conviction he would face a stiff sentence even though he had no previous drug convictions.
"It is some surprise to me it comes to me and not to some higher court," he said. "It is a case fit and proper for the Supreme Court."
A connected prosecution reported by the (RG) in late August of 1979 involved the "seed money" trail which today would be an offence under the yet to be enacted money laundering regulations:
JAIL FOR BREAKER OF CURRENCY LAW
"A Pembroke man was jailed for three months for breaching a currency law his defence lawyer claimed people knew little about.
Vaughan Fubler, 28, pleaded guilty to making payments in Bermuda to an American, Leon McNeill, without the permission of the Controller of Foreign Exchange.
The payments, which the court heard, were for marijuana, totaled $4,600 in U.S. currency and $2,000 in Bermudian currency.
The law states that it is illegal to "make any payments to or for the credit of a person resident outside the Bermuda Exchange Control area."
And Ms. Keren Lomas, defending, commented:
"The Bermudian Monetary Authority has most recently become particularly concerned to restrict the flow of funds out of Bermuda, and it is regrettable that the Authority has not made it more generally known to the general public that it is making a stand to protect the flow of funds. As far as I'm aware, there have been only a few breaches brought to the court's attention."
"Ms. Lomas said that the law was very wide in its terminology.
"If my mother came to stay with me on holiday and I gave her pocket money, it would be a breach of this technical law. This is something that the general public ought now to be made aware of. We do know that with the interest rate at seven percent, there are people in more astute positions than my client finding ways to get the money out," she said.
Mr. Toomas Ounapuu, prosecuting, said that Fubler, of Friswell's Hill, visited New York in January where he met McNeill.
In later visits to the U.S., Fubler gave McNeill money from a third Bermudian party for various quantities of marijuana.
By the end of May, McNeill was still owed $6,600 and Fubler told McNeill to come to Bermuda for a festival where they would be able to sell the drugs, said Mr. Ounapuu.
McNeill agreed, and on May 30 some $3,000 was handed over followed by a further $3,600 on June 3. On leaving the Island, McNeill was arrested at the Airport, said Mr. Ounapuu.
The three-month sentence imposed by acting Senior Magistrate the Wor. K.C. Nadarajah, is the maximum penalty for the offence.
Meanwhile Mr. Graham Maskens, Bermuda's Controller of Foreign Exchange, said that he believed people were generally aware of currency rules. "All laws should be administered in a practical and sensible sort of way," he commented."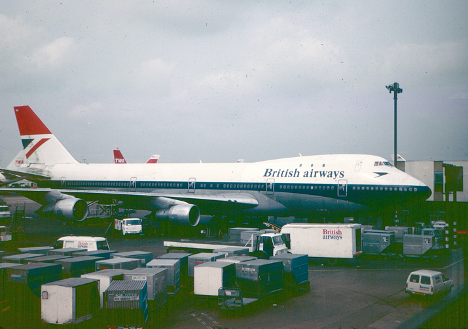 Shows a typically busy scene at Heathrow airport in 1979 as the servicing
of a Boeing 747 gets underway. This might well have been the same
aircraft from which the April seizure shown above was made as it
passed through Bermuda on its night flight to England
An important legal ruling directly affecting enforcement efforts by the (J.I.S.) was handed down by a magistrate on Monday, October 30, 1979. The (RG) reported the matter thus:
DRUGS SEARCH ON SHIP WAS LEGAL, RULES MAGISTRATE
"A search warrant is not needed if Police wish to search any of the visiting cruise ships within the Island's territorial waters.
That was the judgement yesterday of the Wor. Gerald Price given during the trial of Lionel Furbert, of Hamilton City, who was charged with possessing 2.1 grams of cannabis.
Furbert, who had worked as an engine wiper of the cruise liner Doric since 1975, was found guilty and fined $200.
The need for a ruling on the search warrant question arose during the trial when the defendant's lawyer, Mr. Julian Hall, asked the magistrate to rule on the need for a warrant.
Mr. Hall had submitted that the search was illegal and that any subsequent evidence concerning the property seized should be excluded.
The magistrate noted that in the majority of cases law enforcement officers were not permitted to search a person or property without a warrant. But the magistrate also said that there were some notable exceptions.
One such exception came under Section 25 of the Misuse of Drugs Act (1972) whereby a law enforcement officer could execute a search without a warrant if he had 'reasonable grounds' to assume that there were drugs on the person or property.
Mr. Price said that the onus of proving the 'reasonableness' of the search lay with the Police officer and he should be able to justify it in court if it was necessary.
The magistrate said that he realized that taken to the extreme, the Police could stop a cruise liner within Bermuda's territorial waters and search each and every passenger and crew member. However, each case depended on its own facts and that in this case the officers had every right to search Furbert's person and room.
Commenting on the 'reasonableness' of the search, Mr. Price said that Police had been informed that a member of the ships engineering department had drugs and that it was reasonable to search those who worked in that department."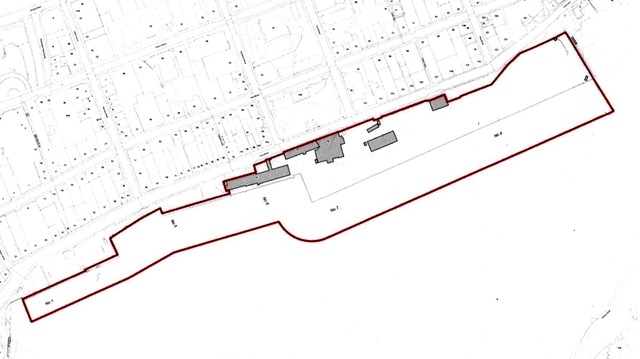 PLAN OF HAMILTON DOCKS CUSTOMS ZONE
Hamilton Waterfront Wharfs Customs Area
Intelligence driven land and marine operations often saw the use of specialized equipment and tactics using confidential surveillance methods during the weekly early morning approach of freighters and cruise ships from over the horizon and entering the channels under pilot control. The delineation in red of the docks' customs zones (including those of St. George's and Dockyard) provide for a healthy portion of the harbour waters alongside each vessel's (off side) to be declared as a customs zone. Small craft approaching the ships at berth on their (off side) at any time were warned off from the bridge as illegally entering a customs zone.
1979
Nov 5 – BA 747 flight; courier imported a total of 109 grams of ingested cocaine in contraceptives and more between his buttocks
Flight originated in Peru then to Panama then Jamaica, then to Bahamas and onto Bermuda; courier and another disembarked in Bermuda in transit the following day to Boston enroute to Montreal, Canada.
The (RG) reported on the jury trial on Tuesday, January 15, 1980:
AMERICAN HAD SWALLOWED BAGS OF COCAINE SUPREME COURT TOLD
"The Supreme Court trial of American Albert Francis Bigelow, who is charged with importing and possessing $½ million of cocaine, got underway yesterday before Puisne Judge, the Hon. Mr. Justice Robinson.
Solicitor General Mr. Saul Froomkin, Q.C., told the jury that Bigelow, 33, had been in Peru and had arrived in Bermuda on November 5 last year, via a flight from Panama, with another man. Both had checked into a local hotel and went to the Airport the next day to leave on a flight to Boston.
Mr. Froomkin said that during a search at the Airport, a broken contraceptive containing the drug was found in the defendant's mouth, and another contraceptive filled with cocaine was found between his buttocks.
He was then taken to the hospital and from there Bigelow was transported to Casemates Prison where he was searched again. A further three contraceptives were found containing cocaine and, after examination, it was discovered that all three had been through Bigelow's intestines.
The total weight of the drug was 109 grams with a street value of about $½ million. The drug was also found to be 95 percent pure.
Bigelow has denied the offence and is represented by Mr. Julian Hall.
The first witness in yesterday's trial was senior American customs inspector Mr. Theodore Fronckowiak, who was on duty at the Airport when Bigelow presented his bags at U.S. Customs.
Mr. Fronckowiak said that the accused looked nervous and he and Detective Constable Sinclair White, of the Bermuda Police, took Bigelow into the search room.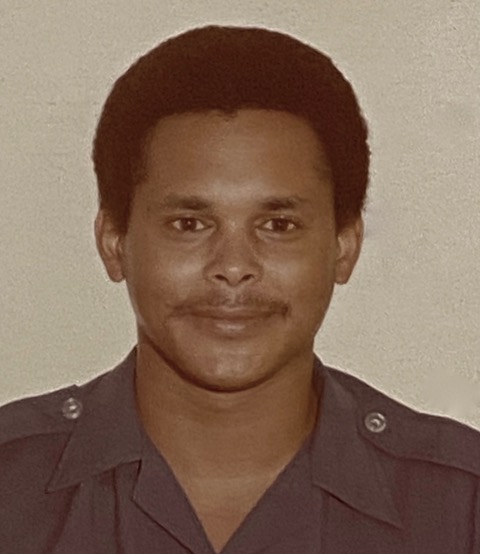 Sinclair White later rose to the rank of Superintendent
Mr. Fronckowiak said that while he was searching one of the accused's bags he noticed Bigelow had his hands behind his back and he asked what was in his hands.
"I then heard Dc White say 'Don't do it' and saw White grab Bigelow's left hand," Mr. Fronckowiak told the court.
He said that he grabbed the defendant's right hand and saw Dc White trying to pull a white towel from Bigelow's mouth. He also said that he saw white powder coming from the towel.
The witness told the court that Dc White grabbed the defendant's throat while he stuck his finger into Bigelow's mouth "to try and stop him from swallowing."
He said: "The inside of his mouth was bloody and I could feel the towel and pieces of rubber. "I couldn't get anything out becaue it was so slippery."
Mr. Fronckowiak said that Bigelow fell against the wall and went down to the floor curled up so that neither he nor Dc White could get at his mouth.
He said that he told the accused: "You're going to hurt yourself – you're going to O.D.".
Witness said that after that, other local Policemen arrived, one with a plastic spoon, to try to get whatever Bigelow was trying to swallow, out of his mouth.
Bigelow was trying to spit it out but he said he couldn't," said the witness.
Bigelow was then transported to the men's bathroom where local Policemen were trying to make him vomit.
Mr. Fronckowiak said that he had ordered an ambulance from the United States Naval Base and it had arrived with two medical attendants. "I called the ambulance because I believed he may have swallowed the powder," he told the court.
In cross-examination by Mr. Hall, witness said that he did not think that Dc White and himself caused the defendant to choke and that the blood on the inside of Bigelow's mouth was not caused by him inserting his finger.
He admitted that Bigelow did not look "well" after the struggle in the search room and said he wasn't surprised after what had happened.
He said that he did not hear Dc White caution the accused and neither did he hear Dc White explain to Bigelow why he was being searched.
Asked why he called the ambulance, witness said: "I didn't want him to die in my search room."
Mr. Justice Robinson said he would rule on the arguments when the case resumed the following morning Wednesday, January 16, 1980.
DRUGS SWALLOW ACCUSED COULD HAVE BEEN STRANGLED, JURY TOLD
"Police could have strangled American Albert Francis Bigelow while forcing him to disgorge a quantity of cocaine, his defence counsel, Mr. Julian Hall said.
Mr. Hall made the allegation while cross-examining Detective Constable Sinclair White. He was giving evidence in the Supreme Court trial of Bigelow who is charged with importing and possessing $½ million [worth] of cocaine during November last year.
Dc White, earlier in the trial, had told the court of the struggle in the United States Customs' search room where he said he tried to prevent Bigelow from swallowing "a white powder substance wrapped in paper towel".
He said he had placed his hand around Bigelow's throat while U.S. Customs Inspector Theodore Fronckowiak had put his finger in Bigelow's mouth in an attempt to get the cocaine out.
Eventually, with the help of another Police officer, Dc Archibald Husbands, they extracted from the accused's mouth the cocaine, a white towel and two broken rubber contraceptives.
Dc White said that they took Bigelow to the men's washroom and laid him on the floor.
"I asked him if he had swallowed any of the white substance and he said yes. After that two medical attendants from the United States Naval Base arrived and examined him.
Dc White said that while Bigelow was on the floor he took down the accused's pants and underpants and rolled him over and saw a tightly fastened contraceptive between the accused's buttocks.
"The contraceptive was filled with a white powder," said Dc White.
After retrieving the contraceptive, the accused was dressed and taken to the King Edward Memorial Hospital. He was searched again but nothing was found and Bigelow was detained at the hospital.
Under cross-examination by Mr. Hall, Dc White said he did not ask the medical attendants if he could pull down Bigelow's pants and search him, even though the accused was under the medical attendant's care.
He also admitted that two other Police officers, Dc Martin Pearson and Dc Leslie Pearson, tried to make the accused vomit while he was handcuffed.
"But I don't know how they tried to make him vomit," said the witness.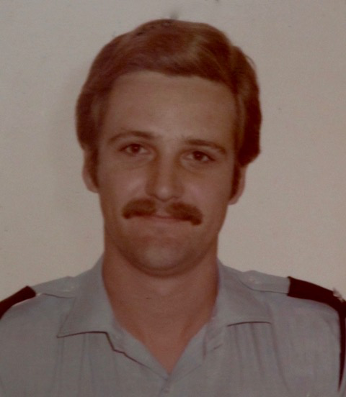 DC Martin Pearson
Travel Control Officer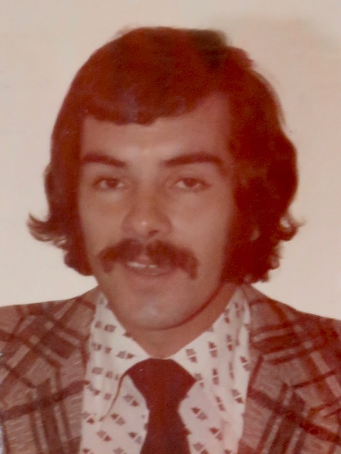 DC Leslie Pearson
Travel Control Officer
Regarding the point when Dc White had his hand around the accused's throat, Mr. Hall asked the witness: "Do you know that he (Bigelow) could have asphyxiated, in other words he could have been strangled?"
Witness replied: "Yes."
Dc White then said that he was trying to "save the accused's life in an effort to stop him swallowing the white powder".
Detective Constable Archibald Husbands told the court that he was summoned to the U.S. Customs' search room as a result of a request for assistance.
"Inspector Fronckowiak told me he (Bigelow) had swallowed something and so I tried to get it out with a spoon," Dc Husbands said.
He said that he did not accompany the other Police officers to the men's washroom with Bigelow.
Under cross-examination by Mr. David Kessaram, who is assisting Mr. Hall, Dc Husbands said he went into the search room with Dc Leslie Pearson.
He said that Dc Pearson and Dc White were attempting to free whatever was choking the accused by hitting Bigelow between the shoulder blades with "moderate force."
After further questioning, he said that Dc Pearson had his fist clenched but he was not using excessive force although it wasn't "a pat on the back".
Dc White was also hitting Bigelow in the chest area but he couldn't remember whether Dc White's fist was clenched or not.
In answer to Mr. Kessaram's questions on the amount of force used, Dc Husbands said: "It was unlikely to break his spine but could have caused bruising."
Detective Sergeant Norrell Hull said he was given Bigelow's travel documents and the white powder retrieved from Bigelow's mouth by Dc Husbands.
He said that Bigelow's passport indicated that he had been to Peru on October 20 and had departed on November 5.
He said that he first saw Bigelow at the hospital when he arrested and cautioned him. The accused made no reply and was detained at the hospital.
At this point in the proceedings Mr. Hall objected to any further evidence being heard and the rest of the day was taken up with legal arguments."
The case resumed the following day Thursday, January 17, 1980 when more legal arguments took up most of the morning and the jury was recalled at 2.30 p.m.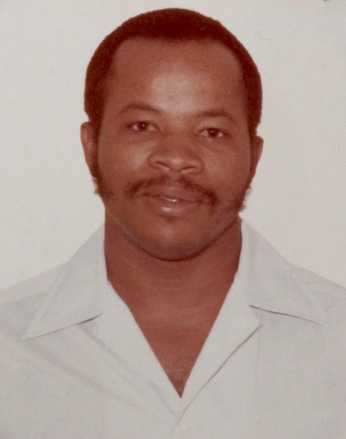 Detective Chief Inspector Norrell Hull
$½ m COCAINE TRIAL HELD UP
"The trial of a man said to have swallowed contraceptive sheaths containing $½ million of cocaine was held up all morning yesterday while lawyers argued over the admissibility of evidence."
As reported by the (RG) on Friday, January 18, 1980
COCAINE BOUGHT FOR $100 IS SAID TO BE WORTH $408,000
"Charged with importing 109 grams of cocaine, Albert Francis Bigelow II overnighted in Bermuda last November because of "fond" memories he had of his honeymoon 13 years ago. Bigelow came to Bermuda by air from Peru via the Caribbean, and stayed overnight before going to the Airport to catch a flight to Boston enroute to Montreal.
He now faces Supreme Court charges of possessing and smuggling cocaine which in an alleged confession was bought in Peru for $100. According to expert testimony it is now worth $408,752.
In an alleged confession on November 7, read out by Detective Sergeant Norrell Hull, Bigelow admitted bringing in cocaine. He said that he left for Peru from Montreal, Canada, on October 20, and met a friend, Michael Reid, while in South America.
In the alleged confession he also said that while in Peru he met a man who was "hustling everything – women…… coke…… I arranged to buy some coke."
He bought what he thought were 3 ounces of the drug packaged in rubber contraceptives for $100. He placed them in his underwear before leaving Peru with Reid, travelling to Panama, Jamaica, and the Bahamas before landing in Bermuda.
"I only came back to Bermuda because I knew it wouldn't cost me anything, and I had fond memories from when I spent my honeymoon here 13-years ago," the statement read.
It was when Bigelow returned to the Airport to pass through American Customs for entry into the U.S. that the cocaine is said to have been found.
I was taken to the Customs search room and realized that I had coke with me. I panicked and tried to swallow the coke and tissue."
Police officers have testified that they tried to withdraw the cocaine from Bigelow's mouth and stomach, first by putting their hands around his throat and down his mouth, and then by trying to induce vomiting.
Det. Sgt. Hull identified for the court yesterday blood-stained packages which he said had been taken from the defendant's mouth.
In his alleged statement to Police, Bigelow said: "These were choked from me at the Airport…….."
Having been established by the Crown that he was an expert, Det. Sgt. Hull said that the cocaine taken from Bigelow was 95 percent pure, and at that purity was worth almost half-a-million dollars on the streets of Bermuda. He also said that cocaine sold locally is usually only five percent pure.
Counsel for the defendant Mr. Julian Hall, objected that the value and purity of the drug was irrelevant, and only served to "create prejudice" in the minds of the jurors.
Solicitor General Mr. Saul Froomkin Q.C., was allowed to continue his questioning after the Puisne Judge, the Hon. Mr. Justice Robinson had overruled the objection."
The trial continued on Friday, January, 19 but was adjourned early in the afternoon.
JUDGE ILL SO DRUGS TRIAL IS ADJOURNED
"Puisne Judge the Hon. Mr. Justice Robinson was taken ill during the Supreme Court drugs trial yesterday. The judge called an early halt to the day's evidence 25 minutes after the luncheon adjournment.
Mr. Julian Hall, Counsel for the accused, was in the middle of cross-examination of a witness when he was interrupted by the judge.
Looking distressed he said: "Mr. Hall, please stop. I think I am going to have to adjourn this case until Monday morning." The judge added that he would reveal the reason to Mr. Hall and Solicitor General Mr. Saul Froomkin, prosecuting, if they saw him in his private chambers.
As the judge, looking pale and faint, left the court both lawyers rushed to see him in his room. Mr. Hall and Mr. Froomkin refused comment when they returned and the Supreme Court office could not throw any light on the mystery. But the Puisne Judge is believed to suffer from high blood pressure and it was this which forced him to withdraw from the court.
Mr. Justice Robinson had spoken unusually quietly throughout yesterday's sitting which was completely taken up with Mr. Hall's cross-examination of Detective Sergeant Norrell Hull. During this the judge had to make a number of rulings in favour of either Mr. Hall or Mr. Froomkin following objections from the Solicitor General.
Evidence yesterday concentrated mainly on the circumstances surrounding Bigelow's detention in hospital after he was arrested at the airport. The prosecution has claimed that Police officers tried to get cocaine from Bigelow's mouth and stomach after he tried to swallow it. Bigelow was said to have made a confession but Mr. Hall said he was trying to show that the alleged confession could not be believed by the jury.
Sgt. Hull said Bigelow was in hospital for observation.
At one point Mr. Froomkin rose to his feet to ask the judge that the record show that Mr. Hall was "literally screaming" at the witness.
The judge told Mr. Hall: "I think you are raising your voice too much, but I don't really see anything wrong with it."
Sgt. Hull agreed that Bigelow was complaining of physical pain, after he left the hospital but did not see any reason to get him medical assistance as he had just been given this. Sgt. Hull denied that he made a statement to Bigelow to the effect that as an American he would only get a fine.
"I would never say that to anyone," he said.
Sgt. Hull said that Bermuda's "street" cocaine was usually only five percent pure, but knew of court cases where it was 25 and 68 percent pure.
The cocaine allegedly taken from Bigelow was 95 percent pure.
It was revealed that another man travelling with Bigelow, Michael Reid, was not arrested for drug offences.
"He was not arrested because there was insufficient evidence to justify charging him," said Sgt. Hull.
The witness said he asked a doctor to try and ascertain whether certain packages had been in contact with the internal organs of anyone. He did not ask, he said, whether they had been in contact with the internal organs of Bigelow.
"I didn't think it was important," he said.
The prosecution has alleged that the cocaine was found in rubber contraceptives which were in Bigelow's mouth and between his buttocks."
The trial of Bigelow, 33, of West 44th Street, New York City, continued after the weekend on Monday, January 21, 1980.
PRISON OFFICERS TELL OF DRUGS FOUND AT CASEMATES
"Prison officers told the Supreme Court drugs trial how they found rubber contraceptives containing cocaine when searching an American accused of smuggling and possessing the drug.
Prison Officer Gladwin Phillips said that he was given charge of Bigelow when he was taken to Casemates Prison. Bigelow was stooped over and complaining of pains in his back when examined by the prison's medical officer.
After an examination he said he wanted to freshen up and was taken to the bathroom. Mr. Phillips said that Bigelow was in the bathroom for about six minutes. On each occasion he looked in to check, about every two minutes, he saw Bigelow in the bathtub. After the bath, Bigelow returned to his cell.
Earlier, said Mr. Phillips, Bigelow mentioned still having money, which should have been confiscated when he was admitted to the prison. Because of that Mr. Phillips asked another officer, Mr. Edness, to help him search Bigelow. They found nothing in his shirt, coat and shoes, and asked him to remove his trousers.
He refused so each officer grabbed one of his arms and put him on the floor. His right hand was clenched so they prized his fingers open and found a rubber contraceptive containing white powder.
Mr. Phillips said he told Mr. Edness to get Mr. Rupert Scotland, the principal prison officer. When they returned Mr. Scotland told them to continue the search. Mr. Edness put his arms under Bigelow and Mr. Phillips tried to take his trousers down. As he did so another contraceptive fell to the floor, and then a third.
After the incident Bigelow no longer complained of having pains.
Under cross-examination by defence counsel Mr. Julian Hall, Mr. Phillips said that there was no sign either in the bathroom or the cell that Bigelow had defecated.
Solicitor General Mr. Saul Froomkin Q.C., for the Crown, has alleged that Bigelow had swallowed three of the contraceptives with the intention of passing them later.
Detective Sergeant Norrell Hull of the narcotics section said yesterday that he had a question and answer interview with Bigelow in which Bigelow said that although the contraceptives had been in his possession they were not his. He would not answer further questions, saying that he had to speak to the U.S. Consul or his lawyer. He said that he would be happy to give full cooperation after speaking to them.
Senior [Bermuda] Customs Officer Mr. Boyson Christopher said that he had been present during the interview and that Sgt. Hull's record of it was correct. He agreed with defence counsel that after the statement had been completed Bigelow made a remark about checking fingerprints. He had not thought it an important remark and presumed that was why Sgt. Hull had not put it in his statement.
When pressed by the defence on if there had been any other remarks that had not been recorded, Mr. Christopher said there had been a short discussion about a letter Bigelow had received from his girlfriend. In it she said she did not want to go on the trip with Bigelow because it would be too risky.
"She said he should go ahead so that he could make enough money for them to set up together."
The trial resumed the following day when Bigelow made an unsworn statement from the dock denying all allegations against him. He said:
'POLICE TERRIFIED ME' SAYS AMERICAN ON DRUG IMPORT CHARGE
"An American accused of possessing cocaine worth nearly $½ million told the Supreme Court that his treatment by the Bermuda Police made him feel he was in Iran or Turkey.
And he said that when he had signed an alleged confession to the Police he had been prepared to sign anything because he had been so terrified at his treatment.
Dr. Keith Cunningham, a pathologist at King Edward VII Memorial Hospital, testified yesterday that three sheaths had passed through a human's lower intestine. But he was unable to say they had been inside Bigelow.
Defence counsel Mr. Julian Hall said that there were no witnesses for the defence and that Bigelow would make an unsworn statement from the dock.
Bigelow said that he arrived in Bermuda on November 5 and spent the night at the Castle Harbour Hotel.
The following day he went to the Airport but missed his flight to New York, He then changed his ticket for a flight to Boston. He was stopped at U.S. Customs and taken to a room by Customs officers and Police.
"There I was severely treated and moved from that room to another," he said.
"Then I was taken by ambulance to hospital."
He said that he could not remember anything being taken from his buttocks. He said he had been in pain and made several requests to phone the American Consul, but was refused without reason being given. Then he was taken to Police Headquarters at Prospect.
"I was still in a great deal of pain," he said. "I was also terrified at what had happened to me. I was in shock at what had happened to me the previous afternoon.
"With regards to the statement, I deny it being a true statement. At that time I was willing to do or say anything to prevent any of the treatment I had received the day before."
He said that during a question and answer interview with Det. Sgt. Norrell Hull, he had given the answers he thought Sgt. Hull wanted to hear. He was an American citizen and not familiar with Bermuda's laws.
"I was terrified after what had happened to me and thought I was in some country such as Iran or Turkey and would have done anything to get in touch with the American Consul in order to stop the severe treatment that I had undergone. I am not guilty of these charges."
Earlier, Government scientists Dr. Raymond Petre and Ms. Elaine Watkinson testified that the contents of the five contraceptives were amounts of cocaine ranging from 95 to 100 percent in purity.
Mr. Keith Dunstan, supervisor of passenger services for American Airlines, said that Bigelow's original air ticket had been with Air Canada, from Montreal to Lima, Peru, via New York, and back to Montreal the same way.
But in Lima he had changed routes to fly Lima-Panama-Bermuda-New York-Montreal.
At Bermuda he changed to American Airlines to fly Bermuda-Boston-Montreal."
[Notice how the new tickets did not show Bigelow and Reid had been to South America]
The case continued the next day with final prosecution and defence speeches.
COCAINE CASE GOES TO THE JURY TODAY [Thursday]
"An American accused of smuggling and possessing nearly $½ million worth of cocaine did not have to say anything to defend himself, a Supreme Court jury was told yesterday.
Because, said Mr. Julian Hall, defending, it was the prosecution's burden to prove beyond a reasonable doubt he had committed the offences.
Mr. Hall's comments came in his final speech to the jury ……….
The only evidence for the defence has been an unsworn statement from the dock by Bigelow in which he said he had been badly treated by the Police. The only reason he had made an alleged confession was because he wanted to avoid further harsh treatment.
Mr. Froomkin said that Bigelow, in his unsworn statement, had made no references to where the drugs had come from or what he was doing with them. He had said that his alleged confession was untrue, but had not denied or contradicted anything specific in it.
Mr. Froomkin said that Bigelow had been unable to say anything in his defence because he was so clearly guilty.
Mr. Hall said there were two basic rules of justice in Bermuda. A man was innocent until proven guilty. "And also, that an accused person need not say or prove anything," he said.
"Mr. Froomkin, in trying to strengthen the prosecution case, has made much of what Mr. Bigelow did not say. But it is an absolute rule that an accused person need not say anything."
Mr. Hall asked the jury to put themselves in the position of a person, who, when leaving a foreign country, is stopped at the airport by the authorities. He is taken to a room and questioned, and when he puts something in his mouth finds fingers and a spoon being put down his throat to get that substance out.
"He is then taken to another room and Police officers try to make him vomit.
(Officers have testified that they tried to get a substance out of Bigelow's mouth during a search at the Airport because they believed it was a drug.)
Then, said Mr. Hall, the person is taken to a foreign hospital. He said that Bigelow had told the court that because of his treatment he had been prepared to say anything to the Police.
"At that stage, would not you have done anything," Mr. Hall asked the jury.
He said that the evidence about the way the Police had treated Bigelow had not been brought to gain the jury's sympathy but to present the facts. He urged the jury not to let their feelings one way or the other influence their verdict, but to rely on the evidence.
"You may well have prejudice against those people who deal in hard drugs, those evil people, those peddlers of death," he said. "But the mere fact that he has been accused does not make him guilty, and too many people believe that."
Mr. Hall said that the alleged confession could not be believed because of the Police treatment of Bigelow before it was taken. The Police already knew much of the information in it before Bigelow was interviewed.
The prosecution wanted the jury to believe some of the alleged confession and disregard other parts. Mr. Froomkin had argued that the amount of cocaine involved was so large that it could not have been for Bigelow's own use but for supply.
But, said Mr. Hall, the charge meant there was intent to supply in Bermuda, yet Bigelow was arrested on his way out of the country."
Puisne Judge Mr. Justice Robinson began his summing up on the morning of the following day Friday, January 25, 1980.
Despite repeated micro-fish research only the following extract could be retrieved in respect to the jury's verdict:
"As the jury foreman announced guilty verdicts on the charges of smuggling cocaine and possession with intent to supply, [Bigelow] stood erect without a trace of emotion.
But he knew he would not be going back to the Greenwich Street store where he made video tapes.
He was fined in London in 1973 for heroin possession, and was given three years' probation in 1976 in Georgia (USA) for cocaine possession."
Four weeks later on February 19, 1980 the (RG) reported on Bigelow's sentencing:
TALE OF ROYALTY AND WOE AS COCAINE MAN IS JAILED
"A 33-year-old New York City man was jailed for 10 years yesterday for his part in a scheme to smuggle $½ million worth of cocaine to New York via Bermuda.
Albert Francis Bigelow II was convicted four weeks ago of smuggling cocaine and possessing the drug with intent to supply.
Sentencing had been delayed until yesterday for character witnesses to be brought from New York to give evidence on his behalf. But no witnesses were called, and in mitigation Bigelow made an 80-minute speech from the dock.
During his nine-day Supreme Court trial he had simply maintained his innocence without explaining how the cocaine had been found on him.
Yesterday he admitted that some of the cocaine was for his own use. But he said the bulk had been given to him by his Canadian travelling companion, a Michael Reid, after they had both been arrested.
Puisne Judge the Hon. Mr. Justice Robinson told Bigelow that the maximum sentence on each charge was 20 years' jail with or without a fine.
He jailed him for 10 years on each charge, to run concurrently.
Yesterday Bigelow's lawyer, Mr. David Kessaram, said that the drugs had been brought into Bermuda by Reid.
"They were later passed by him at Hamilton Police Station, and, in what my client now regards as a moment of foolishness, he took possession of them," he said.
Mr. Kessaram said that Bigelow was a cocaine user and that the drugs found on him at the Airport, about 25 grams, were for his own use.
He asked that Bigelow be deported which would mean he could not return to Bermuda and that public money would not be spent by keeping him in jail.
Bigelow, in a long written statement which he read to the court, said that his only guilt had been allowing himself to be used and in having been a fool. He had remained silent through most of his trial because as an American he was unaware of Bermudian law.
He now regretted not having called witnesses because they could have clarified several points.
Reid had arranged and paid for all the travelling and accommodation. He said that he had been to Peru only once, while Reid had made numerous trips.
He said that he had brought grief and shame to his family. His father and brother were Harvard graduates, and his mother was related to the Japanese royal family.
He had suffered from severe depression for years which had worsened since his girlfriend was murdered in 1978. He blamed himself for her death because he had arrived late for a date.
He was in poor health, and his career as a photographer and video film producer would be hampered because of his court appearance.
"I don't want to seem pathetic," he said. "But the one thing that I had that I have lost that meant a great deal to me is my dog."
A letter to the Editor of the (RG) dated February 19, 1980 – a day after Bigelow's sentencing – is reproduced below:
Dear Sir,
"Your fascinating article [see next below] on a gentleman just sentenced to a much-deserved ten years' imprisonment – arguably one of North America's less successful convicted cocaine smugglers – left me wondering about one aspect of this case.
Mr. Julian Hall (and his eager minion) appeared to base his defence on allegations that the Bermuda Police had bullied, assaulted and threatened his client; had lied both to the defendant and others; had committed blatant and continuous perjury; and had generally conducted themselves in a disgraceful manner.
As the jury in this particular case rejected Mr. Hall's amazing allegations – and rejected them by returning a unanimous verdict of guilty – perhaps now is the moment to ask this learned and able [member] of the Bermuda Bar if he is now going to:
(a) Prove his most serious allegations;
(c) Repeat them in a public place, which will allow the officers who have been
maligned a legal avenue to clear their names.
Perhaps Mr. Hall would care to tick the appropriate box? "
City of Hamilton
The (RG) took an opportunity to discuss the Bigelow case with DS Norrell Hull and later published the results as follows on February 19, 1980:
BIGELOW AND THE DRUGS' GAMBLE WHICH WILL COST HIM TEN YEARS
"Drug smuggler Albert Bigelow took two massive gambles when he brought cocaine to Bermuda – with his life, and with his freedom.
He won the first.
But he lost the second, and today begins a 10-year sentence in the grim surroundings of Casemates Prison.
Bigelow, a 33-year-old divorced New Yorker, could have paid a far higher price.
In an effort to beat U.S. Customs' checks he swallowed 83 grams of almost 100 percent pure cocaine, wrapped in three tightly-knotted rubber contraceptive sheaths.
If one of them had burst inside him, nearly 30 grams of cocaine would have swamped his system.
Dr. Keith Cunningham, a pathologist at the King Edward VII Memorial Hospital, says that just one gram is a fatal dose.
"There's no way he could have been saved – he would have been dead, very, very quickly," he said.
Police know that drug smugglers use the method. It's an almost foolproof way of getting past the most alert Customs' men.
But a few who have taken the risk have died.
Throughout his nine-day trial Bigelow maintained his innocence in spite of overwhelming evidence against him.
He sat in the dock, dressed in a brown corduroy jacket with a smart collar and tie, making copious notes which he passed to his legal team of three.
As the jury foreman announced guilty verdicts on the charges of smuggling cocaine and possession with intent to supply, he stood erect without a trace of emotion.
But he knew he would not be going back to the Greenwich Street store where he made video tapes.
He was fined in London in 1973 for heroin possession, and was given three years' probation in 1976 in Georgia [USA] for cocaine possession.
He knew this time it would be different.
Bigelow came very close to getting away with his drugs haul, which Police estimate would have netted more than $½ million on the streets up north.
His conviction is a tribute to the sharp work of U.S. Customs agents, the Police narcotics squad, and the alertness of a puzzled prison officer at Casemates.
Police believe that Bigelow's travelling companion, a Canadian with a record of drugs offences, was probably behind the complicated, but clever, scheme to smuggle cocaine from South America to the U.S. or Canada.
He was questioned for two days but then had to be released for lack of evidence. Bigelow would not implicate him in any way during the trial and took the full blame.
It was only shortly before being sentenced that he spoke of the Canadian's role.
Bigelow said that the Canadian had paid for flights and hotel accommodation, and had regularly flown to Peru for drugs.
The Canadian had swallowed the sheaths and had given them to Bigelow after passing them while both were detained at Hamilton Police Station.
"My guilt is having been used and having been a fool," Bigelow told the judge.
The story began on October 16 last year when Bigelow took a flight from Montreal to New York and on to Lima, Peru. He had a return ticket via the same route.
Police believe he had gone to Montreal to see the Canadian, but found he had already left for Peru.
Bigelow told Police that he spent a few days in Lima and eventually met the Canadian in a café.
They spent time sightseeing and then met a European, who, according to Bigelow's statement (which Det. Sgt. Norrell Hull, the head of the investigation, felt was mostly false), was down on his luck and "hustling women, coke and press cards, anything".
Bigelow said he bought some cocaine from the man for $100, and used some of it while in Lima.
The pair then prepared to leave Peru, but instead of flying back to Montreal via New York, they decided to go Panama-Bermuda-New York.
Bigelow told Sgt. Hull he wanted to spend a night in Bermuda because of happy memories during his honeymoon here 13 years ago.
"Absolute nonsense," is Sgt. Hull's view of that sentimental tale.
He believes there was a far different motive.
"If they tried to go straight from Peru to New York, the U.S. Customs would have been immediately suspicious because of the amount of cocaine getting into the States from South America," he said.
"By coming here they could miss their scheduled flight, and then get new tickets saying Bermuda and the destination, but which would not make any mention of South America."
That was just what the two men did.
They arrived late at night on November 5 and checked into the Castle Harbour Hotel.
The following day they went to the Airport where, according to their tickets, they were to catch a flight to New York.
They waited until that plane left, then went to the American Airlines' ticket desk and told the clerk they had missed it.
They said they wanted to catch a later flight to Boston and then on to Montreal.
With no reason to be suspicious the clerk issued new tickets which said simply Bermuda-Boston-Montreal.
Sgt. Hull thinks Bigelow managed to smuggle the cocaine into Bermuda, and then swallowed the three contraceptives before leaving Castle Harbour.
"Why he didn't swallow the other two sheaths containing the drug that were found is uncertain. Perhaps he'd had enough after swallowing three.
"Whatever the reason, he put a fourth between his buttocks and wrapped the fifth in a tissue which he put in his pocket.
"After getting new tickets the two men went separately through the check-in desk for the Boston flight and then to U.S. Customs.
"And it was there that the plan fell apart.
"The Canadian went first, and not being a U.S. citizen had to produce identification of citizenship. When he was checked by computer it was found he had drugs convictions and would not be allowed into the States.
"He began to complain and was taken away for questioning.
"That could have been a diversionary tactic to allow Bigelow to pass through unchallenged.
"The Canadian said he was travelling alone, but agents and Police at the Airport had seen the pair together.
"So, when Bigelow presented himself a short time later he was also taken for questioning.
"The Canadian stayed cool and said virtually nothing.
"But Bigelow panicked. He said he didn't have his passport, and lied about his travels.
"His passport was found, and with it the stamps which showed he had been to Peru.
"At that, Bigelow took the tissue-wrapped contraceptive from his pocket and tried to swallow it.
"The Customs and Police officers didn't know what was in the package – but they had a good idea.
"There was a struggle as they tried to get the bundle from his mouth, fearing that he would overdose.
"The contraceptive ripped and the officers tried to make him vomit to bring up the white powder. After getting what they could from his mouth they called an ambulance and before it arrived searched him, finding the other contraceptive between his buttocks.
"Bigelow was taken to hospital where he was kept overnight for tests. Doctors wanted to keep him in the following day but he demanded that he be allowed out.
Sgt. Hull believes he was desperate to get out of hospital because he knew he might pass the other three sheaths, of which the Police knew nothing.
"He would then have to hold on to them – he would not throw such valuable bundles away – and he knew he was likely to face another Police search.
"But he probably believed that if he got out of hospital he could be quickly dealt with for the fairly small amount of cocaine already discovered and be released with a hefty fine.
He was released from the hospital into Police custody and made a full confession to Sgt. Hull about the cocaine that was known about.
That night he was kept in Hamilton Police Station and the following morning made a brief appearance in magistrates' court.
He was remanded to Casemates. He had still not passed the sheaths by the time he was given the routine search on admission to Casemates.
But then he made his next mistake.
"Before leaving his cell to go for a medical check he told prison officer Gladwin Phillips that he was concerned about leaving his possessions in the cell. Mr. Phillips told him he would lock the cell and escorted Bigelow to the medical officer.
"After the [medical] check Bigelow asked to use a bathroom to freshen up and was given permission.
"Mr. Phillips waited outside and became puzzled when he remembered Bigelow's remark about his possessions, and thought he may have had money.
"But all his money should have been taken [from him] when he entered the prison.
"Mr. Phillips returned Bigelow to his cell and then called for another officer to help him search Bigelow for money.
"And it was during that search that they found no cash, but three, foul-smelling contraceptives that Bigelow had apparently just passed.
Albert Francis Bigelow II had taken a big gamble – and lost."
Just ten days before Christmas 1980 the (RG) reported that the travelling Court of Appeal had dismissed an appeal by Bigelow against his conviction and sentence describing it as "frivolous". They imposed a further jail term on him however for having appealed his case:
COCAINE CASE AMERICAN CITIZEN IS PUNISHED FOR FRIVOLOUS APPEAL
"In handing down their judgment, the three judges exercised their right to order that Bigelow's sentence of ten years begin to run from the date of conviction in February this year. That means Bigelow will serve three more months for appealing his case because his jail term had initially started in November 1979 when he was first arrested.
"The learned Solicitor General submits that this is a frivolous appeal; and with that submission, we agree," said the judges.
"It is only in exceptional circumstances that this court would increase a sentence of imprisonment."
"On the other hand, it is clearly in the interest of persons sentenced to terms of imprisonment to appreciate that Courts of Appeal have power to order that a sentence of imprisonment shall begin to run from the date leave to appeal is refused.
"This happens occasionally…. in cases where leave to appeal has been refused by the single judge, but the offender has persisted in seeking leave to appeal before the full Court.
"For these reasons, leave to appeal against sentence is refused, but the sentence shall run from the date of conviction."
Bigelow was convicted in February [1980] of importing and being in possession [on November 5, 1979] with intent to supply cocaine valued at $517,750.
Throughout a nine-day trial Bigelow maintained his innocence in spite of overwhelming evidence against him.
He applied with lawyer Toomas Ounapuu for leave to appeal against conviction and sentence, which was refused by Mr. Justice Robinson, exercising the powers of a single judge in the Court of Appeal.
Bigelow subsequently appealed to the three-judge court, and his appeal against conviction was dismissed, and the question of sentence reserved until yesterday.
"There are really no mitigating features in this case," said the judges in their written judgment.
"The appellant has previous convictions for drug offences; and the offences now under review were committed while he was on probation……
"It may well be that the appellant's decision to come to Bermuda and exchange air-tickets here had a two-fold object.
"Firstly, as Bermuda is a well-known tourist centre, Customs checks might be expected to be less rigorous than would be the case as regards a citizen of the United States returning to his homeland from Peru and Panama.
"Secondly, the exchange of tickets here would tend to have the effect of concealing from the U.S. Customs authorities, that the appellant had visited Peru and Panama.
"Moreover, the appellant has not given the Police any assistance in their fight against international drug trafficking, and he has shown not a shred of remorse for the serious offences of which he was unanimously found guilty.
"In a statement made to Police after his arrest, Bigelow said that on October 20 he left New York, where he lived, by air for Peru, where he met a Canadian Michael Reid, who, unknown to Bigelow, bought some cocaine in contraceptive condoms from a person in Lima, and that on November 5, he and Reid travelled to Bermuda.
"Bigelow admitted that he carried the cocaine into Bermuda. When he was about to be searched while his bags were being inspected by U.S. Customs officers on his way out to New York, Bigelow attempted to swallow two condoms containing cocaine. A total of 109.789 grams of cocaine was recovered.
"At the trial, it was urged that Bigelow was merely the courier, and that the other person was the brains behind the scheme.
But the judges noted that there was nothing in the evidence presented in support of this "Mr. Big" theory."
END
1979
Dec 20 – BA 747 flight; 88lbs. of cannabis discovered in the false bottom of a container from Jamaica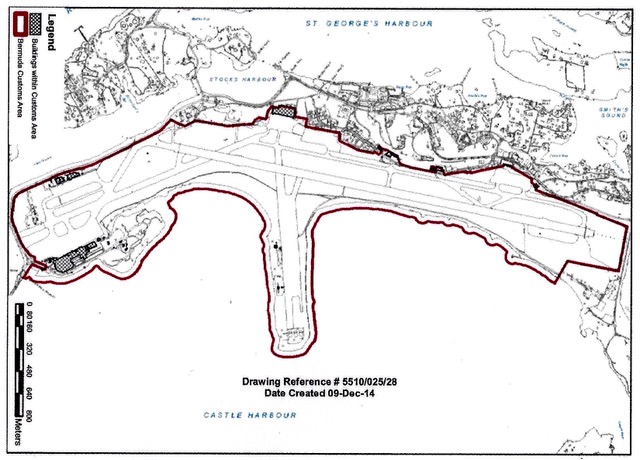 PLAN OF AIRPORT CUSTOMS ZONE
Showing an updated 1952 Schedule to The Revenue Act 1898
As can be seen the delineated customs zone at the airport is
extensive and includes all car parks and the waste management areas.
A wide-ranging interview by the (RG) with Commissioner Clark and myself just prior to Christmas spoke to a number of matters including the work of the (J.I.S.) The article was published on December 28, 1979:
JUNKIES START AT 12, SAY POLICE
"Children are now becoming hooked on drugs in Bermuda as early as 12-years-old.
The startling fact was revealed yesterday by the Police narcotics department which has received reports of young children sitting in their school classrooms in a drugged daze.
Said Detective Inspector George Rose, head of narcotics:
"Drug users here are 12 upwards. And it can be a natural progression to something harder. Cocaine, pills or heroin is often the next step."
Insp. Rose said that teachers should not try to protect children who they knew were using marijuana.
He warned: "It is not the best method." Teachers, parents and doctors should get in touch with the Police who would not necessarily bring charges, he said.
Police Commissioner L.M. Clark made it clear that it was the dealers they mainly wanted to catch.
"We want to put this scum, these dealers in death, out of business. Put them behind bars," he said.
Parents, he said, did not often recognize the symptoms of drug use. "We would ask parents to get in touch with us and we will take a look at the problem," said Commissioner Clark. "This does not mean that we will prosecute."
The use of drugs on the Island was causing great concern.
Mr. Clark said it was estimated that there were now about 70 addicts and 200 "casual" users of hard drugs. This, he said, was a high number out of a population. Because the problem was growing efforts were being made to step up action to combat it.
The new Importation Squad had managed to "get on top" of marijuana, and surveillance was being increased on drug users and peddlers.
A coordinator of addiction services was to be appointed by Government to work fulltime in conjunction with the Advisory Board on the Misuse of Drugs.
Commissioner Clark said that the three main drugs in use here were marijuana, heroin and cocaine.
An educational program was available for schools and drug squad officers would, on request, speak to pupils on the use of drugs. There was also available a film dealing with heroin addiction which, said the Commissioner, was "not a nice film".
All drug users known to the Police started on soft drugs. "I haven't met one who hasn't," said Insp. Rose.
Another alarming fact is that youngsters started using drugs after they had been given "free samples" by dealers. One addict was then likely to "turn on" four other people.
The more people the dealer could involve the more money he made.
The narcotics officer said that imported drugs were not always easy to detect. They came in by post, sea and air.
Occasionally large hauls were seized, as happened on December 20 when 88lbs. of "plant material" was discovered in the false bottom of a container on a flight from Jamaica. So far an arrest has not been made.
Insp. Rose said that the problem had worsened gradually rather than all of a sudden. "It is a daily battle for control," he said.
Dealers were making a fortune and were normally not drug users themselves. Most dealers here were known to the Police, but the necessary evidence was needed to get them to court.
Drugs were imported from places such as Amsterdam, London, Columbia, Mexico, Jamaica and the Bahamas. Ganja (cannabis) boats often used Bermuda as a stopping off point.
The Commissioner attacked lawyers who created "tales of fantasy" in court to get offenders cleared.
"They tell tales out of Alice in Wonderland" he said. "They also attack the Police because they have no defence."
Many drug users also stole to support their habit.
"They will do anything to get cash to buy drugs," said Mr. Clark. "They will steal stereo equipment valued at $3,000 and sell it for $300 – that's how desperate they are."
Drug users could get treatment at St. Brendan's Hosptial, but the narcotics officers believe that some form of counseling was really necessary.
The Commissioner offered this advice: "Users should get off the drugs the best way they can – otherwise they will die."
1980
Except where otherwise noted, the following listed seizures refer to the controlled drug cannabis and, with a few italicized exceptions, refer only to the BA flight originating in Jamaica through Bermuda to London during the years 1980 – 1981.
It might also be useful to remember that 28 grams equals one ounce.
On January 25, 1980 the (RG) wrote:
SUCCESS FOR DRUGS POLICY
"The improved liaison between Police and Customs officials was having a marked effect on the amount of marijuana entering Bermuda, Police Commissioner L.M. Clark said yesterday.
"In October last year a six-man drug team made up of Police and Customs officers was formed and Mr. Clark said that they had successfully limited the large quantities of marijuana which had previously been coming in through the Airport.
"A year ago you had a large number of passengers attempting to import the drug in false-bottom suitcases and that sort of thing. With the drug importation team in operation, that does not happen anymore. The smugglers' are having to bring in marijuana in other ways, and they are finding it difficult."
"Arrests for drug offences continue with seven people charged during the past week. Of these, six were Bermudians and one an American."
1980
Jan 31 – BA 747 flight; 4½ lbs. loose in the hold; 15¾ lbs. concealed in food modules
Feb 11 – Air Canada flight; 9½ lbs. found in an unclaimed package
Feb 17 – BA 747 flight; 24 lbs. found loose inside false jacket lining hanging in hold
Feb 24 – BA 747 flight; 17¼ lbs. found taped on top of luggage igloo
Feb 29 – BA 747 flight; 14 lbs. eleven loose packages found in rear hold
Mar 2 – BA 747 flight; 27 lbs. concealed in false strut of wooden pallet
On March 4, 1980 the (RG) specifically reported on the last two sequential seizures listed above (those of Feb 29th and March 2nd) when they wrote –
B.A. FLIGHTS YIELD HEFTY DRUGS HAULS
"……. the drugs squad officers had seized a total of 41 lbs. of marijuana in the preceding week from two separate BA Jumbo Jet 747 flights from Kingston, Jamaica."
1980
Mar 13 – BA 747 flight; 213 grams taped to the bottom of trash bin in 1st class cabin
Mar 25 – On this date in 1980 J.I.S. officers went to the fright sheds at the Civil Air Terminal where they inspected a box which was found to contain six glass "head hitters"; six Indian peace pipes; six kits containing six bottles with plastic spoons, razor blades and glass tubes attached; 12 phials with spoons attached; 24 cigarette cases; two cartons of cigarette manufacturing machines and five cases of cigarette holders "fit and intended for use in connection with the misuse of a controlled drug".
The matter proceeded to court as a 'test case' in Hamilton Magistrates Court when the evidence was reported in the (RG) on Monday, August 18, 1980 as follows:-
HOSE PIPES AND GLASS HEAD HITTERS FOR MISUSE WITH DRUGS
"A local businessman who imported a number of items from a New York catalogue company, including cigarette cases, hose pipes, and glass head hitters, was found guilty of importing items fit and intended for the misuse of drugs.
"The accused, Clifford Alfred Burgess, had cleared the goods through Customs and was in the process of unloading the goods from his truck when Customs officers approached him and charged him with the offences.
"Burgess told the officers he had not known it was illegal to import the items.
"He had in his possession six pipes used for smoking cannabis; six hose pipes which could be used by two people simultaneously; six glass head hitters; five trays of cigarette holders; 24 cigarette cases; 12 cocaine kits and some kits with razor blades intended for the use of heroin and cocaine. All were new and unused.
"Told that goods would be confiscated, Burgess said: "I can understand the cocaine kits and pipes but not the papers. If you take the papers from me you'll have to take the same from Mr. McPhee."
"Burgess, who operates three retail businesses on the Island, had intended to market the goods at one or more of his shops and it could not be said that they were all for his own personal use, the Court heard.
"Magistrate, the Wor. Gerald Price noted that it was an offence under the misuse of drugs act to have any pipes, equipment or apparatus fit and intended for the misuse of drugs.
"Even a simple box of matches might come within this category. But it's all a question of fact or degree," he said.
"When one or another of the items is seen in isolation the answer would be inate. But seen together in totality, there is no doubt these instruments were fit and intended for the misuse of drugs. The Act is a formidable piece of legislation which might be described as a 'tough act' designed by Parliament to stamp out the ever-growing cancer of drugs," Mr. Price added.
"However in other cases before the Courts in the past there had been actual evidence that the equipment had been used. There was no such evidence here.
"Mr. Price said he believed that the accused acted openly and was "genuinely oblivious" to the fact that importation of the items was an offence.
"But ignorance of the law is no defence," he commented.
"Lawyer Mr. Charles Vaucrosson, then pointed out that the matter was a test case.
"Whether the goods should have been sent back and whether legislation should be passed to prevent goods like this coming into the Country, has not been established," he said.
"The goods could have been sent back by Customs but instead my client paid duty on them.
"I would ask that you not hold my client as a guinea pig in this matter," he added.
"Mr. Price took into account that Burgess had no previous convictions involving drugs and pointed out for this sort of offence he could be fined a maximum of $5,000 or three months or both.
"He fined him $1,000 and gave him two weeks to pay.
"But you have to refund my client the credit – my client must get his duty he paid on the items," Mr. Vaucrosson interrupted.
"He was told that Mr. Burgess had lost out on that matter."
Inevitably, a later appeal against conviction adjudged by the travelling Court of Appeal resulted in a finding against Burgess.
JUDGES DENY PIPES DEAL
"Clifford Alfred Burgess lost his appeal to the Court of Appeal against conviction for possessing "drug paraphernalia."
"Burgess was sentenced to $1,000 fine or three months in default of payment.
He appealed unsuccessfully against the conviction in the Supreme Court.
"On March 25 or 26, 1980, a Customs officer, together with Police officers, went to the freight sheds at the Civil Air Terminal. A box containing various goods was inspected. It contained six glass "head hitters"; six Indian peace pipes; six kits containing six bottles with plastic spoons, razor blades and glass tubes attached; 12 phials with spoons attached; 24 cigarette cases; two cartons of cigarette manufacturing machines and five cases of cigarette holders "fit and intended for use in connection with the misuse of a controlled drug".
"Said the court:
"The charge is therefore concerned only with articles 'fit' and 'intended' for use in connection with the misuse of a controlled drug."
"Some of the articles discovered were found not to be within the ambit of the charge – others were not. The box, with its contents, was addressed to one of the businesses operated by the appellant.
"A short while later the appellant arrived. The Customs officer indicated to the appellant the contents of the box and said they could possibly be used in connection with the misuse of drugs. The appellant made no reply.
"That was the end of the matter at that time, but on March 28, the Customs officer, with members of the narcotics squad, went to the appellant's business, saw the same box and contents and seized the goods.
"Appellant replied:
"I can understand the cocaine kits and pipes, but not the papers. If you take the papers from me you have to take the same from Mr. McPhee."
"The papers were later returned and were not connected with the case.
"The magistrate took note that the appellant had, himself, referred to his knowledge that some of the items in question were connected with cocaine.
"Sgt. Norrell Hull, a narcotics squad "expert", gave detailed evidence concerning the design and use of such paraphernalia. All exhibits were, however, new and had not been used in connection with ingestion of controlled substances.
"Court also held there was no question that any of the articles were for the defendant's personal use, but were to be marketed.
"In an unsworn statement, Burgess said he had ordered the paraphernalia from a catalogue issued by a New York Company. He said he did not know it was against the law to import such articles.
"The Court went into considerable detail to define the words "fit" and "intended" since many articles in daily, legal, use can also be subverted to illegal ends. But, the Court remained of the opinion that possession of the items for which Burgess was charged constituted possession of items "fit" and "intended" for use in connection with the misuse of a controlled drug.
"This finding was irrespective of the "actual intention of the person who has it in hads possession".
"On the evidence, there is no doubt that (Burgess) knew they were in his possession and what they were for. It follows that he was properly convicted on the charge laid against him.
"Accordingly, the appeal is dismissed."
1980
Mar 28 – BA 747 flight; at Hamilton Post Office; 4 lbs. found in two registered parcels
Apr 24 – BA 747 flight; 16 lbs. concealed inside hollowed-out pumpkins
May 16 – BA 747 flight; 5½ lbs. found inside false jacket lining hanging in cargo hold
May 22 – BA 747 flight; 4 lbs. in 4 parcels beneath a refrigerator module on wheels.
May 27 – G.P.O.; 6 lbs.9½ oz. from Jamaica concealed in parcel of used clothing
It was at this point in time that British Airways changed the aircraft used on this route from the Boeing 747 Jumbo Jet to that of the wide-bodied Lockheed L-1011 TriStar. As you will read, the drugs smugglers didn't miss a beat as they continued their illicit trafficking:
June 2 – BA L1011 flight; 24 lbs. found inside unclaimed suitcase
June 8 – BA L1011 flight; 45 lbs. in packages concealed in boxes of mangos
June 19 – BA L1011 flight; 23 lbs. found in suitcase stolen off a jitney by ramp worker
In mid-June His Excellency the Governor the Hon. Sir Peter Ramsbotham saw fit to congratulate members of the Bermuda Narcotics Section in the following manner:
24th June 1980
To: D / Inspector G. Rose & Members of Narcotics Section
From: Acting Commissioner
Subject: EXPRESSION OF GRATITUDE FROM H.E. THE GOVERNOR
His Excellency the Governor has asked that his admiration, appreciation and congratulations be extended to you and your staff, for the splendid work which the Section is doing in relation to contraband drugs.
It was his view, and expressed opinion of several members in the community with whom he has been in contact, that the constant and systematic attack by the recently formed Police / Customs Importation Squad was bearing fruition.
His Excellency asked that all officers be informed of his comments and wished them well in their future endeavours. Needless to say, I associate myself with his comments which are a credit to you and the Service generally.
Well done.
A / Commissioner of Police
1980
June 26 – BA L1011 flight; 56¼ lbs. concealed in parcels within H.M. postal bags
June 29 – BA L1011 flight; 17 lbs. in suitcase concealed in igloo containing mangos
An editorial in the (RG) in early summer 1980 opined:
NOW 'HARD' DRUGS HIT THE STREETS
"Bermuda has been "flooded" with heroin following a successful Police crack-down on cannabis importation, according to informed street sources.
"Lack of readily available cannabis had led to high demand for "hard" drugs, even by school children, they claim.
"Senior Police officials, however, say there is no indication that the number of casual users of hard drugs was on the increase. But concede that hard drugs are available because they are more easily concealed than bulky "soft" drugs.
"Said Assistant Commissioner of Police Ian Morrison: "Narcotics officers and customs officials have intercepted a considerable quantity of cannabis. Hard drugs are available as their bulk, as opposed to cannabis, makes detection more difficult."
"And Deputy Commissioner Frederick Bean agreed, saying that although Police policy was to go after all drugs, whether cannabis or heroin, it "is a fact that cannabis is more easily detectable."
"Sources who spoke to the Royal Gazette said that many schoolchildren who had nothing to do this summer would soon be getting hooked on heroin. And a man who asked not to be identified warned:
"Nobby (Police Commissioner L. M. Clark) has finally succeeded in his goal of stopping nearly all the grass arriving in Bermuda. Now he is going to be in for another problem – heroin and perhaps trouble."
A woman who lives in Court Street, Hamilton, said: "Every time I come home now I see these junkies nodding out on my doorstep. "That's all there is around The Block now – junk. I don't know what the cops are trying to prove."
"However, Mr. Bryant Richards, Government's drug addiction social worker, said yesterday: "I have not, as yet, received any indication that a lot of young school-kids are turning to heroin. But then again I may eat my words in six months. I am just having to keep my eyes open."
Mr. Richards estimated there were between 150-200 heroin addicts in Bermuda.
He tried to speak with as many people involved with drugs as possible and that included pushers. He said: "Some tell me that there is no way they would ever sell (heroin) to young kids but then some others say they would.
"We do have a serious drug problem in Bermuda although it is not epidemic. But if we don't do something about it it will be."
"Many students, off for the summer, spent their time around Court Street but that did not necessarily mean they were taking drugs.
"But some are and we may lose a few this summer," he warned.
"Asked if he thought the Police should ease up on cannabis, he replied: "No. If we don't go for all drugs we will be defeating our purpose which is to have the least amount of drugs possible in Bermuda."
But a middle-aged resident of the St. Monica's Mission area said: "These kids are going to do something whether it be grass or the hard stuff.
"When they were just smoking they were alright, if you know what I mean. But now some of them are starting to stick needles in their arms – that is really bad.
"I don't agree with these youngsters smoking the weed but the way things are going I would prefer to see them on that than on heroin – and there's plenty of that around now."
Seizures continued without respite with the Bermuda Sun reporting on July 4, 1980.
$¾ MILLION DRUG SQUAD SEIZURES SINCE END OF JANUARY
" – that the police had seized shipments of cannabis worth more than three-quarters of a million dollars since the end of January and drugs squad intelligence reports suggest that the drug is now in very short supply."
An (RG) Editorial in early July 1980 stated the following:
DANGEROUS DRUGS
"Police have had enormous success in cracking down on the importation of marijuana since the reorganization of Police services at the Civil Air Terminal. Figures published yesterday indicated that they have seized 316 pounds of marijuana since the end of January, with a street value of $790,000.
[This total haul of 316 lbs. at the 1980 price, is worth around $2,500 a pound. The drug could be bought then in Jamaica for between $200 and $300, depending on the quality].
"This is coupled with constant reports that the supply of marijuana on the streets has virtually dried up. The days when one could easily see people pushing little envelopes on the streets of Hamilton appear to be over.
"However that is not to say that the problem is over because there is enormous profit in the sale of drugs and as long as that profit exists there will be people willing to take the risk involved in obtaining it.
"It is also noteworthy that despite the detection of large caches of illegal drugs there have been relatively few people charged with either sale or importation of large quantities.
"We are disturbed by reports that while the supply of marijuana has been dried up there is a plentiful supply of heroin and cocaine around and that these drugs are being strongly pushed on the streets to those whose "grass" supply has disappeared. We assume that hard drugs are the killers. They are physically and socially more dangerous and destructive.
"It should be clearly understood that we do not support the importation or sale of marijuana in any way and that we support the law as it pertains to marijuana.
"However we do feel that in the wake of a massive and apparently successful campaign to dry up the marijuana supply there should be a campaign against hard drugs. Hard drugs, because they are so much less bulky, are more easily smuggled into Bermuda.
"Thus detection may not be the whole answer.
"Coupled with the lack of marijuana there should be a concerted effort to warn of the dangers of hard drugs. If this is not done, if education is not readily available and actively promoted, Bermuda may run the risk of taking people off marijuana and putting them on heroin.
"While we have seen very little evidence that use of soft drugs in itself leads to the use of hard drugs, any more than the use of alcohol leads to alcoholism, we do think that experimentation with hard drugs leads to drug addiction. We are worried that without intense education there are people who, deprived of cannabis, might turn almost accidentally to the much more addictive hard drugs.
"It could be all too easy for pushers to say: "Just try a little coke," or "Just try a little heroin," and before we know it we could have a rapidly increasing number of heroin addicts.
"Prohibition in the United States demonstrated that people deprived of alcohol turned to drinking the most extraordinary things. It could well be that there are a number of people who are now content with marijuana but without it will be tempted to turn to harder killer drugs which are apparently available.
"Therefore we must urge greatly increased efforts to emphasize the dangers of hard drugs and to stamp out the sale and importation of those drugs before we solve the marijuana problem only to find ourselves faced with a much greater and more dangerous threat".
1980
July 22 – Eastern Airlines; 3¾lbs. concealed in unclaimed suitcase
July 31 – BA L1011 flight; 3¾ lbs. found in suitcase with false lining
Aug 28 – BA L1011 flight; 3 lbs.10 oz. found in three packages in rear cargo hold
Aug 28 – BA L1011 flight; 3lbs.total –1lb. 3oz. concealed in false bottom of suitcase which contained 1lb. 6ozs. in a portable radio and 7ozs. in shoes with false bottoms
Aug 29 – BA L1011 flight; 4½ lbs. in 6 packages concealed in false bottom of suitcase
The above seizure led to the arrest, trial and conviction of a local Rastafarian who had his own story to give to the Chief Justice and Supreme Court jury in May, 1981.
MAN PLEADS HIS OWN CASE
"A 37-year-old Smith's Parish man who was unrepresented by a lawyer at his Supreme Court drugs trial yesterday had to be guided by the Chief Justice, the Hon. James R. Astwood, when he questioned prosecution witnesses.
"Before Allan Smith of Harris Bay began examining prosecution witness Gordon Phillips, a special customs officer, [J.I.S. team] the Chief Justice told him:
"I have to guide you so that you get a fair trial."
"Earlier he told Smith that unrepresented defendants place a "terrific strain" on him because he has to act as judge and defence lawyer.
"Smith stands accused of the importation of cannabis and possession of cannabis with intent to supply. The marijuana that he allegedly imported to Bermuda last August 29 weighs four and one-half pounds and has a street value of $9,000, Crown Counsel Miss Elizabeth Arfon-Jones said.
"The court heard that Smith arrived in Bermuda from Kingston, Jamaica, on the British Airways flight last August 28.
"Phillips testified that he had searched a white shoulder bag Smith was carrying.
"In the shoulder bag, there were traces of plant material," he said.
"I conducted a personal search – a search of Smith's person. This search proved negative."
"The Customs officer continued that he asked Smith where his luggage was.
"He said," Phillips remarked, "that it had been lost and it was going on to London and it should be returned the following day. I recorded the baggage tag number of Smith's bag and I handed the number to the principal Customs officer, Geoffrey Butler Durrant. I asked him could the bag be searched when it returned."
"The court later heard that a search of Smith's suitcase, which arrived the next day, by principal Customs officer, Mr. Ivan Swan, turned up the six packages of marijuana, concealed in a false bottom.
"Smith later denied ownership of the bag and said that it could not be proved that he was ever in possession of it. He also questioned the validity of the analysis and asked Government Analyst Elaine Watkinson if she had ever "smoked, drank or eaten herb".
"Smith said that even if the claim tag numbers matched on the bag and his ticket, the cards were not the same colour.
"Smith asked Crown Counsel Miss Elizabeth Arfon-Jones if it were not possible that [the] bag with the false bottom had been substituted for his in London.
"Smith was arrested at the Airport to which he had returned to pick up his suitcase. As he questioned Phillips, the Chief Justice advised Smith to keep his questions to the point.
"I know you fellows tend to be long-winded," the Chief Justice said.
Smith explained: "I may not know the jurisprudence but I am trying to bring out the understanding of this thing".
He asked Phillips why he did not arrest him when he found traces of plant material in his shoulder bag. The Customs officer replied that the amount of plant material was insignificant. "It was doubtful we could get a proper analysis," he added.
"Later Smith earned praise from the Chief Justice, who told him that he had done "pretty well in his questioning".
Legal arguments advanced by Miss Arfon-Jones, in the absence of the jury, took place in the afternoon. The trial resumes today.
RASTA MAN JAILED FOR SIX YEARS
"A self-styled Rastafarian missionary who conducted his own defence went to prison for six years yesterday – after blessing the Supreme Court Judge on his way out of the courtroom.
"May the Lord bless you, Mr. Astwood," said Allan Smith, 37, of Harris Bay, Smith's, who was convicted of importation and possession with intent to supply of four-and-a-half pounds of cannabis.
"Before being sentenced Smith asked Bermudians to try to understand the Rastafarian way of life.
"Rastafari or no Rastafari, you must obey the laws of this country while you are in it," said Chief Justice the Hon. James Astwood.
"Smith was released from prison for importing cannabis only three months before committing the latest offence.
"The Court heard that on August 29 last year Smith brought into Bermuda six packets of plant material concealed in the false bottom of a suitcase.
"He had gone to Jamaica with food and clothing which he exchanged for the drug with flood victims there. On his return, he was searched at the Airport. Traces of plant material were found in the shoulder-bag he was carrying.
"Customs Officer Gordon Phillips testified that the traces were negligible and Smith was released. He returned the next day to retrieve a red suitcase which had gone to London by mistake. It was during a search of this bag that the drug was found.
"Detective Sgt. Eustace Farley said that Smith was arrested and admitted under caution ownership of the bag. He said that [he] was going to exchange the "herb" for money to take care of his family."
1980
Sept 1 – unrecorded flight; 5 oz. of cannabis resin concealed in book covers
Sept 7 – flight from U.S.A.; 53.9 grams of cannabis; 750 LSD tabs concealed on person
The above seizure and arrest of a U.S. Navy serviceman is outlined in (RG) press reports below at his Supreme Court trial in mid-May 1981:
NAVY MAN IS CHARGED WITH IMPORTING ACID
"An American serviceman hid 750 LSD tablets in his underpants in an alleged bid to smuggle the drug into Bermuda, the Supreme Court was told yesterday.
"Charles Bason was also accused of possessing LSD with intent to supply, importing cannabis and obstructing Police officers.
"Bason, of the U.S. Naval Air Station, denied all four charges claiming that Police planted LSD on him.
"The alleged offences happened last September when Bason arrived at the Civil Air Terminal on a flight from the United States. Narcotics squad officers were waiting for him and he was followed through Immigration control to the Customs clearance area where he was stopped by Det. Sgt. Stanley Hill [of the J.I.S.]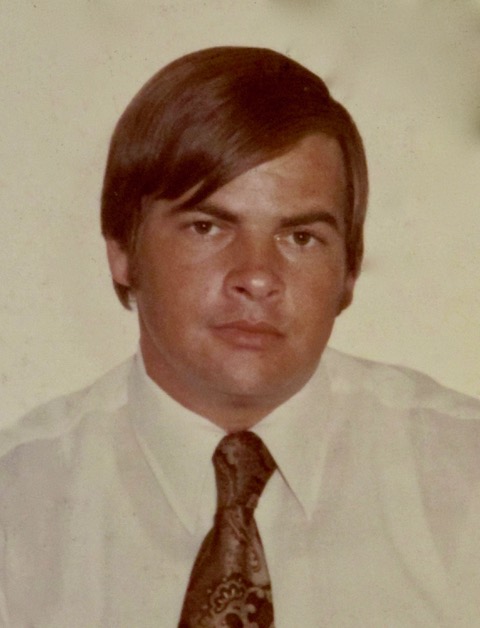 Detective Sergeant Stanley Hill
Team Leader Joint Importation Squad
"I informed him that I was in possession of certain information that he was carrying illegal drugs and it was my intention to search him," said Det. Sgt. Hill.
"As they started to walk, Bason, he said, ran off towards the exit. Another officer Det. Con. Pett [of the J.I.S.] grabbed hold of him and the two men fell struggling to the floor.
[Recalls "Moby" Pett some 40 years later, I identified and followed Bason from the plane, and in the airport he pushed Stanley Hill and ran off. I chased after him and managed to grab hold of the camera strap over his shoulder. I pulled him down to the ground and handcuffed him.]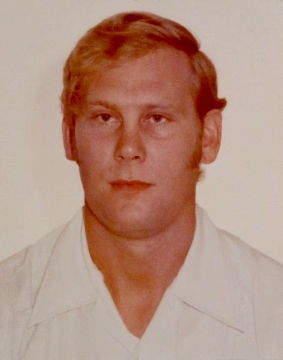 Detective Constable Maurice 'Moby' Pett
Member of the Joint Importation Squad
"With the help of Det. Sgt. Hill and a third officer, Bason was handcuffed and taken to the Airport Police office, where he was body-searched.
"I removed his underpants down to his knees and a plastic bag containing plant material and two homemade cigarettes fell to the floor," said Sgt. Hill.
"Two pieces of folded tin foil also fell to the floor."
"The tin foil was later found to contain 750 microdot tablets of LSD which Narcotics officer Det. Cons. Pett estimated had a street value of $7,500.
"The plastic bag contained 53 grams of cannabis.
"In an unsworn statement from the dock Bason said:
"I did not attempt to bring any pills into Bermuda nor were any pills found in my possession."
"While he was waiting to be taken to Hamilton Police Station after the plant material had been found two of the four Police officers left the interview room, he said.
"It was then that Det. Sgt. Hill asked the remaining officer 'What was that on the floor?' The officer's reply was that it had been lying there.
"Officer Hill said to check it anyhow.
"The officer picked up the pieces of foil and Det. Sgt. Hill pushed them in front of Bason's face.
"I said, 'You just heard what he said, that they have been there and Sgt. Hill's words were, 'Well, who do you think will believe you'."
"Crown Counsel Mr. Andrejs Berzins pointed out that Bason had offered no explanation about the cannabis or about running away and obstructing the Police officers.
"Three officers said that they saw the foil and the cannabis fall to the floor. If you accept the evidence of the accused then you have to say that the Police officers were making this up."
"Mr. David Kessaram, defending, pointed out discrepancies in prosecution evidence.
"Det. Sgt. Hill had said there were four officers in the room while Bason was searched but the other Policemen said there were only three.
"There was also a discrepancy about the exact time when the pieces of foil were picked up off the floor.
The case continued the following day on May 12, 1981.
'LUCKY' SERVICEMAN JAILED FOR 3 YEARS
"An American serviceman, jailed yesterday for three years for importing cannabis, was told he was a "lucky man" by a Supreme Court Judge.
"Charles Bason, 23, who had no previous convictions, was also jailed for six months to run concurrently for obstructing Police officers.
"But the jury failed to reach a verdict on two other drugs charges – importing 750 LSD tablets and possessing LSD with intent to supply.
"Bason, a hospital orderly at the U.S. Naval Air Station had denied all the charges.
"The jury retired for more than two hours yesterday morning to consider its verdict. It returned shortly before 1 p.m. to ask the Chief Justice the Hon. James Astwood what "reasonable doubt" meant.
"After he had explained the term, the jury's forewoman said that the jury had reached a unanimous guilty verdict on the cannabis and obstruction charges but found it impossible to agree on the alleged LSD offences.
"The Chief Justice ordered a retrial and he decided to go ahead with sentencing on the two proven convictions despite a protest from prosecuting counsel Mr. Andrejs Berzins.
"With Bason close to tears in the dock the Chief Justice told him: "You have been a lucky man."
Mr. David Kessaram, defending, said in mitigation that there was no indication that Bason intended to sell the cannabis.
"He is a man of absolutely clean record," he said. "This matter has been hanging over his head since September and he has suffered anxiety requiring psychiatric treatment.
"I believe there is also the possibility of administrative action on the Naval Base in regard to this matter. He may be forced to leave Bermuda and the service and he may have to start building his career again."
On July 1, 1981 the Court of Appeal judges slashed the three-year prison sentence imposed on Bason for importing cannabis.
JAIL TERM FOR DRUG OFFENCE IS REDUCED
"The judges ruled that the sentence given to Charles Bason, a first offender, was excessive and reduced it [to] a one-year jail term.
"A six-month sentence for obstructing Police was confirmed.
"The judges pointed out [that] the amount of cannabis involved was small and was for personal use rather than profit. They noted the Crown's argument that jail sentences serve as a deterrent to drug smugglers.
"Even if this policy is accepted the duty remains of ensuring that the term imposed meets the circumstances of the case," said the judges.
"The imposition of imprisonment on a first offender is a particularly harsh punishment. Indeed, in many jurisdictions sentencing officials are required to resort to it only as a last resort. Curbing the traffic in drugs does provide a legitimate reason for using this deterrent".
"The judges, Sir Alistair Blair-Kerr, Professor Telford Georges and Sir James Smith also noted that the appellant also obstructed officer.
"Taking that into account he would be adequately punished with a term of one year's imprisonment," they said.
The offences were committed at the Civil Air Terminal on September 7 last year. [1980]
NAVY MAN'S L.S.D. APPEAL DISMISSED
"The Court of Appeal has dismissed the appeal of U.S. Navy hospital corpsman, Charles Eric Bason, against a four year sentence for importation and possession with intent to supply of lysergide acid (L.S.D.)
"Bason, a seaman first class, had been sentenced on May 12, 1981, to three years imprisonment for importation of cannabis. During the same trial, Bason received six months for obstruction of a Police officer.
"However, both L.S.D. counts caused disagreement among jurors and Bason was not convicted.
"On appeal, Bason's three-year sentence was reduced to one year which was ordered to run concurrently with the six months conviction for obstruction.
"The Crown then retried the U.S. serviceman on the two L.S.D. counts and he was sentenced, September 10, to four years imprisonment on each L.S.D. charge, to run concurrently.
"An appeal for reduction of these sentences was denied yesterday, but the Court clarified that Bason's four year concurrent sentences on retrial were to run from May 12, 1981, the date he entered prison on the original convictions, rather than from September 10, the date of sentencing following retrial.
"Charles Bason flew in to Bermuda from New York…..and was apprehended by a Police officer on arrival and informed Police had information he was carrying controlled drugs………
"The Court noted that possession of L.S.D. is a more serious offence than possession of cannabis, "and, if an accused person is found guilty of possessing L.S.D. for supply, the Courts will normally take a serious view of the case".
Defending Bason, Mr. Michael Mello told the Court of Appeal that Bason had no previous convictions. He is an American, "working at the base".
"As a result of his convictions and sentences, Mr. Mello submitted, Bason would be considered by the U.S. Navy as "absent without leave" during the period of his imprisonment and liable to discharge from the navy under an "other than honourable" clause; disqualified in that event from serving in the U.S. armed forces, or civil service; and liable to forfeiture of any accrued benefits from his service in the U.S. Navy.
"The Court said there was no evidence as to these matters, but they are a matter of public record in the United States – normal naval policy.
"However, the Court, granted, "it is well-known that a prison sentence may well have adverse consequences as regards (a) person's continued employment and job prospects".
"The Court then clarified the date from which Bason's sentence should run but as to the Appeal for reduction of sentence stated:
"Four years imprisonment is a very proper sentence for importing and possessing for supply, the drug L.S.D."
Regardless of the fact that there was no actual policy to crack-down on soft drugs, an (RG) Editorial on 'Vigilantes' dated September 12, 1980 opined as follows (in part) –
THE POLICE AND COURT STREET
"……. The Royal Gazette did warn that with the intense crack-down on soft drugs there would be serious problems if people began to turn to the hard variety with their much greater dangers. People on hard drugs must steal to support a very expensive habit, and anything which tends to place people in danger of hard drug use is a mistake.
"The campaign against drugs should have been a total campaign and a lopsided campaign against soft drugs is not only counter-productive but destructive. If we are correct in our theory and people are turning to hard drugs because soft drugs are not available, then the Country is in for serious problems……….."
1980
Oct 13 – BA L1011 flight; 4 lbs. taped to flight recorder box in rear hold
Oct 13 – BA L1011 flight; 12lbs. G.P.O. in Postal Packet
Oct 19 – Flight from Boston; 4lbs. cannabis in female passenger's luggage (not
retrieved)
This importation and arrest of an American female led to the seizure of a conspiracy investigation involving Bermudian players. Details of the unusual case are illustrated, in part, below:
The (RG) Wednesday, November 12, 1980
THE DARK AGES ARE RETURNING, CLAIMS LAWYER
"Bermuda is slipping back into the Dark Ages when Police officers give legal advice to accused people, lawyer Julian Hall has claimed.
"When a Police officer gave such advice to an accused person, it was "an assault on the administration of justice" Mr. Hall added on Monday while appealing the conviction of young American Amy Levine.
"She was sentenced to 18 months in prison on October 21 after pleading guilty to importing cannabis, supplying cannabis and conspiring to import cannabis.
"Levine, 21, of Massachusetts, was told by narcotics department head, Inspector George Rose, that she would only be fined if she pleaded guilty to importing and supplying four pounds of cannabis, claimed Mr. Hall.
"Mr. Hall told the Chief Justice, the Hon. James R. Astwood, that the young American, not knowing Bermuda's laws, especially in relation to cannabis, was terribly frightened and as she had told him "would tell them what they wanted to hear so they would let me leave the country".
"In laying out the facts as presented by the prosecution to the Senior Magistrate the Wor. Richard Hector on October 21, Mr. Hall said that Levine arrived in Bermuda on October 19 and attempted to leave the Island the following day.
"She was stopped at the Airport [at her departure on October 20] and when she was about to be subjected to a personal search, she freely produced four "joints" of cannabis. She was then searched and two bundles of money turned up – one totaling $450 and the other $1,800. The bundle of $1,800 Levine claimed she had never seen.
"In her statement to the Police, said Mr. Hall, Levine said that she had brought four pounds of cannabis into Bermuda and that she gave it to two men who gave her $1,800.
"Mr. Hall then noted that the four pounds of drug had never been produced in evidence.
In an affidavit given to Mr. Hall, after she was sentenced, Levine said that she had come to Bermuda to pick up $2,300 for a friend, Linda, who was taking examinations in Boston.
"The money was owed by a man called Orlando. "She merely looked at coming down here to pick up the money as a free trip," said Mr. Hall.
"When arrested at the Airport [as she was about to leave] Detective Constable Hamilton kept saying that if she cooperated and admitted importing cannabis "he would see what he could do about getting her back home".
"Mr. Hall said that the accused thought that she could leave the next day and the only reason she admitted bringing in cannabis was so that she would be allowed to leave the country.
"My client by this time was crying and hysterical," said Mr. Hall.
"When Levine went to magistrates' court she originally pleaded not guilty to the drug charges. But, claimed Mr. Hall, Insp. Rose went up to her after she left court and told her that if she had pleaded guilty she "could be on a plane back home".
"Mr. Hall also claimed that Insp. Rose told her she would only have to pay a fine if she pleaded guilty.
"Levine, a short time later, returned to court and pleaded guilty to the drug charges and was sentenced to 18 months in prison.
"Mr. Hall said that Levine did not have the benefit of a lawyer during her time in Bermuda and that if "this lady had pleaded not guilty it was highly likely that she would have been acquitted".
"Crown Counsel Miss Elisabeth Arfon-Jones, prosecuting in the magistrates' court case, said that when Levine pleaded not guilty to the charges she advised her to seek legal advice. She said that when Levine came back to court to plead guilty she "was pale and shaking uncontrollably".
"Insp. Rose told the court that he did not tell Levine that she would probably be able to leave the country if she pleaded guilty to the charges. He said: "When she asked me if she would go to prison (if she pleaded guilty), I told her that she probably would.
"I also asked her if she wanted to see a lawyer."
The hearing continued the following day:
JUDGE BELIEVES ACCUSED WAS MISLED
"Chief Justice the Hon. James R. Astwood yesterday ordered that an American woman be retried on a series of drug charges. And he told the Supreme Court that he believed Amy Levine had been misled into pleading guilty to charges of importing, conspiring to import, and supplying cannabis.
"Levine, of Massachusetts, was jailed for 18 months after admitting the offences in magistrates' court on October 21.
"But at an appeal hearing on Monday, her lawyer, Mr. Julian Hall, told the Supreme Court that she had not been legally represented at the original hearing. Levine had been completely unfamiliar with Bermuda's courts, and her only advice had been supplied by a prison officer and Police officers.
"She had also been extremely upset when she appeared in court, and had not been in a fit state to appreciate the nature and the gravity of the charges put to her.
"In his judgment yesterday, the Chief Justice said that he accepted Mr. Hall's submission.
"I am not certain that she appreciated the evidence against her in support of these charges. In my opinion, she was misled, unwittingly, by those persons with whom she came in contact."
"He said that he felt Levine's pleas were equivocal and therefore would allow the appeal.
"In my view, justice has not been done in this case up to now and, therefore, in view of the irregularities which appear to me to have taken place in the handling of the case, in the sense that she was not given a reasonable opportunity to prepare her defence, nor a reasonable opportunity to make up her mind whether to consult a lawyer or not, and in view of the fact that it does not appear from the record that she appreciated the nature and gravity of the offences nor were they properly and adequately explained to her, I allow the appeal ……."
"Levine was released on bail of $1,000, on condition that she report to Hamilton Police Station daily. She was remanded to appear in magistrates' court ……….
At a new trial date of February 24, 1981 the (RG) reported as follows:
VISITOR'S CASH 'WAS FROM DRUGS DEAL' MAGISTRATE HEARS
"A 21-year-old American woman yesterday pleaded guilty to three charges connected with an alleged conspiracy to import cannabis into Bermuda.
"Amy Levine, of Massachusetts, is charged with conspiring with Orlando Givens, Mark Jones and Linda Brown to import cannabis into Bermuda, importing the drug and supplying it.
"Givens, of Warwick is also in the dock, charged with conspiring to import cannabis.
"Levine originally appeared in magistrates' court on the three charges last October, when she admitted the offences and was jailed for 18 months.
A retrial was later ordered by the Chief Justice.
"Crown Counsel Mr. Ian Kawaley, prosecuting, told magistrates' court yesterday:
"The prosecution alleges that between October 1 and October 20 the defendants Levine and Givens entered into an agreement with Linda Brown and Mark Jones for the importation of a quantity of cannabis into the Island of Bermuda. The agreement was to the effect that the cannabis would be supplied to Givens and Jones."
"Mr. Kawaley said that Levine arrived in Bermuda on October 19, and passed through customs with about three pounds of cannabis hidden in her luggage. She was taken to Givens' house, where she handed the cannabis over.
Levine was arrested when she attempted to leave Bermuda the following day.
"Wpc. Clara Saunders told the court that she was on duty at the air terminal on October 20 when she was called to the American immigration offices to search Levine. Four homemade cigarettes containing marijuana were found in Levine's sock, and an envelope containing $1,800 was discovered in one of her bags, which Levine denied ever having seen before.
"Customs Officer Gordon Phillips [of the J.I.S.] said that he went to the search room with Dc Kevin Hamilton [of the J.I.S.], where Wpc. Saunders showed them the cigarettes and the money that had been found.
"Dc Hamilton had suggested that the money was the proceeds of a drugs deal, and asked her what she had brought in, cocaine or heroin.
"Levine had answered that she had brought in "a little reefer".
"When asked how much, she said four pounds.
"Mr. Phillips said that Levine was then taken to the air terminal Police Station, where he asked her how she had got involved in the drug importation.
"Levine replied that a friend, Linda Brown, had called her a week before and asked her if she would like to go to Bermuda. She had agreed and the night before her flight had gone to Brown's house with her bags.
"Mr. Phillips said Levine told him that Brown had repacked and placed four packages of cannabis in her bags, before driving her to the airport in Boston.
"On her arrival in Bermuda, she was picked up by a man called Ricky and driven to Givens's house.
"She said that she was greeted by Givens and he asked her where the stuff was. She told him it was in her bag," said Mr. Phillips.
"Givens took the packages out of her bags. Mark Jones then arrived and weighed the cannabis, and became angry, claiming that Linda Brown had promised him four pounds of the drug, when in fact there were only three pounds.
After telephoning Brown in Boston, Jones had given her $1,800 to pass on to Brown, and $300 for herself.
The case continued on Monday, March 2, 1981 and was again reported by the (RG).
AMERICAN IS 'JAILED' FOR DRUG IMPORT
"American Amy Levine was convicted yesterday of drugs smuggling by Acting Senior Magistrate the Wor. K.C. Nadarajah.
"But Levine, 21, from Boston, will return home today despite the six month prison sentence imposed.
"Levine had spent four-and-a-half months in prison awaiting the retrial which began last week. And with time off for good behaviour, she was deemed to have finished her sentence.
"Mr. Nadarajah, after sentencing the young American to six months in jail, said:
"You have suffered enough. I feel sorry for you – stranded in Bermuda at your age.
"I hope you go back and settle down to a new life. Put what has happened here in the past."
"Levine was charged with conspiring to import four pounds of cannabis into Bermuda on October 20. When she originally appeared in court last year she pleaded not guilty to the charge but later changed her mind. At that time the Senior Magistrate, the Wor Richard Hector, sentenced her to 18 months in prison. She then appealed her conviction.
"The 25-year-old Bermudian who was in the dock with Levine on conspiracy charges, Orlando Givens, of Warwick, was also sentenced to six months by Mr. Nadarajah.
Givens, who started his sentence yesterday, was told by Mr. Nadarajah:
"I hope you will be taught a lesson."
"Levine had made a statement to Police admitting that she brought the drug into Bermuda but at her retrial last week she claimed that she only admitted the offence because "that was what the Police wanted to hear".
"She said at the time that she thought that the Police would let her go back to Boston if she admitted that charge.
"Givens, who also made a statement to the Police admitting his part in the conspiracy, told Mr. Nadarajah that he only did so because a narcotics officer had told him to "point the finger at someone else".
He said in court at the time: "I thought someone was trying to set me up."
"Mr. Nadarajah praised Detective Constable Kevin Hamilton, the investigating officer, for the fair way in which he treated the two defendants."
1980
Oct 21 – BA L1011 flight; 8 lbs.10 oz. of cannabis seized (no further detail)
Oct 31 – BA L1011 flight; 4½ cannabis concealed in sleeveless vest on passenger
This seizure was found concealed in a sleeveless vest worn by a 21-year old Bermudian male passenger arriving on the 'Ganja' flight direct from Jamaica. A defence of duress at the magistrates' court trial in April the following year was not established and the trial ended with a verdict of guilty.
The (RG) partially reported on the April 1981 trial as follows:
DRUGS IMPORTER SAYS HE FEARED FOR HIS LIFE
"A twenty-one-year-old youth [has been] found guilty of importing and being in possession of four-and-one-half pounds of cannabis with intent to supply. Sentencing will follow on April 17 following a social inquiry report. [The sentence dispensed could not be recovered]
"In finding Caven Richardson of Camp Hill, Warwick guilty on both counts, Acting Magistrate the Wor Geoffrey Bell said the defence had not established Richardson had acted under duress.
"Earlier in the two-day trial, Richardson testified he brought the cannabis in from Jamaica because he feared the man who allegedly orchestrated the scheme would hurt him.
"He threatened to beat me up if I didn't take it back," said Richardson in a signed statement. "I became scared, he told me that his hands can kill and I know him to be very good with the arts."
"But Mr. Bell said Richardson did not take actions "reasonably necessary for the purpose of resisting violence", noting that Richardson could have disposed of the marijuana on the aircraft that brought him to Bermuda, or surrendered it with explanation to local authorities.
"Instead, Mr. Bell continued, Richardson kept the marijuana on the "chance he would not be apprehended."
"The charges arose when Richardson was stopped by Customs Officer Mr. Gordon Phillips [of the J.I.S.] at the Civil Air Terminal on October 31, having just arrived from Jamaica. A search of Richardson revealed the drug concealed in a vest he was carrying.
"Mr. Bell said that because Richardson had an apparent "limited ability" he accepted the defendant would not ask himself the questions a normal person would if involved in such a scheme.
"However, under Section 47 of the Criminal Code, the defence had not established Richardson acted under threat of violence, or duress.
Defence counsel Ms. Karen Lomas, in her address to the magistrate, said that Richardson's only choices were to take the "herb", or stay in Jamaica and risk being beaten up.
"Richardson had told the court earlier of how he and the other man travelled to Jamaica at the other's suggestion. He had no idea of why he was going to Jamaica, and carried with him neither money nor clothing.
"In Jamaica, Richardson asked to be allowed to come back to Bermuda. The other man refused to let him go until several days later when he asked Richardson to take with him some "herb".
"I told him I can't. He got vexed and started doing his arts. He hit me on my arm in the process," Richardson said.
"He added that the other man also said that if Richardson did get caught and not take the "rap", his spine would be broken.
1980
Nov 2 – BA L1011 flight; 7 lbs. in rear loose baggage hold
Nov 2 – BA L1011 flight; 4 lbs.5½ oz. in sleeveless jacket hanging in rear hold
Nov 26 – BA L1011 flight; 11 lbs.15½ oz. in Plexiglas box disguised as a fish filter
The (RG) reported on this filter seizure and arrest at a later Supreme Court trial in 1981:
J

UDGE HEARS OF THE GLORIES OF CANNABIS
"A Warwick plumber was jailed for five years yesterday for importing cannabis after telling a Supreme Court jury that "the herb" was not a drug.
"In a lengthy address 30-year-old Kalifakhan Fashala outlined the benefits that could be derived from the cannabis plant. It was used in the treatment of glaucoma and cancer and was smoked by professional classes including doctors and lawyers, he said.
"Fashala, of Spice Hill Road, was defending himself on charges of smuggling nearly 12 pounds of cannabis and possessing it with intent to supply. The 10 woman two man jury took less than 20 minutes to reach a guilty verdict on both counts.
"Chief Justice the Hon. James Astwood sentenced him to five years on each count to run concurrently. Fashala had previously been jailed for two years in 1977 for receiving offences.
"The court had heard that Fashala brought the drug into Bermuda after a flight from Jamaica on November 25 last year. A Police search of his luggage revealed 18 brown paper packages inside a cardboard box containing 11 pounds 15½ ounces of cannabis.
"That quantity of cannabis had a street value of about $25,000 the court was told. When narcotics officer Det. Sgt. Alex Arnfield questioned Fashala about the cannabis he replied: "It's not marijuana. It's a herb."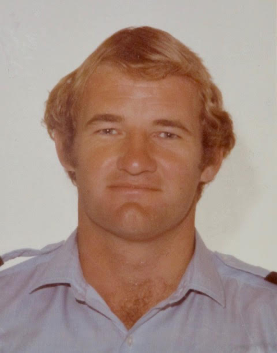 Detective Sergeant Alex Arnfield
Team leader Joint Importation Squad
"In both an address from the dock and in the witness stand Fashala denied that he had put the cannabis in the cardboard box containing an aquarium type filter. "I do not smoke. I do not drink and I do not encourage others to do so," he said. "At no time did I import into this Country a controlled drug."
"In his address Fashala spoke of definitions of the word "drug" and "cannabis" quoting from Webster's dictionary.
"Nowhere in the definition of drug is plant material mentioned," he said. "A plant is not a drug although you can extract a drug from it."
"The dangers of the plant had never been established, Fashala continued. "You have never heard of a case of someone having cannabis withdrawal period, or driving under the influence of cannabis or undergoing psychiatric treatment because of the use of cannabis. It was used widely among both blacks and whites and had been smoked by Asian peoples for centuries. It is wrong to convict a person for possession of a drug if that person was in possession of an herb," Fashala concluded.
"The Chief Justice thanked him for his metaphysical contributions."
1980
Dec 5 – BA L1011 flight; 9lbs.10½ oz. concealed in a Tombstone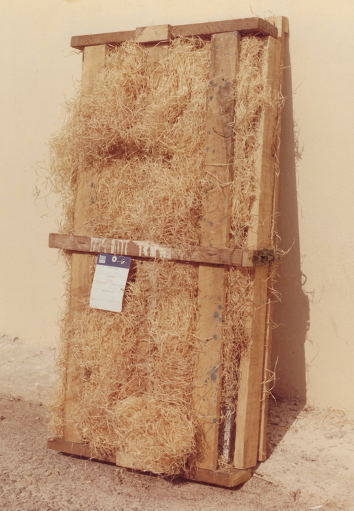 This cargo arrival in Bermuda on BA L1011 from Kingston,
Jamaica on December 5, 1980 was addressed to a local resident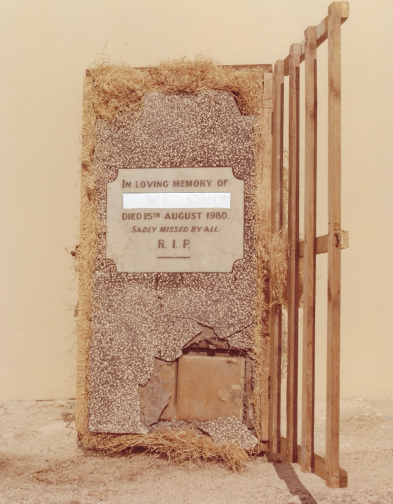 After a police K9 alert the crate was opened to reveal a
total of four packages stuffed inside the headstone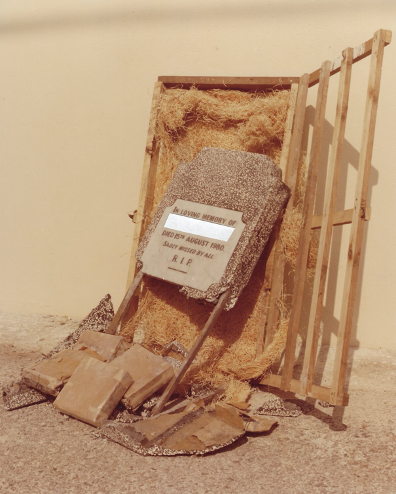 The loosely packaged cannabis weighed a total of 9 lbs.10½ oz.
Investigations into this tombstone matter by Detective Sergeant Stanley Hill, a member of the (J.I.S.), resulted in a Bermudian male fleeing the jurisdiction under the following circumstances –
"Gary Thomas, 31, of Pearman's Hill, Warwick, is alleged to have imported more than eight pounds of cannabis from Jamaica to Bermuda in an engraved headstone. Thomas failed to appear for his Magistrates court trial on March 5 of this year. [1981]
"A bench warrant was issued for his arrest," said Inspector Rose, "and on that date his sureties were given a week to get the accused to court."
"On March 13, his relative [named], who stood surety for Thomas, forfeited $500 bail. "We have reason to believe that Thomas left the Island for Jamaica on January 30, 1981," said Insp. Rose.
Now retired Inspector 'Moby' Pett recollects 40 years later that, "The tombstones were the best. I think one or two got through and then on the next one the bereaved was not dead as I had seen him a couple of days before - so it was that the crate had an "accident" with a forklift."
SEE EXPO ARTICLE: http://expobermuda.com/index.php/lia/857-fugitives-who-live-in-fear
1980
Dec 8 – BA L1011 flight; 85lbs. packed in two 'Highland Pride' produce boxes.
Dec 8 – BA L1011 flight; 21.77 grams (cocaine) concealed in hollowed-out boot heels
The above seizure, occurring as it did in the weeks just before Christmas, began with a local tip-off to the (J.I.S.) to be on the lookout for a departing male's black leather footwear. The unfolding story was reported by the (RG) at the later trial in late May 1981.
COURT HEARS OF COCAINE BOOTS
"Cocaine worth a black market value of $46,000 was smuggled into Bermuda in the heels of a man's pair of boots it was alleged at the Supreme Court yesterday.
"Lee Foggo allegedly imported more than 21 grams of the drug after a flight to New York last December, the court heard.
"Crown counsel Miss Elizabeth Arfon-Jones said that experts estimated that such a large quantity of cocaine could be broken down into 1,864 street doses selling at an average price of $25 per dose.
"Det. Con. Derek Smith told the court that Police officers, acting on a tip-off, watched Foggo in the airport departure lounge as he prepared to board a flight for New York a few days before the alleged offence.
"Under cross-examination from defending counsel Mrs. Priya DeSoysa, Dc Smith admitted that at the time he did not know who Foggo was. He had checked the shoes of all departing passengers he had suspected, because his instructions related to footwear. He agreed too, that he had not written a statement until about a month after the check.
"Mrs. DeSoysa questioned him on his detailed recollection of the boots, black leather with thick heels and soles.
"Are you specifically trained in boot detection?" she asked.
"Dc Smith replied that he was trained to be observant and added in re-examination that he was given a description of Foggo.
"Det. Con. Roger Brydon had also seen Foggo sitting in the passengers' "sterile area" at the Airport. He saw him again when he returned from New York escorted by another Police officer who had arrested Foggo on suspicion of importing drugs. Foggo was wearing the same pair of boots, he said.
The case, [is being heard] before Puisne Judge, the Hon. Mr. Justice Melville.
'CHICO' GAVE MAN COCAINE BOOTS
"A man who brought cocaine worth $46,000 into Bermuda concealed in the heels of his boots claimed yesterday that he had not been aware that he was carrying the drug.
Lee Foggo, of Great Bay Road, St David's, has denied importing 21 grams of the drug into Bermuda on December 8 last year.
"When the trial opened on Tuesday, the court heard that Police officers saw Foggo leaving Bermuda on December 5, when he was wearing a pair of black leather boots.
"Det. Con. Kevin Hamilton said that he had been on duty on December 8 at the Airport when Foggo arrived on a flight from Boston, wearing a pair of black boots, and carrying a suitcase and a television set. Foggo was stopped, and taken to one of the search rooms.
"While they were searching his bag, Foggo had appeared nervous and fidgety.
"We informed him that we intended to keep his boots for a closer examination. He asked us to look at them at that time. We explained to him that we wanted to get it done by somebody with some skill, to avoid damaging the boots."
"They had also explained that they would have to keep the television set, to allow an electrician to examine it.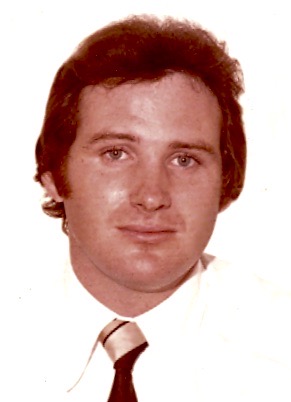 Detective Constable Kevin Hamilton
Member of the Joint Importation Squad
"Det. Con. Hamilton said that the heels of the boots were prized off by a carpenter at Police Headquarters the following day, and the two packages of cocaine were discovered. Foggo was later arrested and interviewed. He would only say that he was given the boots by a man named 'Chico' in Boston, as it was very cold and he only had a pair of light shoes. Foggo had refused to make any other statement.
"Lee Foggo told the Supreme Court that he had left Bermuda on December 5 to go to New York, to do some shopping and have a brief vacation. When he arrived, he found that the friend that he had planned to stay with had decided to go to Boston, and he agreed to drive up with him.
"Foggo said that the black leather boots had been given to him by a man in Boston when he visited the city last December because his own shoes had not been warm enough for the winter weather. He had agreed to return the boots to the man when he came to Bermuda three weeks later, and had had no idea that the cocaine was concealed in the heels of his boots.
"They arrived in the early hours of the morning of December 6. Later that day his friend and the person with whom they were staying had gone out. Foggo said that he had decided to stay in, because the weather was too cold for him. In particular, he only had a pair of light brown slip-on shoes, which he had been wearing since leaving Bermuda.
"While his friends were out, a man called 'Chico' called round, and although they had never met before, they got into conversation.
"We talked about Bermuda and Boston. 'Chico' said he had been to Bermuda a couple of times, and Bermudians had been very nice to him. He asked me when I would be going home, and would I take a parcel to some friends of his in Bermuda.
"I told him yes, when I leave to go home I will."
Foggo said that 'Chico' had then asked him why he was staying home when everybody else had gone out.
"I told him it was a little too cold for me. My feet got numb and hurt. He told me that was no problem, he could get me a pair of boots to wear. I said I would like that."
"A short while later 'Chico' had left, returning three or four hours later with a pair of boots.
"I told him I would leave the boots in Boston when I left," said Foggo.
"He told me to take the boots home with me, and that he would pick them up when he came here. He told me he might come about December 26 or 27. I told him I might not be in Bermuda when he got here, that I might be back in Boston."
"He told me to leave the boots with someone else that I knew where he could get them. I gave him the address of the people that live above me, relatives of mine."
"When the Police told him after he returned that the heels of the boots had contained cocaine, it had come as a complete surprise.
"After his release, Foggo said that he had paid lawyer Mr. Charles Vaucrosson to go to Boston, to investigate his story. He had also given Police information which they could have followed up, but to the best of his knowledge they had not done so.
The case resumed on Thursday 28 May, 1981
COCAINE IMPORTER GETS FOUR YEARS
"A carpenter who imported cocaine in the heels of his boots was jailed for four years yesterday.
"And, when passing sentence on 28-year-old Lee Foggo, Pusine Judge the Hon. Justice Melville made a lengthy statement on the evils of drugs. Young peoples' lives were being ruined and in some cases they were becoming vegetables, he said.
"You are helping to distribute this," the Puisne Judge told Foggo. You cannot expect to be treated leniently when you get here. The law permitted a maximum sentence of 20 years.
"Foggo, of Great Bay Road, St. David's, had denied importing 21.779 grams of cocaine and possessing it with intent to supply. The jury of ten women and two men found him guilty of both counts after deliberating for two hours and twenty minutes.
"Mr. Justice Melville said he had heard Foggo's counsel express the view that he was not guilty after the verdicts had been given.
"You are perhaps, the only one here who shares that view," he continued.
"To my mind you are clearly involved in this."
"He entirely agreed with the verdicts and expressed surprise that the jury had taken so long – although it was their privilege to do so.
"The Puisne Judge said he took into account Foggo's previously unblemished record, and added:
"But I don't think I have to remind you that this country is trying its best to get rid of this drug dealing, whether marijuana or harder drugs, cocaine as in this case."
"Courts had to think of the general public as well as people like Foggo. The Puisne Judge said he did not mind him wrecking his own life, but not other people's.
"You are now well on the way," he told Foggo. "If you come back here you will get the full length of the law. Don't complain if that happens to you."
"Crown Counsel Miss Elizabeth Arfon-Jones had described Foggo's claim that he did not know the drug was in his boots as "a cock and bull story."
"Miss Priya DeSoysa, defending, ended her final address in tears after an impassioned plea for an acquittal.
"Mr. Justice Melville later told the jury to ignore the tears, adding:
"If that is intended to sway you, please don't let it."
"Miss DeSoysa said that Foggo had maintained his innocence since he was charged six months ago.
"Look at the witnesses for the Crown. I demand that you do that," she said pounding on the jury box. "Were they telling the truth?"
"The case had "haunted and bothered her" because she had to convince the jury of ten women and two men why police witnesses were lying.
"Miss DeSoysa spoke of the unbelievable nonsense which, she said, had been dished up in the case by Police officers. They had not told the truth about the boots, she claimed.
"Counsel further attacked the Police when she said:
"If you are calling the Police independent after their behavior in this case you are wrong."
"Foggo, who had never been in trouble before, had been made to look like a criminal from the word go. The only cardinal sin he had committed was to borrow a pair of boots, said Miss DeSoysa.
"After she sat down, wiping her eyes, Mr. Justice Melville said:
"Even at the end she was shedding tears. You are not there to show sympathy."
"Foggo still maintained his innocence after the verdicts were announced. Mr. Charles Vaucrosson, standing in for Miss DeSoysa, said in mitigation:
"As my client has quite rightly said he is not guilty."
"Mr. Justice Melville took issue with this, querying the words "quite rightly".
"Mr. Vaucrosson submitted that the quantity was not large.
"We are talking about two table spoon-fulls, he said.
"The jury had been told that the cocaine was valued at $46,000. It was calculated that Foggo brought in enough for 1,864 "doses" of 35 percent purity.
"Foggo claimed he did not know he was carrying the drug when arrested at the Airport on December 8 last year. The boots, he said, had been lent to him in Boston by a man called 'Chico'.
1980
Dec 21 – BA L1011 flight; 7½lbs. cannabis; 33/5lbs. cannabis resin; 98 barbiturate capsules spread in top and bottom of two suitcases
The above seizure led to the arrest and subsequent trial of an American male and, later, of his wife who attempted to smuggle hacksaw blades to her husband in Casemates Prison. The trial was reported by the (RG) in April 1981.
JAMAICAN VENTURE LEADS TO FIVE YEARS IN JAIL
"The "sad affair" of an American drug importer that began in Vietnam and ended in Bermuda last December was recounted in Supreme Court yesterday.
"The tale also included the arrest of the drug importer's wife for smuggling hacksaw blades into Casemates prison last Friday in an attempt to help her husband escape from jail.
"Lawyer Mr. Allan Dunch was speaking in mitigation for his client, Edward Murphy, 33, of Florida, who pleaded guilty to importing marijuana and Tuinal from Jamaica to Bermuda. The marijuana has a street value of $65,000.
"Murphy was arrested on December 21, 1980 after the two suitcases he presented to Customs officers for inspection were found to contain plant material concealed in the top and bottom. Later analysis revealed the material to be cannabis weighing seven and one-half pounds and cannabis resin weighing three and three-fifth pounds. On the next day 98 barbiturate capsules were discovered in Murphy's jacket pocket.
"Mr. Dunch told the court that Murphy had served in the front lines in Vietnam and received six medals from the United States Government including the Purple Heart. But he suffered emotional trauma from the Vietnam war, explained Mr. Dunch.
"Returning to America, Murphy, who had two years of college education, was unable to find a job.
"Murphy then participated in a marijuana importation scheme for which he was convicted in March 1972 in Virginia.
"The Chief Justice the Hon James R. Astwood took a serious view of Murphy's offence.
"We are getting a number of foreigners (drug importers) who are trying to use us for any reason," the Chief Justice said.
"If you like to take chances with our law, you have to suffer the consequences. You place a terrible burden on our economy because it is the Bermudian taxpayer who has to keep you all."
"Then he sentenced Murphy to three years in prison for importing marijuana, five years for importing the cannabis resin and one year for bringing in Tuinal. The sentences are to run concurrently.
"Mr. Dunch had asked the Chief Justice to be lenient with Murphy because he is wanted by United States authorities for conspiring to sell cocaine. Arrested on that charge in 1974, Murphy had jumped bail, broken his probation for his 1972 marijuana conviction and moved to Florida in 1974 under the different name of Dennis James Murphy.
"In Florida, Murphy became vice-president of his brother's contracting firm, which made profits until the 1980 recession.
"Mr. Murphy's business declined rapidly in September 1980."
"Murphy was forced to live off his savings and look to other business ventures. He hit upon the idea of buying land in Jamaica where he could build villas. Travelling to Jamaica he found that the prices of land had skyrocketed, making it impossible to put his plan into practice.
"In Jamaica, however, he met a drug dealer who suggested, Mr. Dunch said, that transporting marijuana from Jamaica to the United States via Bermuda would solve his economic plight.
"He came to Bermuda and was duly arrested at the Airport," Mr. Dunch continued.
"When Murphy had been in jail for one month, he was released on $20,000. His common law wife had secured the cash through the wrong people, Mr. Dunch went on. She was given the money by a man in return for his power of attorney over Murphy's house, car and truck.
"Murphy was freed on bail until the Bermuda Police found out that he had used his false name and thus had given wrong information.
"Bail was revoked," Mr. Dunch said, "and he has been in jail ever since."
Murphy has since lost his house, truck and car.
"His wife has been assaulted on three occasions," he said. "I myself have been threatened."
"These assaults and threats have arisen out of Mr. Dunch's attempts to revoke the power of attorney given to the American money lender.
Murphy's wife was so upset by these problems, Mr. Dunch said, that she felt that her husband's only hope was to try to escape from Casemates prison.
"Last Friday, she took into Casemates hacksaw blades," he said.
Which led to her appearing before magistrate's court as follows: –
PRISONER'S WIFE FINED FOR SMUGGLING HACKSAW BLADES
"Blackmail forced a woman to try and smuggle hacksaw blades to her husband in Casemates, a court heard yesterday.
"Lawyer Mr. Allan Dunch told the Wor K.C. Nadarajah that Deborah Finney Murphy of Florida had been coerced into making the smuggling attempt by people who put up money for her husband's bail.
"She has in essence been blackmailed by these people, who provided the $20,000 bond," said Mr. Dunch.
"At the time Murphy tried to slip the blades into Casemates, her husband, Edward, was awaiting a court appearance on drugs charges. Yesterday, he was sentenced to a total of five years at Supreme Court.
Murphy, who admitted conveying the blades into prison, was fined $250.
"I don't want you to get the impression that justice in this country is savage," said Mr. Nadarajah.
"Pc Cyril Plant outlined to the court how the offence had happened. As Murphy went to visit her husband, among the items she handed to prison officers was a cigarette pack, which was found by prison officers to contain four hacksaw blades.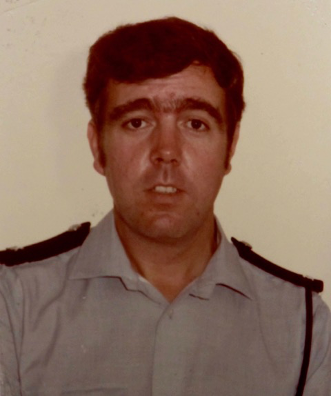 P.C. Cyril Plant
Police Prosecutor
"Mr. Dunch said it was a very amateurish operation – and said the blades would not have helped the imprisoned man.
"Mr. Dunch said the people in Florida had forced Murphy to act on her husband's behalf.
"The same people proceeded to assault her physically in an effort to recover the money which they had paid over in bail. They concocted a scheme that she transport the box of cigarettes into the prison. She took the view that it was preposterous."
The blades in the box, he added, were only two inches long.
The lawyer said Murphy, 26, from Fort Lauderdale had seen her husband sentenced to five years in prison.
"She is now facing the prospect of not seeing him for at least three years. She is still in shock from the whole thing."
1980
Dec 24 – BA L1011 flight; 3 lbs.3 oz. found in sacks of Cassava consignment
Dec 30 – BA L1011 flight; 11 lbs.2 oz. inside box wrapped in brown paper sealed with masking tape on top of a consignment of cassava.
Reporting on the above seizure, the (RG) wrote that drug squad officers had seized 11 lbs. of cannabis at the Civil Air Terminal on Monday night [29 Dec 1980] after the arrival of the British Airways flight from Kingston, Jamaica.
CANNABIS FOUND IN CASSAVA SHIPMENT
"Det. Insp. George Rose, head of the drugs squad, said the cannabis was found in a container on top of a consignment of cassava. The cassava had been unloaded from the plane and taken to the Queen's Warehouse where the drug was discovered. He said two men had been arrested in connection with the incident."
1981
Importation seizures by the combined agency officers of the (J.I.S.) continued unabated throughout 1981. The seizure list below again shows the modi operandi used by traffickers as they sought to consistently land small, fresh shipments into the islands directly from Jamaica.
Jan 12 – BA L1011 flight; 1 lb.14 oz. inside G.P.O. parcel containing Astrological plaque
The (RG) reported on this seizure under the headline:
IT'S THE ART OF DRUG SMUGGLING
"The imagination of the drug smuggler appears to know no bounds. After trying to get the "weed" into Bermuda using, among other items, a tombstone, the ganja smugglers have now taken a more artful approach.
"Police Commissioner L.M. Clark reported yesterday that nearly two pounds of cannabis was seized by narcotics officers who discovered the drug in the back of a stringed wall plaque with an astrological design.
"It was all very neatly packed into the back of the plaque," said Mr. Clark. The exact amount of cannabis was one pound, 14 ounces.
"Police discovered the cannabis on January 12 but would not say where they found the plaque. Officers were still investigating the incident.
"I suppose they have gone off tombstones," added Mr. Clark."
1981
Jan 26 – BA L1011 flight; 13 lbs.8 oz. found in aircraft electrical bay
Jan 30 –BA L1011 flight; 130.166 grams of 52% pure Heroin concealed inside underwear between passenger's buttocks.
This heroin seizure, involving a drugs triangle of Bermuda, London and Jamaica, resulted in the arrests of Ali Kilci a Turkish national living in London together with Nigerian-born Londoner Alexander Oliyimi Seriki and two Bermudian males Keith A. Burrows and Kurt M. Kennedy. The ensuing investigation was lengthy, complex and involved extended enquiries in London by Det. Sgt. Arnfield of the (J.I.S.).
The facts and conspiracies associated with this 'international drug ring supplying Bermuda with millions of dollars-worth of heroin over the preceding three years' renders this case entirely worthy of a separate and dedicated EXPO article.
Suffice to say here that Kilci, having been caught red handed with heroin concealed in his underwear, pled guilty in August and was sentenced to 10 years imprisonment [later reduced to 8 years after he turned Crown witness against his co-conspirators]. In so doing, he gave a full confession shortly before their trial in which he said, in part: …..
"In Montego Bay ……I asked them how I was supposed to carry the stuff. They told me to put it between my legs and when I got to [Bermuda] Customs not to get excited. I asked them if I was caught how long would I get time. They told me ten years. I changed my mind and told them I don't want to go……..They said if I don't go, I get killed. Donny and Seriki said you know all the contacts now, you have to do it. I had no choice, I took the chance."
Further along in his confession Kilci said, "In the [Kingston] Airport I took the stuff from my suitcase and put it between my legs. We caught the airplane and came to Bermuda. I was arrested at the Airport."
Kilci was detained by narcotics officers while still on the 'Ganja flight'. He was co-operative with Police and took part, using a dummy drug package, in a sting operation which led to the arrest of other members of the drug ring in a Police stake-out at the Bermudiana Hotel.
Co-conspirators Burrows and Seriki were convicted after trial and each received a 15-year sentence. After having served more than three years in Casemates prison, Seriki had turned Crown witness in a trial against Burrows at the successful end of which the judge ruled that he should be allowed to leave the country.
Kurt Kennedy failed to appear for his Supreme Court arraignment on July 6th and his two related female sureties' were ordered to forfeit their portions of the $20,000 bond. Appeal court judges later ordered that $10,000 of the $20,000 the women had forfeited when their relative absconded should be returned to them.
SEE EXPO ARTICLE: http://expobermuda.com/index.php/lia/857-fugitives-who-live-in-fear
As far as can be ascertained Kennedy remains a fugitive to this day – or dead?
1981
Mar 9 – BA L1011 flight; 1 lb.3 oz. concealed in cardboard box in hold
Mar 9 – BA L1011 flight; 5½ lbs. concealed in cardboard box in hold
The Bermuda Sun reported:
SHORT ON GRASS?
"An acute shortage of marijuana may be the reason behind a recent trend among Court Street drug dealers towards selling "reefers", police believe.
Police Commissioner L.M. "Nobby" Clark said yesterday that the reefers – ready made marijuana cigarettes – had not been on sale for about 15 years.
He said the police drugs squad suspected the reason for their reappearance was that dealers were having difficulty finding enough marijuana to make up the more usual bags of the drug.
Police have made no large seizures recently," said Mr. Clark, explaining that this would indicate a shortage."
MEETING THE PRESS
Responding to a longstanding request by the (RG) for me to meet with a member of the press to discuss aspects of our interdiction efforts at the airport, I met with a female reporter at the airport police station and escorted her airside just before midnight on the 9th March 1981.
It was a cold, dark night with a light drizzle and the L-1011 TriStar, carrying the aircraft name 'Elizabeth of Glamis', towered above us as we joined a gathering of ramp workers beneath its hugeness.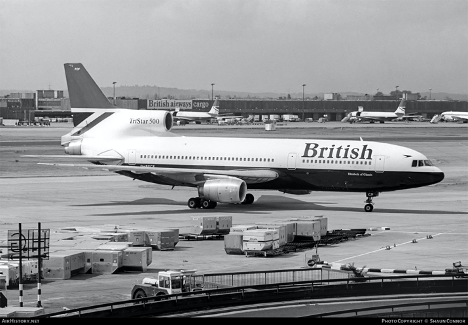 Lockheed L-1011-385-3 TriStar 500
Photo courtesy of Shaun Connor at Air History.net
The following week, on March 17, 1981 the (RG) published the following article:
A DATE WITH THE 'GANJA' FLIGHT
"Escorted by narcotics Chief Inspector George Rose, Living visited the airport last week when the "Ganja Flight" landed.
Four times a week a special flight lands at the Bermuda Civil Air Terminal. No outward signs distinguish this British Airways flight from any other. But it originates in Kingston, Jamaica, where most of Bermuda's marijuana comes from.
Last year, local narcotics officers confiscated 400 pounds of the drug from the Jamaica flight, nearly drying up the Island's marijuana supplies in the process.
Because of the large amounts of the drug imported on the route, it has become known as the "Ganja Flight" and, while Police inspect every aircraft that lands in Bermuda, inspection is particularly intense when this one lands. British Airways are not too happy with the name coined for their flight but they are totally cooperative and helpful in Police efforts to detect the illegal drug traffic.
CRASH LANDING FOR JAMAICA DRUG TRADE
An eerie black silence hangs over the wide, open tarmac at the almost deserted airport.
On the far side of the dark runway, a truck, reduced by distance to the size of a toy, is being noiselessly filled with trays of pre-cooked food and liquor. Outside, five men hang around the baggage runs and the door to the container building, chatting idly; inside the brightly-lit building, customs officers wander about aimlessly.
But the tense atmosphere of waiting is unmistakable. The hush and the inactivity are an obvious calm before the storm.
Sure enough, a sudden barrage of engines ignite, floodlights flash on, and people appear from nowhere on the tarmac – they have, at last, spotted what they are waiting for. The lights of an approaching L-1011 TriStar slide through the starless night from behind Ferry Reach.
The stillness is over and the airside suddenly erupted into a noisy and busy place.
Customs and Police officers, ramp workers, jitney operators and engineers assume their posts as the screech of the descending British Airways flight from Kingston, Jamaica grows louder and louder.
The "Ganja Flight" has landed.
The hive of activity sparked off by the first glimpse of the flight's lights does not abate until an hour or so later when the London-bound plane has closed its doors and headed back into the night air.
As the B.A.S. men move the passenger steps into position against the wide-bodied jet and catering trucks stand ready to deposit trays of fresh dinners for the night flight to London, five casually clad men carrying torches move towards the plane. They are members of the Bermuda Police Narcotics squad. Their job is to search the plane and its contents for marijuana – the illegal drug which is brought in more frequently on this flight than any other. They have to get to the hidden caches before the courier finds it.
The narcotics agents are the first to board the passenger cabin and climb into the holds. They divide into teams – two go into the cabin even before passengers have disembarked, to inspect the toilets, the used food trolleys and the seats in the cabin. Others inspect the cargo and baggage holds for loose or suspicious looking packages.
It is only when their search – which is carefully planned so that it takes a minimum amount of valuable tarmac time – is over that the cleaners are allowed on board to clean the cabin. Others empty the hold and refill it with cargo bound for England.
That the Police know what they are doing there can be no doubt. Last year the aptly named 'ganja flight' netted 400 pounds in marijuana hauls, a very considerable amount in Bermuda terms. By New Year the police had succeeded in just about drying up the Island's marijuana supplies.
After years of experience, Police know what they are looking for. They know the telltale signs of a cargo container with false sides – its measurements are just a little different. Stray packages often contain marijuana. In the terminal a bag left unclaimed in the baggage hall is suspicious – probably a police or customs officer was there when the courier was to have collected it.
Detectives are on constant alert for their own safety on the darkened tarmac as jitney's go about their fast moving business of removing packages and suitcases out of the hold. It's a dangerous place for enforcement officers to be at midnight under the belly of the plane, and more especially so when a 'shipment' is anticipated.
Diversionary tactics beneath the plane were not unknown and were all experienced at some time or another by (J.I.S.) officers.
a deliberate collision between fast moving jitney's;

a purposeful close encounter by a jitney with the legs of a narcotics officer standing too close to smuggled contraband;

a staged and demonstratively loud verbal argument between ramp workers.
Quite often, says Inspector George Rose chief of the narcotics section, they'll hide a package somewhere on the tarmac or throw it over the fence, intending to return and retrieve it later when the plane and my officers have left the terminal.
The Police dog and another officer are stationed in the cargo shed where customs officials receive containers and packages for delivery to local businesses. The Police dog sniffs around for the scent of illegal plant material. All containers are held here for a few days for searching before being shipped to their destinations elsewhere. They often do contain large amounts of marijuana and other contraband.
Despite the amounts of marijuana that narcotics agents find on the Jamaican flight, they are able to get very few convictions. Those who are waiting to pick up a shipment watch the Police – and only make their move when they are confident they won't be detected.
It was not unknown for (J.I.S.) officers to find and seize shipments bound for London. Conversely, so tight was the security that a Bermuda bound shipment often remained on board in its hiding place only to be discovered later in London during a full aircraft servicing event.
But, explains Inspector Rose, convictions are not necessarily the airport narcotic team's primary objective. Their primary objective is to confiscate in bulk and help rid Bermuda of drugs at source.
Small amounts of frequently delivered fresh herb were the preferred method of importation into Bermuda. After all, marijuana is a plant material and subject to deterioration and rot if not carefully manicured and stored. Bulky amounts needed to be racked over, air conditioned and also protected from competitors and the police alike.
WEEDING OUT THE SUPPLIES
Policed believe that the British Airways Kingston – Bermuda flight which lands here three times a week is how most of Bermuda's marijuana supplies are imported.
This flight is where the narcotics squad's biggest hauls are usually made – last year a total of 400 pounds was seized from that flight. It is the route which makes the most sense to the supplier since it is the most direct way of getting marijuana into Bermuda, and it involves the least risk.
Only two people need to know where the drug is hidden on the plane. Overheads would skyrocket if the drug was sent through another country where the shipment would be exposed to double jeopardy searches.
Drugs for supply, either locally or elsewhere are also smuggled into the Island on board private yachts and cruise ships. So many of them stop off weekly in Bermuda making it difficult for narcotics agents to ensure that all yachts and ships are drug free. The officers rely on intelligence tip-offs for seizures off cruise ships which are akin to floating hotels. Without utilizing the very professional services of onboard security personnel to direct their efforts there is no-way officers could rummage passenger or crew cabins on each liner each time it docked.
THE NIGHTWATCH
Three groups watch the night arrival of the ganja flight with keen interest:
An undercover Police narcotics squad of five sometimes six men, make it their business never to take their eyes off the aircraft or its contents during the hour it is normally on the tarmac. They inspect the hold, the cargo containers, the food and liquor trolleys, the passenger cabins and the toilets for marijuana before they allow any Aircraft Services Bermuda employees on board.
Customs Officers scrutinize each passenger checking through immigration and collecting baggage inside the airport. They know the tell-tale signs of nervousness that often mark a dope smuggler. Anyone who looks suspicious is subject to an intimate body search. Every piece of luggage arriving on this flight is examined.
The invisible go-betweens, rarely caught by Police, retrieve the drug from its hiding place and deliver it to its Bermuda-based owner for a fee. Nobody knows how much these couriers find – they find what the Police and the Customs Officers miss.
BOOSTING THE ECONOMY
Recently, Police Commissioner L.M. "Nobby" Clark announced that marijuana supplies here have been so short in recent months that pushers had resorted to selling the weed in "reefer" cigarettes – not in the bags of usual trade.
Consumers of the illegal drug now have to hunt for their supplies by travelling to all parishes on the island.
In a recent interview with the Royal Gazette, Mr. Clark said he feared that recent shooting incidents on the Island were sparked by two drug circles fighting over the meager supplies which do exist.
Because of the high demand at the moment for marijuana, suppliers are working hard to find a way to import shipments. Narcotics officers believe that most of Bermuda's marijuana comes from Jamaica.
The poor West Indian island relies on the illegal trade to help keep its rocky economy moving – the black market marijuana trade is estimated to bring in a staggering US$170 million a year, and it is the country's most profitable agricultural crop.
Jamaica's Prime Minister Edward Seaga gave a boost to the trade in a speech he made the day after he took office, [November 1, 1980] saying large deposits of cash in banks would not, as in the past, be questioned."
END of (RG) interview
Only when the TriStar has departed the gate followed by wheels-up will the Joint Importation Squad clear from the terminal.
The (RG) reported:
SUPPLIES SHORT
"Cannabis is in short supply in Bermuda, forcing dealers to trade in smaller quantities.
Police Commissioner L.M. Clark said that supplies of the drug were scarce among the Island's drug-using community. Dealers in the Court Street area were being forced to sell reefer cigarettes, instead of the usual bags of cannabis.
"That has not been known in Bermuda for 15 years," said Mr. Clark.
Recent long prison sentences for hard drug pushers had also had an effect on that market, said Mr. Clark. Heroin and cocaine were being sold more discretely by dealers.
During the past week 14 people have been arrested in Bermuda for various drug offences".
1981
Mar 16 – BA L1011 flight; 21.5 grams in Jamaican mailbag addressed to G.P.O.
Mar 27 – BA L1011 flight; 1 lb.14 oz. concealed in woven bag
Mar 29 – BA L1011 flight; 28.258 grams located in heels of a pair of shoes
Mar 29 – BA L1011 flight; 1 lb.8 oz. found in trash in rear toilet
Mar 29 – BA L1011 flight; 1 lb.2 oz. found under passenger seats
Mar 30 – BA L1011 flight; 17 lbs. in two large packages wrapped in paper in rear hold
Bermuda Sun….early1981
JAMAICA LOOKS AT MAKING GANJA LEGAL
"Bermuda would face the threat of vastly increased traffic in Jamaican "ganja – marijuana" if suggestions that Jamaica's drug industry be legalized are adopted by new Premier Edward Seaga.
By many estimates, Jamaica's marijuana business is worth $1.1 billion a year, almost equal to the Government's entire debt and greater than all other exports combined.
CHRONIC
And Mr. Seaga is understood to be looking seriously at the suggestion that the trade be legalized as a way out of Jamaica's chronic economic problems – with a consequent vast increase in supply.
The Washington Post recently reported that the amount of land under marijuana cultivation in Jamaica increased by as much as 50 percent during 1980.
The ganja trade in the last several months was virtually keeping the economy alive," Mr. Seaga was quoted as telling 'Post' reporter Christopher Dickey.
It supplied black market dollars which were then used by industrialists and other persons in the economy who wanted to import raw materials for which they would not get Bank of Jamaica dollars.
LAY-OFFS
That's how they were able to avert a lot of closures and very substantial lay-offs. Mr. Seaga said that the question of legalizing the ganja trade, while it would produce a big boost in the Island's foreign exchange earnings, was not just an economic one.
"It's a moral one and requires a lot of study," he told the 'Post'.
"Medical reports seem to suggest there's no conclusive evidence that ganja is harmful, and, therefore, the extent to which it can be considered a moral problem in that respect is not as clear-cut," he said.
Either way, Mr. Seaga points out that the ganja trade is there to stay. Whether or not his Government inclines towards legalization may depend on the response of the United States to approaches for much needed economic aid.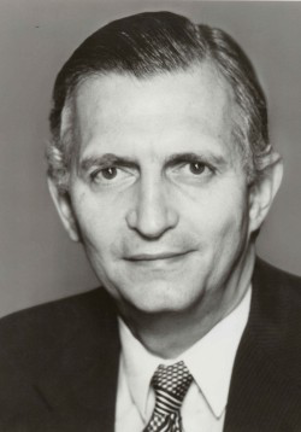 The Most Hon. Edward Phillip George Seaga, ON, PC
Born in Boston, Mass, USA on 28th May, 1930
Served as Prime Minister of Jamaica between
November 1, 1980 – Feb 10, 1989
Died in Florida, USA on May 28, 2019 aged 89
"LET SOME GO ROSE"
In April 1981 I recall a desperate telephone call from a known street source begging me to release some herb from safekeeping in our drug vault. "Let some go Rose" he complained, saying that he had travelled from Somerset to St. George's in search of a smoke but there was none to be found. Clearly, there was a shortage of marijuana on the streets of Bermuda. Needless to say, I declined his request as I went about finalizing arrangements for the routine destruction by fire of the non-evidential quarterly drug seizures
The (RG)…early summer 1981
THE GREEN GRASS GROWS ALL AROUND
"Watching the grass grow will become almost a full-time occupation over the next few months for a small but dedicated band of Bermuda "farmers."
Their crops will be tended with loving care. But while the growers watch their crops, Police hope to be watching the growers. For these "farmers" are cultivating cannabis sativa – the plant from which they produce grass, weed, pot, ganja, or whatever you want to call it.
And according to Det. Inspector George Rose, head of Bermuda's drug squad, more and more plants are being grown locally. The reason, ironically, is the success Police have had in stopping marijuana entering the Island through the airport, docks, and postal service.
"There's no doubt that, with the help of Customs and Post Office officials, we've dramatically reduced the amount of marijuana coming in," said Insp. Rose.
"The likely result is that more people will start to grow their own, and we already have evidence that this is happening."
Just last week narcotics officers raided a plot of land in Smith's and found more than 200 cannabis plants growing around a small shack. The wooden building was more like a gardener's hut than a home, with spades, hoes and other gardening tools scattered around.
The healthy state of the plants indicated that the exceptionally good weather Bermuda enjoyed until earlier this week had encouraged cannabis growers to start planting earlier than normal.
The home-grown variety – known as Bermuda Green – is generally regarded by users as being of inferior quality. Environmental factors such as soil chemistry, temperature, and altitude produce physical and chemical variations of the cannabis plant from country to country.
"Certainly the preference among users here is for imported stuff because it gives a better high," said Insp. Rose.
"We find that a great deal of the locally-grown marijuana is for personal use rather than for sale on the street. But as imported marijuana becomes more difficult to obtain the more likely it is that the Bermuda product will go on the streets."
Normally local growers would wait until after the usual strong winds of February and March before planting their seedlings. But the un-seasonally warm and sunny weather of the first few weeks of this year has brought the growing season forward. That means the Police will be on the look-out for plants earlier than usual, and they are hoping to enlist the support of the public.
"Cannabis is usually grown in secluded areas, and as it grows to heights of seven feet the growers usually plant spice and brush around the plot," said Insp. Rose.
"It is often grown on private land without the landowners have any idea about what is going on. Obviously we can't spend too much time scouring the Island looking for plants, so we would ask the public and landowners in particular to get in touch with us if they think they have seen cannabis growing."
The plants are most easily identified by the characteristic long, thin leaves with serrated edges. The leaves are usually dark green on the upper side and light green underneath and covered in hairs. The leaves generally get progressively smaller towards the top of the plant.
Although most Bermuda growers tend to limit themselves to a few dozen plants, Police have occasionally come across plots holding as many as 2,000 plants.
The penalty for cannabis cultivation can be severe, with a maximum sentence of three years' jail. And normally jail terms have been handed out, with further penalties for the accompanying charge of possession of cannabis.
The risks attached to "growing your own" are high, but with imported cannabis in short supply there is an increasing number of Bermudians willing to take that gamble".
Accompanying the above article there is a press photo caption of "A drugs squad officer uprooting plants in a cannabis garden raided recently by Police. More than 200 plants were growing on a small plot."
Unfortunately, the photo is unsuitable for reproduction but the officer appears to be DC O'Meara.
1981
May 25 – BA L1011 flight; 15 lbs. found in suitcase on terminal conveyor belt
On June 2, 1981 the Living section of the (RG) reported on conditions experienced by foreigners doing time for drug smuggling at Bermuda's Casemates Prison.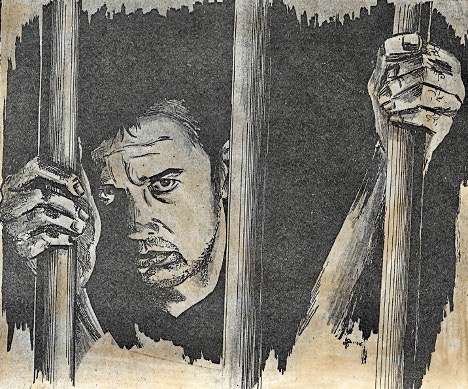 OUR RELUCTANT 'GUESTS'… … … AT $19,000 A YEAR
"Some are adventurous teenagers looking for a bit of excitement.
Some are hardened professionals who know the risks – and the penalties.
But they usually all end up in the same place – prison. Some may spend only a few months behind bars while others may spend nearly a decade wondering why they did it.
They are all foreign prisoners who have been caught – mostly for smuggling drugs into Bermuda.
"They all should know the risks of smuggling drugs," said Mr. Stephen Savage, the American deputy consul in Bermuda.
Mr. Savage, who is the first person American prisoners see when they have been caught – except of course for the Police officers, told Living:
"Some of them go practically into shock when they have been arrested. Those kind are usually the young kids who have smuggled in some dope for a bit of excitement rather than anything else. Others are, however, as cool as cucumbers when they are arrested. Those guys know the risks of being caught."
But, he added:
"They should all know the consequences of being caught with drugs in a foreign country. Especially since the Midnight Express book was written and filmed. And of course there are many, many stories about Americans who are in jail in Turkey and Mexico and of the conditions in those jails. Americans should know that they can expect long sentences for drug smuggling in foreign countries. There are advertisements on television all the time in the States warning young people about trying to bring drugs in and out of foreign countries. But some still do it."
And for every year a foreign prisoner is in jail in Bermuda, it costs the taxpayer a whopping $19,000.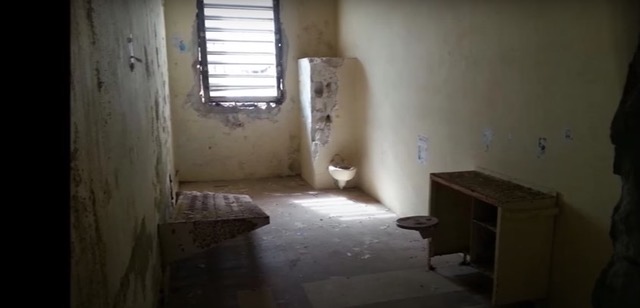 Room and board at Casemates where a cell
like this costs taxpayers $19,000 a year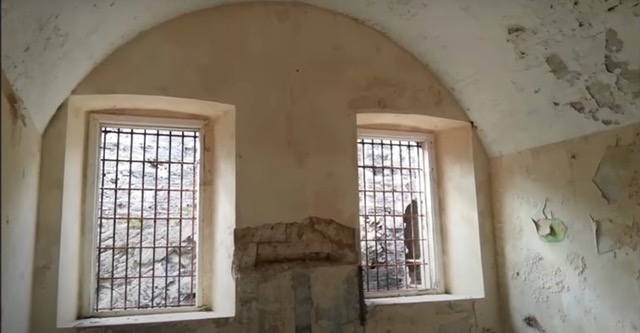 A cell for two - with a view
Currently there are 11 foreign prisoners doing "time" here – two of them are serving 10 year sentences while others are serving five and three year sentences. A few others are imprisoned for only a few months. Some are still on remand waiting to appear in Supreme Court on drug smuggling charges.
Although those on remand may have been granted bail, a foreign prisoner has very little chance of being set free while waiting for trial. The reason is simple enough – they would have to find somewhere to stay.
On average, the majority of foreign prisoners are from the United States, but there are currently prisoners locked up here from Jamaica, Guyana, India, Portugal, Turkey, Italy and Britain.
The largest number of foreign prisoners Bermuda has seen was back in 1974 when there were 30 foreign nationals – most were from Columbia – who were caught trying to smuggle drugs, mainly cocaine, into Bermuda or using the Island as a stop- off port to the United States.
During the 1960's the majority came from the Caribbean.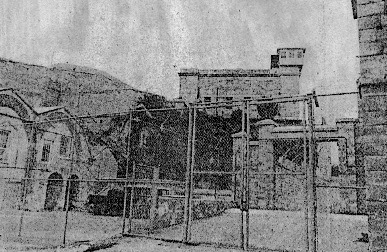 Locked in . . . behind high fences prisoners
complain about being so far from home
Commissioner of Prisons, Mr. Edward Dyer, told Living that the number from the Caribbean dropped after the Daily Gleaner, Jamaica's largest newspaper, interviewed a few Jamaicans in prison in Bermuda and warned people about smuggling drugs into the Island.
When foreigners are locked up in Bermuda, Mr. Dyer said that they get to know one another quite quickly. "Usually there is no problem with language because most of them speak English but I remember back in 1974 when we had a lot of Columbians here, there was a language difficulty."
Mr. Savage said that one of the main reasons he tried to visit the American prisoners was to boost their morale. He said: "The U.S. law used to state that the consulate officer should visit once every three months although it can be more frequently – it is usually up to the ambassador or the consulate officer. Our policy is once a month.
"When I go down to Casemates I check on the prisoners' condition and see if they are alright emotionally. Also I try and find out if they are being discriminated against because of their nationality. I try and bring reading material and food although what I bring is subject to the regular prison regulations. Usually they all ask for candy bars."
When an American is initially arrested, Mr. Savage is the first person to visit them.
"Under the Vienna Convention," he said, "I have to visit them within 48 hours and the Police here are very good about informing us and letting me see the prisoner.
"I have to verify nationality and check on the conditions of the arrest. We provide him (or her) with a list of lawyers and explain the basic legal procedure. If the prisoner has been beaten, and it has never happened here to my knowledge, we have to get him examined by a doctor. We also check the property which has been confiscated by the Police. Basically, we try and demonstrate the United States Government's interest in the welfare of its citizens. All in all we have no problems in Bermuda with regards to the Police or prison service – they are very cooperative. Unfortunately, many prisoners find it very hard to accept the prison sentences handed out in Bermuda for drug smuggling –
they are considerably longer than they are in the States – then again Americans should know that drug laws outside of the States are more heavily enforced."
Mr. Savage said that in his talks with American prisoners, their main complaint was not being able to talk with people outside the prison and the fact that their families were in another country.
"It is harder being imprisoned in a foreign country. The locals see more friends and family than the foreign prisoners," he said.
"And some say that they [are] picked on a bit because they are white Americans, but not too seriously. Anyway that is a fact of life in prisons all over the world – you do not have the nicest bunch of people living in a prison no matter where you are. But if they brought up a serious allegation – for instance if they had been raped – we would certainly look into it. But nothing of the kind has ever been told to me."
How does he view the conditions of Bermuda prisons? – "Well they are pretty good as far as prisons go especially when one talks in the terms of prisons in other countries like Turkey."
Asked if he thought a prisoner exchange program would be accepted between Bermuda and the United States, Mr. Savage said: "Well it is certainly not my place to say if it would be or not. I do know that there is no clear cut policy in the States as far as exchange programs go although there have been instances of exchange programs between Mexico and the U.S. But those were only in individual cases. Anyway, we have some pretty bad jails in the States."
Prison Commissioner Dyer does not believe a prisoner exchange program would be a good thing.
"If they do go back to their home country they would probably get released fairly quickly and so what kind of deterrent would there be for people bringing in drugs. Word would get out that we simply send them back home. We have 55,000 people in Bermuda to think about and we do not, in any way, want to encourage drug importers to bring in stuff here or even use Bermuda as a transit stop. Anyway I don't think Bermuda's (drug) laws are harsh. Some countries are harsher and some are more permissive. And in some places, particularly in South America, you sometimes don't see the prisoners ever again."
Although Bermuda is not involved in any official prisoner exchange program, there is an "early release agreement" with Jamaica. Mr. Dyer said that once a Jamaican prisoner had served half of his sentence "on good behaviour" then Bermuda could deport him back to Jamaica to serve out the rest of his sentence.
In other cases, if a prisoner behaved himself he was likely to be released after serving two thirds of his sentence. "But we don't promise them that," said Mr. Dyer.
The Chief Justice, the Hon. James R. Astwood recently sentenced an American (Edward Murphy, 33, of Florida) to a five-year stretch in Casemates for importing $65,000 worth of cannabis into Bermuda. Murphy claimed he was just using Bermuda as a stop off point while transporting the drug from Jamaica to the United States.
Mr. Astwood told Murphy:
"We are getting a number of foreigners who are trying to use us for any reason. If you like to take chances with our law, you have to suffer the consequences. You place a terrific burden on our economy because it is the Bermudian taxpayer who has to keep you all."
1981
Jun 5 – BA L1011 flight; 7.9 grams concealed in G.P.O. parcel mail from Jamaica.
Jun 6 – BA L1011 flight; 1 lb.4 oz. found in suitcase on hold conveyor belt
Jun 19 – Importation of 8lbs. of cannabis into Bermuda via U.S. Base postage system
Although not a drug importation using a flight from Jamaica the following arrests and subsequent hearings raised a few judicial eyebrows in the local courts
A guilty plea at a later court hearing was reported by the (RG) on August 28, 1981
AMERICAN JAILED ON DRUG CHARGE
"A 26-year-old American who allowed marijuana with a street value of $15,000 to be sent from New York to a Bermuda mail box, to which his wife had access, has been jailed for nine months.
Robert Edson, a maintenance man from the N.A.S.A. tracking station, pleaded guilty in Magistrates court to possession and importation of eight pounds of marijuana.
Senior Magistrate, the Wor. Gerald Price heard that Edson's wife had access to a post box at the U.S. Naval Air Station in St. George's.
Edson was approached by a man living off Base, his lawyer Mr. Charles Vaucrosson said, and asked if he could ship some jewelry to his wife's mail box. Edson gave his consent and later told the plan to his wife, who said, angrily, that the mail box could not be used for the scheme.
When Edson, at his wife's urging, told the man that the deal was off, he said that it was too late to cancel their plans, Mr. Vaurcosson added.
The man, a Mr. B, also told Edson that drugs and not jewelry were on their way to the post box and that Edson should keep his mouth shut.
The package later arrived at the mail box, where it was picked up by Edson's wife, who took it home. Edson took the box to B. who, Mr. Vaucrosson remarked, gave Edson one of the five packages of marijuana from the parcel. Edson took his share of the drugs home and on the same day, June 19, he was arrested by Police.
Mr. Vaucrosson said in mitigation that Edson had cooperated fully with the Police giving a full confession of his involvement.
"He allowed himself to be used," said Mr. Vaucrosson, "and put his future and his wife's future very much in jeopardy."
The separate trial of Mr. B was reported by the (RG) on October 23, 1981:
BASE PROVIDES AVENUE FOR DRUG IMPORTS
"An almost foolproof method of smuggling drugs into Bermuda was exposed in Magistrates court yesterday. Narcotics can be imported "with impunity" through the postal system at the U.S. Naval Station, it was revealed. And the illegal trade is not just contained within the base. From there the drugs filter out to other parts of the community where they are sold to users.
The system of importation shocked Senior Magistrate the Wor. Gerald Price. He called for U.S. Navy officials to put an end to it.
Mr. Price made the comments while clearing Bermudian Mr. B., a carpenter at the N.A.S., of importing and possessing almost seven pounds of cannabis. The magistrate said he was particularly concerned about the ease with which drugs could be brought into the Base without apparent supervision or stricture of the authorities there.
He added: "I only hope that evidence brought before this court and the publicity which will ensue from it will lead authorities to be more strict about the mail."
N.A.S. Postmaster Richard Bogul stated during questioning by Mr. Narinder Hargun, defending, that no checks were made to establish whether any illicit drugs were brought in through the mail. Bogul said his department was not authorized to search packages.
Mr. Hargun: "You are not saying people have carte blanche to bring drugs into N.A.S.A?"
Bogul: "No, but I know of no program for this."
Mr. Hargun: "Then drugs can be brought in with impunity?"
Bogul: "Pretty much so."
The Postmaster said there was a Base security force, part of the duty of which was to control the supply of drugs. But there was no control over mailed packages.
Bogul agreed with Mr. Hargun when he said: "It is a strange situation, but you seem to be saying, effectively, that if you have a P.O. Box you can bring drugs in with impunity."
Mr. B., 42, of Clay Estates, Bailey's Bay, pleaded not guilty to importing and possessing cannabis.
A third charge of conspiracy to import was not proceeded with.
The prosecution alleged that Mr. B., a member of the Ethiopian Orthodox Church used the P.O. Box of U.S. serviceman Robert Edson to import the cannabis.
Edson was said to have taken the drug to Mr. B.'s home and narcotics detectives later found it hidden in a nearby hedge. Edson, a janitor at the N.A.S.A. tracking station, had on August 27 this year admitted importing and possessing the cannabis and was jailed for nine months. He was yesterday brought from Casemates to give evidence for the prosecution.
Edson said he and Mr. B. had never conspired to import drugs, but that they agreed to bring in jewelry.
The jewelry was to come in through his wife's mail box, but when a package arrived on June 19 this year it contained cannabis.
Edson said he took the unopened package to B.'s home and opened it in a bedroom. "That is when we found it was not jewelry," he said. "We found cannabis."
Edson said he took a small portion of the cannabis and left. He was later arrested by Police.
Detective Constable John Smith said Edson had told him that he would help to catch bigger fish if he was let off.
Mr. B, described as a casual cannabis smoker, said Edson had tried to sell him some of the drug for $600. "I said no. I do not deal with drugs like that there," he said.
Edson told him he did not want to take the package back to the Base because things were getting too hot. He asked Mr. B. to "stash" it for him.
"I said no, not on my property," said Mr. B.
The package was later found inside a crash helmet in a hedge bordering Mr. B.'s property.
Questioned by Solicitor General Mr. Austin Ward, prosecuting, Mr. B. said he earned $335 a week and agreed that he had a sunken living room and a lot of cedar work.
Mr. Ward asserted that it was "a rather fanciful house for a man earning $335 a week."
Mr. B. said he had built the house "brick by brick" with his three brothers 12 years ago and had taken out a $20,000 mortgage.
Mr. B. said he did not smoke marijuana as a religious ritual. The desire to smoke had started to fade………… [unrecoverable]
Mr. Price said he had very substantial reservations about the veracity and reliability of Edson's evidence.
The magistrate said he had deep suspicions about Mr. B. because he did not give an explanation to Police when confronted with incriminating evidence.
"But that does not cure the defect in evidence given by Edson," he said.
Mr. Price said he was not satisfied beyond all reasonable doubt that the charges against Mr. B. had been proved and the case had to be dismissed."
Within two months of the above revelations it was reported by the (RG) on December 21, 1981 that tough action had been taken by the U.S. Base Command to stamp out drug abuse on the Base.
U.S. NAVY LAUNCHES DRUGS CRACK-DOWN
"A "get tough" campaign to stamp out drug abuse at the United States Naval Air Station was launched last week by top Navy staff.
The crack-down was announced by Admiral Harry Train, Commander-in-Chief Atlantic Fleet, who flew into Bermuda specifically to address officers on the base. The half-hour briefing hammered home the Navy's mounting concern over drug misuse among "nearly half of all out young sailors, male and female".
It also spelled out stringent measures to purge the service of narcotics and especially marijuana. Among the measures were increased use of drugs dog teams, urinalysis kits and tighter security over servicemen's mail to stop drugs being sent through the post.
The briefing, which included a filmed message from the Chief of Naval Operations, Admiral Thomas Hayward, follows a recent magistrates court case in which drugs were said to have been smuggled "with impunity" in to the base. It was also part of an anti-drug tour which Admiral Train is conducting throughout all his island commands.
According to the N.A.S. newsletter, Admiral Train told the base personnel:
"Almost half of all our young sailors, male and female, are drug users, mostly marijuana. The problem is not of the same magnitude in the Army and the Air Force. They recognized their problem two years ago and began to do something about it. Two years ago, we the leadership of the Navy, were still wringing our hands, refusing to believe we had a problem."
The filmed statement from Admiral Hayward warned drug users that they were destroying the Navy's image. "We are out to help you if you want it, but we are out to hammer you if you want to challenge us," his message ran.
The briefing included a further warning from Rear Admiral Voth, who listed the harmful effects of marijuana.
A comprehensive Navy directive is expected to be issued before Christmas. It will set a starting date for the urinalysis tests which can detect the use of marijuana within a seven-day period. The tests will be used to prosecute users. The N.A.S. already possesses the urinalysis kits and is waiting for the go-ahead to begin its program.
The get-tough policy comes only two months after Capt. Stephen Loftus, commanding officer at the base, denied that drugs were imported "with impunity" into the station. Refuting allegations made in the court case, Capt. Loftus said the base had an effective program for checking servicemen's mail."
1981
Jun 21 – flight from Boston; 435 grams [15.53ozs] of cannabis in passenger's suitcase, 13.8 grams of 19% pure cocaine found in jacket pocket.
J.I.S. team leader DS Stanley Hill dealt with this matter and at a Supreme Court hearing on August 12, 1981 the accused pleaded guilty with the (RG) reporting on this sad matter the following day:
BRILLIANT STUDENT 'BLEW HIS MIND' WITH DRUGS
"A brilliant student whose mind was "blown by drugs" was jailed for three years yesterday for importing cocaine and cannabis into Bermuda.
Derek Sims, 22, of Sun Valley, Warwick, admitted importing cocaine, with an estimated street value of $17,300 and cannabis worth $2,175 on June 21.
After hearing that Sims had an excellent academic record, Puisne Judge the Hon. Mr. Justice Melville told him: "You are a prime example of what drugs can do. Here you are, a brilliant student, doing exceedingly well. There is no doubt in my mind that starting on drugs led to you finding yourself in this predicament.
Crown Counsel Mr. Andrejs Berzins told the Supreme Court that Sims had been searched when he arrived back in Bermuda after a trip to Boston. Twelve bags of cannabis, with a total weight of 435 grams were found wrapped in clothing in his case, and 13.8 grams of 19 percent pure cocaine were found in the pocket of his jacket.
Mr. Charles Vaucrosson, defending, said that until committing the offence, Sims had been a young man with everything going for him. He had attended school in England, where he had been head boy and an outstanding student.
Sims had passed 13 O-levels – 12 with A. grades – and three A-levels. Until his arrest, he had been studying at the University of Toronto, with a view to pursuing a medical career.
"He realizes that his foolish conduct has placed him in a vastly different set of circumstances, in that he has totally annihilated his future career," said Mr. Vaucrosson.
"The reason for Sim's dramatic change in behavior appeared to lie in the death of his uncle, with whom he had a close relationship, from a brain tumor at the age of 43 last year."
"This brought about a dramatic decline in my client's behavior. He could not see the point in studying and working, when someone could die so pointlessly in the prime of life."
It was at that time, said Mr. Vaucrosson that Sims had started taking drugs. He had bought the drugs discovered at the Airport while he was in Boston, for a total of only $700.
Passing sentence, Mr. Justice Melville said that while many young people claimed that drugs such as cocaine and cannabis were harmless, it was clear that they had some deleterious effects. Sims appeared to be another example of a young man who had "blown his mind" with drugs.
He told Sims: "I find it difficult to believe that you were going to use all this stuff alone, although I accept there is no evidence that you were going to sell it. But this is an awful lot, and perhaps you were going to invite your friends to take a sniff [and that constitutes supply] and that is the end – you are going down the road to hell."
Mr. Justice Melville said that he was certain that the increase in the number of burglaries and thefts in Bermuda was connected to increased drug abuse.
"When the situation reaches these proportions the court has to do its best to see that people are not encouraged to bring these drugs here."
Despite Sims' youth and previous good record, he therefore had no choice but to send him to prison."
1981
July 2 – BA L1011 flight; 9 lbs.8 oz. found in cargo container in freight shed
July 12 – BA L1011 flight; 20 lbs. concealed in pair of Bongo drums
This importation resulted in the arrest of a partially deaf and dumb Antiguan male. The side-by-side drums he had earlier taken to Jamaica from Bermuda were found to contain a total of 20lbs. of cannabis upon his return to the island. At his trial later in the year [the date of which has not been recovered] his handicap caused unusual circumstances to be adopted by the Chief Justice.
A WORD IN THE DEFENDANT'S EAR
"A man who was partially deaf and dumb appeared in Supreme Court yesterday on drug related charges.
And the Chief Justice the Hon. James R. Astwood had the man brought up close to the Bench so he could shout the charges to him.
But Reginald St. Luce, 37, of Antigua, could not pronounce the words "not guilty".
"I don't know what was in the drum," was his reply when charged with importation of cannabis, and being in possession of the drug intended for supply. The alleged offences were said to have taken place on July 12 of this year.
"I have to be satisfied that he can understand the proceedings," said the Chief Justice, noting that he once ran into similar difficulties when a man appearing in court could only understand his mother.
"The mother was telling me what she wanted to tell me," the Chief Justice said in noting that he would want to avoid any such difficulty in the present case.
He ordered that the case be put over until next Monday so that it could be determined if a hearing aid would be of any use to Luce.
"If the answer is negative, we will have to carry on from there and see what we can do," said Attorney General Mr. Saul Froomkin, Q.C.
Lawyer for the defendant Mr. Keiron Unwin said Luce could neither read nor write. He added that he had been unable to get Luce so say the words "not guilty".
In the somewhat incoherent conversation with the Chief Justice, Luce explained that he was not aware that it was cannabis stashed in a drum he took to Jamaica, and then brought into Bermuda."
The trial continued the following week and was again reported by the (RG):
DRUGS SMUGGLED IN BONGOS, COURT TOLD
"An Antiguan smuggled 20 pounds of cannabis concealed in bongo drums, into Bermuda the Supreme Court heard yesterday.
The 37-year-old defendant, Reginald St. Clair St. Luce, who is hard of hearing, sat in the dock wearing headphones plugged into the court's microphone system, as the case against him unfolded.
St. Luce denies importing the drug said to have a street value of about $50,000 and possessing it with intent to supply. The jury was told that the cannabis was found stashed inside two drums after St. Luce was stopped by customs officers at the Civil Air Terminal.
St. Luce had arrived on a British Airways flight from Jamaica in the early hours of July 12 when the drums aroused the suspicions of the officers. Principal customs officer, Ivan Swan, questioned St. Luce about the 2½ feet high bongos.
"I asked him if he was here entertaining or if he was just a visitor," said Swan.
"His reply was that he entertains all over the world."
Swan handed St. Luce over to narcotics squad detectives after he drilled holes in the drums and discovered the plant material.
Said Det. Cons Dennis Gordon:
"I asked the defendant if the drums were his property and he replied, "I got these drums from a man in Jamaica."
"St Luce said he bought them for $300.00. "He said he loved the drums."
He told the detective that he had come to Bermuda to learn to play the drums and was going to go to Somerset to stay with a man known as [R.J]. St. Luce appeared to understand quite well what was being said to him, Det. Con. Gordon said.
"Sometimes he appeared at ease because he would sometimes smile at the question I would ask him and laugh about it."
St. Luce later made a statement to Police in the presence of his lawyer Mr. Keiron Unwin.
In answer to a question from Mr. Unwin another drugs squad officer, Det. Sgt. Algernon McConnie agreed that St. Luce had always denied knowing what was in the drums.
As the Crown ended its case, St. Luce elected to remain silent.
The trial before the Chief Justice continued in the afternoon.
[Further reports have not been recovered]
1981
July 19 – [A separate EXPO article detailing this matter is currently under preparation]
Resulting from drug trafficking intelligence gathered throughout May of this year by Bermuda narcotics officers and shared with the U.S. Coast Guard and Caribbean Customs officials, three Bermudian males were detained on July 19 by the Cuban authorities as they transited Cuban territorial waters on board the 50 foot, 37-ton fishing boat 'Sea Patsy' [formerly named 'Patsy' when it left Bermuda in May] for illegally entering Cuban waters and possession of marijuana. A fourth crew member, Jacques Lemay, a Canadian, was also arrested. The 'Patsy' was Bermudian owned.
The crew was detained in a new jail just outside Havana which housed mainly foreign nationals. The British Embassy in Havana did not become aware of their capture until October 3 and the first visit to them by Embassy officials was on October 9.
It was last known that the boat had left south Caicos in the Turks and Caicos Islands on June 1 bound for Haiti. It is believed to have been in Haiti at about the end of June.
The three Bermudians spent a grim Christmas 1981 in the Cuban jail before they were released in early April 1982 after the personal intervention of Sir Anthony Kershaw, Chairman of the House of Commons Select Committee on Foreign Affairs who approached Cuban President Fidel Castro at the request of the Bermudian Government for the grant of pardons for the three men.
July 24 – BA L1011 flight; 17 lbs.8 oz. concealed in Mango containers
A proposal that the Police should search incoming first class mail caused considerable debate which made front page news in the (RG) on Monday, August 3, 1981
SUGGESTION OF MAIL PROBE FOR DRUGS
"Search of incoming first class mail by Police for hard drug imports will most likely be considered by members of the Misuse of Drugs Committee soon. So said the committee's chairman Mr. Roderick Pearman yesterday on the heels of a statement made this week by St. Brendan's Hospital psychiatrist Dr. Michael Radford – who said that Police search of drugs would be one way Government could control imports of hard drugs such as heroin.
Yesterday, Dr. Radford said that while mail searches might be one possibility, he was not sure how Bermudians would react to having their mail opened.
Mr. Pearman said that his committee had considered recommending that Government allow mail searches three ago, but decided to hold off.
"We had explored mail searches in great depth three years ago and at that time the feeling was that it just would not be a palatable situation for Bermudians to be subjected to – having their first class mail searched."
Mr. Pearman said that several cases had appeared before the courts of hard drugs being imported through first class mail and that this might have been avoided if Police had the power to search the mail.
"It is something that should be kept constantly under review," said Mr. Pearman.
And after hearing Dr. Radford's remarks, he said, the committee would probably discuss Police mail searches again.
Other ways and means of controlling Bermuda's growing hard drug problem were being sought by the committee.
"We are doing a lot in terms of prevention of drugs coming in but we don't have a full-scale education program," he said. "And again this is something we are constantly pressing for."
"There were no overseas educational programs available which promised complete success," he said, "and therefore Government felt reluctant to provide public money to pay for them."
It was also difficult to decide which students at which schools should be given programs on the hazards of drug abuse.
School programs should be viewed with some caution because there are a number of children in the schools who have not been exposed to the drug culture and any program should be corrective rather that one which will court problems.
"We have to be very, very cautious about how we approach youngsters," he said.
Experimental programs were being offered in some secondary schools, however, and had so far been successful.
But, he added: "We are aware that drug education should span the entire spectrum from pre-school to adulthood."
The Department of Education and Health and Social Services had been discussing how such a broad educational program should be put into force since the beginning of the year.
Answering calls made a month ago for a drug abuse centre in Bermuda, Mr. Pearman said:
"For Government to go all out for that would be very, very expensive. The board has established contacts with organizations in the United States who are very willing to accept people into their programs from Bermuda. There are several Bermudians in these establishments already," he said.
The (RG) on Wednesday, August 5, 1981 wrote that the:
P.L.P OPPOSES A MAIL SEARCH FOR HARD DRUGS
"The Progressive Labour Party has come out strongly against the suggestion made by Mr. Roderick Pearman, chairman of the Misuse of Drugs Committee that consideration be given to the search of first class mail for hard drug import.
Mr. Fredrick Wade, Shadow Minister of Finance, said that such a step would be a flagrant violation of people's human rights.
"I think that it would be a travesty of people's human rights to have anyone – including the Police – search people's mail," he said.
"The protection of a persons' privacy is basic to any democracy. We cannot pass the Human Rights Act in one month and in the next, institute regulation that violates them," he added.
The controversy over whether or not first class mail should be searched resulted from a statement made by St. Brendan's psychiatrist Dr. Michael Radford that mail searches might be one possible way for Government to control the importation of hard drugs such as heroin.
But Mr. Wade said that there are a number of other options open to Government in their efforts to combat drug misuse which have not been tried yet. He feels that letter searches should not be tried even as a last resort.
"Whereas the P.L.P. abhors the importation and misuse of drugs, I feel that of the two rights – the right to a society free of drugs and peoples' right to privacy – the second is more important and must come first at all times, he said.
Mr. Wade stressed that there were other ways and methods that could be used to detect drugs without violating the right to privacy.
"At the moment, Government uses dogs which are trained to sniff out cannabis, but they can also get dogs which are trained to detect other drugs as well," he said.
According to a Government spokesman, first class mail is not presently being searched unless there is reason to suspect that it may contain contraband.
"First class mail is not being searched, but if there is reason to suspect that such mail does contain contraband, including hard drugs, there is legislation that would give Post Office, Customs and Police the power of search," the spokesman said.
She added that Inspector George Rose, head of the Police Narcotics Squad, was a member of the Misuse of Drugs Committee.
"And any recommendations by this committee for stepping up searches of first class mail will be given consideration by the Post Office and other departments concerned," she said.
In an earlier statement, Mr. Pearman had said the Misuse Committee had explored mail searches in depth three years ago and at the time the feeling was that it just would not be a palatable situation for Bermudians to be subjected to having their mail searched."
1981
Aug 13 – BA L1011 flight; 2 lbs.10 oz. found in Bongo drum
DRUG CONFERENCE
In late August, 1981, I attended an International Drug Conference in Minneapolis, Minnesota, U.S.A.
The Conference had been sponsored by the International Narcotics Officers Enforcement Association and featured a 15 hour course of instruction in Conspiracy Investigations conducted by the DEA.
As a member of the International Panel I was privileged to speak for about 35 minutes to the assembled 150 delegates. The talk was well received and was entitled "Drug Trafficking Relative to Bermuda and the Caribbean."
In presenting an overview of Bermuda's drug trafficking enforcement measures with visiting cruise liners and private yachts; together with personnel training and the local drug scene, I had the following to impart, in particular:
MAJOR TRAFFICKING CHARACTERISTICS:
(1) THE TRAFFIC IN CANNABIS
"Bermuda is serviced most evenings by a British Airways northbound flight entering the island from varying points to our south including Panama City, Mexico, Jamaica, Freeport or Nassau. The flight travels on to London.
This flight is known both locally and in London as the "Ganja Special" and it is the policy of H. M. Customs and narcotics officers in Bermuda to employ saturation coverage of this flight every scheduled night.
Bermuda bound passengers, and their luggage, are carefully scrutinized and hiding places within the aircraft cargo holds are examined throughout unloading. There are frequent seizures off this flight ranging from small 2 and 3lb. packages to be removed by aircraft servicing personnel, to somewhat larger freight shipments in the region of 40 – 50 lbs. Cannabis is also found concealed in aircraft toilets, air larders, and outlet pipes beneath the fuselage.
The Bermuda narcotics squad employs a drug dog which operates at the Queen's Warehouses at both the docks and the airport. The dog is trained for Cannabis and explosive detections and pays particular attention to cargo originating in Jamaica or trans-shipped from that island through North American ports. Plans are being finalized in respect of the purchase of a dog capable of multi-drug detection capabilities.
(2) THE TRAFFIC IN COCAINE
There is a growing local demand for Cocaine. Historically, Bermuda has figured as an in-transit port for traffickers from South America into the United States and Canada. Air routes are invariably involved and body concealment or personal luggage is the usual method of concealment.
Couriers are frequently discovered carrying false passports and identity documents.
(3) THE TRAFFIC IN OTHER DRUGS
Heroin is imported into Bermuda from Europe. The main source of supply at present is Amsterdam with the drug being trans-shipped through various ports including London and New York. Importation is by way of body concealment on both male and female couriers, and through the postal mail.
In these investigations the assistance of the Dutch and United Kingdom Authorities, together with the U.S. Drug Enforcement Administration is greatly appreciated. This liaison has been strengthened over the years through the services of INTERPOL and personal contact with the Caribbean Regional Agencies. Enquiries are developed and local investigators travel overseas in pursuit of conspiracy cases.
The traffic in amphetamines, barbiturates and L.S.D. is minimal in Bermuda at present, although we remain alert to the possibility of these drugs becoming more popular locally. Any of these drugs that do come to our attention invariably originate in the United States or the United Kingdom.
We are thankful that phencyclidine (P.C.P.) has not become as prevalent a drug in Bermuda as in other countries. We keep a close working relationship with enforcement officials at the local United States Naval Air Station where we have found evidence of drug smuggling involving these psychotropic substances, thankfully not much of which is for local consumption."
1981
Aug 27 – BA L1011 flight; 7 lbs.2 oz. in food modules
Aug 29 – BA L1011 flight; 812.2 grams in passenger's luggage
1981
Sep 9 – BA L1011 flight; 11.573 grams in compartment of rear toilet
Sep 15 – BA L1011 flight; 19 lbs.7 oz. in square shaped package in mail bag
Sep 17 – BA L1011 flight; 768.7 grams concealed in toilet roll in rear toilet
Sep 20 – BA L1011 flight; 8 lbs.2 oz. in dispenser in rear toilet
Sep 26 – BA L1011 flight; 15 lbs.8 oz. found in cargo container in freight shed
On October 6, 1981 drug squad detectives boarded a 40 foot vessel at its mooring in Jews Bay, Southampton as part of their ongoing enquiries concerning the use of marine radio scanners and transmitting equipment in the importation of illegal drugs.
The (RG) reported on the subsequent court appearance December 18, 1981
FISHERMAN ON POLICE SCANNER CHARGES
"Drug squad detectives boarded the 40 feet vessel on October 6 at its mooring in Jews Bay, Southampton.
A fisherman who had no licence for a radio scanner programmed to pick up Police broadcasts was yesterday given a conditional discharge.
W. A. 33, was also fined $100 for a separate offence of owning marine transmitting and receiving radios and a personal radio without licences.
The equipment was seized from A's fishing boat following a search by narcotics officers, Crown counsel Mr. Ian Kawaley told magistrates court.
A, of Khyber Pass, Warwick, admitted possessing the marine and personal radios without licences. But he entered a "technical" not guilty plea on the scanner charge.
His lawyer Mr. Michael Mello argued that [his client] did not need a licence to operate the scanner because it was borrowed from another person who had already licenced it.
Mr. Mello said it was not the intention of the Telecommunications Act to require all users of the equipment to obtain a licence whether or not they owned it. That would be "nonsensical" and counter-productive because it would prevent commercial fishermen from loaning out equipment necessary for safety, among themselves.
The argument failed to persuade Senior Magistrate the Wor. Gerald Price.
He said, "It seems to me that the Act is as plain as a pikestaff in that a person who borrows or hires somebody else's apparatus must nonetheless obtain a licence."
Mr. Price continued: "I have no hesitation in ruling that there is an obligation for the defendant to have a licence in his own name, inconvenient as that may be on some occasions."
The purpose of the Act was to have some control over people operating equipment which can be used to listen in to Police broadcasts, he said.
In passing sentence Mr. Price said that he had noted A. had not possessed the equipment for a long time before it was seized. He said he also took into account the fact that the scanner was borrowed.
Mr. Kawaley applied for the confiscation of the equipment. Mr. Price replied that he could not hear the application unless the scanner owner was present in court. He granted an adjournment until the owner could be notified."
1981
Oct 7 – BA L1011 flight; 2 lbs.2 oz. found in wooden wall plaque
This importation led to the arrest of a returning Bermudian teenager from a trip to Jamaica. The (RG) reported on his Supreme Court trial which commenced on January 19, 1982.
BERMUDIAN 'USED AS COURIER' FOR DRUGS
"When 19-year-old construction worker Colin Andre Jones presented a customs officer with three wall plaques at the airport customs hall last October 7, he was in for a complete surprise.
For when customs inspector Gordon Phillips [of the J.I.S.] drilled holes in the back of the plaques, he found two and a quarter pounds of cannabis concealed inside – cannabis which Jones had no idea was there.
That was the defence testimony in the Supreme Court yesterday.
Jones said he had gone to Jamaica at the end of September for a two-week holiday. While there he met up with a man known to him as "James" with whom he stayed now and again during his stay. James had introduced him to a man known to Jones only by two nick-names: "Bongo" and "Bald Man."
It was "Bongo", testified Jones in the witness box, who had given him the wall plaques on the day before his return to Bermuda on October 7. In return, Jones had given him U.S. $10. He had then hung the plaques – three rectangular black sculptures surrounded by bright red, yellow and black stripes – on a wall in James' house.
The following day, he took them down, packed them in a cardboard box along with some clothes, food and bamboo cups, and checked the box in as luggage on the British Airways Kingston-Bermuda flight.
Facts presented by Police witness Det. Sgt. Stanley Hill, and customs witness Gordon Phillips about the discovery of the drugs, Jones's arrest and subsequent interviews with Police were not disputed by the defendant.
When the plane touched down in Bermuda, Jones had gone through immigration, collected his cardboard box, and presented it to Phillips for inspection. But Phillips was suspicious of the plaques because they sounded hollow when knocked.
In the presence of narcotics officer, Det. Sgt. Stanley Hill, and the defendant, Phillips bored holes into the back of each plaque, and asked Jones if he could see what was inside.
"Ganja," Jones had replied after seeing inside each of the first two plaques, although he replied he couldn't see what was inside the third."
YOUTH GETS THREE YEARS JAIL FOR IMPORTING DRUGS
"Teenage labourer Colin Andre Jones was yesterday jailed for three years for importing about two and a quarter pounds of cannabis. He was also given a concurrent one year term for simple possession of cannabis.
But after deliberating for about an hour the Supreme Court jury cleared 19-year-old Jones of possession with intent to supply.
After the verdict was announced Jones, sporting Rastafarian-style dreadlocks, told the Chief Justice, the Hon. Sir James Astwood: "I have done nothing wrong. That is all I have to say."
Responding quickly the Chief Justice told him that the jury's verdict was "quite proper."
He said: "You took the chance and you got caught."
The Chief Justice also rebuked Jones for using the defence that a man in Jamaica known as "Bongo" had tricked him into being a courier to bring the drug into Bermuda.
Implying that Jones had mocked the jury, the Chief Justice said: "You know what Bongo
means, don't you?"
There was some confusion of the true Jamaican meaning of "Bongo" after the case. One West Indian expert said it was a slang word for cannabis while another said it meant an idiot or odious person."
1981
Oct 8 – BA L1011 flight; 6.599 grams in soap container in passengers luggage
Oct 8 – BA L1011 flight; 11 lbs.13 oz. found in electrical bag
Oct 13 – BA L1011 flight; 798.0 grams found in portable radio
Oct 23 – BA L1011 flight; 7 lbs.8 oz. found in freight igloo
Oct 26 – BA L1011 flight; 2698.6 grams in freight igloo
Oct 29 – BA L1011 flight; 4 lbs.7 oz. beneath trash trolley in catering truck
Oct 31 – BA L1011 flight; 333.418 grams in 7 packages wrapped with masking tape
Oct 31 – BA L1011 flight; 13 lbs.2 oz. in rear toilets
Government's Drug Abuse Officer provided his interesting insight to the Workers Voice in an article published on Friday, November 6, 1981
BRYANT RICHARDS IS WAGING A ONE-MAN WAR AGAINST DRUGS
"In an effort to learn more about just what this government is doing about the growing use of hard drugs in Bermuda, Workers Voice talked with Bryant Richards. He was appointed by the UBP Government some two years ago, as a Drug Abuse Officer.
We arrived at the headquarters of the Health and Social Services on Pointfinger Road and were shown into a small office.
During the ensuing conversation the fact emerged that, apparently this small office and the one man presently represent Government's entire commitment to the solution in our society today.
Mr. Richards shares a typist with the Age Concern office, and has to pay half of her wage out of the $45,000 which is budgeted annually for his office. After his salary and office expenses have been deducted, about $15,000 remains for the implementation of any program he might try to institute.
He referred to a file, when we asked for some figures of addicts in Bermuda. This had a record of some 150 addicts who had used the Methadone program since its inception in 1972. Of that number, some 10% were U.S. citizens. Some of the locals who were on the program have since died, some have gone back on heroin and a few have been successfully detoxified and treated abroad and now lead normal lives.
When we asked how many heroin addicts there were out in the community, Mr. Richards replied: "It's really impossible to know. I know that there are quite a few 'closet' addicts. But it is impossible to know for sure".
He added that there are addicts who do not betray the fact that they are on the drug.
"They hold important jobs and appear, to all intents and purposes, to be normal individuals" he said.
Richards emphasized that complete confidentiality is observed in the treatment of addicts. In the files they have numbers – no names.
He said that many addicts were not agreeable to going into St. Brendan's for detoxification, "because they feel that they will be labeled 'crazy'."
We pointed out that, in fact, they are crazy. For surely no one could presume that a person who spends hundreds, even thousands of dollars on a regular diet of heroin can be considered sane and normal!
WHAT IS A HUMAN LIFE WORTH?
Mr. Richards said that he had tried to rent a facility "somewhere on the edge of Hamilton," which could be accessible to addicts, and where they could come and drink a cup of coffee and learn that help is available if they want it. But, he said, when landlords heard the words "drug addict" they became nervous.
We asked why Government could not build a facility for this purpose. (The Salvation Army acquired a building for a halfway house for alcoholics). "But that would cost about $300,000 or more," said Richards.
Too much to pay trying to rescue drug addicts from certain death, we asked.
"No, no", he hastened to assure us. But then expressed doubts as to whether Government would, in fact, be willing to spend that kind of money.
He told us he is working on the streets and with prisoners who are continually returning to prison.
"Drug addicts?" we asked.
"Some of them," he said, "but I am also trying to get to repeat offenders who are not on drugs, in the hopes of preventing them from taking to drugs, out of a sense of frustration and hopelessness."
It seems that Mr. Richards is trying to run the entire drug program on his own, with no help and little money. And not only is he trying to help the addicted, but he is also trying to prevent others from becoming addicted. In addition to counselling the addict, he often has to address himself to those close to the addict – husbands, wives and parents.
The man is obviously dedicated and sincere in his efforts to do the best with what he has but, as we pointed out to him, he is not a miracle man.
By the appointment of this man two years ago, the UBP Government tacitly admitted that a drug problem did exist in our society and that it was necessary to do something about it.
But the Government's obvious reluctance to fund adequate facilities and manpower since then, has demonstrated how little they are really concerned with finding a solution to that problem.
In recent years, this Government has spent hundreds of thousands of dollars building a complete office complex for various government departments. Surely it can afford to spend a few hundred thousand to address a problem which is destroying an unknown number of our citizens. And which (if we are to believe the statement made by the Commissioner of Police recently) is striking at our young people, the citizens of tomorrow."
1981
Nov 11 – BA L1011 flight; 4¾ lbs. found in rear toilets
Nov 23 – Eastern airways flight from New York; 13lbs cannabis; 50 grams cocaine concealed in speakers inside two cardboard boxes carried by a female passenger.
This seizure, with a combined street value of $81,000 resulted in the arrests and joint charges of trafficking and possession with intent to supply against two Bermudians heard at trial in the Supreme Court in 1982. (R v. Bean and Lambe).
Members of the (J.I.S.) found the drugs stashed in plastic bags in the back of stereo speakers carried by the female passenger. A second arrest of the male co-defendant occurred after his later arrival on the same day on a flight also out of New York.
[Trial reports and the sentencing of Sinclair 'Tony' Cleveland Bean on May 14, 1982 were reported as 'Jail For Stereo Importer'. Actual jail time received has not been recovered]
1981
Dec 11 – BA L1011 flight; 3.53 lbs. in hollowed-out centre of stacked salad dishes
The above seizure was featured in the following RCMP Drug Intelligence Bulletin 2 / 1982.
'The Bermuda Police report the recent appearance of an ingenious drug concealment method. The [below] photographs illustrate the hollowed out centre of a stacked column of salad diches found on food trays on British Airways (B.A.) flights. The dishes had been customized by removal of their bases, so that when stacked they form a hollow column. A total of 1.6 kilograms of compressed cannabis was discovered by the Bermuda Police Narcotics Department on a B.A. flight from Kinston, Jamaica utilizing this modus operandi.'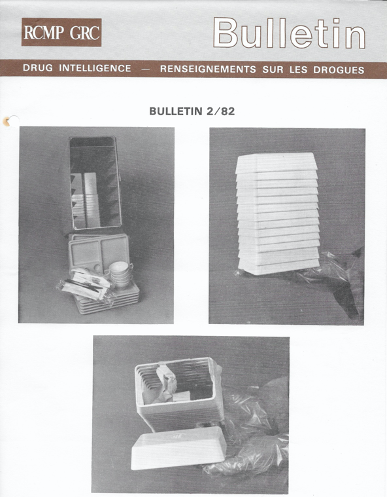 1981
Dec 11 – At G.P.O; 54.819 grams of Heroin concealed in books and wrappings in mail from London
Dec 21 – At the G.P.O; 79.817 grams of Heroin concealed in 3 books in mail from London.
On Thursday, December 24, 1981, when reporting on Police news in his first Christmas briefing to the (RG) since he took command of the force in October, Commissioner "Penny" Bean included details of the above two heroin seizures:
THE HUNT IS ON FOR HEROIN IMPORTERS
"The Narcotics Importation Squad, a team of policemen and Customs officers, intercepted [a combined total of] 135 grams of heroin at the General Post Office [in the past two weeks.] The heroin, of 60 percent purity, has a street value of $150,000 said the Police Commissioner, Mr. Frederick Bean.
"We are eagerly pursing inquiries," he went on. "The local Police Force has been in touch with Interpol and Scotland Yard.
According to Insp. George Rose, head of the Bermuda Police Narcotics Division, the drugs, part of the same consignment, came from London.
"Bermuda was the final destination," he said. "There's no doubt about that."
The person to whom the parcels were addressed has been ruled out as a suspect, he added.
Insp. Rose said he believed that the heroin began its journey in Amsterdam. He called the heroin a major shipment.
"A good seizure has been made," he said. "That amount of the drug has been taken off the street."
"On Monday of this week, the drug squad seized a large quantity of hashish of good potency, Mr. Bean added."
[Clearly, some individuals on the island had a less than merry Christmas in 1981].
Dec 26, 1981 – BA L1011 flight; 4 lbs.2 oz. concealed in food modules
1982
On the 4 January, 1982 the (RG) reported on discussions in the Senate concerning the matter of illegal drugs:
'MONUMENTAL' PROBLEM OF DRUGS
"Drugs pose a "monumental" problem for Bermuda it was claimed in the Senate yesterday. And Senators voiced fears that drugs were coming into the Island on yachts at night and on cruise ships during the season.
"There is no doubt that this community has what I consider to be a monumental problem, perhaps the worst facing it, in the matter of illegal drugs," said Senator Quinton Edness, the Minister of Community Affairs.
He felt the Police did an outstanding job in preventing drugs coming in to the Island, and had been fairly successful in catching people involved in the sale and importation of drugs … … …
He congratulated the Police for their efforts in schools, and said Government planned an Island-wide campaign.
Senator Sir John Plowman, Government's spokesman in the Senate, said that increased Police and Customs checks at the Airport had reduced the flow of drugs, particularly marijuana, coming into the Island.
"I know some people object to the quite stiff measures that are taken from time to time but they must recognize that these measures are occasionally necessary," he said.
Senator Hugh Richardson, the Senate President, said it seemed that the drugs problem was under control during winter months. But things worsened when the cruise ships and yachts started to arrive.
"My concern is over what can be done to further hamper the flow of drugs coming in through cruise ships," he said. … … …
Effective March 8, 1982, I was transferred from the position of O.I.C. Narcotics to Central C.I.D where I immediately took up the positon of Acting Detective Chief Inspector. I had spent the previous 10 years at Central C.I.D. as a D.C. and a D.S. which had included a number of years in the Murder Room and as O.I.C. Eastern C.I.D.
In January 1991, I returned to Narcotics as a D/Superintendent and O.I.C. and remained there for a further 18 months engaged on specific drug trafficking enquiries involving Cuban American cartels and local lawyers. Frequent additional secondments to Narcotics continued into February 1995.