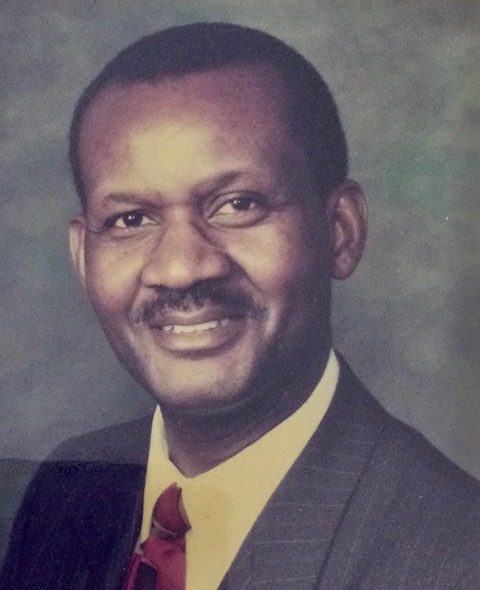 Our good friend and former colleague, Orson Daisley, is celebrating his 75th birthday on Tuesday 27th April and despite the continuing Covid crisis worldwide and the added problems with volcanic ash currently falling on their home in Barbados from the La Soufrière volcano erupting in nearby St. Vincent, we extend our very best wishes to Orson and his lovely wife Madeline as they celebrate Orson's birthday.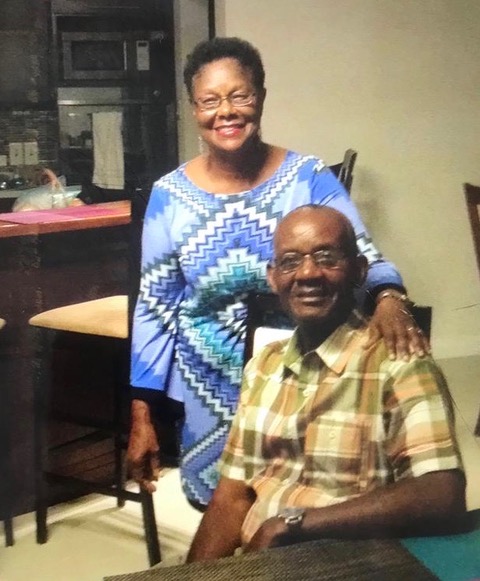 Orson and Madeline relaxing at home
Orson was born and raised in Barbados and he made history when he applied for and was accepted as one of the first contingent of recruits from the West Indies to join the Bermuda Police back in February 1966. The group also included Vendal Bridgeman, Algernon "John" McConnie, Anthony Timothy, Ralph Sealy, Erskine Warner and Robert "Bob" Strickland.
Basic Training Course #7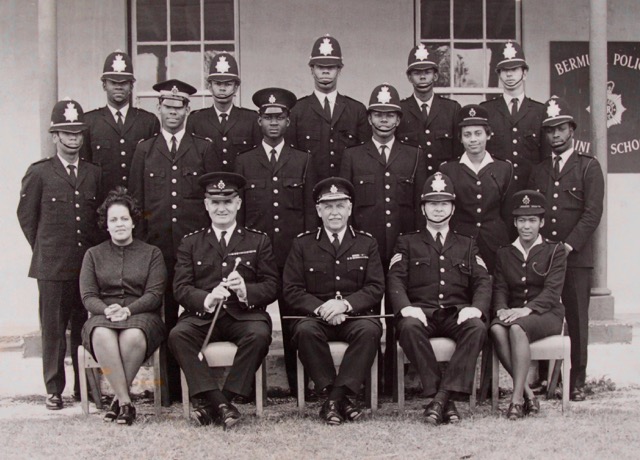 Top Row (l-r) Anthony Timothy, Ralph Sealy, Clyde "Tango" Burgess,
Algernon "John" McConnie, Raymond Sousa
Middle Row - Erskine Warner, Steven Dean (Cadet), Orson Daisley,
Robert Strickland, Gloria Jean Trott, Vendal Bridgeman
June Dickenson, Chief Insp. Roy Chandler, COP George Robins,
Sgt John Cafferky, Gertrude Cannonier
They attended Training Course No. 7 at the Police Training School at Prospect, along with local recruits, Clive "Tango" Burgess, Ray Sousa, Gertie Barker (Cannonier), June Dickenson, Pearl Trott and young Cadet Steve Dean.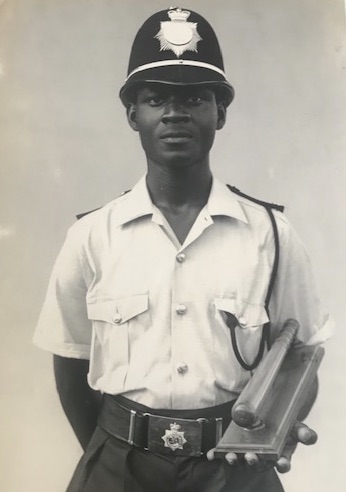 Young P.C. Orson Daisley
awarded the Baton of Honour
Orson clearly showed his exceptional abilities when he was awarded the Baton of Honour for his Course.
His first posting was to Eastern Division, St. George's where he also spent time in Eastern CID.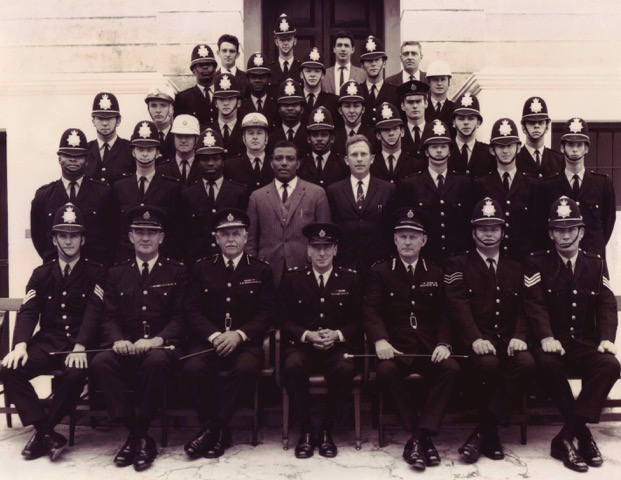 Eastern Division 1968
Back Row (l-r) Tom Hill, Ken Bent, Mike Tate, Larry Jackson
Row 5 - Carl Beckles, Orson Daisley, John "Rigor" Morris, Jerry Molloy, Neil Cox
Row 4 - Barry Smith, Peter Jones, Clay Carter, Dave Anderson, Les Brown
Row 3 - Tony Smith, Eric Laing, Dave Chew, Mel Gibbons, Ian Ganson, Eric Sanderson, Owen Marsh
Row 2 - Eddie Edwards, Al Proctor, Vendell Bridgeman, Dudley Swan, Jeff Sanders,
Ronnie Boggan, James Robinson, Bob Hay
Front Row - Sgt Mike Burke, Supt. LM "Nobby" Clarke, COP George H. Robbins,
Divisional Insp. Douglas "Red" Hebberd, ACOP Frank B. Williams, Sgt. Joe Colton, and Sgt Harvey Fothergill
In 1970 Orson was transferred to Operations in the records room where he continued to serve until his promotion to Sergeant in September 1973 at which time he was transferred to Central Division as a Watch Sergeant.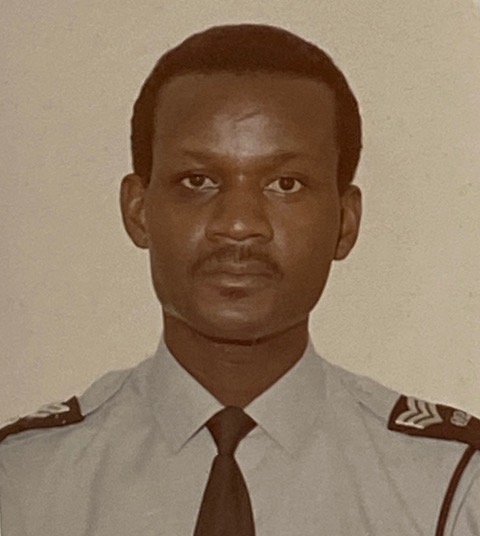 Sgt Orson Daisley
Orson spent time as a Sergeant working in CID, in the Murder Room, and in the Criminal Records Office, along with additional spells in Hamilton, St. George's and the Traffic Department, before moving to "E" Department (Travel Control) in 1980 which seemed ideal for his talents as a meticulous and most conscientious police officer.
Orson and Madeline were married on 15th October 1983, and have been happily married for the 37 years.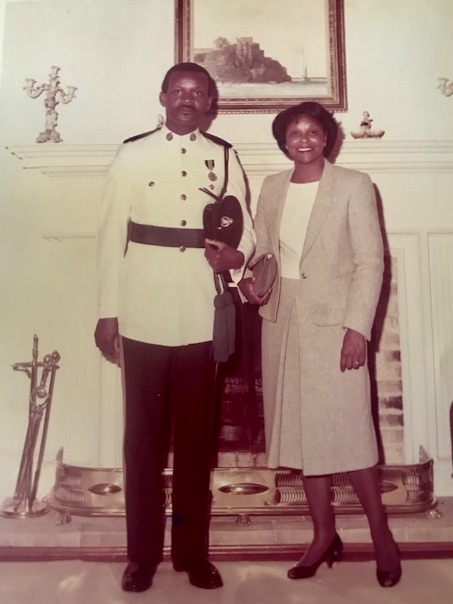 Inspector Orson Daisley and Madeline attend
Government House for the award of his
Police Long Service and Good Conduct medal
Orson received his Colonial Police Long Service and Good Conduct medal in February 1984 in a ceremony at Government House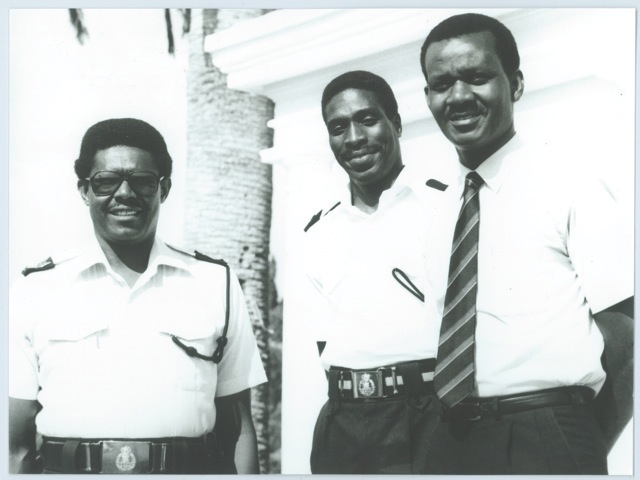 After joining the Bermuda Police in 1966 as the first contingent from Barbados
these three police officers all reached the rank of Inspector during their service
(l-r) Inspectors John McConnie, Vendal Bridgeman and Orson Daisley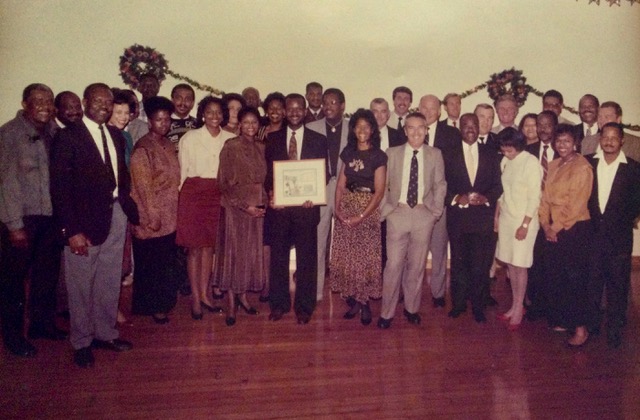 Retirement Party for Inspector Orson Daisley at the PRC
We asked retired D/Superintendent Andrew Bermingham about Orson's work in Special Branch, and he kindly provided us with the following comments:-
"Orson had an eventful and valuable time in Special Branch which saw him as Sgt in command of Travel Control at the airport working with HM Customs and their US counterpart. Promoted to Detective Inspector in July 1984 he was made the SB
Desk Officer responsible for collating information, file updates and the writing of reports for the Commissioner and His Excellency the Governor. All paperwork was his responsibility.
"The period 1980 to 1994 was the "VIP" age when a host of dignitaries visited Bermuda on private and official visits. This was in large part due to Sir John Swan who was like a magnet in enticing dignitaries to Bermuda. Orson had to do the planning of the operational orders and liaise with Traffic responsible for motorcades. This was all done with quiet efficiency; he was never one to show anger and he treated junior officers with respect.
"Orson retired early after in February 1991 after 25 years service but would have been destined for higher rank. The years 1980 to 1994 were SB's "finest hours" and Orson was very much in the thick of it all. An Officer and a Gentleman !"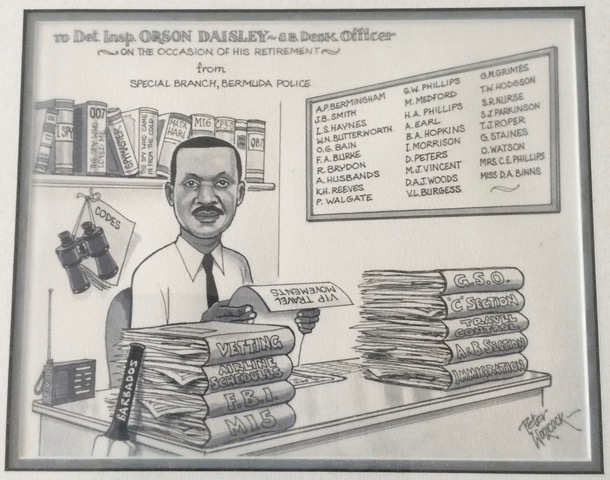 Orson's retirement cartoon by Peter Woolcock
(Only authorised persons are allowed to
read
the names of his fellow Special Branch members!)
Following his retirement from the Bermuda Police Service, Orson attended Concordia University in Montreal for two years doing computer studies. On returning to Bermuda he worked at the Bank of Bermuda/HSBC, then worked at BAS Bermuda Aviation Services as Chief Operating Officer, Airport Operations. He was appointed as Bermuda's first Aviation Security Officer in July 2002.
Following his "final" retirement Orson and Madeline moved to Barbados in 2006 and have settled there while still keeping in touch with their family.
What many of his former colleagues may not be aware of is the passion that Orson and Madeline have always shared for gardening. Both Orson and Madeline are active life members of the Barbados Horticultural Society and are proud of their own garden which is often open to the public and for which they have won many trophies and prizes in the Barbados Community Independence Association garden competitions.
These photos were taken of their garden when it was covered in ash following the recent La Soufriere volcano eruption in neighboring St. Vincent. We understand that the ash and dust is expected to continue to fall for at least the next 3-4 weeks and maybe longer, so in addition to having to deal with the coronavirus pandemic, they are having to constantly sweep ash and dust inside their home and wash down their porch and pathways.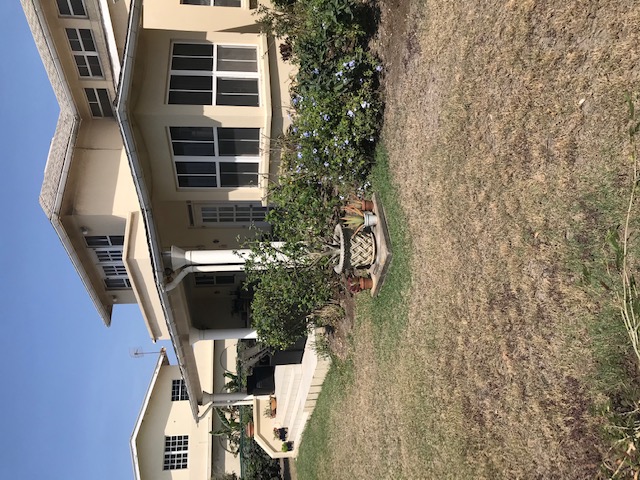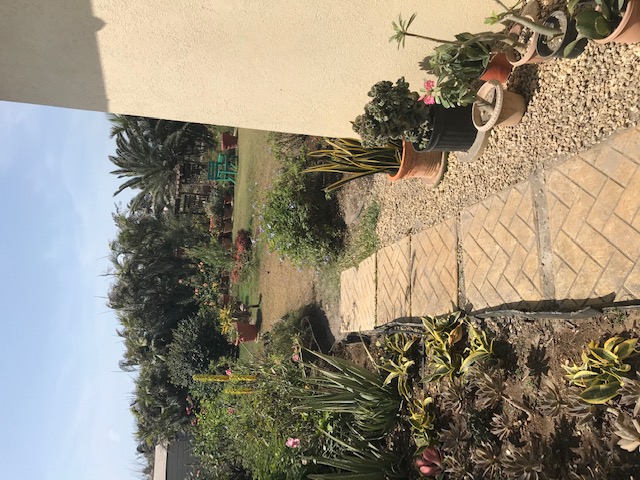 The Daisley's Garden 2 weeks after La Soufriere volcano
deposited ash and dust that constantly needs cleaning up
Looking on the bright side, gardening is more than just a passion in the Daisley household. Through his involvement in the Barbados Horticultural Society, Orson has represented Barbados as a member of their team competing in the prestigous Annual Horticultural Society's Chelsea Flower Show where they won Gold four years in a row.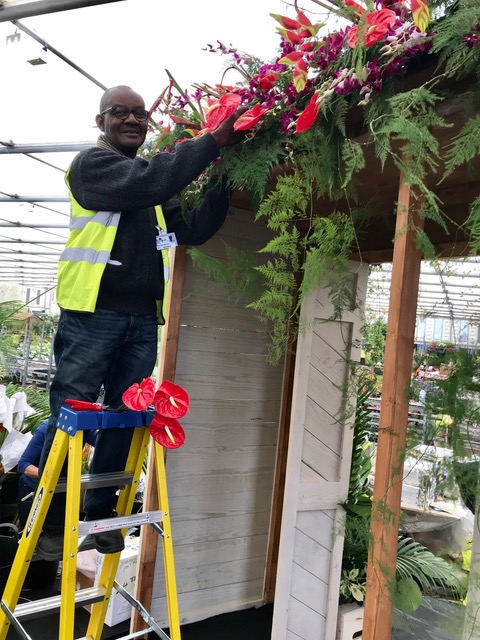 Orson putting finishing touches to the Barbados
entry at the Chelsea Flower Show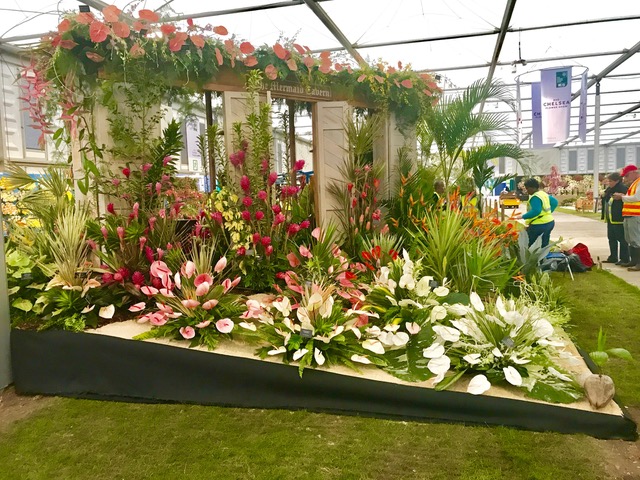 Barbados' entry at Chelsea Flower Show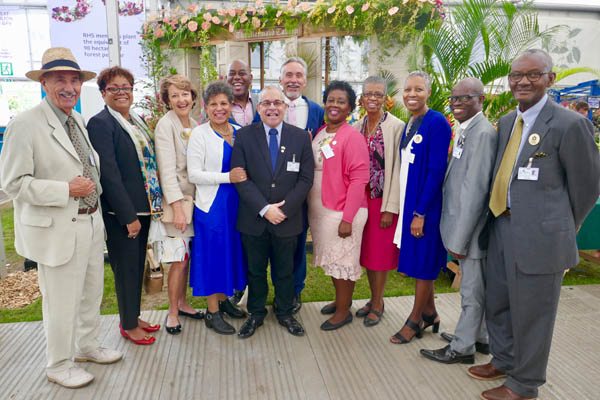 A very happy and smiling Orson with members and friends of the Barbados Team
at the 2019 Royal Horticultural Society event upon winning
their 20th Gold Medal at the Chelsea Flower Show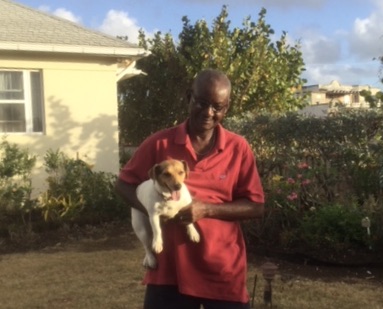 Orson with his much loved Jack Russell "Missy"
This has been an exceptionally difficult year for all of us but it has been a pleasure to put this article together and to wish our good friend Orson a very Happy Birthday and Many Happy Returns.
We have also received the following well wishes from Orson and Madeline's friends and family, and if you would like to add your own best wishes please free to send them to us at This email address is being protected from spambots. You need JavaScript enabled to view it. or write them in the Comments section below the article.
Orson, on behalf of your former colleagues, friends and family here in Bermuda and around the world, I would like to wish you a Happy 75th Birthday. This pandemic means that you will not have a grand birthday party surrounded by your friends and family, however, I am sure that Madam Madeline will be more than enough company to help you celebrate this significant milestone.

So, on behalf of EXPO Bermuda, your friends and colleagues we thank you for your service and the legacy with the Bermuda Police Service and wish you the best of health, and love as you and Madeline celebrate your special day. HAPPY BIRTHDAY

Calvin Smith
President
Bermuda Police Service
Ex-Police Officers Association
A very happy 75th to Orson and best wishes to Madeline.
Happy 75th Birthday Orson!
While you have never tried to take the place of my dad (Alex),
you are and always have been a true blessing as my Stepfather…
You are a great listener and have been supportive over the years…
Our plans were to surprise you for your 75th Birthday this year but
while it may not be in person, I wish you many more years of
health and strength and an extra Special Day, you deserve it!!
With Love, Andrea
Happy 75th birthday Orson. As you celebrate this extra special milestone, we wish you continued blessings of love, joy, and happiness.
With love, Anton "Dimples", Debbie, Anton Jr "Ira", Jarreau, Taylor, and Jax
Happy 75th Birthday Pappy!
I am blessed to be able to call you my "Pappy"
Thank you for all the treasured memories and fun times...
The thoughts bring a smile to my face
With Love From: Aliz
I would like to wish Orson a very happy 75th birthday. Although we were on the same orientation course in the Bermuda Police Force our friendship surpassed the police and our families were very close with our sons growing up together in prospect. I was also welcomed in their home in Barbados and shown around his wonderful home country. Madeline and Orson are an amazing couple and I wish them many happy years together.
Happy 75th Birthday Orson
It is hard to believe that 55 years ago we were in a group of young people from different countries and walks of life that took part in a basic Police training course. Besides for the excellent training, I believe every recruit contributed a part of themselves from their life experiences.
For your part you, Orson, were recognized at the beginning as the Academic in the group; and justly got the baton of honour at the end of the course. Experts say that good students learn not just from lessons and instructors; but from fellow students. I know it is true in my case regarding basic training and I have used that knowledge all my life. In any case with us working together we all passed the course. Thanks for your help.
I sincerely wish you a Happy Birthday and plan to join you in the " 75 Club" in the near future.
Raymond Sousa