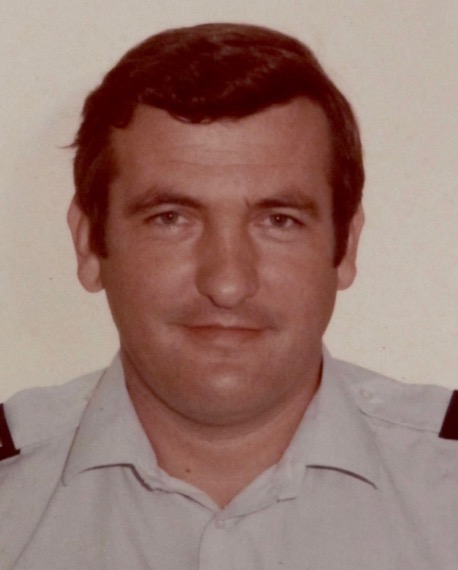 Young Sergeant Alex Forbes in the 1970
A Memorial Service was held for retired Assistant Commissioner Alex Forbes on Friday 6th January 2017, at Christ Church in Warwick, attended by Alex's family and a good many of his friends including his former colleagues in the Police Force.
Alex had passed away on December 9th 2016, after a short illness.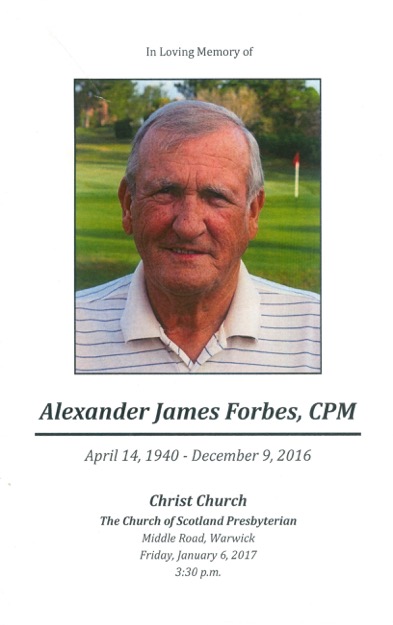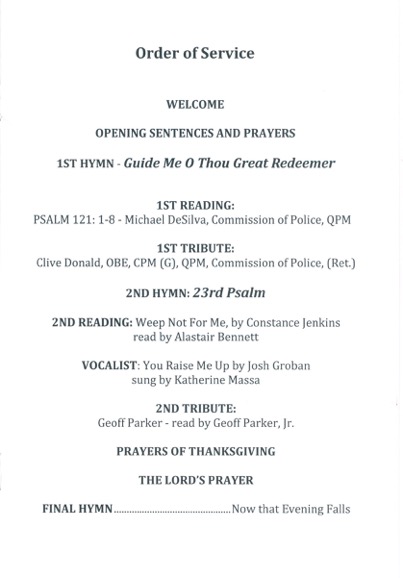 As you can see from the Order of Service, Commissioner of Police, Michael DeSilva, QPM gave the first reading. The Commissioner expressed his sincere condolences to Alex's wife Valerie and to their children and grandchildren. He also related a brief experience he had with then Superintendent Forbes back in 1985 when Michael was a young cadet.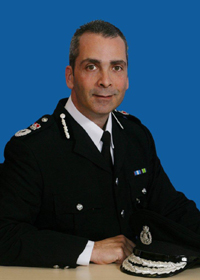 Commissioner Michael DeSilva
A contingent of police officers, including Mr. Forbes and a group of Police Cadets were about to take part in the annual Queen's Birthday Parade, when young Cadet DeSilva happened to notice that the Superintendent was wearing a pair of shoes that were polished like glass! In those days the cadets were all vying to have the shiniest shoes for their weekly inspections, and would spend hours using spit and polish, to outdo their fellow cadets. A then very shy young Cadet DeSilva managed to pluck up the courage to ask Mr. Forbes how he managed to have such an incredible shine on his shoes.
Mr. Forbes described in detail how he used a combination of spit and polish, candlewax and elbow grease, but after imparting his secret formula Mr Forbes finally came clean and told the young cadet that his shoes were "patent leather"! Commissioner DeSilva pointed out that as a mark of respect for Mr Forbes he was attending the memorial service wearing his shiniest patent leather shoes.
Retired Commissioner, Clive Donald OBE, CPM(G),QPM then gave the following Tribute:-
Alexander James Forbes was born on 14th April 1940 in Aberdeen, Scotland. He was educated at Aberdeen Grammar School and Aberdeen University.
Before coming to Bermuda he worked for the British Government in the then Northern Rhodesia in Africa.
In 1963 Alex applied to join the Bermuda Police Force. He was accepted and arrived in Bermuda (along with a contingent of recruits from the UK) in September 1993.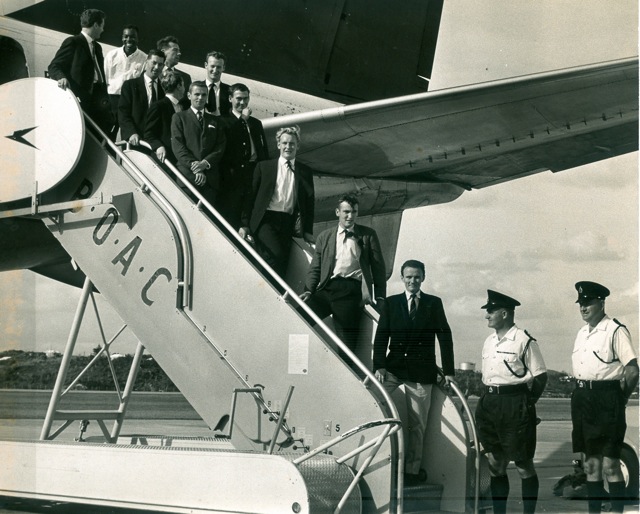 A group of keen new recruits arrive at the airport to be greeted by
Inspectors Roy Chandler and Thomas Doyle. Young Alex Forbes is second from the bottom
For more information about the above photo go to our "Who, When and Where column at
Alex attended a 13 week Training Course where he excelled and was awarded the "Baton of Honour" as top student.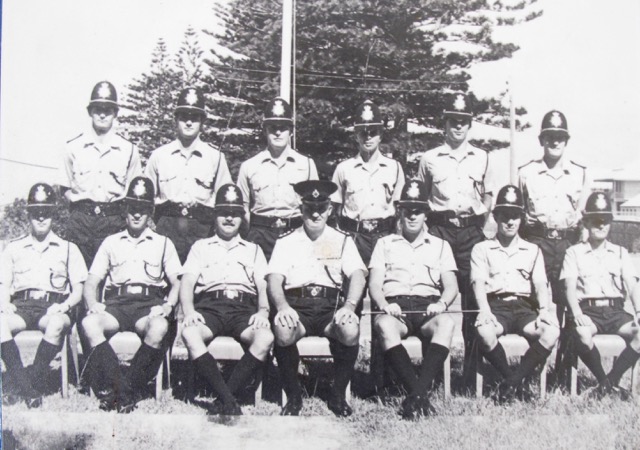 Top Row (l-r) Alan Kennedy, Leonard Mustard, Robert Holdbrook,
Ian Scotland, Malcolm Robishaw, Alexander Forbes
Seated - David Chew, Alan Wilkinson, Sgt. John Cafferky, Chief Insp. Roy Chandler,
PC Andrew Heggie (Instructor), Ian Douris, and Terry Lambert
His first posting was to Hamilton on the beat for about a year before being moved to Traffic for 3 years. He was then transferred to "E" Department Special Branch for another 3 years.
Alex was promoted to Sergeant in August 1970 and for the next 10 years he served in several departments before further promotion to Inspector in December 1979 and to Chief Inspector in 1981.
By this time Alex was serving in the Administration and Finance Department and became the officer-in-charge of this department and was further promoted to Superintendent in May 1984. Alex performed a very efficient and valuable job in this important area of the Police Service.
He remained in charge of Finance and Administration until he was made Assistant Commissioner in charge of the Uniform Branch, and he attained the rank of Deputy Commissioner in April 1992
Alex had intended to retire in September 1994 but delayed doing so when asked to take on the position of Acting Commissioner during the absence of then Commissioner Lennett "Lenny" Edwards who had to leave the Island for several months for medical treatment abroad.
Alex finally retired in early 1995.
Alex was a keen sportsman, well known on the rugby field for his hard, enthusiastic play. He was a regular member of the Police Team for many seasons and also played for the Bermuda National Team. He was also a keen golfer and for a time took part in the administration of our Police Boxing Team.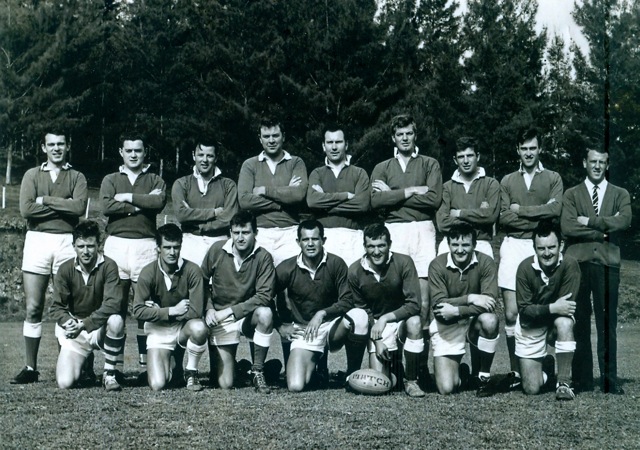 Victorious Nichol Shield Winners - 1967
Back row (l-r) Dave Garland, Tommy Gallagher, Bill Pritchard, Barrie Meyers,
Dave Lunn, John Sharp, Ian Mitchell, Bob Massey and John Bailey (injured)
Kneeling - Vic O'Neill, Dick Johnson, John Williams, Jack Rouse,
Alex Forbes (Captain) Pat McBride, and Tom Sullivan
Alex married Valerie in May 1968 and they had two children, Amanda and Grant. He was also grandfather to Justin, Kayla, Sofia and Eva.
Several retired members of the Police Service, some now overseas, have made contact through our Ex-Police Officers website. All expressed their condolences to Valerie and family, and have commented on the good times they had with Alex both at work and on the field of play. This illustrates how Alex was viewed by his fellow members of the Police Force during his long career.
He always conducted himself in a very positive way with a keen sense of humour. He was greatly admired by his fellow officers and will be sorely missed.
In his later years, Alex joined the Bermuda Senior Golfers Society and was a keen golfer. I used to play him at Riddell's Bay Golf Club and to be best of my recollection he always beat me! I see the Senior Golfer's Society are well represented here this afternoon wearing their official uniforms with red blazers.
On behalf of all of those who worked with Alex, and knew him both on and off the sports field, I offer sincere condolences to Valerie and to all of his family."
A tribute was also given by Geoffrey Parker Jnr on behalf of his father Geoffrey who, along with his wife, were long-time friends of both Alex and Valerie.
The following comments we received from some of the guys who have fond memories of the times they shared with Alex here in Bermuda:-
From Malcolm Robishaw via email on 28/12/16
I first met Alex on the plane to Bermuda from Heathrow, either 23rd or 24th September, 1963.
He immediately approached me because I was wearing an Aberdeen FP tie that I had swapped with some long forgotten rugby opponent previously, a common practice in those days. Alex went to Aberdeen Grammar School so obviously he was curious.
Also on the flight was Dave Chew who I was friends with before I went to Bermuda and the three of us became firm friends and have remained so ever since despite my returning to the U.K.
We arrived on a Tuesday and apart from collecting our uniform we were given the rest of the week off to explore the Island and acclimatise. During our first weeky in Bermuda, Alex, Dave Chew and myself went to Butterfield Bank and borrowed enough money to go to the Lambretta dealer and purchase a new scooter each, a red, a blue and a green one!
Both Alex and myself (and Dave to a lesser level) were keen rugby players and Alex and I started playing almost immediately for the Police team, possibly the first Sunday we were there and if not the second Sunday. The first game we played we were taken to Boaz Island by John ? (probably "Tiny" Wakefield) who worked in stores and thereafter we travelled to the game always by Alex's scooter. Why his I have no idea, possibly he was a more experienced motorbike/scooter rider than me.
The team captain then was John Rawson. After each game we retired to Sandy's Boat Club for some liquid refreshment and the journey home was always more exciting than the outward journey! It was always a great social couple of hours at SBC as there were 4 teams and their families and friends there.
Our training course lasted 13 weeks and we had a written test every Friday. There was intense competition between Alex and Dave Chew as to who would be No.1 in the tests and they shared the position between them. I was usually a miserable third!
At the end of the course Alex was awarded the Baton Of Honour and it was obvious that he was destined for senior rank.
I stayed friends with Alex and Dave Chew throughout my stay in Bermuda and thereafter. Alex stayed with me in England in 1965 or 1966 when he came to the UK for a wedding and several times thereafter when he was in the UK. About 1979 we were both at Lancashire Police HQ at the same time. Alex on his Inspector's course and me on my senior CID course.
I have visited Bermuda several times since leaving the Island and always spent some time with Alex and Valerie when I was there.
In my opinion Alex was a great man with great qualities. My personal nickname for him was " golden balls " because he succeeded well in everything he did! I will miss him greatly.
Sincere condolences to Valerie and the Forbes family.
Best wishes, Malcolm Robishaw
Comments from Dave Chew on 29/12/16
I first met Alex on the plane coming to Bermuda in September 1963.
Alex was excellent company on our Basic Training Course in 1963 and we became good friends. He was a very meticulous person and a great listener.
Malcolm Robishaw, Alex and I got together in a study group during our training school course, and I have to say I had never studied the way Alex encouraged us to do. He was meticulous about understanding every word and every line. It was a big help to us. Although he and I vied for first place in the weekly exams, Alex was top of the course and richly deserved to receive the 'Baton of Honour'.
He was an excellent rugby player, and a few years later he also played cricket and was a stoic batsman.
Although Alex was "dead straight" in what he did he also had a great sense of humor and was always very good company. At one time he attended a Police course in Lancashire and while there he took the time and trouble to go and visit my mother which was very thoughtful of him.
Mike Caulkett -
I was so very sorry to hear of the passing of my friend Alex.
 He was an excellent rugby player and was our regular hooker while I was in Bermuda. He and I played rugby together in the police team, and like Bill Butterworth I was also injured by Alex despite playing in the same team! I played second row and on one occasion when Alex, as hooker, struck for the ball his thigh broke my nose.
Have to say that I was honoured when he asked me to be his best man at his wedding to Val.
I returned to the UK in 1970 and married Jill in 1971 and in 1972 Alex and Val very kindly put Jill and me up when we returned to Bermuda for a belated honeymoon.
I last saw Alex when he and Val treated Dave Needham and me to lunch when we attended the Boxing section Reunion in 1989.
I regret I haven't had much recent contact but Alex often comes to mind when reflecting on happy times in Bermuda.
It is a regret that I was unable to attend his funeral.
I send my sincere condolences at their sad loss to Val, Amanda and Grant.
Although I didn't work with Alex very often I particularly remember a time towards the end of the sixties when he and I were part of a team on a special assignment down at the airport. I believe the team was chosen as individuals who could deal with sensitive situations that might arise without causing increased antagonism. After a few days and after the last person had left and the airport was closed late in the evening our group was in good spirits.
Most people who have worked at the airport will no doubt remember that there were, and maybe still are, several stuffed fish hanging on the walls of the airport with descriptive plaque under each one. I would decline to name who came up with the idea, but we carefully changed all the fish around so that under the 8' Wahoo now appeared a plaque which read something like 'This fish can be caught in the shallows around Bermuda' and under a very small fish - a pompano - was a plaque which now read 'This powerful fighting fish can be caught in the deep waters off Bermuda'. Several other similar changes were made and I still laugh to myself every time I think about the next batch of tourists coming through the airport".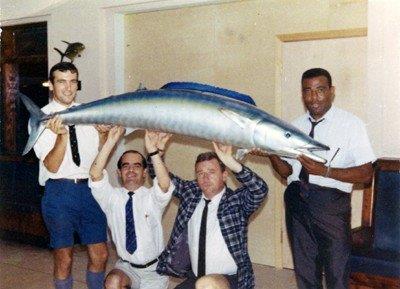 Something fishy going on here! Is it a pompano or a wahoo?
(l-r) Alex Forbes, "Spider" MacKenzie, John Mulholland and Dudley Swan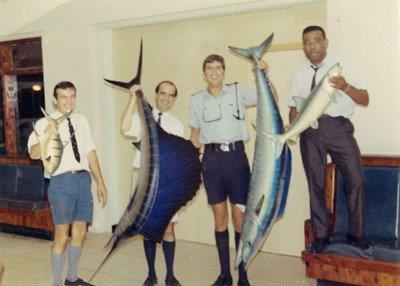 Four trophies!
(l-r) Alex Forbes, "Spider"MacKenzie, Mike Caulkett, and Dudley Swan
"Along with many colleagues I did some bits of modelling arranged through the Bermuda Trade Development board and an enjoyable diversion these events were. I particularly remember the filming of an ad for a new rum; I think it might have been Appleton's. It involved a group of us generally enjoying ourselves around a swimming pool, jumping in playfully pushing each other in etc.
I think Alec Forbes and Claire, Paul Field's wife at the time were part of the group. Problem was that throughout the session we were given glasses of the said rum which we of course drank, it would have been impolite not to. I can assure you that at the end I was in a right old state as were most of the others involved".
Happy Days in Bermuda!
Please pass on my sincere condolences to Valerie and their children and family
Email from Bill Butterworth
I played rugby with Alex from October 1970 on an off for the rest of that season until his retirement.
He already had the nickname Punchy and one can only surmise that it was an indicator of his responsive nature on the rugby field.
He was a hard and determined player always ready to get stuck in.
I know the first injury I received in Bermuda was as playing Prop and Alex was the Hooker. Alex was a traditional striking hooker as was the style then. The ball came into the scrum and as it broke up I came out of the low set scrum with a cut to eye. The result of either Alex's knee or boot!
Derek Hurdle tells the tale of being in a loose maul and a hand grabbing hold of his jaw, fingers into his mouth trying to pull him away from the ball.
Determined to find out who it was Derek clamped down on the fingers with his teeth and as the maul broke up and players ran off he was left with a sheepish looking Alex Forbe
After retiring he refereed and was frequently seen at Rugby with his children, Amanda and Grant.
I worked with Alex in Special Branch before he left to go off to Uniform and onward and upward.
Roger Sherratt
I first met Alex within the first couple of weeks of my arrival here in Bermuda in late May 1964. For some reason he approached me and asked if I would like to go to a party in Southampton on a blind date. He had a girlfriend (this was pre Valerie!) and she had a friend out from Wales. Sounded good to me, but even better when we arrived and I was introduced to a gorgeous young blonde Welsh girl who was out on holiday. What an introduction to Bermuda!
Alex was impressed when I told him I was an Aberdeen fan, having travelled to the Granite City as an eleven year old to visit my Uncle Ray Sherratt and his family, at which time I was taken to Pittodrie to watch Aberdeen play Celtic, and finish victorious in April 1953. If memory serves me the score was 3-1. I've been an Aberdeen fan ever since and Alex would always provide me with updates on the progress or otherwise of his home team as recently as just a few months ago. He certainly enjoyed those magic days in the 1970's and early 1980's when Aberdeen were magnificent under the management of Alex Ferguson.
I played cricket for the Police team for a few years, and was surprised when Alex turned up to play in league matches and some divisional matches. Let's face it, having a Scotsman on your cricket team was a rarity! Alex was a steady batsman who liked to open the innings.
I rarely worked with Alex but in the 1980's I was in charge of Community and Media Relations and had more dealings with him in his capacity as Superintendent and Assistant Commissioner. I think it would be more than fair to say he was not enamoured of the press, and he firmly believed that the less said the better! It was my job to liaise with the press and to be as open as possible with members of the media. I remember on more than one occasion having somewhat spirited discussions about what I should or shouldn't say about a particular matter, and after making it clear that he would prefer me to say nothing he would offer a wry smile and tell me to go ahead and do what I had to do!
I consider Alex to be one of the very smartest police officers I have ever had the privilege of working with.