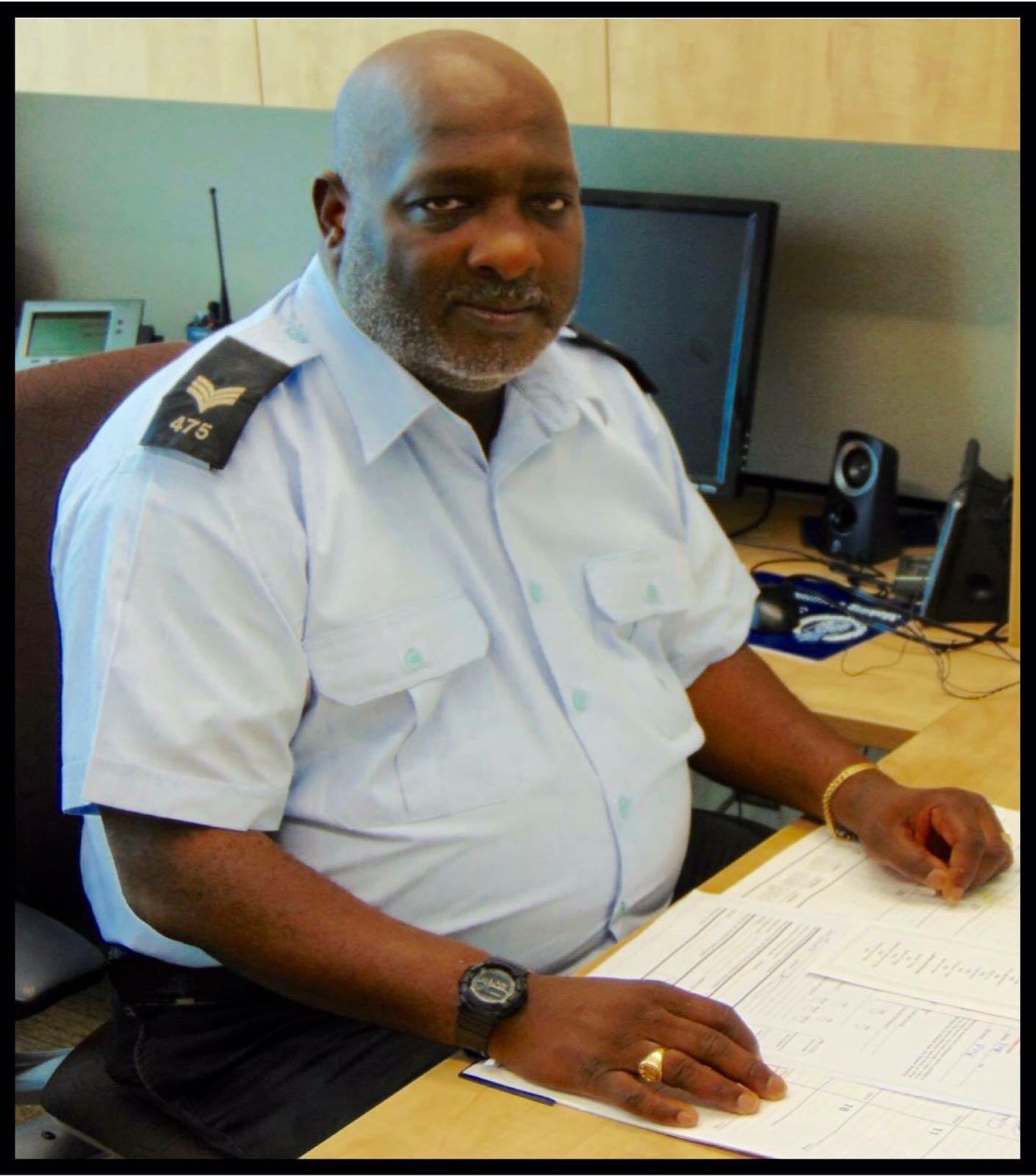 Sergeant Gregory "Greg" Grimes
We were deeply saddened to hear the tragic news that our good friend Sergeant Gregory Grimes passed away suddenly on 14th December 2016 whilst on duty.
Greg was an exceptionally popular policeman who always took the time to mentor younger police officers. We know that many of our more recently retired members will have fond memories of working with Greg, who in 2009 was chosen as "Police Officer of the Year and Sergeant of the Year"
On 15th December 2016, we received the following statement regarding Greg's passing:-
"The Bermuda Police Service (BPS) regrets to announce the death of Sergeant Gregory MacArthur Grimes. Sergeant Grimes passed away in the early hours of Thursday morning following a medical emergency on Wednesday afternoon in which several police colleagues came to his aid. Commissioner of Police, Mr. Michael DeSilva, said: "This comes as tragic and difficult news for many of us who knew him well. Greg was highly respected and admired, and he touched the hearts of so many of our officers and support staff. He was regarded as an exemplary and compassionate supervisor who cared deeply about his colleagues, and he had a passion about policing and his community. We are all stunned by the loss of Greg and we have activated welfare and support services for any of our staff that might need them. On behalf of the officers and staff of the Bermuda Police Service and the Bermuda Reserve Police, I offer our sincere condolences to Greg's family and friends who are in our thoughts and prayers at this most difficult time. He will be intensely missed."

Sergeant Grimes joined the BPS as a police cadet in August 1978. He was promoted to sergeant in April 1991 and he served in a variety of posts including uniform, CID, and Special Branch. More recently, he held the post of lead custody sergeant. He managed the custody facility at Hamilton Police Station and he had direct leadership of new police recruits and probationary constables. His professional commitment and high performance earned him the award of Officer of the Year twice in the last five years. Sergeant Grimes was also awarded the Overseas Territories (Police) Medal for meritorious service in the Queen's Birthday Honours this year. Outside of policing, he served as a board member and former chair of the BFA as well as a FIFA referee. He was actively involved in all aspects of football in Bermuda for over 20 years, including youth football, coaching and refereeing. He has represented Bermuda internationally as part of the BFA's delegations to matches held by the Caribbean Football Union and CONCACAF."
A funeral service was held for Sergeant Gregory MacArthur Grimes at The Cathedral of the Most Holy Trinity on Church Street in Hamilton at 11am on Wednesday 21st December 2016, The Cathedral was packed to capacity and overflowing with family, friends, and many of Greg's colleagues who had served alongside him in the Bermuda Police Service.
Front cover of funeral programme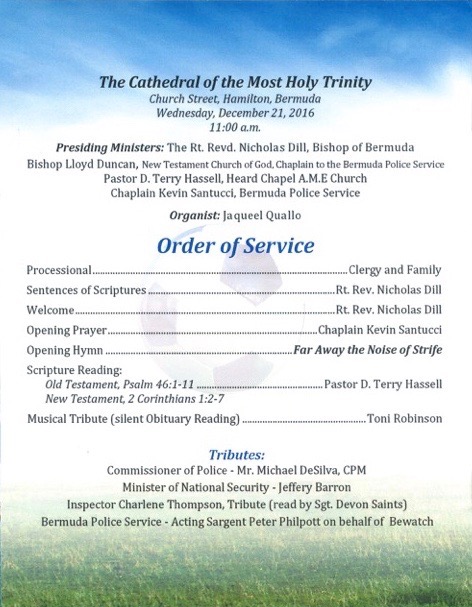 Order of Service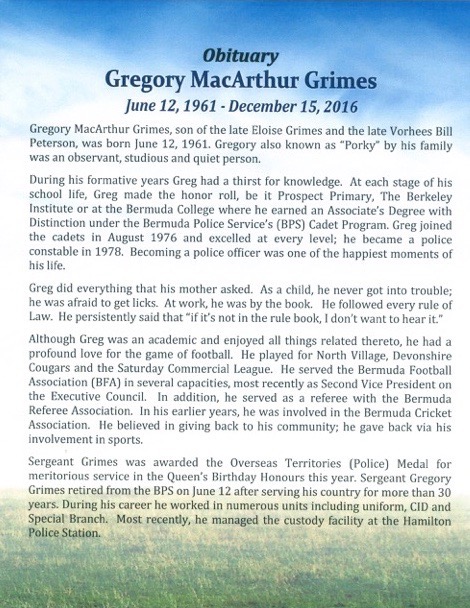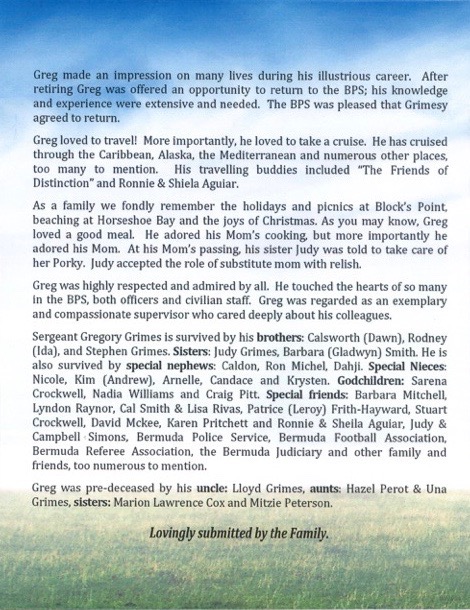 Obituary for Greg lovingly submitted by the Family
Commissioner of Police Michael DeSilva was asked by Greg's family to give a Tribute to him during the Service which we print below in full. Commissioner DeSilva had access to Greg's personal police file and it says much of Greg character that the Commissioner could directly quote numerous comments made by Greg's supervisors throughout his 38 years in the Bermuda Police Service. These comments speak to themselves about the character of this incredibly loyal and committed police officer who devoted his life to the BPS and those who served alongside him.
Tribute to Gregory MacArthur Grimes
from Commissioner of Police
It is my pleasure to provide a tribute to Sergeant Gregory MacArhur Grimes on behalf of the Bermuda Police Service. I have the privilege of having full access to everyone's personal file, and I have pulled together a few snippets from Greg's file to assist me today. Bear in mind that Greg served for 38 years, so you can imagine he had a pretty big file. This should only take about 2 or 3 hours, so let's get started. I think you will recognize some character traits that are as true about Greg today as when they were first written, many years ago. You may or may not recognize some of the names.
Gregory MacArthur Grimes submitted application to the Bermuda Police Force at the age of 17 on 27th June 1978.
He stood 5' 8" tall and he weighed 145 lbs. Although his height would remain constant throughout his career, that was possibly the last time he would weigh 145 lbs.
Although cadets had been introduced to the Police Force in the late 60's, Greg's intake was the first group to attend the Bermuda College as a structured part of the cadet scheme.
Syke Smith was the Superintendent in charge of Training. He asked Sgt. Mike Kelly to conduct a home interview. Sgt. Kelly interviewed none other than Mr. Robert Horton, of The Berkeley Institute.
Horton: "Steady and willing worker, gets along well with everyone around him. Very good student and he does well academically."
Recognizing talent, Commissioner "Nobby" Clark hired Greg immediately, and he started his police career as a police cadet along with Christopher Goggins on Monday 28th August 1978. He received a salary of $5,621 per annum, and Sgt. Alan Bissell wrote to him that day to inform him that his Group Life Insurance payment was due. It was $2.08 per month!
One year later Sgt. Steve Petty nominated Greg for Cadet of the Year. "He has been diligent in his studies, and he has improved in all areas across a heavy workload of subjects. He impresses me with his open and frank discussions, and his mature and capable manner. He is always willing to help and assist other cadets where he can." The nomination was endorsed by Insp. Barry Meade, Superintendent Harvey, and Deputy Commissioner Fred Bean.
Cadet Grimes attended Outward Bound in Aberdovey, Wales in July/August 1980. His course report read, "He knows when seriousness and hard work are necessary, and he always remains in good humour and provides much group encouragement and entertainment."
Cadet Grimes was appointed as Constable 475 Grimes on 20th October 1980 along with fellow Cadets Andrea Durrant, Sheldon Fox, Edward Lightbourne, Leonard Simons, Roxine Simons, B.T. Smith, and Gary Young. The new constables received $12,489 per annum, although the group insurance remained at $2.08 per month.
They attended Basic Training Course #28 between October 1980 and January 1981. Greg placed 3rd overall out of 17 recruits. Sgt. A.J. Smith described Greg as "An enthusiastic young man with a good attitude. He is a hard, conscientious worker who needs minimum supervision. He was a contender for the Baton-of-Honour, and he will make a first class police officer."
Deputy Commissioner Fred "Penny" Bean remarked that Greg was a very promising recruit who had done well, and he acknowledged the tragedy that Greg had to attend the training course while his mother was terminally ill. Sadly, she died one month after the training course graduated.
Greg was posted to the Eastern Division after graduation. Many of you will know that the Eastern Division is at the opposite end of God's Country, which is, of course, Somerset!
Early assessments were positive: May 1982 Sgt. Steve Dunleavy rated Greg A and B, and O for Service relationships. "Keen to learn, gets on well with everyone, and his conduct is excellent."
PC Grimes attended Continuation Training Course #13 Feb/Mar 1983. Insp. Alan Bissell: "Gained a lot of confidence since Basic Training. Hard working, obtained good results, and made an impression on the staff. He has much to offer." COP Bean: Quote: "Interesting!" Senior officers back then were men of very few words.
Back in the Eastern Division, April 1983, Sgt. Ronnie Boggan: "Always smart and punctual. Work is constantly improving and reports are of a good standard. He is a popular member of the Division."
Later that month Greg failed his first driving course. Supt. Gerry Harvey: "He should not be discouraged. He had a basic understanding of the system, but he has a lack of driving experience. He should be afforded another chance in the near future." In May 1985 PC Grimes returned and passed the course.
Annual assessment October 1984, C/Insp. Jerry James: "Always clean and tidy, however, he is a bit overweight." Told you! "Pleasant-natured and dependable, he works with minimum supervision. He impresses supervisors with his vitality, and his workload is above average."
His impressed supervisors sent him on attachment to CID in December 1984. Jan 1985, Letter of appreciation for an investigation from Dr. Robert Steele of Endsmeet Animal Hospital in Devonshire.
At the end of his CID attachment, DS Steve Shaw, "I found this officer to be keen, and he was willing to tackle anything. He has sound local knowledge and he gave a very satisfactory performance all around."
In February 1985, Greg passed the Sergeant's exam, after only 4 years out of training school. An impressive achievement by anyone's standards.
Back in the Eastern Division, annual assessment September 1985. Over 31 years ago, but see if you recognize anything. Sgt. Dunleavy: "He plays commercial league cricket and he is getting involved in refereeing the local soccer league. He is always on time and smartly turned out. He enjoys most tasks that he is given, and he doesn't complain about the ones he dislikes. He is a popular member of the watch, and he organizes social functions to boost the team's spirit. He is a keen worker and he does not tolerate laziness or idleness from other watch members. His workload is the highest on the Watch. He is basically a shy person, but when needed he lacks no aggression. He is not verbally or physically pushed around by anyone. He is an active member of the St. George's Police Club Committee, and he showed up three times off duty and painted the club, when none of the other members attended."
You could have written that report this year.
In October 1985, COP Bean, for some reason, thought that Greg would do well in Central Parishes, given his recent success on the promotion exam. In a shocking, yet cunning move, Supt. Harvey: "Sir, respectfully, this officer is unable to ride motorcycles." And in another stellar move, Supt. Andy Birmingham scooped up the available Constable Grimes, and sent him to Special Branch in July 1986.
COP Bean wrote in 1990, "His motivation and sense of purpose are clearly evident."
But apparently not evident enough to actually promote him. So that honour fell to COP Clive Donald who promoted Greg to Sergeant on 18th April 1991.
April 1992, D/Insp. Oliver Bain: "DS Grimes supervises his men with quiet efficiency, and his management style has enhanced the smooth relationship with the various agencies at the airport." If you knew Oliver Bain, "smooth" featured heavily in his vocabulary.
June 1995, DI Foster Burke: "DS Grimes has completed another good year of tireless work where he is always willing to go the extra mile whenever needed.
While in SB, Greg received several Letters of Good Work including:
April 1991: Steve Vogelhaupt of the US Customs Service

June 1991: Roger Robinson of Warner Lambert (company that provided private jet service airport)

April 1994: AJ Proctor, Deputy Captain of P&O Steam Company

March 1998: Jack Warner, President of CONCACAF

Perhaps the most notable: August 1995: Madeline Albright (US Representative to the UN, later first female Secretary of State in 1997) "Your professionalism and courtesy are a credit to you and your department. It was a pleasure working with you, and I hope we have the opportunity to do so again."
In his file, from 2000 on, lots of representative leave for CONCACAF, BFA and FIFA: Trinidad, Cuba, US, Canada, Switzerland.
By 2005 found his way back to uniform duties. In May of that year, Inspector Martin Weekes: "Sgt. Grimes is a shining example of how an experienced Station Sergeant can pull together a Watch and have them produce good results under difficult circumstances. The BPS needs more supervisors like Sgt. Grimes." (AIN'T THAT THE TRUTH?) Sgt. Grimes wrote: "I agree with Insp. Weekes." A man of few words. He should have been a senior officer.
In February 2007, Sgt. Grimes was the subject of a written Work Performance Log WPL). It is the only time in my 31 years of service that I have seen a junior officer submit a WPL for a senior officer. PC Earl Caisey: "Sgt. Grimes is a leader. He influences the lives of all under his charge, and even those senior to him. Sgt. Grimes promotes teamwork and he is never too busy to assist the constables who need help to update the computer or prepare court files. He has set the mark of high standards for other station sergeants to follow, and he demonstrates excellence in his job. Sgt. Grimes is an asset to the Watch, to senior officers, and to the BPS. He sets the pace, and he is a true leader."
In the very last appraisal that Greg would ever receive, April 2016 Inspector Peter Stableford: "As usual, Sgt. Grimes continues to exemplify the very best in his duties, and he provides an example to all of us. We rely on him to perform a vital role to the highest of standards."
And the appraisals continue along the same lines: Key Words: "Efficient, enthusiastic, steady, confident, team player, team leader, professional, dedicated, compassionate, high standards, caring."
That is a summary of 38 years of police commentary on Sgt. Gregory Grimes. And now I'd like to share what I wrote about Greg. In May of 2015, I submitted an application to the Foreign and Commonwealth Office through Government House in Bermuda. In part, the application read:
"Sergeant Grimes is highly regarded in the BPS as an exemplary, compassionate and energetic supervisor. He provides model leadership to his staff, inspires positive morale, and delivers professional coaching and mentoring to junior staff. He has gained a reputation as a "steady hand at the wheel," and his professional commitment and high performance has earned him the award of Officer of the Year twice in the last five years."
"Sergeant Grimes is regarded as highly competent in the custody suite and he is considered to be the most experienced and capable custody sergeant serving in the BPS. His leadership has made a significant difference to the organisation by helping to provide a smooth, trouble-free transition to our new custody facility. His professional manner and excellent skill sets have helped the BPS navigate through a sea-change brought on by legislative amendments, while protecting the professional performance and reputation of the BPS in the area of custody and detention. Sergeant Grimes' service to policing in Bermuda has been meritorious and deserving of recognition and it is my honour to make this recommendation."
I am pleased to report that Sgt. Grimes was awarded the Overseas Territories (Police) Medal for Meritorious Service in the Queen's Birthday Honours, 2016. And he was absolutely most deserving of the award. When I called to congratulate him, he said, QUOTE: "Thanks, Chief." And he really meant it.
To Judith, Barbara, Rev. Rodney, Calsworth, and Stephen, to all the nieces and nephews, and to the entire Greg Grimes family, on behalf of my senior colleagues, and all the officers, staff, and cadets of the Bermuda Police Service and the Bermuda Reserve Police, I offer our sincere condolences. You are in our thoughts and prayers as you cope with this untimely and sad loss. And I would like to thank you for sharing Greg with us, for his entire adult life and some of his teenage years. He has touched hundreds of lives inside the police and throughout the community, and Bermuda has been the beneficiary of his life-long commitment to public service.
In closing, I offer the words of Henry Van Dyke, an American author who wrote stories, poems and liturgy around the turn of the 20th century:
"Time is too slow for those who wait,
Too swift for those who fear,
Too long for those who grieve,
Too short for those who rejoice,
But for those who love, time is Eternity."
_____________________________
The next tribute was written by Inspector Charlene Thompson who unfortunately was off Island when her longtime friend passed away. It was read by Sergeant Devon Saints
Tribute to PS 475 Gregory Grimes from Inspector 908 Charlene Thompson
To the family, loved ones, friends, colleagues and the members of Friends of Distinction of Gregory Grimes, I send my deepest codolences, and prayers for comfort during this time. I am sorry I could not be there to attend his home going service.
Twenty two years ago I met Gregory as a new officer with the Bermuda Police Service, and instantly we had a connection. Gregory was my dearest friend, confidante, supporter, the one I could laugh with, be myself with and voice of reason.
On Wednesday 14th December 2016, as we do on a weekly basis, unless one of us was off island, Gregory and I met for our weekly breakfast. I was running five minutes late and messaged him to let him know, as always he responded saying, "That's okay beautiful, I am just parking." I arrived at 9:35am, and spent the next hour and half talking about anything, and everything as we usually did. We also discussed plans for my 50th birthday next year and how we were going to celebrate, of course going on a cruise was the winner.
Had I known this would be the last breakfast with him or time alone, would the conversation had been any different, I don't think so. You see, Gregory and I made a pack a long time ago to tell each other how we felt about one another, while we had the chance. So every day either via what's app, in person or on the phone, we expressed to each other our gratitude for our friendhip, I was his beautiful or gorgeous, and he was my dearest friend. We did not let a day go by without expressing how we felt, which included letting each other know we loved each other at the end of our conversations. In fact that day after breakfast, he left to go towards Front Street to his car, and I went towards Reid Street to mine I said, "I love you, will stop by tomorrow when your working for a hug before I leave on Friday", he responded, "You better, I love you too beautiful."
Two months ago Gregory gave me a card to let me know how he felt about our friendship, something he would do randomly and often, he was the best at knowing just the right time to send them. I pulled out that card and read the words again on Thursday 15th December after receiving the call that he had passed, and the words he gave to me is how I feel and I know all of you feel about him today, they went like this;
You just can't imagine how much I miss you sometimes! Oh, I know you're not in Timbuktu or anything, but there are times when not just "any" friend will do – times when I want you to be right here, right now to confide in, laugh with, and talk to. It's amazing how often I'll wonder what you'd think about something or what you'd advise me to do in certain situations. I'll see something and just know that nobody else would think it's funny...except you. I guess what I want you to know is that I feel closer to you than many other people I see every day. That just a fact. And I thought it might make you feel good to know how very important (as in vital) you are in my life.
My dearest friend Gregory, I feel the same way about you yesterday, today and forever. We all need someone we can just be with, plans or no plans. We need someone we can really trust – who is quick to listen, quck to laugh, quick to think the best of us – someone who makes every minute a little bit richer just by being there with us. I am grateful for the easy understanding we had between us, for the times we spent together, and especially for the way we could simply be ourselves together. These words Gregory expressed to me the week prior to his passing, at our breakfast together.
Missing you so much my friend, I remember people always saying, "When God made you, he broke the mold", they didn't get any better than you my friend, you were it, you were the real deal. Loving, kind, selfless, caring, giving, always making sure everyone around you was smiiling and happy.
You were the same person no matter what life tossed at you, every single day. You valued, loved and cherished your family, friends, and colleagues. Mentoring and guiding new officers in the BPS was what you did best, and what you loved doing. Any officer worth their weight in gold, was mentored/guided or sought out advice from Sgt. Grimes.
You were a great supporter of charity and giving back, and if there was a way you could help out you always did
. Someone said the other day, they could always count on you to buy a ticket to support fund raisers for youth football, if there was a potluck, they would have a plate put aside for you, because they knew you always showed up to support. That's just a big part of who you were, and who I will miss dearly.
God chose to call you home, he knows our coming in and going out, and every day in between. We didn't know you were going to leave us, but I am comforted in knowing that, on that faithful day, when God say's, well done my good and faithful servant, he will be referring to you my dearest friend, Until we see each other agin.....
There were many more tributes paid to Greg including those from the Minister of National Security, Jeffrey Baron, who was himself a former police officer, President Mark Wade of the Bermuda Football Association, Vice President Ronue Cann of the Bermuda Referess Association, and Senior Magistrate Juan Wolffe on behalf of the Magistrates Court.
Perhaps one of them Most touching moments of the service was the following tributes paid to Greg by the memners of "B" Watch
B Watch Tributes for Sgt 475 Grimes
PC 2494 Raisá Tuzo
It's hard to put into words the impact that '475' has had on me since I joined the Bermuda Police Service. Whether by some witty remark, an inside joke or being a helping hand, Sergeant Gregory Grimes found a way to impact every day.

He was a gentleman, a giant...and a wealth of knowledge; always on hand to guide and groom whomever he came into contact with. He was the kind of supervisor that could reprimand you one minute, and love you up the very next. There was something about him that let you know every word he said was in an effort to make you better. You could not help but respect him, and as a result of having known him, I'm a better person and a better police officer.

The custody area of Hamilton Police Station and the B-Watch Family will never be the same again, as his absence has left a permanent void.

I will cherish the memories that I have with Sergeant Grimes forever, and I will miss delivering his daily cup of coffee, or having to hear his mouth in the event he didn't get it.

Thank you for the lessons, but more importantly, for the laughter '475'. You will always be friend, and more importantly my sergeant, in this life and the next... It was truly an honor to have known him, and I thank your family for sharing you with us.



PC 2490 Simons
Although my time with Sgt. Grimes was devastatingly cut short, the few years I had to work with him and got to know him were nothing short of admirable. Before you knew Sgt. Grimes, some may have thought that he was quiet and to himself, which to some degree was true as he was a very private person. Some may have even thought he was a bit harsh due to his no nonsense ways of dealing with situations. However, to know Sgt. Grimes was to truly love him and once you did there was no way you could not be drawn to him.
Sgt. Grimes was one of my first sergeants when I joined the Bermuda Police Service and how blessed was I to have him. He ruled "His" custody suite with an iron fist and man I tell you he did not play any games or take any slack inside those walls. It didn't matter whether you were an officer or a detainee, you knew to come correct when he was sitting behind that desk.
Working in custody will never be the same anymore without him. If it was one place I dreaded working it was custody but Sgt Grimes always made it a little easier. I could guarantee almost every time I worked back there I'd see him with our work roster out and an airline website up on his screen trying to figure out when he could get off this island again. I'd say to him, "Where you're going now Sgt?" and he'd respond, "What you mean? I can't stay round here too long." Whether it was him planning his next vacation or his sarcastic remarks or his funny stories, he always made working in custody a bit more tolerable.
Sgt. Grimes was always willing to help every and anyone who asked and he looked out for all especially those that were on his watch. I could always go to him for anything. Even though he always gave me that "what you want now" look, I knew it was out of good fun and he never hesitated to give me his best advice or point me in the right direction when he was unsure.
As time went on I learned of his retirement, I was deeply upset by it. I would tell him all the time "you can't just leave me here" and he'd always look at me like "please Simons, I'm out of here". Little did I know that he was planning to come back and when he announced it at his surprise retirement dinner, I could not be any happier.
I remember thinking, "Sgt. Grimes never comes to have a drink with us after work" or "I never see Sgt. Grimes at the PRC". Until one night I walked in there and saw him sitting next to the infamous domino table with a drink in hand. Well, wasn't I completely surprised! I remember asking him, "What you're doing up here?" and he chuckled and retorted the same.
From that point on I never had to question where Sgt. Grimes was again. Whether it was with the watch or just him, PC Homer and myself, I could count on some 'chill time' with Sgt. Grimes outside of work at PRC and I knew exactly which chair I would find him in.
Sgt. Grimes, although I did not get to spend as much time with you as I would have liked, my promise to you is to use the knowledge that you instilled in me as a foundation to which I will use to build the rest of my career on. You're going to be a huge miss to all, especially myself and the B Watch (the best watch of course) team members.
Whether it was your quick whit or your infamous sayings such as, 'What de rass am I hearing' or 'These ain't mars bars you know', the watch and the service as a whole will not be the same without you. You were truly as great as they come and for that I genuinely and whole-heartedly appreciate you. You will never be forgotten.
Sleep in Peace Sir 475 Gregory Grimes.
Love always.
PC2488 Scotton
Just wanted to share my thoughts on Sergeant Grimes.
When I started out with B watch nearly three years ago I can remember Sergeant Grimes being the hard to please custody sergeant, quick to point out the mistakes of us young constables. He was untouchable, almost intimidating, but I quickly learned that the only reason Grimes was hard on us was because he wanted us to succeed. He was a wealth of knowledge, and with that knowledge he wanted to mould the next generation of officers to be good police men and women, just as he was. If I ever had a question, or found myself a little bit stuck with a piece of work, I always knew Sergeant Grimes' door would be open, and he would be there to provide me with the answers I needed.
RIP PS Grimes, you will be sorely missed.
PC 2467 Outerbridge
Sgt Grimes was an example of true dedication to the service. He never failed to provide assistance or offer advice to anyone who sought it.

What I most respected about him was that he never compromised his standard of work for the opinion or satisfaction of anyone else. As my Sgt I felt confident that all answers and feedback from him were backed with a wealth of experience and care.

Sgt 878 Gibbons
An excellent mentor to us as young brand new officers from day 1 straight thru to continued mentoring and guiding of other Sergeants/Supervisors up to his last working day. Even though he had to repeat himself over and over until you got it right, he did so with pleasure and professionalism. Sgt Grimes always did his best to ensure that you did what was required and expected of you He always carried out his duty and responsibility as an officer with pride.
It was a pleasure to know and work along with him on 'B' Watch for such a long time, and to have our last 'X-mas Dinner' alongside him just days before his passing. He will be truly missed by us all.
Roger Thurab Ex Pc 2318 Trini
Hello everyone the passing of Sergeant Grimes has saddened us all, he was a good Sergeant and an even better friend, he would message me almost on a daily basis and recently after the mild earthquake he was the first to text "just checking to see that you were alright" he said, he will be missed, we may mourn his passing but let us also celebrate his life.
Juanita Shaw - retired Inspector
This is a tribute to my Sergeant, my "Grimmies', my "Big Guy". I am so sorry that I am not in Bermuda at this time, but my heart is there.
As I dry my eyes, AGAIN, my heart is heavy at the passing of my Sergeant, my Grimmies, My "Big Guy", a man with a beautiful heart and spirit.
I, along with many others, cannot find the words to comfort any of us at this shocking and sorrowful time.
Just know that as we muddle through the pain, we can remember all the years, the wonderful times we had together on C Watch as team-mates, as confidants. The good times we shared, in the midst of enforcing the law and protecting Bermuda, will never be forgotten.
Sooooooooooooooo, let's give FOUR cheers for Sergeant Grimes ... yes FOUR cheers (smile).
Hip Hip Hooray
Hip Hip Hooray
Hip Hip Hooray
Hip Hip Hooray
We love you Sgt. Grimmie, and my "Big Guy". Love to you all, and yes, it's from "MOMMY 1"
Tribute To Serge
Let me take this opportunity to tell the happiest, saddest story that ends in "Happily Ever After".
It all began June 1999, when I PC 2009 Marlon Cann, became one of the 'B' Watch Rookies under the leadership of PS 475 Grimes and others. Sergeant Grimes and I hit it off immediately and he became Serge and I, Mi. Now, only my close friends and family call me Mi, so not only did we become friends we grew to become family.
Serge moulded, guided, pushed and protected me during my first years of policing, as a good leader does. In May 2000, I requested the day off to deal with something personal. When I returned to work the next day, Serge said, "I signed you up for a driving course". My response was, "Why did you do that? You know I'm not in the frame of mind to attend driving school". With his calm, cool, collected self, Serge said, "You can do it and you're going. By the way you start on Monday". Needless to say, I was angry with him but I did as I was instructed and attended driving school; after all Serge, would not steer me wrong.
You see, back then in driving school, you got one chance to fail anything after that you were kicked out if you failed anything else. So, off I go and low and behold on my first day, there was a test and I failed. I called and told him about it, naturally upset. He told me, "Calm down, you will retake it and you're going to be alright". True to form Serge was right. Not only did I pass the test, I then aced my driver training course with the highest scores. I continued in driver training with response and aced that too. On my return to the watch Serge said, "See I told you, you can do it, GREAT JOB!!"
'B' Watch central grew into one big happy family in the truest sense of the word. Just like family, we were always doing something together. Friday nights, Spring Garden, Sunday nights The Beach, bowling, mini golf, scavenger hunts and just simple get togethers. Serge was front and centre for every event. After Serge sampled my cooking I became the Watch Cook. It became a staple for me to cook on holidays when 'B' Watch worked; Cup Match, New Year's Eve and Good Friday. Serge would say, "Plan a menu and tell me what you need".
Several of the ladies on 'B' Central Watch celebrated their birthdays in the months of November and December; Connie, Denise, Cheryl, Marlon and Nicolle. Serge decided he would help us celebrate. Linda and Litanya were also included as they celebrated birthdays during the period and Serge wanted one big celebration. This tradition continued for years.
Over the years, Serge became my listening ear, my shoulder to lean and cry on. Not only was he the best Sergeant ever, he was my friend; one of my very good friends.
I'll never forget the day he told me and insisted that I call him Greg or Gregory and my response was, "Ok Serge". I have never called him anything but Sergeant Grimes or "Serge". I respected him too much as a leader and most of all a person, that I couldn't bring myself to address him on a first name basis.
One day in 2003 I had a conversation with him about me transferring to CID to get more experience. Just like in a family unit, even though Serge really didn't want me to leave he knew what it would mean for my growth and progression and soon after my request was granted and I moved on.
I always made it a point to visit Serge and we would have a pow-wow whether on or off the job. On occasions, I would continue to bring him meals and baked goods especially on those same holidays. Our bond remained strong. Serge even made the trip to Barbados to attend my wedding.
About three weeks ago, we were in the custody area and he was telling the story to other officer's present, of the time he had an earache and I asked if he had been to the doctor and he told me no, but he had some drops. I insisted that he see a doctor as I felt it was probably more than just an earache. I nagged and nagged him throughout the night; you all know what a nagging woman is like. At some point during the night he asked me to put the drops in his ear and I told him yes but only if he goes to the hospital thereafter. True to his word he went to the hospital and was admitted, where he remained for two weeks. He told the other officer's only a true friend would continue to nag you when they see something is wrong and I'm forever grateful for my friend.
After Serge informed me of his health problems he didn't get as many baked goods but he did let his feelings be known about the few times I wasn't on island for Good Friday and didn't make hot cross buns and fishcakes; imagine that!!! A week ago, I baked some chocolate chip cookies. I hadn't baked since August. I put four (4) cookies in a sandwich bag and gave them to Serge. I said, "I know you're not supposed to have them so promise me just one (1) a day". He said, "It's ok Mi, I got this. I will enjoy them".
This is the part of the story that gets sad. When I was reading my work email about Serge and his condition I couldn't believe what I was reading. A few curse words came out of my mouth which is unusual for me and the tears started. When I got that phone at 4:26 the next morning, my world stopped, my heart ached as it broke. Not only did I lose my Serge, but I lost my very dear friend. I would miss his daily messages that are still on my phone.
And even through the disbelief, hurt and dismay, I had to remind myself that God has gained an Angel; and that loving, caring, trust worthy, helpful, selfless, confidant, and Gentle Giant of a Man was now resting in eternal peace. He lived his life his way and rightfully so, slipped into a place of no pain, restrictions or suffering. He walked his walk with all the dignity and grace of a man of his stature and at the end of the chapter, when his story was over; he answered God's call and went home to his "Happily Ever After."
Sleep in Peace Serge, you may be gone, but never forgotten,
Love Always and Forever Mi.
PC 2009 Marlon Cann
You can also find a tribute to Greg on our Facebook page at https://www.facebook.com/BDAExPolice/photos/pb.251987511677376.-2207520000.1481837765./620049448204512/?type=3&theater
Editors note - We plan to add a series of photos to this Hall of Fame article on Greg, and will post them as they are received.