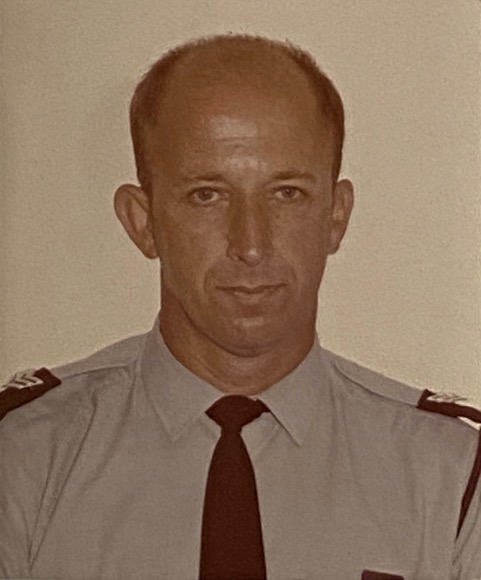 Sergeant (later Inspector) Brian Flook
We have received the sad news that our good friend and former colleague, retired Inspector Brian Flook passed away on Wednesday 31st March 2021. Brian was born in Fulham in England and served in the Royal Military Police for 3 years in Egypt, Cyprus and elsewhere, then in the Metropolitan Police for 2 years before joining the Bermuda Police in December 1959.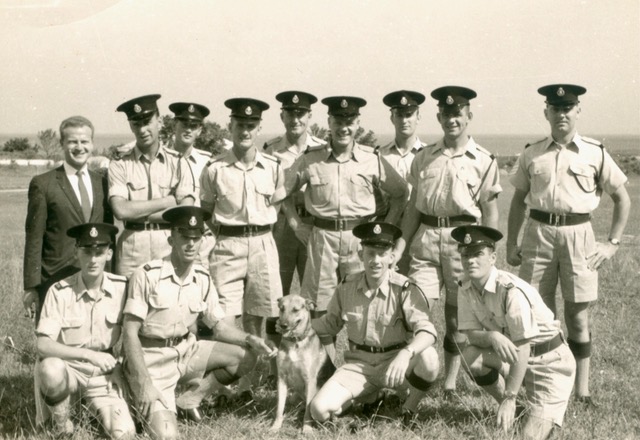 St. George's Crew - 1960
Top Row (l-r) Mike Staveley, John "Boob" Travis, Willie Woods, Mike Burke,
Arthur Rose, Jim Parsons, Fred Beard, Bob Tanner, and Walter "Walt" Sneddon
Kneeling - Robert "Bob" O'Shea, Brian Flook, "Marcus",
Jeff Sanders, and Bill "Spider" McKenzie.
Brian started his Bermuda police career in Eastern Division, St. George's, and spent many years in the east as a Constable, in CID, and later as a Sergeant. He served as an aide in Prosecutions in 1977 and went on to become the Officer in Charge of Prosecutions as Inspector for several years before moving to Headquarters "D" Department.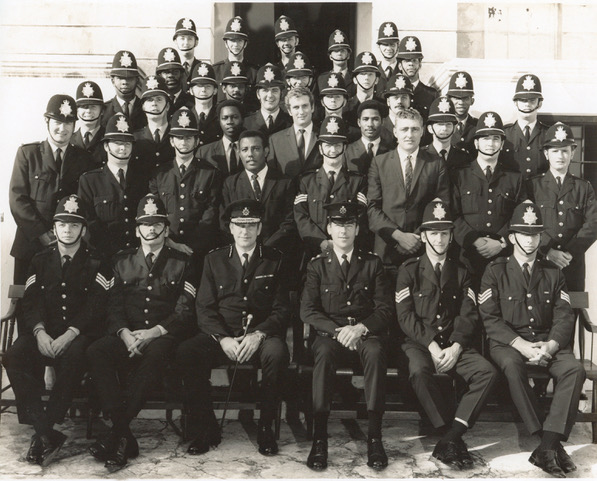 Eastern Divisional in 1970 outside St. George's Police Station
(l-r) Front row - Sgt. John "Rigor" Morris, Sgt Barrie Meade, COP George Duckett,
St. George's OIC Insp Peter Stubbs, Sgt Mike Burke, and Sgt Brian Flook,
2nd Row - Alan Kennedy, Brian Anderson, Frank Smith, D/Sgt Dudley Swan, Sgt Eric "Wee Eckie" Laing,
D/Sgt Laurie Jackson, Mike Cresswell, and Neil Cox
3rd Row - Bill Cree, Angus Brown, David Furbert, Malcolm Tart, Patrick Hamlett, Perry Fox, Dave Inwood
4th row - Arden Cato, Laurie Phillips, Paul Hendrick, Mel Gibbons, Robert "Bob" Payne, John Wilkinson,
Paul Yates, Dave Purcell, Winston Esdaille, Roger Hind
Top Row - M. Sample, Stephen Bond, Ken Bent, Ronnie Boggan, ?
With his past experience in the Military Police, Brian was an excellent marksman who was a regular member of the Police Firearms Team. He also became a specialist in explosive ordinance disposal (EOD) having attended numerous EOD courses in the U.K. and the U.S.A.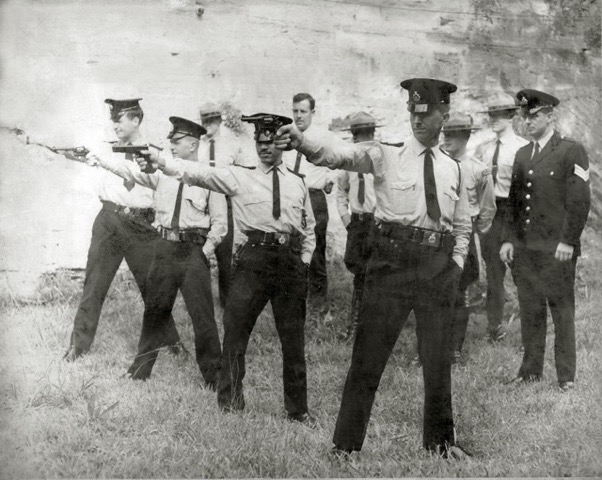 Brian on the front line in a shooting match at the Police Range, Prospect
Front row (l-r) Nick Hall, Neil Cox, Wayne Perinchief, Brian Flook.
Ron Wallace is in civvies behind Wayne Perinchief. Sgt Tim Willis in uniform
Brian retired from the BPS in October 1991 after 32 years service. Throughout his career Brian proved to be a highly efficient and popular police officer.
After retiring from the Police Service Brian worked at the Bermuda Airport as Aviation Security Consultant. He always remained a St. George's man at heart and settled in St. David's with his wife Jenny and their two boys, Peter and Chris.
We offer our sincere condolences to Jenny, Peter and Chris and the family.
A private family service will be held at a later date.