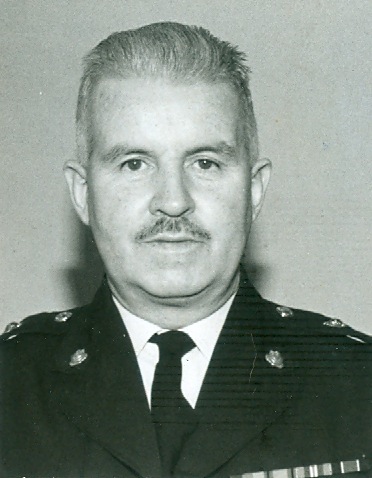 Inspector John Mullan
Served 1950 – 1975
John Francis Mullan was born In Northern Ireland in a small farm cottage in Drumdollagh, in County Antrim on January 22nd 1924.
At the age of 17 he joined the Royal Army Service Corps in the British Army and left Ireland for training in England when, after his training, he received orders to join a troop transport ship setting sail for Northern Africa. During the journey the ship was given orders to alter course for North America due to German U-Boat activity off Africa. The ship landed in Norfolk, Virginia.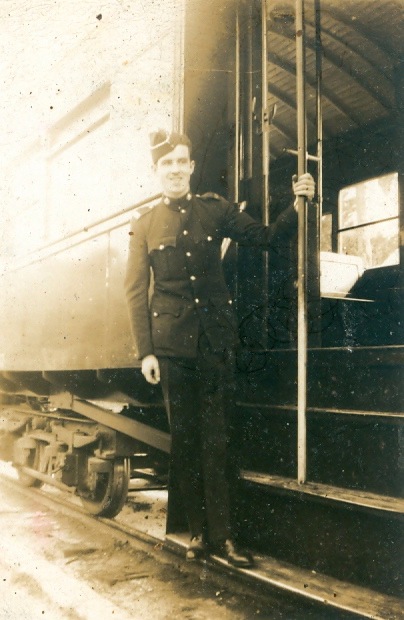 Young John Mullan in the British Army
A few weeks later John again boarded the ship heading for a destination unknown to the troops. Within a few days they landed on a small Island in the middle of the Atlantic called Bermuda. He had never heard of Bermuda and was pleasantly surprised to find out that this was to be his Station.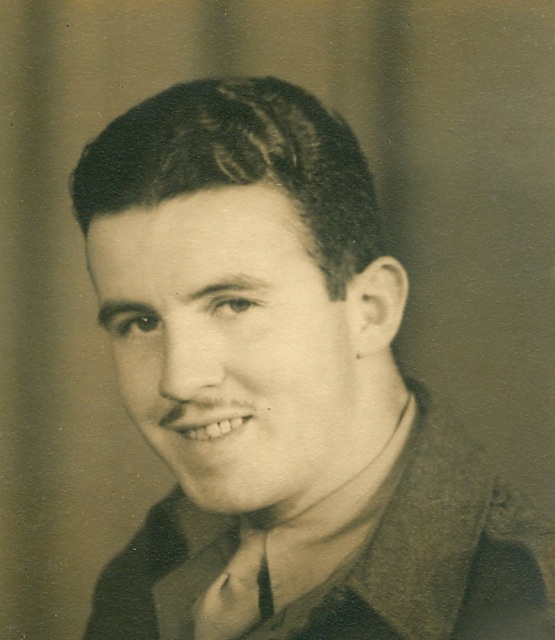 John in RASC Uniform
Shortly after arriving in Bermuda he was assigned as book-keeper of the Officers Club at Military Headquarters in Prospect due to the fact that his abilities in math were of interest to the powers that be. In the Spring of 1945 he met Jennie Husband, a nurse at the hospital. Jennie was stationed here from Winnipeg, Canada, and after the War, on December 1st 1945, they were married, even though he was too young for her and God forbid - a Catholic!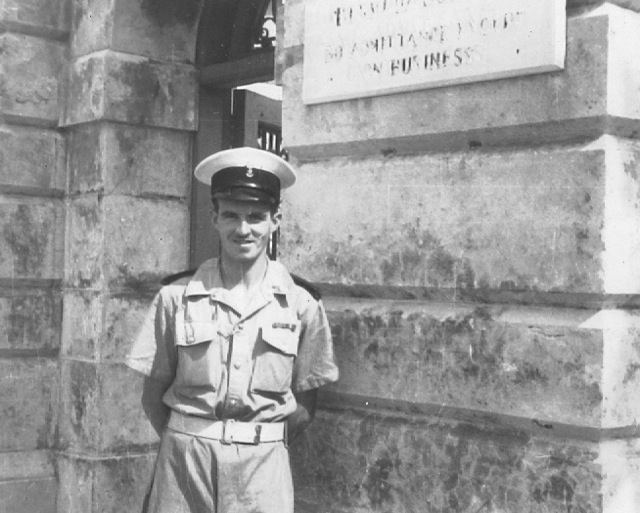 John at the Royal Naval Dockyard where he served from 1947- 1950
John was released from the Army in 1947 and was able to secure a position with the Dockyard Police. When the Dockyard closed in 1950 he applied for and was accepted in the Bermuda Police Force.
John joined the Bermuda Police on 28th June 1950 and was initially posted to Central Division, Hamilton. Whilst on the beat in Hamilton in 1951 he was awarded a Commissioner's Commendation for his prompt action when discovering a fire at H.A. E. Smith's.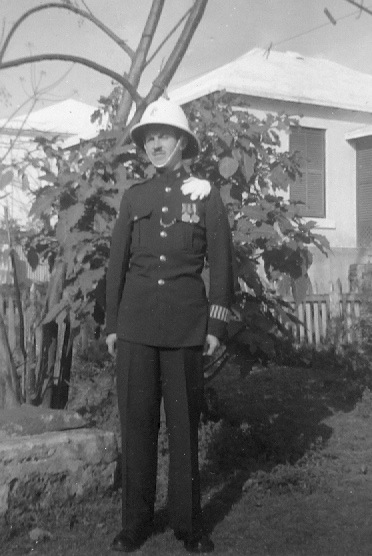 Young Police Constable John Mullan
In early 1952 he was appointed as a Pembroke Parish Constable – a position he held for about 18 months before being transferred to Central CID where he served continuously for the next 11 years.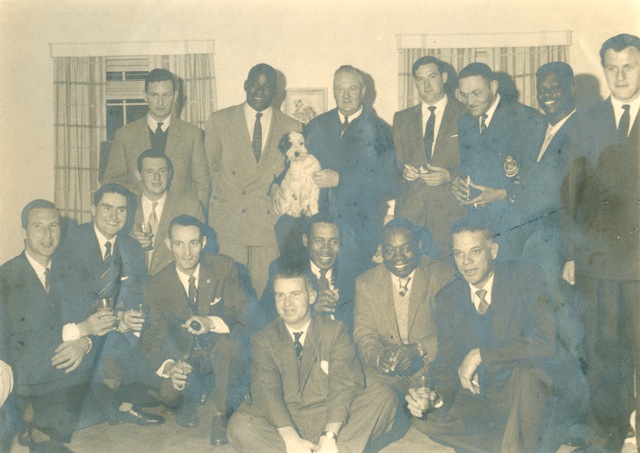 CID Officers enjoy a gathering at the home of Lieut-Colonel C.J.R. Newing, Head of CID in 1958
Top Row (l-r) Ian Morrison, Leon Bean, Lieut-Colonel Newing, R.J. Irons, Oliver Trott, and Hubert Simmons &
John Joe Sheehy. Kneeling (l-r) John L. Hobbs, John Francis Kane, W.S. Freeman, John Starbuck,
John Mullan, Sinclair Bean, Milton Marsh, "Happy" Duerden. (Missing John Logan - photographer)
During his time in CID, John received another 4 Commendations for outstanding police work whilst investigating various crimes, including breaking and enterings, forgery, a bank robbery, and the theft of liquor from Kindley Air Force Base!
John was promoted to the rank of Sergeant in May of 1957 and to Inspector in August 1960. Whilst in CID he was appointed as the officer in charge of C.R.O. (Criminal Records Office).
In 1956 he had attended a CID Course held at New Scotland Yard, and in 1960 he attended a further CID Course at Hendon, followed by a Fingerprint Course at New Scotland Yard and a Forensic Science Course at the Home Office Laboratory in Bristol.
After 11 years in CID he moved for a short period back to Central Uniform as an Inspector but then moved over to Prosecutions, spending the rest of his service alternating between Prosecutions and Central Uniform.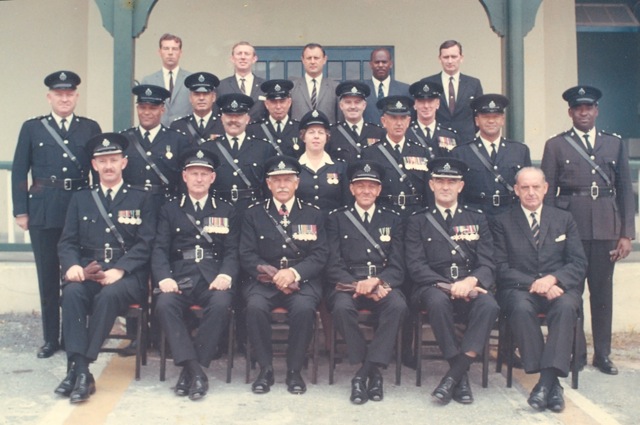 Senior Officers at Police Headquarters, Prospect.
Inspector Mullan is standing just to the right and behind W/Inspector Isobel Lee
He was awarded the Colonial Police Long Service Medal in 1968, and qualified for the award of a 25 year clasp to the medal.
John was a long serving member of the Loyal Order of Moose and was awarded the highest rank of Pilgrim. He enjoyed golf and was a member of the Castle Harbour Golf Club. He passed his "golf genes" on to his two sons, Mike and Terry, who are both excellent golfers. He was also an avid stamp and coin collector.
John retired in July 1975 after 25 years in the Force, and he left Bermuda with Jennie to live in a small village called Locking, just outside Weston Super-Mare in Somerset where he lived until his passing.
John left behind two sons, Michael and Terry, and two daughters, Sheelagh and Patricia, five grandchildren, Sean, Alicia, Simon, Robin and Jennifer, as well as four great grandchildren, twins Tristan & Taylor, Tianna and Samantha.