Fifty six men in uniform
This is the largest photo we have published so far and collectively we have done remarkably well identifing all 56 men in uniform, at least so we thought until Davie Kerr has thrown a minor spanner into the works!
The photo is of Traffic Division taken outside the PRC, and we even know that the photographer was Erskine Warner who took it circa October 1973.
Through a process of elimination we have positively identified 55 men, but we had a query about No 48, who was initially identified by Steve Dean as Martin Lawrence. Steve was close but had the wrong surname, We have now had it confirmed by several sources that it is Martin "Captain" Bowe - not Lawrence. The other ID that gave us some trouble was #39 who we have now confirmed beyond doubt is Graham Marshall who remains a good friend of Sid Gordon's. One other correction we needed to make was the correct spelling of Jann Pearce who served on the Force in the Police Garage at Prospect for most of his 22 years.
We believe a lesson has been learned from posting this photo. We have a number of group photos that were taken during the 1950's and have almost no chance of identifying everyone, or even most of the officers in some of them. This photo would be just the same in a few years without our collective memories working overtime. During the next few months we will publish other group photos from the 1960's period so that we can keep a permanent record of just who is who. Your assistance will be much appreciated.
You will find the names of each of these officers below the three separate blow-up photos. If, by any chance you see a mistake please let us know
31st March 2014
We just heard from former P.C. Frank Smith who wrote to say that #31 was not Barrie Mancell. He says, "That is Frank Smith. I would recognize me anywhere!" Our apologies to Frank and it was good to hear from him.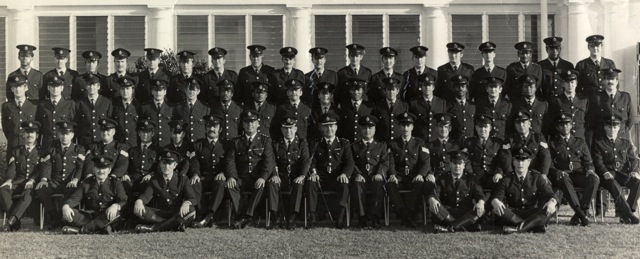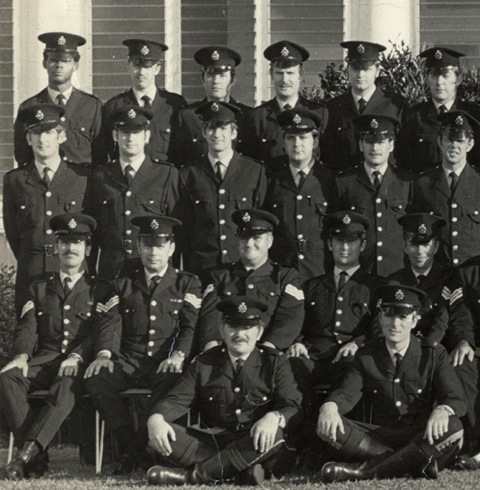 Blow-up 1
Top Row - 1 Steve Dean, 2 Keith Cassidy, 3 Dave Ashurst,
4 Roger Kendall, 5 John Baxter 6 Norrie Galbraith
Second Row - 7 Malcolm Edwards, 8 Barry Higham, 9 Dick Coulthard,
10 Bob Payne, 11 Frank Dowie, 12 Owen Marsh
Seated - 13 Tom Cassin, 14 John Morris, 15 Keith Pratt, 16 Derek Jenkinson,17 Ian Scotland
Kneeling 18 Sandy Duncan, 19 Mick Hale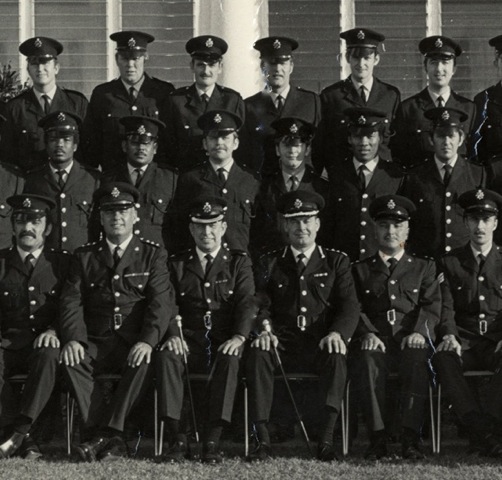 Blow-up 2
Top Row - 20 Gwyn Lewis, 21 Mick Walker, 22 Brian Nolan, 23 Andy Hall, 24 Gerry Harmer 25 Ray Bell
Second Row - 26 Douglas Victor, 27 Mel Gibbons, 28 Roddy Barclay,
29 Bernie Pitman, 30 Hiram Edwards, 31 Frank Smith
Seated - 32 Eddie Foggo, 33 Derek Taylor 34 Jim McMaster, 35 Alf Morris, 36 Ernie Moniz, 37 Alan Keagle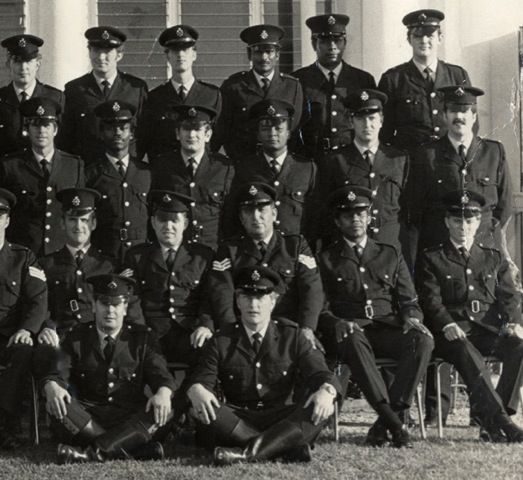 Blow-up 3
Top Row - 38 Sid Gordon, 39 , 40 Anthony Taylor, 41 Martin Johnson, 42 Arden Cato, 43 Phil Every
Second Row - 44 Mike Baker, 45 Willie Bourne, 46 Steve Rollin, 47
David Small, 48

Martin"Captain" Bowe

, 49 Mick Brown
Seated - 50 Mike Burke, 51 George Garrod, 52 Mike Kelly, 53 John McConnie, 54 Jann Pearce
Kneeling 55 Colin Fairbairn, 56 Rex Osborne
At one point we had four men who remained unidentified so we posted these larger blow-ups. Many thanks to all those who have contributed to successfully identifying so many so quickly!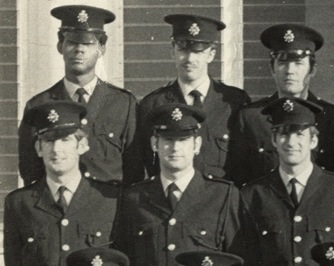 Top row - Steve Dean, Keith Cassidy, Dave Ashurst
2nd Row - Malcolm Edwards, Barry Higham, Dick Coulthard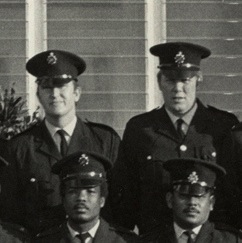 Top Row - Gwyn Lewis and Mick Walker
Bottom row - Doug Victor and Mel Gibbons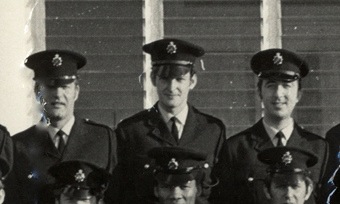 Top row - Andy Hall, Gerry Harmer, and Ray Bell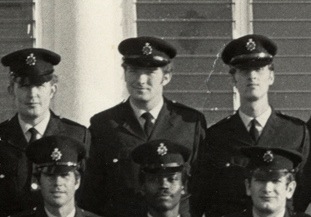 Top Row - Sid Gordon, 39 Graham Marshall, Tinker Taylor
Bottom row - Mike Baker, Willie Bourne and Steve Rollin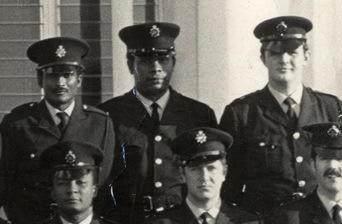 Top Row - Martin Johnson, Arden Cato, and Phil Every
Bottom row - David Small,

Martin Bowe

, and Mick Brown
4.30pm Thursday 23 January 2014
Roddy Barclay has been trying unsuccessfully to add a couple of comments as follows:-
No 20 is Gwyn LEWIS
No 21 Mick WALKER
No 24 Gerry HARMER
No 42 Arden CATO
Technical info: Photo taken on the patio of PRC circa October 1973 by DC Erskine Colchester Warner.
We are very grateful to Roddie for this information. By our reckoning we now have just two guys to identify and they are No. 7 standing next to Barry Higham who appears to be about the same height as both Barry Higham and Dick Coulthard, and No. 39 standing between Sid Gordon and Tinker Taylor. That means 54 down and 2 to go.
This is presuming that all the other names are correct!
Friday 24th January -
Jeff Baker has ID'd No 7 as Malcolm Edwards, and Dave Ashurst has correctly pointed out that No 14 is Ken Morris not John "Rigor" Morris. So we are down to ONE!
APPEAL FOR ASSISTANCE
Another issue this photo raises is that despite the best efforts of the Bermuda Ex-Police Officers Association to keep our records up-to-date, there are a significant number of our former colleagues for whom we have no contact details, including many of the guys in this photograph.
However, it is likely that you may be able to assist us in making contact with some of them. Here is a list of those in the photo for whom we don't appear to have any contact information. If you happen to have their email addresses etc. we urge you to either contact them directly about our website, or forward us their details and we will make contact if possible.
Mike Baker
Willie Bourne
Mick Brown
Arden Cato
Frank Dowie
Colin Fairbairn
Norrie Galbraith
Mick Hale
Gerry Harmer
Martin Bowe
Gwyn Lewis
Brian Nolan
Anthony "Tinker" Taylor
Mick Walker
Douglas Victor
We did have some problems with Sid Gordon's email address but that has been resolved and we are in touch with him (see entry in our "Keeping in Touch" column