Football Team with a Cup
Our latest photo, provided to us by Gerry Lyons, is from a slightly earlier period from the last one, and is a group of football players who were winners of a cup which is not the biggest we have ever seen! Can you help to identify who is in it, where and when was it taken, and what exactly did they win?
14th November 2013
We believe that we now have the correct answer from someone in the photo, and that is Colin Chiswell who is standing 3rd from the left.
Colin has emailed to say that this was the Police 2nd Team who won the League and Cup in the 1960 – 1961 season. We have listed their names as supplied by Colin under the photo.
We believe that John Edwards (top left) was an excellent footballer who was employed by Public Works but played in the Police Team.
If anyone strongly disagrees with this list please let us know.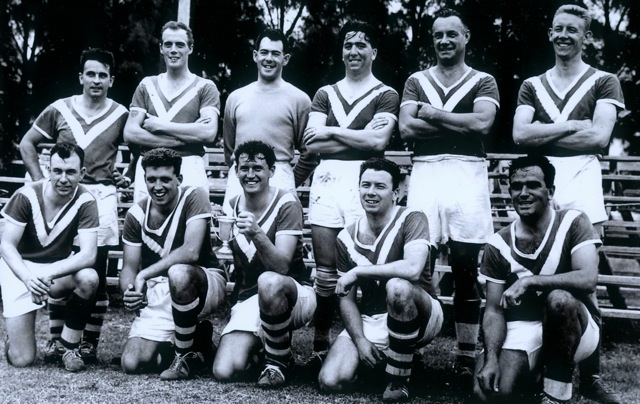 Police 2nd Team League and Cup Champions 1960-1961 season
Standing (l-r) John Edwards, Keith Lovell, Colin Chiswell, Pat McLoughlin, Larry Swain, John Bell
Kneeling - Jim McMaster, George Garrod, Bill Freeman (Captain), Ron Mullan, Bill Elliot.
On initial receipt of this photograph we sent an email out to several of our "older" colleagues to see if they may be able to cast their minds back and recall exactly who were the members of this team and when was it taken. Here are the answers received so far.
From Peter Stubbs
? Keith Lovell ? Pat McGloughlin Larry Swain, Geoff Hunt
Jim McMaster George Garrod Bill Freeman (Capt) ? ?
Best that I can do for you.
From Tony Saunders
Definitely Bill Freeman middle front row. Maybe Paddy McCloughlin back row 4th from left, Larry Swain 5th from left and Ray Constable 6th from left and Rick Hodgson front row 2nd from left??? Doesn't look like Barry King but he was the goalkeeper in those days.
From Joanne Linnen on behalf of George
George says Back Row L to R ?,?,Colin Chiswell, Pat Mcbride, Larry Swain, Bell
Front L to R Jim McMaster, George Garrod, Bill Freeman, Ronnie Mullan ,?
Joanne
From Mike and Carolyn Burke?,
Keith Lovell, Colin Chiswell, Pat McLaughlin (?correct spelling of surname) and Mr. Swain.
Not sure of who the rest of the boys are.
We had a great reply from Dave Gillery
Greetings from the Gold Coast, the sun and surf and hi life capital of Australia.
Thanks for your email on the 1959 (probably early 1960) football side, Very challenging. Must have been the Police "B" side as Keith Lovell wouldn't know one end of a football from the other!
From left to right back row:- I would suggest Geoff Edwards,Keith Lovell, ,Colin Chiswell, Pat McLoughlin, Larry Swain, Brian Flook
Left to right Front row:- Jim McMaster, George Garrod, John Sampson, Ron Mullin, No Idea.
I am not sure If this is correct. but I don't think Geoff was a policeman but he was an associate.
Pat McLoughlin was a process server with Winston Lottimore for many years. He married a local girl Barbara Soares so we are are related as I married into the Soares family too. He was still living with his family in Florida at last report.
Larry Swain played in the English leagues and was real gentleman and owned a coin shop in Washington Mall.
Extreme Right back row - This looks very much like Brian Flook, Brian was in Eastern Division for a while and then went to CID. It could also be Roy Thomas who was in the traffic section with Peter Stubbs when I arrived in Bermuda. Roy was a keen footballer and I think he married into the Aguiar family.
Not to sure about this being John Sampson but John was a good footballer and in traffic section at this time.
John Mullin was Irish and a good friend of Dennis Byrne and Tom Oliver. John and Dennis were running a bar in San Francisco when I last saw them about 1971.
Interestingly I see no references to most of these names in your records. Thanks for your updates on Jim Lyons, Bill Black and Mike Burke. Great People Great Memories.
Still meet regularly with Andy Heggie and his wife Pat (Nee Watts) The third member of our group Gordon Keyes (not ex police) died recently. Gordon spent may years in Bermuda. He was a diver and worked with Teddy Tucker, He was a close associate of many officers including Brian Malpas , Harry Leman and Jimmy Mackay.