This is NOT an advert for Smirnoff Vodka
Our latest Who, Where and When photo featured several of the great characters of the Bermuda Police Force in the 1970's. We figured this might be an easy one and it was. Jeff Baker correctly identified everyone in the photo with the exception of the older gentleman wearing glasses who was a Smirnoff representative. Details are given below.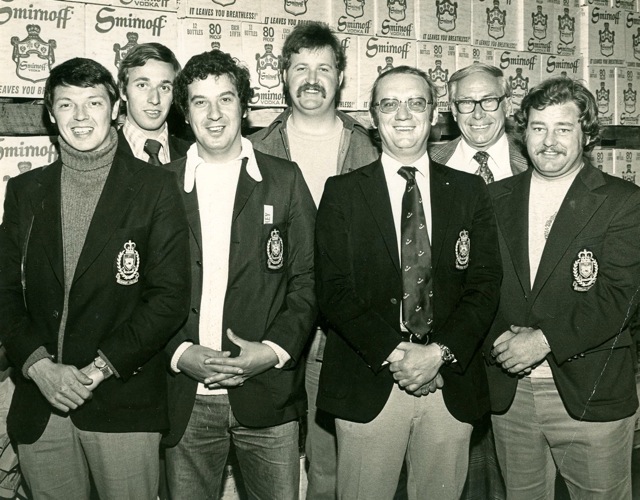 Photo taken during Police Rugby Tour to Hartford, Connecticut, 1975
(l-r) Tom Chasser, Keith Cassidy, John Price, Reg "Buster" Brown,
Norman "Raj" Rennie, Smirnoff Rep. and Howard "Stumpy" Kirkham

This photo was kindly submitted to us by Keith Cassidy who advises that despite having their photo taken in front of all those Smirnoff ads, and wioth a Smirnoff Rep, the boys never managed to sample any Smirnoff vodka. That may have been the case but we have doubts as to whether this was a "teetotaller tour"!