First Police Mini-Marathon 1968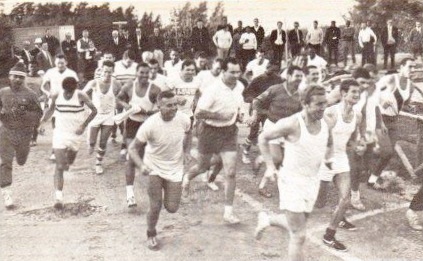 Start of the first Police Mini-Marathon 1968
This photo, taken at the start of our first ever Police "Mini-Marathon" held on 19th December 1968, has proved to be by far the most difficult photo for identifying all those present, partly because there were lots of people there – both participants and spectators – and partly because the only copy we have was taken from the Spring 1969 edition of the Bermuda Police magazine which is not of the best quality. Ideally, we need a good copy of the original photo which was taken by Ray Hodges, but we doubt that such a copy still exists.
In the meantime, I got together with one of the runners on that day, Davie Kerr, who is also blessed with an excellent memory, and with the aid of a magnifying glass, here is our best effort at identifying those present.
The runners - (l-r) Clayton Carter, Alastair "Shakey" Johnson, Mike "Dagwood" Richards (with two dark stripes on vest), Gordon Howard, Unknown (striped shirt behind Gordon), Dave Needham, Gary Perinchief, Tom Barnes (?) because of the blonde hair!, Alex Forbes, Davie Kerr, Sinclair "Brinky" Tucker, Pat McBride, Barrie Mancell, Alan Keagle, Dave Lunn, Alan Wilkinson, Unknown, John Balsdon, Hoskins Caddle, Paul Farrell, behind Hoskins are believed to be Hubert Simmons and Gladwin "Doc" Hall both of whom definitely ran in the race, and according to "Brinky" Tucker he, Hubert and "Doc" ran together and brought up the rear, Dai Thomas, Bob "Pudsey" Hay, Eric Sanderson, Unknown, Jeff Payne. The lower leg of someone in the bottom right corner of the photo could belong to Jimmy 'The Wop" Costello, or to Ben Swan, both of whom ran in the race.
The spectators – (l-r) Dudley Swan, Frank "Gruff" Hammond, Unknown man in hat, Crawford Rae, Mike Caulkett, Barry Smith(?), Les Waddell with unknown little girl, COP George Robins, Unknown, JCP Hanlon, Peter Duffy (?), Mike Parris, Johnny Williams (?) in white sweater, and Unknown behind him, "Custy" Crockwell (?), Unknown in white sweater, Unknown, Tom Hill (wearing white waistcoat), Unknown, Unknown, Unknown, Jerry James (?), Les Tomlinson(?) Unknown, Bob Massey (?), Unknown.
If you were there and we have missed you we would appreciate any assistance. If you were NOT there and we have wrongly identified you please let us know.
CLICK HERE for Pat McBride's excellent article on the history of the Police Mini-Marathon.
Roger Sherratt
Editors note - We are going to try one more time to obtain a better reproduction of this photo and will post it as soon as possible