INTRODUCTION
The BPS website has recently started a series of "Profiles in Excellence" highlighting the careers of outstanding serving police officers who are a credit to the Bermuda Police Service.
We are publishing these profiles because many of our ExPo members will have served with these officers when they first joined the Police Service, and we thought you might be interested and impressed by how well they have progressed in their careers.
This article is about Inspector Alex Rollin, and many of our ExPo members will immediately connect the name Rollin with one of our colleagues – with good reason! Alex is the son of Steve Rollin who served in the BPS from 1971 - 2005 and in fact the two were serving at the same time together for several years.
I asked Alex about what influenced him to consider a career in the BPS and if any particular police officers had been especially helpful or inspirational to him during his early days.
Here is the article as published on the BPS website, followed by some additional comments from Alex.
Meet Inspector Alex Rollin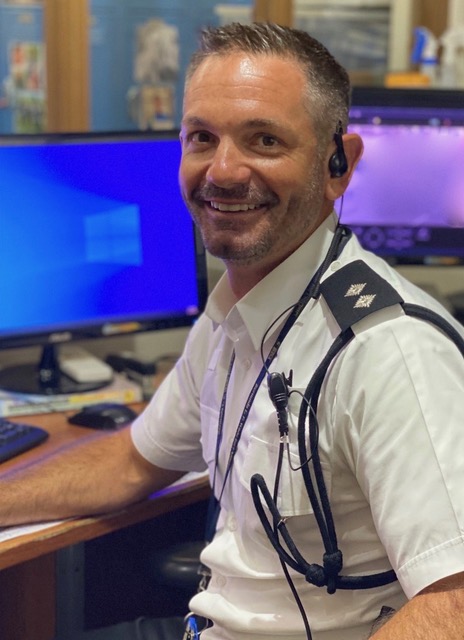 Insp Alex Rollin
I am Alex Rollin, Inspector 2019, currently working as the Incident Commander for B watch. I attended school at Saltus as well as Dalhousie University where I graduated with a BA in History.
I have been a police officer for nearly 21 years and have had the opportunity to work out of east, central and western police stations as well as specialist departments throughout my career.
My current role as the Incident Commander on B watch gives me oversight of what is happening across the island during my twelve hour shifts. I can monitor calls for service to ensure all the proper resources are being utilized to best handle the situation. For major incidents I activate in a different capacity which calls for quick decision making and direct contact with teams working island wide. I enjoy the camaraderie of policing and the teamwork required to deliver a quality product to the community.
When given the opportunity to give some sage advice to colleagues I like the following:
Treat every person with who you come in to contact with the utmost professionalism. This is whether they are a victim of crime, suspect in a crime, witness to a crime, a colleague or any member of the public. I tell any officer I get the chance to – please remember that this person, no matter what capacity you are dealing with them is still somebody's mother, father, son, daughter, granny, grandfather, etc. Treat people with the same respect that you expect a police officer to treat a member of your own family.
Go over the top with every incident you deal with. Get criticized for doing too much work rather than not enough.
Enjoy your time off. Leave emails alone.
In my time away from work I enjoy being with family and friends. I love to cook…and eat. Fitness and outdoor activity is a big part of my life. Running, gym, paddle boarding, kayaking, fishing, boating and traveling are my big favourites.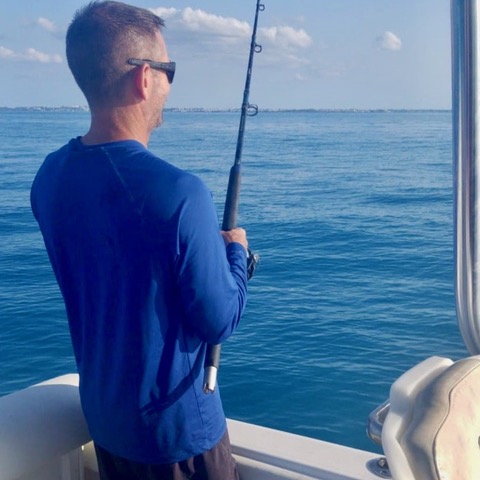 Downtime on a fishing trip
During my time in the police I have been a part of Homework Academy and the Youth Police Initiative which have been programs run by The Family Centre.
________________________________________
Alex attended Recruit Foundation Course No. 57 (formerly called Basic Training Courses) from June – October 2007
Recruit Foundation Course #57 September 1999 - January 2000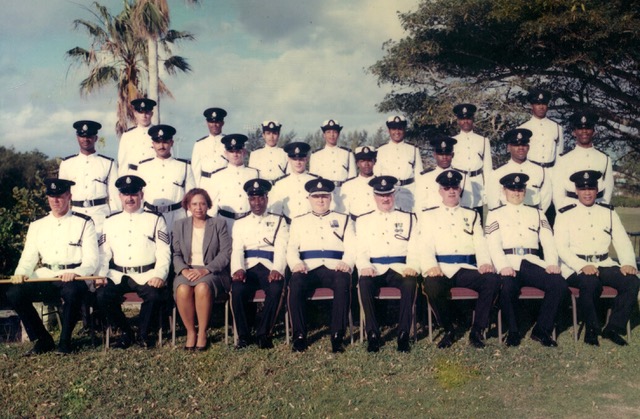 Back row - P.C's Sabean, Muhammad, Focke, Wade, Berkeley, Looby and Peterkin
Middle row - P.C's Caisey, Azab, Alex Rollin, Saints, Raynor, Dill, Burrows, Saltus
Front row - P.C. Steve Donnelly, Sgt Paul Cranage, Ms. Edmead (HRM), C/Insp. Vendal Bridgeman,
Commissioner Lemay, Supt. Vic Richmond, Insp. Charles Mooney, Sgt Mike Chlebek, P.C. Simons
We asked Alex what had influenced him to become a police officer, wondering if it would have had anything to do with his father being a serving police officer as he was growing up. Alex was also asked if any particular police officers had been especially helpful or inspirational to him during his early days. He told us the following:-
"I never told my family I was debating joining the police. Not even dad. I did all the paperwork myself and brought them in at the last minute. There were mixed reviews on that. Especially having graduated from Dalhousie with a history degree (that they paid for). All is well that ended well.
I was in the regiment for a year in 1996. After my first year of University I had not adjusted too well with my new found freedom, coming from Bermuda. I was more interested in the "social" side of things. I was asked to leave university for a year and reassess my goals in life. I did my boot camp in January 1997, then a deployment to Camp Lejeune as part of my corporal's cadre then was promoted that summer. I ended up going back to university and graduating in 1999. I joining the police later that year. I credit the regiment with instilling a sense of discipline in me.
Growing up I was always surrounded by police. The likes of the old Narcotics street team in my more formative years. "The Miami Vice" era I would call it (fashion included). I was privy to one or two dozen stories that certainly peaked my interest in policing.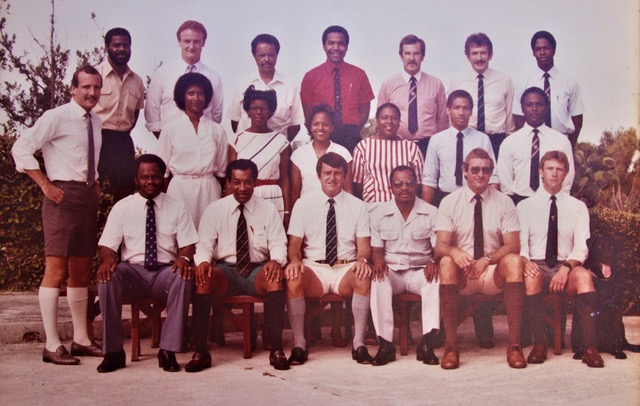 Police Narcotics Squad with H.M. Customs Officers - Circa Summer 1983
Top row (l-r) CO Kenny Simmons, Mark Allan, CO Vernon Foggo, Mike Wyllie,
Dave O'Meara, Steve Rollin, Zerphyl (Zip) Worrell.
Middle row, - Mark Cartwright, CO Roxann (Roxie ) Eve, Civilian Staff Carolyn Haynes,
Bev Outerbridge, Cherie Bean, Alickson (Alex ) Severin, Dennis Gordon,
Front row, Eustace LeGay Farley, Winston Esdaille, John L. Williams,
Norell Hull, Alex Arnfield and dog handler Ian Coyles.
Those officers that have influenced me over the years are far too many to name. I have taken bits of the good and bits of the bad and used it as my framework. I took the calmness and chilled outlook from my dad (AKA Cool Cat as he was called, although I never worked with him, our paths crossed often).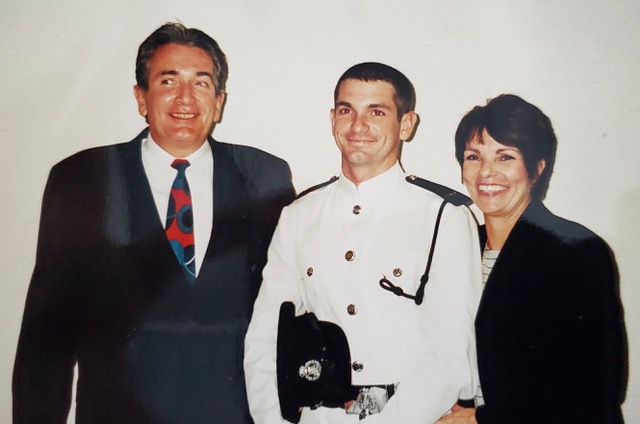 Newly promoted Insp Alex Rollin with his
proud parents Steve and Judy Rollin
My desire to get things done right and expeditiously is all Greg Grimes. When I was a young in-service officer I passed the sergeants exam while on PSU. I was asked to come and help out down town as an acting sergeant for a few weeks on 'B' watch. Well we know what "help out" means in the BPS LOL.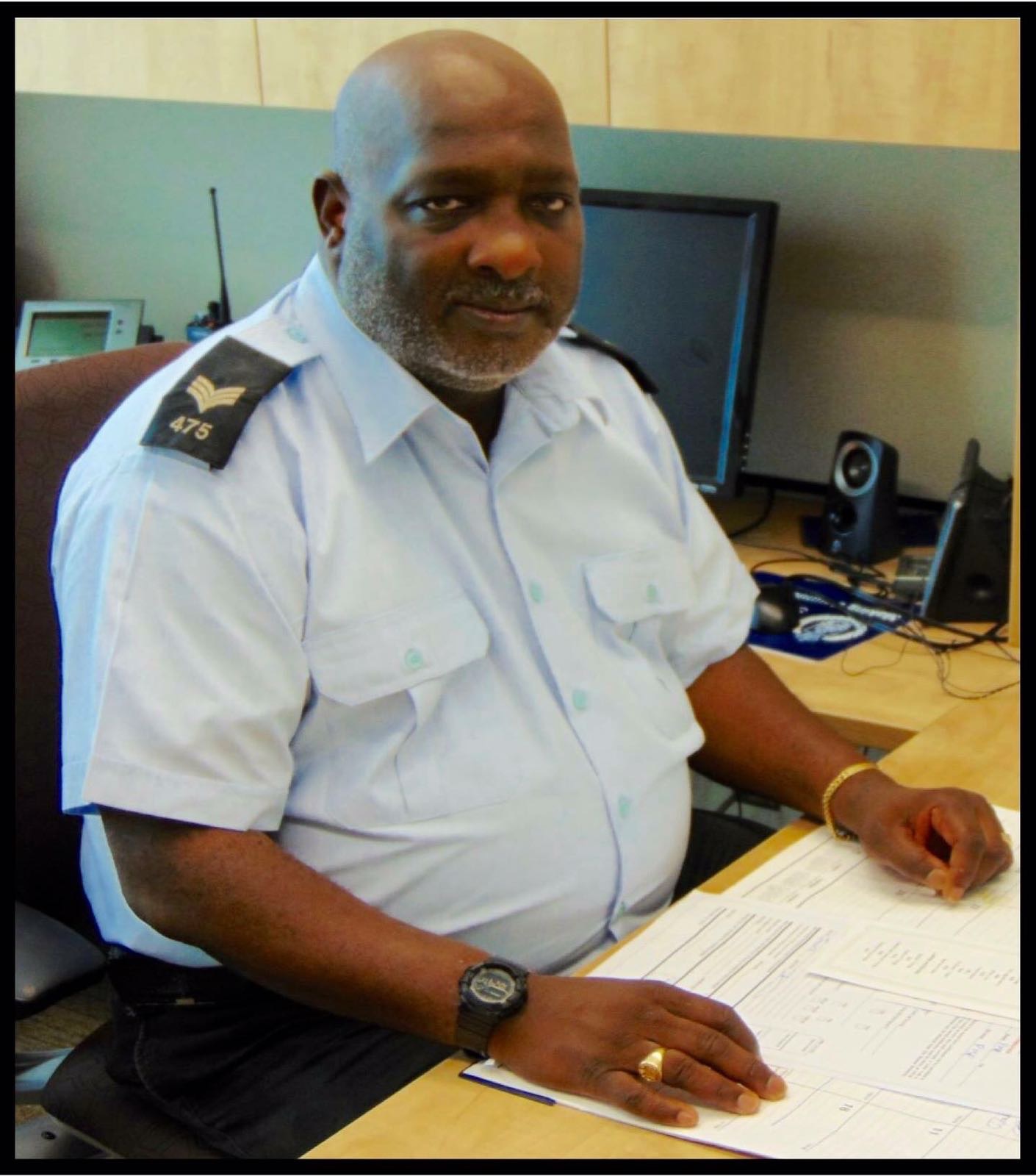 The Late Sgt. Greg Grimes
It was by far the best posting a young officer could have – I was the acting Hotel 2 and Grimesy was the station sergeant. The knowledge I gained was immense. Martin Weekes was the inspector and we had a great team of young officers working with us. Bonds that are still strong to this day. We were a watch that found the balance between a solid 8 hours of work (7,7,7 back then) then how to let our hair down after work and bond as a unit. I was promoted on 'B' watch, served as the station sergeant and even had opportunities to act as inspector on that watch once my probation was up mid 2000's.
ERT and the firearms side of policing has been my bread and butter for most of my career. Having received the opportunity in 2005 to get on a course I have not looked back. Team work, comaraderie, humour and job satisfaction were all as a result of that unit.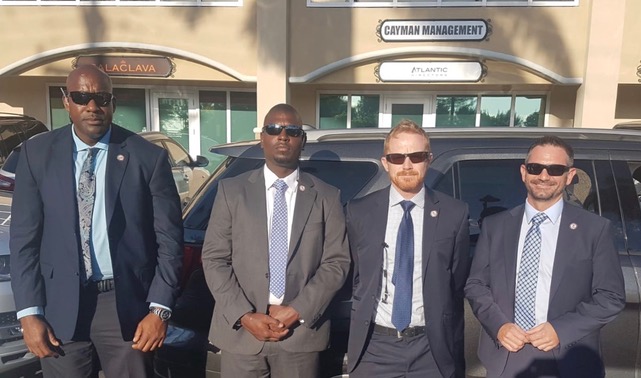 BPS Security Team in the Cayman Islands
(l-r) P.C's Miller, Stevens, Redknap and Acting/Insp Alex Rollin
One particular highlight of my ERT training and my career so far was being chosen, along with P.C's Miller, Stevens and Redknap, to be assigned to assist the Royal Cayman Island Police Service (RCIPS) as the close protection team during the visit to Cayman in March 2019 of His Royal Highness the Prince of Wales and the Duchess if Cornwall as part of their official tour of the Caribbean. We were well received by the RCIPS and the royal protection team, and in addtion to gaining invaluable experience I believe we helped to strengthened our ties with with the RCIPS.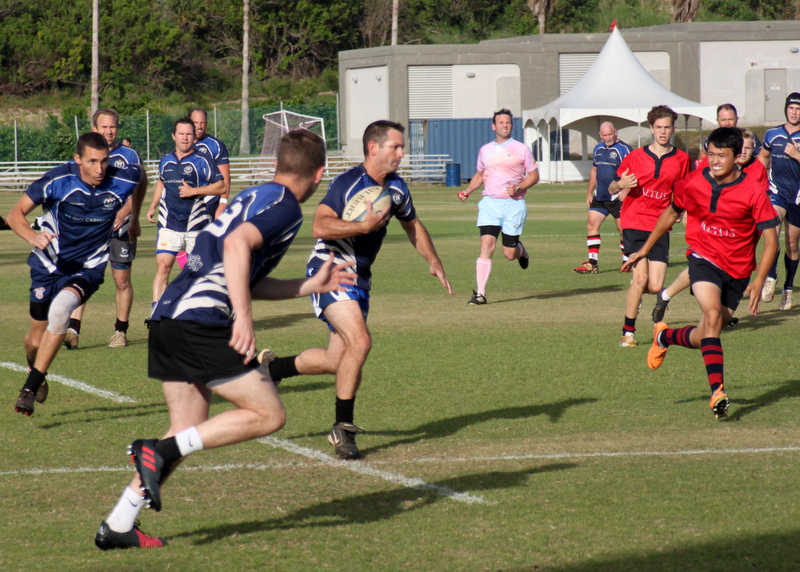 Alex heads for trouble in rugby game playing for .....
Rugby was always a big part of my life too. Having played since I was about 10. Mini-Rugby at the old nationals sports club. I played for the police (probably too young) on the second team on and off, and then on the first team. I captained the first team for a few years which was good fun and lots of work. A lot of the players in the mid 90's were actual coppers on the police team so getting to listen and take part in the banter that took place was huge. Just an absolute good era to have been fortunate enough to grow up in.