50th Anniversary Year - 1971 - 2021
2021 marks a significant milestone for all those young recruits who joined the Bermuda Police 50 years ago, during the year 1971. A check of our records (shown below) indicates that a total of 69 young men and woman joined during 1971,
Sadly, some are no longer with us, and to the best of our knowledge they are Alexander "Sandy" Duncan, Malcolm Edwards, Colin MacDonald, Noel "Ben" Linton, Robert "Bob" 'Spare Parts" McDonagh, Graham Waring, Russell Delahaye, Phil Every, Andrew Hall, and Kim Ingemann.
Those who are still with us will hopefully be looking back and celebrating their 50th Anniversary since joining the Police, or arriving on Island to do so. Anniversaries are usually events to be celebrated but organizing any kind of anniversary function at the moment is no doubt completely out of the question, but we are starting a "blog" on our website in which all who are still with us can write in and let us know where you are and what you're doing these days, and maybe also give us your recollections of those balmy early days. CLICK HERE for the blog in our "Interesting Articles "column.
Looking at our list the first group of recruits joined on 1st or 2nd March 1971 and these were- Ken Blow, Dave Burley, Alexander Duncan, Cliff Harries, Malcolm Marlowe, Ernie McCreight, Martin Pearson, Frank Rogers, Peter Swann, Michael "Mike" Chitty, Ian Claridge, Malcolm Edwards, Colin MacDonald, Moby Pett, Bernie Pitman, Pete Shaw, and Tony Taylor. These were all trained officers so they would have attended a localization Course. Unfortunately, our Police Training School hardly ever took official photos of Localisation Courses which means we'll have to rely on individual officers to provide us if possible with photos of their early days on Island.
Out of that group we still have four still here in Bermuda - Moby Pett , Ernie McCreight, Pete Shaw, and Bernie Pitman.
The next major intake was at the beginning of June when 19 young men and women attended Basic Training Course No. 14 held from June – September 19871 as can be seen in their course photo below.
Basic Training Course No. 14 June - September 1971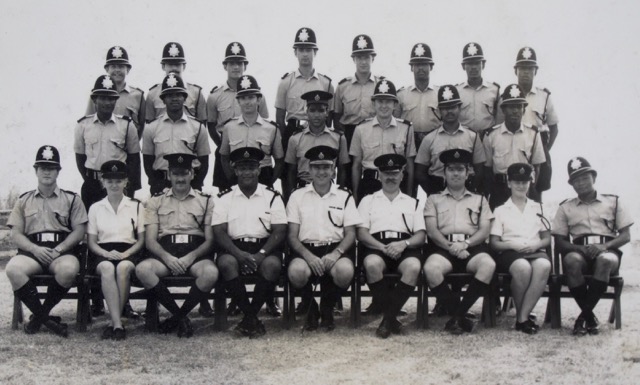 Top Row (l-r) Roderick "Roddy" Barclay, Brian Parkin, Louis D'Olivera, Christopher "Chris" Wilcox,
Martin Bowe, Kensley McDowell, Vernson Mills, Douglas Joslyn
Middle Row - Martin Johnson, Noel "Ben" Linton, Kenneth Wright,
Kim Ingemann (Cadet) Gordon Farquar, Carrol Latchman, Ishmael Daniel
Seated - Jeffrey Baker, Yvonne Yates, Sgt Barrie Meade, Chief Insp. Syke Smith,
COP George Duckett, Insp. Dave Parsons, Sgt "Dick" Murphy, Patricia Warraker, Oral "David" Small
Several members of this Training Course are still on Island, and they include "Roddy" Barclay, Chris Wilcox, Kensley McDowall, Doug Joslyn, Martin Johnson, and David Small.
Terry Lee and Lynette Baker were hired locally at the beginning of November and they attended later Basic Training Courses in 1972.
Our last batch of overseas recruits for the year joined in early November arriving on 4th and 5th November, and these were, Robin Glenny, Keith Cassidy, Anthony Smallridge, Kenneth Van Thal, Stephen Taylor, John Headey, Brian Foster, Graham Waring, Mick Brown, Peter Smith, Edward Street, Rodney Fowkes, Barbara Travers, Anthony Ramshaw, Desmond McGarr and Ruth McGarr, Andrew Hall, Richard Naylor, Marjory Amos, Arthur Stewart, Stephen Rollin, Stephen Peterson, Russell Delahaye, and Phil Every.
Of this group, Keith Cassidy and Marje Amos completed their service and still reside here in Bermuda. While Steve Taylor retired as a Sergeant and has since returned to the UK, and Phil Every retired as Chief Inspector but has since sadly died.
The purpose of publishing this article is to encourage all of those men and women who joined the Bermuda Police in 1971 to get in touch with us to let us know how you are doing these days, and where you are. Please feel free to write a few lines and perhaps some of your recollections of your time together with a couple of photos of you during your early days in Bermuda, and a recent photo of you, perhaps with family. We would be delighted if , through our website, you can re-establish contact with your old friends and former colleagues which will hopefully bring back some fond memories.
For those of you not too familiar with our website, you will find a search box in the top right corner of our Home Page. If you type in your own name, or anyone else's name, it will provide you with a complete list of all articles or photos of that person. You can then click on any item on the list and it should open for you to read. To get back to the list you can then press the < sign in the top left corner of your screen and it will return you to the list. It's usually best to start with just a surname such as "MacDonald" rather than entering their first name because in some cases they might be titled "William" and sometime "Bill". If you have ever served in the Bermuda Police you should find your name somewhere on our website!
Here is a comprehensive list of all officers recruited during the year 1971
| | | |
| --- | --- | --- |
| Last Name | First Name | Date Appointed |
| | | |
| | | |
| | | |
| | | |
| | | |
| | | |
| | | |
| | | |
| | | |
| | | |
| | | |
| | | |
| | | |
| | | |
| | | |
| | | |
| | | |
| | | |
| | | |
| | | |
| | | |
| | | |
| | | |
| | | |
| | | |
| | | |
| | | |
| | | |
| | | |
| | | |
| | | |
| | | |
| | | |
| | | |
| | | |
| | | |
| | | |
| | | |
| | | |
| | | |
| | | |
| | | |
| | | |
| | | |
| | Terry Chesterfield Robinson | |
| | | |
| | | |
| | | |
| | | |
| | | |
| | | |
| | | |
| | | |
| | | |
| | | |
| | | |
| | | |
| | | |
| | | |
| | | |
| | | |
| | | |
| | | |
| | | |
| | | |
| | | |
| | | |
| | | |
| | | |
We are begiining to have responses to our request for anyone who joined the Bermuda Police during the year 1971 and we will be posting the responses here on this blog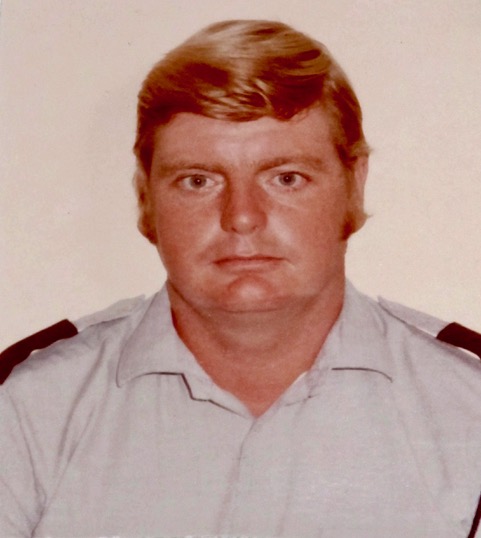 Peter "Pete" Swann
Peter Swann - who served from 1st March 1971 - 1976 serving in Central, Marine Section and Central CID
I still live at Northallerton North Yorkshire. At the grand old age of 70 I am now retired after selling my warehouse and courier business a few years ago. I have to report I sadly lost my wife Pauline to cancer some three years ago which of course was a great loss. I frequent Bermuda at least once a year and stay with friends in Southampton but I did not travel 2020 but should be on the island again 2021. 50 years sounds an awful long time but they were very happy days on Marine Division and then Central CID. I am glad I experienced them.
All the best for the future to all in Bermuda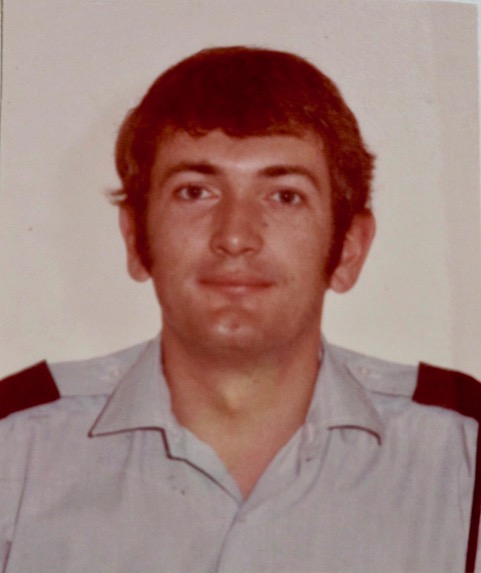 Stephen "Steve" Rollin
Stephen "Steve" Rollin - who served from 5th November 1971 - 2005 retiring at the rank of Inspector. Steve, who is presently living in England has written an article about his life in Bermuda which we have published in our "Then and Now" column. CLICK HERE to read the article.
Richard "Dick" Naylor
Richard "Dick" Naylor arrived in Bermuda with the last 1971 contingent of UK recruits on 5th November, and served mainly in Western Division for 6 years before heading off to Canada with his wife Giovanna. Dick was one of the first of the 1971 recruits to contact us and you can CLICK HERE to read his "Then and Now article.
21st March 2021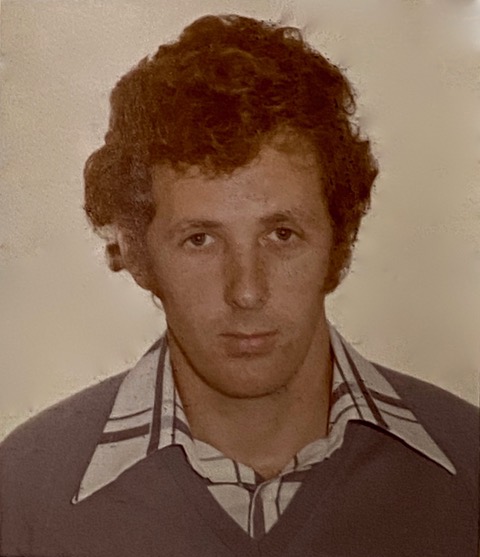 Michael "Mike" Chitty
Michael "Mike" Chitty - Mike arrived here on Island with the contingent of 17 recruits on 1st and 2nd March 1971, having previously served in the Kent City Constabulary for 3 years. Following his Localisation Course, Mike went off to Western Division for 2 years and was then transferred to Operations (Traffic) for a short spell before being posted to Special Branch where he remained until he decided to return to England in 1978 with his wife Wendy and their son Stephen.
We heard from Mike after posting our appeal to all those officers who will be celebrating the 50th anniversary of their arrival here in Bermuda during 1971. Mike has kindly written to us with an update on where he is and what he's doing these days, and has also provided updated information about two of his close friends and former colleagues in Bermuda, Martin Pearson and Jake Stimson. Mike wrote to us as follows:-
Hi Roger,
May I pass information on three former officers including myself who wish to be remembered to anyone old enough on the occasion of our 50th Anniversary, which will unfortunately remain uncelebrated at least as far as any reunion is concerned.
I left Bermuda in 1978 to work in various organisations in London, eventually returning to Scotland Yards' Special Branch and taking early retirement in 1994 a few years before the Met. Police decided to disband it in 2008 (something to do with 'elitism' apparently), drawing a line under nearly 130 years of loyal service but that's 'progress' I guess.
I spend my retirement between the UK where I live on a boat on the south coast in the summer,and South Africa where I regularly meet up with my old friend Martin Pearson for travel and social occasions.
Martin left Bermuda in 1982 to settle in South Africa becoming prominent in the Vehicle Security Industry and started a successful import/export business which he still runs on a semi-retired basis. Martin and I served together in Somerset, then Ops./Traffic and later in Special Branch.
I have also recently had contact with Jake Stimson who also worked in Western Div. From 1970-72 and was Best Man at my wedding in Bermuda in 72. Jake married an American girl and left to live in New York State where he has had several businesses in his lifetime. Unfortunately, Jake suffered a stroke whilst out deer hunting last year and now has also contracted Covid. He is fighting these issues with his new wife Debra and we all pray for a recovery soon.
I apologise for the lack of any photos at this time but will look for any group photos from that era.
We all have fond memories of Bermuda and the characters we met there (too numerous to list really) but there wasn't a 'boring' one amongst them. Although we didn't realise it at the time, the 1970's would become infamous as Bermuda's 'dark' decade. I remember my wife Wendy who worked at the Supreme Court and Court if Appeal in the days of Arthur Rose, telling me how she was present when Mr Justice Barcilon donned the black cap and sentenced Burrows and Tacklyn to the ultimate penalty which, if I am not mistaken, was the last ever judicial execution on British territory?
But we remember mostly the good times like Martin and I being rescued by Alex Arnfield in the Police boat having capsized our Malpas dinghy in the middle of the Great Sound, or Jake and I fishing off the South West Breaker surrounded by surfacing whales....scarey.
So we shall be raising a glass of Goslings Black Seal on 1st/2nd March to all our friends in Bermuda.
EDITORS NOTE - We are very sorry and concerned to hear from Mike that Jake Simpson has some serious health issues, and we wish him a speedy recovery from Covid.
22nd March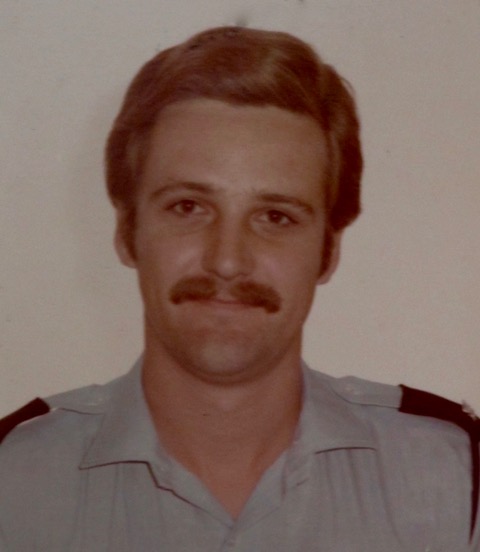 Martin Pearson
Martin Pearson - No sooner had we published the above article about Mike Chitty than we heard today from his old friend and colleague Martin Pearson, who also arrived in Bermuda on lst March 1971 and is also celebrating the 50th anniversary of his arrival on Island half a century ago. Born in Lancashire he served in the Edinburgh City Police, first as a cadet for 2 years then 3 years as a constable before successfully applying to join the Bermuda Police. He had a variety of postings here, serving in Central (Uniform), on Mobile Reserve, Western (Uniform), Operations Traffic, and a short spell in Murder Room before being transferred to Special Branch in 1976. He and Mike Chitty served in Western, Operations and Special Branch together and have retained their close friendship over the years. Martin left here in 1982 and settled back in the UK.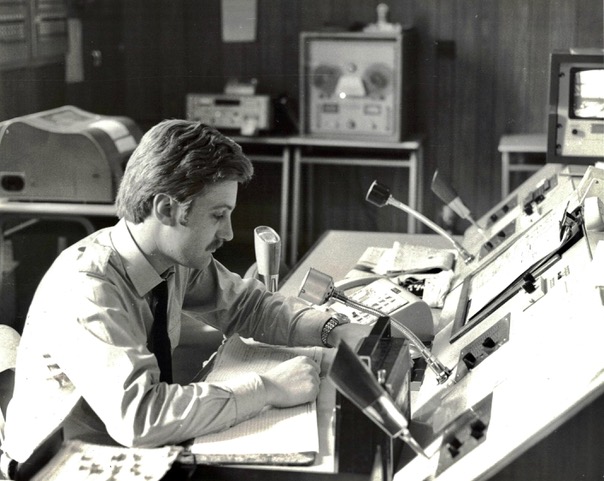 Young P.C. Martin Pearson in Operations Room - 1975
Photo taken by Ernie McCreight
Martin has written to say, "Mike and I have been good friends since we arrived in Bermuda and in recent years have shared some amazing wildlife experiences in the African bush. One such encounter was between an elephant and Mike's BMW which got a little too close and ended with a tusk through his windscreen.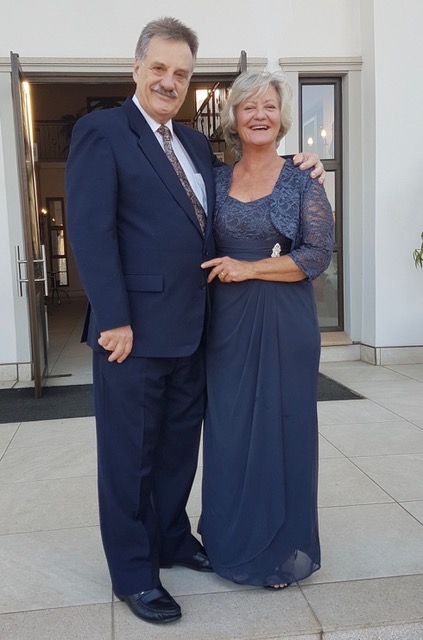 Martin and his wife Jacqui on their wedding day in 2019
We also enjoy participating in high performance vehicle track days and off-road driving. As an accomplished racing driver both here and in Europe Mike has designed and is currently building his latest racing car project."