November 2020
Stories of Bermuda's Policemen
who served in the Military during
John Skinner, Inspector (retired)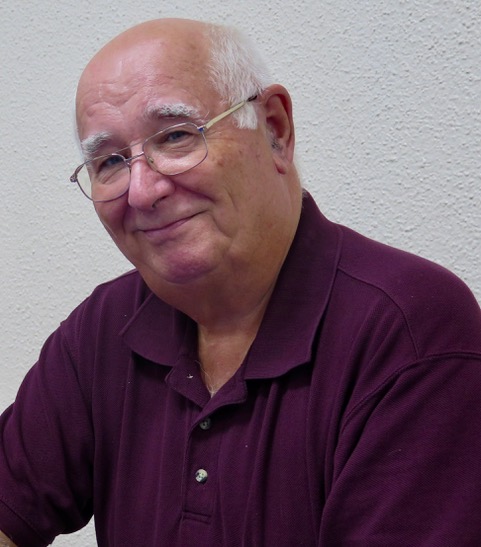 John Skinner
INTRODUCTION
In the course of researching the Names and Life and Service dates of members of the Bermuda Police (please see www.expobermuda.com), I became aware of the many great stories that involved these men and their women especially where their military service was concerned.
The result was an article for the Bermuda Ex-Police Officer's Association website – 'Bermuda's Brave Blue Line - Stories of Bermuda's Policemen who served in the Military during World War One.'
Later in October 2020, a Supplement was written documenting six more Bermuda police officers whose military service in World War One became known after the main article was published.
During the course of researching those articles, I discovered stories of Bermuda's policemen who had served during World War Two. As I transitioned to research for stories for inclusion in the World War Two edition of Bermuda's Brave Blue Line, it became apparent there was a lot of information on-line about the battles, national heroes, casualties and other aspects of World War Two. There was far less information on the individuals who survived their service in World War Two.
This was especially so when compared to the information available about those who had served in World War One. I found even less information about the military careers of those Bermuda police officers who had served in the Royal Air Force.
Individual records held by the Imperial War Museum and by the National Archives are sealed for another few years unless a subscription is paid.
As with their comrades in World War One, many of those who served in the military in World War Two chose to serve in the units of the Allies, rather than local units. After a contingent of volunteers went overseas in 1940, the Bermuda Government placed a moratorium on any further contingents being sent overseas. Many local men were recruited into the local forces to guard critical facilities as Bermuda became more strategically important. In addition, a large number joined the R.A.F. and the R.C.A.F.
Wikipedia states, "In 1940, the Bermuda Flying School was established on Darrell's Island with the goal of training pilots for the Royal Air Force and the Royal Navy (RN). The school trained volunteers from the local territorial units using Luscombe seaplanes. Those who passed their training were sent to the Air Ministry to be assigned to the RAF or the Royal Navy's Fleet Air Arm(F.A.A.)."
The school trained eighty pilots before an excess of trained pilots led to its closure in 1942. The body administrating it was adapted to become a recruiting organisation (the Bermuda Flying Committee) for the Royal Canadian Air Force (R.C.A.F.), sending sixty aircrew candidates, and twenty-two female candidates for ground-based roles, to that service before the War's end.
It is a strange paradox that the local recruiting of land forces to serve overseas was not allowed but about 150 men, volunteers from the local territorial units and over twenty women were recruited to serve overseas with the Allies air forces. In 1944, the moratorium on the men of the Bermuda regiments serving overseas was rescinded and a second overseas contingent was recruited. After the war ended a number of ex-Servicemen, many of whom were non-Bermudian, were enlisted into the Bermuda Police Force.
Unfortunately only the details of those Servicemen who died in service are available on line unless they were 'National Heroes' or were a senior commander in the armed forces. None of our former colleagues who survived the conflict reached international stature although each one should be regarded as a hero in our eyes.
There are sometimes details online about the units in which they served, which helps us to learn something about what they endured in the cause of freedom. This is the stories of some of those men and their women.
DEDICATION
This article honours those members of the Bermuda Police Force who risked their lives to defend Great Britain and the countries of the Commonwealth, and especially Bermuda, during World War Two:
Flying Officer Lionel Herbert Abbott, 53 Squadron, Royal Air Force
Lance Corporal William Dodds Brown, Kings Own Scottish Borderers
Petty Officer Philip Ronald Bunn, Royal Navy
David Hornal Dempster, Royal Air Force
Stoker Francis John Farmer, HMS Ulster, Royal Navy
Alan Francis Healey, Royal Air Force
Flying Officer William Reid Hutcheson, Coastal Command, Royal Air Force
Sapper Ralph James Isted, 1st Contingent Bermuda Overseas Contingent
Pilot Officer Kenneth Charles Judd, 82 Squadron Royal Air Force
Dennis Charles Arthur Page, Royal Air Force
Company Sergeant Major Albert Arthur Powell, Royal Army Service Corps
Leading Seaman Neville Charles Sleath, Royal Navy
Marine Dennis Wilfred Stafford, Royal Marines
Warrant Officer Lawrence Robert Gilbey Swain, 206 Squadron Royal Air Force
Marine Arthur Albert Waters, Royal Marines
The following men also served in the armed forces but we only have a single comment in the Royal Gazette to indicate their service. When, post-Covid, physical resources become more accessible further research will be made into these men.
Robert Ball, Forces Service to be ascertained
Norman Manzies Herd, Royal Artillery
Joseph Nixon, Royal Air Force
Kenneth Taylor, Forces Service to be ascertained
Sergeant Charles Edward Thompson, Royal Air Force
Several members of the Bermuda Police Force, who were recruited after the war, were retained in their original work during World War Two as Essential War workers. Sometimes this could put them in as much danger as a soldier at the Front, as their war work made them a target for enemy action. Those whose arrival in Bermuda is mentioned in the Royal Gazette articles together with their ex-military colleagues are listed here:
John Harkness Adams, Harland and Wolff Shipbuilding Company
James Patrick Lenihan, Chemical Process Worker
Constable Samuel Dugald William McPhee, Royal Ulster Constabulary
Stanley Riddell Moir, Electrician
Jack Watkins, Unknown
Francis Bernard Williams, Nigeria Police
SOURCES AND APPRECIATION
My original research into the article on World War One has had the additional challenge of having to rely almost exclusively upon on-line content, except for the Government Blue Books, (Government Schedule of Taxes, Duties, Fees and All Other Sources of Revenue). The local libraries and museums were closed because of COVID 19 restrictions. I have followed the same protocols with this article, as there are still significant Covid related precautions in effect.
As in my earlier article, I am extremely grateful to the very helpful staff at the Bermuda National Archives for the access to the Blue Books, which they gave me in 2019. I am also grateful to the Bermuda National Library Digital Collection, from where a lot of the information was gleaned, especially from the digitized copies of the Royal Gazette, The Bermuda Recorder and other documents. (The Royal Gazette has gone through several name changes over the decades and for simplicity I have just referred to it as the Royal Gazette).
Where names are mentioned in the newspaper articles, I have attempted to verify the information, as some of them are inaccurate. This was caused by mishearing or misinterpreting handwriting, type setting errors and other reasons.
The websites of the Bermuda Ex-Police Officers Association (X.B.P.O.A.), ancestry.com, Forces War Records, the United Kingdom Imperial War Museums and Wikipedia were also very useful.
Many original British military personnel records from World War Two are restricted under data protection rules. In addition, the fires in the 20th century in Bermuda, at the Hamilton Hotel and the Bermudiana Hotel destroyed many Bermuda Government records, including those of the Bermuda Police. This has necessitated recompiling records from many other sources.
I must also thank Joseph Simmons, a former Bermuda Police Reserve, and Marilyn Simmons, who have created an impressive website on Webtrees recording the details of many of their Bermuda relatives, especially those who lived in the west end.
Where I have known of potential family members I have approached them for information. I hope and expect that this article will also generate a lot more information, which we will add to in due course.
For ease of identification, extracts from news sources and other articles are in italics. I have tried to be faithful to the wording and punctuation in these articles. I have edited some of them to concentrate on the subjects of our articles and often standardised the abbreviations from those originally printed for ease of understanding.
I know that there are personnel omitted who should be included. In most cases, it is because I could not verify that a particular record related to a specific person. In addition, there will be errors of fact for any number of reasons. All of these errors I take responsibility for.
I ask you to email additions or corrections to This email address is being protected from spambots. You need JavaScript enabled to view it. so we can periodically update this article.
LIONEL HERBERT ABBOTT
At the time of writing, Lionel Herbert Abbott has the dubious honour of being the first name on our full Service List of personnel who have served in the Bermuda Police Force since its official formation in 1879.
Lionel Herbert Abbott was born in October 1917 to William Lionel Abbott and Hilda Mary Abbott nee Lewis of Poole, Dorset, England. At the age of 21 years Lionel Herbert Abbott of Race Farm, Lytchett Maltravers, Poole, Dorset, left Liverpool, England on 22nd September 1938 on board the ship Orepesa, which was ultimately bound for Valparaiso, Chile. However, young Lionel was bound for Bermuda to become a Policeman. His service officially started on 3rdOctober 1938.
He resigned from the Bermuda Police Force on 30th April 1940, left Bermuda on the ship Orbita, and arrived in Liverpool, England on 5th May 1940. Travelling with him were former Bermuda Constables Kenneth Charles Judd, William Reid Hutcheson and Francis Bernard 'Frank' Williams.
The first three volunteered for the Royal Air Force. It is thought Frank Williams volunteered for service with the Nigeria Police.
On his arrival in the U.K., ex-PC Abbott enlisted in the Royal Air Force Volunteer Reserve (R.A.F.V.R.). The Official Gazette Supplement No. 35654 of September 1942 noted that Temporary Flight Sergeant Lionel Herbert Abbott RAFVR 126090 was promoted to Pilot Officer (Emergency) with seniority from 1st May 1942.
The London Gazette Supplement of 28th April 1944 noted that Flying Officer L.H. Abbott RAFVR (126090) was confirmed in his appointment from 1st May 1943.
In 1944, Flying Officer Abbott was with 53 Squadron, R.A.F. stationed at St. Eval in Cornwall and engaged on anti-submarine patrols.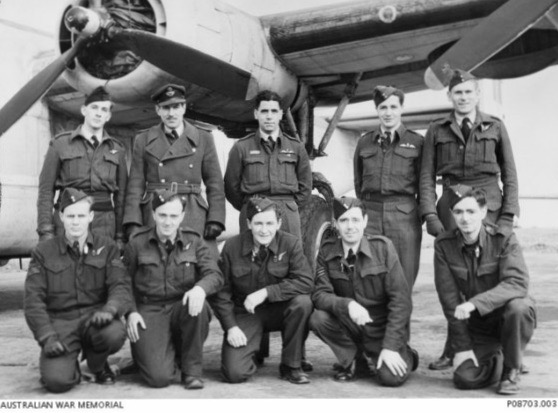 Outdoor portrait of a crew of 53 Squadron RAF in front of their Liberator aircraft
at St Eval, Cornwall. Identified, back row, left to right: 418054 Flying Officer (FO)
Allan Edward Buckley RAAF, 22, 1st navigator of Heidelberg, Vic;
FO Kenneth Kara Edwards RAF(VR), 2nd Navigator; Flight Lieutenant (Flt Lt)
Frank Mason Burton RAF, Captain and pilot; FO Elmer James Hagen RCAF, 22,
of Nelson, British Columbia; FO Lionel Herbert Abbott RAF, 26, of Poole,
Dorsetshire. Front row: Sergeant (Sgt) Ronald Leonard Peirce RAF (VR), 23,
of Hillingdon, Middlesex; Flight Sergeant (Flt Sgt) Wilfred Archibald Hallett RCAF, 21,
of Poplar Point, Manitoba; Flt Sgt Claude Ralston Newell RCAF, 21, of Newellton,
Nova Scotia; Sgt Laurence Gerald Reilly RAF (VR), 21, of Gartcosh, Lanarkshire;
Flt Sgt Thomas Roy McDennon RCAF, 20 of Winnipeg, Manitoba.
(Source - Australian War Memorial website).
According to the 53 Squadron Roll of Honour, Flying Officer Abbott was the Wireless Operator and an Air Gunner.
The Australian War Memorial website reported that:
This crew, along with passenger FO Alfred Derrick Critchlow RAF (VR), 22, of Leek, Staffordshire, was lost on operations over the Bay of Biscay on 17 April 1944, France. The crew's last operation ended in the outer Biscay Bay area (46o 21' N, 11o 48' W) when at 3.49 am on 17 April 1944, their Liberator BZ945 began its final approach to attack a surfaced German U-boat, U993.
Advance-alerted via Naxos radar, U-boat captain Oberleutnant Kurt Hilbig ordered his crew to open fire with U-boat's 4 x 22mm machine guns and 37mm automatic cannon. The combined tracer/HE/incendiary ammunition set BZ945 on fire and, out of control, it dived into the sea, its depth charges exploding, none surviving.
Also lost that night was 53 Squadron's Liberator BZ800, similarly shot down as it approached surfaced U-boat, U546. Again all crew members lost, including two Australians: Flt Sgt Malcolm Box, 1st Navigator, 22, from Rockdale, NSW and Flt Sgt Jack Arnold Alexander, 2nd Navigator, 21, from Bondi, NSW.
Wikipedia noted the following about U 993 and the attack. During her active service, U-993 made 3 patrols. She left Marviken (a U-Boat Base in Kristiansand South, in occupied Norway) on 23 March 1944 for her first patrol and patrolled the North Atlantic between Ireland and Newfoundland.
On 17 April 1944 at 3.51 am, North West of Cape Finisterre, U-993 was attacked by a British B-24 Liberator BZ945 (53 Sqdn RAF, pilot F/L L.M. Burton). The B-24 strafed the boat in a Leigh Light attack.
(The Leigh Light was a British World War II era anti-submarine device used in the Battle of the Atlantic. It was a powerful (22 million candela) carbon arc searchlight of 24 inches (610 mm) diameter fitted to a number of the British Royal Air Force's Coastal Command patrol bombers to help them spot surfaced German U-boats at night.)
The aircraft dropped two depth charges and a small bomb on the submarine, which fell wide, causing no damage. The plane however wasn't so lucky as it was hit by flak during the approach, which set one of the port engines on fire. The plane crashed in the sea and exploded on impact approx. 600m (656 yards) from the submarine. All 11 aircrew were killed in the crash.
The U-993 arrived in Lorient on 22 April 1944 without further incident, after a patrol of 31 days.
U-993 was subsequently sunk in a bombing raid on the Brest submarine pens.
The Air Forces Memorial, or Runnymede Memorial, in Englefield Green, near Egham, Surrey, England is a memorial dedicated to some 20,456 men and women from air forces of the British Empire who were lost in air and other operations during World War II. (Wikipedia).
Flying Officer Abbott and the crews of both aircraft are commemorated at the Runnymede Memorial. Flying Officer Abbott is commemorated in Panel 204.
As mentioned earlier William Reid Hutcheson was also on the Orbita having resigned from the Bermuda Police to go to war. He was born on 12th April 1915 to William ("Willie") and Mary Jane ("May") Hutcheson of Nenthorn, Berwickshire, Scotland.
On 1st May 1937, William Hutcheson sailed from Liverpool on the P.S.N.C. ship Orduna. He stated that his address was 54, Ballards Lane, Finchley, London N3 and that his occupation was Police Constable. For many years, the Metropolitan Police had a Police Station in Ballards Lane but it was sold off by 2004 and No. 54 is now the Cochin Indian Restaurant.
William Reid Hutcheson was appointed as a 3rd Class Constable in the Bermuda Police Force on 13th May 1937. His service in Bermuda passed without any reported major incident and he resigned with effect from 30th April 1940.
William Reid Hutcheson subsequently appeared in the Supplement of the London Gazette of 1st September 1942 as being promoted to Pilot Officer (on Probation) in the Royal Air Force Volunteer Reserve General Duties Branch with effect from 11th June 1942. General Duties Branch indicates that he was a pilot. The Supplement of 29th January 1943 recorded his promotion to Flying Officer with effect from 26th December 1942.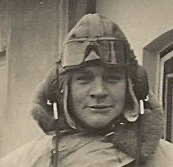 William Reid Hutcheson R.A.F. in flying kit
Ancestry.com indicates that he was flying Liberators with Coastal Command. I have been unable to trace with which Squadron.
On 15th June 1943, the Berwickshire News and General Advertiser had the following wedding announcement:
HUTCHESON - DANIELS
St. Michaels and All Saints Church, Alvaston, Derby on 10th June 1943 Flying Officer William Reid Hutcheson eldest son of Mr and Mrs Hutcheson of Courthill, Kelso to Christine Margaret daughter of Captain and Mrs H. T. Daniels 123, Sharding Road, Alvaston, Derby.
Ancestry.com notes that the union was blessed with three children. After Bill Hutcheson left the R.A.F., he joined the British Overseas Airways Corporation (B.O.A.C.) as a Pilot flying Comets and VC-10s usually on the South African route.
The website also features an immigration form showing that Captain William Hutcheson was part of the crew when B.O.A.C. flight 495 arrived in New York from Bermuda on 12th August 1960. A second form shows that his wife Christina was on the same flight. It appears that he took her to Bermuda to show her the island where he had been a policeman.
They had made their home in Bournemouth, England. Captain Hutcheson retired from B.O.A.C. in the early 1970s. Christina died in 1983 and William Reid Hutcheson died in Bournemouth in February 2008.
KENNETH CHARLES JUDD
The third former Bermuda Constable on board the Orbita in April 1940 was Kenneth Charles Judd. His father, Henry Charles John Judd was just a month shy of his 34th birthday when he enlisted in the Army Gymnastic Staff at Aldershot on 20th May 1915 and was immediately promoted to Sergeant Instructor. His record shows that he had married Elenor Carnegie Dundas on 16th August 1911. This was later added to and showed that they had one son Kenneth Charles Judd who was born on 14th January 1916. Their home address was Edgell House, Oldurman Road, Southampton. Sgt Henry Judd was demobbed in April 1919.
In 1928, Kenneth Charles Judd was enrolled in Taunton's School, Southampton.
Taunton's School was founded in 1760 with money bequeathed by Richard Taunton, a local wine merchant and privateer. The school originally intended to provide education with a career at sea in mind, (Sotonpedia). It is now a sixth form college.
I am grateful for permission to quote from The Old Tauntonian's Association website Memorial page, which records that Kenneth was a keen athlete and swimmer; he represented his House and School in High Jump and he won the bronze medallion of the Royal Lifesaving Society in 1931.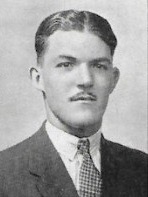 (Source The Old Tauntonian's Association website)
He gained his School Certificate in 1932 and his Matriculation exemption in 1933. Kenneth joined the Portsmouth Police.
On 25th October 1938, Kenneth Charles Judd was appointed as a 3rd Class Constable in the Bermuda Police. By January the following year, he was regularly listed as a Team Member of the Bermuda Athletic Association (B.A.A.) Rugby team. He too also resigned on 30th April 1940.
The Old Tauntonian's Association website notes that Kenneth Judd 'trained for the R.A.F. in England and South Africa, gained his navigator's brevet and in May 1941 was commissioned. Kenneth was posted to Bomber Command in Blenheims and took part in many raids. He was a Pilot Officer with 82 Squadron when he went missing from a daylight operation over Helgoland and Bremerhaven.'
The RAFCommands website shows that on 26th August 1941 P/O Judd was part of the crew of Bristol Blenheim IV Serial Number Z7277 Markings UX-P, which took off from R.A.F. Bodney to conduct a mission in the vicinity of the German Bight. The other members of the crew were Pilot Officer W.F. Race and Sergeant A.R.J. Dick. They are believed to have been shot down by the Luftwaffe.
P/O Race is buried at Becklington War Cemetery, Soltau, in Lower Saxony, Germany. Next in the list of casualties buried there are three 'Unknown British Airmen.'
All three members of the crew of 82 Squadron Blenheim UX-P are commemorated at the R.A.F. Memorial, Runnymede. Pilot Officer Kenneth Charles Judd was 25 when he died.
FRANCIS BERNARD 'FRANK' WILLIAMS
The fourth member of the Orbita volunteers was Francis Bernard 'Frank' Williams. To date his military history has remained somewhat elusive. However, we have a record of a Francis Bernard 'Frank' Williams joining the Bermuda Police Force on 2nd July 1961 reportedly as a Superintendent.
It is probable that he spent the War in the Nigeria Police. His granddaughter, Eleanor Williams, in 2015 advised the X.B.P.O.A. website of the following:
After the Second World War he was in the Nigeria police force, (my father remembers living there for 5 or so years). The family then moved to Bermuda in the early 1960s; my father says it was Commissioner Robins who instigated the move, he insisted he would only take the Commissioner's position if Frank Williams came to (I'm assuming Robins was in Nigeria too).I know my Grandpa took early retirement in the late 1960s due to a terrible fall; the family moved back to the UK and settled on the Isle of Man (we seem to like Island life!).
Francis Bernard 'Frank' Williams retired on 10th October 1971 with the rank of Deputy Commissioner. He died in 1998.
RALPH JAMES ISTED
Ralph James Isted (known as James) was born on 26th February 1923 at Mount Hill, Pembroke. He was the son of George James Isted.
George James Isted served in the 2nd Battalion, Royal Sussex Regiment during World War One and later came to Bermuda. He served in the Bermuda Police Force from some time in 1922 until 28th February 1923. He was one of the men whose stories were included in 'Bermuda's Brave Blue Line - Stories of Bermuda's Policemen who served in the Military during World War One'.
George married Helen Luisa Isted nee Bernard in 1921.
On 5th June 1940, the Royal Gazette carried a story, which named the 1st Bermuda Contingent to be sent overseas during World War Two. Sapper Ralph James Isted of the Bermuda Volunteer Engineers was among those named:
18 LOCAL MEN WILL GO OVERSEAS FOR SERVICE
1st Contingent from Colony is to Leave Soon
Eighteen men from the local forces have been selected to serve overseas and will leave shortly for England.
Four are from the Bermuda Volunteer Engineers, and it is hoped they will eventually get into the Royal Engineers.
Their names are:
Sapper G. W. Cooper,
Sapper E. A. Fountain,
Sapper F. C. Mansbridge, and
Sapper R. J. Isted.
With one exception, that of 2nd. Lt. P. L. Purcell, of the B.M.A. the remainder of the men are drawn from the B.V.R.C. The hope is expressed that they will be transferred to the Lincolnshire Regiment. The names of the men are:
2nd/Lt. P. L. Purcell,
Lt. J. B. Tucker,
Rfm. F. Mullin,
Rfm. J. Lindo,
Sgt. J. Exell,
Lt. A. F. Smith,
Lt. P. A. D. Smith,
2nd/Lt. B. J. Abbott,
Cpl. G. Skinner,
Lance Cpl. G. Fisher,
Rfm. A. W. Flood,
Rfm. F. Skelton,
Rfm. S. Wright,
Rfm. A. J. Pedro.
An urgent appeal is made by the knitting sub-committee of the Bermuda Women's Auxiliary Force (Mrs. O. B. Swire, chairman) for knitted goods so that each volunteer leaving may carry with him a personal gift from the women of Bermuda comprising a Balaclava helmet, a scarf, a pullover, a pair of mittens and three pairs of socks.
These are required in the next few days, and suitable wool can be obtained free at the Hamilton Hotel from the B.W.A.F., or the I.O.D.E.
The knitters are asked to make 23 khaki scarves and 10 khaki Balaclava helmets so that the comforts of the volunteers may be complete.
Of note in the list is the name of Lt. A.F. Smith, known as Toby. He was the grandfather of Jonathan David Smith OBE who was to serve as Commissioner of the Bermuda Police, retiring in 2006 and later becoming a Senator in the Bermuda Senate.
Major Toby Smith was killed in action at the Battle of Overloon close to the end of World War Two. Jonathan Smith wrote a book about his grandfather called 'In the Hour of Victory'. The book later became an acclaimed film.
He has also written "Island Flames"; a book about the background to the politically motivated murders of the Police Commissioner and Governor in the 1970's, the convictions and execution of the perpetrators and the subsequent riots. A more in depth description of the book and an interview with Jonathan Smith can be found on the X.B.P.O.A. website. Jonathan Smith is currently writing another book; about policing in Bermuda.
On 22nd June 1940, the Royal Gazette carried a speech by His Excellency the Governor to the departing Contingent. The speech also gives an indication of the politics of the period.
GOVERNOR BIDS OVERSEAS CONTINGENT AU REVOIR
Tells Them They Are Lucky; Will Help Defend Britain
"You will be called upon to help in the defence of the British Isles. . . "
So said His Excellency the Governor, Sir Denis J. G. K. Bernard, K.C.B., C.M.G., D.S.O., as he bade "au revoir" yesterday to the Bermuda overseas contingent which is to leave this Colony shortly for England.
In simple words, His Excellency addressed the men who are to carry the name of Bermuda into the conflict, telling them he was glad that they were going for various reasons.
"I am glad for your sakes," he said, "because you are keen soldiers, and you are setting out on a wonderful military adventure. I am glad for Bermuda's sake, because she will now feel that she has direct personal interest in the war in Europe. I am glad for the Empire's sake, because it is a fine thing to see soldiers from all parts of the Empire fighting side by side. You, as Bermuda's first official representatives, have a very important part to play, and I am sure that you will do this Island credit.'
He reminded the men that they were lucky to go. "You saw, from the cable which I received, and had published in the Press, that the present policy is not to accept soldiers from the Colonies - in fact you are lucky to be going at all."
Actually, you would not be going if the War Office had had to pay your fares. As we know, the Bermuda Government paid your passages with pleasure, and gave each of you a present of £10," His Excellency said.
The men were told by His Excellency that the conditions, which now exist in Europe, were vastly different from those, which existed when he sent the original list of names to the War Office on February 23.
"At that time," said His Excellency, "we all thought that you would, after a short delay, proceed to join the B.E.F. in France. Since that date - in fact, actually by May 30, when the War Office accepted your names the whole situation had changed, and now it has changed still more, and the B.E.F. is in England. Therefore when you get to England, you will no doubt be absorbed into your various units, and called upon to help in the defence of the British Isles."
His Excellency used the French term "au revoir"(Good-bye, till we meet again). "I am very glad to have this chance of saying au revoir to you," he said, "and wishing you good luck, before you set out to England."
Interesting days were ahead for the men, His Excellency told them: "Good luck to you—you have interesting days ahead of you. Nobody knows what exactly you will be called upon to do. You will find that during war, even more than during peace you often have a boring time. Remember that the spirit which you show during a boring time is often just as important as the spirit which you show during a dangerous time."
He concluded with cheering remarks. He said: "I often think that the highest praise which I ever heard given to a unit was when its General said that it was always cheery, keen and on its toes. There can be no higher praise, try to live up to it, each one of you.
Be cheery under the most depressing conditions, keen under the most boring conditions, and be on your toes under all conditions. "Always cheery, always keen, always on your toes."
His Excellency addressed the troops at a formal inspection ceremony held at Prospect parade grounds yesterday morning.
The article then named the contingent.
The Royal Gazette of 11th July 1942 printed a list of Bermudians serving overseas who had died (6), who were prisoners of war (3) and the units in which the men were serving. Sapper Isted was listed as serving with the 51 Bn. Royal Sant. Regt. This was probably a typo and should have been the 51 Bn. Royal Tank Regt, which would be consistent with the rest of his service.
Wikipedia describes the war record of the 51 Battalion, Royal Tank Regiment:
At the end of May 1940, with the British Expeditionary Force (BEF) being evacuated from Dunkirk and the imminent threat of German invasion of England, the 25th Army Tank Brigade was redesignated 2nd Motor Machine Gun Brigade and its regiments reorganised accordingly. Each of 51 RTR's three MMG squadrons consisted of three troops, each with six Humber Snipe or Hillman Utility ('Tilly') two-seat cars, two carrying Vickers medium machine guns, two Bren light machine guns and two Boys anti-tank rifles.
In July 1940, volunteers from the units of 25th Army Tank Brigade formed No. 5 Troop of No. 5 Commando at Bridlington. In August 51 RTR and the rest of the brigade moved to Northumberland to guard the coastline with machine gun posts along the cliffs and sand dunes.
The 25th Army Tank Brigade was reconstituted at the end of 1940, and its regiments began to receive a trickle of tanks on which to train. By the end of 1942, 51 RTR was fully trained and fully equipped with Churchill tanks.
In January 1943, the regiment embarked, with the rest of the 25th Tank Brigade, for North Africa, where it came under the command of V Corps of the British First Army in the Tunisian Campaign.
The regiment took part in containing the German offensive of Operation Ochsenkopf in February and March 1943. At a place called Steamroller farm, two Churchill tanks ambushed and shot up an entire German transport column before rejoining the rest of their squadron. The end result was the destruction of two 88 mm, two 75 mm, two 50 mm and four smaller calibre anti-tank guns, twenty-five wheeled vehicles, two 3 inch Mortars, two Mark III tanks and nearly 200 Axis casualties.
On 7–8 April, 51 RTR supported IX Corps at Fondouk Pass. The 128th (Hampshire) Brigade of 46th Infantry Division crossed the Wadi Marguellil during the night and at 5.30 am on 8 April began its main attack, supported by 'C' Sqn 51 RTR, and by noon was on its objective. The regiment ended the campaign in Army reserve.
The brigade, including 51 RTR, remained training in North Africa for almost a year, before they were required for service on the Italian Front.
51 RTR embarked on 16 April 1944 and landed at Naples, where it was equipped with Churchill tanks, with a few Shermans and Stuarts.
The brigade distinguished itself in support of the 1st Canadian Infantry Division in the assault on the Hitler Line in May 1944. At the request of the Canadians, its regiments adopted the Maple Leaf as an additional badge, later worn by 51 RTR's successors, the Leeds Detachment (Leeds Rifles), Imphal (PWO) Company, East and West Riding Regiment. 51 RTR went on to fight in the Gothic Line battles of August–September 1944.
To deal with the successive enemy lines of defences anticipated in the later stages of the campaign, it was decided in late 1944 to convert the brigade into the 25th Assault Engineer Brigade, equipped with the specialized tanks known as Hobart's Funnies.
Organised on 5 January 1945, this was primarily a Royal Engineers formation, but 51 RTR remained in the brigade, although converted to specialised armour. 'B' Squadron received 15 Crab Mark II flail tanks, while 'A' and 'C' Sqns had a total of 32 Churchill Crocodile flame throwing tanks.
Each squadron in the brigade was self-administering, so that they could be detached where required.
25 Armoured Assault Brigade first went into action at the crossing of the Senio on 9 April 1945. 51 RTR was attached to the 2nd New Zealand and 8th Indian Divisions. The flame throwing tanks crept forward during the preliminary bombardment and positioned themselves as close to the flood bank as possible. One minute before the infantry assault started, the positions were flamed. Most of the Crocodiles had to be 60 feet behind the bank to be able to direct their flame over the bank. World War II in Europe ended shortly after this operation.
On 19th July 1946, the Royal Gazette reported the return of Driver Isted and several other Bermudian servicemen:
Still other Bermudian servicemen on board the H.M.S. Speaker are Driver R. J. Isted, 25th Tank Brigade; Pte. G. I. O'Connor, Lincolnshire Regiment; Pte. George Siggins, Lincolnshire Regiment; A/M George J. Cook, Royal Navy; and Sgt. Graeme Skinner also of the Lincolnshire Regiment.
Mrs. O'Connor, Mrs. Siggins and Mrs. Skinner, three English war brides, are all arriving in the Speaker with their husbands to take up residence in these Islands.
On 31st January 1947, the Royal Gazette reported the Banns of Marriage of Ralph James Isted (Single) and Caroline Elizabeth Hess (Divorced). Caroline Hess was born in Horse Cave, a small town in Hart County, Kentucky, U.S.A. They were subsequently married on 12th February 1947.
On 31st March 1948 an Official Notice in the Royal Gazette stated that Ralph James Isted was to be appointed a 3rdClass Constable of the Bermuda Police Force with effect from 1st April 1948. He resigned on 31st March 1950 and moved to Buffalo, New York, USA where he obtained his US Naturalisation.
Caroline died on 19th July 1951 in Buffalo. Ralph James Isted subsequently remarried and moved to Santa Clara, California where he died on 14th December 1972.
On 3rd July 1946, the Royal Gazette reported on the arrival of 13 police recruits:
13 POLICE RECRUITS NOW HERE FROM ABROAD
All But Four Saw Service With Fighting Forces
Within recent weeks the Bermuda Police Department have added 13 recruits to their establishment, nine of whom come from England, three from Ireland and one from Scotland.
With the exception of four of the new members of the force, who were held in essential war industry, all of the recruits saw service in some branch of the fighting forces during the recent war.
Then followed pen pictures of the recruits, the first of whom was:
DENNIS WILFRED STAFFORD
Dennis Wilfred Stafford, of South Ealing, London, joined the Royal Marines in 1940 but in the following year, while serving on the island Crete, was taken prisoner by the Germans. He stayed in 15 Nazi prisoner of war camps throughout the central area of Europe occupied by the Germans.
Ancestry.com indicates that Dennis Wilfred Stafford was probably born in the second quarter of 1922 in Brentford, Middlesex and that his mother's maiden name was Bradley.
The Royal Gazette tells us that he joined the Royal Marines in 1940 and was later captured in Crete. I have been unable to verify Dennis Stafford's service except for his inclusion in the names of a Royal Marines reunion held in Bermuda and reported by the Royal Gazette of 26th July 1946.
Wikipedia tells us that there was nearly 2000 Royal Marine amongst the 18,000 Allies protecting Crete and that on the morning of 20 May 1941, when Nazi Germany began an airborne invasion of Crete. Greek and other Allied forces, along with Cretan civilians, defended the island. After one day of fighting, the Germans had suffered heavy casualties and the Allied troops were confident that they would defeat the invasion. The next day, through communication failures, Allied tactical hesitation and German offensive operations, Maleme Airfield in western Crete fell, enabling the Germans to land reinforcements and overwhelm the defensive positions on the north of the island. Allied forces withdrew to the south coast. More than half were evacuated by the British Royal Navy and the remainder surrendered or joined the Cretan resistance.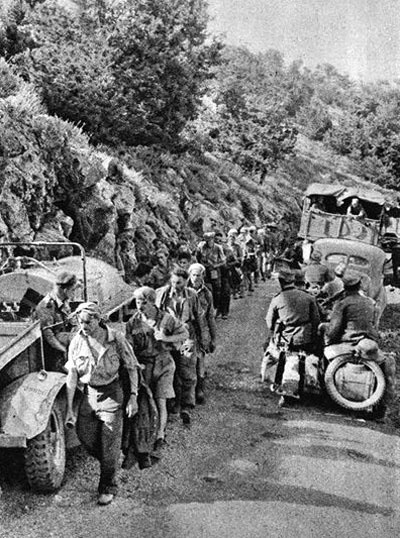 Photo of Allied prisoners of war in Crete
(Source New Zealand Government History website)
The above photo was accompanied by the following: 'For you the war is over'. Dejected Allied prisoners of war pass German vehicles on their way back over the White Mountains from Sfakia. Most of those captured on Crete were held temporarily in a transit camp near Galatas before being transported to mainland Greece.
From mainland Greece, the majority of the prisoners were housed in prison camps in central and eastern Europe.
By 1946, Dennis Stafford had been liberated from the Prisoner of War camps and demobbed and was on his away to Bermuda where on 17th July 1946 he started a career as a 3rd Class Constable.
On 7th January 1947, the Royal Gazette reported on a piece of good police work by Constable Stafford
COMMITTED FOR ALLEGED THEFT FROM STEAMSHIP
Seen To Pick Up Stolen Goods From Under Bush
In Hamilton Police Court yesterday George Adolphus Evans was committed for trial on a charge of stealing three bolts of rayon cloth from the motor vessel "Brittany" while she was discharging cargo at No. 7 Shed, Hamilton on December 22 he found two bolts of rayon hidden under a bush. He took the cloth to Hamilton Police Station, and later returned with it, in company with Det. Duerden at Albouy's Point and returned to Front Street.
Det. Duerden stated that he kept observation on the bush under which the rayon had been found and saw the accused pick up the material.
Det. Duerden said that he called out to Evans to move, and at the same time flashed his torch at him. The accused threw the material at the witness, hitting him on the head. He then "fired" several blows at the detective, making it necessary for the policeman to use his baton to subdue him.
FIND ANOTHER BOLT
The accused was told that he was under arrest on suspicion of stealing two bolts of cloth and replied. "I picked them up." '
An examination of the contents of the accused's cycle basket at the Police Station disclosed that another bolt of the same material was concealed in the lining of a raincoat in the basket. The accused was charged with stealing this material and stated, "I was caught with the goods, and I am guilty That is all I can say."
Henry Coolidge Adams, the manager of Ambard Company, stated that the retail price of the rayon would be about 6/- a yard.
Leith Erskine Campbell, the dock superintendent for Harnett Richardson local agents for the "Brittany" stated that he went aboard the "Brittany" and examined a case consigned to Kingston, Jamaica. The top of the case was broken and some of the contents were missing. The contents of the case were bolts of rayon, of the same make and bearing the same code number as the bolts that were shown to him in Court.
The accused had nothing to say, and did not call any witnesses. The Magistrate (the Wor. H. Martin Godet) said that it had not been proved that the accused had the means of stealing these goods.
Inspector Brown, for the Police, submitted that it was not necessary to prove that the accused was in a position to steal the goods out of the hold of the ship. He was found in possession of the goods, which had been proved to have been stolen from the hold of the M.V. "Brittany"; when he had been charged and cautioned by the Police he had said that he was caught with the goods, and was guilty.
The Magistrate said that the evidence produced in Court disclosed that the accused was in possession of goods that were known to have been stolen.
Evans was committed for trial in the Supreme Court on a charge of being in possession of goods, well knowing the same to have been stolen. The accused applied for bail, but his application was refused.
Evans was later convicted and sentenced to 2 years hard labour at the Hilary Assizes in February.
On 2nd September 1948 the passenger manifest of the P.S.N.C. Ship Orbita which departed Liverpool that day, showed Dennis W. Stafford, a 26 year old policeman en route to Bermuda, probably after a few weeks home leave. His UK address was 27 Lilac Gardens, London W5 and as the manifest showed that he was 26 years of age, this seems to confirm that he was born in 1922.
Dennis W. Stafford resigned from the Bermuda Police Force with effect from 16th January 1950. What happened to him after that is yet to be discovered. The X.B.P.O.A. website has a notation that he had died, but unfortunately we do not have a reference for it.
Ancestry.com have a David W. Stafford born in 1922 who died in 2003 in St. Thomas, Elgin County, Ontario, Canada but I have been unable to verify if that entry refers to ex-Bermuda Constable Dennis Wilfred Stafford.
The Royal Gazette's next pen picture states: Charles Edward Thompson comes from North Ormesby, Middlesbrough, Yorkshire. Four months before the declaration of war, he joined the RAF, and served throughout the war. He trained as a wireless operator and was demobilised with rank of sergeant. Four years of his war service were in India and Burma.
I have yet to find further information on Charles Edward Thompson.
The article continued: Neville Charles Sleath, of Woodgate, Rothley, Leicester, enlisted in the Royal Navy in March of 1934 served during the remainder of war being discharged with the rank of Leading Seaman.
Neville Charles Sleath was born in Barrow S, (believed to be Barrow Upon Soar, Leicestershire) on 28th August 1919 to Richard and Ada Lillian Sleath. Richard worked for his father in the firm of F. Sleath and Sons, Builders and Contractors, of Rothley, Leicestershire and was noted locally for using a Bradbury motorcycle for visiting the firms building sites.
Richard Sleath and his Bradbury motor cycle
In December 1943, Neville Sleath married Gertrude M. Scally in Crosby, Lancashire. On 30th October 1945, Gertrude died in Liverpool and was buried at Ford Cemetery. She was 21 years of age.
Her address on the Ford Cemetery records is 107 Rice Lane. This was the site of the Walton Centre of Neurology and she was one of seven people recorded as passing away at that address that week.
The Royal Gazette records that Neville Sleath joined the Royal Navy in March 1934. This may be a misprint for March 1944 especially as that fact is followed with the wording 'served during the remainder of war being discharged with the rank of Leading Seaman.' To date nothing has been found to confirm his RN service.
Neville Sleath served some ten months in the Bermuda Police Force before resigning and returning to England.
Before he left however, he did feature in the local news as mentioned in the Royal Gazette article of 5th March 1947 when he was involved in the capture of a notorious felon George W. Samuels:
Samuels Captured Yesterday After 36 Days of Freedom
Once again, the walls of Hamilton Gaol enclose George W. Samuels, who escaped from prison on January 27 after he had been committed for trial on a robbery charge. Early yesterday morning saw the climax of a fruitless five weeks manhunt by the Police, who tracked down several "tips" but were unsuccessful in their efforts to capture the 24-year-old coloured man.
Constable Neville Sleath and Phillip Bunn caught Samuels in the Smith's Hill area.
During the time that Samuels was at large. the Police have received several (some believed false) "tips" on the escaped prisoner's whereabouts, and it was such a "tip-off" that sent a search party of six members of the Police Force to the area in which he was finally captured.
The party was led by Acting Sergeant Leslie Burge to the vicinity of the St. Augustine Mission, Smith's Hill, where it split up. Here, the two constables — Constables Sleath and Bunn have been on the local force for nine months, being recently promoted to constables' second class — arrested Samuels, who put up no struggle.
Since his escape from the prison yards on January 27, Samuels has led the Police through several hunts that have only resulted in tired policemen and a still-free prisoner.
Samuels was actually seen on January 30, when he was pursued to East Broadway by the Police. In the vicinity of the morgue, the prisoner divested himself of most of his clothing and escaped by swimming in Hamilton Harbour.
The following day the Royal Gazette reported the following:
REWARD MONEY PAID OUT FOR CAPTURE 0F SAMUELS
The informant who gave information leading, to the re-arrest of George W. Samuels has been rewarded with the sum of £10 and the six members of the Police force who were at the capture have also been rewarded.
In addition to rewarding the constables — Neville Sleath, Phillip Bunn, Detective John W. Starbuck, Acting Sergeant Leslie Burge, Harry Talford and Ken Taylor, the Commissioner of Police also highly commended them for their work in capturing the escaped prisoner.
The name of the informant is being kept secret.
On the 6th March, the Royal Gazette was not above making Constable Sleath the subject of a small joke in their THEY SAY column By A. M. PURCELL:
That one of the constables who caught the escaped prisoner is named Sleath.
That he mustn't mind if he is nicknamed Sleuth.
That he will never be called Sloth.
On June 11th 1947 Neville Charles Sleath, a Policeman of Kitchener House, Leicester, England arrived in New York by air in transit to England. It is interesting to note that he admitted being in the USA in 1941 but no other details are given.
On 20th June 1947, Neville Sleath is recorded as arriving in Southampton, England on the Cunard White Star Liner Aquitania having sailed from Halifax, Nova Scotia, Canada. He intended to make his permanent residence in England.
Both travel documents record his intention of going to his fathers address at Kitchener House, Rothley, Leicester.
In the third quarter of 1950, Neville Charles Sleath married Ena J. Hayward nee Muggleton, of Barrow, Leicester.
On 12th December 1988 Neville Charles Sleath of Babington Road, Rothley, Leics., died leaving an estate of under £70,000.
SAMUEL DUGALD WILLIAM 'BILL' MCPHEE
The next pen picture stated:
Joining the Royal Ulster Constabulary in June of 1942, Samuel Dugald William McPhee served with that force until proceeding to Bermuda. His home is in Crossmaglen, County of Armagh, Northern Ireland.
Although Samuel Dugald William McPhee served less than two years in the Bermuda Police Force, he remained in Bermuda and became a successful businessman. He also served in the Bermuda Reserve Constabulary and rose to the rank of Commandant. In 1971, he was awarded an MBE for his services to Bermuda.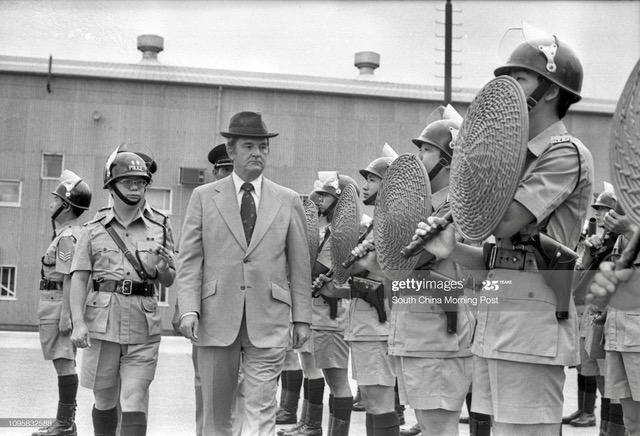 Undated South China Morning Post photograph of
Bermuda Reserve Constabulary Commandant William McPhee
inspecting Hong Kong Police
(Source British Police History website)
PHILIP RONALD BUNN
The next pen picture stated:
Philip Ronald Bunn, of Northfield, Birmingham, entered the service of the Royal Navy three months after the declaration of war and was demobilised in December of last year with the rank of Petty Officer. His service was in minesweepers and motor launches.
Philip Ronald Bunn was born about 1920.
There is an interesting memo in ancestry.com, which sheds some light on his naval career. Headlined 'Passages' and dated 22nd May 1944 it is from the Sea Transport Officer, HMS Benbow, to the Master s.s. Kegume (sic) requested that 'passages may be given to the following listed Royal Naval Personnel to United States of America for onward passage to the United Kingdom:'
One of the five named personnel is Ronald P. Bunn, Ldg Smn, LT/JX 172911 aged 24.
HMS Benbow was a Royal Navy shore base in Port of Spain, Trinidad tasked with defending the island, convoy duties, and anti-submarine duties. There was also a substantial US Military presence on the island.
Seaman Bunn's service number indicates that his Home Port Division as Lowestoft (LT) and that he was recruited into the Seaman's and Communications Branch. (JX).
The War Diary of the United States Naval Operating Base, Trinidad, West Indies reports on January 13th, 1943 that the first four boats of the 30th Motor Launch Flotilla arrived at HMS Benbow. Another six were due before the end of the month. It has proven difficult find out more information about 30th M.L. Flotilla as other records show that it was not formed until late 1944!
The hull numbers of the four launches indicate that they were Fairmile B Class Motor Launches of 112 feet in length with a crew of 16, capable of 20 knots. They were armed with one 3 pounder gun and two .303 anti-aircraft guns.
In June 1944, the same War Diary reports there were two Royal Navy Motor Launch Flotillas based at HMS Benbow; One, a DEMS (Defensively Equipped Merchant Ships) Flotilla and the 118th M.L. Flotilla.
Leading Seaman Bunn and his colleagues left Port of Spain, Trinidad on the ss Kegums on 22nd May 1944 and arrived safely in New York on 5th June. (ss Kegums, a cargo steamer, sank with a cargo of coal near the Gironde estuary, France, in 1948).
Phillip Bunn left the Royal Navy in December 1945 with the rank of Petty Officer.
After his arrival in Bermuda, Phillip Bunn had a couple of mentions in the Royal Gazette for minor court cases and on 5th March 1947 for his part in the capture of George W. Samuels. He appeared frequently in the Royal Gazette as a member of B.A.A., mainly in their rugby team. He also appeared in several 'Pick of Bermuda' rugby teams.
On 23rd February 1949, the Royal Gazette reported on the creation of the Police Recreation Club:
POLICE TO MEET S.B.S.C. IN FRIENDLY FOOTBALL
The newly formed Bermuda Police Force football team will meet the Southampton Boat and Sports Club in a friendly football game at the Port Royal field on Thursday afternoon. The kick-off is timed for 3.30.
Two of the Policeman are regular players in Bermuda, Larry Swain of the B.A.A. "A" team and Syd Butcher of the St. George's Dinghy and Sports Club. Both are captains of their respective teams.
'While little is known of the ability of the other Police players, it is expected that the Match will be keenly contested from start to finish. The following will play for the Police: Johnstone; McCabe and Renaud, Bunn, Swain (captain) and Steele, Lewis, Hibberd (sic), Butcher, Gibb and Hughes.
On the 25th the Royal Gazette reported that the Police were 3-0 down at half time, then recovered to 3-3 but lost 3-5. The reporter noted that the Police were not yet in soccer condition, but once that was achieved, they would give the other teams a hard match.
At some time, Philip Bunn found time to marry Deborah Musgrave of Vancouver, Canada.
In March 1956, the Bermuda Sports magazine ran an article, which started by describing a rugby tour to the USA, which took place in 1926 and then continued:
The tour proved a great success and the survivors often speak with nostalgia of the friends they made and the hospitality they found in all quarters.
After such a successful venture, it is surprising that another tour was not attempted until 28 years later.
This second Journey abroad was rather different in character. In the interim, the U.S. colleges had entered the picture and it was at these colleges in America that most of the games were played.
There were no Army or Navy players in this second group, although the Bermuda-born members were approximately the same in number. In 1954, reinforcements came largely from the Bermuda Police Force and young Englishmen in business in the Colony.
Once again, injuries took their toll and although statistically the tour, again sponsored by the B.A.A., was not as successful as its predecessor, the team must be ranked among the best ever produced in Bermuda.
Almost certainly the game played against Eastern Canada during Rugby Week, immediately prior to departure was the best demonstration of the skills of the game ever shown by a local team.
The 1954 squad, which won the Nicholl Shield and the International trophy during Rugby Week, comprised: Colin Anderson (the captain), John Cordon, Jimmy Vallis, Harry Younger, John Karis, Bob Railton, John Sheehy, Charlie Giltrap, Peter Godkins, Frank Walsh, Ray Collins, Dixie DeMoura, Max Minugh, Skippy Minugh, Ralph Lawton, Peter Jackson, Bob Barritt, Bill Lusher, Phillip Bunn and Francis Vallis. C. W. Pantry, captain of the 1926 touring team, accompanied the party as manager.
Of the five games scheduled, the team won one, drew one and lost three.
As in the previous tour, the publicity received in the Press, radio and the new medium, television, brought Bermuda to the attention of many would-be visitors to the island.
It is highly possible that other tours will be contemplated, and will perhaps even surpass the successes of the past. It might be suggested that these tours should be on a regular basis. Possibly every five years. Such a scheme would be an incentive to bring more recruits into the game and give each player a chance to find a place in a touring side at the time when his playing skill and physical condition are at their peak.
It is not known when Phillip Bunn left the Bermuda Police Force but his death is recorded as occurring in Bermuda in June 1994.
(JOHN) HARKNESS ADAMS
The Royal Gazette pen pictures continued: Another Irishman is (John) Harkness Adams from Stanmillis, Belfast, who was employed by the Harland and Wolff Shipbuilding Company until coming to Bermuda. Constable Adams resigned in 1948.
DENNIS CHARLES ARTHUR PAGE
The Royal Gazette article on the 13 recruits very briefly described Constable Dennis Page:
Dennis Charles Arthur Page, Wembley, Middlesex, served with the Royal Air Force Police from his enlistment in August of 1940 until he was made an instructor in the West African Air Corps in 1945.
Dennis Charles Arthur Page is believed to have been born on 6th May 1922 in Brentford, Essex. We were unable to find any information about his early life until the Royal Gazette of 30th July 1946 reported his arrival in Bermuda.
The reference to the West African Air Corps opens up an interesting facet of World War Two. The Allies were unable to reinforce their North African Air Forces directly from the U.K. because their aircraft did not have the range to fly from the U.K. to North Africa and remain outside the range of the Luftwaffe in Europe.
Instead aircraft, initially Hurricanes, were built in the UK, crated in pieces, and sent by sea to Takoradi on the Gold Coast. (Present day Ghana). Once assembled the Hurricanes flew in stages along what became known as the West African Reinforcement Route to Egypt escorted by a multi-engined aircraft. The larger aircraft assisted with navigation and carried additional personnel and equipment.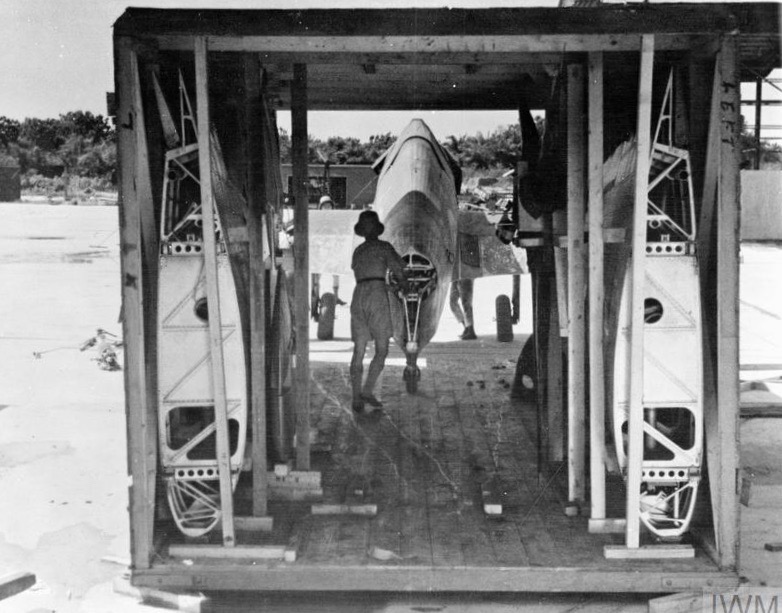 The fuselage of a Hawker Hurricane is pulled from its packing crate for assembly
at Takoradi, Gold Coast, after being shipped from the United Kingdom. The wings,
tailplanes and propeller can be seen stowed in the side sections of the crate.
Once assembled, the aircraft were then ferried to Egypt on the West African
Reinforcement Route. (Source Imperial War Museum)
The Gold Coast was surrounded on three sides by countries which supported Vichy French so the aircraft flew out to sea and east along the coast to Nigeria and then in stages eastwards to Khartoum in Sudan. From there they flew north to Cairo for deployment.
It is not known what sort of instruction Dennis Page was providing, but RAF Takoradi was also used as a recruiting station.
Dennis Charles Arthur Page served in the Bermuda Police Force from 17th July 1946 until he resigned on 9thSeptember 1947. It is not known what he did after leaving Bermuda but his death is recorded as occurring in Brighton, Sussex, England in December 1995.
JAMES PATRICK LENIHAN
The next two Constables mentioned were only given a few words by the Royal Gazette:
James Patrick Leihan (sic), Oldbury, Birmingham, was born in Limerick, Ireland and served as a chemical process worker throughout the war.
James Patrick Lenihan resigned in 1950 and may have later lived in Lewisham, London.
ARTHUR ALBERT WATERS
The arrival of Constable Waters was even more briefly described:
Arthur Albert Waters, Harrow, Middlesex was with the Royal Marines from 1940 until his discharge in February of this year.
Arthur Albert Waters was born on 16th April 1921 to Albert and Sophie Waters of Milton Road, Wealdstone, Harrow, Middlesex. The Royal Gazette reports that Arthur joined the Royal Marines in 1940 and served until February 1946. Constable Waters resigned from the Bermuda Police Force after only a few weeks service.
He then next appears on ancestry.com on 13th April 1948 as a member of a large number the British Palestine Policemen arriving in Liverpool from Haifa on board the Cunard White Star Liner Scythia. The British Mandate in Palestine had ceased within six months of Constable Waters joining the British Palestine Police Force and like many of his colleagues he was being repatriated.
Arthur Waters next appears on the ancestry.com website in October 1958 in a passenger manifest of the Netherland Line's ship Oranje as a Police Officer living in Malaya and heading home to Milton Road. As he returned to Malaya in January 1959 this was probably a period of Annual Leave.
The Facebook page of Polis Diraja Malaysia (the Royal Malaysia Police) of 3rd September 2013 gives us more insight into the life of Albert Waters in Malaya. The original entry is in Malay, but Google Translate has given us the following translation, which I have modified to make easier reading:
ANWAR WATERS (ARTHUR ALBERT WATERS)
Yesterday, a former police officer, Anwar Waters bin Abdullah (Arthur Albert Waters) was safely buried at the Jalan Bukit Ubi cemetery, Kuantan. The late Anwar Waters, aged 92, has done a lot for the country during emergencies, especially while on duty in Perak against communist terrorists.
He breathed his last at Tengku Ampuan Afzan Hospital, Kuantan on August 28, and a day after being admitted to the hospital due to a heart attack.
Anwar Waters bin Abdullah, a British citizen was born in Harrow, London. He was first assigned to Singapore in October 1948 during the emergency era before serving as home guard coach in Perak. To commemorate his services and sacrifices against communist terrorists, His Majesty the Sultan of Perak awarded him the PJK medal. (Meritorious Service Medal).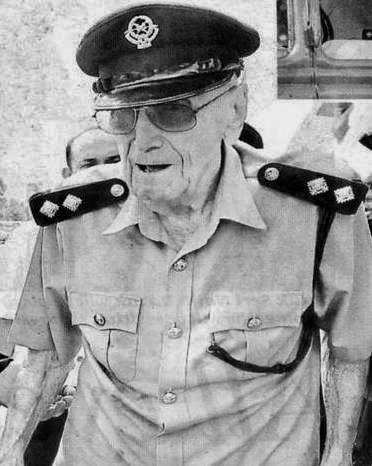 Anwar Waters bin Abdullah (Arthur Albert Waters)
(Source: Polis Diraja Malaysia (Royal Malaysia Police))
After retiring, he did not return to his homeland but wanted to continue living in this country, which he considered as his own homeland. He worked as a farm manager in Perak, Terengganu and in Maran, Pahang. After retiring from the plantation, he settled in Kuantan until he breathed his last.
Anwar Waters bin Abdullah who was never married, converted to Islam in 1975 in Kemaman, Terengganu and had no heirs in Malaysia but had several adopted children in Terengganu and Kuala Lumpur.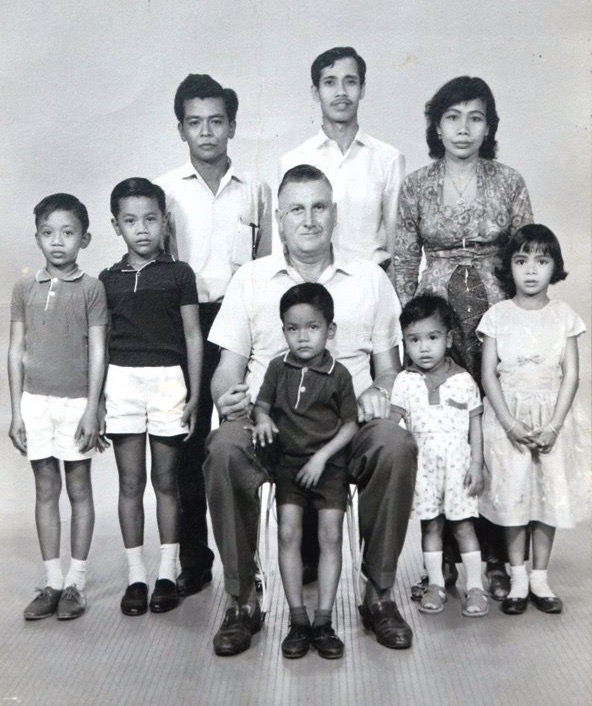 Anwar Waters bin Abdullah with the
family of his adopted son Ahmad Khalil
(Source: Polis Diraja Malaysia (Royal Malaysia Police))
Funeral arrangements were assisted by the Religious and Counselling Division of the Pahang Contingent Police Headquarters, the local community and Allyarham's adopted children. May the soul of the deceased be placed beside the souls of the righteous.
Also present at the funeral were Dato Sri Diraja Haji Adnan bin Haji Yaakob, (Head of the Government of Pahang), Dato Sharifuddin Ab Ghani, (Pahang Police Chief), Dato Jamaluddin Abd Majid, (Pahang Deputy Chief of Police), Tan Sri Yuen Yuet Ling, former PDRM (Royal Malaysia Police) senior officer, senior officers, policemen of IPK Pahang (Pahang Contingent Police Headquarters) and IPD Kuantan (Police Kuantan) as well as the adopted children of Anwar Waters bin Abdullah.
The next men mentioned in the Royal Gazette article were:
Joseph Nixon comes from Belfast, North Island (sic). He joined the R.A.F. in January of 1944 and was discharged in 1946. His father was a police Inspector in the Belfast Harbour Police.
Joe Nixon joined the Bermuda Police in July 1946 and rose to the rank of Superintendent before retiring in July 1974 In the absence of further information on-line I expect to be able to expand on his
story when I have access to hard copy records.
Stanley Riddell Moir, Pallion, Sunderland, is an electrical engineer.
Norman Manzies Herd is from Dundee, Scotland, but claims to have been born in Belfast. He joined the Royal Artillery on the day war was declared and served until his discharge in May, 1946. Prior to the war he was with the Territorial Army.
Jack Watkins is from Hertingfordbury. England.
To date I have been unable to build any thing further on the above four men. That brings to an end the 13 recruits from that occasion but not to our heroes.
WILLIAM DODDS BROWN
The next is William Dodds Brown who was born in Galashiels, Scotland on the 8th October 1921 a son to John and Margaret Brown nee Dodds. William Dodds Brown joined the Bermuda Police Force on 28th June 1947 and resigned a few weeks later on 15th August 1947.
According to ancestry.com the following day he arrived in New York by air in transit to Canada. 18 months later he arrived in Blaine, Washington State, USA.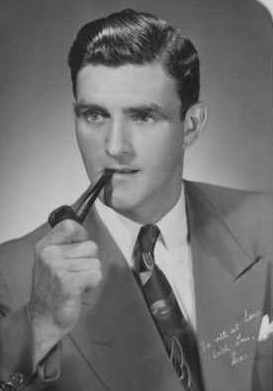 An undated photo of William Dodds Brown
On 9th July 1949 he married Alice Narcissa Ingram of Blaine and the following year they moved to Monterey, California where he died on 13th August 2005.
As is often the case, one obituary notice can provide more information about an individual than several hours research. Such is the case of Williams Dodds Brown. Unfortunately, the newspaper cutting on ancestry.com does not reproduce well but it states the following:
WILLIAM DODDS BROWN
October 8, 1921 – August 13, 2005
Monterey – Bill Brown, 83, was born in Galashiels, Scotland. Eager to join the military, he enlisted at a young age, which took him to many countries. His gallant and distinguished military service with the British commandoes took him to the fierce fighting in Burma.
It was the love of golf that brought him to the U.S. and thereafter making the Peninsula his home. In 1952 he became a U.S. citizen and operated a plastering business in Monterrey. He was an avid gardener, world traveller and a champion dog trainer.
Bill received the first and highest recognition award from the Alamo Club (Alcoholics Anonymous) as he faithfully opened its doors every day at 6 am for ten years. He had just completed his 45th anniversary with Alcoholics Anonymous prior to his death.
He is survived by sons John, Rob and wife Cathy of Monterey; daughter Kathy McAlerney and husband Matt of McArthur, CA; and former wife Alice Brown of Monterey. He is also survived by his brother Archie of Scotland; grandchildren Emily and Alex. Preceding him in death were brothers Andrew Brown and Jack Brown of Canada, and sisters Margaret Henderson and Jean Brown of Scotland. A private family memorial will be held at a later date. Memorial contributions are suggested to the local chapter of Alcoholics Anonymous or the charity of your choice. Mission Mortuary in charge of arrangements.
Ancestry.com indicates that 'Bill' Brown was a member of the 2nd Battalion of the Kings Own Scottish Borderers and in 1942 was in Razmak, Burma.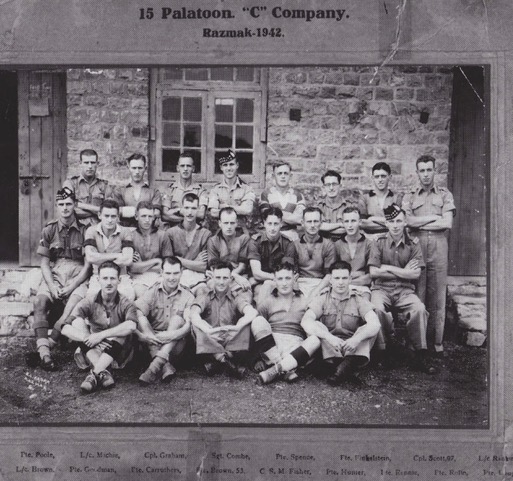 15 Platoon. 'C' Company Razmak 1942
Although the photo caption for the front row is missing,
L/Cpl Brown is identified as the man in the
Glengarry on the left of the middle row.
The website of the Kings Own Scottish Borderers (KOSB) states:
Meanwhile, 2nd KOSB had been in the East since 1923. Until November 1942 they were at Razmak when they left for Peshawar. After tough training they sailed with the 7th (Indian) Division to Burma in September 1943.
The 2nd battalion crossed into the Arakan, and took part in the critical actions at Ngakydauk Pass and in the 'Admin Box', where 2 COs were killed. Later they were flown to the central front at Imphal. In early 1945 they marched towards the Irrawaddy and took part in the assault that turned the Irrawaddy line. The Battalion's last battle took place at Prome in May 1945, by which time Rangoon had fallen and the Japanese Army's defeat in Burma was assured.
More detailed information about the 7th (Indian) Division and its war record can be found on the website of the Burma Star Association (B.S.A.). The B.S.A. does not permit reproduction of its website content.
However the link https://www.burmastar.org.uk/stories/the-enemy-strikes-from-the-arakan/ will provide interesting but harrowing details of this campaign, and which will give insight into the probable war experiences of former Bermuda Police Constable Williams Dodds Brown.
On 10th July 1952 the 'Reina Del Pacifico' departed Liverpool, England for the 'west coast of South America'. On board were Raymond C. Barnewell of County Cork, E.J.E. Bailie of Belfast, Northern Ireland, Leslie Waddell of Belfast (who because of a typo was listed as a housewife!!!), and Francis John Farmer. All were listed as Police Constables bound for Bermuda.
Government Notice 313 - 1952 in the Official Gazette of 28th July 1952 stated that Constables Barnewell, Baillie and Waddell were appointed from 11th March 1952 and that Constable Farmer was appointed from 7 April 1952.
The Royal Gazette of 22nd July 1952 noted that the Constables were not the only new recruits to the Bermuda Police Force.
Police Dogs and Trainers Here For Local Force
Four husky Alsatian dogs jumped about excitedly on the top deck of the Reina del Pacifico after being let out of their kennels yesterday, but calm command at "Down, boy" from their trainers soon had them sitting quietly and awaiting further orders.
The dogs, the first to be acquired by the Bermuda Police Force, were accompanied to the Colony on the P.S.N.C. liner by their special police trainers. They will soon be put to work in the prevention of crime.
"Bruce," a large fawn and black animal, is under the care of P.C. Raymond Barnewall (sic), 21, of Cork, "Bruno," who obeys the commands of his trainer, P.C. Leslie Waddell, 23, of Belfast, Northern Ireland, is black and tan. P.C. Frank Farmer, 26, of Worcester Park, Surrey, England, is in charge of "Flash," a lovely black canine, and P.C. Edward Bailie, 23, also of Belfast, takes care of "Prince," a black and brindle dog.
The animals range in age from nine months to 13 months and weigh from 60 to 80 pounds each.
For the past four months they have been in the constant company of their trainers who took a special course with their charges at the Scotland Yard dog training division at Imber Court, Surrey. P.C. Farmer has done police work previously and was stationed in Palestine for 12 months in 1947 and 1948.
The trainers, who are also additions to the local force, explained that the dogs work on an average of six hours a day, six days a week. On the seventh day they are given an hour's training. These men will be used exclusively for work with the police dogs.
When the animals are taken out on a job they may be on a leash or they may be let loose to "heel," depending on the particular mission.
The dogs have been eating one and a half pounds of meat (horseflesh) and one pound of biscuits daily, according to their trainers.
Passage on the Reina for each dog cost the Bermuda Government £15. 10s.
The new constables in charge of the dogs would not disclose the methods used with working the dogs for fear of giving away secrets. Training the dogs, they added, requires a lot of patience.
Raymond George Barnewell was born in 1931 and too young for war service. He resigned from the Bermuda Police in 1953.
Leslie Waddell was born in December 1920 and was also too young to see war service. He went on to retire from the Bermuda Police Force as a Detective Inspector in 1979. He died in 1994.
FRANCIS JOHN FARMER
Francis John Farmer, 'Frank' to his many friends was born on 3rd February 1926 to Alfred H. and Maud Farmer. In 1939 they lived in the Borough of Malden and Coombe in Surrey, England. Frank was still at school and his father was an interior decorator.
At the age of 17 Frank joined the Royal Navy, and he became a Stoker on HMS Ulster. HMS Ulster, commissioned on 25th June 1943 was a U class destroyer, which was later converted to a fast frigate for anti-submarine duties. Initially based at Scapa Flow for escort duties, in September 1943 she was transferred to the Bay of Biscay and the English Channel to intercept enemy convoys. On 3rd October during such a mission HMS Ulster received two shell hits.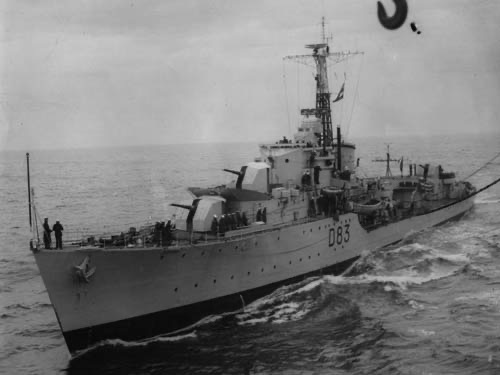 H.M.S. Ulster in destroyer mode under way
In September she was moved to warmer climes and saw action in the Mediterranean and the Adriatic and was an escort to some vessels taking part in the Anzio landings in March 1943.
In May 1944 HMS Ulster returned to the Home Fleet where she took part in exercises, which culminated with the ship providing naval gunfire support for the D-Day assault landings on GOLD beach. During these operations she ran aground and later found that the port propeller was missing and that the starboard one was damaged. On 22nd June HMS Ulster arrived in Cardiff, Wales for repair.
In October the ship commenced an extensive refit prior to being deployed to the Far East where she arrived in March 1945. HMS Ulster became part of a Task Force, which included the Battleship King George V and the Aircraft Carriers HMS Indomitable and HMS Illustrious. The Task Force took part in operations in support of the US Landings on Okinawa.
On 1st April HMS Ulster was damaged by a near miss from a 500 lb bomb jettisoned by Zeke aircraft being pursued by Seafire aircraft (seagoing Spitfires) which caused major damage to the Engine Room and After Boiler Room. Two personnel were killed and one seriously injured. The ship was disabled but the armament was still available. She was taken in tow to Leyte for temporary repair in the dry dock there.
Subsequently she sailed to Chatham, England, arriving in August and she was paid off.
I am indebted to the website 'Norries Net' for the above information on HMS Ulster's wartime activities. The website is run by Mr Norrie Millen, a former HMS Ulster crewman, to whom I give grateful thanks for permission to quote from his website. He was part of the crew when the ship was based in Bermuda in the 1960's.
On 27th September 1947 Francis John Farmer was appointed British Constable No. 10397 in the Palestine Police Force. However the British Mandate ceased on 15th May 1948 and so Frank was soon back in England looking for another job. Apparently he liked travelling and for a while was a Prison Guard in Canada. That did not last long as he is recorded as returning to England on 22nd September 1950.
Frank Farmer married fellow Londoner Pat in 1954. They had two daughters, Penny and Sharon. Frank resigned from the Bermuda Police Force on 6th October 1955 and later joined Masters Ltd where he worked for 30 years. He also became heavily involved in veterans affairs in Bermuda and for years was the President of the War Veterans Association.
On 5th June 2004 the Royal Gazette published a story by their reporter Danny Sinopoll to mark the 60th anniversary of the D-Day landings in Normandy.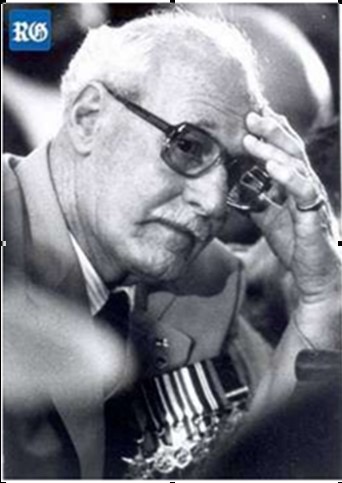 A Royal Gazette photo published with this article with the caption:
An emotional moment. Frank Farmer, president of the War Veteran's
Association reflects at the special 50th Anniversary D-Day
commemoration at the Bermuda Cathedral on June 6, 1994.
It was one of the greatest military operations ever staged and marked the final turning of the tide against Hitler's Germany in the Second World War. But the cost of D Day, which took place 60 years ago tomorrow, was also enormous. The following story was published by The Royal Gazette on the 50th anniversary of the Normandy Landings in 1994. We reprint it today to mark the 60th anniversary. Mr. Martin Smith has since passed away.
It was on the rainy night of June 5, 1944 mere hours before one of the biggest military campaigns of the modern era that Frank Farmer, then a fresh-faced Londoner of 17, first became aware a crucial turning point in the Allies long struggle to force an end to the Second World War was at last on the horizon.
'They kept us in the dark until the night before, says the 68-year-old Paget man of the news that he and his shipmates on HMS Ulster, a Royal Navy destroyer off the coast of Ireland, would have a part in the massive amphibious landing Operation Overlord.
As young boys, we were very excited about (that landing), which began, a little before dawn, 50 years ago today.
At the same time, Ronald Firth, a Yorkshire-born petty officer who had just turned 21 in May, was on a Landing Ship Tank, LST Number 11, at the English port of Southampton.
'We were loading the Canadians who would land at Juno, he said recently from his home in Smiths Parish. Juno was the code name for one of the five rocky strips of shoreline that would serve as entry points for the following day's assault on Nazi-held France.
Unlike his two brothers in arms, Martin Smith, one of the few native-born Bermudians to have played a direct role in the assault, said he knew of the invasion as early as June 3.
An RAF flyer at the time, he was returning from a 48-hour leave period to his base near Down Ampney, a sleepy English village in Wiltshire, when he noticed a massive congregation of aircraft by a roadside.
As I turned off the road into Down Ampney, I realised then that the invasion of northwest Europe was about to take place, he told.
Five decades and an ocean now separate these men from that horrible Wednesday in 1944. Mr. Smith returned home to become a successful businessman, Mr. Farmer and Mr. Firth to begin new lives and long residencies. But even the passage of 50 years, which anniversary celebrations in several countries will mark this week, cannot dim their memories of both the glory and the butchery of that all-important assault on Fortress Europe.
Hampered by winds and tides, the 50th Division suffered high losses in soldiers and tanks, Mr. Farmer, a stoker in the Ulster's engine room, recalls.
Thousands would die during the invasion; more than 2,000 Americans on Utah Beach alone.
Utah, another code name, was the westernmost point on a 60-mile stretch of coast between Caen and Cherbourg that had been divided among the Allied Forces when they planned the assault. In that process, Utah and Omaha Beaches had gone to the Americans, Gold and Sword to the British and Juno to the Canadians.
The Germans, commanded in Normandy by the Desert Fox of North Africa, Erwin Rommel, had been expecting an invasion the Allies had been planning one since 1942 but both Hitler and Rommel thought it would come at Calais on the Channels narrowest point.
To encourage that belief, the Allies set up a phantom First Army under General George Patton just across from Calais in Kent.
The ruse ultimately worked, although the Germans probably should have realised that Calais, with its high cliffs, would have been all wrong for an invasion.
Normandy was chosen by the Allies because it had mostly sloping beaches and was near the port of Cherbourg.
Choosing Normandy also meant the invasion would be highly dependent on a low tide and the weather. D-Day was supposed to have been June 5, but a storm put an end to that plan.
When the weather analysts subsequently predicted a brief clearing on the sixth, the Allied commander, General Dwight D. Eisenhower, gave the go-ahead.
The days, indeed the months, prior to that order were ones of fevered activity for Mr. Smith, who had been studying in England when the war started and was obliged, as a British subject, to offer himself in defence of the realm.
As we approached June, our training intensified and we developed a very close relationship with the parachuters, he said.
Mr. Firth, meanwhile, had been in the Mediterranean, where the LST on which he was stationed had assisted in the Italian and North African campaigns. Known as the ugly ducklings of the Navy because of their cumbersome appearance, LSTs were 300-foot flat-bottomed boxes that were capable of carrying 20 tanks and 27 trucks to an invasion beach and then hauling themselves off to return for another load.
They proved vital to the Normandy invasion.
When the invasion finally came, at 5.30 a.m. on June 6, the massive Allied assault fleet was firmly in place. Surprisingly, none of the veterans recall experiencing any fear at this time. Instead, they remember a sense of excitement and a preoccupation with getting the job done.
In Mr. Farmer's case, the mood was one of prevailing calm.
Once the Ulster's guns started to fire, you felt almost safe in your mind, he says. Deep in the bowels of the destroyer, there was no sense of how the invasion was going until much later in the day, when the first landing crafts started to come back, Mr. Farmer recalls.
For the next few days, the Ulster pounded Gold Beach with artillery, allowing the British to make the crucial but painfully slow move inland.
On the third or fourth day, Mr. Farmer says, the Ulster ran aground and was effectively out of commission. It was eventually towed to Portsmouth, where Mr. Farmer sat out the rest of the invasion. That was the end of D-Day for me, he says. The end, as it were, had come slightly earlier for two of Mr. Farmer's schoolmates; one died on the second day of the invasion and another lost a leg.
Echoing Mr. Farmer's sentiments, Mr. Firth says he too had experienced little fear, although he admitted to a claustrophobic sensation in the tomblike innards of the LST.
He also says he wasn't fully conscious of the danger until much later in life. I saw one or two LSTs go. But I didn't realise how many had been sunk.
Of the three veterans, Mr. Firth got the closest to the enemy. Having assisted in the attack on Juno Beach, his was among the first groups of LSTs to return to England with German prisoners of war.
I felt sorry for them, he says of the captives who were in many cases younger than him. Herded into the bottom of the craft, 'they were covered from head to foot in mud, they were seasick and there were no toilets'.
Once the re-conquest of Europe was well under way, Mr. Firth sailed for campaigns in India and Burma and was at Singapore for the signing of the Japanese surrender. After briefly considering South Africa, he came to Bermuda in 1949. For Mr. Smith, who received his flight training on the Canadian Prairies and spent some time ferrying B-26 bombers across the South Atlantic, most of D-Day was experienced from above.
As the youngest pilot in the 48th Squadron one of the main objectives of which was to knock out a German gun emplacement at Merville, near Sword Beach, he was one of the last fliers of his group to go over Normandy.
Considering what ultimately happened, he could also have been one of the few that didn't comeback. The trouble started on the second day of the invasion, after Mr. Smith's Dakota, carrying the only all-Irish detachment of Royal Ulster Fusiliers, had emptied its men and released the glider that had gone up with it.
At that point, Mr. Smith says: l realised my plane had been hit because the starboard engine had gone out. One of the (German) bullets had apparently hit the fuselage and gone out ahead of my feet.
As if to confirm Mr. Smith's analysis of the situation, a cabin mate ran into the cockpit and shouted: Some bastard is shooting at us! By that point the Dakota had fallen nearly 300 feet and had to descend even further to avoid oncoming British aircraft.
At the precarious altitude of 100 feet, he came through a thick haze to within firing range of the Allied vessels then bombarding Sword Beach and narrowly missed being hit by the British ship Warspite.
Thinking, 'l am not going to be shot out of the sky by the Royal Navy', Mr. Smith managed to regain his bearings and hobble into an RAF base near Christchurch on one engine.
Upon landing, a fellow flier turned to the relieved young pilot and heartily wished him a Happy 21st Birthday, Mr. Smith recalls, his eyes tearing up at the memory. After that initial sortie, Mr. Smith returned to France to help with the evacuation of the wounded. I will never forget that first trip, Mr. Smith says, remembering a man with a particularly severe stomach wound. Gangrene had set in, and you could smell it.
Another soldier, a great big corporal from Middlesex Regiment, had been shot in the face, leaving a big, gaping hole.
Recalls Mr. Smith: You could see half his tongue. His teeth were shattered. He couldn't speak but he was conscious.
Needless to say, there are mixed feelings at such recollections, especially during this very important anniversary. On the one hand, there is a disgust at the kind of violence that had such an impact on their young lives and which has once again reared its head on the European continent.
Will (the remembrance of D-Day) achieve world peace Mr. Farmer asks. We hope it will.
On the other hand, there also exists a demonstrable though quiet pride at the accomplishments, collective and individual, of that very special effort the like of which, given the time and resources, will probably never be repeated. Says Mr. Smith: The fact is we won, and the world was changed
It certainly did. Almost three months after the Normandy landing, the Allies were in Paris, and shortly thereafter had liberated France. Now facing two fronts, a weakened Germany was overpowered by the following May, allowing the victors to turn their attention to the war in the Pacific. Of course, the Allies paid a terrible price for that privilege in terms of loss of life.
But though that price was high, no one would dispute that an Allied loss on D-Day would have resulted in a blow to democracy from which the Free World might never have recovered.
As Mr. Smith says: The alternative would have been incomprehensible.
Francis John 'Frank' Farmer died on 29th June 2014 in Bermuda. The Royal Gazette carried an obituary on 3rd July 2014.
D-Day veteran Francis (Frank) Farmer, a former president of the Bermuda War Veterans Association, has died at the age of 88.
Mr Farmer joined the Royal Navy at 17, signing on in 1943 and serving around the globe in the Second World War. He took part in 1944 Allied assault on Nazi-occupied Europe, as a stoker aboard the HMS Ulster - a destroyer that provided covering bombardment for the British and Canadian soldiers swarming ashore at Gold Beach, Normandy.
The vessel also served in the Allied campaign in the Pacific. Stationed in the engine room, Mr Farmer was vulnerable to torpedoes, telling The Royal Gazette in 2004: "We had other things to occupy our minds - you tried not to think about it."
Two of his brothers were not so fortunate: Philip, 18, was killed in 1940 while serving in the British army in France, and Harry, 21, of the Royal Air Force's Bomber Command, died over the North Sea the month before.
Originally from South London, Mr Farmer was so young that he needed his father's permission to sign up widow Pat Farmer recalled. During the Pacific campaign with the Ulster, she said "the ship was bombed by a Japanese kamikaze - Frank was in the engine room and able to escape, but three of his mates were killed. "He was still in the Pacific when Japan surrendered."
Demobbed in 1947, Mr Farmer served in the UK's Palestinian Police during the post-war tumult between British peacekeepers, Jewish refugees determined to settle in Israel, and Palestinians.
He later moved to the prison service in Canada before coming to Bermuda in 1952 as a police dog handler.
A year later, he met the fellow Londoner who, in 1954, became his wife. "Frank was a very gentle person - we had two daughters, Penny and Sharon, and if they needed discipline as children he would never lay a finger on them," Mrs Farmer recalled. "We had a very happy marriage. We were very busy, working all our years. Then, when we retired, we seemed to get even closer."
Mr Farmer worked in various businesses before settling at Masters for about 30 years, but was best known for his dedication to veterans. He served on the board of the Mariners Club and was a long-standing president of the War Veterans Association.
Successor Jack Lightbourn described his former colleague as "a good fellow - I got along very well with him. He didn't talk much about his war experience, and even though I spent a lot of time with him, we never did discuss an awful amount of what we did."
"He was active and saw quite a bit of the world. Of course he was very active with the veterans, and when they had their club, that was how he got his first real start."
Mr Farmer, who died on Sunday, will be laid to rest at St John's Church in Pembroke this Saturday at 10 am.
The Royal Gazette of 9th July 1947 reported the arrival back in Bermuda of Police Sergeant Pollendine, on board the Elders and Fyffes Line steamship Bayano. This was following a lengthy hospitalisation in the UK as a result of an accident in Bermuda.
The ship also had four new recruits - David Hornal Dempster, Larry Swain and Alan Healey who were all reported to be ex-R.A.F. and A.A. Powell who was ex-Army.
The Scotland's People website states that David Hornal Dempster was born in Muirkirk, Ayrshire, Scotland in 1922.
Forces War Records lists a 1024957 David Dempster who joined the Royal Air Force as a Class F Reservist at R.A.F. Padgate sometime before February 1940. We have yet to trace any more information on his R.A.F. service.
David Dempster resigned from the Bermuda Police Force on 31st January 1948 together with Alan Healey. They are recorded on the manifest of the ss Fort Hamilton as leaving Bermuda for the USA on 29th January. David is listed in the passenger manifest as being 25 years and 3 months old and a single male Police Constable.
We next hear of him on 6th June 1954 when he on board the USNS General W H Gordon (TAP-117), a US military troop ship. On 6th June 1954 it was arriving in Seattle, Washington, from Inchon, Korea following a 12 day voyage. David was travelling with a kit bag. Most of the men travelling with him had a second kit bag and/or a flight bag. He was one of 221 'Canadian Armed Forces under orders in transit to Canada'.
The United Nations Command website reports that:
Canada contributed air, naval and ground forces to support the Korean War under the United Nations Command.

In July 1950 the Royal Canadian Air Force sent the No. 426 transport squadron, which flew the first of 600 round trips to the Far East during the war, carrying more than 13,000 passengers and 3,000,000 kilograms of freight. The air squadron returned home in June 1954 followed by the pilots in December.
It is likely that David Hornal Dempster was a member of 426 Squadron.
Also on board the USNS General W H Gordon was one Japanese stowaway who was detained by the Seattle authorities.
On that note unfortunately we lose track of David Hornal Dempster.
LAWRENCE ROBERT GILBEY "LARRY" SWAIN
Lawrence Robert Gilbey Swain was born on 27th January 1920 in Lambeth, London. Gilbey was his mother's maiden name.
I am indebted to Larry's son David Swain and his grandson Ben Beasley for information regarding Larry's military career. Ben tells me. "Larry joined the RAF some time before the war as a boy (not sure of the date) so may have been of legitimate age. It was his younger brother (David) who lied about his age, and Larry covered for him.
David L. Swain became a wireless operator and was a Flight Sergeant when he left the RAF at the end of the war.
Lorraine Beasley, Bens mother adds: Dad joined the RAF when he was 17 so that was 1937.
If David did 'misquote' his age then it could only have been by a few months as the BBC History website tells us" "The Military Training Act of 27 April 1939 responded to Hitler's threat of aggression in Europe. All British men aged 20 and 21 who were fit and able were required to take six months' military training. Even so, when war broke out the British Army could muster only 897,000 men, compared to France's five million.
Another act of parliament was necessary to increase the numbers. The National Service (Armed Forces) Act made all able men between the ages of 18 and 41 liable for conscription; as part of the legislation it was decided that single men would be called to war before married men.
Men aged 20 to 23 were required to register on 21 October 1939 - the start of a long and drawn-out process of registration by age group, which only saw 40-year-olds registering in June 1941.
David tells me that his father Larry Swain joined 206 Squadron. He qualified as an Air Gunner on 19th October 1940. He flew as a Wireless Operator and Upper Turret Gunner. He was promoted to Warrant Officer on 1st May 1942.
206 Squadron had been formed during in World War One and was later disbanded at the end of hostilities.
The historyofwar.org website tells us that: No. 206 Squadron was a Coastal Command squadron that began and ended the Second World War as an anti-submarine warfare squadron, as well as serving in the anti-shipping role between 1940 and 1941.
The squadron was reformed on 15 June 1936 around 'C' Flight, No. 48 Squadron, and was equipped with the Avro Anson. Anti-submarine patrols began at the start of the war, before the squadron began to convert to the Lockheed Hudson in March 1940. These aircraft were used for reconnaissance and for anti-shipping patrols off the German coast and the Friesian Islands, and the squadron had some success carrying out low level attacks on enemy shipping, at least until their anti-aircraft defences were improved.
The nationalcoldwarexhibition.org website adds that During May and June 1940, the Squadron's aircraft carried out the patrols over the English Channel and the beaches of Dunkirk while the British Forces were being withdrawn from France.
Ben tells us: During the evacuation of Dunkirk he had to fly back to the mainland because he forgot his favourite football boots in France. An important mission as Larry played football for the RAF.
The historyofwar.org website continues In May 1941 the squadron moved to Cornwall, where it continued to fly a mix of anti-submarine and anti-shipping missions. In August 1941 it moved to Northern Ireland.
Ancestry.com tells us that Mollie M. Jacob was born in late 1921 in Lambeth, London and she married Lawrence R.G. Swain in Croydon Surrey in third quarter 1941. Their son Richard J. Swain was born in the first quarter 1942.
Ben tells us: "When his son Richard (from his first marriage) was born he was stationed in Northern Ireland (1940/41). Due to loyalty for his crew, he reluctantly left them and flew to London to see his son born. The day he departed his crew – who were supposed to be on a rest day - made an emergency sortie and were shot down; all personnel died'.
The historyofwar website continues that 206 Squadron moved to Scotland in June 1942. "Its first victory over a U-boat came during this period, and saw the squadron sink U-627 on 27 October.

In August the squadron began to convert to the Fortress, and in October it moved to the Azores. The squadron remained on the Azores until March 1944, and during this period achieved five of its seven confirmed U-boat sinkings, all of which came in the North Atlantic and the waters around Iceland and the Faroe Islands, a long way to the north of its new base.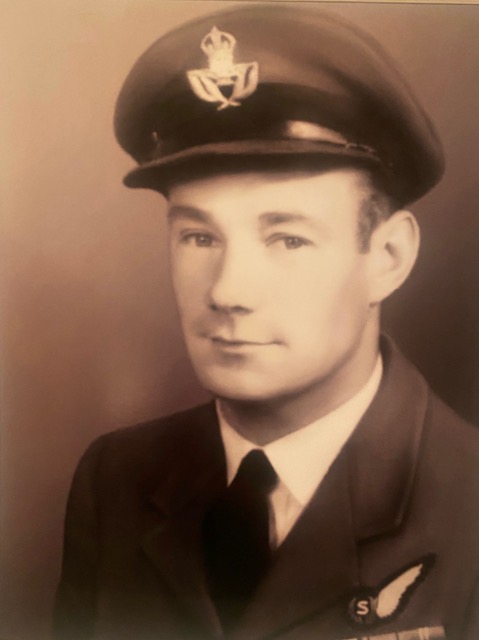 Warrant Officer Lawrence Robert Gilbey Swain RAF.
(Source Lt. Col. Benjamin Beasley BEM)
In March 1944 the squadron returned to the UK and converted to the Liberator. Three months of patrols off Scotland were followed by a move to Scotland, where the squadron remained for the rest of the war. Its last U-boat victim was U-319, sunk in the Norwegian Sea on 15 July 1944.
Ben tells us: He crashed while in India (we don't know why he was there and if he was shot down). He suffered a major wound on his upper arm, which was cauterised preventing further sepsis and saved his life. He carried the scars for the rest of his life. He remained in India for some time as he became very ill, but upon recovery he returned to Britain.
Lorraine adds" His arm injury required cauterisation with a hot poker from the fire – no anaesthesia of course, just a leather strop to bite on. Always knowing I wanted to be a nurse I was always fascinated by this story, especially the part where he described copious amounts of pus pouring from his arm necessitating the red hot poker!!
www.epibreren.com reports that: With the end of the war in Europe, 206 Squadron were tasked with the transport of freight to India and then returning home ex-POW's from the Far East until 206 was disbanded in April 1946.
Warrant Officer Lawrence Robert Gilbey Swain was demobbed and in 1947 he was living with his brother David in Clive Road, Lambeth when he was recruited to join the Bermuda Police Force. He sailed from the Port of Avonmouth on 29th July 1947 on board the Bayano and commenced his Police Service on 8th August 1947 as a 3rd Class Constable.
Within two weeks he was a member of the Bermuda Police Recreation Club Cricket Team where he scored 25 runs before being caught. He later went on to become a noted soccer player with B.A.A. and also representational teams.

Larry Swain, captain of the victorious B.A.A. team in the Bermuda Football
Combinations league competition has worked wonders coaching school boys.
Playing at center-half or left-half. Larry towers over the opposition and literally
uses his head to great advantage.
(Source Bermuda Sports May 1951).
His son David relates that later when Larry had to give up playing soccer he then started playing rugby!!
On 16th June 1948 Larry Swain married Elaine Florence Crisson in Bermuda. They had 4 children: Lorraine, Barbara, Peggy, and David.
David is now a member of the clergy and Lorraine is a retired senior nurse.
Lorraine's sons, Ben and Adrian followed in their grandfathers footsteps and became members of the Bermuda Reserve Constabulary. Adrian went on to become a successful a lawyer and Ben went on to join the Royal Air Force. Ben graduated from RAF College Cranwell in 2006 and worked in training, education and logistics. On his return to Bermuda, Ben joined the Royal Bermuda Regiment.
Om 1st June 2020 Lt. Col. Benjamin Beasley BEM, at the age of 39, became the youngest Commanding Officer of the Royal Bermuda Regiment.
Constable Lawrence Robert Gilbey Swain resigned from the Bermuda Police in 1952. Larry later went on to own the Bermuda Stamp and Coin Company in the Walker Arcade walkway. He became a noted expert in the field, locally and overseas.
On 31st October 2001 the Royal Gazette reported:
Former BAA stalwart dies
One of Bermuda's best remembered footballers from the late 1940s and '50s was laid to rest yesterday.
Larry Swain, who played half-back for BAA for several years and appeared in representative games died recently at the age of 81 after a long illness.
One of Bermuda's best remembered footballers from the late 1940s and '50s was laid to rest yesterday.
Larry Swain, who played half-back for BAA for several years and appeared in representative games, died recently at the age of 81 after along illness.
A strong player with a powerful kick, Swain played for several seasons alongside the late Sir Jack Sharpe and late Jock Stewart in a BAA half-back line affectionately known as the 'Three Ss'.
He was remembered yesterday by another teammate, former Director of Tourism Colin Selley. "He was a very solid, strong player," recalled Selley. "He played for several years for BAA and in a number of representative games. He came to Bermuda in 1948 when he joined the Police Force, having played soccer for the RAF in England."
"For a big man, he had wonderful control of the ball and had a terrific shot. But he was interested in all kinds of sports."
ALAN FRANCIS HEALEY
Alan Francis Healey was born on 7th April 1925 to John Albert Healey and Catherine Matilda Healey nee Sexton. At the time his parents were living in St Georges in the East, part of the Metropolitan Borough of Stepney. John Albert Healey enrolled in the Army Pay Corps in 1915 and after the war joined the Civil Service as an Employment Officer.
As noted earlier, his son Alan Francis Healey is reported by the Royal Gazette 9th July 1947 as arriving in Bermuda. That is the only reference I have found to date describing Alan Healey's R.A.F. service.
The Royal Gazette of 27th January 1948 reported that Alan Healey, who had a reputation in Bermuda as a very good soccer player and David Dempster, had both resigned to try their fortune in Canada.
For Alan Healey this could not have gone well because on 29th May 1948 he is recorded as a passenger on the Empress of Canada arriving in Liverpool from Montreal.
In April 1949 he married Regine E. Allen in Romford, Essex and it appears that they remained in the area. Alan's occupation is not recorded but he died in Billericay on 3rd July 1975 at the age of 50, leaving an estate of nearly £9,000.
ALBERT ARTHUR 'SANDY' POWELL
The last man of that group of four was Albert Arthur 'Sandy' Powell. He was born on 2nd April 1929 in London, England. He resigned from the Bermuda Police Force about 1950 and entered business in Bermuda. 'Sandy' died in November 2006.
On 25th November 2006 the Royal Gazette published an article about the life of Sandy Powell. I can do no better than repeat it here: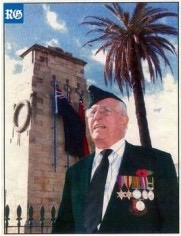 Albert Arthur 'Sandy' Powell at The Cenotaph,
Front Street, Hamilton, Bermuda
(Source: the Royal GAZETTE)
A NATURAL LEADER: SANDY POWELL
1920 - 2006 Sandy Powell began his military service in the Second World War in the same 17th Battalion of the London Tower Hamlets Regiment in which his father, John Albert Powell had served in the First World War.
Two of Sandy's brothers, Henry and Ronnie, also joined the 17th. His father was immensely proud to have three sons with him in the same regiment. Eventually, the 17th Battalion was affiliated to the Rifle Brigade with headquarters in Winchester.
The Regiments early known history dates back to A.D. 894 when it is believed to have been part of King Alfred's army facing the invading Danes.
Sandy's mother, Eliza Louisa Powell, died when he was only ten. The family had to regroup. Older brother Henry went to work full time. Sandy was assigned the responsibility of looking after younger brothers Ronnie and Eric. When he was 14, Sandy enlisted in the Regiment as a drummer boy.
Embodied at the outbreak of war, the unit was fully operational when the Battle of Britain began on July 10, 1940. Stationed near Duxbury, North of London, Sandy witnessed the massive German air assault. He could see the bombs fall, as London shuddered from the explosions. Later in the summer of 1940, the Battalion learned it was to be sent overseas. It received a hint of where when issued with topees and tropical clothing.
By February 1941 they arrived at Port Said on the Suez Canal en route to Egypt and the Western Desert. They moved into the front line at Mersa Brega, and became the first unit to feel the full force of German General Erwin Rommel's attempt to recapture North Africa, which earlier, the British had regained from the Italians.
The 17th Battalion sustained heavy casualties. During the enforced British 8th Army retreat, Sandy celebrated his 21stBirthday. So began the difficult march back to Tobruk. Much of it had to take place in darkness, a gruelling undertaking for motorised vehicles over sand. When they reached Gazala, they passed through the Australians digging in on a new front line.
Sandy remembered "the Aussies seemed a happy lot and fresh". They reached Tobruk by late afternoon, where they enjoyed the luxury (the word was never more appropriately used) of a night's sleep. Next day they went on extended patrols. Tobruk was completely cut off. Its epic defence became one of the most prolonged and valiant sieges of the war. Men of the Regiment and the Royal Air Force won decorations for bravery. At Buq Buq, the RAF had left a large oil dump. The 17th were ordered to locate and dispose of it. They did by puncturing the drums with pickaxes and letting the oil drain into the sand.
As all the world knows, the Germans, like the Italians before them, were finally driven back by Field Marshall Sir Bernard Montgomery's British 8th Army at El Alamein. I remember reading a report by revered American war correspondent, Ernie Pyle. In the late stages of the North Africa Campaign, Ernie travelled with and wrote about the 8th Army.
He regarded it as the greatest military fighting unit of all time. Their self-confidence, he wrote, was supreme. Sandy had advanced steadily through the ranks to become a platoon sergeant, a pivotal rank in every front line infantry company, consisting of three platoons.
At the conclusion of the North African Campaign, Sandy, by now also an experienced instructor, was seconded to Palestine to train Arabs and Jews at Tel Aviv in preparation for action in the Middle East. His speciality was mortars, and he was immediately assigned to the mortar platoon of the colourfully named Greek Sacred Squadron, a sister regiment of the Special Air Squadron (SAS).
It was being readied for an important raid. Sandy volunteered to go with them. Later, he received a splendid letter of commendation from the commanding officer of the Squadron. Sandy concluded his War Service in Palestine as Company Sergeant-Major of No. 2 Company of the Royal Army Service Corps.
With the War in Europe over, the Allies focused on Japan and the Far East. Destined for Eastern service, the Battalion required reforming under the command of Lieutenant Colonel Turner, VC. He had been awarded the Victoria Cross at the Battle of Snipe, the turning point of the Battle of El Alamein. The Rifle Brigade, in one day, with their 6-pounder guns, knocked out 57 German tanks. Sandy Powell had been asked to remain with the 17th Battalion, and prepared to join them in Aberporth, Wales.
However, before that could happen, Winston Churchill announced Japan's surrender.
Sandy's career as a rifleman was over. He remembered the varied reactions among the soldiers. Many jumped for joy. Others sat reflectively with tears in their eyes. Undoubtedly, many wished former comrades who had been killed, could have been there to share the victory.
Returning to England, he found opportunity limited. He applied to the Colonial Office with a view to emigrating to one of the colonies, and learned of openings in the Bermuda Police Department. He accepted one. It was to change his life forever.
In Bermuda, he was destined to meet Mary Mayor, who became his future wife. Loved by all who knew her, Mary is one of Bermuda's foremost artists. Her paintings, among the very best ever by a Bermudian artist, enhance the walls of homes and galleries all over the world. Mary and Sandy were married in 1950. As soon as he could, Sandy applied for and was granted Bermuda status. He took great pride in his official status "No. 3".
The couple made their home at "Elm Cottage" in Somerset, where their children were born. Following service with the Bermuda Police Force, Sandy branched out into insurance on his own, representing National Life of Canada and the Hartford Companies.
Hard work, long days and his native talent led to a successful insurance career extending over 30 years.
He was an expert in reading silver hallmarks, and enjoyed locating heavily tarnished pieces of silver and discovering what lay beneath the tarnish. He was a member of Sandys Lions Club.
Dedicated to the traditions of freemasonry, Sandy was a member of the Atlantic Phoenix Lodge No. 224 and the Prince Alfred Lodge, as well as other lodges with higher degrees.
He became Past District Senior Grand Deacon in the District Grand Lodge of Bermuda shortly before he died.
He served regularly for many years on the Royal Bermuda Yacht Club's committee boat during races. His interest in and love of people led to a passion for travel. However, one visit to England to attend the annual Armistice Day Parade to the Cenotaph in London could have been permanently disastrous. While making his way upstairs in a double-decker bus, the bus suddenly lurched forward. He fell backwards down the steps and out on to the road, sustaining broken ribs, concussion and several large gashes. Miraculously, he recovered with few ill effects.
Years previously, Sandy suffered a massive heart attack. With time and care, he recovered and bounced back to continue life with renewed zeal. His family recalls that during his last year, he continued to pack his schedule as if he was still a young sergeant in North Africa.
In preparing this tribute to Sandy's memory, I have drawn chiefly from two sources. One is a detailed account of his wartime experiences which he wrote for the Mid-Ocean News, November 23, 2001.
The other to which I am privileged to refer, is the poignant and beautifully worded eulogy delivered by son John at the memorial service at St. Paul's Church, Paget on June 16. Canon Patrick White officiated.
My personal memory of Sandy Powell is admiration for all he stood for in life, his well earned respect and sincere friendship. I know I write for all of us when we especially remember Sandy's wife, Mary, and their family: Eleanor Ann Norton of Bermuda; John William Powell, PhD, of Raleigh, North Carolina; and Allan Arthur Powell of Bermuda.
He was a member of the Bermuda War Veterans Association. As a war veteran and former comrade, when in Sandy's presence, I tended to stand a little taller.