The following article about our Annual Post-Christmas Reception at the Officers Mess should have been posted shortly after the reception was held on Saturday 18th January 2020, but unfortunately, our website crashed during that same weekend and was out of action for approximately 6 weeks. We apologize for the delay in its publication.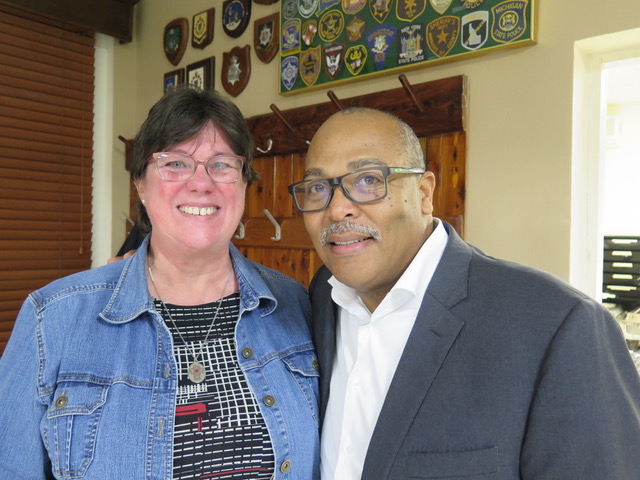 Organizers of the ExPo Reception
Gail Correia (Treasurer) and Cal Smith (President)
We held our annual ExPo post-Christmas reception at the Officers Mess on Saturday 18th January 2020, and despite rather blustery conditions we had an excellent turnout with about 50 people in attendance, and a good time was had by all.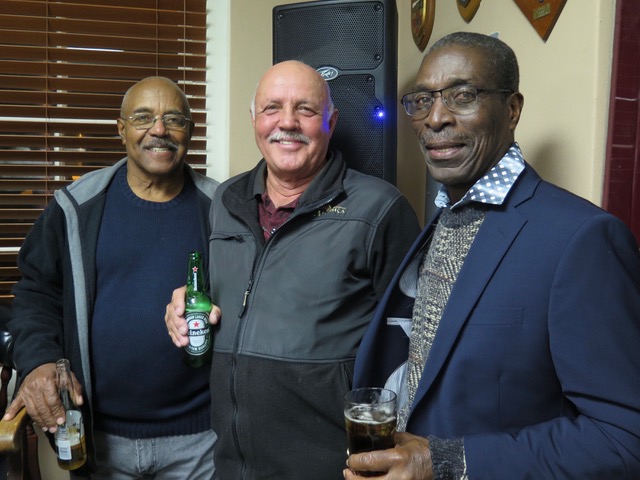 Reese Bartley, Ralph Lindo and Vendal Bridgeman
The Officers Mess is an ideal location for this event because it is not only the perfect size, but it is also now being used to house the Police History Museum which most of our members had not seen before.
Commissioner Stephen Corbishley was in attendance and warmly welcomed everyone to the Mess. He made a special point of recognizing the valuable contribution our ExPo members have made, and continue to make to the BPS.
Commissioner Corbishley also kindly awarded Police commendations to three of our members, George Rose, John Skinner, and myself (Roger Sherratt).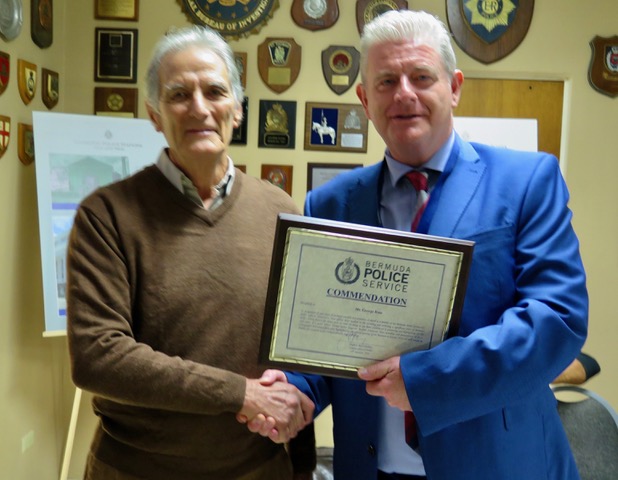 George Rose receives a Commendation from COP Stephen Corbishley
George was commended for his outstanding work in researching the life of Edward "Bosun" Swainson, the first cricketer to score a century in Cup Match and also the first black officer promoted to the rank of Inspector. George spent 2 years conducting his research and wrote an excellent article about "Bosun". CLICK HERE to view the article on our website. As a result of George's work on this project, a member of the Swainson family very kindly donated the cricket bat and cricket pads used by "Bosun" along with a cricket ball, and a trophy awarded to him, to the BPS and which are now on display in a room set aside specially for Police History items* at the Officers Mess.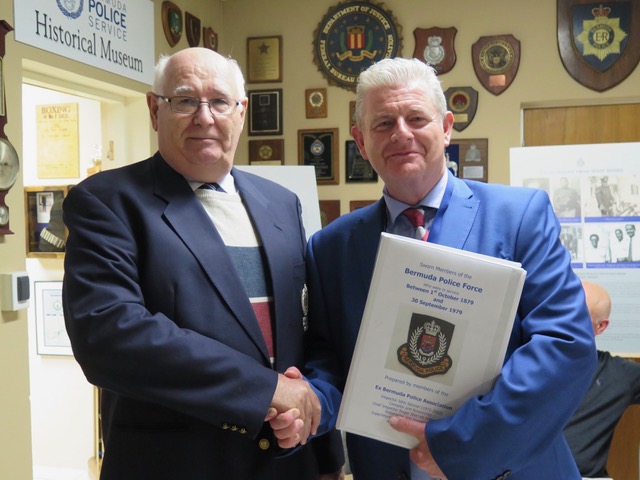 Presentation to COP Corbishley by John Skinner.
After John received his Commissioner's Commendation he in turn
presented ther Commissioner with a hard copy of his extensive
List of Police Officers 1879-1979 for the Police Museum
The commendation awarded to John Skinner was for his outstanding work in compiling a list of all those men and women who have served in the Bermuda Police during the 100 years between 1879 (the date of the official founding of the Police Force) and 1979. This amazing list, comprising over 3,000 names, can be found on our ExPo website, and John presented a hard copy of it to Commissioner Corbishley at the reception. It has taken John countless hours of research and cross-checking to produce the list, and he has pointed out that some of the official police records, particularly those for the 1950's are not 100% accurate with some names missing. CLICK HERE to view John's list.
Editors note - We would ask you to please check the list and let us know if you discover that any names are missing. The beauty of John's list is that it can easily be added to or corrected if mistakes are ever found.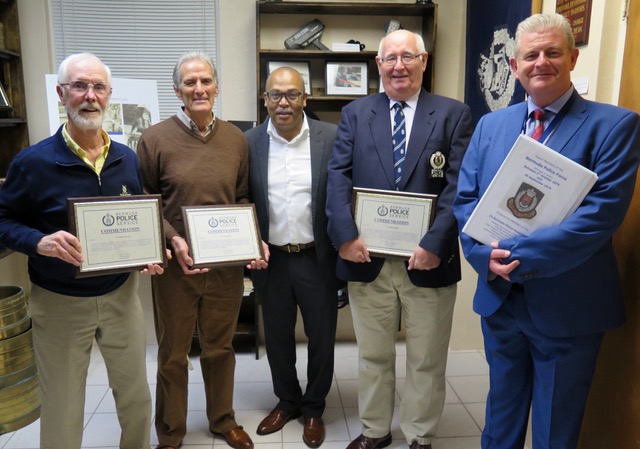 Awards Galore!
(l-r) Roger Sherratt, George Rose, Cal Smith, John Skinner and COP Corbishley
Commissioner Corbishley also presented yours truly with a commendation for close to a decade of being the Editor-in-Chief of our ExPo website which has always been intended to provide former and retired members of the Bermuda Police Service with a means of "keeping in touch with each other" in addition to recording our collective history for future generations. Ironically, the website happened to go down over the week-end of the reception because of serious technical problems! Fortunately, it is now operating again as you will know if you are now able to read this article.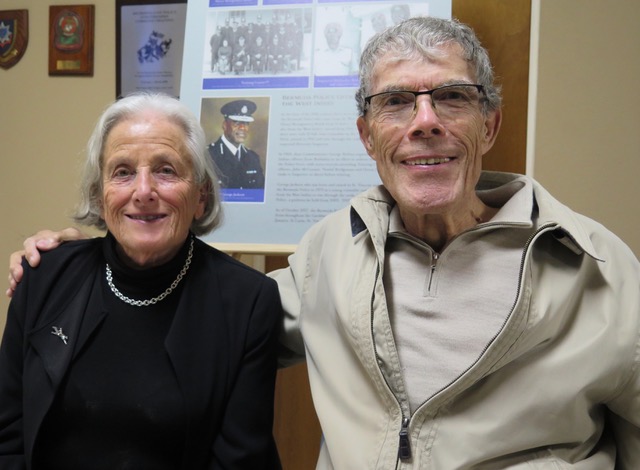 Nadine and Robin Henagulph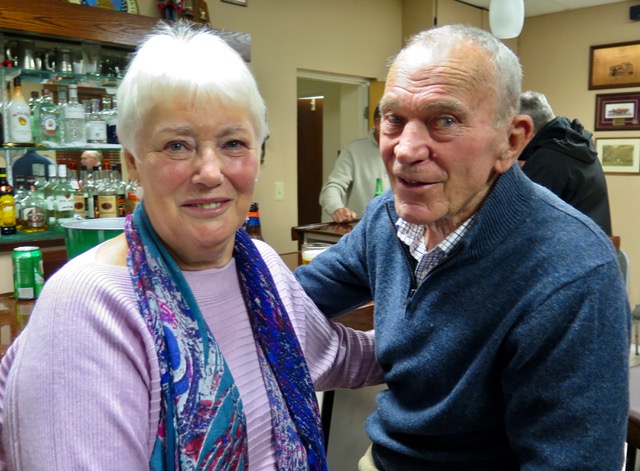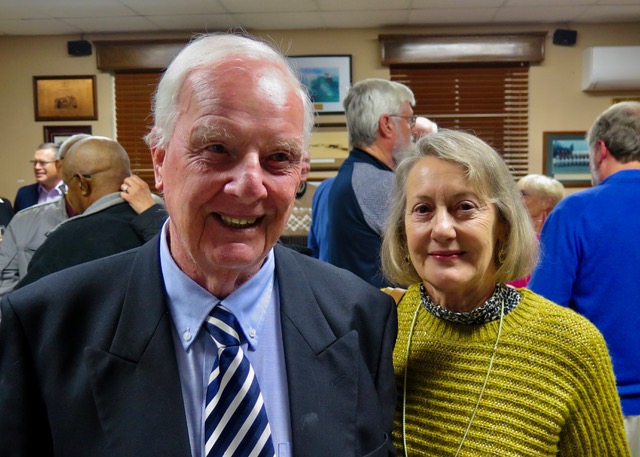 Bob and Susan Stewart
It was great to see some of our senior (age-wise) colleagues at the reception, including Robin (joined in 1962) and Nadine Henagulph, Dave (joined in 1961) and Sue Garland, Arthur Bean (joined in 1960), Bob (joined in 1959) and Susan Stewart, and Keith Lovell (joined in 1959).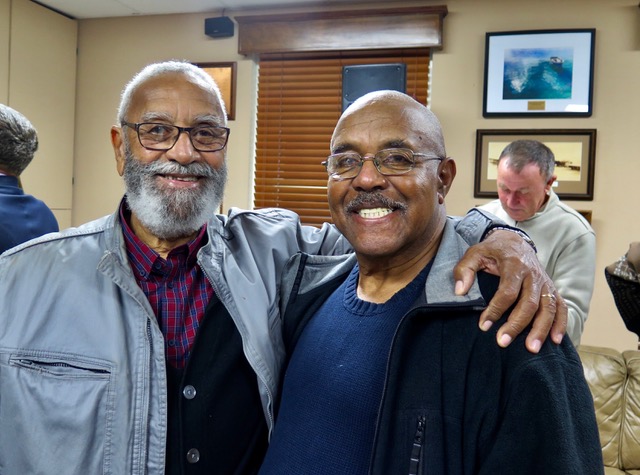 Arthur Bean and Reese Bartley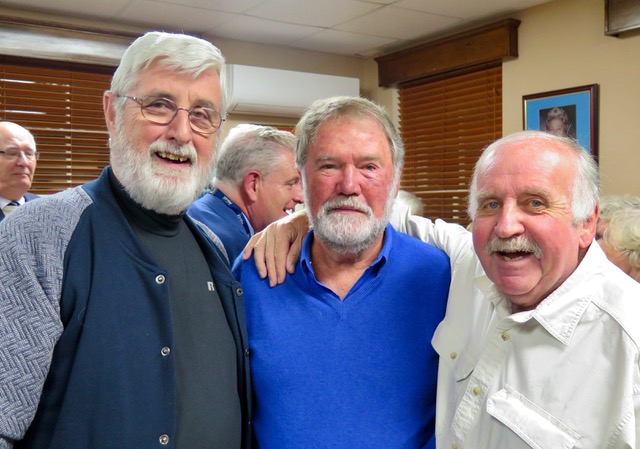 Steve Shaw, Dave Ashurst and Roddie Barclay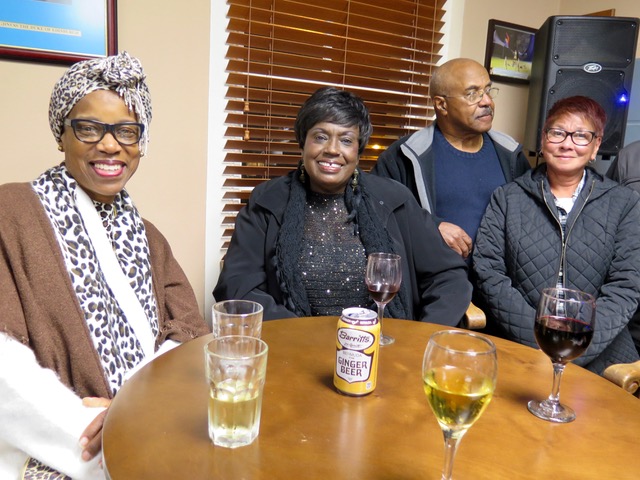 Carolyn Haynes, Rose Pearman, Reese and Gilda Bartley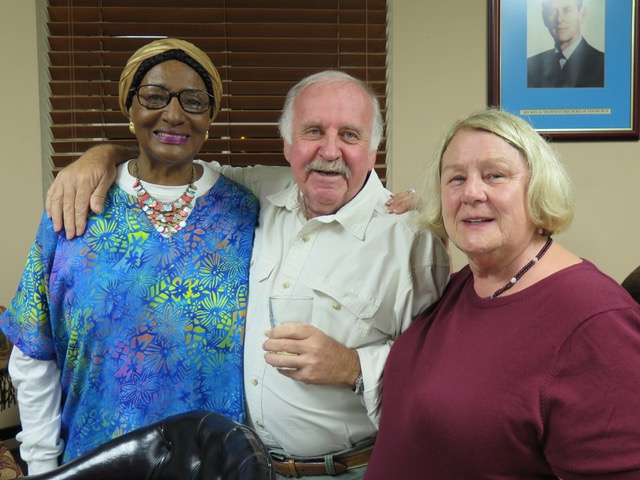 Juanita Shaw, Roddie Barclay and Marj Amos*
Editors note - * CLICK HERE for an article in our Keeping in Touch column (dated 10th May) about a major shock Marj Amos had following a trip to Fort Lauderdale not long after our Reception, during which she had problems returning to Bermuda because of the coronavirus pandemic causing severe disruption to airline schedules.
Our ExPo President, retired Inspector and presently the Commissioner's Staff Officer, Cal Smith, welcomed everyone to the reception and asked for a moment of reflection in memory of those of our members who have passed during the past year. They were:-
D.C. Franklyn "Frank" Deallie January 2019
Insp Neil Cox January 2019
P.C. Stephen Foster January 2019
C/Insp Peter Stubbs January 2019
C/Insp David Parsons February 2019
P.C. Frank Dowie May 2019
P.C. Michael Parris May 2019
P.C. Frank Thompson July 2019
Sgt Laurie Phillips July 2019
C/Insp Gerald "Gerry" James July 2019
P.C. Leroy Jones August 2019
PS Crawford "Crow" Rae September 2019
PC Kevin John Brennan October 2019
Insp. Stanley Colin Hill November 2019
PC Brian David Malpas January 2020
All in all, this was a most enjoyable evening even if many of the stories told were somewhat embellished, and many of those who were not present were subjected to the kind of gossip specially reserved for such gatherings.
Finally, a sincere thanks to Inspector Grant Tomkins, and to former P.C. John Sweeting who was visiting the Island, for kindly agreeing to man the bar for the evening.
CLICK HERE to view our complete Photo Album of this ExPo Reception.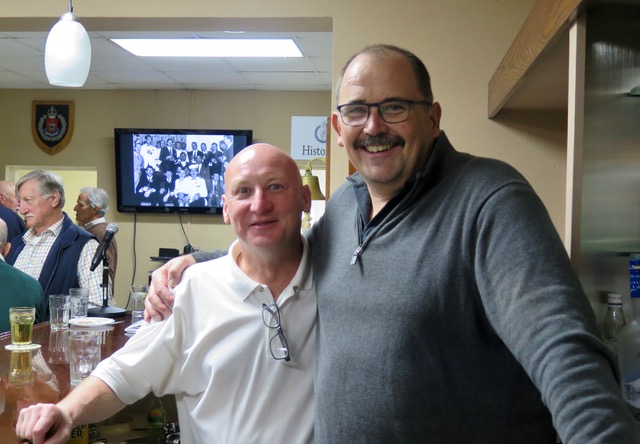 John Sweeting and Grant Tomkins